Photography by Courtney Bruch, Kenny Gould
Philadelphia is one of this nation's most historical cities. Its past, as complex and vast as it was, remains steadfast in its modern rebranding. Breweries have spread out within the city, leaving their previous home, a neighborhood with a very fitting name: Brewerytown. Brewerytown was ideal for brewers because of its proximity to the Schuylkill River and its sense of community. At one point in Philadelphia's history, 700 breweries operated within the city's boundaries, and a significant amount of them had their roots in Brewerytown.
Unfortunately today, because of the rising cost of living, only one brewery has returned to Brewerytown – Crime and Punishment. They proclaim they are "Bringing the Brewery Back to Brewerytown," but the rest of Philadelphia is happy to have beer, whether a restaurant, taproom, brewery or bar, within a block of where they live. Here's the best of Philly drinking, in one, long boozy day.
The Best Beer and Breweries in Philadelphia, Pennsylvania
Earth Bread + Brewery
12:00 PM — Earth's niche is flatbread pizzas and beer. All of the pizza is wood-fired and their beers, aside from the featured guest drafts, are brewed in house. Their concoctions are out of the ordinary — they call them "small batch alchemic beers for the discriminating palate." Stop here first, get some lunch, a beer or two, and get the day started.
Tired Hands Brewing Company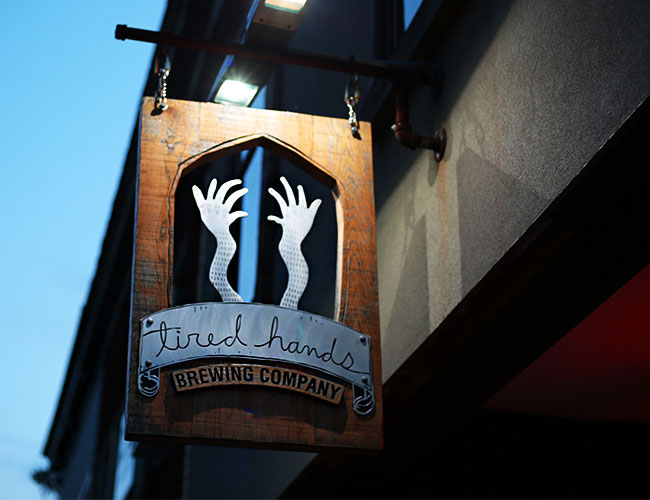 2:00 PM — It's the mid-afternoon: usually the time when, if you were in the office, you'd start to doze off. But not today. You're drinking beer — at Tired Hands. So, wake up. Here you'll find something you can only find, well, here. Tired Hands focuses on "local over imported" and "small batches over mass production." They say, "Localization guides everything we do, from sourcing raw ingredients and materials, to employing area talent." Everything you see, hear, smell, and taste will be uniquely Tired Hands and subsequently, uniquely Philadelphia.
Crime and Punishment Brewing Co.
3:30 PM — Crime and Punishment sounds, uh…intimidating? Absolutely. But, drinking their beer is far from punishment and certainly no crime. Mike Wambolt, C&P's founder, combined his two loves, theology, specifically Russian Literature, and brewing, to form this one mad, quirky brewery. Their beers tote names as unique as their flavors — try Indecent Exposure, Guillotine, or House Arrest.
Bar Hygge
4:30 PM — Snack time! Snacks, yes, every child's favorite part of the day has now returned in adulthood form to Bar Hygge. Try any of the items on the Hygge Boards menu and tide yourself over until dinner. Wash them down with one of their house-made brews for "the adventurous beer lover."
BeerLOVE
5:45 PM — Philadelphia is the city of brotherly, I mean beer-therly, love. BeerLOVE, one of the best bottle shops in the city, located on historic Fabric Row, offers "500 beer varieties" in bottles and on tap for tasting. This is the time of the day to peruse the shelves and pick out some favorites to take home. Expect local and national favorites along the shelves.
2nd Story Brewing Company
6:30 PM — This next stop is going to be fun. 2nd Story Brewing offers in-house brewing tours on the second story and delicious beers on the first. Do your best to make this one last. The day's winding down and dinners just around the corner, but great beer still awaits you. Try one of their "handcrafted and handed down" beers — like Fritzie's Lager: malty, crackery, slightly sweet and named after the brewer's Grandfather.
Wm. Mulherin's Sons
8:00 PM — Ah, dinner has arrived. Tonight you're dining in an old whiskey distillery in center city Philadelphia. Reminiscent of the building's brooding, bold past, this restaurant offers "casual but sophisticated" fare that is described as "urban, wood-fired Italian." The menu offers a collection of rich pastas, grilled meats, fish-plates and smaller bites. The inside is rustic, welcoming and a good time.
Bottle Bar East
10:15 PM — Dinner's done and the day's almost over. This next stop, well, it's up to you. Do you call it a night after that delicious meal? Or, do you head to Bottle Bar East, grab a few bottles to go and a draft to cap the night? If you, they're open until 2am, with a selection of 800+ beers to-go and 16 on draft. You can't go wrong, and you probably won't be able to pick just one. Good luck with that.