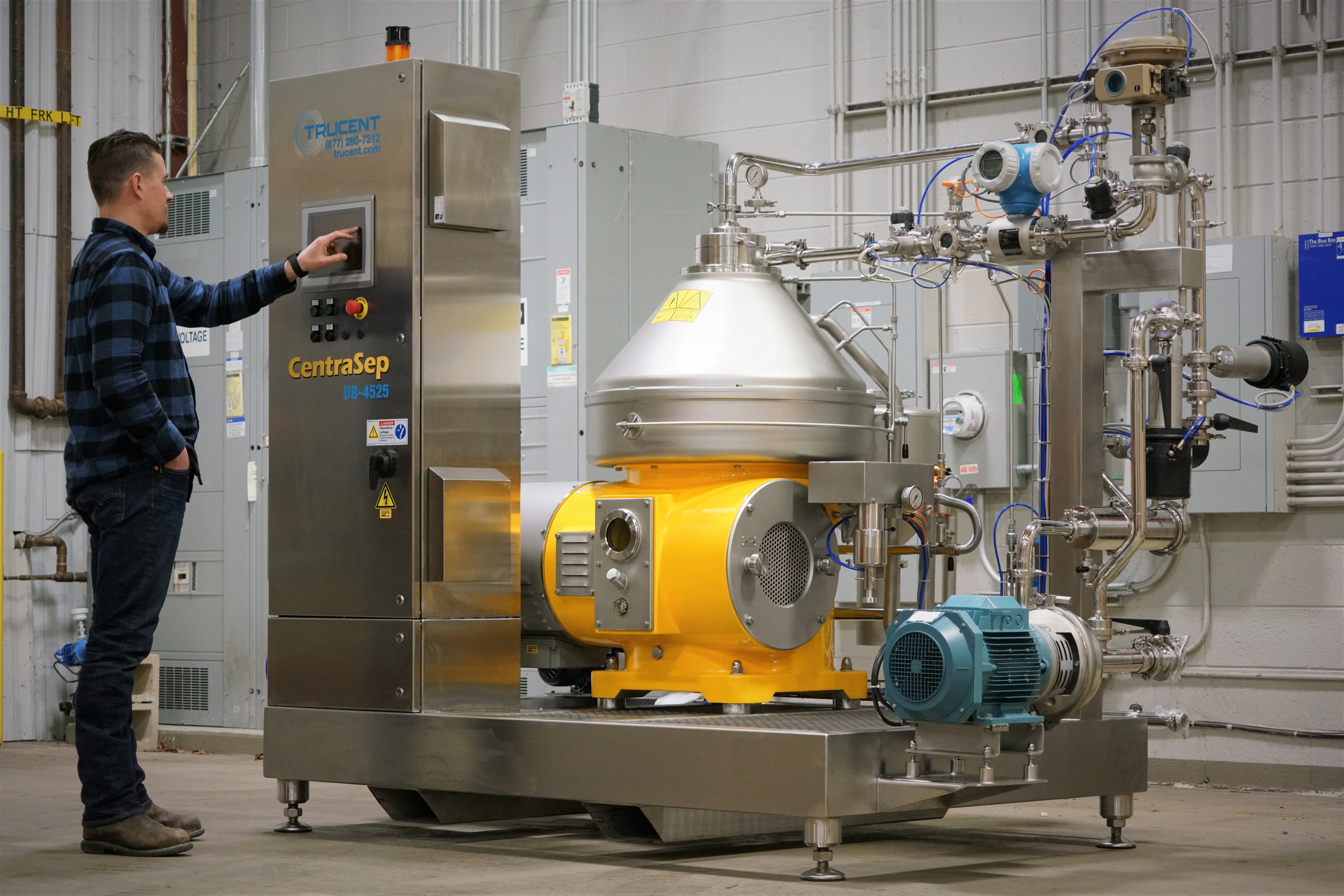 Editor's Note:
This is a paid, sponsored post presented by Trucent.
Imagine this. A machine that helps big and small craft breweries brew more beer. And brew more flavorful beer. Does it sound too good to be true?
Up until four years ago, that may have been the case. But one company's quest to improve technology in the craft beer industry makes this the rare instance where the truth is actually as good as it sounds.
It's called a centrifuge. And, in layman's terms, at its most basic level, it separates solids from a liquid (for beer, think hop particles or yeast). Ultimately, it preserves the beer's integrity and leads to a higher yield. A powerhouse duo of success for brewers.
Now, centrifuges are a norm in the industry. But, they're mostly only accessible to large macrobreweries.
At Trucent, the leader in these fluid separation services, they've developed an innovative centrifuge designed specifically for craft breweries.
Chris Clausen, Craft Beverage Industry Manager at Trucent, has led the team in charge of designing and developing these unique pieces of equipment that have helped brewers across the country preserve their resources and promote sustainability.
To understand Clausen and his team's apparent wizardry, you have to first understand his passion for craft beer.
Who is Chris Clausen?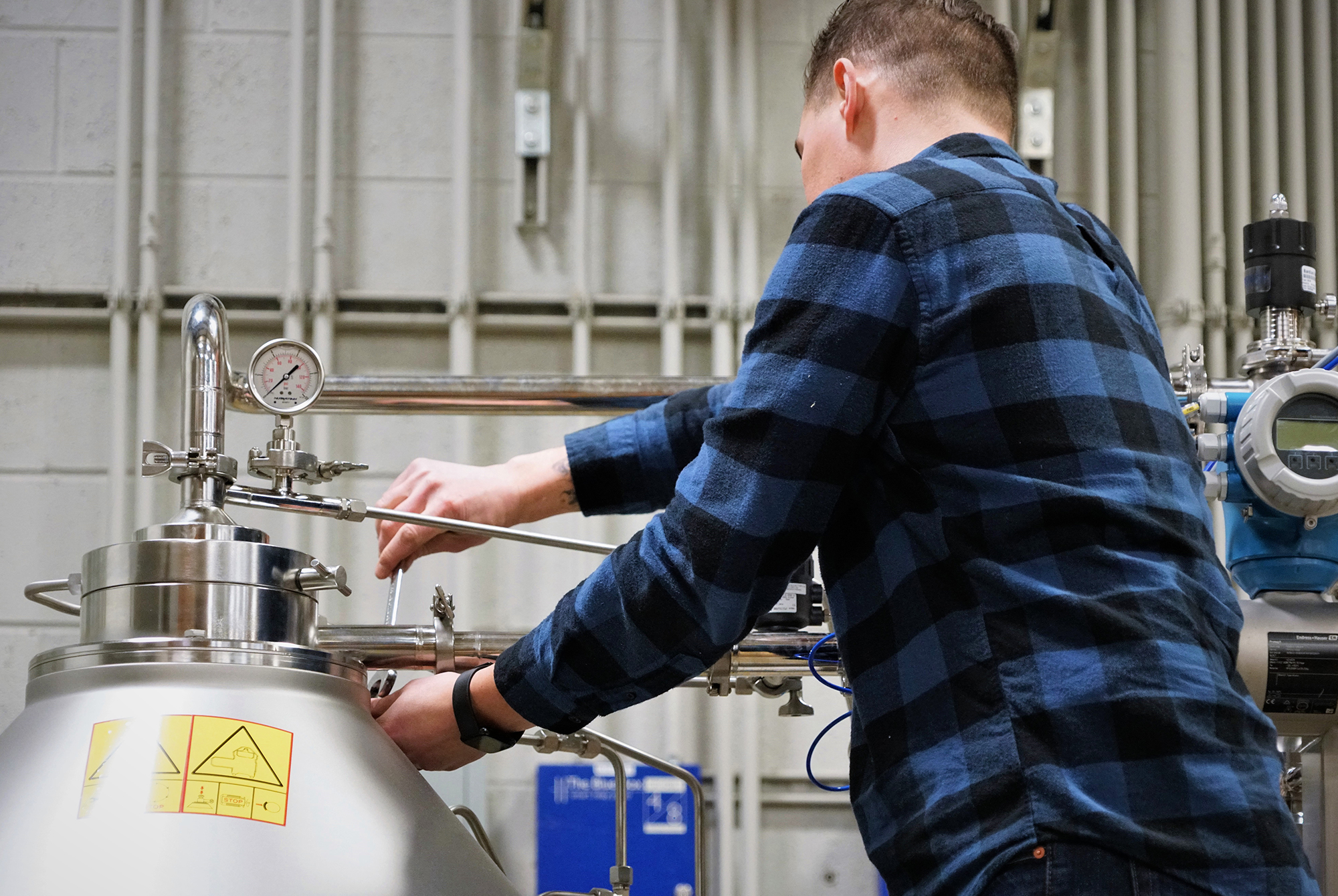 Clausen's love of beer started at an early age. And, it runs in the family. He is a fifth-generation descendant of Frederick Miller who started a not-so-small-brewery you may have heard of called Miller Brewing Co. (known today as Molson Coors Beverage Co.).
"My grandfather used to have dinners at his house and, as a kid, I'd get a little shot of beer to try," said Clausen. "As I got bigger the glass got bigger."
An early taste truly bloomed when Clausen joined the U.S. Merchant Marine Academy at 19-years-old and headed overseas for the first time. Traveling all over the world, Clausen would do what all sailors do when they dock in port – hit the bar.
"I've always appreciated the craftsmanship behind things and when you start talking about craft beer, especially here in the states, the craftsmanship is pretty incredible," said Clausen, who took his appreciation to the next level when he began homebrewing 10 years ago.
Eventually, Clausen landed a job that married both his love of craftsmanship and craft beer at Trucent; he jumped headfirst into the world of centrifugation.
What is Centrifugation?
Essentially, a centrifuge speeds up the natural settling process of a beer. It's a way to separate solids from the liquid, whether that's yeast, hop particles, or proteins.
"Imagine a jar of Italian salad dressing," said Clausen. "If you set it on a counter it will start to separate with solids at the bottom, water in the middle, and oil on top." A centrifuge spins the liquid at a high rate and "just like the carnival ride where you're stuck to the side of a wall, that settling process happens in a fraction of a second…solids go to the outside and the beer stays on the inside."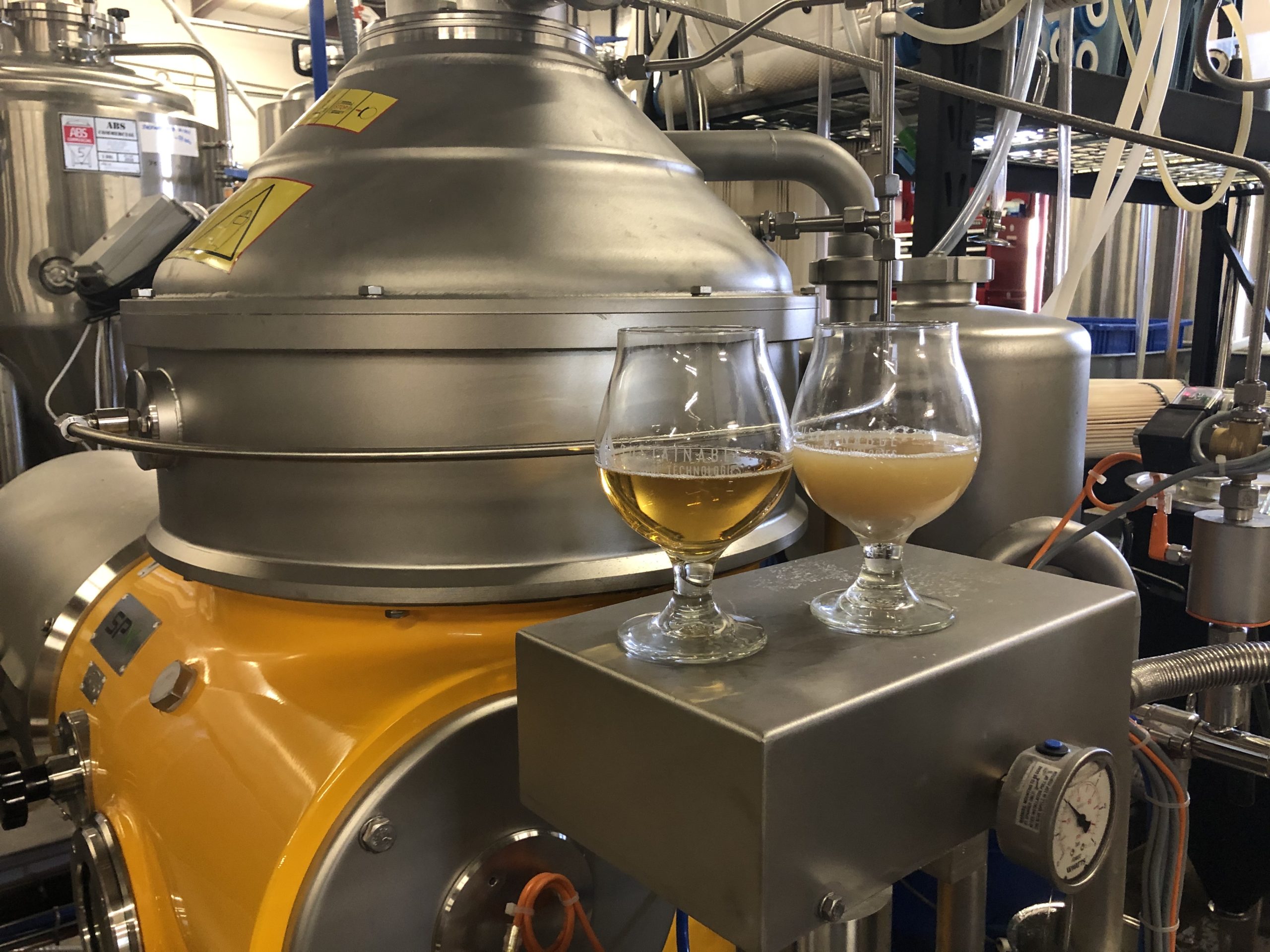 Depending on the beer being brewed, the advantages of leveraging a centrifuge include creating a higher yield because it pulls more beer out per batch (additionally the beer won't sit in the tank as long, so a brewer can brew more batches of beer in a year) to a higher quality beer.
Most breweries that don't use centrifugation rely on a filtration system. While filters have a lower initial cost than a centrifuge, the disadvantage with filters is that they pull out things like hop oil that affect the taste and aroma of beer.
With a centrifuge, "the beer you put in is the beer you brew just without the solids," said Clausen.
At the end of the day, using a centrifuge provides more beer and more flavorful beer.
Which begs the question, why don't all craft breweries use centrifugation?
Centrifugation for Craft Beer
For decades centrifugation was only available to large macrobreweries. And these large machines were very expensive. Manufacturers simply didn't see a reason to make a cost-efficient centrifuge on a small enough scale to accommodate most craft breweries. Producing machines for breweries producing upwards of 5,000 barrels (bbls) a year didn't make a lot of sense.
This trend has shifted dramatically in the last five years. According to Clausen, manufacturing processes have improved and the cost of manufacturing a centrifuge has gone down. That means building smaller centrifuges becomes a profitable possibility.
But, it goes beyond that.
"Across the industry [craft breweries] are getting more attention from manufacturers with kegging, canning, and centrifugation," said Jason Spaulding, CEO and Brewer at Brewery Vivant in Grand Rapids, MI. Spaulding bought the smallest centrifuge on the market six years ago, but has seen the technology improve even since with better, less-expensive, more fine-tuned options available for breweries of all sizes. "Before, [manufacturers] just thought we were a bunch of little guys playing around and that craft beer was going to go away, but now they realize this is real and there are a lot of breweries….worth people's time to invest in," said Spaulding.
Manufacturers like Trucent, and enterprising employees like Clausen, saw an opening in the industry and set out to fill it.
A Centrifuge Custom Designed Just for Craft Breweries
The idea to make a centrifuge just for craft breweries started for Clausen during a trip to Italy. Since 1997, Trucent has maintained a relationship with a centrifuge manufacturing partner in Italy called SPX FLOW (previously known as Seital until being acquired in 2012 by the SPX Corporation). When Clausen joined Trucent four years ago, he took over the relationship, including traveling to Italy to meet with his Italian counterpart and Area Sales Manager, Cristiano Sicurelli.
Chris and Cristiano started talking shop about their mutual love for beer. "We would go out to dinner after work, we'd order a beer, and we'd start talking and trading beer stories," said Clausen. The relationship turned into a professional friendship with Clausen sending Sicurelli American craft beer to try and Sicurelli sending Clausen European beers. "Whenever I closed a deal I'd get some beer from that customer and send it to him," said Clausen.
When SPX FLOW ran into trouble bringing their centrifuge technology to the U.S. market, Clausen jumped at the opportunity to innovate. He pitched his boss Kevin Moore, Vice President of Trucent's Advanced Separation Group, and Tom Czartoski, President and CEO of Trucent to undertake the project. They told him to do some market research and go for it.
Clausen set to work creating a business plan, designing a new model, and forecasting. During the Craft Brewers Conference in 2019, Trucent entered the market, unveiling the CentraSep DB Series specifically for craft breweries. Trucent's CentraSep DB Series is a series of purposefully designed craft beer centrifuges available in 10 different sizes with three automation levels for breweries of all ranges.
Most centrifuges on the market are adapted from other industries, such as dairy and milk, which has different properties than beer. But Trucent's centrifuge is designed specifically for the brewing process.
For example, one of the biggest differences is the way Trucent seals its centrifuge.
Essentially, a brewer needs to protect beer from the outside world, because oxygen is the enemy of beer. To achieve this, other centrifuge manufacturers use what's called a hydroseal, which uses deaerated water to create a trap where the water acts as a barrier between the beer and the outside world (like what happens under your sink).
The issue with a hydroseal? A brewer needs a constant supply of CO2 and deaerated water to keep the dissolved oxygen levels to even reasonable levels. The deaerated water is used to create the hydroseal and the CO2 is needed to prevent air from being pulled into the beer. The CO2 fills the centrifuge housing and vents into the brewery and atmosphere, being wasted. When the centrifuge shoots solids out, it creates a vacuum in the bowl. The sealing water, and whatever is behind it, is pulled into the beer, so you're essentially adding water and CO2, or even potentially air from the atmosphere into the liquid. This process can potentially cause contamination and unacceptable dissolved oxygen levels. Additionally, with a hydroseal, a brewer always needs CO2 and deaerated water on hand to run the centrifuge properly.
"We saw a better way," said Clausen. Trucent created a system with stationary silicon carbide seals that eliminates interaction from the outside world.
Beyond the machine's construction, Trucent has adapted its system to the modern world. With wireless capabilities, not only can brewers watch in real-time what's happening in the centrifuge, but Clausen can check in on the beer too. "When breweries start running a new brand and they have questions on adjustments to get the turbidity they want, they can call me and I can pull it up and while they're looking at the turbidity in the glass, I can read the [statistics] and tell them to adjust the back pressure, flows, or other tricks to get exactly what they want for the brand," said Clausen.
The reception has been phenomenal. Breweries from all across the country have incorporated Trucent's CentraSep DB Series from smaller breweries like Shovel Town Brewery in North Easton, MA, all the way up to bigger breweries such as the oldest and sixth largest overall brewery in the country – Yuengling in Pottsville, PA.
From Craft Brewers Conference to Chocolate Porter
Perhaps one of the most successful stories of Trucent's beer centrifuge in action is on display at Yuengling.
And it all started with a call.
Yuengling Hershey's Chocolate Porter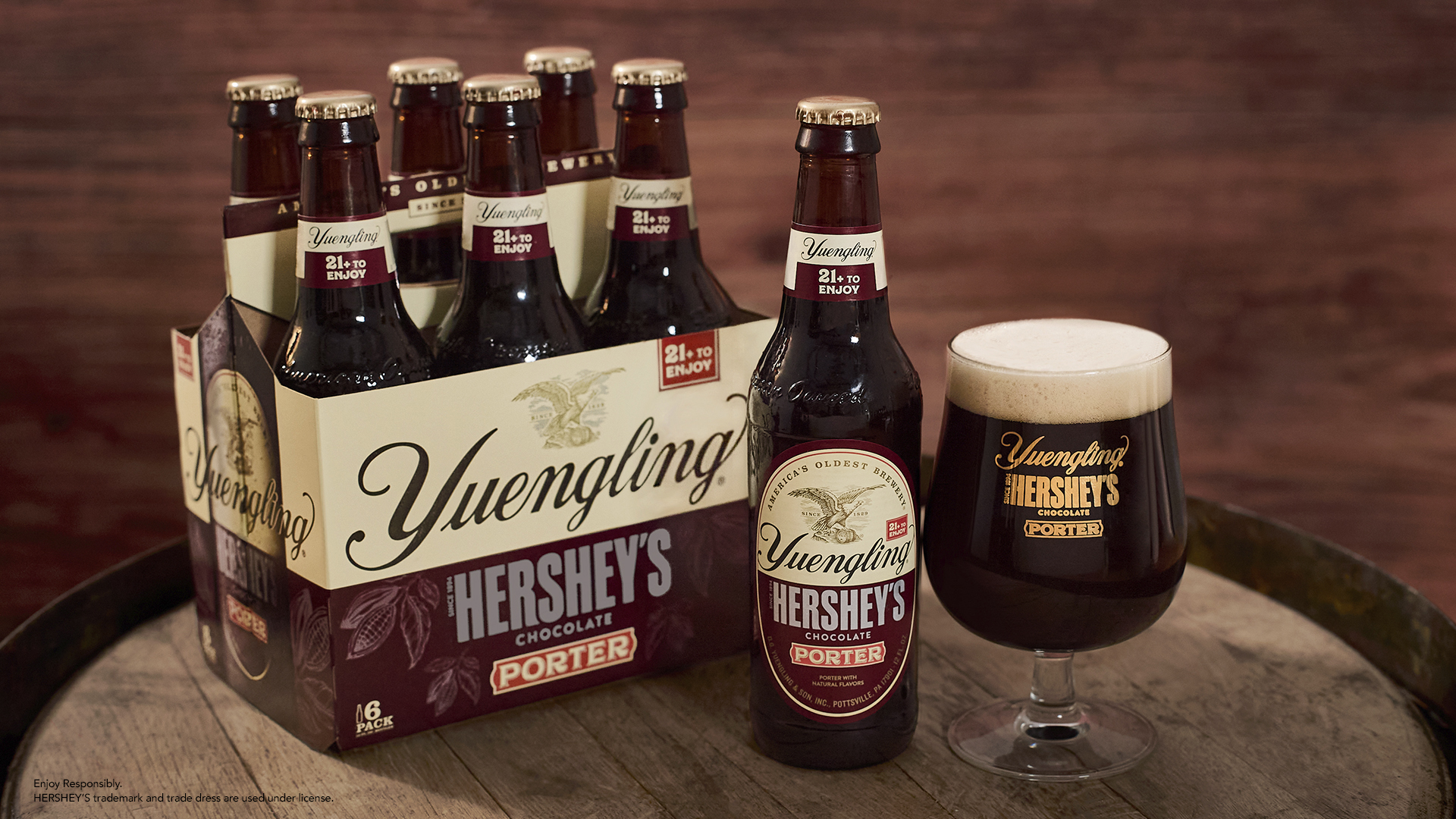 Yuengling scrambled to find a solution. "We reached out to various centrifuge companies, did some research, and came across Trucent," said Kevin Sibbett, Yuengling Brewing Manager at the Mill Creek Facility. "We put a phone call in, met Chris, and the rest, as they say, was history."
With the clock ticking, Clausen had Yuengling send samples of the centrifuge feed to the Trucent laboratory to do a full analysis. The Trucent team ran the beer through its own unique design and all the data came back promising.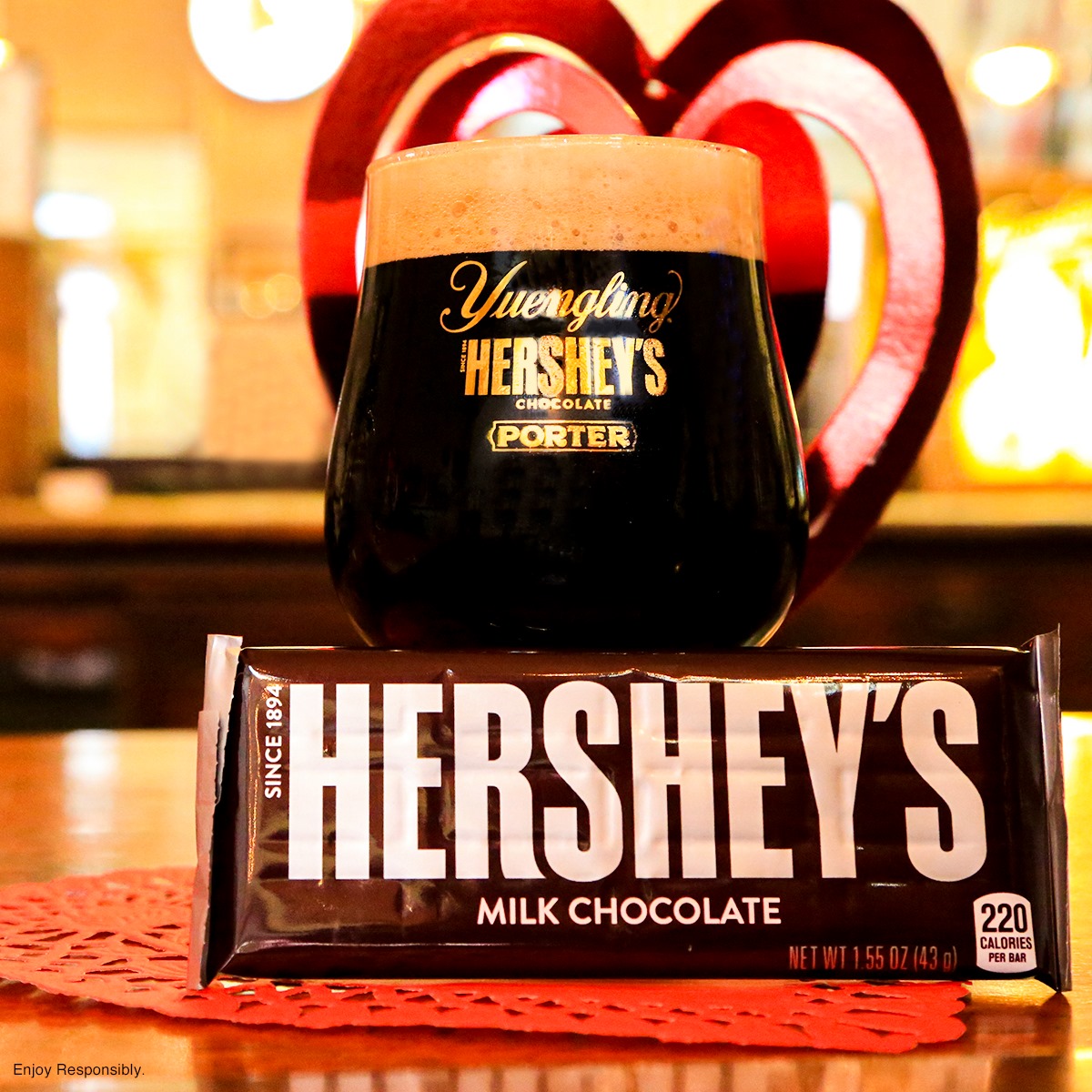 But, the only beer centrifuge large enough to handle Yuengling's quantities was the demo unit Clausen had up in Canada. So instead of shipping it back to headquarters in Dexter, MI he sent it on to the Yuengling production facility in Pottsville.
"I flew home [from Canada], said hello to my wife for a night, and then went over to Pottsville to get the centrifuge up and running," said Clausen. "Everything worked like clockwork. Every drop of Yuengling Hershey's Chocolate Porter went through our little demo unit last year."
The machine worked so flawlessly that Yuengling commissioned a bigger centrifuge from Trucent for this year's batch of Hershey's Chocolate Porter.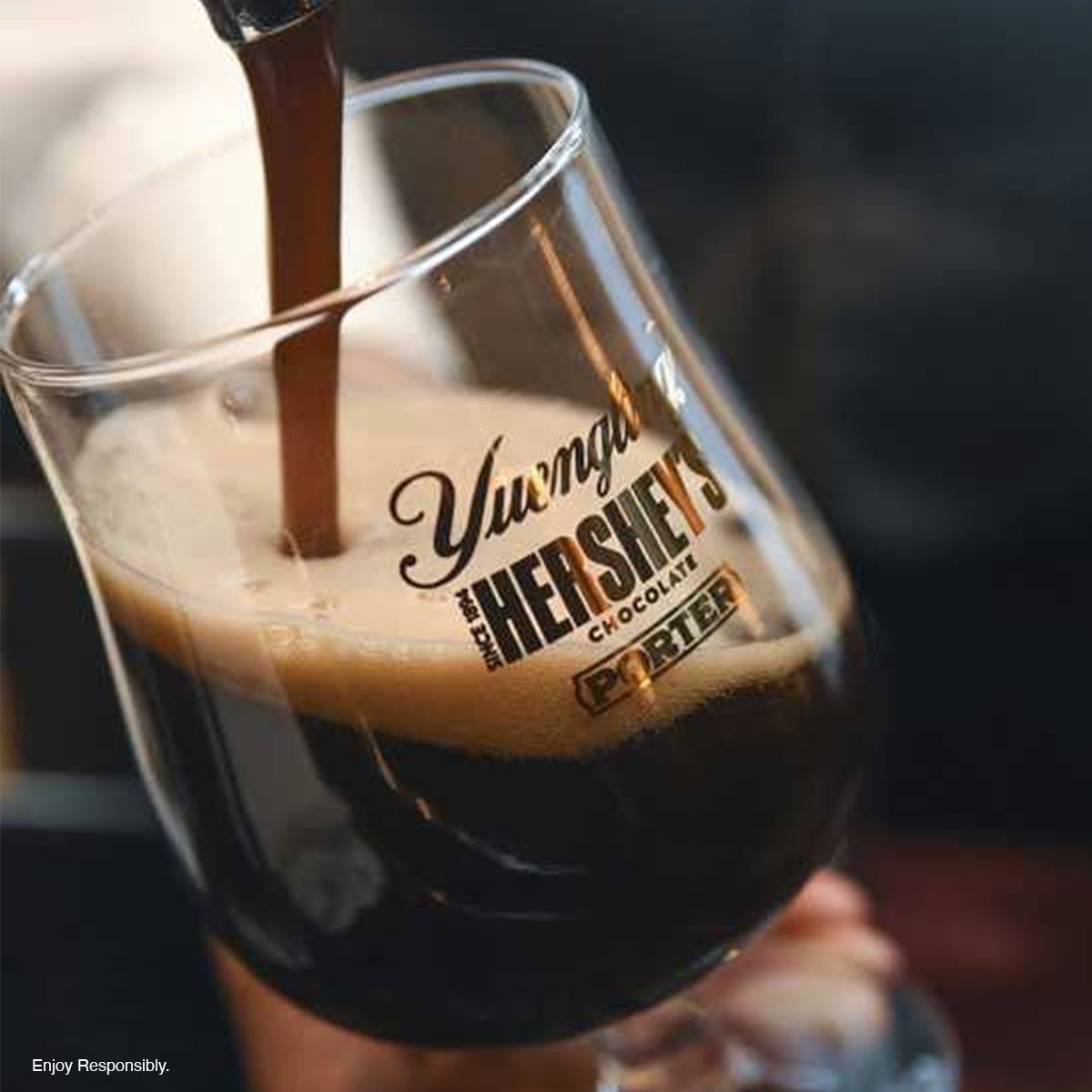 Last year, Yuengling brewed just a little over 6,000 bbls of Yuengling Hershey's Chocolate Porter while in 2020 they're aiming to brew over 20,000 bbls. "There is no way we could process that volume of beer with the demo machine, so Trucent sat down with us, went through a design phase, and built one to our specifications," said Sibbett. The 190-year-old brewery began brewing its second batch this past August.
It's that standard of service that has really set Trucent apart.
More Than the Sum of Its Parts
In addition to its own beer centrifuge, Trucent created an entire division dedicated to parts and repair: Trucent Centrifuge Parts and Repair (CPR).
"One of the cornerstones of our company has been our customer service, we're not only passionate about centrifuges and the benefits they can bring, but we are also obsessed with the customer," said Clausen. Investing heavily in warehouses in Indianapolis, IN; Omaha, NE; and Dexter, MI, CPR sells parts for all centrifuge machines on the market – not just their own – and provides lightning-fast service to breweries across the country.
"We promise to be working on a solution within 24-48 hours," said Clausen, who did just that after meeting Spaulding from Brewery Vivant at the Michigan Brewers Guild's annual winter conference a couple years ago. Now, Brewery Vivant actually uses a competing centrifuge during production, but started utilizing CPR to fix their current centrifuge. Because Trucent has warehouses in the U.S., they're able to access less expensive parts at a faster rate whereas other companies have to call in parts from overseas, making the time to fix the issue longer and more expensive. Two words you're never happy to hear as a brewer.
"Your brewery relies on a centrifuge, so if that goes down, all your production starts to back up exponentially," said Spaulding. "[All of a sudden] a tank you thought would be empty is still full, packaging is now stuck, and you have to stop brewing because tanks are full. In short you can screw up your scheduling pretty quick. Getting a centrifuge up and going again is key. And Trucent has been very responsive."
When Brewery Vivant had an emergency, they called Trucent. They came out the next day to take a look at the problem.
Having access to a quick, responsive team like Trucent's allowed Spaulding to keep Brewery Vivant running smoothly.
"We're going to take that 10 o'clock call," said Clausen, who loves Brewery Vivant and visits the taproom often. It's that obsession with customer service that sets Trucent apart.
The Future of Centrifugation
With more companies like Trucent adapting its technology, providing the highest standard of customer service, and putting as much passion into its manufacturing as brewers put into their beers, the future of centrifugation can only continue to evolve.
"Craft beer is a very creative industry and now the manufacturing side has taken that same creativity and are looking at things in a new way through a craft brewery lens instead of a macro lens," said Spaulding.
What started as one man's passion project has morphed into a microcosm for the rest of the industry. It helps Trucent lead the way in centrifugation technology for the foreseeable future from its own uniquely-designed craft beer-specific centrifuge to its infrastructure for parts and repair.
"I tell everyone it's important that you have a passion for this industry because the opportunity is there and the people in the brewing industry love what they do. They love talking about it, they love doing it, they love everything about it," said Clausen. " We need to show them that we bring passion to centrifuge solutions, to helping our customers, to bringing more knowledge around centrifugation to the brewing industry, and to solving those headaches so [brewers] can concentrate on brewing the beer we all want to drink."
This is a paid, sponsored post presented by Trucent.
Liked this article? Sign up for our newsletter to get the best craft beer writing on the web delivered straight to your inbox.