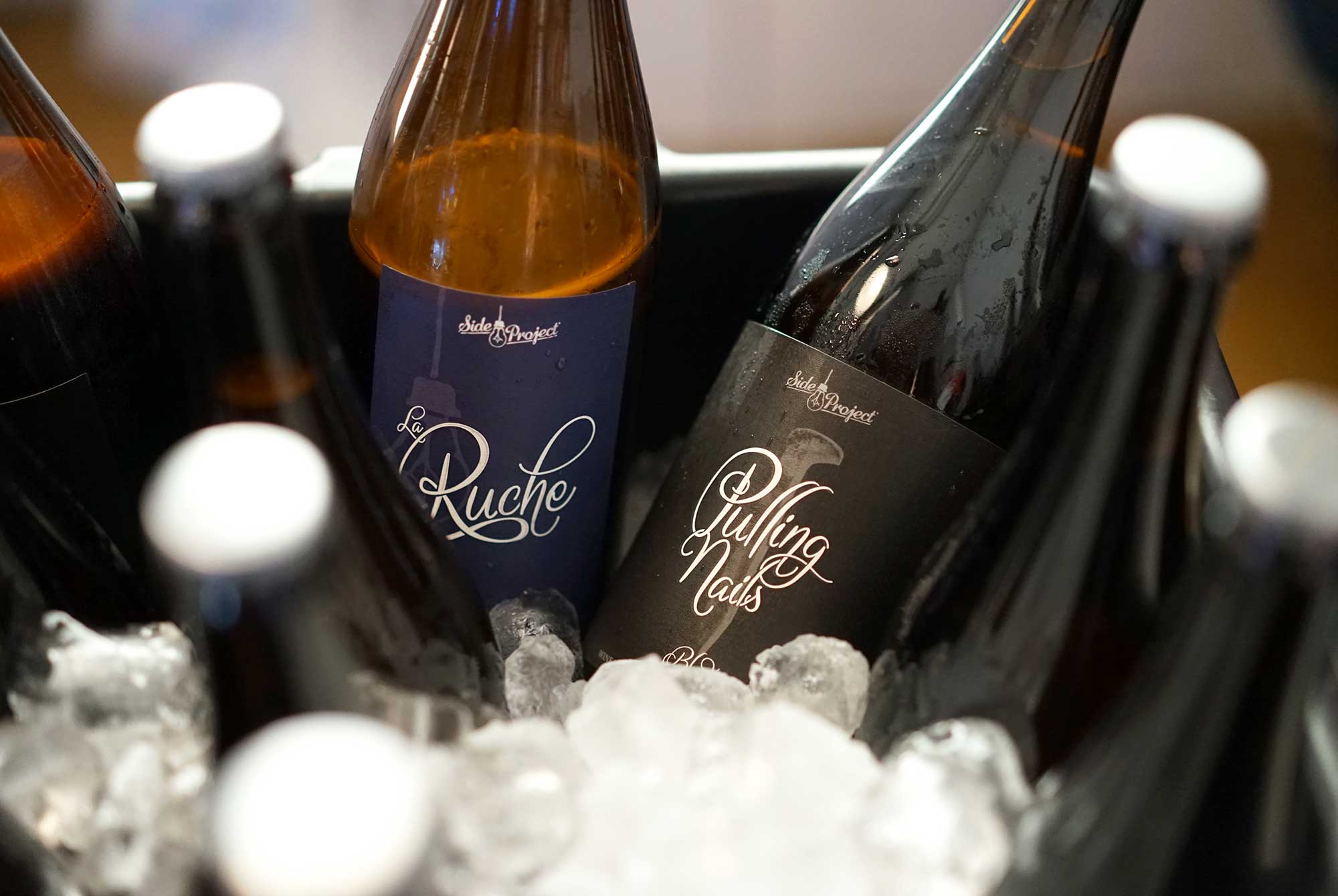 Photography by Kenny Gould
A first time attendee at the Great American Beer Festival might focus all of his or her attention on the three day, 800-person event itself, but as the more experienced veterans will tell you, it's not what happens in the Convention Center that keeps them coming back to Denver, but in the surrounding breweries and venues.
During the week leading up to GABF, Denver sees an impromptu Denver Craft Beer Week, with many breweries, bars, and bottle shops offering special releases and events. Among the best of these is Crooked Stave Artisan Beer Project's What the Funk!? Invitational, which gathers the best sour breweries in the country inside The Studios at Overland Crossing for an all-you-can-drink event. As is tradition at the intimate event, most breweries pour "whales"—the types of beers that cause beer nuts to line up outside a brewery several hours before a release.
1. Alesong Brewing and Blending
Kind of Blue, 6.7 percent ABV
If you've ever watched a true artist at work, you know the type of practice, focus, and determination that goes into creating a finished product. Alesong Brewing and Blending in Eugene, Oregon, expresses these qualities in every one of their beers. Founded in 2015 by Brian Coombs and Matt Van Wyk—both of Oakshire Brewing—and Doug Coombs, the brewery specializes in small batches of Belgian-inspired beers aged in oak. "We approach brewing like a musician composing a song," they write on the company website. "Production is patient, personal, and reflective; the vision evolves until it is brought to life in the glass." Kind of Blue is a Belgian Pale Ale that bursts with sweet blueberry flavor, with almond, vanilla, and tobacco coming through as the beer has time to warm.
2. Beachwood Blendery
Coolship Chaos with Strawberry, 6.5 percent ABV
"True to Beer." That's the motto of Beachwood Brewery, an award-winning brewery (and BBQ restaurant) with locations in Seal Beach, Huntington Beach, and Long Beach, California. The ethos bleeds into the Beachwood Blendery, a small-batch producer of creative, Lambic-style beers established in 2014. Head Brewer Ryan Fields comes to the brewery with an impressive pedigree; before Beachwood, he worked at Port Brewing / Lost Abbey, and was previously the Head Brewer for Pizza Port San Clemente. Although we liked all of Beachwood's selections, we particularly enjoyed Coolship Chaos with Strawberry, one of the few strawberry beers we've ever tasted that actually does the fruit justice.
3. WeldWerks Brewing Co.
Medianoche Reserve, 14.2 percent ABV
Turns out, you're allowed to bring a stout to a sour festival, but only if it's really, really good. Fremont and Perennial had Barrel-Aged Unicorn Tears, which was fantastic, but WeldWerks launched out tastebuds into the stratosphere with Medianoche Reserve, a 14.2 percent stout that went down like melted chocolate. It's a triumph for the barely 2-year-old brewery, and one that definitely speaks of exciting things to come. Head Brewer and Co-Owner Neil Fisher rivals Jester King's Jeff Stuffings and Allagash's Jason Perkins for "Nicest Guy in Brewing 2017."
4. Jester King Brewery
Atrial Rubicite, 5.8 percent ABV
Speaking of Jester King and Jeff Stuffings, the Austin, Texas-based brewery made our list with Atrial Rubicite, a 5.8 percent ABV bottle-conditioned sour made with well water, barley, wheat, hops, farmhouse yeast, native yeast from the Texas Hill Country, souring bacteria, and 5.2 pounds of raspberries per gallon. With Stuffings and Head Brewer Averie Swanson at the helm, it seems like Jester King — which continues to turn out wildly unique and incredible beers, and publicly condemned Wicked Weed for selling out to AB InBev — can do no wrong.
5. Side Project Brewing
Cassis Du Fermier, 8.0 percent ABV
Who would have imagined that some of the best sour beer in the country is coming out of St. Louis, Missouri? Side Project co-owners Cory and Karen King both spent time at neighboring Perennial Artisan Ales, and brewer Brian Ivers (Karen's older brother) makes the business a family affair. Many of Side Project's beers draw the type of lines that make the non-beer literate shake their heads in wonder, but our favorite is Cassis Du Fermier, a wine-barrel fermented saison aged with black currants. The light saison base provides the perfect backdrop for the currants, which almost seem to jump from the glass.