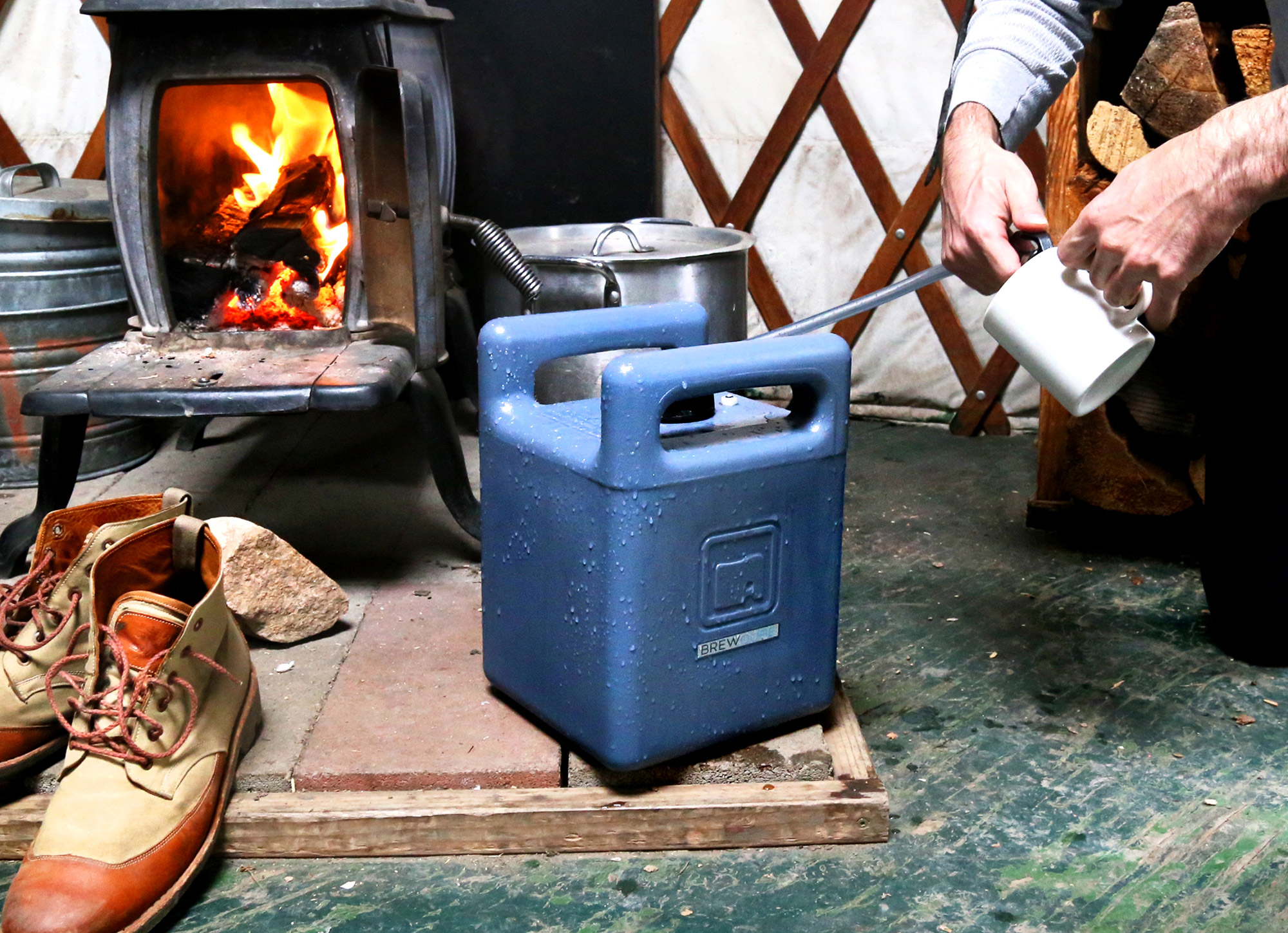 Editor's Note:
Over the course of our first year, we saw a lot of beer-related products come across our desk. Some were great. Like stylish, beer-resistant shoes. Others were a little more half-baked. Like that pack of soap that smelled like stale beer. Below, our team selected the 25 best beer products they encountered this year.
Over the course of our first year, we saw a lot of beer-related products come across our desk. Some were great. Like stylish, beer-resistant shoes. Others were a little more half-baked. Like that pack of soap that smelled like stale beer. Below, our team selected the 25 best beer products they encountered this year.
Simple Stainless Steel Bottle Openers
Keep it simple with these bartender-issue bottle openers. They're no-fuss and make opening any, and every, bottle as easy as can be. — Evan Malachosky
Hermetus Bottle Opener & Resealer
Like killing two bottles with one stone, the Hermetus Bottle Opener & Resealer not only opens my beer, but seals it back up again. I'm not saying that I make a practice of opening a beer and failing to finishing it, but just in case I ambitiously decide to pop a Brooklyn Black Ops and Founders Kentucky Breakfast Stout at the same time I don't need to feel pressured to finish both. This little German-engineered device will especially come in handy during the Spirit Swap, Christmas Cookie and Hannukah parties I have lined up over the course of December. — Grace Weitz
Vermont Farmstead Beer Cheeses "Cheddy Topper"
Last year I made the pilgrimage to Burlington, VT to stand in line for a coveted half-case of The Alchemist's' Heady Topper. While I can't make a trip to the Green Mountain State every month I have found a tastier way to fill my foamy fix. Partnering with The Alchemist, Vermont Farmstead Cheese Company has initiated a magical matchmaking between cows and hops. Dubbed "Cheddy Topper", the dairy enterprises's concoction combines Heady Topper, one of the hottest hunted beers in America, with Vermont Farmstead's own AleHouse Cheddar for a creamy, earthy hunk of heaven. Much like the "eponymous" beer Cheddy Topper often sells out within days and sometimes hours of going on sale, so I swoop up this limited edition batch of cheese online as soon as I can. — Grace Weitz
Allagash White Elephant Gift Set
You'll never go wrong with Allagash. The Portland, Maine-based brewery might be a little bigger than your average craft favorite, but they're still putting out amazing beer, and making strong contributions to their local community and the craft beer scene, in general. I have one of their logo stickers on the back of my phone case and I get compliments all the time. This set is a fantastic stocking stuffer for any craft beer fan. — Kenny Gould
Tasting Beer by Randy Mosher
As much as I love beer, I hate reading about it. For something so wet, most beer books are so… dry. Not Tasting Beer. Randy Mosher does a superb job keeping things interesting. His work is fun, informative, and goes down as easily as your favorite session IPA. Ten out of ten I would definitely read again. — Kenny Gould
Cana Magazine
The forthcoming beer and arts magazine, that exists at the center of the collision between high and low culture, gets a spot on my list. Though it's not out yet, it's sure to be a must-buy. Cheers to the fellow magazine-rs in the world. — Evan Malachosky
Bottle Bags
I'm out of the office every other weekend, usually exploring the craft beer scene of one city or another. It's inevitable that I pick up a few bottles. How to get them home in one piece? Bottle Bags, my secret weapon for protecting glass inside my suitcase. I take them everywhere I go, and they definitely beat trying to wrap a Jester King Atrial Rubicite inside two sweatshirts. — Kenny Gould
Juicy Brews Grapes and Apples Teku
I appreciate interesting design on great glassware, so when we announced our Juicy Brews Festival in New York City, I wanted to create something special. The result were these glasses, featuring a hella juicy design by our British graphic designer and all-around badass Sam Taylor. Unfortunately, they were an exclusive purchase for those attending the festival, but I had so much fun with them that we'll definitely be putting out more glassware soon. — Kenny Gould
Randall Jr.
Dogfish Head started by making off-centered ales for off-centered people. Not content to simply revolutionize craft beer, the off-kilter minds at the Milton, Delaware-based brewery invented their own infusion device. Nicknamed the Mini Enamel Animal, the Randall Jr. works much like a tea kettle. All you have to do is twist off the top and fill Sir Mixalot with your favorite beer and any hops, spices, fruit, or whatever your heart desires. This anything-but-water bottle truly inspires the apex of creativity in craft beer.
— Grace Weitz
Moleskin Beer Journal
Dear Diary, I admit that I occasionally use Untapped, but mostly I enjoy the old-fashioned way of putting my pen to your paper. With the Moleskin Beer Journal, I have all the pages I need to keep track of my favorite beer buddies, log all my craft conquests, and best of all remember which beer I drank on what day. You conveniently separated yourself into 5 themed sections and 5 tabbed sections with a personalized beer glossary, pouring tips, glass types, tasting notes, home brewing log, and even recipe space. You're like the memory I forgot I had. Sincerely, Grace.
— Grace Weitz
National Geographic Atlas of Beer
The Atlas of Beer does more than just profile the beer styles most prominently associated with the 100 plus countries it profiles. A neat blend of beer writing and historical information, National Geographic's atlas traces the evolution of each country's beer scene and the particulars of culture, geography, and politics that come to shape a given region's beer palate. Through this book, readers can use beer as a window to learn more about the rest of the world. — Brandon Wiggins
Unmarked Teku Glasses
We can all agree: Teku glasses are great. But, if you're someone who wants to snap a photo of almost every good beer you drink, you don't always want a logo obstructing the view. So, skip the brand and keep it simple – get an unbranded Teku glass that makes all your photos unbiased. — Evan Malachosky
The New Beer Glass
We can all agree that Teku glasses are great, but for the apex of beer aromatherapy, these Rosenthal crystal glasses literally push the nose of the beer into your nose. Inhale all the grapefruitiness of a Cascade-hopped IPA or detect the subtle cocoa and coffee in your favorite imperial stout. Researchers say that 80 percent of the flavors we taste come from our smell, so I'm all aboard for these sniff-perfect snifters. — Grace Weitz
Untapped
Here's another option to read over your holiday travels, or just while you're sitting at home unwinding with a good beer. This collection of essays takes a look at what the rise of craft beer says about broader trends in western culture. It's another great example of how beer illuminates our larger world (in addition to making it bearable). — Brandon Wiggins
BottleLoft Magnetic Bottle Hanger
My fridge consistently looks like an edible battleground with beer bottles elbowing for room amongst my grape bunches, carrot bags, and egg cartons. Essentially, whatever I buy first that week will win the game of zones. BottleLoft's Magnetic Bottle Hanger cleverly solves my space race using magnetic strips to hang my beer from the ceiling while my leftovers can chill out below. I love using this practical and simple gadget to clean up my cold box clutter. — Grace Weitz
Bottlehook from Corter Leather
Something just feels cool about seeing an unopened bottle of beer, and whipping out your keys to pop that cap right off. The bottlehook from Corter Leather, with its black lacquer coating and hand cut leather tab, makes using a keychain opener look cool too.
Pat's Backcountry Beverages Carbonator Bottles Starter Kit
Backpacking just set a new bar for beer. From the forest to the mountaintop drink fresh beer no matter where you are. Pat's Backcountry BPA Free, shatter-proof Carbonator Bottle adds fizz to any beverage – alcohol included. Follow your adventures and take your beer with you. — Grace Weitz
Beer Chilling Coaster Set Created by Arra David and Anne Johnson
I'm a huge Minnesota Vikings fan. Any Sunday you'll find me posted up on the couch, beer in hand, watching my Purple People Eaters. Inevitably between gripping the bottle with the force of a quarterback and setting it down to celebrate an Adam Thielen touchdown, I'll end up with a lukewarm liquid (and quite possibly a nasty stain on my coffee table). Like a glove for my beer, but better than any koozy, UncommonGoods Beer Chilling Coaster Set not only holds my beer in place without leaving any watermarks, but also keeps my beer cold. Before using I store the handmade New Hampshire stone coaster set in the refrigerator or freezer – the granite absorbs the chill maintaining winter-like conditions for my room temperature bottle. It's a win-win for my coffee table, my beer bottle, and all my touchdown celebrations. — Grace Weitz
BrewQube
Who's tired of bringing 4 growlers on a camping trip? Somehow, the BrewQube manages to fit 288 fluid ounces of beer in a vessel that doesn't seem to occupy much more room than a traditional 64-ounce growler. I can't imagine a better tool for camping or tailgating, except for maybe the BrewQube Mobile Tap System — it's another $115 bucks over the standard unit, but it lets you pour draft beer straight from the Cube itself. — Kenny Gould
Hopsy
The only thing better than being served a pint of fresh beer…serving yourself a beer at home. I ordered Hopsy when they first set up shop in New York. I simply chose from a selection of regional breweries, selected a date and clicked order. Hopsy did the rest, delivering a carefully packed case of beer to my front door. I only had to leave my apartment to go downstairs and pick up the package. Now, that's what I call draft-to-door service. — Grace Weitz
24 Bottle Rack with Glass Slots
Start a bottle collection and keep your glasses within arm's reach. There's no better-looking way to store both your over-the-top collections. — Evan Malachosky
GrowlerWerks uKeg 64 Copper-Plated
uCan take your beer anywhere with the uKeg. Whether I'm kicking it on the beach, picnicking in the park, or even Netflix and chilling at home, the uKeg half-gallon growler keeps my prized beer cold and freshly carbonated for up to two weeks (perfect for Game of Thrones bingeing). This 64oz toter's durable double-wall vacuum-insulated stainless steel bear hugs my cherished craft beer to chilly, fizzy perfection. Game on growler. Game on. — Grace Weitz
Pico Brew PICO Model C
The Pico Brew Model C aims to make homebrewing as simple and straightforward as possible. The machine is almost entirely automated, meaning you cannot customize and tweak your own beer recipes like you would with a more traditional homebrewing setup, but for those lacking in time, or those who simply don't want the hassle of regular homebrewing, it's a good alternative. Instead of brewing your own beer, you purchase Pico Paks which can be used to recreate beers from craft breweries. There's a wide variety of breweries with recipes available and more promised to be added. — Brandon Wiggins