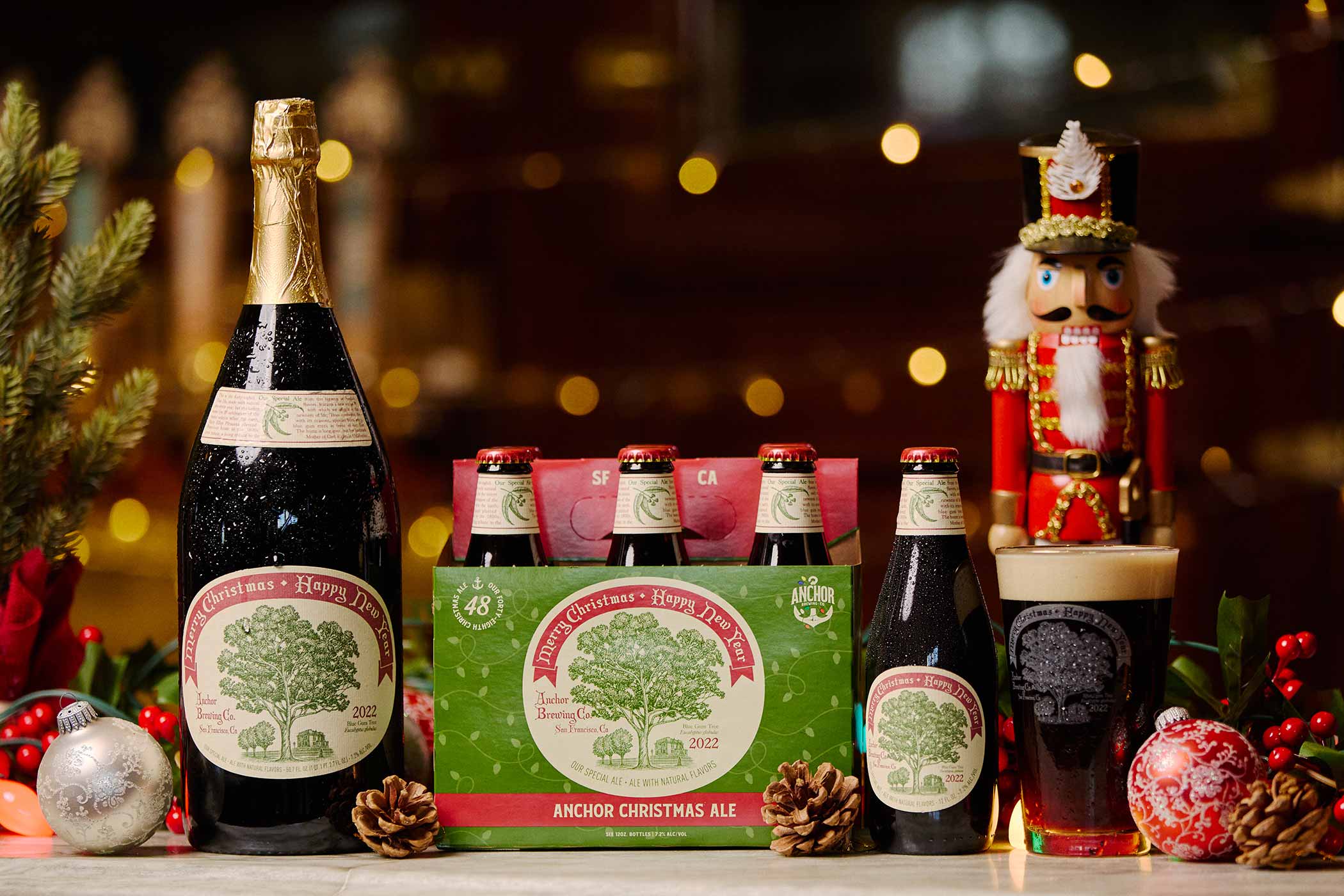 Photography courtesy of Anchor Brewing Co.
Editor's Note:
This is a paid, sponsored post presented by our friends at the Anchor Brewing.
What is your holiday tradition? Do you gather with your family around the fire and play Scrabble? Do you go ice skating and sledding before making a warm cup of cocoa? Perhaps you light the candles in the Menorah for Hanukkah with your parents on Zoom 🙋You could light the kinara for Kwanzaa and talk about the seven principles. Or maybe pulling out holiday ornaments and setting up the tree is your favorite festive custom.
Anchor Brewing Historian Dave Burkhart has a tradition. Wherever he is in the world, he makes sure that he's at the brewery to grab the first bottle of Our Special Ale, colloquially known as Anchor Christmas Ale, off the bottling line. "That's my little tradition," says Burkhart.
For many, Anchor Christmas Ale has become as much a part of their holiday season as baking cookies or drinking eggnog.
"It's all about the renewal of the season and celebration," says Dane Volek, Brewmaster at Anchor, who is about to celebrate his twelfth season brewing Christmas Ale. "It's our gift for the year to be unwrapped and enjoyed by all."
But where did this tradition come from? How did Christmas Ale become a cult hit? Who even had the idea to brew such a beer?
Pull up around the crackling fire, because we have quite a story to tell you.
The Birth of Christmas Ale Started With…Liberty Ale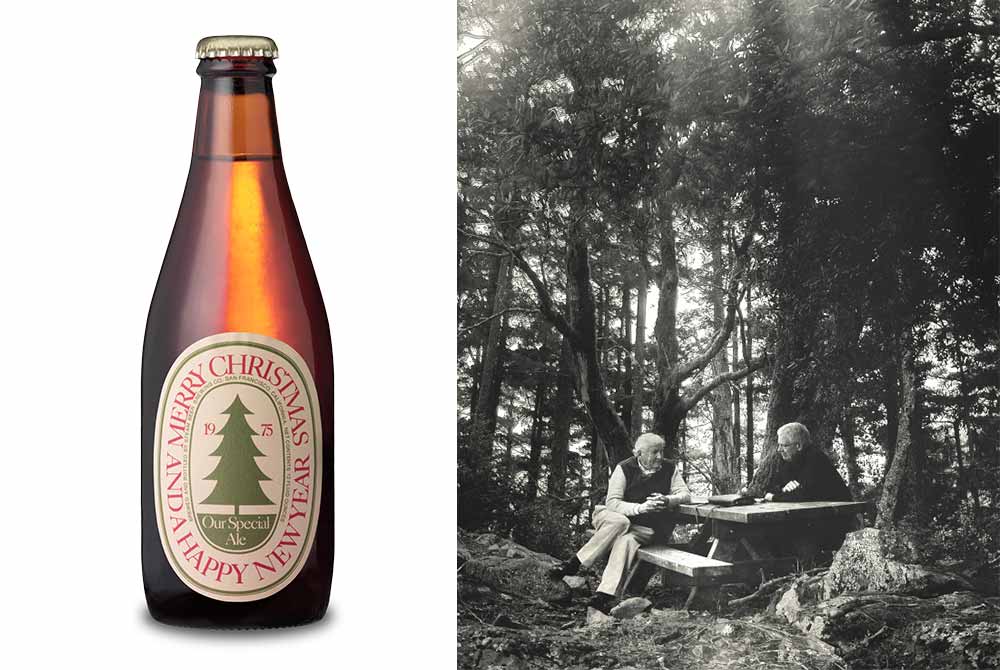 Here's a ringer for you: Christmas Ale started thanks to a beer you may have heard of—Anchor Liberty Ale.
Almost fifty years ago (forty-eight, to be exact), then owner Fritz Maytag brewed Liberty Ale for the first time, Apr. 18th, 1975, commemorating the 200th anniversary of Paul Revere's ride.
That summer, Maytag took a trip to England to visit some breweries across the pond. He came back inspired to brew two new beers: Old Foghorn barleywine and Christmas Ale.
"In an odd way, the trip made Fritz even more determined to do something special and unique to San Francisco and Anchor," says Burkhart, whose thirty-one years at the brewery led him to compile a book on Anchor's history called "The Anchor Brewing Story" that will be released this month.
See, Fritz came back from England disappointed that he couldn't find any all-malt beers. And although the original Liberty Ale hadn't been all malt, he wanted to create an all-malt version.
So Maytag brewed the first Christmas Ale on Nov. 17th, 1975…
…as a pale ale.
That's right. The very first version of Christmas Ale was actually the second batch of Liberty Ale featuring all pale malt dry hopped with Cascade hops. In fact, the working title was 2nd L.A. before Fritz named it Our Special Ale.
To help promote Our Special Ale, Maytag took out an ad in the San Francisco Chronicle saying come and get our special Christmas Ale. "He had no idea how the ad would be received, but there was a line around the corner with people interested in trying this beer," says Angela Knotts, Director of Brand Marketing at Anchor. "From day one, there was an energy for Christmas Ale…that tradition continued year after year."
With the idea to perfect Liberty Ale, Maytag continued to brew a different version of this pale ale, tweaking the recipe a little every year (mostly, he played around with the yeast), "until in 1982 he felt that Christmas Ale was perfect; it was fantastic," says Burkhart. Coincidentally, in the summer of 1983 a new custom-built ale fermentor arrived. Anchor re-released Liberty Ale into the market in 1983 With a perfect Christmas Ale recipe, Maytag finally had a chance to brew Liberty Ale for mass production.
Still with us?
Good, because now Maytag had a problem. What would he actually release for Christmas Ale in 1983?
Turn That Frown Upside Down: Christmas Ale Goes Brown (and Goes Down the Aisle)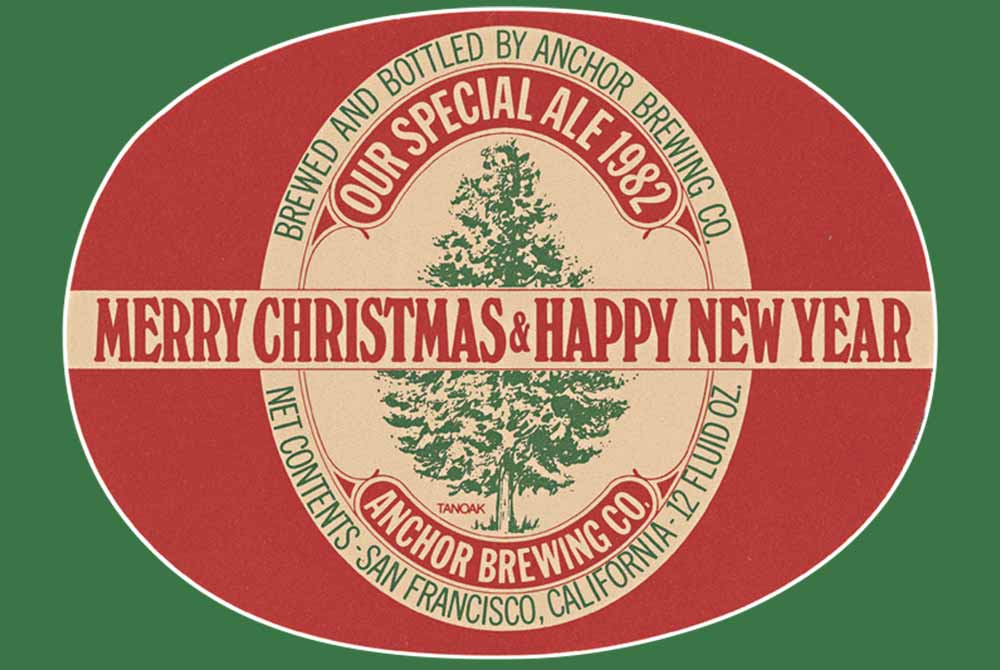 Another trip to England inspired Maytag to develop the new Christmas Ale recipe. While visiting Vaux Brewery in Sunderland in the United Kingdom, Maytag enjoyed the brewery's brown ale.
But Vaux's brown ale wasn't all malt. So Maytag set out to brew his own, unique brown ale.
From '83-'86, Christmas Ale became a seasonal all-malt brown ale.
"One thing that Christmas Ale teaches us in terms of lessons from Fritz is there is a reason for everything," says Burkhart.
Intention is at the backbone of everything at Anchor.
So of course, for Maytag's wedding in 1987, he had to make a special beer. But not just him. Together with his fiancée, Beverly, Maytag brewed Bridale, a spiced version of the 1986 Christmas Ale recipe.
Using the base brown beer and similar malts, the pair elected to each pick a separate ingredient to add to the beer and then collectively decided which hops to use.
"You can tell it was a special and wonderful thing they did together," says Burkhart, mentioning that only himself, Fritz, and Beverly actually know the ingredients that went into that original Bridale.
The beer proved to be so popular, Maytag decided that, from 1987 on, Anchor Christmas Ale would be a spiced brown ale with a yearly changing recipe that included new, secret ingredients each year.
Anchor Christmas Ale: A Closely Guarded Secret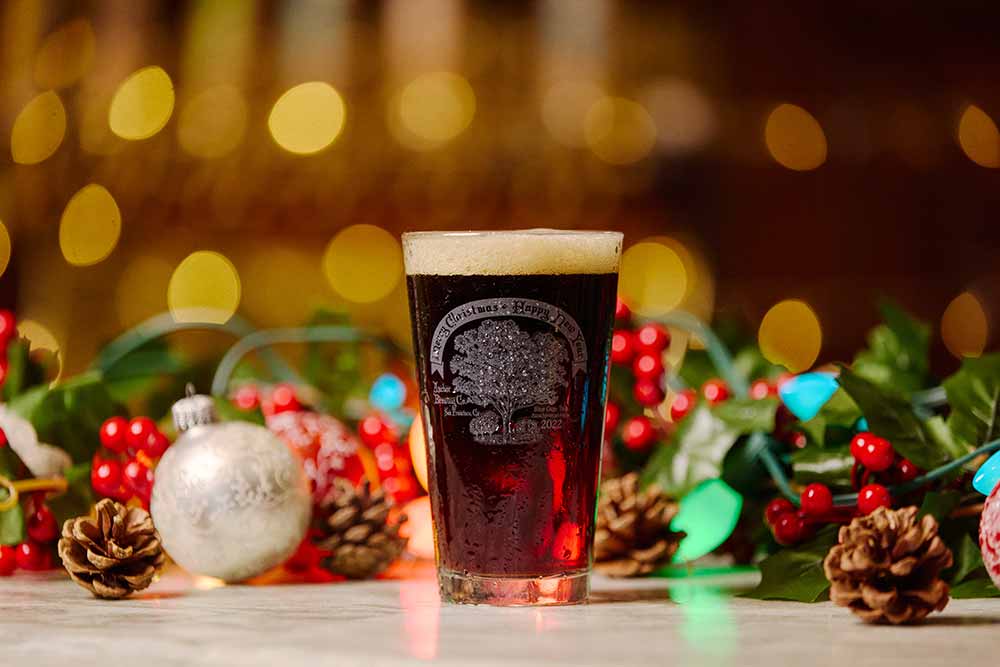 It's a tradition that the recipe for Christmas Ale changes every year, and when Christmas Ale became a spiced brown ale in 1987, things really got interesting. Every year the spices and ingredients going into Christmas Ale change.
And neither you nor I will ever know exactly what goes into that seasonal batch.
Did you think Anchor would tell us what's going in this year's Christmas Ale just because we're writing this piece?
Of course not!
"There is some mystique to not knowing the exact recipe," says Knotts. "It's a very bespoke beer and that's a big component of hype or cult beer."
She continues, "There is something so special about a beer that only comes out once. Each year you get something special, something collectible. That's something extraordinary."
So while we can't tell you exactly what's in this year's Christmas Ale, what we can tell you is how Volek described the beer to us. Pull out whatever clues you'd like from there, Sherlock.
After what Volek calls a string of years where Christmas Ale poured out midnight black, folks can expect something a little different in 2022. "This year, it's kind of ruby, garnet hues with a little bit of walnut, very dark mahogany, and all those red to autumnal orange to a bit in the brown category," says Volek. "The red really jumps out when you shine it up to the light and look at the sun through the glass, you see this beautiful red hue which is very difficult to get in brewing."
Besides the beautiful color, Volek says one word comes to mind when he thinks of this year's Christmas Ale: "elegance."
From the appearance, aroma, and taste. "When I started smelling the beer, we had a lot of inspiration from amaro on the spice blend," says Volek. "I get really strong orange peel aromas, a lot of zesty citrus notes on the nose as well as those coastal spices."
Similarly, Knotts finds this year's recipe feels "like Christmas in a glass," "a cozy sipper," and "quintessential holidays."
According to Volek, this year's Christmas Ale label features a eucalyptus tree, so "mentholy, minty, woodsy aromatics jump out as well."
On the palette, we get a few more clues to the recipe. "We use some caramel rye in the beer this year…so on the palette you get fresh-baked rye bread almost like a rye sandwich," says Volek. "A lot of decadent caramel that still has that citrusy warmth…it's nice and dry, finishing clean."
Hopefully, that gives you some idea.
But keeping the ingredients a secret has been a tradition since the very beginning, adding an allure of mystique and mystery to this seasonal one-off.
What's not a mystery, but maybe something you hadn't noticed before: The tree on the Christmas Ale changes every year.
But these decisions aren't based on whims, rather they're well thought-out, intentional choices with hidden meaning.
The Changing of the Trees on Christmas Ale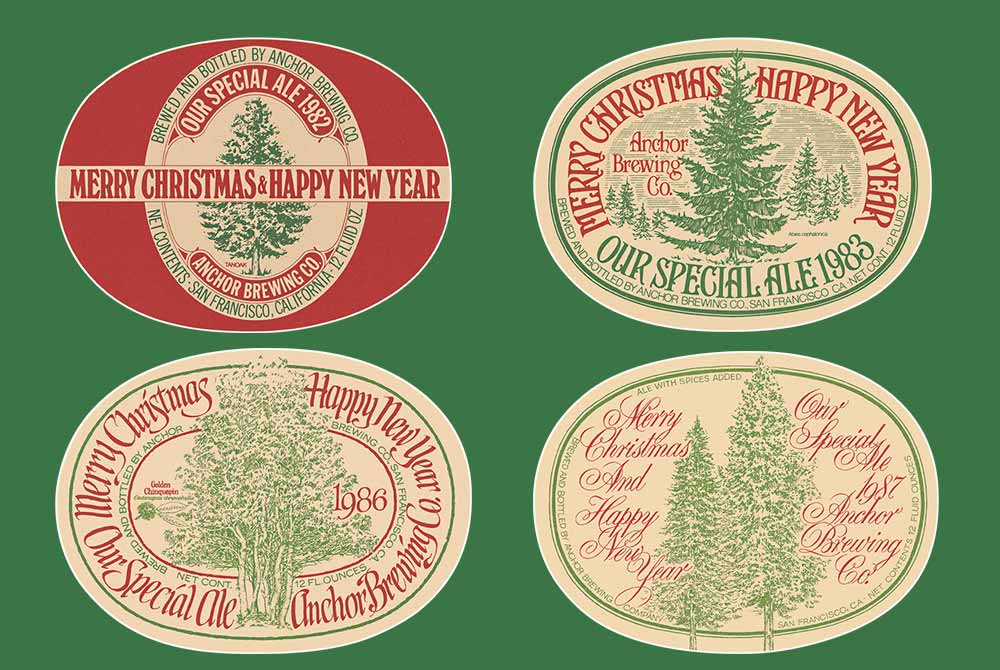 Since the very beginning, Anchor Christmas Ale has always featured a specific tree on the label. Each with its own story and intention.
The tradition began in 1975 when Maytag chose a generic, symbolic tree to use as the model. But each subsequent year the tree took on new meaning.
"Fritz loved the idea…of a new vintage—of something with a new label with new artwork on it," says Burkhart.
That first year, he also had a printer die cut blank neck labels to attach to each bottle so people could take those and write their own holiday message on it (e.g. Merry Christmas from Joe to Mary).
Originally intending on switching up the artist every year (an idea Maytag got from the famous winemaker Baron Philippe de Rothschild who used different artists from Salvador Dali to Andy Warhol on his Bordeaux vintage labels), Maytag basically stuck with one artist.
Jim Stitt designed the original label in 1975. Although Maytag hired someone else in '76, he realized that he wanted to stick with Stitt.
From 1977, and for the next 44 labels, Stitt drew a new tree every year. And although he retired in 2019, the now ninety-five-year-old Stitt is enjoying retirement, according to Burkhart.
"I challenge any designer on earth to create forty-eight distinctive labels that need both red and green, a tree, has to say 'Merry Christmas and Happy New Year,' and 'Anchor Brewing,' and 'Our Special Ale,'" says Burkhart. "Within those narrowly defined parameters, Anchor has created a remarkable assortment of labels over the years—and trees!"
A Collection of the Most Special Christmas Ale Trees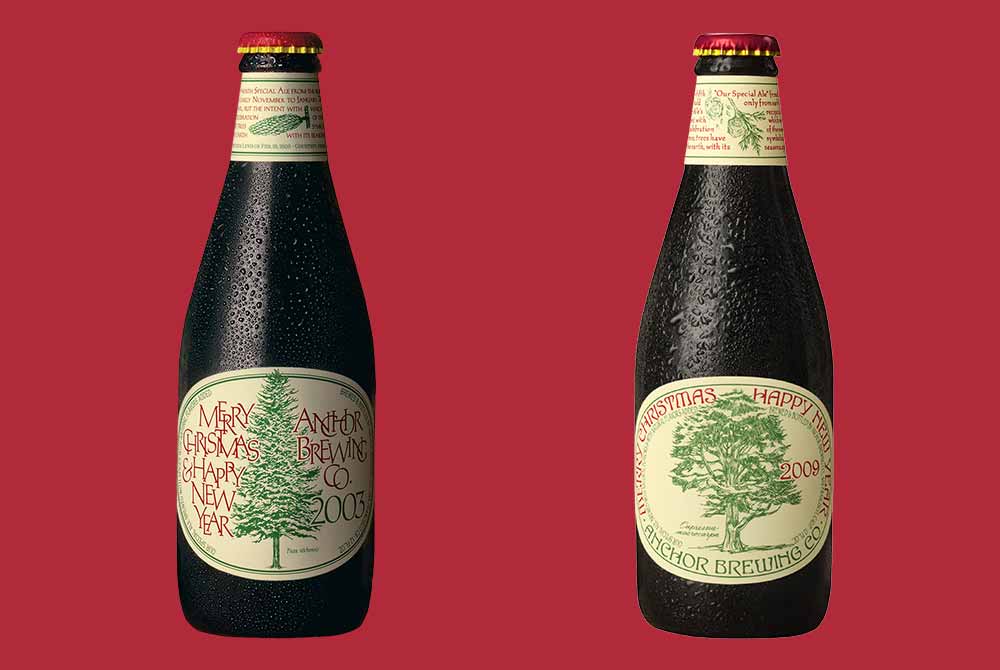 Sitka Spruce (2003)
Although Maytag pretty much picked all of the trees for each label of Christmas Ale, there were two occasions when he took a suggestion from others.
In 2003, Burkhart had an idea. To commemorate the 200th anniversary of the Lewis and Clark expedition, he wanted to feature the Sitka Spruce, whose cone appears in the journal of Meriwether Lewis, one of the original American explorers.
"When I presented it to him, Fritz snapped his fingers and said, 'Darn it!' Because he knew it was a great idea and a good idea," Burkhart reminisces.
Burkhart contacted the American Philosophical Society in Philadelphia and flew out there to read Lewis' original journals, finding an original sketch of a cone from the Sitka Spruce.
So in 2003, Anchor got permission from the American Philosophical Society to include Lewis' own drawing of a cone on that year's Christmas Ale label.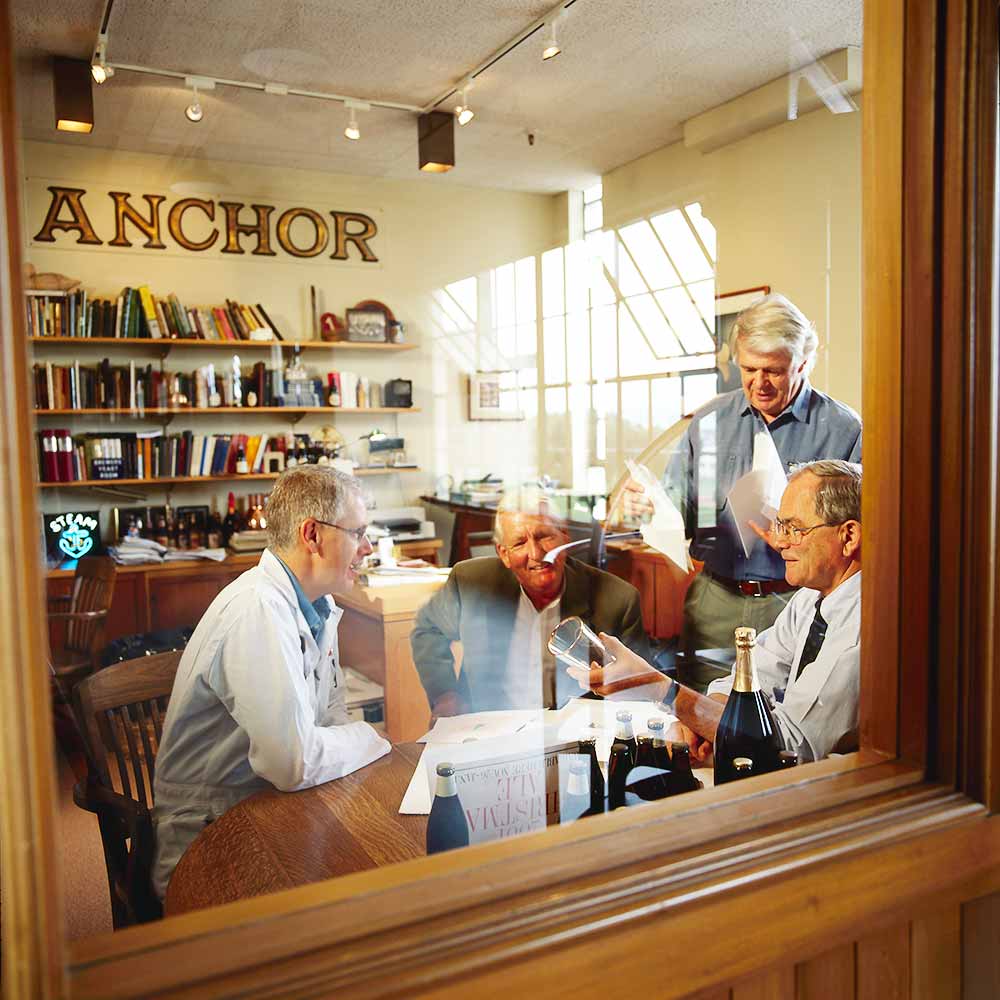 Uncle John's Tree, aka San Francisco Christmas Tree (2009)
The only other year that Maytag didn't pick the tree, in 2009, Anchor lead brewer Kevin West suggested they feature Uncle John's Tree, aka the San Francisco Christmas Tree.
A Monterey Cypress tree across from the McLaren Lodge in Golden Gate Park, Uncle John's Tree is decorated every year for Christmas.
"Both of those ideas—what Kevin and I thought were great ideas—Fritz thought was not only a great idea but a good idea," laughs Burkhart. "He has this distinction he likes to make."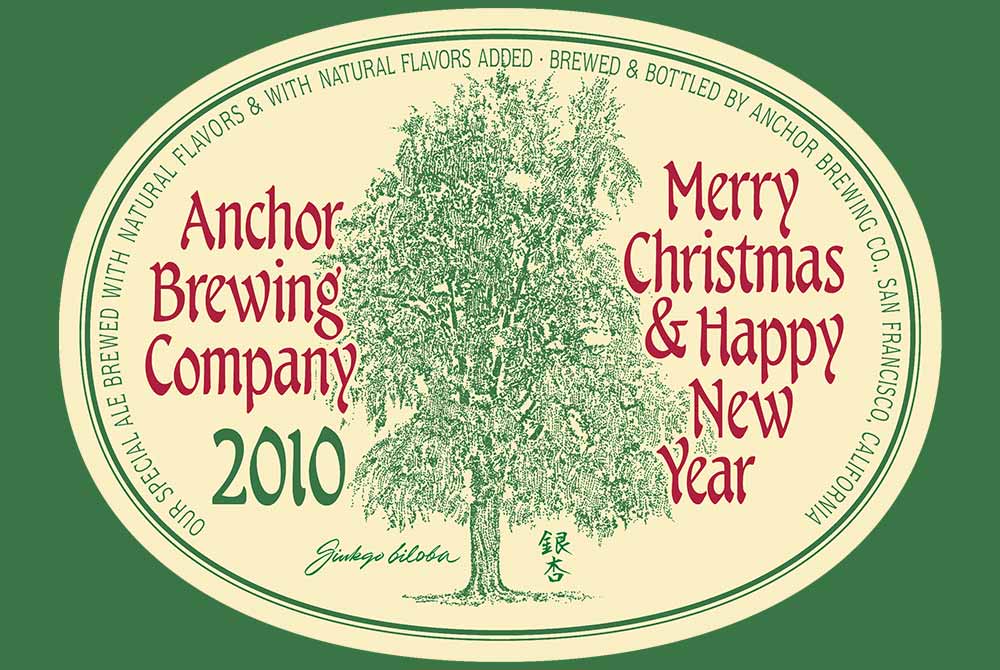 Gingko Biloba (2010)
For Maytag's last year at Anchor before he retired, he picked the Ginkgo Biloba tree.
"Sometimes there is just a simple reason for a tree," says Burkhart.
In 2010, Maytag sold the brewery, opting for retirement. "He was going to spend more time at home planting Ginkgo Biloba trees in front of his house," says Burkhart. "He said, 'I'm going to be looking at them a lot in the near future, so I think that's a nice tree.'"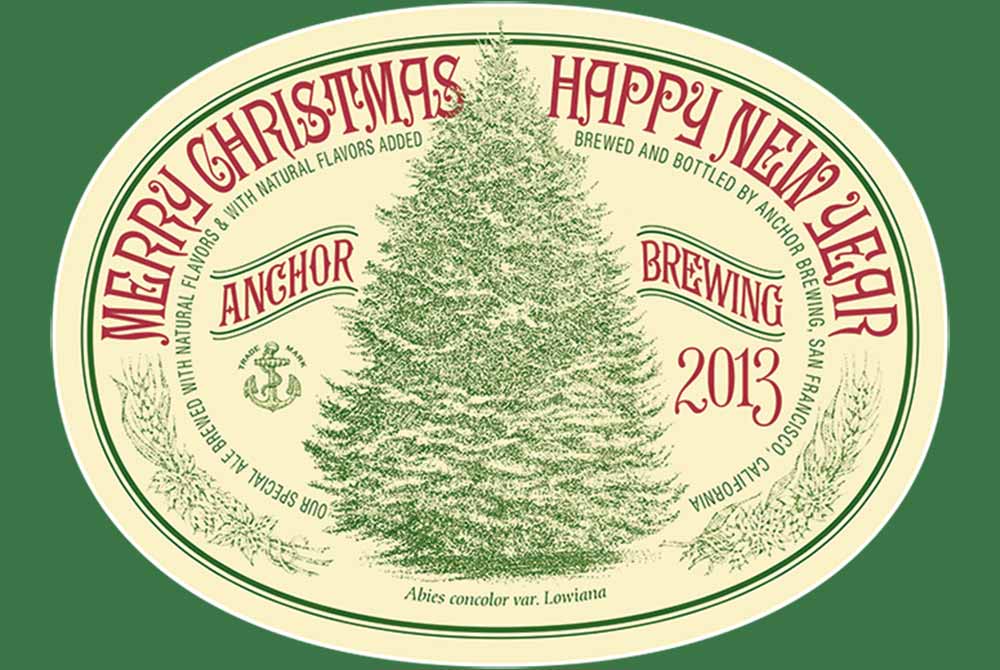 California White Fir (2013)
After Maytag retired, Burkhart took over as what he calls the "plant hunter." From 2011 to today, Burkhart had the honor of choosing the tree featured on the Christmas Ale label.
His favorite collaboration came in 2013 when they featured the California White Fir.
"Most people don't know that many of the trees we encounter in English country gardens are actually grown from seeds collected by plant hunters during the Gold Rush," says Burkhart.
For example, William Lobb, who came to California during the Gold Rush and is credited with bringing back fifty-eight species of trees to grow in England.
Including the Giant Sequoia and the California White Fir.
Accordingly, that year's label had a ye olde English theme.
Three Graces (2020)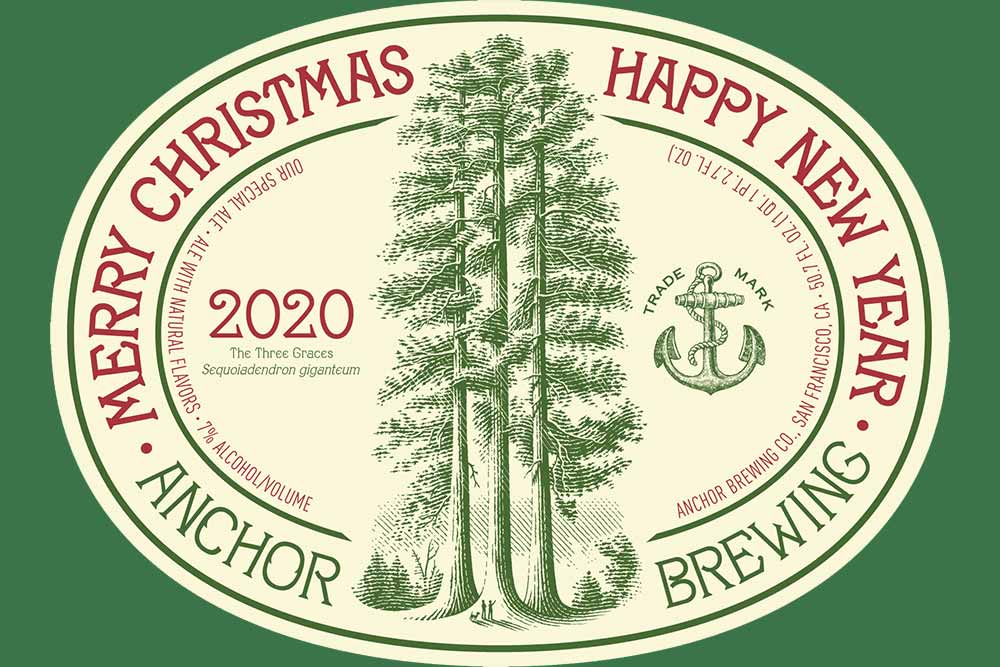 Burkhart is also especially proud of The Three Graces, the trees featured on the Christmas Ale label in 2020.
"I selected that one because, during COVID, we were all apart and I thought it would be wonderful to set a scene with The Three Graces because they're always talked about together as a group," says Burkhart.
On that year's label, you'll find two people looking up at the tree next to a little dog. "I wanted to have this feeling that, during that time of isolation, we're reminded of how we thrive in community," says Burkhart.
It was a label with an incredibly special meaning.
Something you'll also find in the story behind this year's Christmas Ale tree.
The Mother of Civil Rights in California
Take a drive in San Francisco on Octavia Street between Bush and Sutter Streets and you'll see three striking eucalyptus trees.
"Not too many people know—unless they pull the car over, get out, and go look at a large circular plaque on the pavement—what those are all about," says Burkhart.
Planted by Mary Ellen Pleasant in the 1800s, those trees are a living representation of a woman known as the Mother of Civil Rights in California.
Pleasant (1814–1904) first arrived in California during the Gold Rush. An abolitionist, activist, and successful businesswoman, Pleasant not only started a chain of laundries and boarding houses that employed formerly enslaved people, but also fought for civil rights in the West.
"I like to call her the Rosa Parks of San Francisco," says Burkhart, "because Pleasant brought two different suits against two different streetcar companies in the 1860s. One against a streetcar driver that kicked her off the car and another who refused to pick her up. She's one of those people, if you could time travel, you'd want to go back and talk with her about her life," says Burkhart.
The 2022 Anchor Christmas Ale label, designed by Steven Noble, is a re-interpretation of a period illustration Burkhart found of Pleasant crossing Octavia Street in her characteristic straw hat and long dress, her house (no longer extant) and her trees in the background.
"I bet people have driven by those trees dozens of times," says Burkhart, "but many probably don't know the story behind them. Mary Ellen Pleasant's story should be known by everybody in San Francisco…because she is a pretty amazing woman."
Now, they will.
Because that is the spirit of the holidays, right? Thinking about people other than yourself, giving back to those who need it most, and giving something special to others.
The Christmas Tree Grows Bigger: The Introduction of Magnums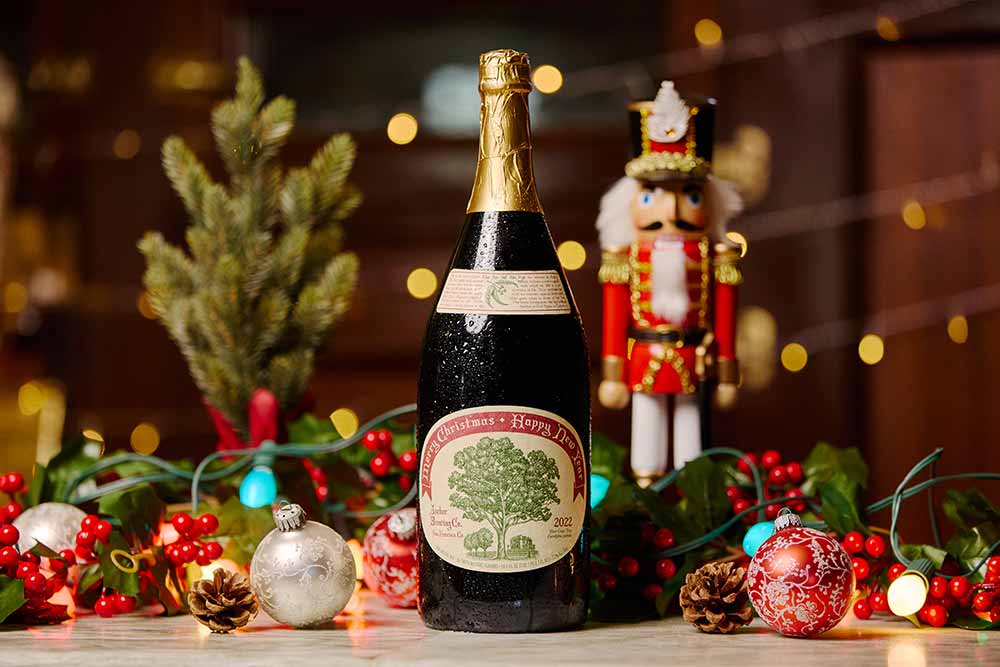 Serendipity. That's how Burkhart describes magnums at Anchor.
In 1991, Maytag's friend Jack Davies, who owned Schramsberg Vineyards, sent him a magnum bottle of sparkling wine for Christmas.
"Fritz thought it would be fun to do something nobody as far as we knew ever did before," says Burkhart. "Bottle magnums of Christmas Ale."
That year Anchor bottled 103 magnums of Christmas Ale, sending the very first bottle to Davies, of course.
Unsure if the new packaging format would catch on, Maytag approached Burkhart, who was giving tours at the time, and asked him how many he thought he could sell to the group that day.
"I said: Well, how many do you want me to sell?," says Burkhart. "Fritz chuckled and said, 'Try selling fifty today,' That was no problem, so we knew immediately we had a hit on our hands."
The holiday season is a wonderful time meant for sharing and gifting. Nothing says, 'I'm ready to celebrate with friends and family' better than a 1.5 liter (about 50oz) giant bottle full of a spiced brown ale.
"From our perspective, we want Christmas Ale to be a catalyst for sparking holiday joy, and beer in a magnum automatically means you can share with others," says Knotts.
Anchor Trade Marketing Manager Gideon Bush says he started his own tradition with his wife, opening a magnum of Christmas Ale every year on New Year's Eve for that very reason, "It's celebratory, like a champagne bottle where there is a little more fanfare behind it than cracking a small bottle of beer open."
Magnums even have their place in tradition directly at the brewery.
At Anchor, the holidays have become one of the busiest times. It's not uncommon to find everyone from the brewers to those working in the front office to jump on the bottling line when Christmas Ale magnums come out. "To see everyone working together…with the common goal of getting out a beautiful beer in a beautiful bottle is wonderful," says Burkhart.
Something special, something different, something unique, and something meant for sharing. Mangums seem to epically represent the spirit of Christmas Ale.
Traditions, Traditions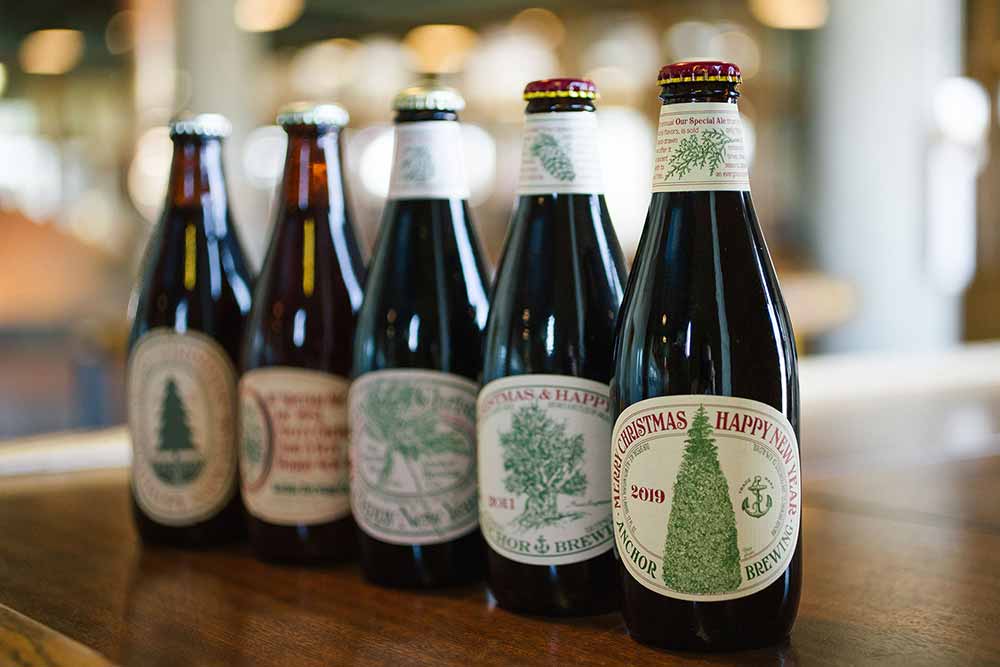 "Without our traditions, our lives would be as shaky as…as…as a fiddler on the roof," says Topo as Tevye in the famous play Fiddler on the Roof.
Traditions ground us.
They don't change just because we do. "I'm really proud and happy that Christmas Ale has been a part of the community and we've had these traditions for so long," says Volek. "No matter how the industry changes, [Christmas Ale] will be a part of it for us and something everyone else enjoys just as much."
Traditions give our lives meaning.
"People have such venerable memories with these beers," says Knotts. "It's not just about the beer or the label, it's about a moment in time."
And traditions, like roots, have a way of attaching, taking hold, and building a solid foundation from which we can grow.
At the end of the day, Anchor Christmas Ale is all about tradition.
Maytag wanted to start something that would take root and grow each and every year, becoming a part of people's lives. People at the brewery, people in San Francisco, and eventually people around the world.
"We all have traditions: decorating, the tree, mistletoe, the turkey, but Christmas Ale has been around for a long time and for many people has become a meaningful part of their Christmas celebration," says Burkhart. "To me, it's as simple as that: Christmas Ale from Anchor has woven itself into the traditions of Christmas for many of us."