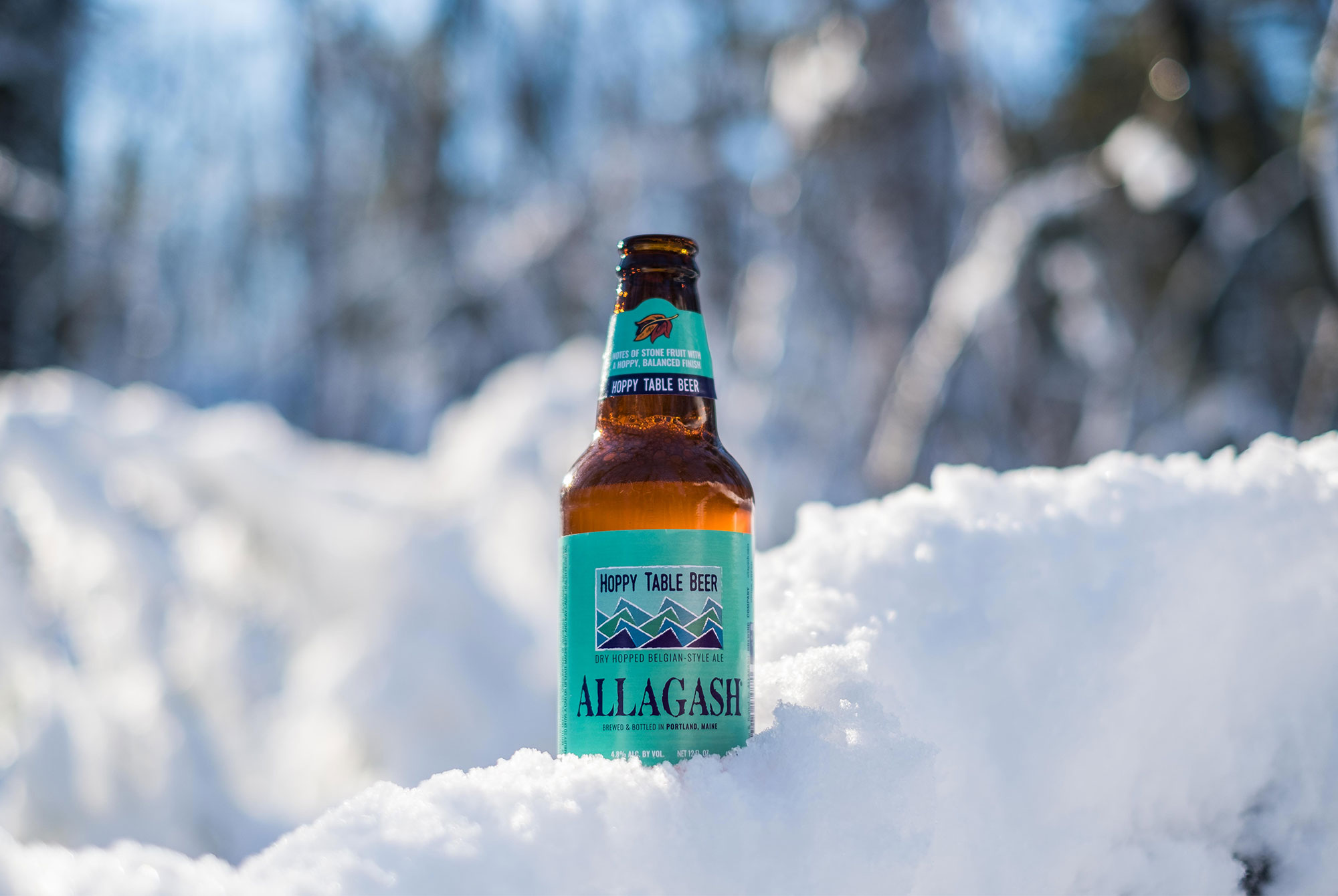 Photography by Allagash Brewing
Some craft drinkers are nervous eaters. If you're the type who worries that a double IPA will drown the nuances of a perfectly flaky fish, help has arrived. If you fret that those Nashville hot tenders could blunt the details of a favorite saison, keep reading. Allagash Brewing Co. might have the perfect beer to pair with your next meal.
The Portland, Maine-based brewery is rolling out its newest year-round offering, Hoppy Table Beer — its first ever with hops at the forefront — "inspired by the Belgian tradition of low-ABV, easily drinkable beers" but which "still occupies a hop-forward spot all its own," the brand's marketing specialist, Brett Willis, told me.
Anticipating questions about the style, Allagash has published a complementary blog post detailing it origins:
"If you were Belgian (and the year was 1900) there's a good chance the first beer you'd ever sipped would have been a tafelbier. Also translated in French as bière de table, table beers—as we Americans call them—are a low-ABV, malty, Belgian tradition. Back in the height of their popularity around the turn of the 20th century, table beers were viewed as the perfect mealtime sipper; they were low enough in alcohol that you could have a couple, yet still flavorful enough to accompany a robust dish."
Allagash's version features their two-row malt blend, Maris Otter malt, and oats, plus the subtle addition of coriander, "Belgium's secret spice," which shares an aromatic compound with certain hop varieties and gives the beer an added depth of flavor without overwhelming any of its other notes.
The beer is hopped with Chinook, Cascade, Comet, and Azacca before a healthy dry-hopping with more Comet and Azacca. Hops and grapefruit will tickle your nose hairs before flavors of pine and stone fruit dance across your tongue.
The big differentiator here, though, is the alcohol by volume. While more traditional table beers typically come in between 1.5 and 3 percent ABV, Allagash's Hoppy Table Beer features considerably more booze at 4.5 percent — informed by the tradition, they say, but "by no means defined by it." Maintaining nuance, but packing heat.
Still, they insist you can enjoy a few during a meal, no matter what's on the plate in front of you.
Sounds too good to be true. Maybe it's the coriander?
Hoppy Table Beer is available on draft and in bottles year-round wherever Allagash is distributed.