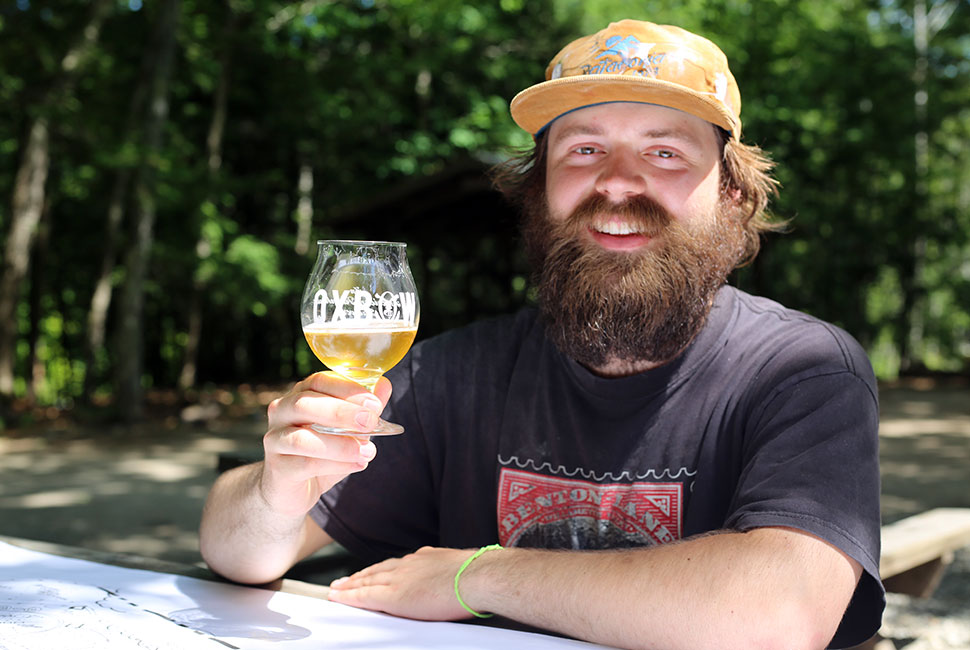 Things we learned:
It's possible to become a brewer with a degree in Horticulture
Oxbow brewers also serve as glorified janitors and truck drivers
Earth Eagle Brewing in Portsmouth, New Hampshire, is making underrated American ale
You probably need security clearance to get inside The White House
Removing dissolved oxygen from the brewing process results in stronger hop aromas
For one of the more down-to-earth experiences in American breweries, fly into Portland, rent a car, and take a drive up the coast with the windows down. Deep in the Maine wilderness, where mosquitoes swarm and accents sound like they're from another continent, lies Oxbow, a farm/brewery known for its commitment to the environment and funky saison ales. Founded in 2011, the brewery has since expanded to include a Portland location (that's Portland, Maine, not Portland, Oregon), an Airbnb on their property, and distribution as far away as Japan. Hop Culture caught up with brewer Tyler "Titu" Sildve at Oxbow's Newcastle farm to talk about hops, horticulture, and Whitehouse security clearances.
Kenny Gould: How'd you get the nickname "Titu"?
Tyler Sildve: I worked with another Tyler at Portsmouth Brewery…that's where Titu comes from (T-2). But sometimes people are like, "Oh, so you were the second Tyler," and lately I've gotten a bit sick of that so I've shifted slightly to Tito.
KG: Titu, then…can you tell me a little bit about your background?
TS: Right out of college, I started working at a winery in Oregon. After a while, I came back east and farmed for two years, first as a farmhand in Upstate New York and then in Vermont, before moving back to New Market, New Hampshire, where I'd gone to college. A position opened up at Portsmouth Brewery, so I got a job there and worked under Tyler Jones, who now works at the Black Hog Brewery in Connecticut. When I worked at Portsmouth, these guys at Oxbow were dear friends of ours and I'd come up here all the time. I thought this place was the best spot ever to drink beer and hang out. Oxbow needed some more hands so I came up here about two years ago.
KG: Wait, how'd you get from New Hampshire to Oregon?
TS: It's pretty funny, actually — it was the only time I was ever hired over the phone. I was cold calling wineries because I knew that wineries at harvest season needed cellar hands and hands out in the field. I'd just gotten my horticulture degree and I wanted to go out west and work in fermentation. It ended up working out: a guy named Chris Mazepink, head viticulturist and winemaker at Benton Lane hired me. He's now the head winemaker at Archery Summit.
KG: Where do you live now?
TS: I live in Portland.
KG: And you come up here every day?
TS: Actually, no. It's not an every day thing. The whole production team is spending a good amount of time in Portland, where all of our barrel aging, bottling, and blending happens. We do a lot of transportation of liquid. We're not only brewers and glorified janitors but also truck drivers.
KG: Put that on your business card.
TS: (laughs). I'm down there maybe one or two days a week and then up here. We work it out where we're doing morning or late shifts and then one of us stays overnight, either in the house or in the office on a little pull out couch.
I was cold calling wineries because I knew that wineries at harvest season needed cellar hands and hands out in the field.
KG: It sounds like it's a pretty tight knit team.
TS: Totally. There's four of us right now working on production and it's probably going to stay that way for quite some time. We're growing a bit each year, but we're definitely not putting in a ten thousand square foot warehouse next year. We know our limitations here with the resources that we're using.
KG: So what beer is this?
TS: This is Domestic. About two years ago we brewed it as a house beer for our Portland location. We wanted an American hop-forward saison. But during this most recent batch, we changed the recipe to give it more body. We also dry-hopped it, which we hadn't done in the past.
KG: Taste-wise, how does this version differ from the original?
TS: It's tasting very much American right now. I'm actually pretty blown away by how much the dry hopping is taking away from the yeast character. Not in a negative way, but it's certainly very assertive. When you smell the beer, it smells exactly like opening up a fresh bag of Simcoe hops. We're super happy with it.
KG: Does this beer use wild yeasts?
TS: No. Most of our draft beers use traditional Belgian and French yeast strains. We're keeping those in house and they're getting more in-house character over subsequent generations. With other beers, we do use wild yeasts. But we've decided for consistency sake to separate those and work with two different systems, really.
When you smell the beer, it smells exactly like opening up a fresh bag of Simcoe hops.
KG: If you could bring anyone, dead or alive, from the brewing industry or not, to hang out with you while you brewed, who would it be and why?
TS: That's a great question. I kind of want to know Garrett Oliver's answer. But don't tell me yet. Um, let's see. Does it have to be a name?
KG: Who are you thinking?
TS: I've always thought about trying to put my head into someone who made beer before the advent of any type of modern technology.
KG: Jared Gilbert from Cigar City Cider and Mead said something similar. Garrett Oliver said Obama — apparently it's a bit of a tradition that the President makes a President's Homebrew.
TS: That's awesome. You should cover that.
KG: I'd love to cover that. But I don't think anyone is giving me security clearance.
TS: You'd have to get security clearance?
KG: To go into The White House and brew with Obama? Probably.
TS: Just throw Garrett's name out there. He's got a big name. I love how well he dresses.
KG: You know, he complemented my socks once.
TS: That's probably one of the best complements you could ever get.
KG: Who in the country do you think is brewing interesting stuff?
TS: I'm going to stay New England-focused on this one. But I want to give myself some time…hmm…this is a hard question, because there are a lot of people making some pretty wonderful beer and doing innovative things with new processes. It's hard to dial that in and choose just one. But just because I have such connections to Portsmouth, I'd like to say Alex from Earth Eagle Brewing, which is a little nano brewery in Portsmouth. He's making some absolutely beautiful American ales. Earth Eagle has gotten a lot of press on their gruits, but when it comes to their American stuff, they don't get as much.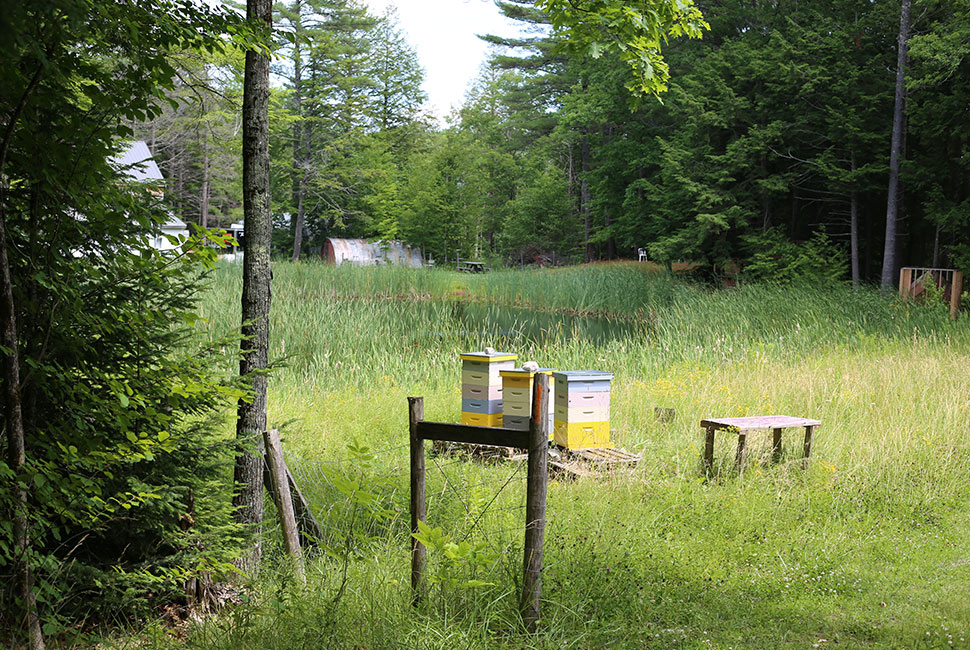 KG: Anyone else?
TS: For us here at Oxbow, we also have to say Hill Farmstead. Those guys up there, their production manager Vasili is absolutely killing it. The stuff that they're doing in eliminating dissolved oxygen in all parts of their process is definitely inspiring as someone that spends every day in a cellar. Their work and time and the consideration that goes into every beer is certainly evident.
KG: Why is it important to eliminate dissolved oxygen?
TS: So Hill Farmstead is known for a lot of their beers, but especially their hoppy beers. Hop aromatics and flavors are super volatile and are subject to being degraded very quickly with very small amounts of oxygen. We're talking about parts per billion, not even parts per million. You can definitely see how people go crazy thinking about how to eliminate those extra ten parts per billion. But Hill Farmstead is focused on getting that out and it comes through in the quality of their beers. That's been a huge inspiration for us.
KG: What is Oxbow doing differently? If you were a third party looking at your process, what would you pick out that's interesting that's happening here?
TS: For sure, the utilization of our resources on the land. We're not on city septic — we're on our own system, which is very fragile, so we do a lot of work to eliminate the amount of organic matter that goes into our system. We have a big focus on the land. We also spend a lot of time ensuring the health of our yeast. It's certainly a lot harder to work with saison yeast than that which goes into American ales, because saison yeast lends itself to not working properly in an American time frame. We're looking at a longer, more fragile process. Those are the big differences, but then when you walk into the brewery, it looks like any other.