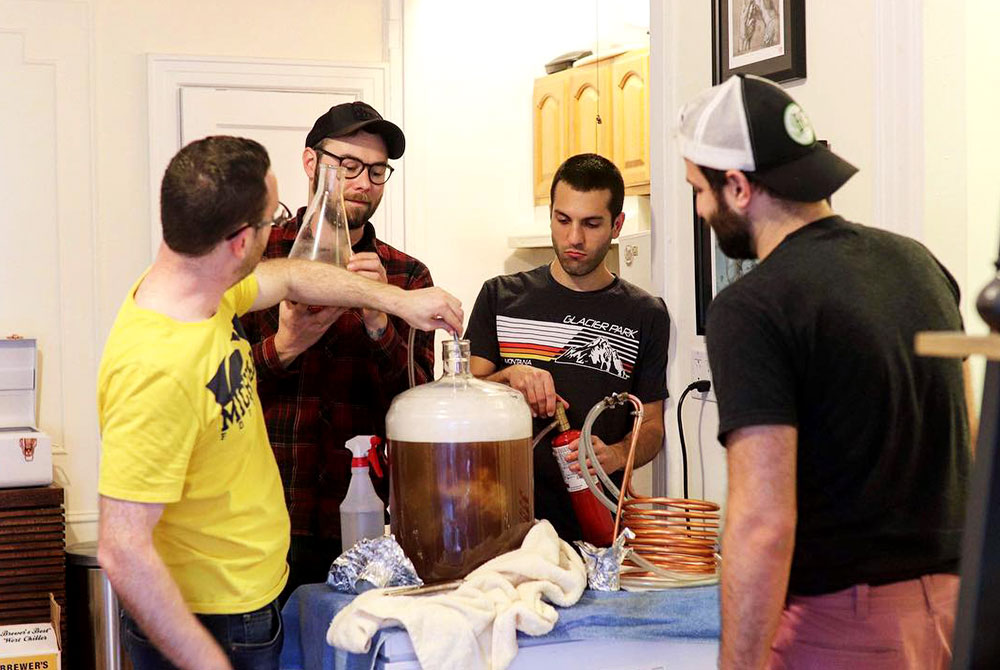 Editor's Note:
The Back to Basics series brings professional brewers from around the world back to a place where most of them first fell in love with the art of brewing: homebrewing. For each chapter, I, along with some of my favorite homebrewers invite a new professional brewer into our brewhouse to discuss the route that got them to where they are today.
Today, local homebrewers Andrew Berman, Matt Federico, and myself have invited Stephen Andrews into our humble Astoria brewhouse to discuss his journey from homebrewing to professional brewing.
It's 9 am when Stephen arrives at our Astoria brewhouse, holding a case of beers to get us through the day. "I actually used to live around the corner from here," he says as he hands us the case before opening his backpack to give us a few more bottles. "I realized twenty minutes after I left that I forgot to bring cans from Sleeping Village." If you never heard the name, it's Stephen's contract brewery in Norway just in case being a brewer in the states wasn't enough.
For the Back to Basics series, we aim to either recreate a beer from our guest's past, something our guest always wanted to brew, or just a beer that represents their style. A few months back, I sent a note to Stephen to see if he would be interested in being our fourth guest and creating a beer for an upcoming festival. While Stephen said yes, the time between our brew day and the festival limited the number of styles we could brew. Based on everyone's background, we decided to go with a Spelt Pale Ale. Something that would be hazy, but would be a change of pace from the Double IPAs festival attendees would be throwing back.
We crafted our recipe by starting with a Spelt Pale Ale Matt and Andrew recently brewed called "Hey Man, Slow Down." After looking it over, Stephen suggested we try blending a few base malts rather than going with one as the recipe called for. "It's something I'm very into at the moment," he mentioned to us. We decided on a blend of three different base malts and changed up the hops to include a favorite of the group – Vic Secret. For those that not familiar with Vic Secret, it's a popular hop that brewers often use as a substitute for Galaxy.
It's 10 am when we first mash in – luckily we are back to a single mash brew day this time. We heat our water to about 156 degrees before pouring it over the grains in our mash tun. As Andrew gives Stephen the short tour of the "brewhouse," Stephen begins to reminisce of when he first learned to homebrew.
"I had just moved back from California after a failed attempt at film school," Stephen says. He took a day job as a welder while spending his evenings as a bartender at weddings. His friends, however, were in the culinary field, which gave him the urge to find a career path that would allow him to have that same creativity. Having recently fallen in love with the beer scene in the U.K. on a trip to visit his family, Stephen decided to try his luck at brewing.
Using old half-barrel kegs leftover from a party in his friend's backyard, Stephen was able to build his own system, and brew his first homebrew – a clone of Stone IPA. "My friend and I were so blown away with how good it was (and relatively easy to make), and after that I was completely hooked," Stephen recalls. At the time, he was also inspired by the beers from Jolly Pumpkin Artisan Ales, so for his next act he decided to go all in, buying a 53-gallon wine barrel which he kept it in his laundry room. "Turns out you need to make six ten gallon batches to fill it so my friends and I marathon-brewed farmhouse beer over three days," Stephen says chuckling. "It was brutal; I am pretty sure we were drunk most of the time and by the end of it my friends said they never wanted to brew again," he continues. Luckily for Stephen– and for us–we are only brewing a five-gallon batch today.
After our sixty minute mash and sparge, we begin to drain our wort from our mash tun into our kettle. While almost every homebrew system is slightly different, we use a ten gallon Gatorade jug as our mash tun. On the spout of the jug, there is a line that runs clean wort into our brew kettle. Once we gather enough wort, we bring our kettle to the stove to begin our boil, which will last another sixty minutes. As we give Stephen the opportunity to grain-out the mash tun, he begins to tell us about how he made his way into the professional beer scene.
After homebrewing for what seemed like an eternity, Stephen had figured out what he wanted to do with his life, and in 2010, he quit his job to study at the Siebel Institute in Chicago and Munich. "I knew that I needed some kind of education to get anyone to give me a shot so I looked at my options and Siebel Institute seemed to be a really good fit," Stephen says. After completing his time at Siebel, he traveled to Toronto to get his general certification in brewing. "I was really just trying to build up my limited beer experience to land a job back in Connecticut," Stephen shares. As there weren't too many options for craft beer in Connecticut at the time, he sent his resume to every option he had, and–luckily for him–he received one response: Thomas Hooker Brewing Company.
Stephen began his time at Thomas Hooker as a volunteer, and then eventually moved into cellar work for his first two years, when suddenly the head brewer left. Stephen was the next in line. "It was trial by fire," Stephen says. "I was young but I learned a lot in those first few years and absolutely loved the people and culture in that brewery," he gushes. However, after some time, he began to crave a change in scenery and applied for a job at Brooklyn Brewery.
"It turns out New York is expensive and I stumbled upon a new beer bar just down the street in Greenpoint," Stephen says as he began bartending at Brooklyn's iconic craft beer bar Tørst. "I partied a lot and made some lifelong friends but soon it became a bit too much," Stephen admits, as he once again knew he needed a change in scenery. At the time, Brooklyn Brewery was sending Stephen over to their sister brewery in Stockholm, Nya Carnegiet, which was, coincidently, looking for a new brewer. While he was thrilled at the possibility, things didn't work out as the brewery wanted to keep him in New York. However, the idea of being in Europe was already planted too deep in Stephen's mind. "At this point, my heart and mind were already across the pond so I kept looking," he mentions. When a position opened up as a Barrel Program Manager at Nøgne Ø in Grimstad, Norway, he jumped on it.
When asked about his time at Nøgne Ø, Stephen responds, "It was life-changing and challenging but nothing in my life has been more rewarding." After about a year and a half, Nøgne Ø was about to undergo a large expansion. "The expansion meant I would inherit the entire existing brewery space (an old hydroelectric power station) and they would build a shiny new brewery right next door," Stephen says. Once the build-out began, however, he was left with little to do, so he decided to return to Connecticut to look for temporary work, finding a position for six months at Black East Brewing, which allowed him to brush up on brewing styles.
After the six months went by, Stephen returned to Nøgne Ø to begin setting up his barrel program in the old space. As he was working on his new barrel program, Nøgne Ø sold its majority shares to Hansa Borg Bryggerier, a Norweigan brewery and distribution company. The sale, Stephen recalls, seemed to shift the focus within the brewery to a direction that challenged the quality of their beers. It was something that Stephen didn't want to support, so he decided it was time to leave Nøgne Ø, he tells us as we hit the sixty-minute mark in our boil.
As Matt kills the burner, we let our guest of honor add Amarillo, Vic Secret, and Galaxy to our kettle. Once all hops have been added, Matt begins to whirlpool our wort using the wort chiller. For a beer like this, we are aiming to get our wort temperature down to 67 degrees before we pitch our yeast. As Matt stirs the chiller, Stephen tells us about how he found his way back to Connecticut.
"After my time at Nøgne Ø, I came back to the states to check out Fox Farm," Stephen says. He had been in contact with Zack Adams (founder of Fox Farm) and wanted to see whether it would be the right fit for him. "I went over to check out the brewery and talk with Zack, and I was completely blown away." In December 2017 Stephen Andrews joined the team at Fox Farm Brewery. "Zack has given me incredible space and freedom to make beers that I have always dreamed of making," he says. "Fox Farm's commitment to mixed culture beers, oak, and classic lager production is exactly in line with what I want to be doing day to day," he continues. Most import of all, Zack allows him to continue a side project he is incredibly passionate about – Sleeping Village, his contract brewery based out of Norway.
While Stephen describes Fox Farm as an incredible opportunity to grow as a brewer, he describes Sleeping Village to be his heart and soul and lifelong dream. In Norway, there is a monopoly that prevents breweries like Stephen's from selling any beer that's over 4.7 percent ABV directly to the customer. This, coupled with the fact that cold storage is not common within Oslo, led Stephen and his business partner to create a project that would give locals the opportunity to try new and exciting styles. "We rent a refrigerated warehouse in Oslo and deliver to bars using Tine, a dairy distribution," he says. Doing this allows Sleeping Village to get fresh cold kegs to every major city in Norway. While Sleeping Village could be a full-scale brewery one day, Stephen notes that he's proud of what he and his business partner have accomplished in Norway thus far. As for our accomplishments, the brew day is coming to a close as we transfer our beer to the fermenter.
For our yeast, we are using Wyeast 1318, which is also known as London Ale III, a British Ale strain commonly used for hazy hoppy offerings. Andrew hits the fermenter with an oxygen wand to promote healthy fermentation before Stephen slowly pours our yeast starter into the fermenter.
While Andrew carefully moves our fermenter into a temperature controlled freezer chest, we set the temperature to 68 degrees. The plan is to hold the temperature there the first few days, and then slowly let the temperature rise to allow the beer to ferment out.
Once the fermentation cycle was complete, we kegged the beer, which we named "Astoria Throwback" and served it at Hop Culture's Juicy Brews Winter Invitational.
Liked this article? Sign up for our newsletter to get the best craft beer writing on the web delivered straight to your inbox.