Photography by J. Travis Smith
Photography by J. Travis Smith
Photography by J. Travis Smith
Photography by J. Travis Smith
Photography by J. Travis Smith
Photography by J. Travis Smith
Photography by J. Travis Smith
Photography by J. Travis Smith
Photography by J. Travis Smith
Editor's Note:
The Back to Basics series brings professional brewers from around world back to a place where most of them first fell in love with the art of brewing: the home brewing. For each chapter in the series I, along with my friends and long-time homebrewers Andrew Berman and Matt Federico, invite a new professional brewer into our brewhouse in Astoria, Queens to discuss the route that got them to where they are today. Today we're brewing with Zac Ross from Kent Falls Brewing Company to discuss his journey and his next steps.
In a few weeks, Zac will be pouring some Kent Falls beer at Juicy Brews Summer Craft Beer Invitational in Richmond, VA.
"I picked these off a tree this morning; they're super sappy, take a bite," Zac Ross says as he walks into our brewhouse. Around Zac's shoulder is a bag filled with goodies for today's brew day, including what appear to be spruce branches hanging out the side. He removes some unlabeled aluminum cans filled with whole leaf hops. "I ran out of zip-lock bags, and had to improvise," he mentions as I look at him in disbelief. "After four crazy brew days, including our last coolship brew of the year, I'm looking forward to a five-gallon batch."
While the baby-faced brewer from Kent Falls might look like a kid fresh out of college, Zac's brewing knowledge says otherwise. After stints at places like Voodoo Brewing Company and The Answer Brewpub, Zac's ability to thrive in spontaneous situations has allowed him to evolve both as a brewer and a person.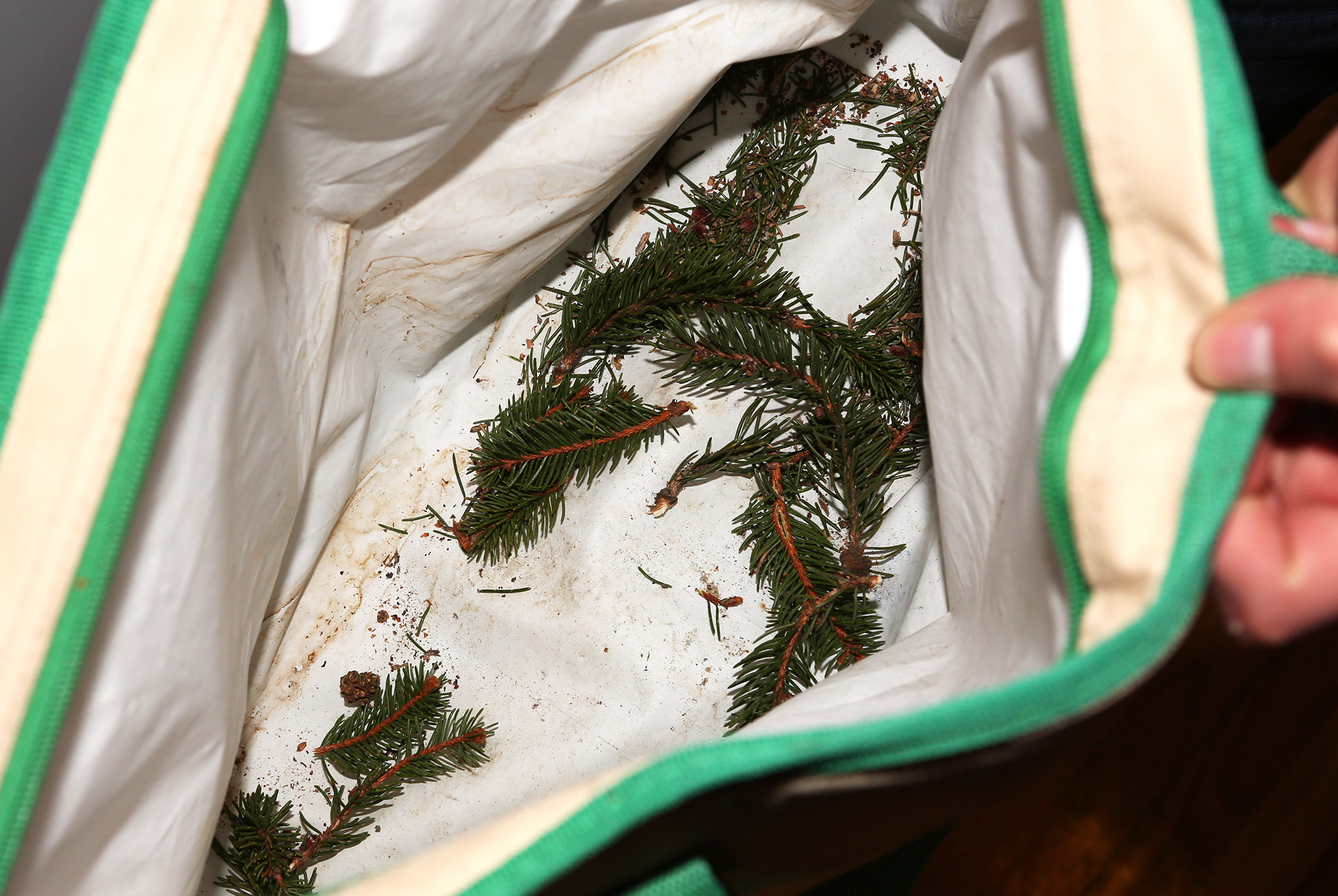 For the Back to Basics series, we aim to recreate a beer from our guest's past, try something our guest always wanted to brew, or just brew a beer that represents their style. For Zac, we wanted to create something that represented the delicate farmhouse and mixed culture offerings he's been working on at Kent Falls.
Our recipe started with a saison base created by my in-house homebrewing team, Andrew Berman and Matt Federico. Zac requested to make some minor alterations to the recipe, like adding aged pellet and whole leaf hops from 2012. "The saison I made with Forest and Main utilized some 2012 Saphir hops that smelled cheesy and lambic-ish, but had a dankness and zest that typically come from fresh hops," he wrote us a few weeks before the brew day. We were sold.
It's 10:30 a.m. when we first mash in. Being that Zac is our guest for the day, we put him to work and assist with the mash. We're doing what is called a single infusion mash, which makes for a much easier brew day than Back to Basics Volume One.
Once the water hits 163 degrees, we dump the water and grains into our mash tun. Zac mentions that it's been almost 10 years since his first brew day.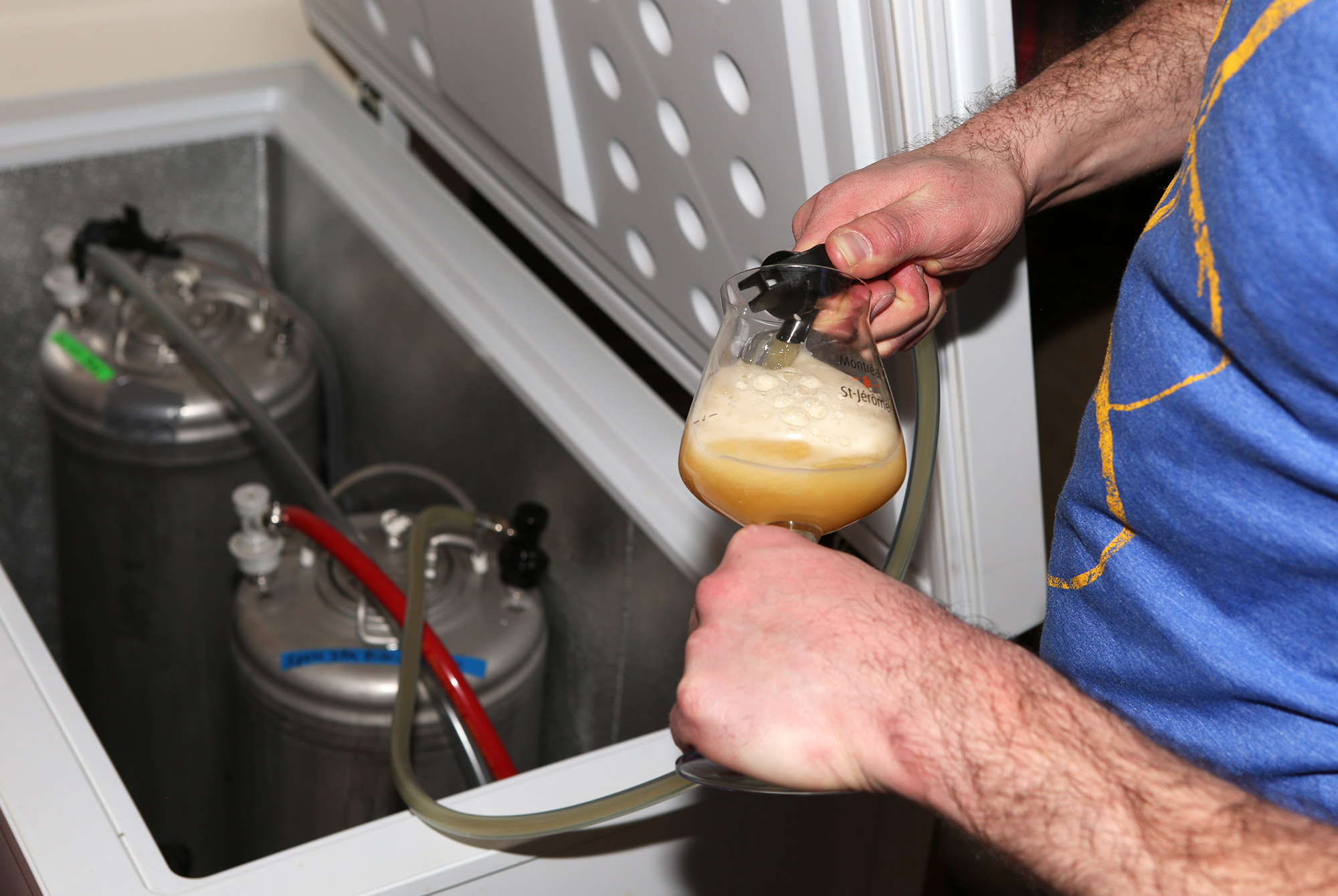 "I was helping some friends brew a clone recipe of Nugget Nectar, and I'll never forget how good I thought that batch turned out," Zac says, pausing for a second. "Then again, everyone thinks the first beer they brew tastes incredible, but I'm sure it was at least drinkable," he continues, chuckling. While he quickly became fascinated with brewing, it wasn't until he walked into his hometown's brewery, Voodoo Brewing, that his life changed. "It was like I was walking into a bar in Brooklyn but I was in western Pennsylvania," Zac says. "I was determined to work there so I found a way to talk to the head brewer and offered to work in any capacity they might need."
"Voodoo was like a myth back in those days," Zac explains. "Craft beer wasn't widely available, and cases were out of the price range for college students, but there were rumors about this really good brewery, somewhere down an alley in downtown Meadville." Zac started as a volunteer on the bottling line before he worked his way up to the kitchen to get a paid position. Soon, he became the jack-of-all-trades – packaging, cleaning kegs, bartending; however, he had a less than ideal relationship with his boss, Curt Rachocki, Voodoo's head brewer. "At the time, I was an entitled recent college graduate who thought he knew everything and believed the world owed him all the favors," Zac mentions regarding his time at Voodoo. Over time working alongside Curt, his perspective began to change as the two became close friends.
"I saw Curt working every day of every week, year after year, brewing 2,000 bbl a year on a 10 bbl system 100 percent by himself," Zac recalls. "He was so patient, I know there are projects that are still coming out that he was passionate about years ago, but he had the patience and foresight to wait until the time was right so there was never any compromise with quality," Zac praises. "That patience and work ethic is something that I took with me. And we still talk weekly." Funny enough, both Zac and I rolled up to our brew day together wearing a Voodoo shirt. We close out our mash and move our kettle to the stove for the boil.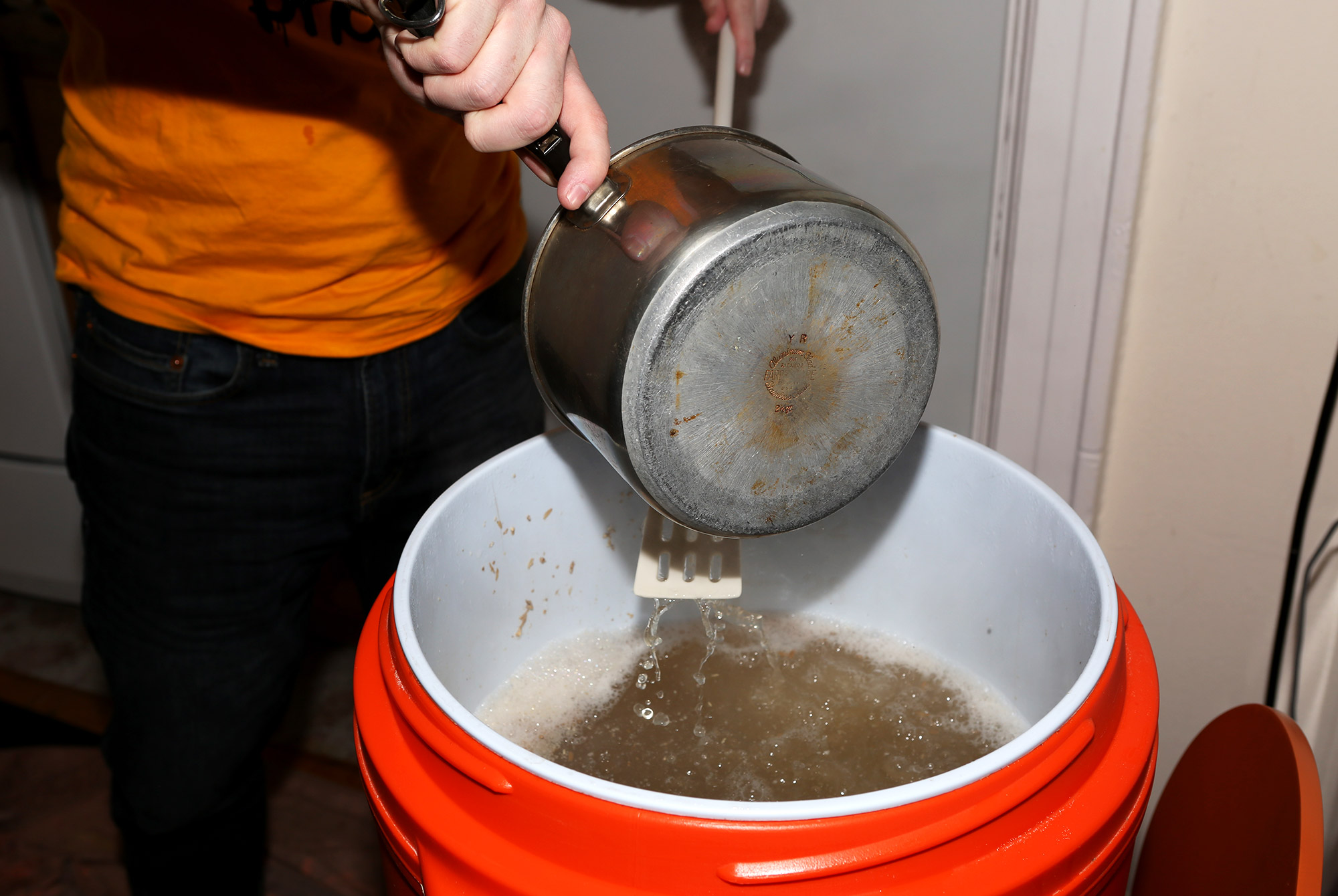 We're planning to do a 60-minute boil for today's brew day. The goal is to get to a gravity just over 1.040 by the end of the boil, which will make our beer around 4.8% ABV once it's done fermenting. As the beer begins to boil, Zac dumps in the can of whole-leaf aged hops as well as our aged pellets. The last time Zac brewed on a homebrew system it was actually with our guest from Volume One, Brandon Tolbert in Richmond.
While Zac was at Voodoo, he would hang out with the customers waiting overnight in line for the Barrel Room Collection series. One of the people he met was Dustin Durrance, who would eventually become the co-owner/co-founder of The Veil Brewing in Richmond. Dustin got Zac in touch with An Bui, owner of Mekong Restaurant in Richmond, and Zac was hired as the beer buyer for The Answer's bar, and to help his new boss, Brandon Tolbert, build-out what would become The Answer Brewpub.
"When I first started at The Answer, we didn't have a brewery, so I used to go over to Brandon's house and brew 10-gallon batches in his garage," Zac says. "We would brew what would become the first few batches of our flagship beers, the Larceny series," he continues.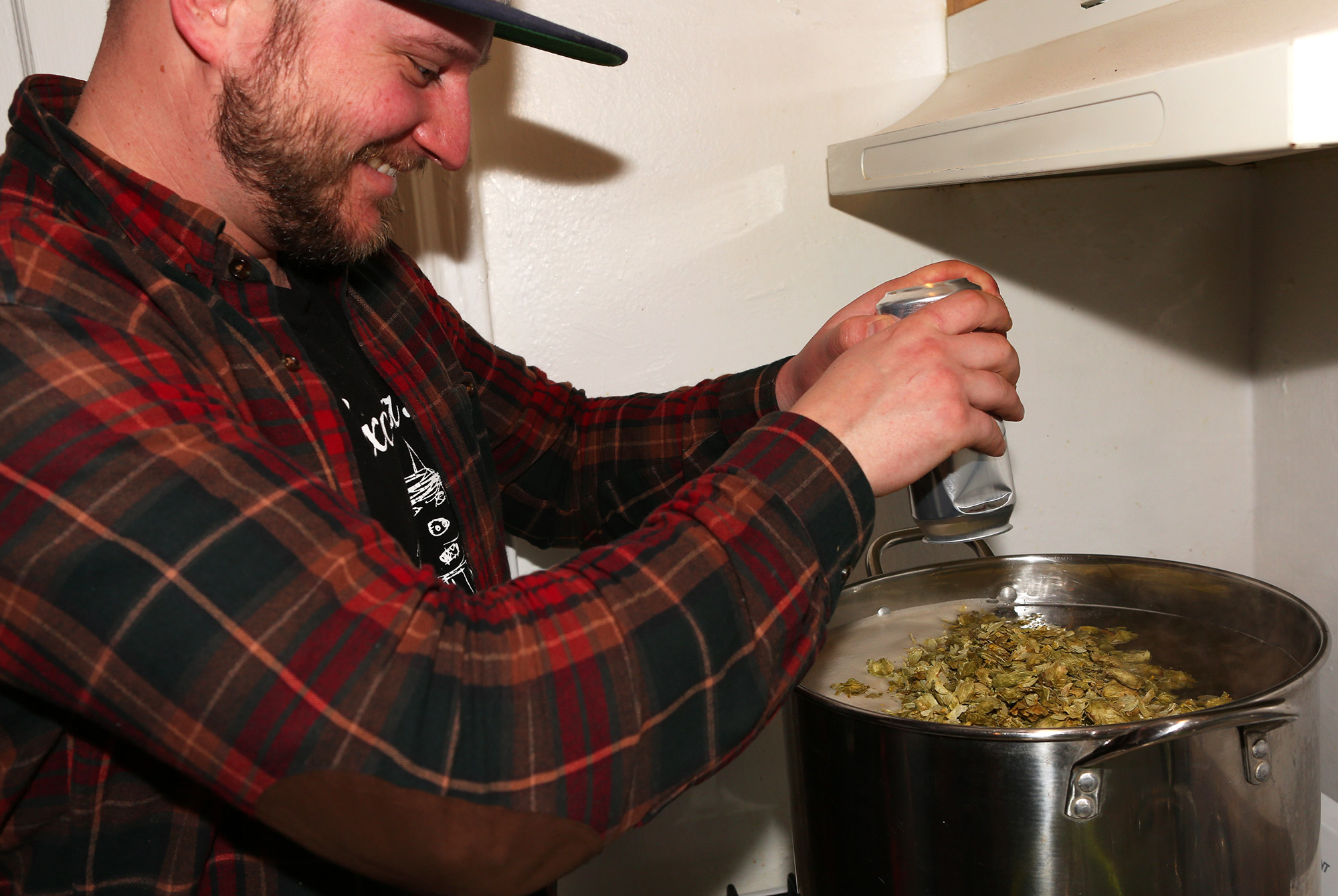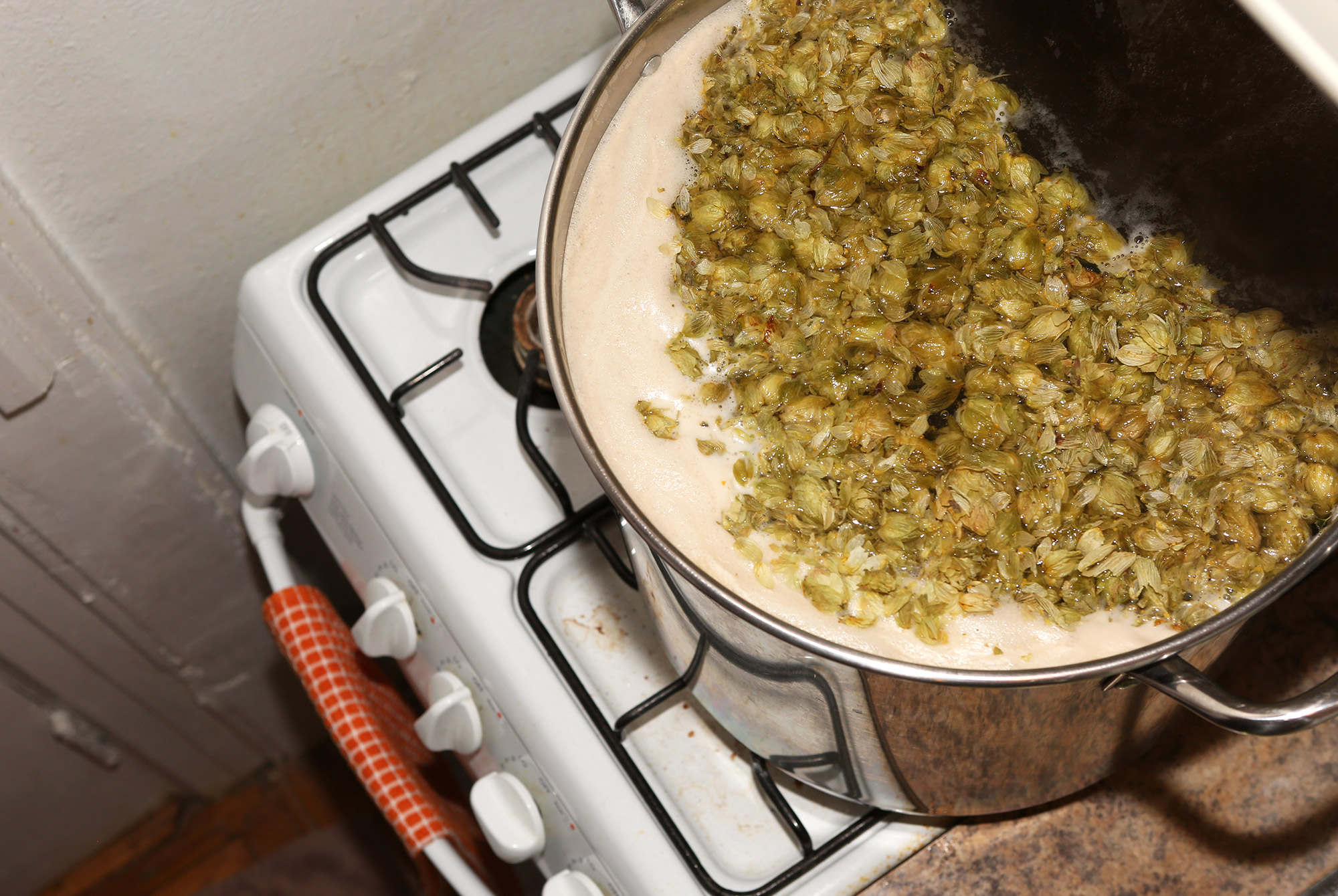 "I'll never forget the moment we finally got our license to brew commercially," Zac says. "I was in the kitchen making some syrups for a Hardywood Berliner and Brandon came in and said, 'We got it. I'm going to brew.'" Zac quickly finished up everything he was working on, and together they brewed The Answer's first batch.
As time went on, Zac continued to split his time at The Answer between beer buyer and assistant brewer. However, he started to become unsure whether he wanted to be a part of the beer industry. After one year, Zac decided it was time to move on from Richmond.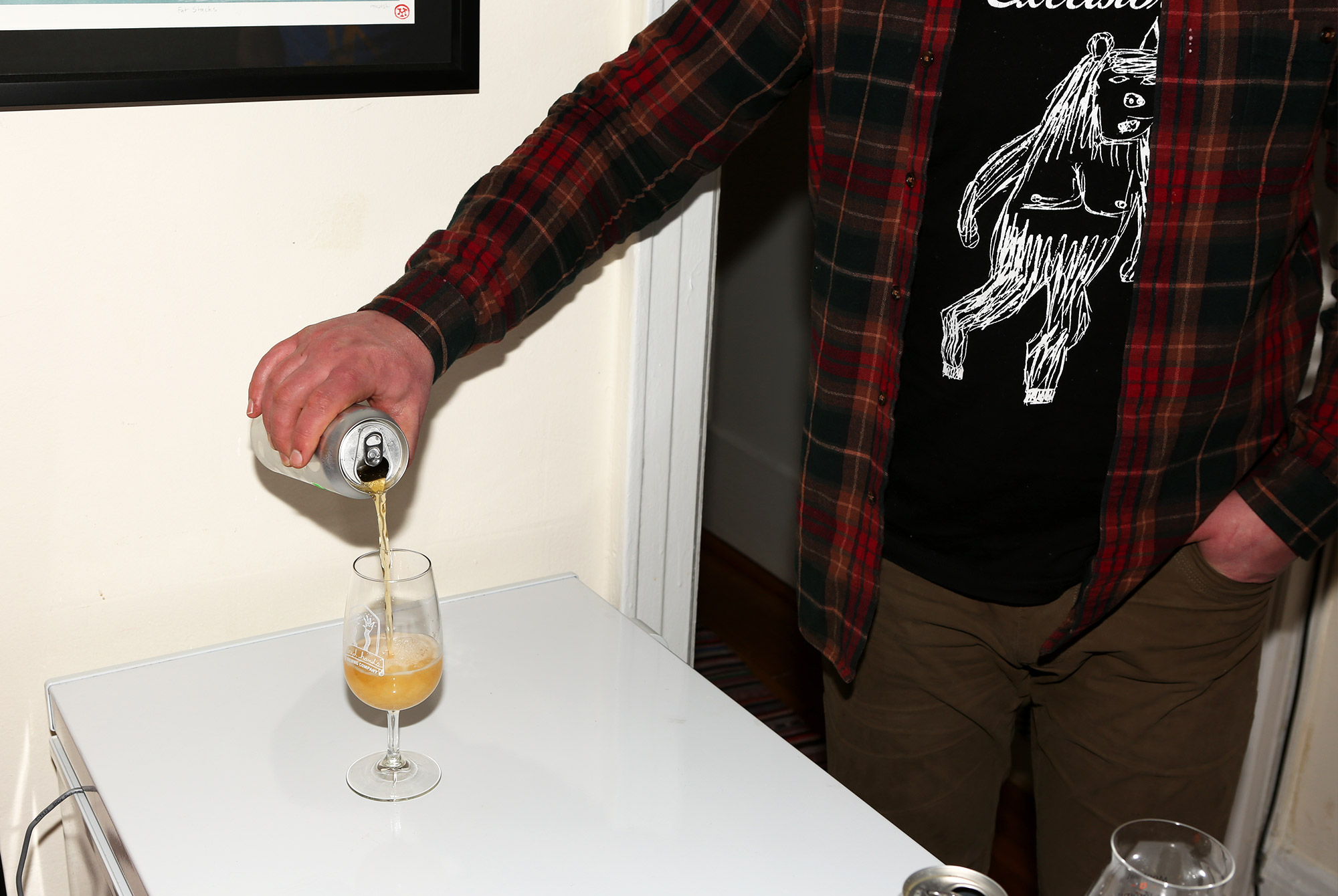 "I decided to head out to Virginia Beach," Zac says. His brother was deployed at the time, so Zac offered to watch his house, taking a job in a local food truck and working part-time shifts at Commonwealth Brewing. After a few months, the idea of brewing full-time came back into the picture for Zac when he was offered a full-time gig at Commonwealth. "I was honored, but I wanted to try something new," Zac says. For Zac, beer was no longer his main priority. He had been training for the Navy on the side, considering a whole new career path. "The whole time I was Commonwealth, I was struggling to find myself as a person," Zac mentions. "I think I was good at what I was doing, but I felt like I had no meaning."
At this point in the brew day, it's time for the next step in our brewing: the whirlpool and cooldown. Zac has brought us four spruce branches he picked this morning. The branches are covered in sap and have a grapefruit taste, so we feel they will be a perfect addition to the vision we are trying to create. After Zac places the branches in, we give the boil another 10 minutes before we cool down our wort. Zac then continued to tell us about his departure from Virginia Beach.
"I moved back home to force myself into a hard spot, either join the Navy with my whole heart or get back into beer and brew with my whole heart," Zac says. At the time, he was working an overnight shift at Tim Hortons and helping build out the new Voodoo compound. After a few weeks, Zac stumbled upon Kent Falls Brewing Company and decided to send them an email with a resume. "Kent Falls appealed to me because it was in the middle of nowhere. There were no distractions; the purpose seemed true," Zac says.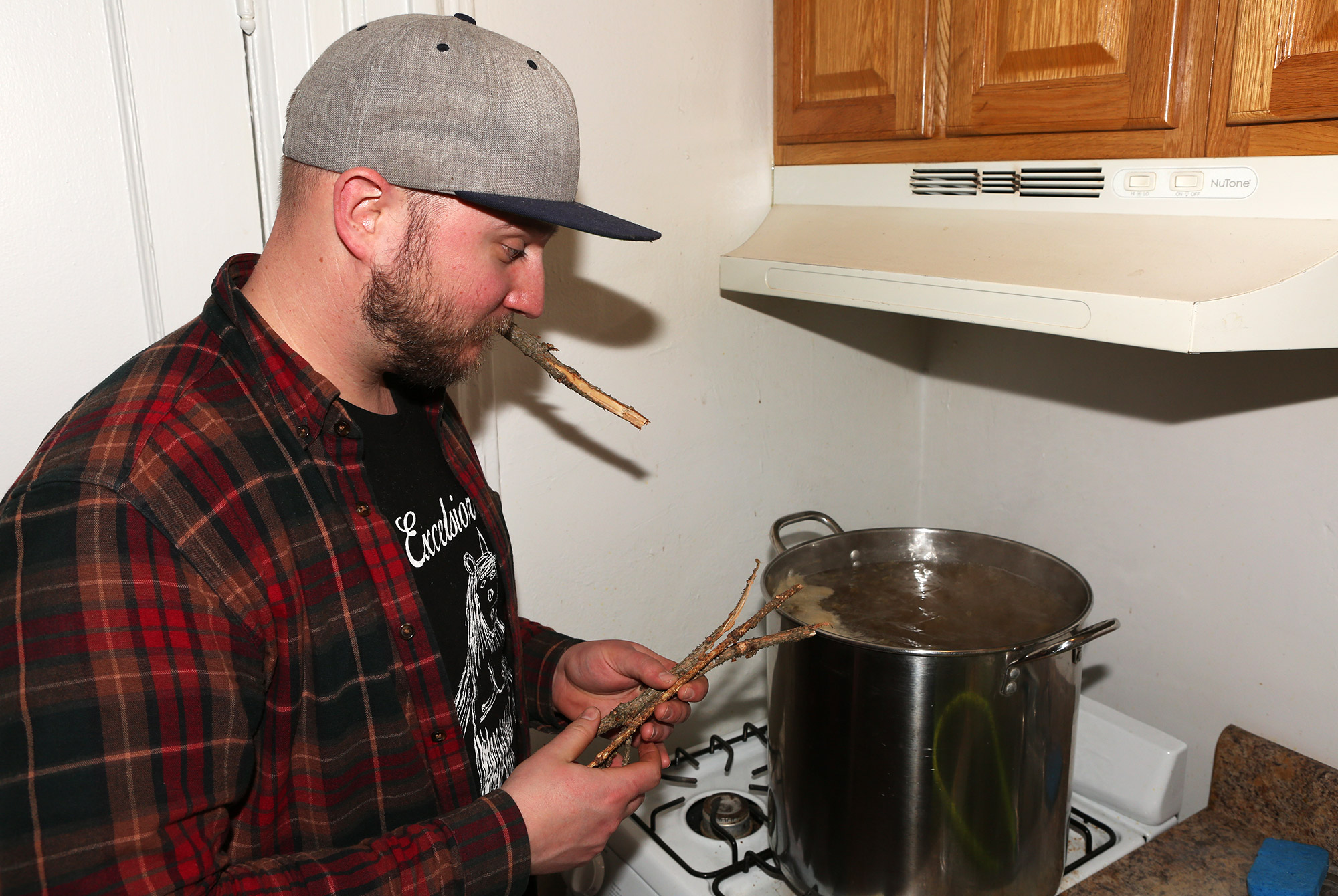 In November 2016, Zac was officially hired by Kent Falls for a brewing position. "It's been a long and winding road to get to where I am but it's absolutely been worth it," Zac says. "I've endured and been patient and have learned as much as I can at each step (and still learning now) to get to where I am. I feel incredibly confident in my abilities and the network of friendships I've built over the years to ensure I will be able to better myself."
Andrew and Matt transfer our wort from our kettle to our fermenter and then oxygenate the wort to feed our yeast. Our yeast is a blend of culture from Kent Falls' farm and Casa Agria, who took culture from an avocado farm in California. The yeast was used for a beer called Medias Res. In a few hours, as the name implies, it'll pick up right where it left off, only now it'll be in a rented apartment of some homebrewing friends in Queens.
Catch Zac Ross and Kent Falls Brewing at Juicy Brews Summer Craft Beer Invitational in Richmond, VA on June 10