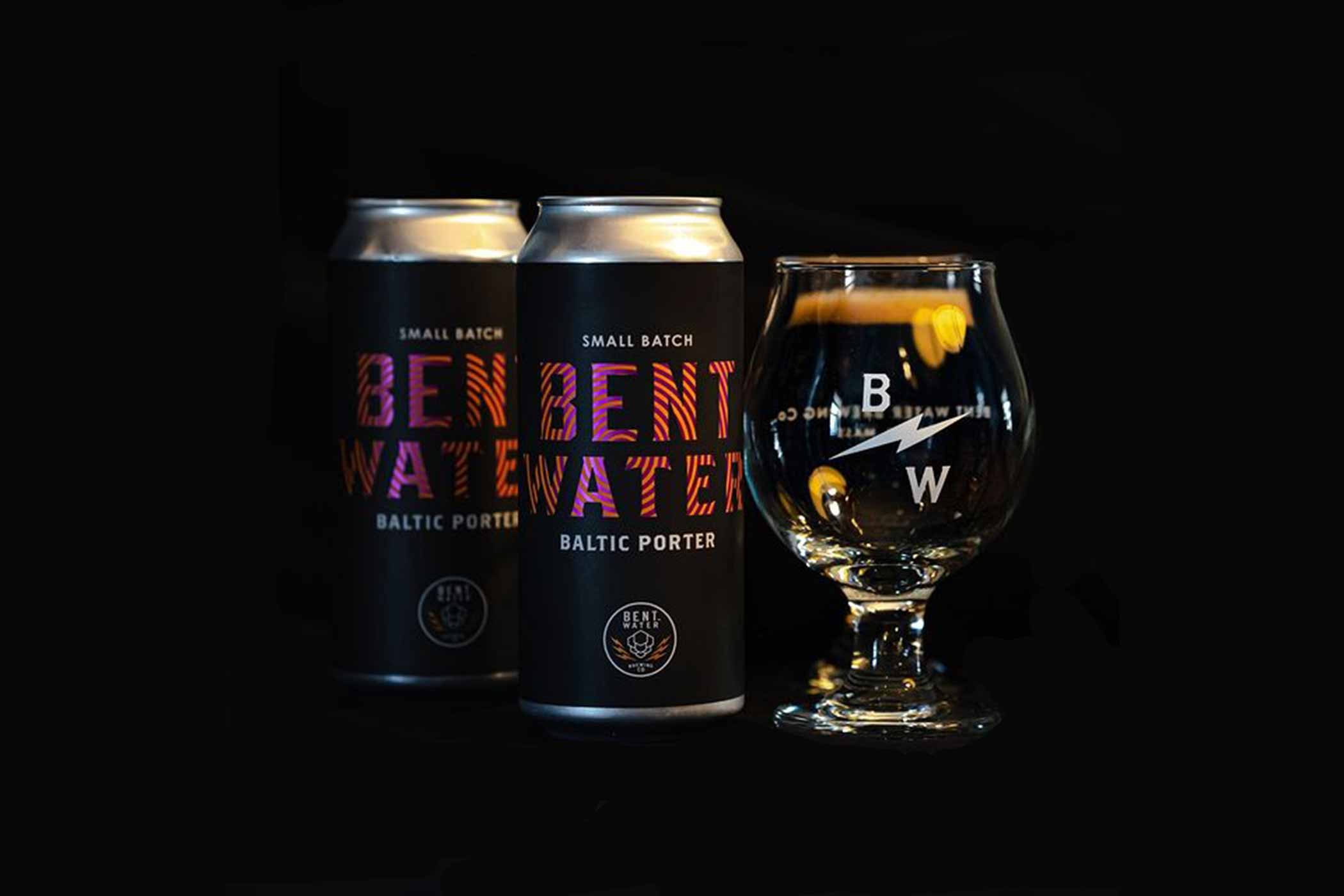 Photography courtesy of @bentwaterbrewing
Craft beer's lexicon brims with necessary qualifiers, like "double dry hopped," "barrel aged," and "imperial." A handful of those descriptors refer to nationalities and cultures, too, with "Italian," "Bohemian," "Czech," and "English" being the most common among them. Uncommon by comparison: "Baltic."
There's a non-zero chance we've all visited a brewery or two with a Baltic porter on their tap list, but "non-zero" nonetheless sums to a humble total.
The American craft beer market favors porters of all stripes, whether no-frills classics or adjunct takes. To avoid making spurious claims about the Baltic porter's presence in the United States, there's clearly room in that market for the English staple's Northern European cousin here, too. But Baltic porter simply isn't as popular in the U.S. as standardized versions of the style.
Why?
Americans have increasingly gravitated toward lighter, easy-drinking beers as alternatives to the country's predominantly hop-forward beer culture.
We've adopted an affinity for lagers, and we've become enamored with milder roasty beers, too.
Baltic porter checks the "milder roasty" and "easy-drinking" box on that list, but it is not a light beer, "crushable," if you will. And for that matter, why in the wide, wide world of malted beverages are we lumping porters with Pilsners?
Simple: Baltic porter is a lager, with a dark heart beating all on its own.
"Llager" may no longer be the dirty word it once was, sure but with styles like pilsner, helles, even kölsch stealing the golden spotlight, the Baltic porter, like a black sheep of the family, has faded into abject obscurity.
Until now.
"He Drank A Porter As Deep As The Sea; No Tide Of The Baltic E'er Drunker Than He"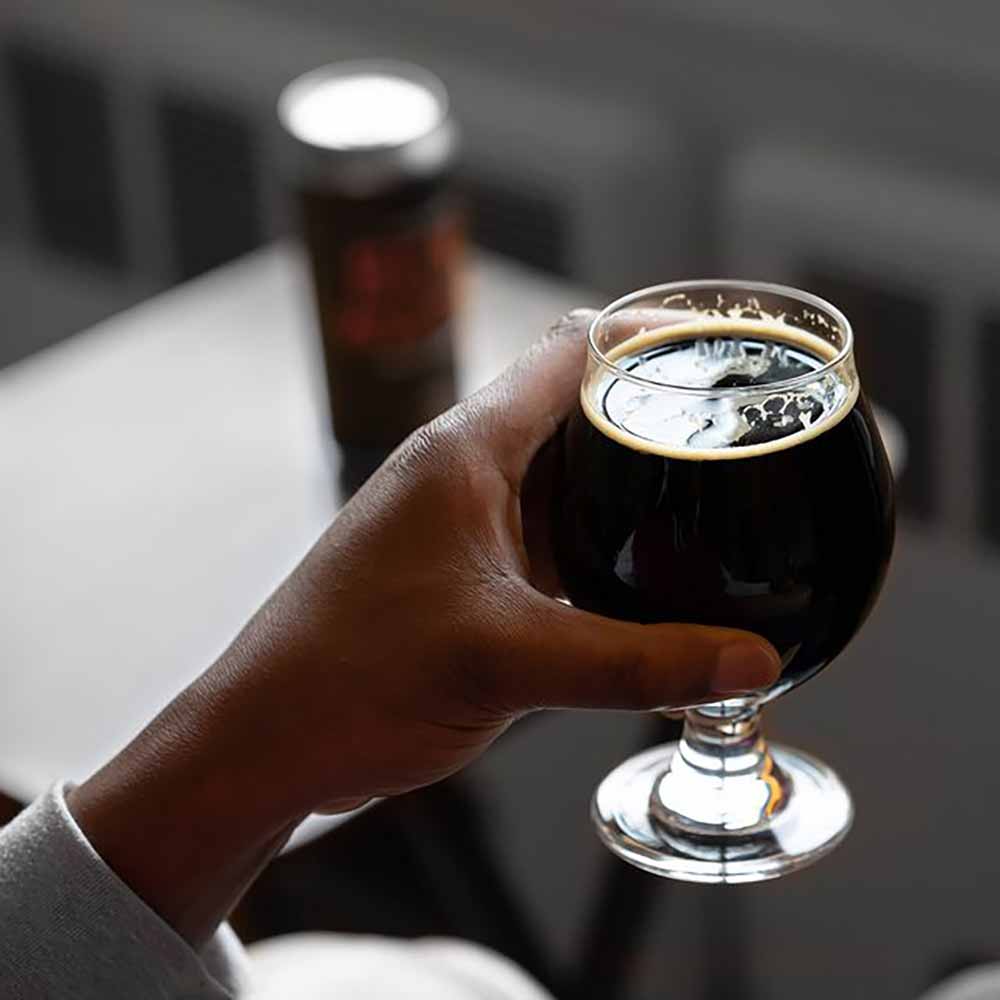 No quibbling, carping, or hemming and hawing allowed: Baltic porter is a lager, and that's the truth. But this variation on the age-old British ale is meaningful enough that Baltic porter enjoys sui generis (that's French for "unique") categorization within the style's broader definition.
Start with the "old," dating back to the 1700s, when the first porter was brewed in Shoreditch, London. Then vault ahead to the early 1800s, when Napoleon Bonaparte, history's favorite belligerent Frenchman, strangled trade routes between England and the Baltic states—Latvia, Lithuania, and Estonia.
Sandwiched in the century between the porter's birth and the Napoleonic Wars is the Baltic people's commercial relationship with English traders, and their personal relationship to the porter. Cut off from having their beloved porter shipped to their shores, Baltic brewers set out to recreate the style themselves, with an important adaptation: use of bottom fermenting lager yeast over top fermenting ale yeast. The Baltic is a chilly place. Swapping to lager yeast was a necessity given its durability in colder climates compared to top fermenting yeasts.
Baltic brewers' tinkering begat a marriage of dueling flavor profiles: lager subtlety and voluminous porter richness, tied together through velvety smoothness. "A big part of the character is that lager fermentation, and that extended lagering, allowing such a large beer to be graceful," says Jonathan Moxley, head brewer at Rockwell Beer Co. in St. Louis, MO. Rockwell prizes lagers ahead of other beer styles, and their Baltic porter, Kazimierz, fit nicely into that portfolio at the higher end of the ABV spectrum.
"Going from a porter, or just a stout going up that next level to the imperial stout, or the Baltic porter, it makes sense that you can actually do a few more things and have a little bit more complexity," says Aaron Reames, co-founder and president of Bent Water Brewing in Lynn, MA. Lagers being a complex beer by nature, the addition of porter characteristics, including the bump in ABV, gives brewers more room to finesse the flavors, like a painter working with a wider canvas.
Baltic Porter? We Hardly Know 'Er!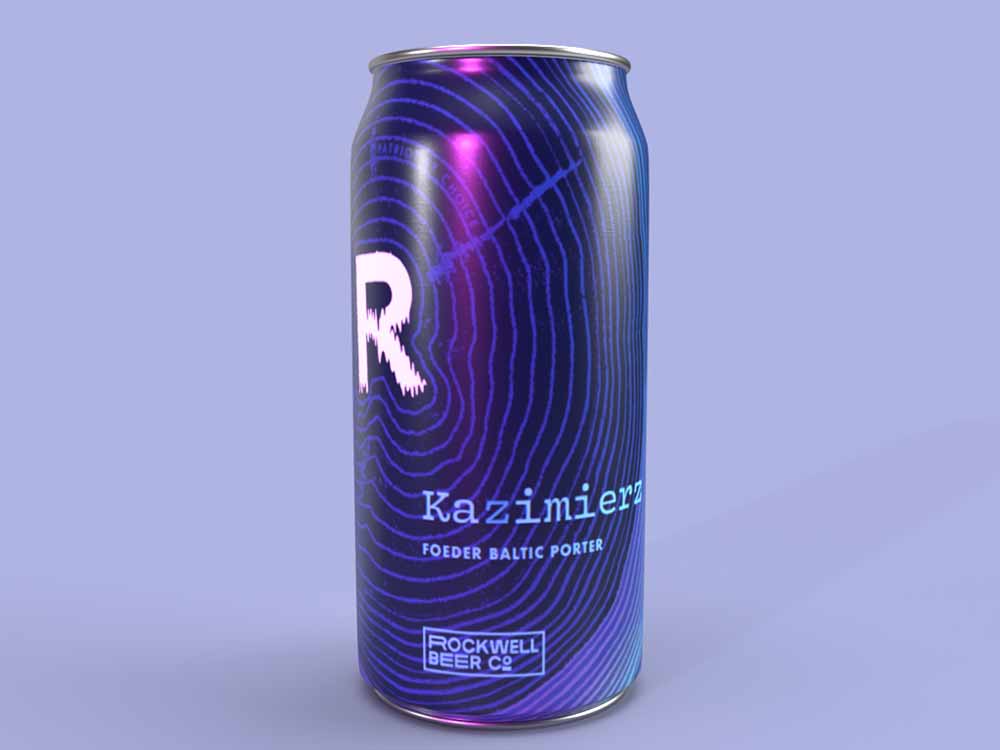 Done well, Baltic porter is a one of a kind beer brewed in contradiction of itself; most drinkers will be familiar with both the lager backbone and ale body, but unfamiliar with these characteristics as a package deal. That's a unique logline for a beer. Melding beer's two distinct brewing techniques should be a selling point, and yet Baltic porter isn't often sold in the U.S.
What gives?
Two possible explanations for Baltic porter's meager status jump out immediately: either it's too niche a style to sell, or too unwieldy to brew.
If the former, then the very concept of mixing lager and porter might sound too esoteric.
If the latter, then obviously you're not stumbling upon opportunities to try Baltic porter for yourself anyways, and frankly, each problem exacerbates the other.
Logan Gebhart, head brewer at Winston-Salem, NC's Incendiary Brewing Company, thinks the issue is a bit of column A and a bit of column B. "The longer tank residency probably made standard porters and stouts the obvious choice for breweries in the beginning of the craft beer boom," Gebhart points out. "With Baltic porter generally making a seasonal appearance on most breweries' schedules, it is kinda forced into that niche category unless you are a lager specific brewery."
The niche value works out for an establishment like Rockwell, but for other breweries, deciding whether or not to test the Baltic waters poses a very real conundrum.
"This is definitely not the type of product that is going to keep the lights on or pay the bills," Reames asserts. As Bent Water's president, Reames has a mind for numbers and figures, and he's all too aware of porter's downturn in the American craft beer market next to IPAs and pale ales.
Brewing porter is one thing. Brewing a Baltic porter is another entirely. "From a practical standpoint, if we're gonna use a specialized lager yeast, that's a cost in and of itself," Reames explains. "And we're not gonna be reusing that yeast strain in multiple generations the way you might be able to use future generations that have the right vitality."
In other words, if you buy the yeast needed to brew Baltic porter, brewing Baltic porter is pretty much all it's going to be good for.
The Juice Is Worth The Squeeze
American brewers clearly agree with Reames' counsel on the hurdles of brewing Baltic porters. It's an investment.
Brewing in small batches can help offset potential loss, but many breweries won't willingly take on the risk—and who can blame them? Craft beer is competitive. Setting yourself up for failure is, and please forgive our marketing jargon, an outrageously bad business model.
But for breweries capable of absorbing the loss, or, better still, selling Baltic porter to bold and adventurous customers, that investment of time and materials is absolutely worth making.
"As a brewery, we have a deep passion for dark beer styles and intense flavors," Gebhart says of Incendiary's brewing spirit. "We love unadulterated classic versions of the style and release plenty of "classic" Baltic porter." But, in keeping with both the Incendiary way and the Baltic porter's innate flexibility, the Incendiary team does their share of adjunct and barrel-aged versions, too.
Meanwhile, Moxley and the Rockwell gang approach their own Baltic porter as perfectionists. "Everything in [the Kazimierz] recipe serves a purpose," Moxley says. "We've gone through and picked out what's cluttering, or what's going to muddy the perception." For him, their Baltic porter is all about the effect a two-month extended lager period has on the colossal malt profile of Bohemian Floor-Malted Pilsner, Munich, Special B, Crystal Light, Carahell, Black Malt, and Chocolate Malt: "We want that clean profile that the lager yeast and the extended lagering provides," Moxley adds. "It allows the layers of malt complexity to really show through."
With more and more lager-forward breweries entering the market, Gebhart speculates a rise in the Baltic porter's cachet; as he puts it, "more awareness of the style would be a natural progression." Maybe consumers won't widely take to Baltic porter's endless nuances. Maybe the niche is simply too niche. But there hasn't been a better time for brewers to put the style to the test.
And for you to go find and drink one.
Hop Culture's Favorite Baltic Porters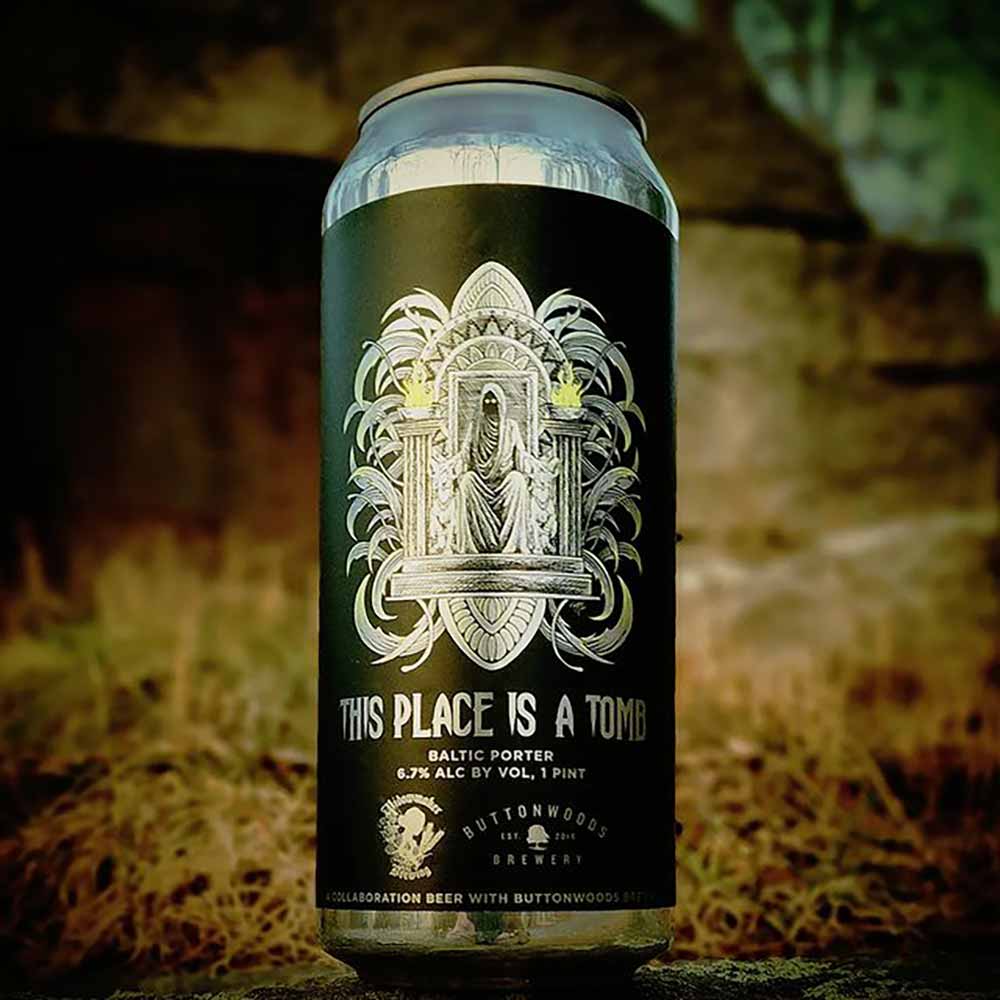 Widowmaker Brewing Co. – This Place Is A Tomb
Braintree, MA
If Dethklok, the brutal idiot geniuses centered in the tragically defunct Adult Swim series Metalocalypse, gave up music and turned to beer, they'd probably run a brewery like Widowmaker, ideally without the constancy of gruesome patron fatalities. Widowmaker makes everything metal, blacker than the blackest black times infinity, which is no small feat for Baltic porter. But they pull it off, mostly because the beer hits the style's delicate-but-robust sweet spot, but also because it isn't every day that you'll drink from a can adorned by the image of a judgmental spectral figure staring back at you.
Rockwell Beer Co. – Kazimierz
St. Louis, MO
A fun fact about Kazimierz: Originally, Rockwell named the beer after the Polish freedom fighter Casimir Pulaski, but in honor of co-owner Emilia Hulse's Polish roots, switched the spelling to the Polish "Kazimierz" – Hulse's grandfather's name. The history gives Kazimierz grounding. The malt bill gives it profound depth. Kazimierz weighs in on the heftier side of Baltic porter at 9.2% ABV, and justifies every point of gravity by packing a universe of flavor into each sip.
Bent Water Brewing Company – Small Batch Series: Baltic Porter
Lynn, MA
A part of the brewery's new small batch series, Baltic Porter certainly has nothing small about it. A rich, strong, dark lager, Bent Water's version tips its hat to all those qualifiers without going overboard. The beer registers 9.5% ABV, but drinks like the lager. While a fairly complex grain bill lends these very pleasant roasted malt and toasted nut notes to the character to balance a slight sweetness of dark chocolate and stewed fruit. A final hint of smoke rounds everything out for a robust, yet restrained version of a Baltic porter.
Einstök Ölgerð (Einstök Beer) – Icelandic Toasted Porter
Akureyri, Iceland
Confession: Einstök isn't an American brewery. It's in Iceland. But Einstök beers are available in the U.S., if you're fortunate enough to live near a liquor store that stocks these delights on their shelves. Should you be so lucky, and should those shelves feature Icelandic Toasted Porter, do yourself a favor and try out Baltic porter's sweeter side.
Roast makes an appearance here, as in all Baltic porters, but Einstök leans slightly more into chocolate and toffee notes.
You won't feel the urge to conquer foreign lands after drinking Icelandic Toasted Porter; you'll be too mellowed out by the indulgence.
Incendiary Brewing Company – Baltic Porter
Winston-Salem, NC
And clocking in further on the "decadent" scale: Incendiary's take on the style. Once again, the key word with their Baltic porter is "depth," but where others predominantly express darker character, Incendiary's reads as deceptively light; take those traditional notes, the chocolate, the toffee, the roast, the coffee, and then add a buttery texture plus the tropical touch of coconut. If you feel like treating yourself, and if Baltic porter is your thing, this is the one to reach for.