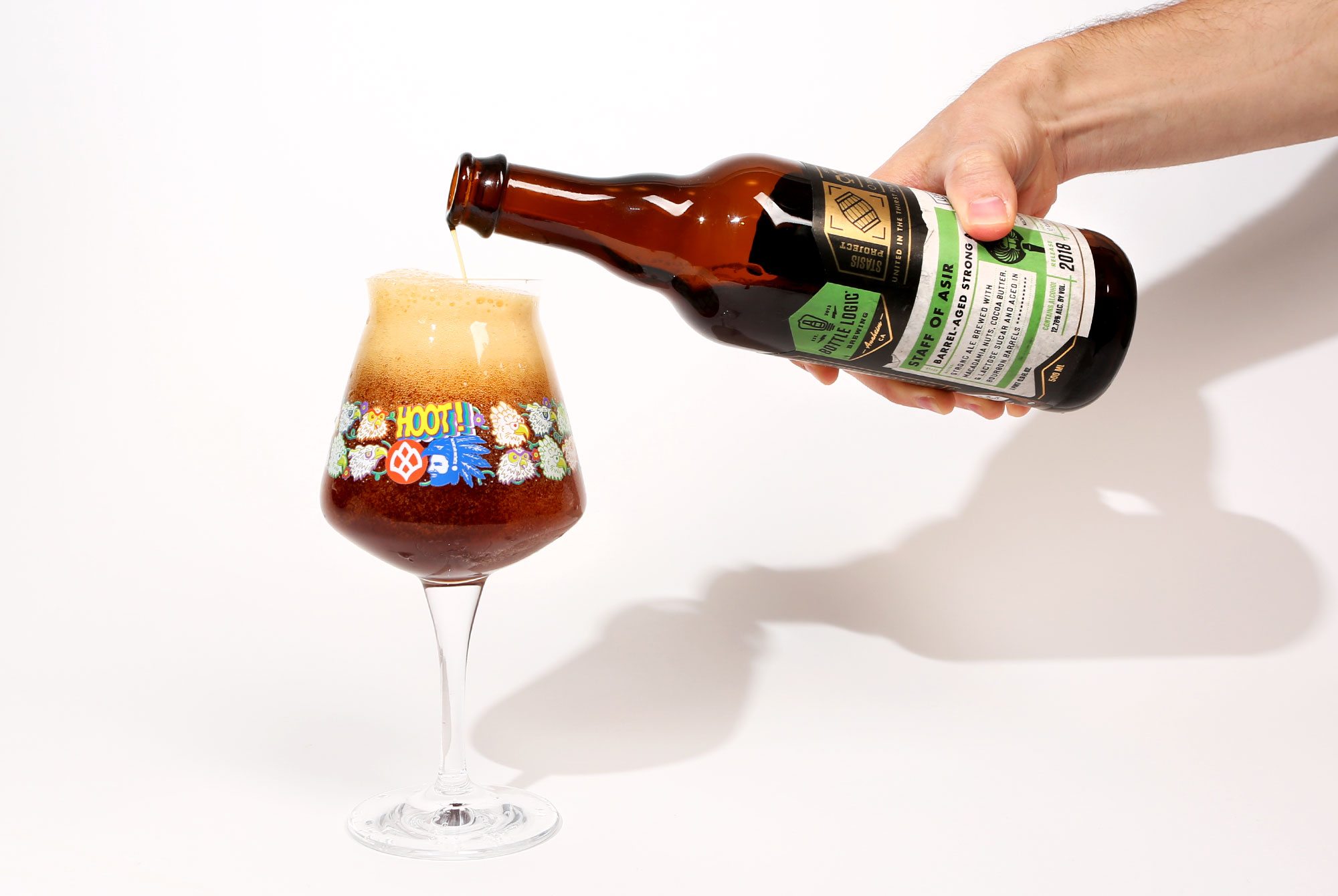 Photography by John A. Paradiso
Editor's Note:
The" From the Cellar" series is a new editorial project that will publish every other Friday with a beer from Hop Culture's cellar. Have a vintage bottle or cellared beer that you think we should try? Drop us a line at hello@hopculture.com with the subject line "From the Cellar."
Staff of Asir at a glance:
A collaboration from Bottle Logic Brewing in Anaheim, California, and Horus Aged Ales in Oceanside, California
Staff of Asir was released on May 20, 2018 in 500 mL bottles and has been in the Hop Culture cellar since about that time.
The beer is a 12.78% barrel-aged strong ale brewed with macadamia nuts, cocoa butter, and lactose sugar and aged in bourbon barrels.
The Story:
When Kenny walked into Bottle Logic last summer, the Bottle Logic team was playing Magic: The Gathering. Or Dungeons & Dragons. One of the two. Either way, it's fitting that he left the brewery with Staff of Asir, which sounds like it belongs in a tabletop RPG.
The beer is a collaboration between Bottle Logic and Horus, two breweries that have made a name for themselves by producing intensely flavorful and highly sought after barrel-aged beer. Staff of Asir definitely took on a second life after its initial release. Craft beer fans have traded the beer across the country and the beer holds a 4.35 on Untappd. It checks all the boxes for a modern beer lover: it's boozy, barrel-aged, and full of tasty adjuncts. It's also insanely well-crafted.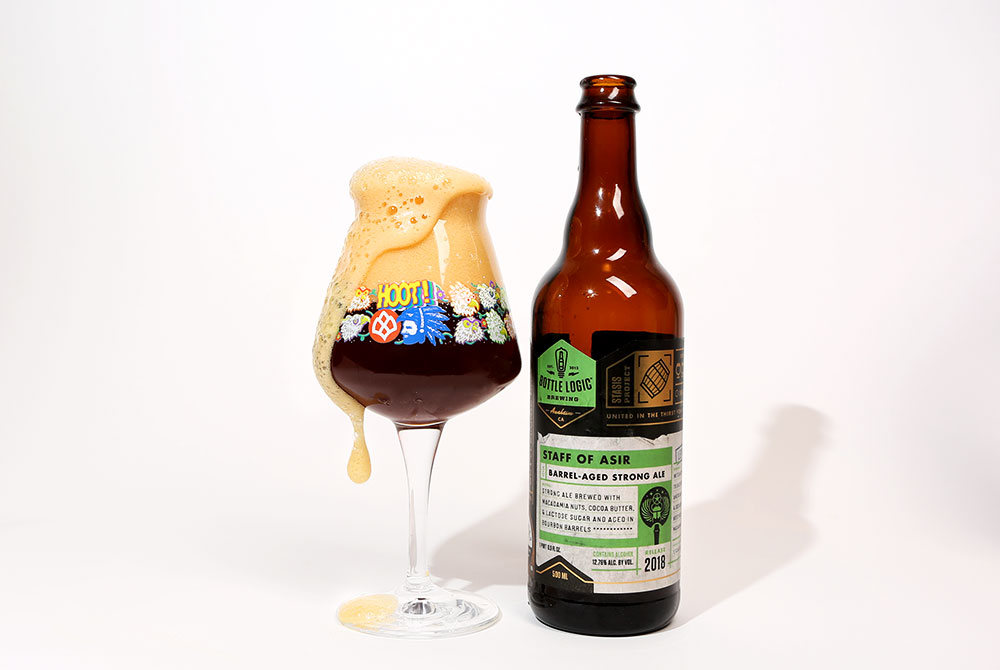 Barrel-aging has been at the heart of Bottle Logic since the brewery's inception. It even has its own sub-brand within the company called The Stasis Project.
"We wanted to make sure our barrel-aged beer was able to stand out from the rest of our brand," said Wes Parker, Bottle Logic Founder and Brewmaster. "A beer that is part of the Stasis Project makes for an easy identifier to our team and guests that, yes, this is indeed a barrel-aged beer. The name itself comes from me watching Star Trek II: The Wrath of Khan about fifteen times."
According to Parker, the collaboration with Horus' founder Kyle Harrop needed to be unique.
"Before collaborating with us, [Harrop] had already done over 50 collaborations," he said. "We wanted something to stand out and be an interesting contrast to our stouts. While developing the recipe to reflect the flavors of a cookie, we came up with the idea to use pure cacao butter which was a risky choice but paid off in the end."
And that mythic name?
"Our fourth Week of Logic celebration had an exploration/adventure theme, where we used geological sites and archaeological discoveries to code-name some of the sneak-peeks of the year's upcoming releases," Parker said. "Lindsay, our Marketing Director, was looking to connect this theme to the final beer title and took a deep dive into Egyptian mythology to tether the idea of ancient relics to the collaborating brewer, Horus Aged Ales. Osiris, the father of Horus, was also known as Asir."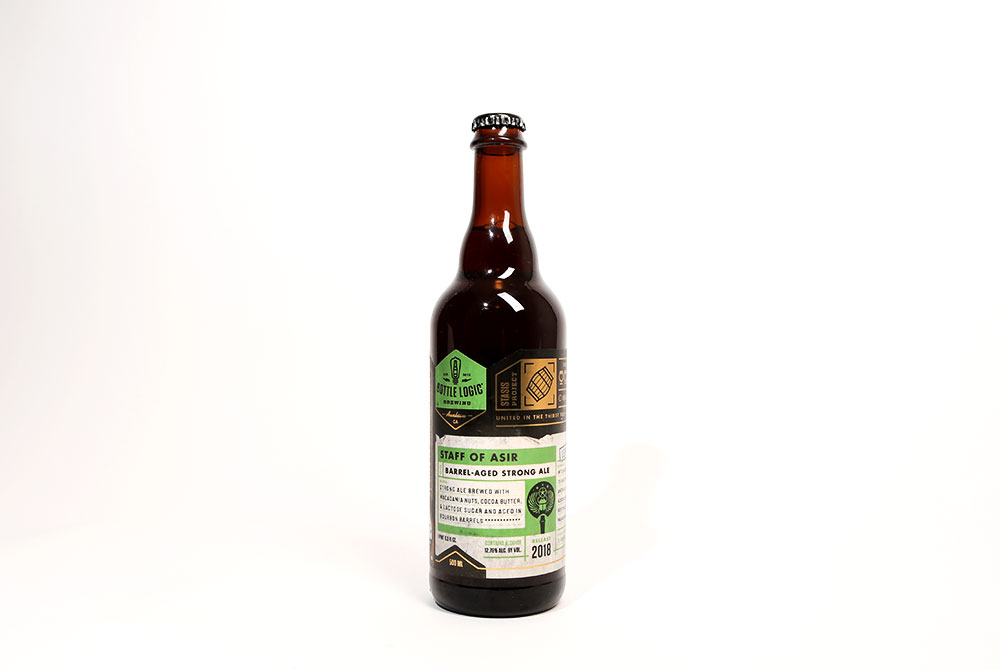 The bottle release of Staff of Asir sold out very quickly online and Parker says that the beer developed dedicated fans once they had a chance to sample it in the tasting room.
"We were beer geeks for a long time before the brewery opened and to have people feel that way about our beer is just amazing," Parker said. "My job is to help us keep making beer that people will enjoy and continue sharing. We want our beer to be worthy of their time and investment."
Bottle Logic doesn't have any plans to re-brew Staff of Asir, but Parker says there may be similar beers available down the line.
"I was very happy with how the cocoa butter performed. I think it's safe to say we will see something similar in the future."
What Staff of Asir tastes like:
The beer pours a dark ruby with a pillowy, cream-colored head.
We get strong caramel and bourbon notes on the nose with a nice bit of vanilla.
This beer is super sweet. It's basically a liquified cookie.
We didn't get a strong nutty note, but there's a lovely creamy quality and nice cocoa, vanilla, and bourbon flavors.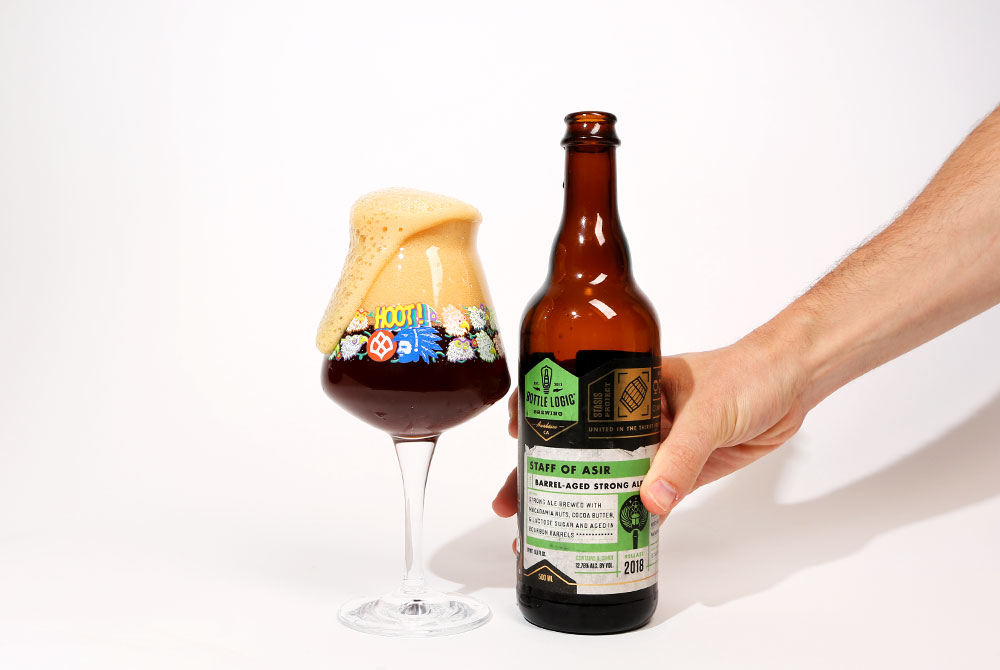 Final Thoughts:
Staff of Asir is an excellent example of two barrel-aged stout brewers at the top of their craft. It's an intense beer, but thoughtfully and carefully made. The intentionality comes through in the final product; there aren't errant flavors or notes that don't belong. In terms of pairing, Parker recommends chocolate cake or ice cream. I'd have to second that ice cream call. If you have a bottle sitting in your cellar at home, I'd recommend enjoying soon with a few friends. Or, if you can be patient, let it sit a bit longer.
"With a beer like this, cellaring for up to several years can help the flavors meld together even better," Parker explained. "All of our beers can be opened and enjoyed upon release — but with delicate flavors I recommend drinking sooner rather than later. Staff of Asir is tasting great now but should hold up for a few more years as well."
Liked this article? Sign up for our newsletter to get the best craft beer writing on the web delivered straight to your inbox.