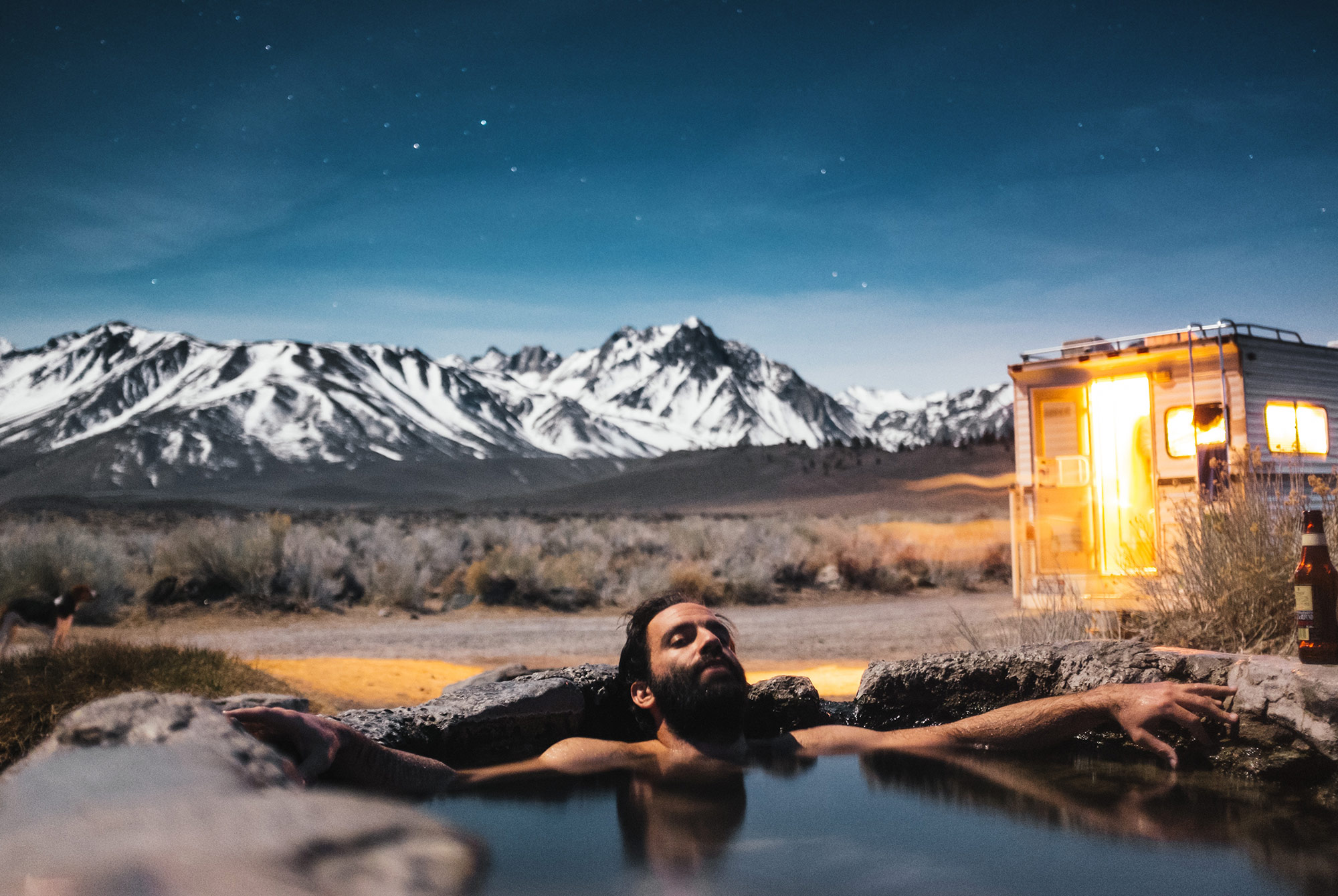 Photography by Robson Morgan

Chances are there's a ton of amazing beer being brewed within a few miles you, right now. In many ways, that's the best consequence of the craft beer explosion. But despite this convenience, every now and then it's a good idea to step outside of our bubble. So, on your next trip out of town, plan on trying some new beer. Whether you want an outdoor adventure, an RV road trip, or a sojourn through the south of Belgium, we've got you covered.
Acadia National Park
Bar Harbor, ME is an incredibly popular vacation destination for New Englanders. Tourists and locals alike flock to the Mount Desert Island town to enjoy the scenic coastal views and take advantage of nearby Acadia National Park.
1. Adventurous visitors should scramble up Cadillac Mountain, which overlooks the town, at the crack of dawn to witness "the nation's first sunrise."
2. After hiking — or driving — up and down the peak, swing by Finback Alehouse, which serves up brunch starting at 8:30 am. Start your morning with some Maine blueberry pancakes or a breakfast skillet, washing it back with something from Bissel, Oxbow, or other Pine Tree State brews.
3. Before exploring more of the Acadia wilderness, grab a few bottles at Atlantic Brewing Co –especially their Braggot, if you can find it. As a precaution, check up on the park's rules for possession of alcohol before cracking open a beer. Rent a bike in town, take your car, or trust your own two legs as you wind your way through Acadia's trails.
4. At the end of a long day of exploring the park, head back to Mainely Meat BBQ for pulled pork or ribs and a pint of Atlantic Brewing. Alternatively, head to Thurston's or Stewan's for fresh lobster.
5. Cap off the night at Geddy's with the locals and enjoy beers from Allagash, Sea Dog, Peak Organic, or other New England brews.
Coastal California
It's no secret that stellar breweries line the Pacific Coast from Southern California to the top of Washington State. Most of the time, a trip from one city to another along this stretch will lead you through several world class breweries, but we recommend keeping it simple and just taking on the California coast. It may be a good idea to set aside a few days and rent an RV to truly enjoy all of the spots along the water and savor the trip.
1. Start your beer pilgrimage in San Diego and swing by some of the big spots like Stone, Lost Abbey, AleSmith, or Coronado. But definitely don't miss out on newcomers like Pariah in North Park or Burning Beard in El Cajon.
2. As you continue North, pop off to visit Monkish and Beachwood in LA and The Bruery in nearby Placentia. As you continue north, check out Firestone Walker and BarrelHouse. Those driving an RV — or big enough car — should pack as much beer as possible into their cars and camp out near the beach or in parks like Los Padres and Big Sur.
3. Wind down this epic beer odyssey in San Jose, exploring some of the nearby state parks or soaking in the Bay Area sun. Breweries like Hermitage or Strike are must-visits for a taste of San Jose, but we think it makes the most sense to finish off your beer-cation at Camino Brewing, named for the Camino de Santiago de Compostela, an entirely different kind of pilgrimage.
[adrotate banner="38″]
Southern Belgium Trappist Beer
The only place in the United States to find Trappist beer, a traditional beer brewed by Trappist monks, is in Spencer, MA at the Spencer Brewery of St. Joseph's Abbey. You can pick up Spencer beer throughout Massachusetts and in a few other states but the brewery itself is rarely accessible to anyone but the monks. So, to truly experience this ancient brewing style, you'll need to venture into Europe.
1. Belgium has 6 of the 11 operating Trappist breweries and the 3 in the south of the Low Countries are some of the most famous. Start your beer road trip at the Brasserie de Chimay in Chimay, Belgium. Enjoy one of the four Chimay beers, Red, Blue, Tripel, and Golden, at the monastery's tavern and pair it with some Chimay cheese. Walk the halls of Scourmont Abbey and journey through the wooded area that surrounds the monastery before heading on to your next destination.
2. Brasserie de Rochefort is located in Rochefort, about an hour drive from Chimay. The brewery and abbey are not open to the public unfortunately, but the town of Rochefort features plenty of cafes and shops that offer Rochefort 6, 8, and 10 — the three Rochefort beers. The town of Rochefort, abbey grounds, and surrounding parks are serene and provide a perfect location for quiet outdoor drinking and hiking.
3. Finally, head another hour south to visit Brasserie d'Orval in Florenville. The brewery itself is only open to the public two days out of the year, but you can walk the grounds of the abbey and enjoy the eponymous Brett beer within the monastery or at a nearby cafe.
This article was produced in partnership with GrowlerWerks.