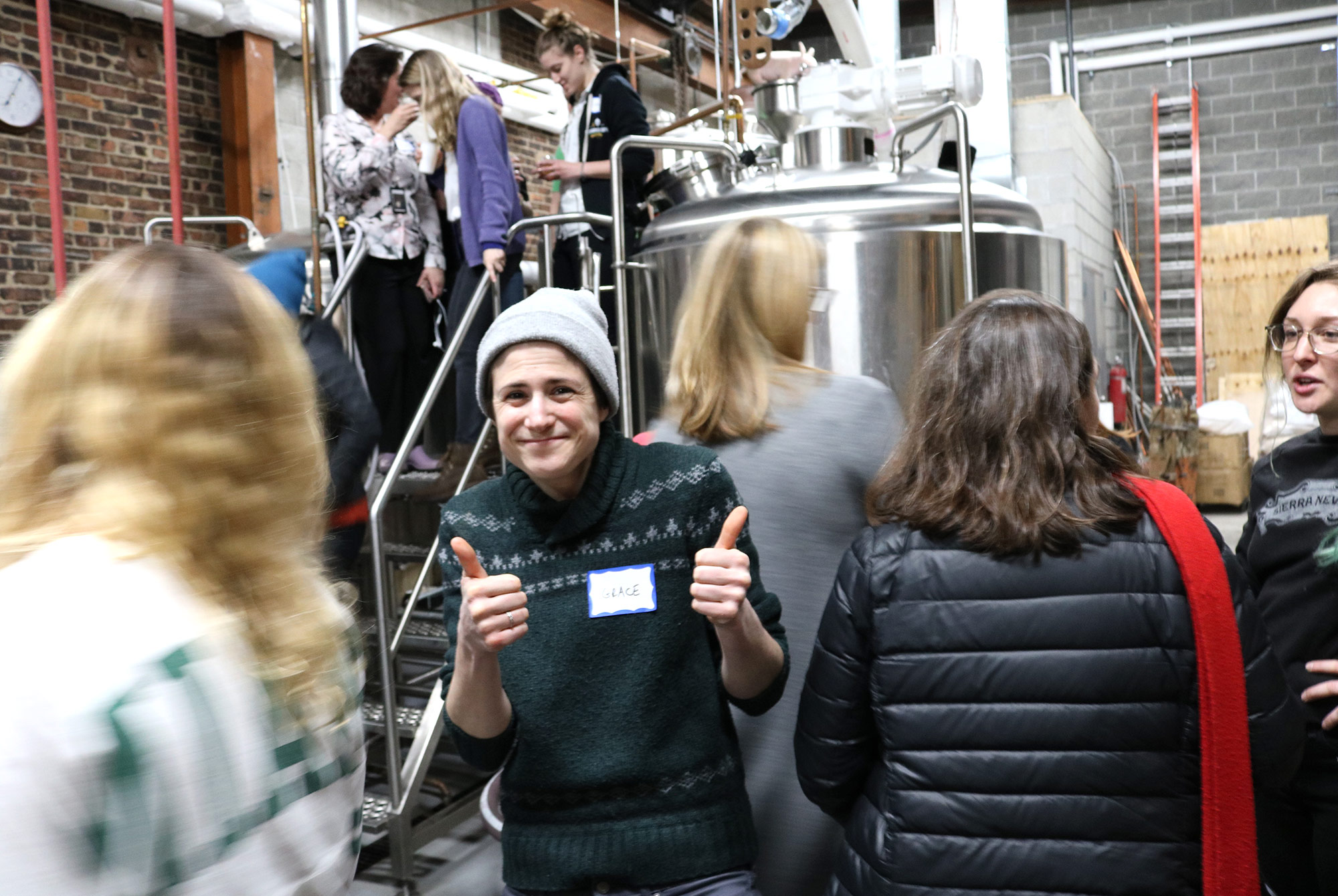 Editor's Note:
Beers With(out) Beards is a weeklong celebration of women in craft beer. It'll feature a dozen events around NYC, capping off with a craft beer festival showcasing 20+ female led breweries, plus some of their friends! Tickets are on sale now!
Do you remember your first craft beer? You know, the one that twisted your tongue from red solo cups and light lager to bubblegum funk and Belgian dubbels. I remember the unremarkable bar next to Wrigley Field in Chicago, IL, where I had my first sip of Goose Island 312. It was hazy sweetness and peach fuzz. It transported me out of the quotidian sports bar and into craft beer culture. That first sip changed my tastes — and my career — forever.
A couple years later, I began moonlighting in my free time as a brand ambassador for 3 Sheeps Brewing Co. On weekends — and some weeknights — I traveled around to area liquor stores and festivals promoting beer. When I started selling beer for 5 Rabbit Cerveceria in Chicago, my side gig turned into a full-time job. At this point, I knew beer had become the core of my identity. I subscribed to countless newsletters. My mailbox brimmed with issues of BeerAdvocate and Craft Beer & Brewing. I'd regularly stumble home late because of some Off Color tap takeover or Pipeworks pint night.
However, as a woman, I often found my plundering into the cave of craft beer to be a solitary spelunking adventure. None of my female friends shared my passion, and more often than not I spent my nights at the bar talking to a guy with a five o'clock shadow. At work, when I walked into an account to pitch my portfolio, I usually found a man sporting extra curly facial hair polishing glassware behind the bar. During my route, I often ran into other brewery reps. For the most part, they all had shaggy crops of hair on their chin. While I never felt ostracized for being clean shaven, I did feel unrecognized; like the color grey in a crayon box.
A question began pricking me: Could this change? And could I help? How could I empower more women to not only drink craft beer, but to also find a job in the industry that I loved so much?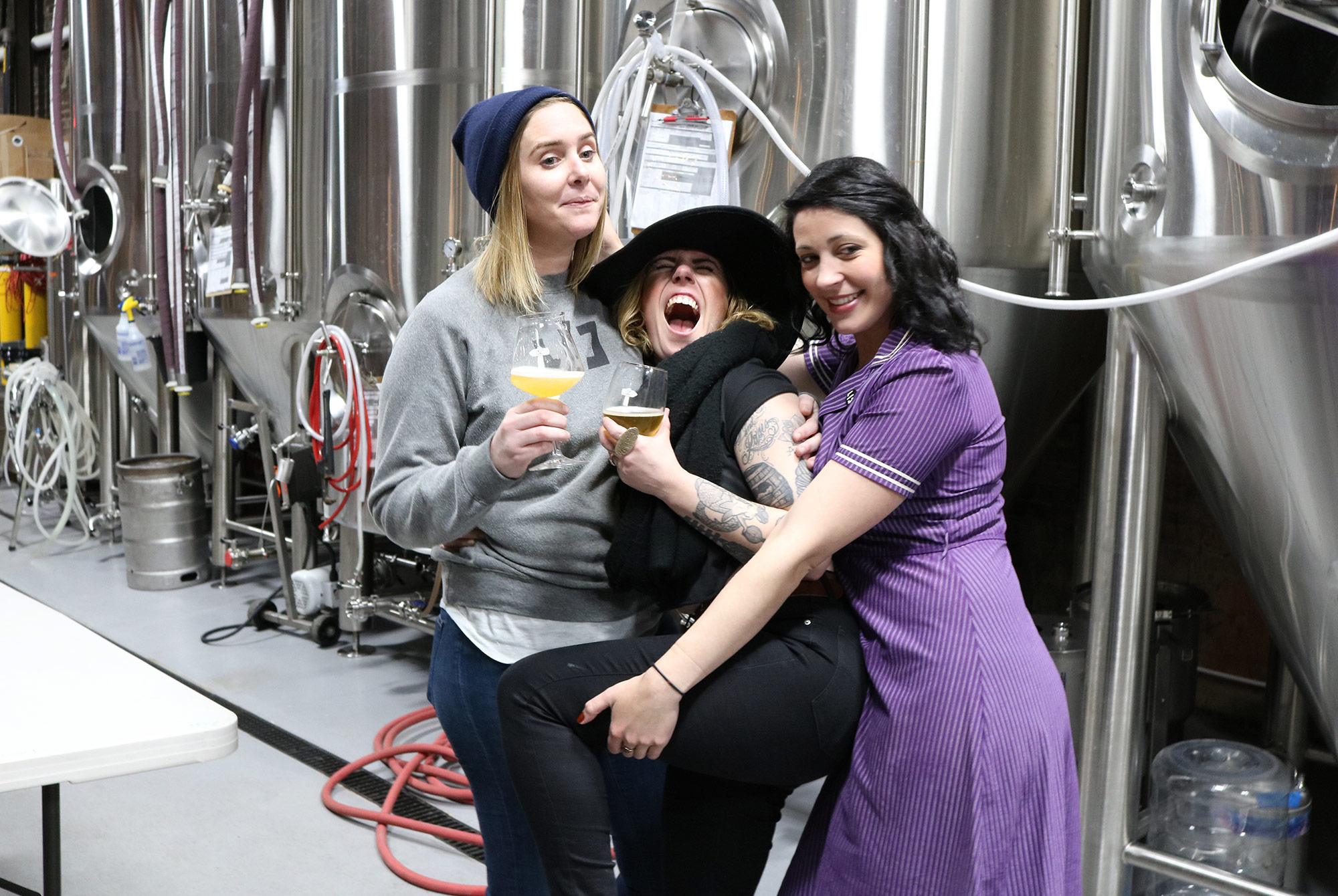 When I moved to New York City to start my graduate program in Food Studies at New York University, I morphed these questions into the crux of my research. I immediately immersed myself in the gender economics and history of craft beer. Outside of my textbooks, I lunged (again, by myself) into the NYC craft beer scene. But this time, to my delight, I found a thriving community of women killing it in beer. My work at Brooklyn Brew Shop introduced me to Erica Shea, the co-founder who turned her homebrewing habit into a successful brick-and-mortar business. As an intern for the New York City Brewer's Guild, I met women like Kaitie Lynch (Field Marketing Director at Brooklyn Brewery), Heather McReynolds (Guinness Social Media Correspondent), and Ann V. Reilly, a media maven known by everyone throughout NYC for auspiciously capturing the NYC craft beer scene through her extensive Twitter and Instagram accounts (she's now the Events and Promotions Coordinator at Five Boroughs Brewing Co.) Eventually, I started writing for Hop Culture, where my articles introduced me to even more rad women moving mountains of malt.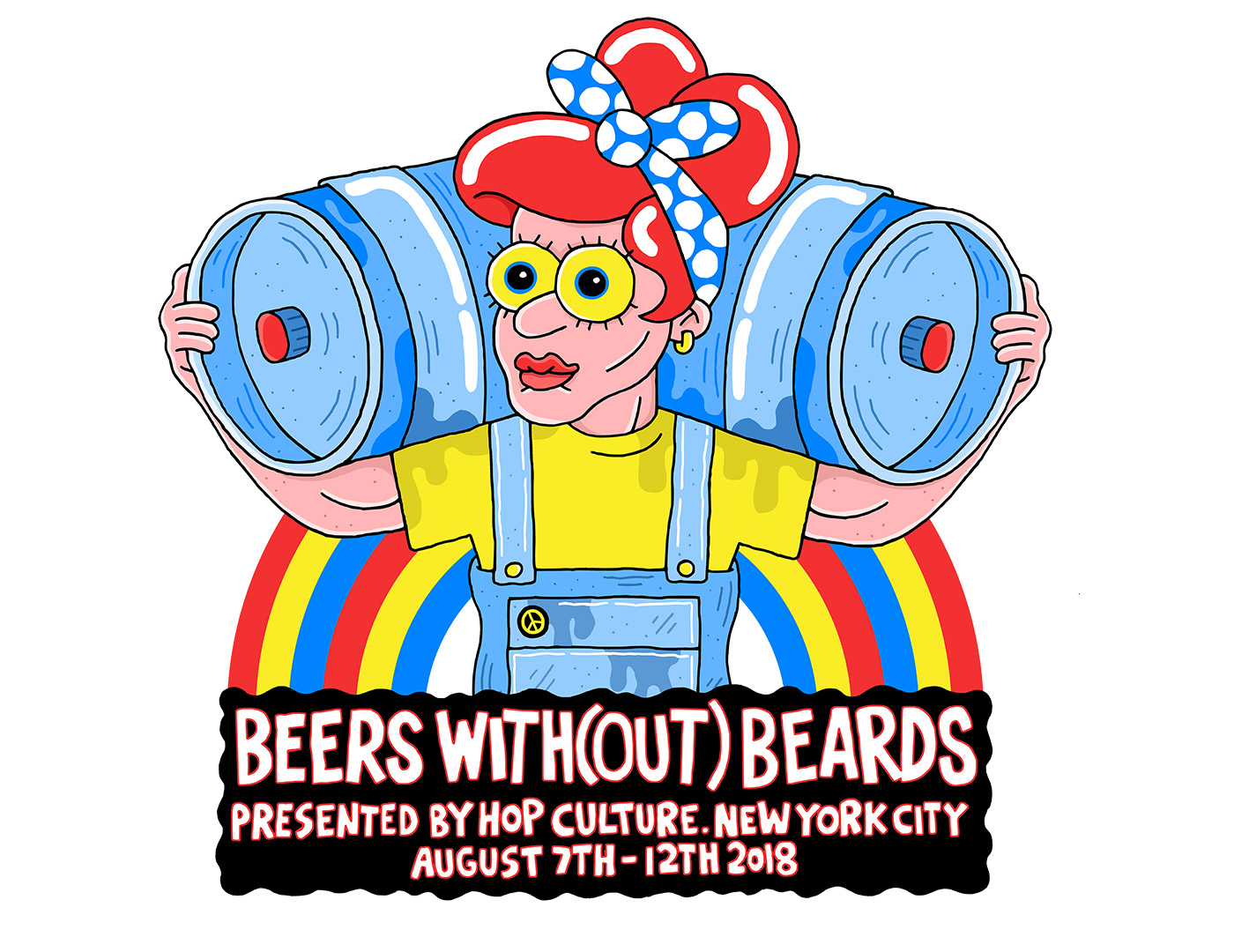 For one particular piece, I walked into Fifth Hammer Brewing Co. on a blustery night in March. Strolling into the back of the brewery, I found myself surrounded by friends. Everywhere I turned I saw women: brewers like Danii Oliver from Island to Island Brewery and Katarina Martinez of Lineup Brewing; brewery reps, such as Kiersten Jacobsen from Dogfish Head; homebrewers; and drinkers. We had all gathered for Pink Boots Collaboration Brew, a night where women from all facets of the craft beer industry come together to brew a beer.
For the 40 women in the brewery that night, beer unified. Most of us spend our days at work surrounded by people with beards. This one night, no facial hair was in sight. Strains of conversation drifted around like wild yeast, ranging from when to add coffee to a beer to music contests at Big aLICe Brewing to the opening of Brooklyn Kura, the new craft sake bar in Industry City. An easy camaraderie steadily grew between us. For me in particular, this was the first time I'd been in a room with so many other women passionate enough about beer to make it their hobby and their career. For a few hours on the brewery floor at Fifth Hammer, sharing our fervor for beer was the only thing that mattered. Inherently, beer is a beverage composed of a rainbow of styles, varieties, and colors. For that night, we were no longer painted grey. As colorful consumers and crafters, we were seeking a way to grow the beer culture that we loved. I knew I wanted to share my pride and passion with not only all the other women in the room, but also with as many men and women drinking and creating craft beer culture as I could.
In an effort to cultivate that wide and diverse community, Hop Culture and I started Beers With(out) Beards, a weeklong festival celebrating women in craft beer. I began planning this festival with that very same mission I had tucked into my back pocket when I hauled myself out to New York: to empower women in craft beer. We're looking to get conversations started and push the industry forward. Beer is booming, but it's also maturing. The beer is getting better, and now the clientele needs to expand. Craft beer could be so much bigger than it is. Many people want to get into beer who might be shy or who simply haven't found friends to indulge their excitement. Beer doesn't have to be a solitary adventure — it can and should be shared with everyone.
Through a weeklong jubilee featuring unique events and one large tasting festival, Beers With(out) Beards will create spaces where consumers can not only drink premier beer, but also have conversations around elevating the position of women and altering the scales of gender disparity in the industry. This includes the casual drinkers, as well as those brewing professionally, working in the front offices at breweries, pouring behind the bar, passing the certified Cicerone tests, writing on the page, and broadcasting on air. We all love craft beer, so let's celebrate our achievements in all areas of our community.
BW(O)B will take place over 6 days, from Tuesday, August 7th to Sunday, August 12th, with multiple events each day that touch on various aspects of craft beer culture that focus on women. There will be conversations about the success of women brewers in New York and around the country during a special podcast. We'll have a panels with beer historians and discussions with women writing, broadcasting, and blogging about beer. We'll eat dinner together with industry veterans from across the country. And we'll have a handful of causal, interactive events to bring people together, like beer yoga with a fitness club founder, beer trivia, and a beer tasting workshop led by a Certified Cicerone.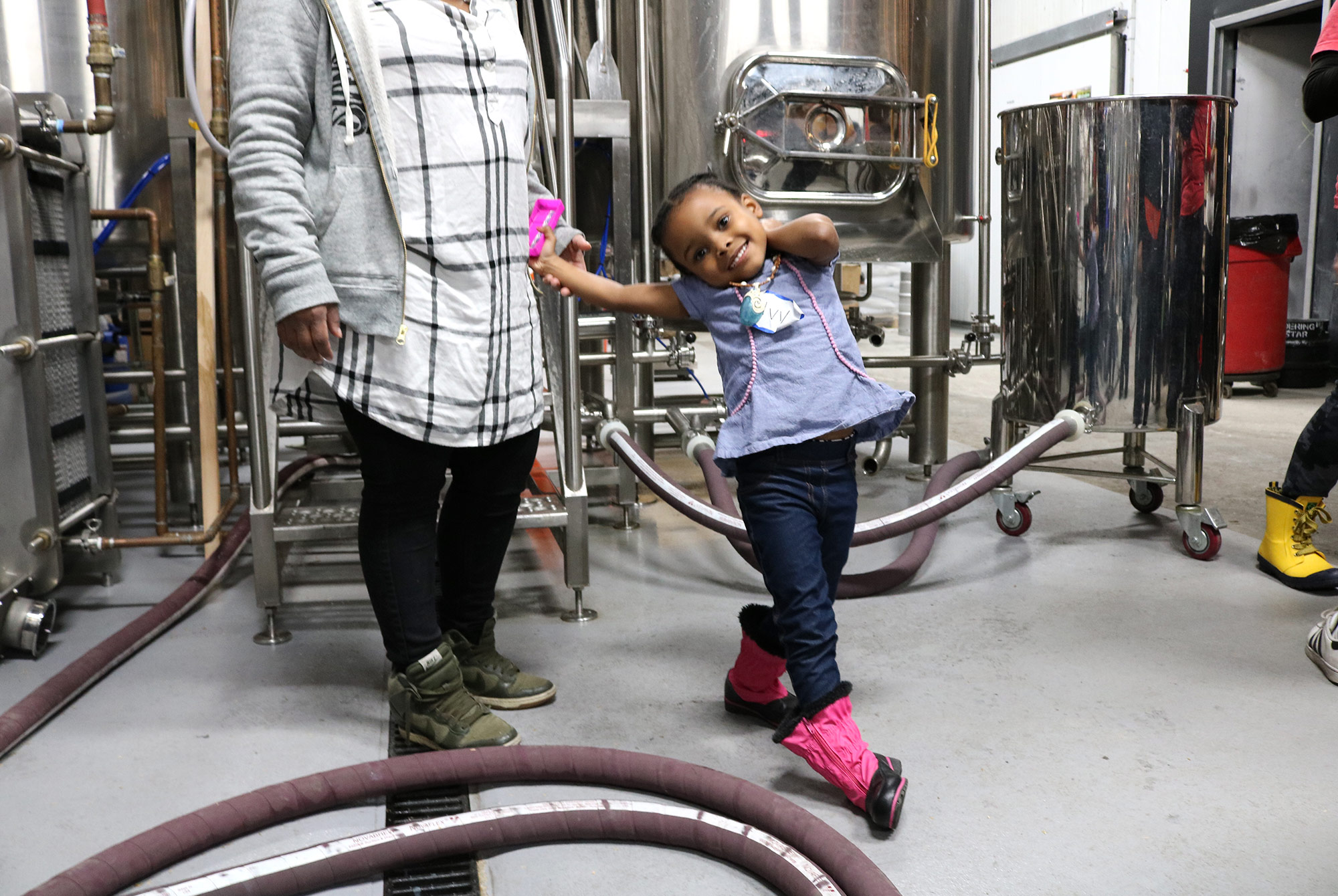 The entire week will cap off with the Beards With(out) Beards Festival at The Well in Brooklyn, where 20+ female-run breweries and female brewers will be pouring their beers alongside some of the biggest names in the industry. It's a week of collaboration, discussion, and, most importantly, socializing over beer.
Ultimately, Beers With(out) Beards wants to show everyone — those with beards and those without — the kickass achievements of kickass women in our kickass industry. Beers With(out) Beards will be fun and edgy, but fundamentally, like that first sip of craft beer that flicked an irrevocable switch in my head and like that night of women brewing together at Fifth Hammer, BW(O)B will change peoples' taste buds and minds.
Cheers to Beers With(out) Beards. We hope to toast with you in August.