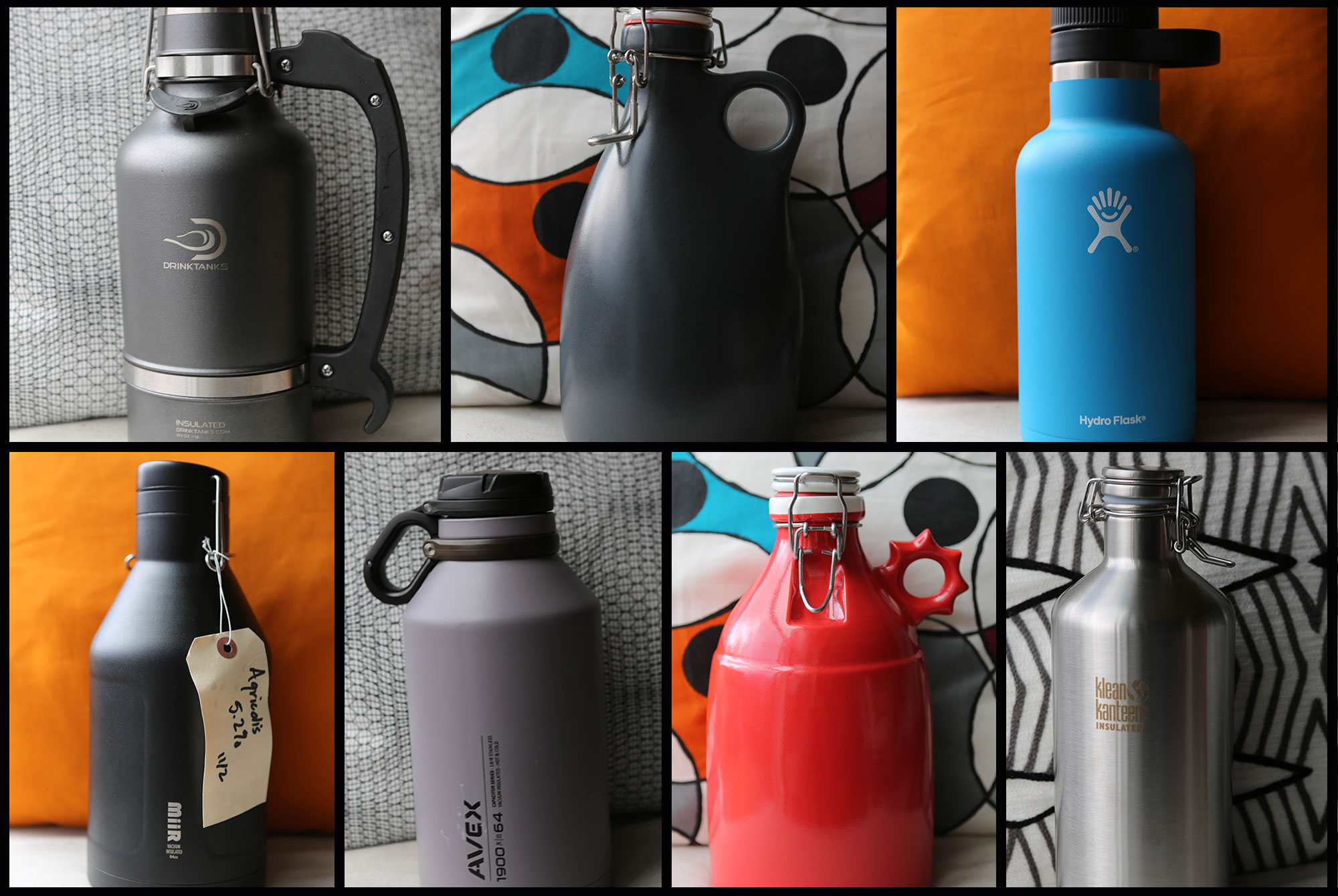 Photography by Hop Culture
Updated on April 14, 2022
The liquid equivalent of bringing your own bags to Whole Foods, growlers typically come in 32- or 64oz sizes and allow you to bring beer back from a brewery even when the stuff isn't canned or bottled. Many breweries offer brown glass growlers prone to shattering and light damage; ditch the breakable for the unshakeable with these nine sturdier options.
The 9 Best Growlers for Your Beer in 2022
DrinkTanks Craft Growler
For the Utilitarian – Made from stainless steel and available in a variety of colors, these beer growlers are both durable and stylish. The double-walled vacuum insulation keeps beer cold for more than 24 hours at a time, and an airtight seal preserves carbonation until you pop the top. "Kegcaps" are also available, allowing you to top up the growler with CO2 and keep beer fresh between sips.
Buy: $50 (32oz)
Buy: $75 (64oz)
DrinkTanks Session Growler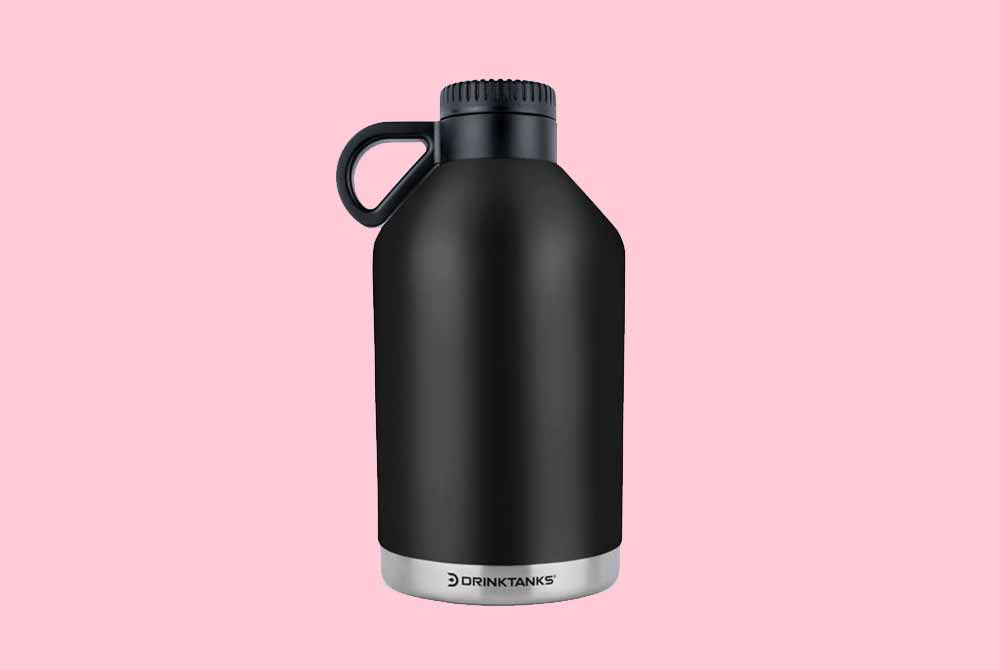 For the Adventurer – "Make every one of life's adventurers a little better, one sip at a time," writes DrinkTanks on its website. The session line is made for an active lifestyle without taking a big chunk out of your wallet. These 32oz and 64oz growlers in DrinkTanks' Session line are crafted for durability and portability. Lightweight and compact, easily take these vessels up the mountains or down the trail. Featuring DrinkTanks' same superior double-walled vacuum insulation as the Craft Growlers line, this growler will keep your drinks cold anywhere you go.
Buy: $35 (32oz)
Buy: $50 (64oz)
MiiR Vacuum-Insulated Growler or Howler
For the Suave – The MiiR Growler is relatively lightweight, with the 32oz option coming in at just over one pound when empty. Featuring a gasket top and double-walled insulation, your beer will stay cold and carbonated for up to a day. And with a simplified gasket design and no handle, this has the cleanest design of those we tested (check out the Orange Vessel for another aesthetically pleasing option). And every MiiR product purchased helps to support their nonprofit partners, who provide clean drinking water to those in need.
Buy: $40 (32oz) Buy: $55 (64oz)
Hydro Flask Insulated Growler
For the Athlete – With the ability to be clipped to a backpack or bike and a secure screw-top design, this Hydro Flask growler is perfect for outdoor use. Featuring double walls for 24-hour insulation, stainless steel construction for durability, and a powder-coated matte finish to keep the container from sweating and slipping, this is the best growler for water on the way up the trail and beer on the way back down.
GrowlerWerks uKeg Pro
For the Maximalist – Few companies have innovated beyond the standard tightly sealed, durable beer growler. But the uKeg from GrowlerWerks takes the standard beer growler to a new level. It's effectively a growler and at-home draft system in one. Fill your uKeg with draft beer, seal it, and enjoy fresh beer for weeks, according to GrowlerWerks.
We've tested the uKeg on numerous occasions. And, while it is the priciest option on this list, it's also extremely effective. For those looking to maximize their beer-drinking experience and searching for an upgrade from the standard growler, this is the best pick.
GrowlerWerks uKeg Go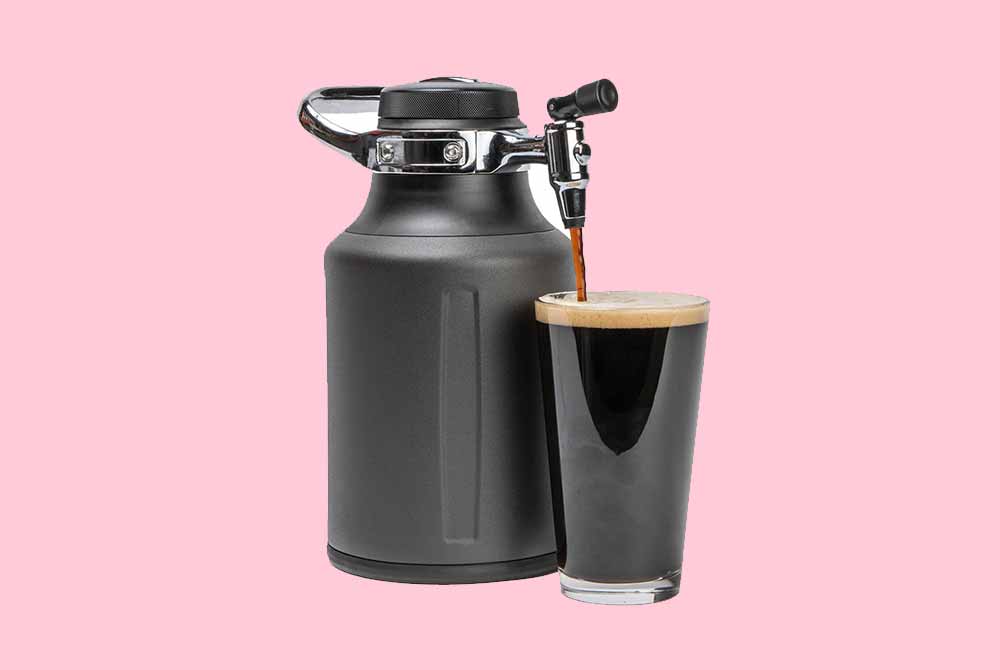 For Those On-the-Go – GrowlerWerks' most affordable, convenient, and "go anywhere" growler, the GrowlerWerks uKeg Go is a more lightweight, durable alternative to the uKeg Pro. Featuring all the GrowlerWerks standards—patented carbonation system, streamlined regulator cap, and double-wall stainless steel vacuum insulation—the uKeg Go is for those hitting the slopes, hiking the trail, or biking down the mountain. This is the growler for the consummate adventurer. Or if you just want to take it to your friend's backyard firepit…that works too!
Buy: $119 (64oz); $149 (129oz)
Orange Vessel Beer Growler Stoneware
For the Designer – If you're looking for a smooth finish and a unique design, these kiln-glazed, stoneware beer growlers are your pick. They are customizable, handmade in Ohio, and feature an ergonomic ring grip, so your fingers won't be in pain as you carry one to a party. Plus, they'll keep your beer cold for a few hours.
Stanley Beer Growler
For the Camper – Sturdy and durable, Stanley growlers are designed with the rugged environment and weekend camper in mind. This growler will keep your IPA safe from the roots, rocks, dirt, and bumps whether you're hiking on the trail or sitting around your campsite. Vacuum insulation keeps drinks cold for up to a full 24 hours.
EcoVessel Boss Triple-Insulated Beer Growler
For the Boss – EcoVessel makes a tricked-out growler so you can be the boss of keeping your craft beer carbonated and cold. Featuring TriMax Triple Insulation and a Reflecta Insulated dual opening lid, the EcoVessel Boss Growler is the Ferrari of growlers.
Unless otherwise noted, all of the products featured on Hop Culture are independently chosen by our editorial team. However, Hop Culture may earn a commission from purchases made through affiliate links on the site.
Liked this article? Sign up for our newsletter to get the best craft beer writing on the web delivered straight to your inbox.