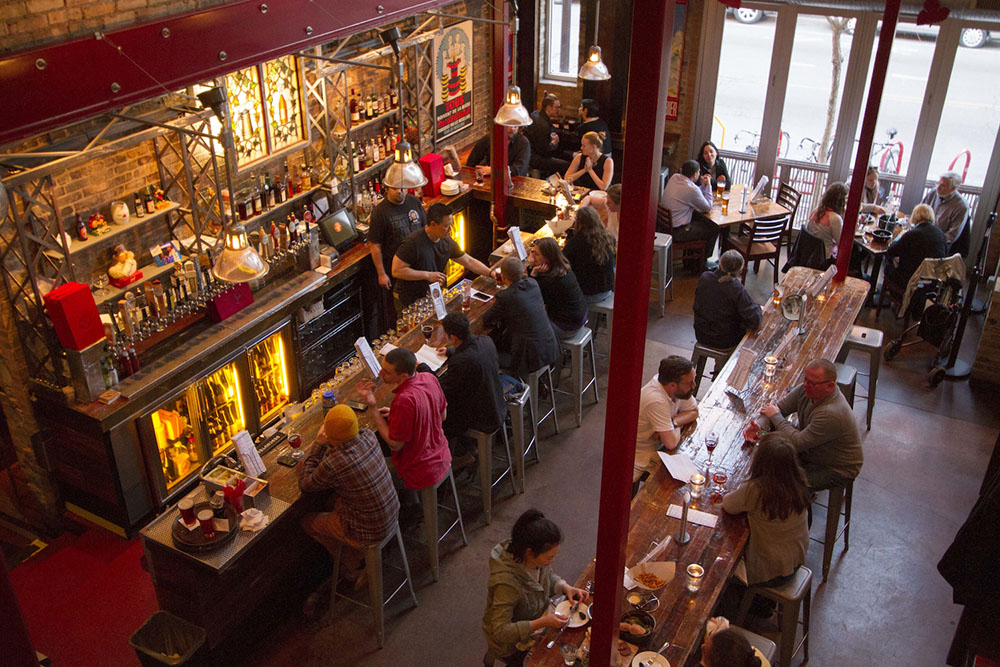 This past summer the Hop Culture team traveled to Chicago to throw Juicy Brews Art Gallery at Marz Community Brewing. Beyond getting a chance to hang out and pour beers with several of our favorite artists and brewers in the industry, the trip gave us a chance to sample the food and beverage scene of the Windy City. And folks, let me tell you, it was wonderful.
Not to give you too much of a peek behind the proverbial curtain, but, after drinking beer for the majority of our professional time, we tend to frequent natural wine or cocktail bars in our off-hours. Which is why we whiled away our evenings at Red & White and Diversey, next door to Cellar Door Provisions, which provided perhaps the best meal of 2019.
That being said, we're never far from a beer bar. And, despite enjoying our fair share of wine, we made sure to check out a couple of Chicago's most well-regarded watering holes. Below we've presented, in no particular order, our choices for the five best beer bars in Chicago.
Maria's Packaged Goods and Community Bar
960 W. 31st St. | (773) 890-0588
A community staple for decades, Maria's has been supplying the Bridgeport neighborhood with great beer and warm hospitality. We included Maria's in our list of the best bottle shops in Chicago but it felt like a disservice to not also include it in this roundup; it's a must-stop for any craft beer fan stopping through Chicago. The lineup always features local favorites and exciting beer from afar, plus, when you're tired of beer, opt for one of the bar's well-prepared cocktails.
Beermiscuous
2812 N Lincoln Ave | (773) 698-6824
Dubbed a "coffee shop for beer," Beermiscuous offers patrons a cozy environ for sipping on a beer and reading a book. The Lakeview offers beer-to-go and a bring your own food model, where folks can order in their dinner. We are certainly advocates of finishing our work in the bar so, if you feel like answering emails over a few glasses of beer, get out your laptop and make Beermiscuous your home office for the afternoon.
The Map Room
1949 N Hoyne Ave, Chicago, Illinois | (773) 252-7636
Another Chicago staple, The Map Room has been kicking for more than twenty years. With a true focus on community, the Map Room staff offers an educational "Beer School" series. You'll find a wide and varied tap list with quality selections from across the country and beyond. Plus, The Map Room has a robust bottle list for on-site consumption. Need a pick-me-up before you start your day drinking? The bar also offers a morning menu with coffee and pastries.
Links Taproom
1559 N Milwaukee Ave | (773) 360-7692
Links boasts an impressive lineup of craft beer plus a mouth-watering menu of sausage sandwiches. (Links, get it?) The Wicker Park bar features a warm interior with 36 draft lines pouring a well-curated selection of beer, plus three beers on cask. Spend a chilly Chicago evening with some fries, links, and a glass of beer.
Hopleaf
5148 N Clark St | (773) 334-9851
Yet another Chicago institution is Hopleaf, which has been stocking an exceptional list of Belgian and Belgian-inspired American beers alongside exciting and innovative craft offerings. On any given night you can expect the bar to be packed with beer enthusiasts but the experience is worth the cramped space. And don't skip the frites when you go.
Liked this article? Sign up for our newsletter to get the best craft beer writing on the web delivered straight to your inbox.