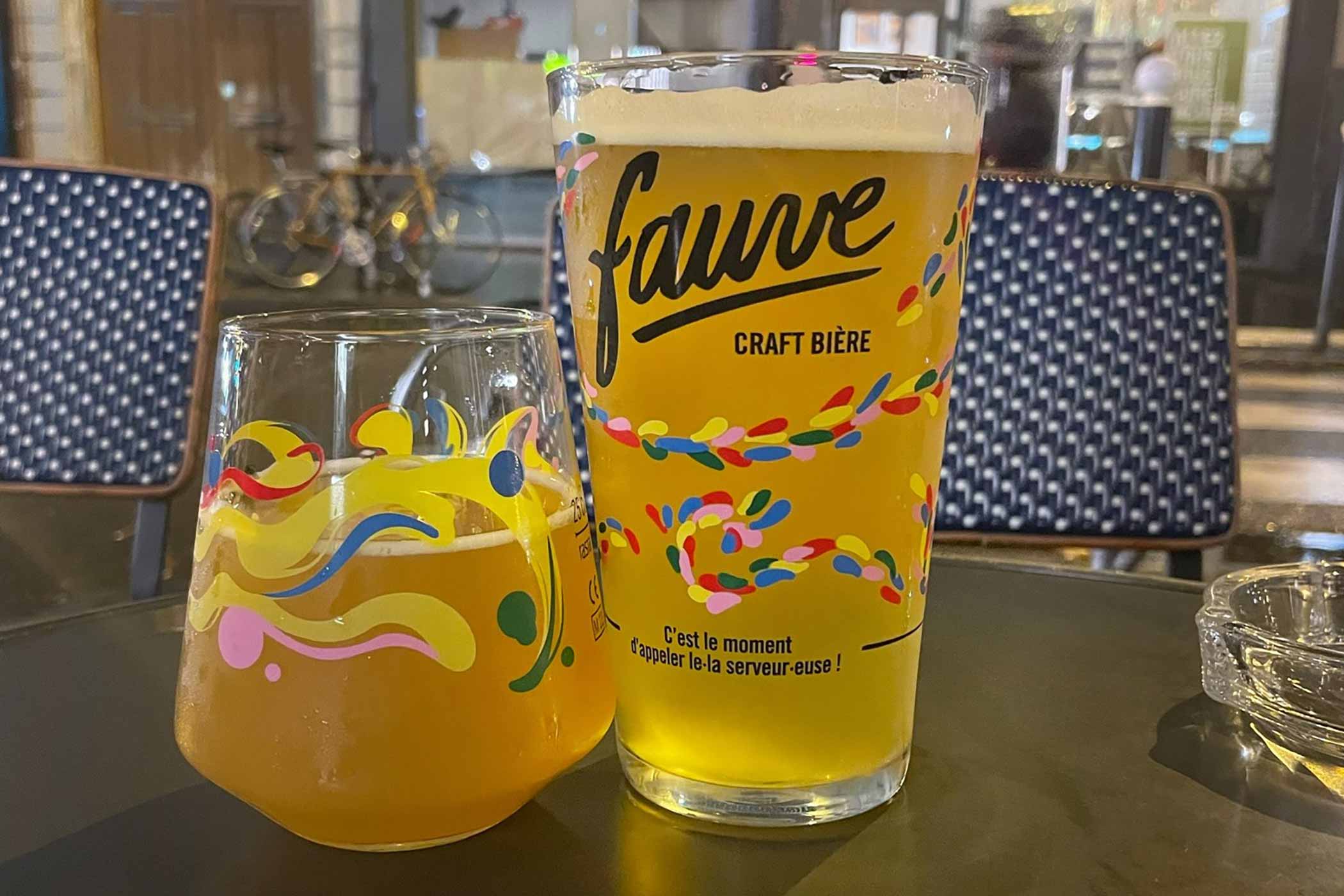 Photography courtesy of Mike Brokos
Wine is a huge deal throughout France, and Paris is no exception. It might surprise you that beer is exceptionally popular among Parisians. At most cafés throughout the city, you'll find at least a couple of options for draft beer (or biére pression). These will often include tasty blond lager Kronenbourg 1664, which is brewed in France, plus popular Belgian brands like Grimbergen and Jupiler. But where should you go if you want to really explore the City of Light's craft beer scene? We've got you covered! Here are five of the best craft beer destinations in Paris.
The Five Best Craft Beer Destinations to Visit in Paris, France
La Binouze
72 Rue Marguerite de Rochechouart, 75009 | +33 9 53 17 23 18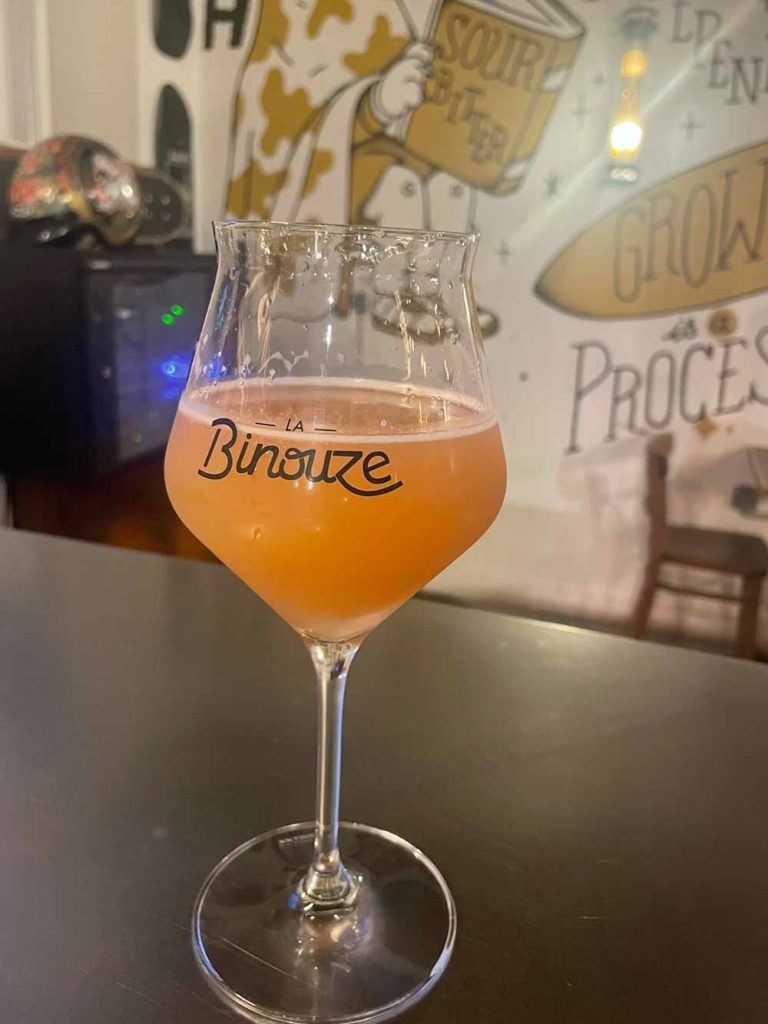 An excellent bottle shop and taproom located in the Pigalle neighborhood north of the city center, La Binouze is a great place to stop in if you're heading up to the artistic area of Montmartre or catching a show at the Moulin Rouge. Among the twelve taps—mostly featuring French breweries—visitors will find a lot of familiar buzzy styles, such as hazy IPAs, fruited sours, and pastry stouts.
One highlight for me was Paris Job, a hazy DIPA from the Demory microbrewery in Paris. Bursting with bright flavors, this beer gave me notes of stone fruit, especially cherry. At 7.2% ABV, it's not quite as boozy as a typical North American DIPA but still packs plenty of punch.
Another memorable offering: a winter ale called Au Coing Du Feu from Brasserie Toussaint, a brewery just outside Paris and north of Versailles. Translating to something like "the edge of the fire," Au Coing Du Feu proved to be the perfect name for this 6.9% ABV winter warmer, featuring more than a hint of smokiness without being too obnoxious. Since it was December when I visited Paris, this beer was a perfect match for the cold season. Smoked beers (beers where a percentage of the grain bill consists of malts that are smoked) are not everyone's favorite, but this one is well worth trying, at least a sample-size pour!
Maison BAPBAP
79 Rue Saint-Maur, 75011 | +33 1 77 17 52 97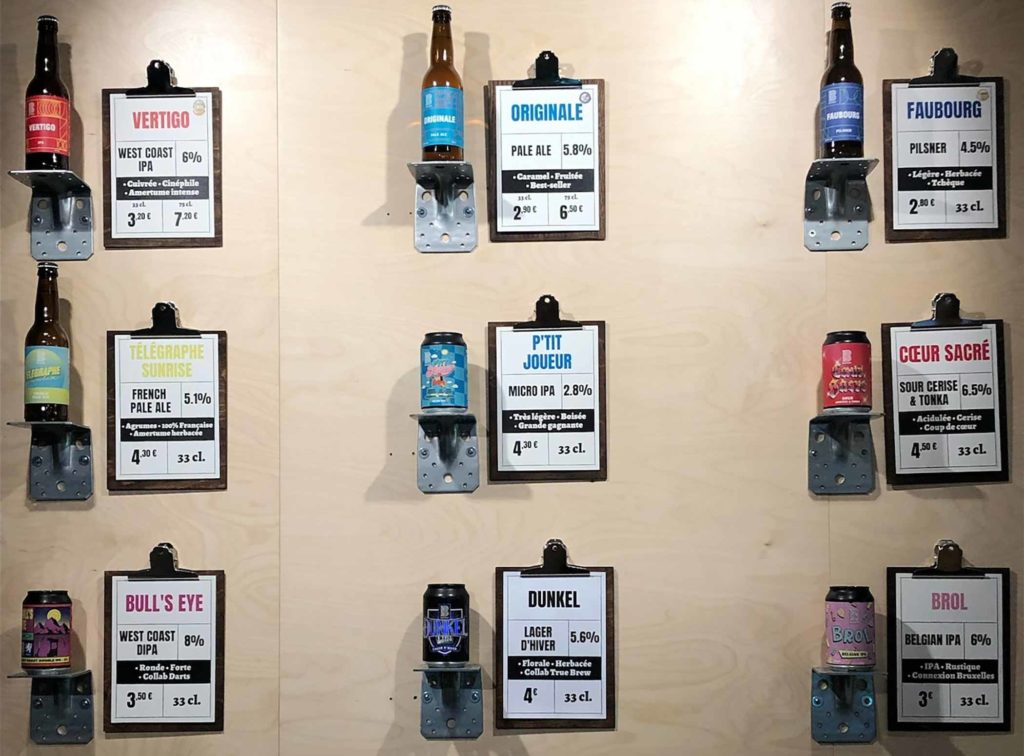 A small brewery, BAPBAP has a no-frills taproom that is clean and modern yet cozy. They feature eight of their beers on draft, with some additional options in cans and bottles. While they might not have the largest selection, their offerings make BAPBAP one of the best craft beer destinations in Paris.
Their winter lager, simply called Dunkel, checks in at a conventional 5.6% ABV and displays classic dark toast flavors. Very tasty.
On the other hand, their Belgian IPA (called Brol) defied my expectations. It leaned more into Belgian yeast character with less emphasis on hop bitterness and flavor. An interesting beer, but distinct from other touchpoints of this style, like Raging Bitch from Flying Dog or Houblon Chouffe from Brasserie d'Achouffe.
My favorite offering from BAPBAP was a pale ale called Originale. Citrusy hop flavors combined with a strong Munich-type malt presence, giving the impression of a slice of lemon-poppy pound cake. This was such a dialed-in beer with balance and drinkability at 5.8% ABV that I could see myself ordering pint after pint.
Some large-format bottles available to go included white and red wine barrel-aged saisons plus a rum barrel-aged barleywine. Finally, I would be remiss not to mention the beer store directly next door to BAPBAP, called Hop Malt Market, boasting a good variety of local beers and a sublime selection of Belgian imports.
Learn More
Paname Brewing Company
41 bis Quai de la Loire, 75019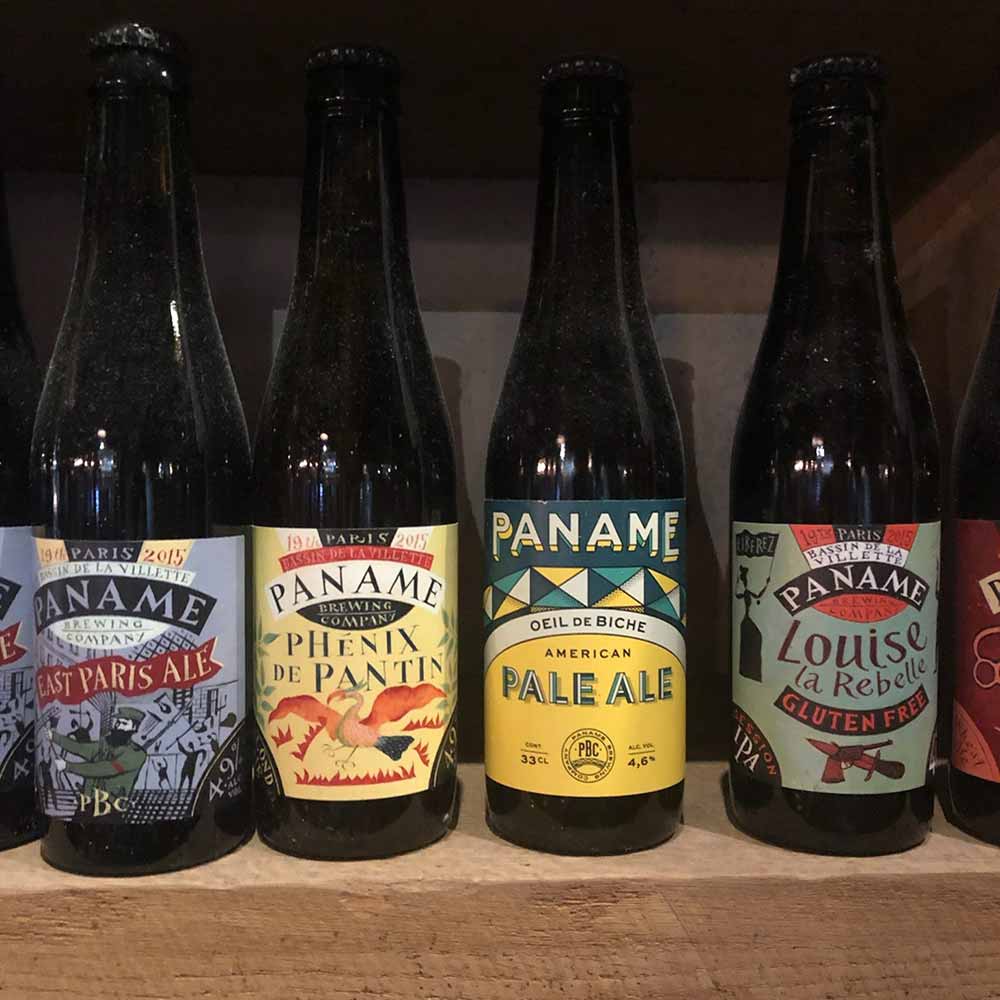 An established brewery, Paname can be found in a section of Paris quaint and accessible but less visited due to the lack of signature tourist attractions. I suggest getting off at the Jaurés Metro stop and walking a few blocks along the Bassin de la Villette, an artificial lake connecting the Saint-Martin and Saint-Denis Canals. You'll reach a spot where the lake narrows, and Paname sits right at this lookout point.
In addition to beer and bar-type food, they also serve a full suite of espresso drinks. And you'll find a lot of coffee-inspired tasting notes in their beer. For example, the Midnight Espresso pastry brown ale, Béte Noir black IPA, and Danse Apache smoked porter.
I tried a couple beers on the lighter side as well. Casque D'or, a delicious, creamy, yet dry and crisp saison at 5.2% ABV. A collab NEIPA with Blech.Brut brewery in Bamberg, Germany, Experimental Rhapsody brings more bitterness than its thirty-three IBUs suggest. But Cryo hops—including Simcoe, Strata, and Citra—still shine through for a beautiful aroma and drinking experience.
Les Cuves de Fauve
64 Rue de Charonne, 75011 | +33 7 49 05 95 96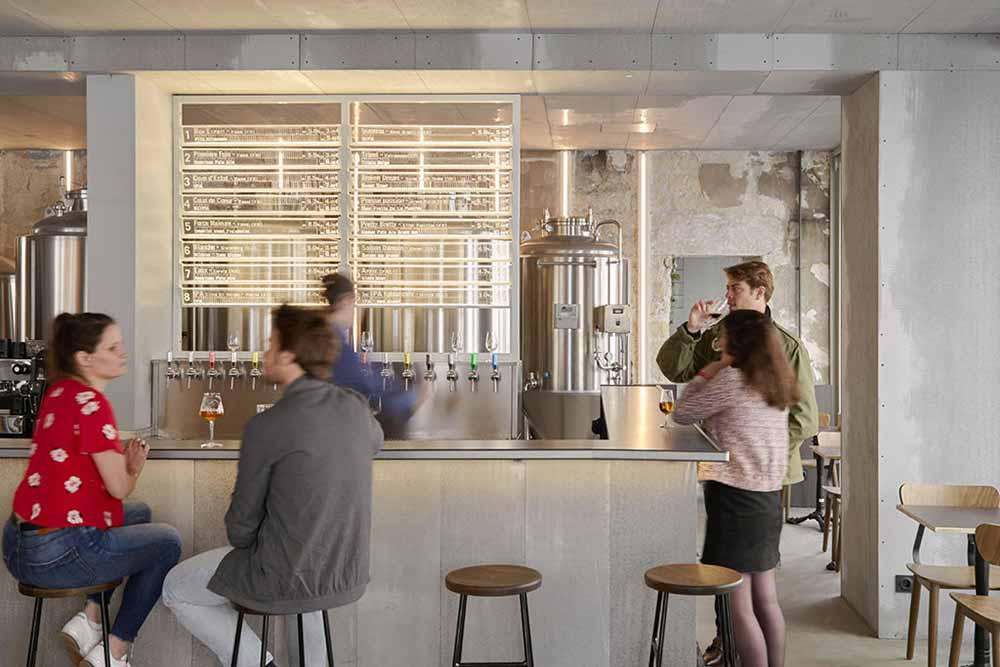 This restaurant and microbrasserie is located in the trendy Bastille neighborhood, surrounded by nightclubs and nightlife. There's a distinct Parisian-café-meets-American-brewpub vibe. You can enjoy house-brewed pints and gourmet plates in the taproom, or sit outside at the classic café tables—the chairs, of course, are turned towards the street, ideal for watching people speed by on motorcycles or saunter in and out of wine bars.
The beers at Fauve are as impressive as the ambience. Farmhouse ale La Clef de Champs delivers wheat-y and farm-y flavors while remaining light and refreshing on the palate. This beer reminded me a bit of Oxbow's legendary Farmhouse Pale Ale except with German noble hops in place of the American hops.
Another statement beer called Toi Et Moi is billed as a "French NEIPA" featuring the French hops Barbe Rouge and Mistral. Spicy, rugged, and rough around the edges (in a good way), this beer has a smooth and sweaty swagger. At 6.5% ABV, you can enjoy a few of them; the flavors may be intense, but they won't weigh you down.
Brewberry Bar
11 Rue du Pot de Fer, 75005 | +33 6 62 46 75 13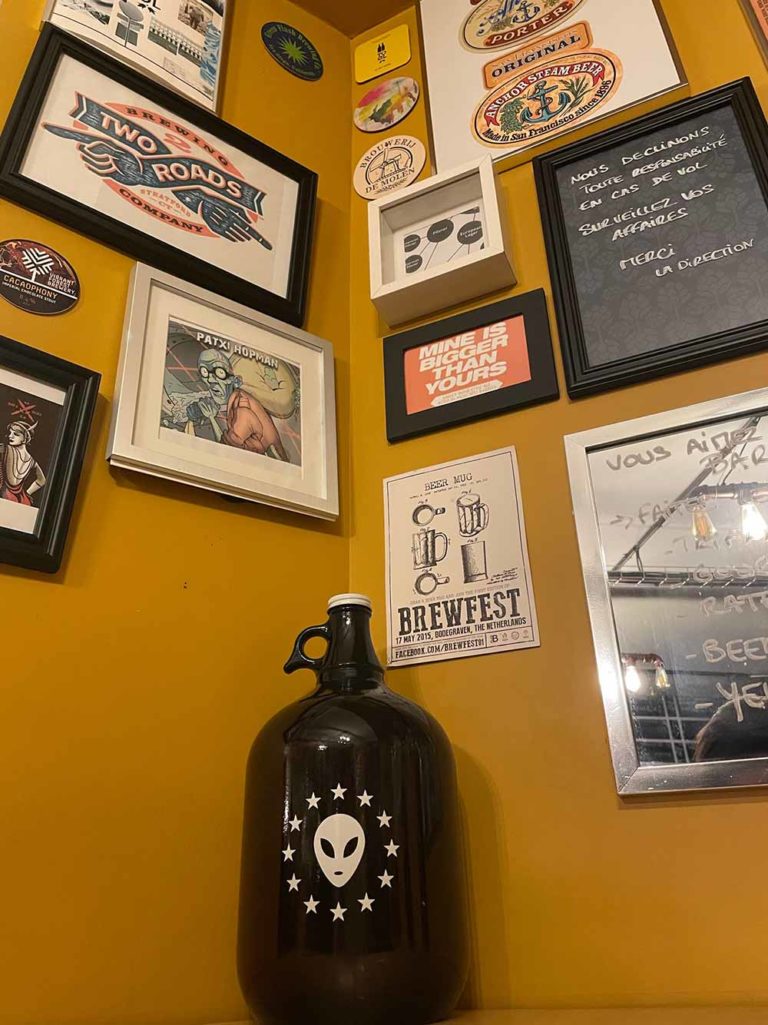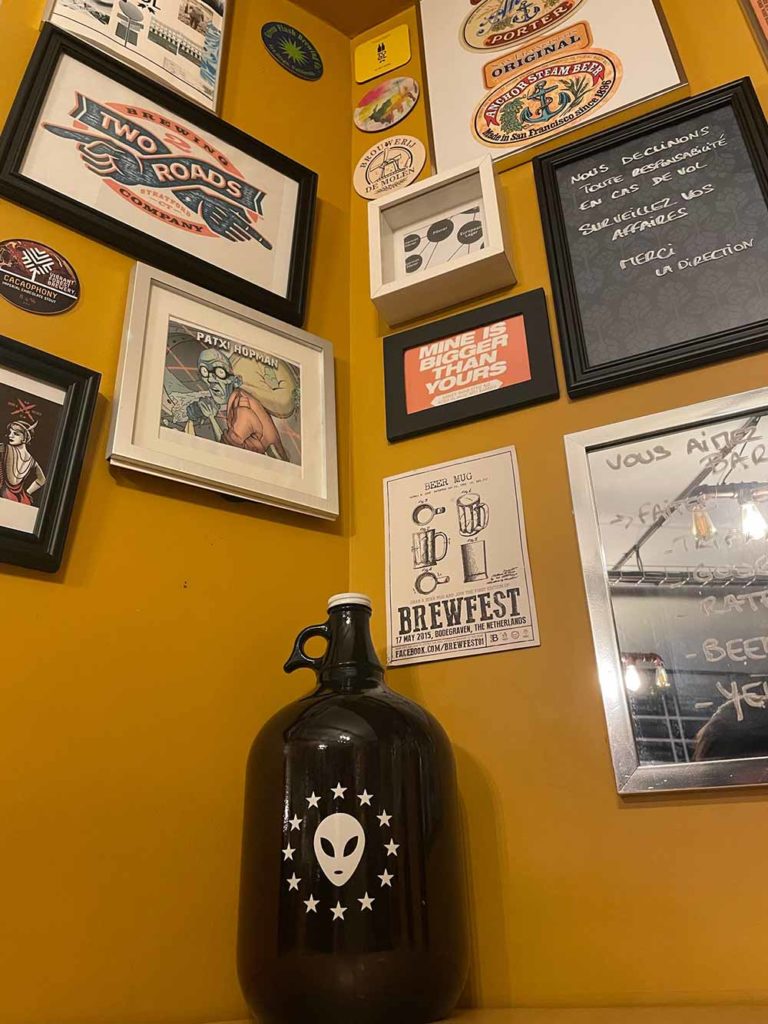 Brewberry is one of the best craft beer destinations in Paris. If you find yourself in the Latin Quarter or somewhere else on the Left Banke, just dip down a little farther south to get here. Brewberry also works as a nice side destination if you're checking out the Luxembourg Gardens or the Montparnasse neighborhood.
At Brewberry, they care a great deal about their beer selection and quality, and it shows. I tried a couple of IPAs here that were among the best of my visit to Paris. I'm also a sucker for strong blond ales, and these didn't disappoint either. For instance, a tripel blond "bio" beer (meaning it's organic and gluten-free) called La Quache from Brasserie la Dilettante. Or Side Effect, a Belgian-style tripel from O'Clock Brewing. Both these beers were pleasantly light, dry, and drinkable despite their 8+% ABVs.
Editor's Note: As with many Paris establishments, check to make sure Brewberry is open before you go! They usually don't open until 5pm, but the beer is worth the wait. So are the bites, by the way. Think artisanal empanadas and charcuterie ibérique.
And, if you have time to kill beforehand, check out the Le Chouff'Bar right down the street on the same block. They have the full suite of beers from Belgium's beloved Brasserie d'Achouffe on draft plus a gloriously divey atmosphere, including lively banter with the bartender and locals.