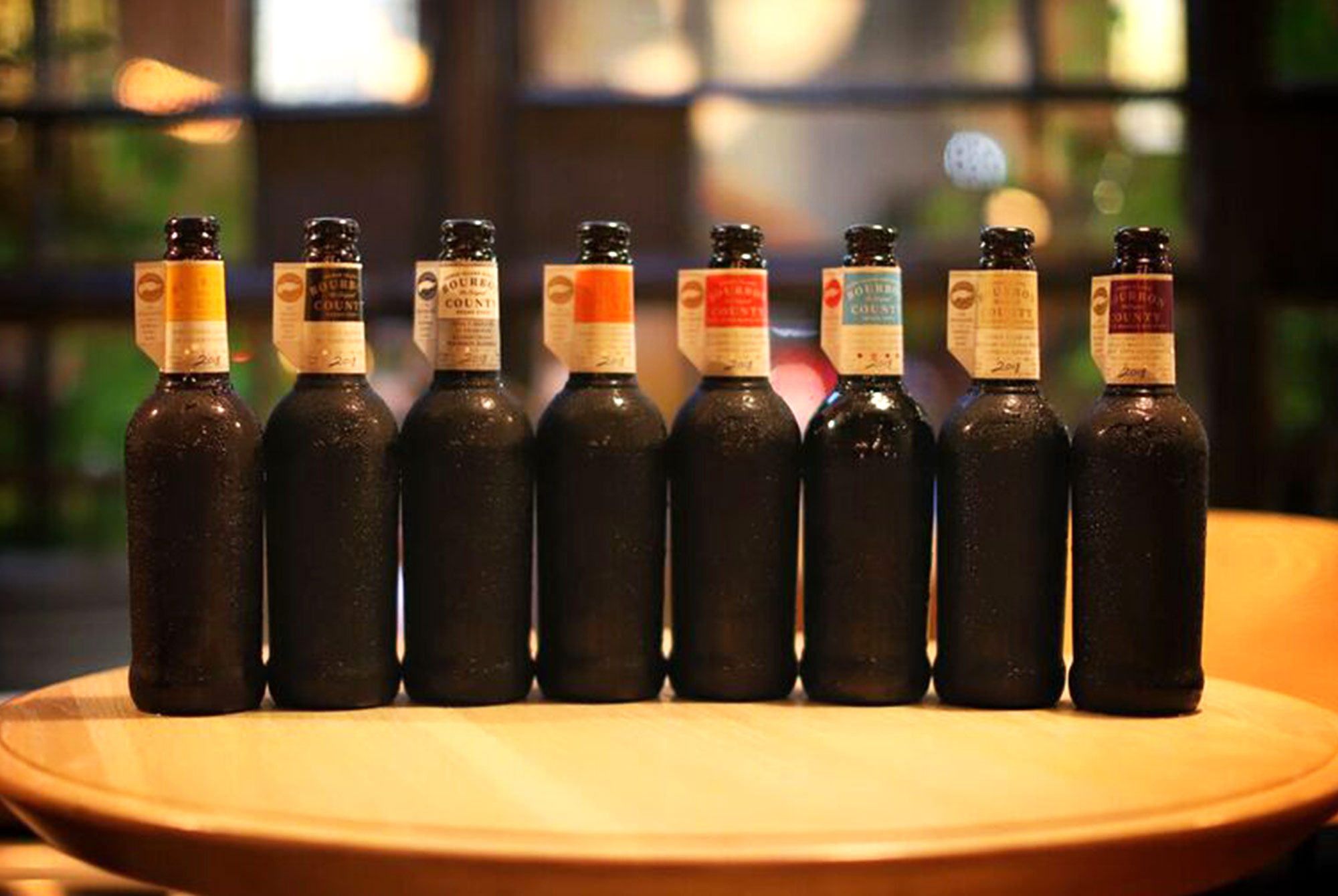 Photography by @nomsandbeer
Editor's Note:
Goose Island Brewing Co. is owned by Anheuser-Busch InBev.
Fall has arrived in New York City bringing cooler temperatures, changing leaves, and–most importantly–the beginning of stout season. And with stout season comes 2018's Bourbon County series. This year sees the return of old favorites, the introduction of new faces, and the departure of some regular variants.
First, the old favorites: Bourbon County Vanilla and Bramble Rye both make a return to the lineup for the first time since 2010 and 2011 respectively. Second, the new: We have Bourbon County Wheatwine, the first non-stout or barleywine in the series. And, speaking of Bourbon County Barleywine, coffee has been added making this the first time since 2013 that regular Barleywine is not being released. The other big change in the series, however, was the biggest shock to me: Bourbon County Coffee is not included in this year's collection, for the first time since 2010.
With so many changes there were obviously many questions, along with the annual curiosity of how this year's lineup would shake out compared to last year's, which I would characterize as Goose's most successful lineup since at least 2014. To navigate through this, I sat down with the Goose Island team to try each of the beers from this year's release.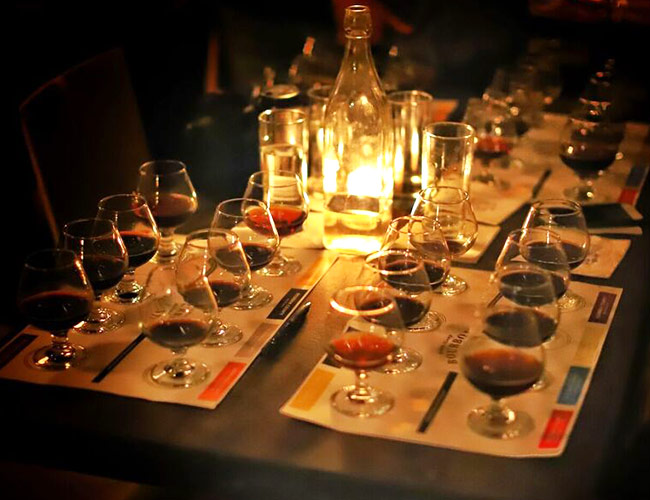 1. Reserve Bourbon County Brand Stout
For the second year in a row, Bourbon County Reserve is the shining star, and for many of the same reasons as last year. While 2017's rested in Knob Creek, this year the base rested in 12-year old Elijah Craig barrels – the same whisky that won Whisky Advocate's Top Whisky for 2017. Having this alongside the Original Bourbon County Stout, the differences are clear. The beer is stickier and a little more viscous. The first sip coats your mouth with an interplay of milk chocolate and vanilla, followed by that same amount of barrel character that blew me away last year. I'm a sucker for non-adjunct stouts and this one does not disappoint; every aspect of this beer is balanced and on-point. While everyone at the event had different rankings, Reserve was at or near the top of everyone's list.
2. Proprietor's Bourbon County Brand Stout
Here is where my expectations for this year's series began to change. This year's Prop is the original with chocolate and cocoa nibs added. When the announcement was made I (and I'm assuming many others) thought, "so…they are going to use this year's Prop to add chocolate to a beer that always has chocolate as its most recognizable flavor." Well, it works, and it's because of the differences in this year's Original. 2018 Prop has a fatty, oily viscosity that you don't see in this year's Original blend. The dominant flavor is obvious – chocolate, chocolate, and more chocolate. The fudginess of the brew balances out the bitter backend and heat you have in the Original, with a sweet and mellow barrel shining through on the finish.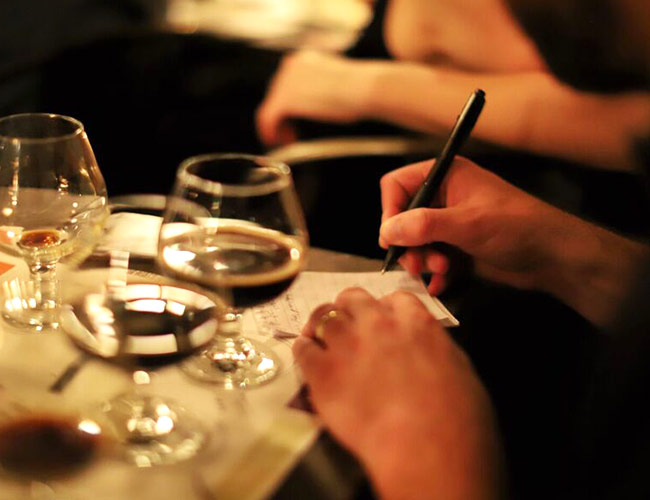 3. Bourbon County Midnight Orange
If you were to tell me Midnight Orange would be one of my favorites, I would've laughed at you. Fruited stouts are not my thing and a citrus fruited stout? Now that's just crazy talk. This variant, similar to the annual Prop variants, was selected via tasting panels. Brewers were encouraged to create their own one-liter variant to go through several rounds of trials until a winner was selected, ultimately selecting this as one of the 2018 choices. On the nose, the variant gives off aromas of fresh orange slices, with a bit of oak. Once again, similar to the first two, the mouthfeel is a tad more viscous than the Original. It starts off with a sweet combo of orange and citrus that meld together. The backend transitions to mainly chocolate and bourbon, but the orange adds a lingering caramelized sweetness that was a nice surprise.
4. Bourbon County Vanilla
To say this was the most intriguing of the variants for me would be an understatement. It's the first time since 2010 that Goose released the Bourbon County Vanilla Stout. Sure, there was Vanilla Rye 2014 (which was, and still is, incredible), but that used a different barrel and a different blend of vanilla beans. This year's version is aged in Heaven Hill barrels and then aged on Madagascar Vanilla Beans. The nose is a vanilla bomb, but it's not your sweet-pastry vanilla; it has an earthiness to it, with faint notes of marshmallow. Taste-wise, initially it's in-your-face vanilla with notes of tobacco and a little bit of leather. The brew then transitions to dark chocolate, with some bitterness and heat from the bourbon. The beer is young, it's a little too hot with a bitter bourbon bite on the end, but, with some time, it's sure to mellow and hit its stride.
5. Bourbon County Coffee Barleywine
When I heard that two of my favorite staples of the series were not only excluded from this year's series, but they were being combined into one, I was bummed. In 2013, at the Festival of Barrel Aged Beers, Goose was getting ready to tap their Original Stout, and run it through a Randall, infusing fresh coffee beans. However, rather than tapping Original, they accidentally tapped their Barleywine variant, creating a concoction Goose finally shared with us this year. While the company has normally used cold brew for Coffee Stouts, they decided to use whole beans for this year's variant, which is evident on the nose. The combination of the fresh coffee and the sweet toffee aroma of the Barleywine is a little strange, I will admit. As for the flavor, though, it somehow works; you get a balanced combination of sweet raisin and toffee flavor interacting with the roasted coffee beans. It's going to be interesting to try this as the coffee fades slowly over time and becomes a complimentary note.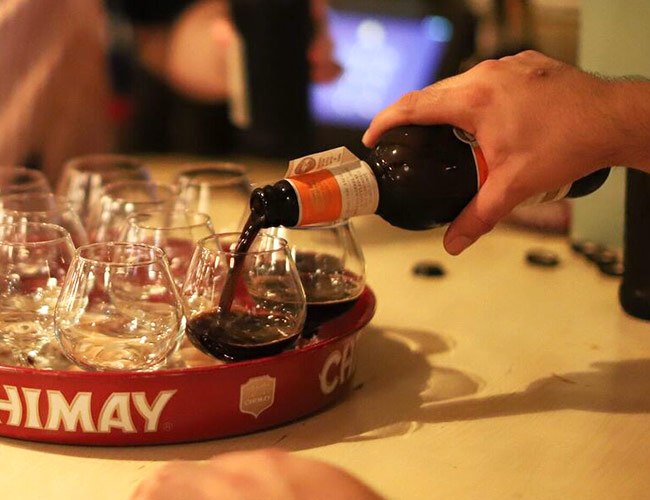 6. Bourbon County Wheatwine
This is another new variant and it clocks in at over 15% ABV. Unlike Barleywine, which uses six specialty malts, Wheatwine uses zero, creating what Goose calls "their most stripped down variant." In creating this type of beer, Goose wanted to put the barrel centerstage, and it shows. On the nose, you get vanilla and a big bourbon presence. Drinking-wise, this is definitely the biggest sipper of the series. Right from the get-go, the booze coats your palate and really lingers like you're drinking a spirit rather than a beer. It's different, but it's a nice change of pace.
7. Bourbon County Brand Stout (Original)
Since I've compared several of the variants already to the Original, I will keep this on the shorter side. This year's Original reminds me very much of 2014's Original. The nose is a little muted, with notes of oak. The flavor is mainly bakers' chocolate with a bitter note on the backend, before giving off some lingering heat. When I had 2014 fresh, I could barely drink a few ounces, and it's the same for me this year. The beer packs more heat than recent vintages. That being said, with a few years on it, 2014's Original is drinking incredibly, so it's worth grabbing a few of this year's to age.
8. Bourbon County Bramble Rye
While some may have had this higher on their list, something has to finish last. The last time I had Bramble was 2013, and I definitely saw some similarities when looking at my old tasting notes. Like 2013, this year's variant is fruit-forward. So much so that, on the front end, it's almost like you're drinking fresh juice. On the backend, you have that bitter bourbon heat present in the Original, but it finishes thinner, coming in 2% lower in ABV. It doesn't have that same barrel character I remember from the OG version, but once again this is a young barrel-aged stout. I will probably grab a bottle or two to sit on to see how the fruit fades and the barrel develops over the next year. This is still a solid beer, it's simply not my favorite of the group. Who knows, maybe this will be higher on my list when I revisit it down the line.
Liked this article? Sign up for our newsletter to get the best craft beer writing on the web delivered straight to your inbox.