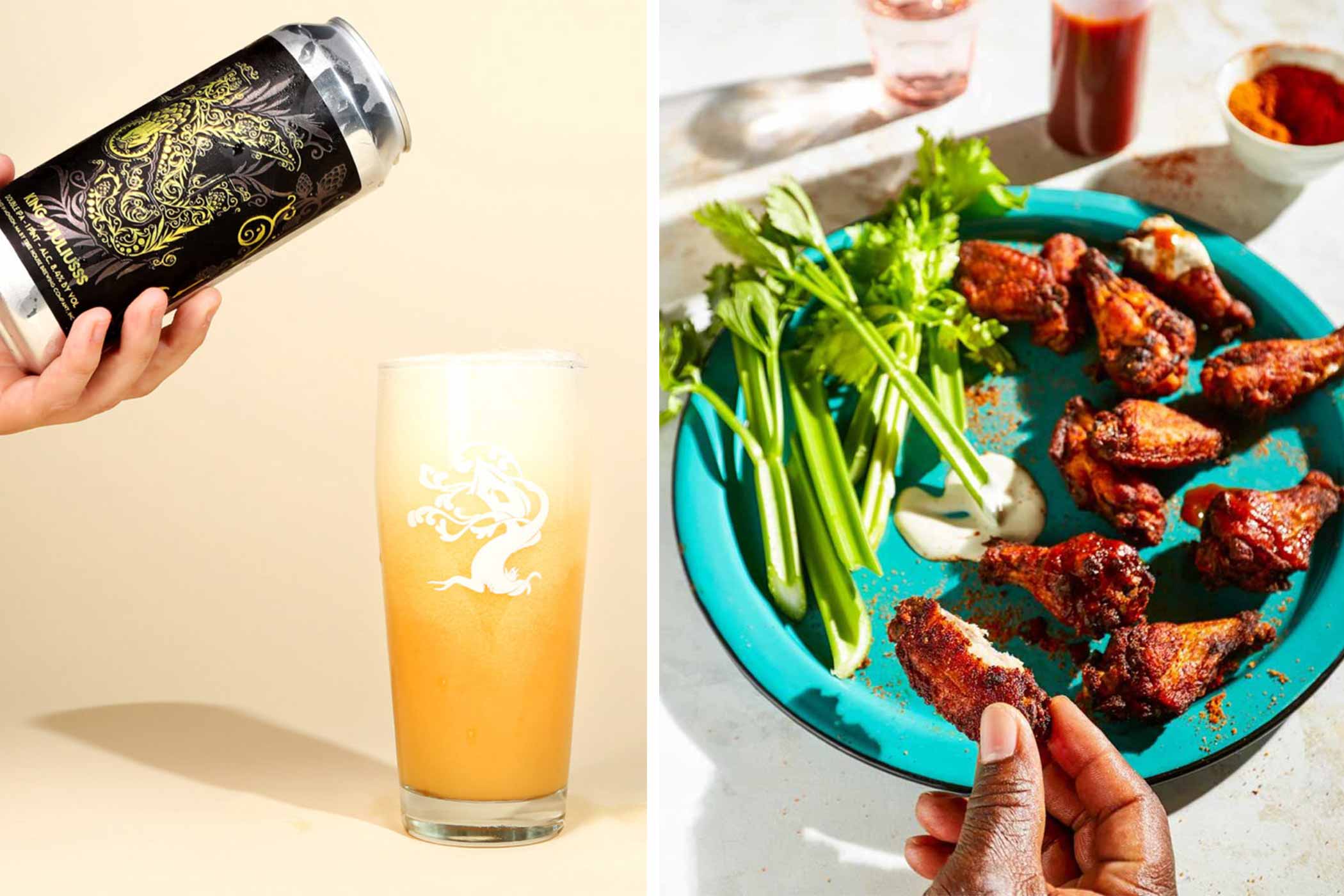 On the left: Photography courtesy of John A. Paradiso | On the right: Photography courtesy of Jerelle Guy
It's summertime. The livin's easy. Let's pair food with IPAs that are hazy.
Brewery patrons and beer nerds can no more escape the pulpy omnipresence of hazy IPAs than thirsty teenagers can escape the bloodthirsty masked hulk lurking in the woods surrounding the outdoors camp their parents shipped them off to for the season.
However, unlike doomed teens, we adult beer loving types can embrace these hyper-popular juicy beers with both arms and all of our taste buds.
And during the summer there is no better way to do that than through food pairing.
The foods we typically associate with summer tend to go well with the average hazy. During the warmer months everybody busts out their grills and cooks every type of meat and even hardy vegetables to perfection (hey, we even talked to a James Beard award-winning pitmaster on how to pair and BBQ).
A hazy's fruity, citrusy, tropical-y, juiciness automatically pairs perfectly with those charred meats and caramelized vegetables.
Simply put: This is hazy IPA season.
But like any perfect marriage there are some tricks to these pairings.
Just like we have tips for a standard 5-Minute Guide to IPA Food Pairing (which you should also read), hazy IPAs differ significantly enough to warrant its own recommendations.
So take a gander at our curated hazy IPA and food pairing tips below and pair on all summer long.
You Want Juicy…But Not Too Juicy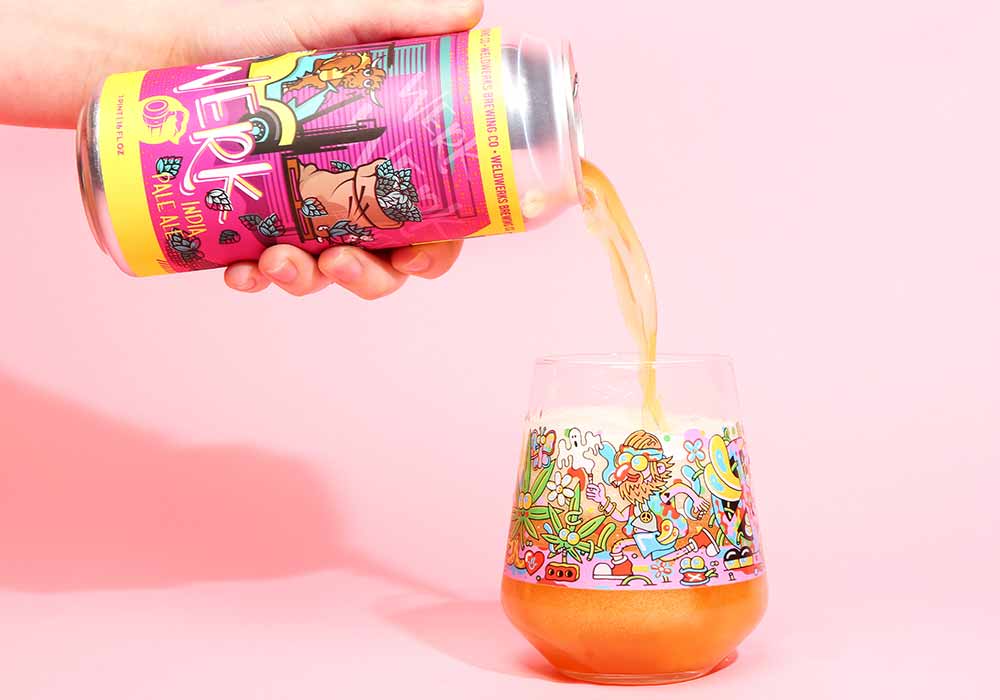 Whether the style is referred to by its catchall name, hazy IPA, or its actual name, New England IPA, the same nickname applies to both: "Juice bomb."
Hazy IPAs are characterized chiefly by juiciness not found in traditional IPAs. Think of a glass of Tropicana that gives you a buzz. That "juicy" quality is accompanied by tropical fruit flavors, too. For example, passionfruit, guava, and mango.
These juicy characteristics can be perfect for cutting through something fatty or spicy on the menu.
But be careful.
Make sure you're paying really close attention to the ingredients before you pair. Hazy IPAs pack massive flavor in a glass, which means you'll probably want to leave any with "double," "triple," or "dry hopped" off the list.
The larger the multiplier, the greater the taste, the likelier you'll overwhelm what's on the plate.
For those amped up versions, just drink the beer for its own pleasures.
When crafting a food pairing, go to tuned-down single hazy IPAs.
Pay Attention to Textures ("It's Like Drinking A Pillow Made Of Sunshine")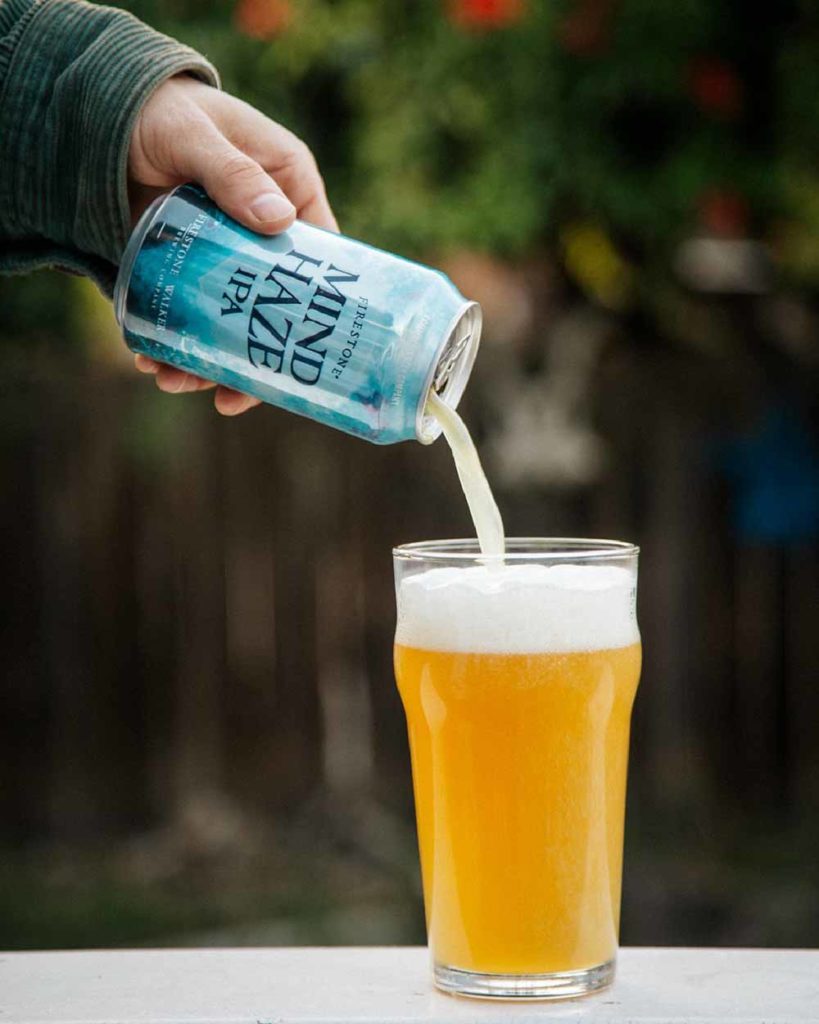 Juice and fruit comprise two of the hazy IPA's three defining components. The third is a trademark texture often described as "pillowy," "velvety," or sometimes even "luscious."
Which brings us back around to that very scientific word, flocculation, referring to yeast cells' habit of cuddling one another at the fermentation finish line.
For classic IPAs, brewers reach for yeast strains with higher flocculation. The more the yeast cells bunch up, the easier it is to remove them. On the other hand, hazy IPAs make use of lower flocculating yeast strains, which help contribute to turbidity.
Hence, why they're hazy.
Oh and also because brewers use high-protein malts, like oat and wheat. Both also add haze to the final beer. And more importantly, that smooth, pillowy mouthfeel prized in the style, perfectly complementing the bright flavor profile.
So while you can pour a hazy side-by-side with fall-apart dishes like a good smoked brisket or pork butt, you may want to think twice. Piling softness on softness leads to a texturally one-note meal.
Instead, think of hazy IPAs as pairing best with crunchier dishes such as fried chicken, chips, a crisp potato salad, or corn on the cob.
But, if you do decide to pair a New England-style IPA with a fall-off-the-bone dish then make sure you serve these dishes with crispy sides, like peas, asparagus, a fistful of fresh green beans, a clutch of radishes, corn–ingredients with bite.
Overall, when pairing here, consider the interplay between the tactile elements of the beer and the protein.
Hazy + Heat = Hot, Hot, Hot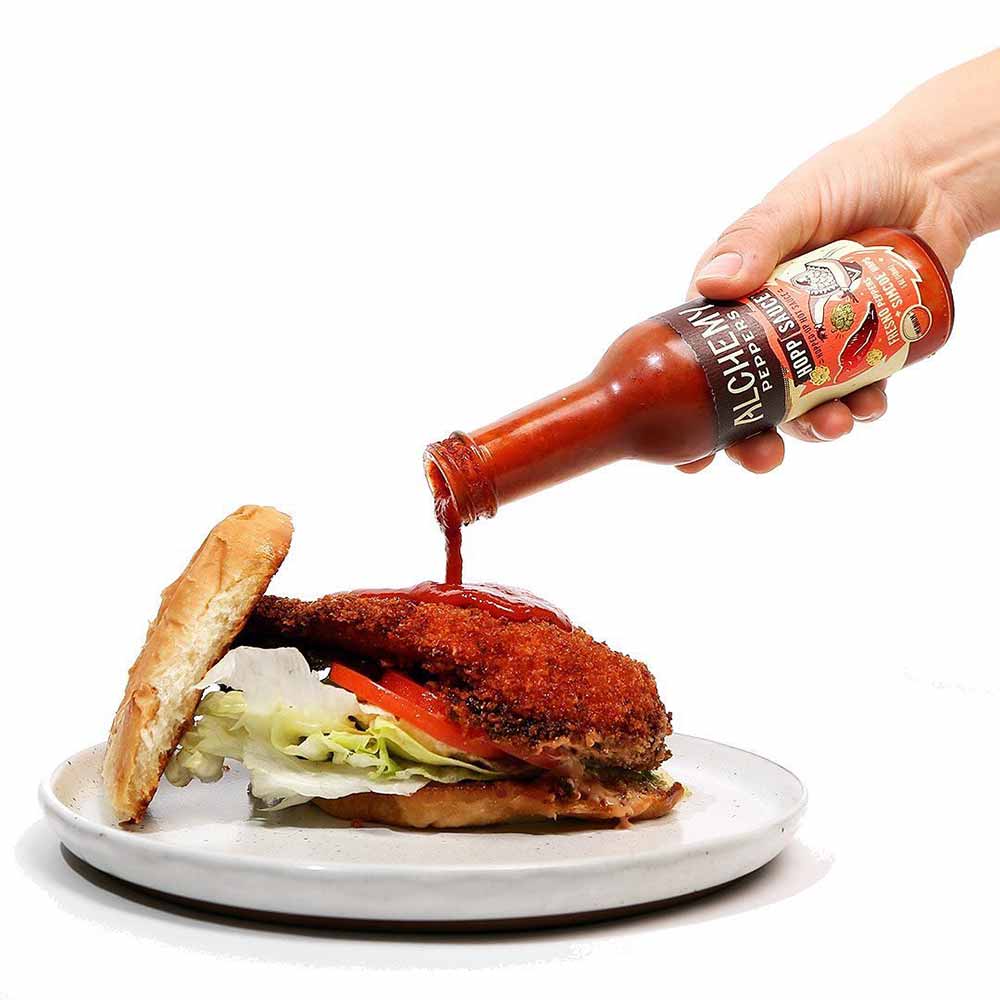 About fifteen years ago, Dallas chef Tim Love served Iron Chef Masaharu Morimoto a rare loss in a grueling chili battle. Love knew every pepper like his own family tree; Morimoto, unfamiliar with all of them, resorted to taste tests to figure out how to use them in his dishes.
If this sounds like an unpleasant introduction to chilis, you're right. Morimoto blunted the peppers' scorching heat by dousing his tongue with vodka after each bite.
That's one way to handle spice. (Another? Candle wax.)
A more reasonable solution? Citrus fruit. A bit of, say, orange or lemon helps allay the capsaicin in chilis.
Hazy IPAs put a premium on citrus fruit and citrus fruit flavors.
So…the math does itself.
Classic IPAs can fill this role, too, so if you're not feeling trendy, even a Magic Hat #9 will do in a pinch. But hazy IPAs are fruit-forward as a rule; the same isn't always true of the classics.
If you're cooking a dish with a lot of heat, chances are you want a New England-style IPA sitting next to your plate to tame the burn.
Hot wings? A plate of lasuni gobi (Indian fried cauliflower)? Dirty rice with a side of Scotch bonnet peppers? Take your pick and crack open your favorite citrus-forward hazy. You'll be surprised at how well the flavors play with each and how much the citrus juices take the sting out of the spice.
You Can't Go Wrong with Greasy
Specific as these precepts may be to hazy IPAs, though, there's one that's universal across any style of IPA, and frankly most styles of beer: Just eat a burger.
In fact, eat any fatty, greasy heart attack on a plate just as long as you mind textural guidance. A big, juicy beef, pork, or lamb patty topped with cheese, caramelized onions, bacon, an egg, and a tomato (just so you can say you've had your veggies), always makes bosom buddies with a hazy IPA.
Two of the style's defining traits—that brightness and smoothness—work wonders in tandem with prototypical bar food and grill food.
Getting creative pairing hazies and dishes is fun. But sticking with the basics is satisfying, too.
Hop Culture's Hazy IPA Food Pairing Recs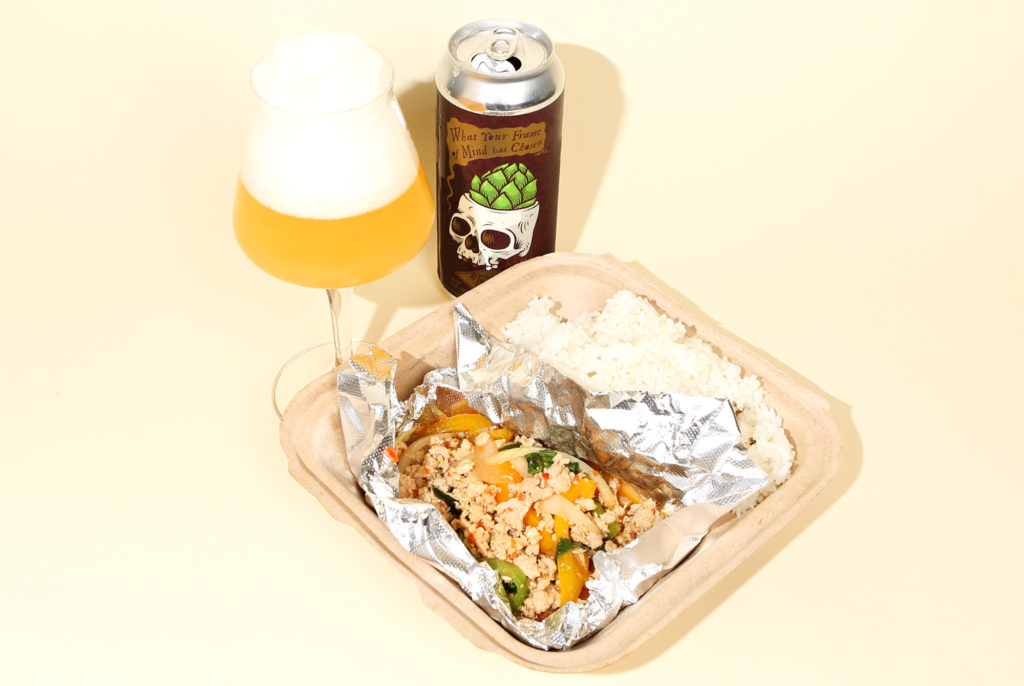 These are a few of our favorite pairings. But you don't have to take our word for it. Go ahead and give them a try yourself. Or just follow our tips above and master your own hazy IPA and food combinations. You can't go wrong either way. Because at the end of the day good food + great beer = amazing times.
King Jjjuliusss – Tree House Brewing Company
Charlton, MA
Pair it with: Serve with a plate of Haitian griot (aka the country's national dish of marinated and fried pork shoulder), rice and beans, and pikliz. Congratulations: You're having a perfect dinner.
First Things First – Monkish Brewing Co. x Other Half Brewing Co.
Torrance, CA x Brooklyn, NY
Pair it with: So soft and creamy that anything with crunch will do, but so incredibly drinkable that opening a can with crudite comprising fresh-picked pod plants feels like the most correct option.
Neon Distraction – Divine Barrel Brewing
Charlotte, NC
Pair it with: An exception to the "dry hop" warning. Nelson Sauvin and Mandarina Bavaria team with Citra for a white grape-lemon zest cascade, making this a terrific pairing alongside rich, oily fish, a'la salmon or monkfish.
The Nameless – Foam Brewers
Burlington, VT
Pair it with: A tricked-out burger stacked with unctuous and funky accouterments like blue cheese, mushrooms, egg salad, bacon, or pickled onions.
Mind Haze – Firestone Walker Brewing Company
Paso Robles, CA
Pair it with: Lean into the grassier notes on this one by pairing it with a no-fuss, well-cooked steak.
Barbarian Haze – 3 Floyds Brewing
Munster, IN
Pair it with: Bar pizza baked with a crunchy crust, slathered with marinara, and topped with equally crunchy veggies.
Juicy Bits – WeldWerks Brewing Co.
Greely, CO
Pair it with: The orange creamsicle effect of the Citra-Mosaic-El Dorado mix screams "drink me while you're eating flaming-hot Indian food." Go for lasooni gobi, or be bold and try a vindaloo dish instead.