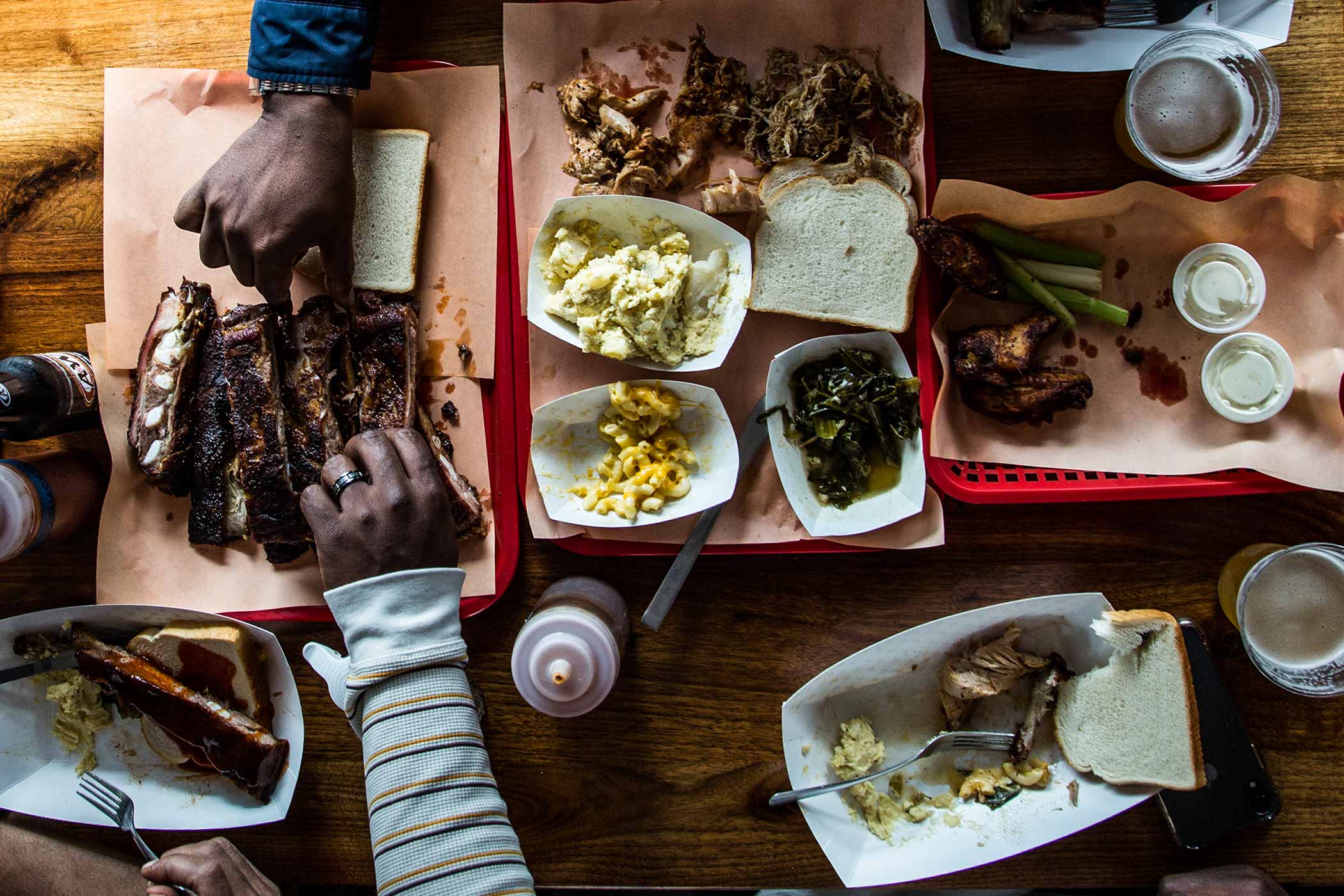 Photography courtesy of Angie Mosier
This weekend, we'll be gathered in the backyard with family. Most likely, fixing up a plate of Uncle Joe's famous dry rubbed ribs, smoked wings, and other BBQ accouterments. The big question: What the heck do we drink to wash it all down? Do you know what beer will perfectly complement the char and flavor of barbecue?
Full disclosure: We didn't. So we turned to an expert.
Lucky for you, we happen to be friends with James Beard Award-Winning Pitmaster and classic Carolina-style BBQ chef Rodney Scott.
Currently, Scott owns one of the country's most awarded barbecue joints in Charleston, SC—Rodney Scott's Whole Hog BBQ (with three other locations in Atlanta, GA, Birmingham, AL, and Homewood, AL)—but his passion for BBQ started at just eleven years old, when he challenged himself to cook an entire hog, solo.
Today, the flame still burns inside him. In 2018, the James Beard Foundation named Scott Best Chef: Southeast.
Plus, the legendary pitmaster has plans to open up a new spot in Tennessee in 2023. Teaming up with country music star, Eric Church, the duo will launch a six-story Rodney Scott's Whole Hog BBQ concept complete with a bar and music venue in downtown Nashville.
All in all, we couldn't ask a better BBQ expert to give us a quick rundown on what makes Carolina barbecue so unique, what you'll catch him sipping on around the smoker, and most importantly, what beer styles to pair with some of the most popular BBQ dishes.
First, a Quick Note on Different Barbecue Styles
It's important to note that the style of barbecue changes based on where you are in America (or the world for that matter). Think of this concept in terms of beer styles; you can have a German, Czech, American, or even Italian pilsner that, while all pilsners, have different nuances and ingredients based on where they're brewed.
Similarly, with barbecue you'll find slight differences in the dishes, sauces, and meats based on where you are in the country, whether that's Texas, Tennessee, Kansas City, or the Carolinas, to name a few.
"South Carolina-style BBQ is all about the whole hog, so pork is king here, whereas other regions hang their hat on other proteins like beef brisket, pork shoulder, beef ribs, etc.," says Scott. "Our BBQ sauce also sets us apart because we use vinegar-based sauces that have totally different flavor profiles compared to some of the thicker, sweeter sauces in other regions."
To give you some context, in Tennessee on the other hand, pitmasters focus heavily on ribs and a sweeter, stickier sauce. Whereas in Texas, you'll find a bigger focus on brisket and sausage with sauces ranging from hot to tomato-based to none at all depending on where you are.
The intricacies of barbecue can get complex just based on where you are in the country.
But what doesn't change across all styles?
Beer is an excellent complement to any barbecue dish.
Why Is Beer and BBQ a Good Pairing?
It's delicious, duh.
"I mean you follow up a great BBQ with an ice cold beer and you've got the most refreshing flavor combination in the world in my opinion," says Scott.
But seriously, the unique aromas, flavors, and sensory experiences of eating a barbecue dish share a lot in common with…well, the unique aromas, flavors, and sensory experiences of drinking a beer.
Digging a bit deeper, "I think it's the hoppiness of the beer that pairs so perfectly with the heat and smokiness of the BBQ that makes it so fantastic," says Scott.
There are a lot of considerations when it comes to pairing beer and BBQ, so we had Scott break it down for us based on six popular barbecue dishes.
Rodney Scott's Six Best Beer and BBQ Pairings
When it comes to smoked proteins and beverage pairings, there's no one more qualified to give us advice than a pitmaster like Scott.
In anticipation of Fourth of July picnics and family gatherings, Scott shares his top picks for the perfect beer and BBQ pairings.
Plus, we kick in our favorite beer suggestion for each combination. Most of which you can find at a store down the street from you. And one that you definitely can't, but only one. 😜
Smoked Wings + Lager
Smoky flavors just beg for something clean, crisp, and clear to cut through them. With that in mind, lagers make a great complement to smoked wings.
"Beer and chicken wings are the PB & J of barbeque," says Scott. "If you're not dousing the wings in sauces, lagers are a great contrast to the smokiness and crispness of dry-rubbed wings."
Hop Culture's Beer Suggestion:
Oskar's Lager
Oskar Blues Brewery – Longmont, CO
A fairly new American pale lager from this twenty-year-old brewing pioneer, Oskar's Lager is the beer all brewers want to drink. A clean malt bill of Pilsner, 2-Row Pale malt, and a little bit of brown rice build a nice crisp platform. While French Aramis and Saphir hops add a touch of floralness that will help the smokiness in your wings shine.
Pulled Pork Sandwich + Pale Ales
You need to be careful here because a pulled pork sandwich in Texas might be different than one in the Carolinas. From Scott's perspective, South Carolina-style BBQ is all about the vinegar sauce, so "you need to consider certain beers that pair well with something tangy and peppery compared to other styles of BBQ sauce that are sweet and spicy," says Scott.
With that in mind, when it comes to South Carolina pulled pork, "We use a whole hog cooked skin side up, for hours, before being flipped and mopped with a tangy, spicy, vinegar-based sauce," says Scott."The hops and sweet notes in pale ales go great with the flavors of the hog and the acidity of the vinegar-based BBQ sauce we serve with it."
For a South Carolina-based pulled pork sandwich, the tanginess pairs well with the earthiness of a pale ale. What we love about this pairing is that pale ales are bitter, but not assertively so, meaning that they give you just enough bite to beautifully cut through the acidity here.
Hop Culture's Beer Suggestion:
Sierra Nevada Pale Ale
Sierra Nevada Brewing Company – Chico, CA
Pulled pork is a classic BBQ dish, so it seems pretty appropriate to pair it with one of the most iconic pale ales in history.
Cascade gives Pale Ale all these distinctive aromas and flavors of pine and citrus that helped turn the beer into a sort of stepping stone to the American and West Coast IPAs to come.
In this case, it's those same piney, citrusy hops that will equally complement this vinegary barbecue sandwich.
Brisket + Stout
Some consider brisket the king of all barbecue meats. It's a rich, unctuous cut that deserves a beer style that can hold up to these bold, assertive flavors.
"For brisket, I say go big or go home," says Scott. "A darker, heavier bodied-beer like a stout will enhance the rich, savory flavors of big and bold red meats like brisket."
In other words, brisket is a great chance for you to break out one of those barrel-aged imperial stouts you've been holding on to for a special occasion.
Hop Culture's Beer Suggestion:
Abraxas
Perennial Artisan Ales – St. Louis, MO
Yea, we went there. We know Perennial recently released this year's batch of its incredible imperial stout with ancho chilis, cinnamon, cacao nibs, and vanilla beans aged in whiskey barrels on Oznr. So, if you were lucky enough to get one of these bottles, you don't even need to hang on to it for very long.
Controversial, we know, but you could also break out a vertical from previous years.
Either way, this beer is a heavy hitter, making it worthy of standing up to barbecue royalty. And vice versa.
More than that though, the adjuncts used in Abraxas, ranging from spicy cinnamon to earthy cacao nibs and sweet vanilla beans, will expertly contrast this fatty cut of meat.
Smoked Turkey + Pilsner
"A pilsner is one of those beer styles that can pretty much go with it all," says Scott. "It's a great complement to smoked poultry, or just enjoyed on its own to take the edge off of a hot summer day."
Actually, not sure we could have said it better ourselves. We love pilsners (so much so that we blind tasted thirty of them in one afternoon). They're a versatile beer style that really do complement many different dishes.
Here, the minerality of a classic pilsner stands hand-in-hand with smoke on a blank canvas like poultry.
Hop Culture's Beer Suggestion:
Pivo Pils
Firestone Walker Brewing Company – Paso Robles, CA
If you're looking for a clean, approachable pilsner, Pivo Pils fits the bill. We ranked Firestone Walker's iteration seventh in that aforementioned blind tasting. Why? Well, its bready aroma, slightly spicy esters, and balanced hop bitterness made us smile. Plus, all those components nicely accompany a smoked turkey leg.
Beer Can Chicken + Blonde Ale
A milder, lower-ABV version of the traditional pale ale, blonde ales (sometimes referred to as golden ales) range anywhere from 3.8% to 7% ABV.
Pouring out a deep golden color with medium to high carbonation, blonde ales quench thirst on hot summer days. These beers equally balance hops and malts for a simple, slightly bready backbone and pale malt sweetness.
Blonde ales are crowd pleasers, making them almost like blank canvases for food pairings. They just go so well with so many different dishes, in particular beer and chicken.
"Chicken can really take on whatever you send its way, so I love keeping it simple with a light blonde ale," says Scott. "Whether you decide to go sweet or spicy with the chicken, a blonde ale is going to taste great with it either way."
Hop Culture's Beer Suggestion:
Golden Ale
Cigar City Brewing – Tampa, FL
Cigar City describes this one as "built for the warmer months." Brewed with Willamette hops and pale wheat malt, Cigar City's Golden Ale is balanced, bright, and vibrant. Just like the Florida sun. It's these simple, clean flavors that will complement a juicy, dripping beer can chicken.
Dry Rub Ribs + Hefeweizen / Witbier
With a dry rub, you're got something a little hotter and a bit rougher around the edges. With this particular pairing you want a beer that balances the heat and smoothes out those sharp corners.
Something a little softer and sweeter will work perfectly.
"A medium body beer that's slightly sweet and not overpowering like a hefeweizen is a solid pairing to balance out the spices in the rib rub," says Scott.
Hop Culture's Beer Suggestion:
Allagash White
Allagash Brewing Company – Portland, ME
Probably no doubt in your mind that we'd suggest one of our favorite beers on the planet here. Just so happens to be a great pairing, too.
The Curacao orange peel and coriander used in Allagash White make it a great foil to dry-rubbed ribs.
The sweet citrus will carve through the spiced meat while the earthy coriander will accentuate the heat.
The Final Word from Legendary Pitmaster Rodney Scott on Beer and BBQ Pairings
Look, pairing beer and BBQ doesn't have to be rocket science. At the end of the day, just chill and have fun with it.
After all, Scott himself, even when spending twelve hours in front of a pit or smoker, likes to keep things simple.
His beer of choice while grilling?
"I'm a classic Miller Lite guy at my core, but sometimes I like to switch it up and crack open something local like a Bound by Time from Edmund's Oast," says Scott. "It's a local Charleston brewery that we serve at all of the restaurants and it's one of my favorites."
What's most important when it comes to this July Fourth weekend is that you're drinking great beer, eating fantastic food, and spending good times with family and friends.
Or as Scott likes to put it, "Serve your BBQ hot and your beer cold and you've got yourself a warm memory."