Nearly 218 years ago, Kronprinz Ludwig and Princess Therese of Saxe-Hildburghausen got hitched, invited everyone in Munich to party and commemorate their union with horse races and booze, and birthed one of the most important celebrations of beer culture in the whole world.
Oktoberfest is one of the oldest beer fests out there, a marker for changing seasons, a wedding anniversary, and a gathering for beer lovers stuffed into a single two-week brew bash. One thing it's not: An actual beer style. You'd think that this goes without saying, but as brewers continue branding their annual Oktoberfest offerings after the festival proper, over time people have come to conflate the name with method rather than merriment. A victimless crime, perhaps, but the crime underlines our distance from the soul of Oktoberfest here in the United States, and it's up to America's craft brewers to take us all to school.
Fortunately, they're willing. Grant that in the U.S., "craft beer" tends to mean one thing, and that thing is usually IPA. We love our hoppy, hazy beers. And yet plenty of American craft breweries pay homage to beer's Bavarian roots, placing an emphasis on both the styles and aesthetics of the old beer world.
Marshall Brewing Co.
Tulsa, OK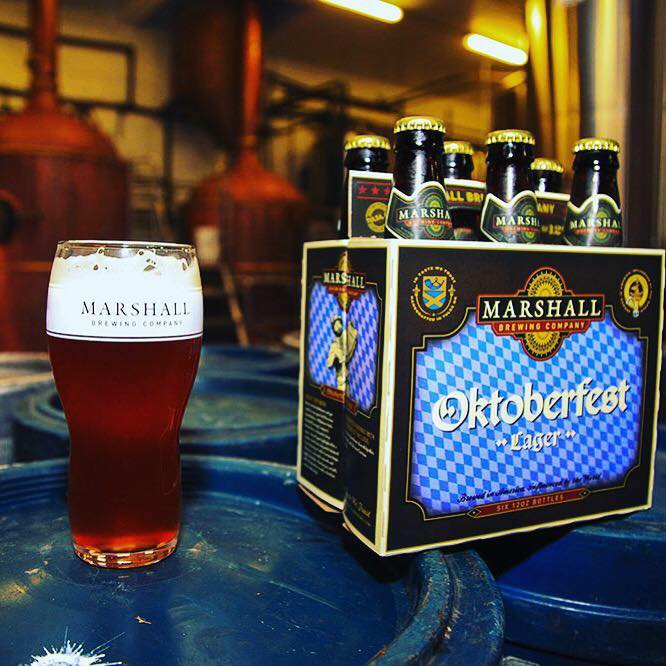 Take Wes Alexander of Tulsa's Marshall Brewing, an establishment built on devotion to German beer. Marshall's "guiding principles," as Alexander puts it, rest on "a strong reverence towards German culture when it has to do with beer," and that reverence and understanding stems from the brewery's founder, Eric Marshall. Eric's a fourth generation Tulsan and a University of Tulsa alum, who in his junior year studied abroad in the German city of Siegen, where he developed an instant fondness not just for the local beers, but the history packed into them as well. "When he came back," says Alexander, "he was talking about how every little town and every village in Germany has breweries, that those breweries are very, very prideful and that they're the kind of the cultural epicenter, if you would, of the town or village."
For the average German burg, the local brewery was a gathering spot to honor life's occasions, Alexander explains. "If someone is going to celebrate a coming or going in life – a wedding or a passing of life – that generally would have happened at the brewery, and the brewery would roll out a kind of a few barrels of beer," he shared. "It would be kind of a community center."
Celebrate Oktoberfest in Tulsa
Brewery Silvaticus
Amesbury, MA
Thousands of miles away in Amesbury, tucked away in Massachusetts' North Shore, Jay Bullen, owner of Brewery Silvaticus (which rang in its one year anniversary earlier this month), shares Alexander's fondness for beer antiquity. "I'm just kind of playing into . . . the festivities and the celebration, this kind of more European style where it's a little more, I don't want to say subdued, but it's . . . all these people together, all these walks of life coming together in one space." Bullen sees the brewery as a social binder for a town and its constituents. It's where friends and neighbors congregate to be with one another, free of worries and woes. "That kind of beer garden atmosphere," he explains, "which we try to encourage here."
The typical American Oktoberfest-style beer is Märzen. But, if American brewers really want to reflect modern Oktoberfest customs, maybe they should stick with paler lagers instead: "I think if you were to go to Munich, which, it's almost time to go to Munich for Oktoberfest," notes Alexander, "you'd find that helles lager . . . is perhaps the most brewed beer served there for Oktoberfest." He points out that the Märzen style reflects a German literalism, translating to "March," a nod to German harvest traditions. "What they would do in the process of lagering beers," he explains, "is that they would take an excess of grain, a surplus of grain from a bounty, a bountiful harvest. And they would store that grain by way of brewing beer, and then they would brew that beer . . . and let it sit through the winter months, and then pull it out as a means of sustenance when they'd run out of grain."
The Märzen was originally used to celebrate the time of planting; Alexander says that historians and scholars believe that despite the gap in months and seasons, Märzen was chosen as the style of beer served at the original Oktoberfest, and the rest is literal history. "I feel it's just kind of fitting to, you know, to brew an Oktoberfest, a Märzen," says Bullen. "It's the kind of harvest festival thing, and up here in New England, especially, I think it celebrates the changing of the seasons." The shift from summer to fall is a big deal for folks in the region. It suits us to raise a glass of copper-hued beer to toast the time of year. "The beer is kind of representative, I think, of the change of the season," he adds. (Silvaticus dropped their Oktoberfest beer slightly earlier than normal in recognition of their one year anniversary.)
Celebrate Oktoberfest in Massachusetts
Night Shift Brewing Co.
Everett, MA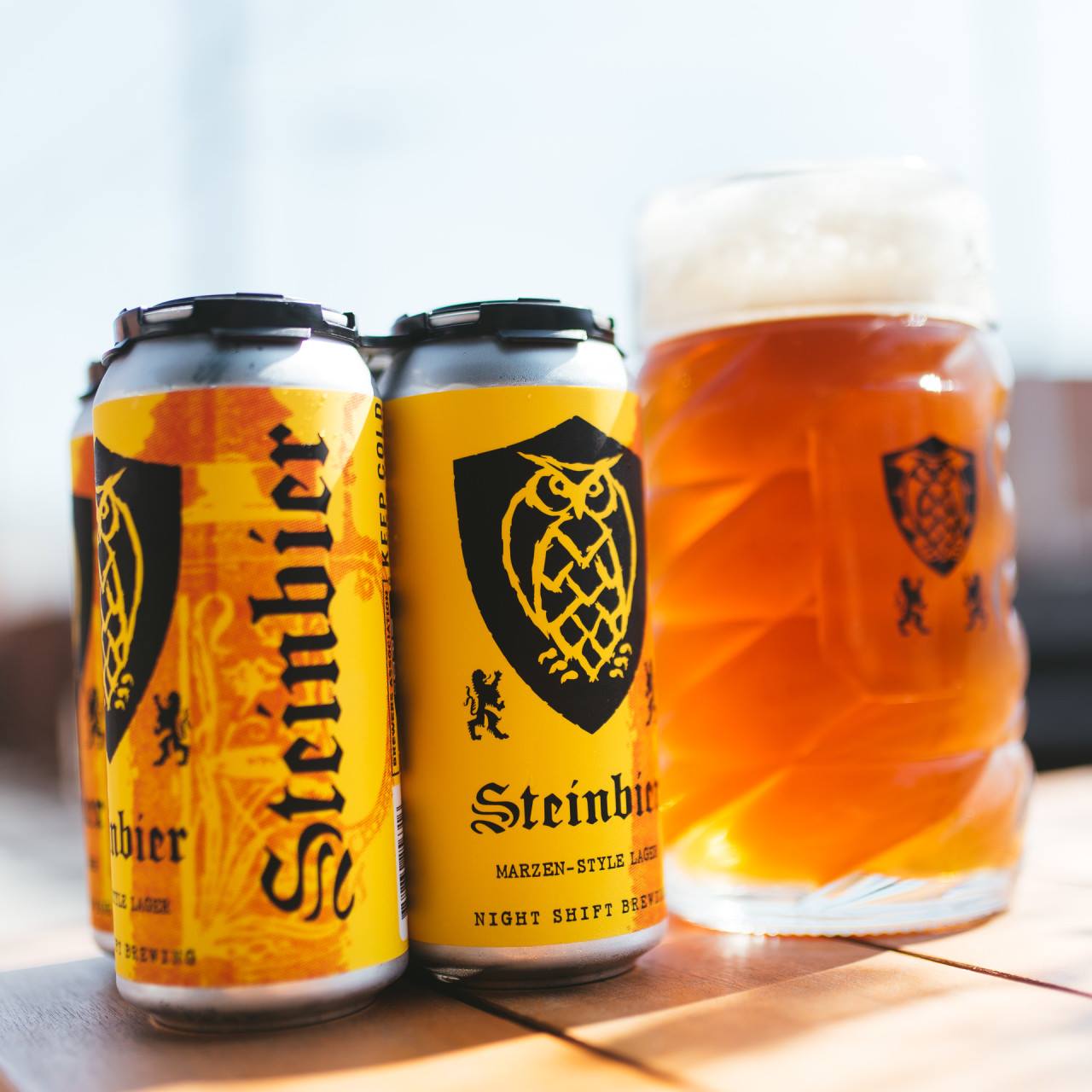 Märzen may be the go-to for American craft brewers observing Oktoberfest, but it's not the only style worth trying. In fact, for outfits like Everett, MA's Night Shift Brewing, Oktoberfest is the best excuse possible to go all-in on German beer. "The annual Night Shift Oktoberfest is all about sharing German-style beers," says co-founder Michael Oxton. "Throughout the year, we sprinkle various lagers into our beer rotation, but Oktoberfest is when lagers become the focus. You'll hear 'because lager is life' getting said a lot around the brewery right now." Night Shift celebrated the start of Oktoberfest with a Märzen, their Steinbier, a Schwarzbier, a Kellerbier, a smoked pale lager, and a Hefeweizen to round out the slate, with accompaniment in the form of German foods and music.
No one in the U.S. wants to reinvent the wheel: The best way, it seems, to sustain Oktoberfest mores is to embrace them. After all, American craft breweries increasingly fill the same role as the old German breweries Alexander speaks of. They're neighborhood hang out zones, and, depending on where you live, every town seems to have one. (Take a drive through Vermont's rural hamlets and you'll get the idea. Just about every single one of them has a brewery, and the brewery often acts as the heart of the community.) Oktoberfest isn't just a big beer party, then. It's the great signifier of the beer culture that we live in every day in America, and a reminder of where that culture comes from. That's part of the American craft beer legacy: The old becoming new all over again.
Celebrate Oktoberfest in Massachusetts
5 Oktoberfest Parties to Check Out: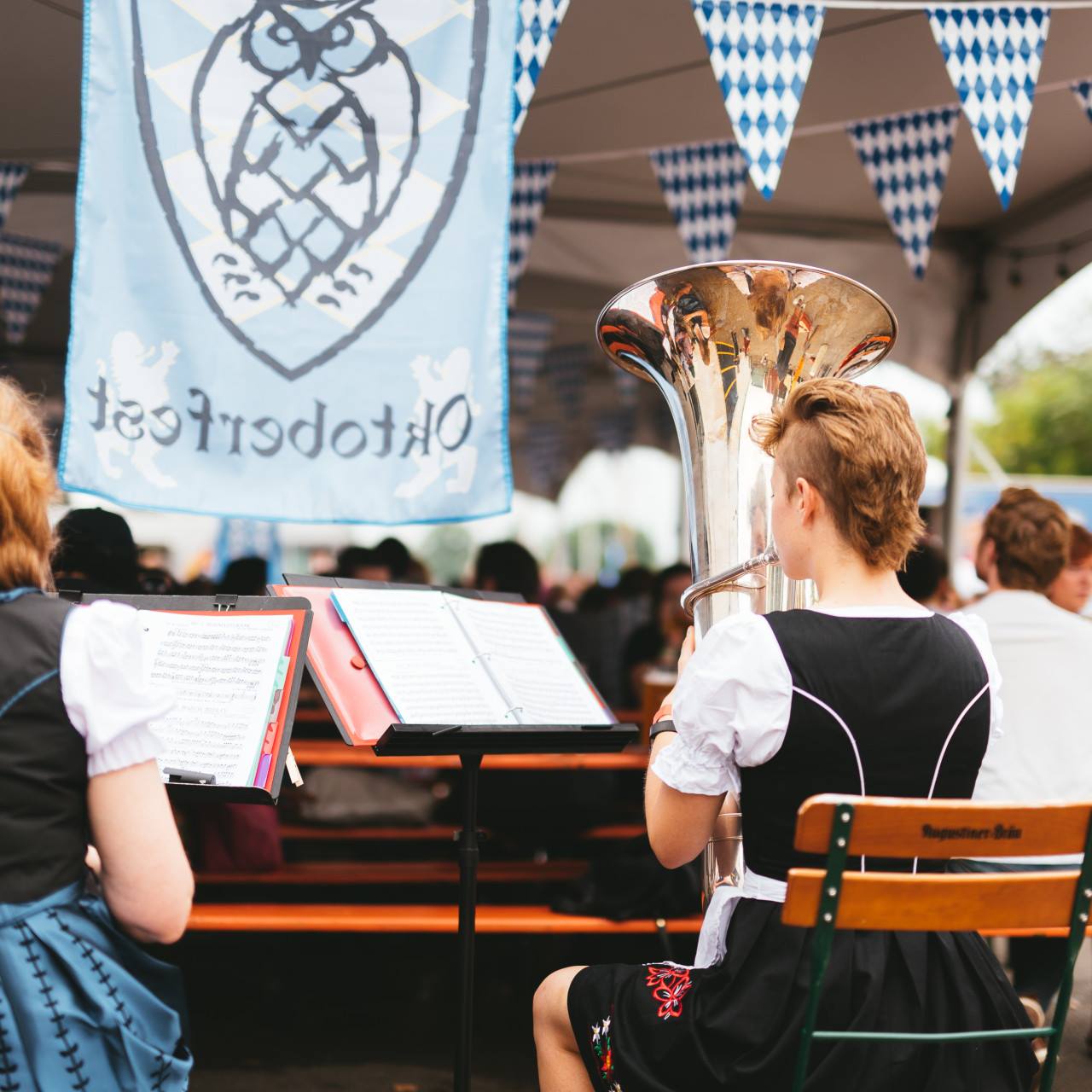 48th Annual Oktoberfest
Helen, Georgia
The Oktoberfest in Helen, Georgia is celebrating its 48th year of beer, brats, and German bands. The fest is running throughout the month of October every day of the week and is free on Sundays.
Munich on the East River
New York, NY
The annual Manhattan Oktoberfest hosted by Zum Schneider returns to the East River this week. Under the Oktoberfest tent, you'll find German Festbier and traditional Munich-style food. All seating is booked ahead of time, so make sure to reserve your spot.
Fredericksburg Oktoberfest
Fredericksburg, Texas
This weekend, Oktoberfest returns to central Texas. At the Fredericksburg Oktoberfest you'll find traditional beer and food as well as OkTubaFest and an Oktoberfest Kraut Run, for the athletic attendees.
Nashville Oktoberfest
Nashville, TN
The Nashville Oktoberfest spans over 10 city blocks and welcomes thousands of attendees to Music City. The festival includes more than just steins of beer, with a dachshund derby, bratwurst eating contest, and beer slide.
Alpine Village Oktoberfest
Torrance, CA
The Alpine Village Oktoberfest features traditional German beer from Paulaner as well as options from local breweries like Three Weavers, Alpine, and Sierra Nevada. Enjoy your fill of Bavarian pretzels and apple strudel right in southern California.
Liked this article? Sign up for our newsletter to get the best craft beer writing on the web delivered straight to your inbox.