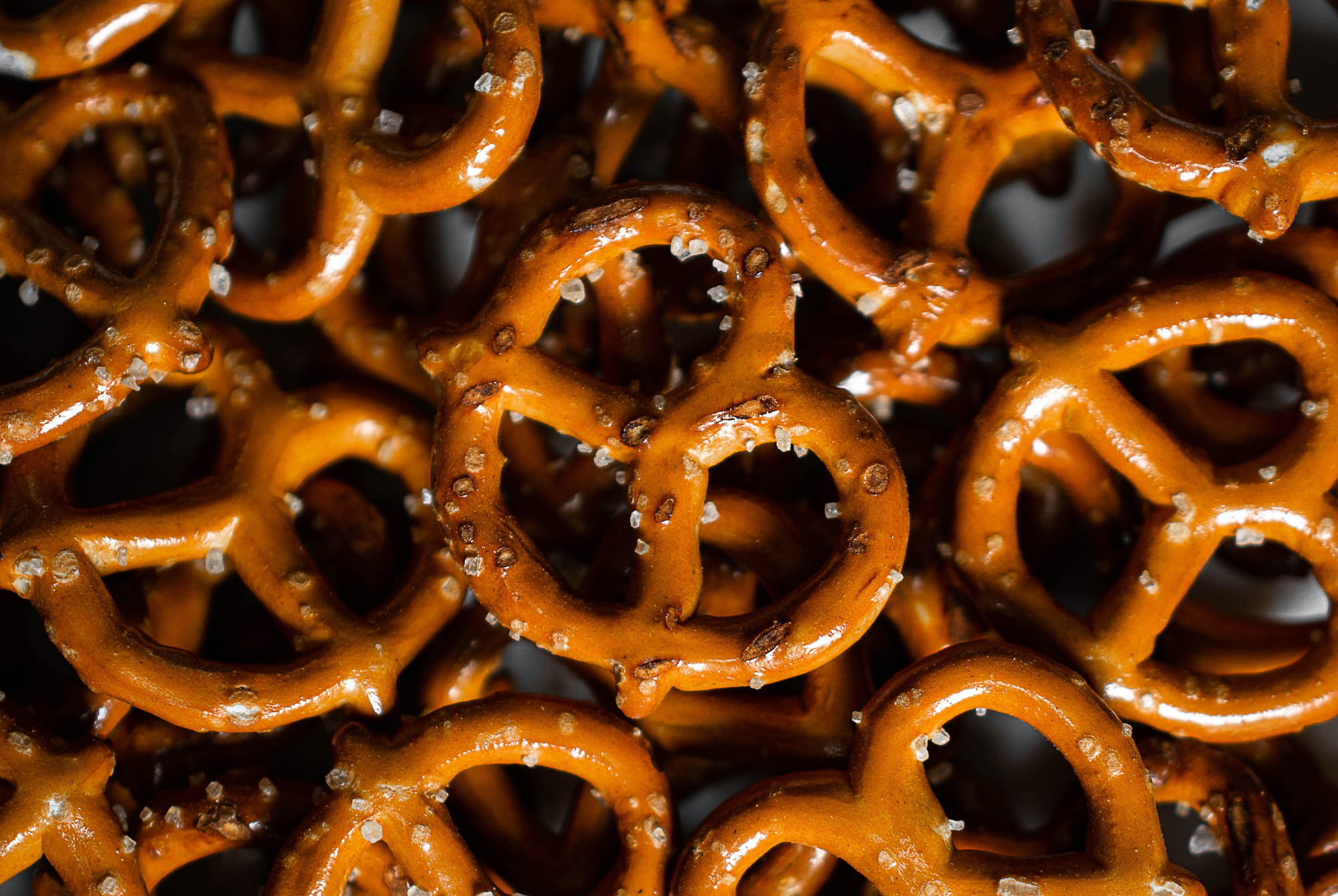 We'll admit it. Since we've started staying inside our daily beer intake has slowly risen. But not to worry. We're pairing each drinking session with a carefully curated list of snacks because you know a) we're responsible adults and b) we had to do research for our newest IPA food pairing guide and 5-Minute Guide to Beer Pairing With Steak.
From bowls of addictive nuts to our new favorite take on the classic pretzel, we've taken the liberty of recommending what we're munching on right now. We'll also tell you the best beer to pair each snack with and where you can find it. We've been having beer delivered locally with Drizly and nationally through Tavour. You can order most of these snacks (or even all your groceries) on Amazon Prime, or even sign up for HelloFresh to have fresh food delivered right to your door. These options are like our favorite beer delivery services, except with food. Happy nomming!
JOIN TAVOUR. GET BEER DELIVERED NATIONALLY JOIN DRIZLY: USE CODE DRIZLYDEAL FOR $5 OFF YOUR FIRST ORDER
Craft Beer Jerky Snack Pack
This equation is simple: beer jerky + craft beer marinade = big yum! Each Craft Beer Jerky flavor rests for 24-48 hours in a specific craft beer such as Zipline Brewing Co's IPA, 4 Hands Divided Sky Rye IPA, and Nebraska Brewing Co.'s Brunette Brown Ale. With its salty seasoning, jerky is a classic beer pairing, especially with IPAs. Find all three flavors in CBJ's snack pack.
Pairs Well With: To state the obvious: 4 Hands Divided Sky Rye IPA, and Nebraska Brewing Co.'s Brunette Brown Ale. Something meaty perfectly complements a bitter IPA or malty brown ale. For other ideas check out our full 5-minute guide to beer pairing with steak.
Buy Now: $20/3 bags Buy 4 Hands: $10.49/6-packBuy Nebraska Brewing Co.: $9.99/6-pack
Unique Pretzels Sourdough Craft Beer Pretzel Rings
Crunchy, salty, and baked to perfection these sourdough pretzel rings are the ideal drinking snack. These circular snacks go perfectly with craft beer pairings (and, of course, pretzel necklaces). Made using a secret family recipe these sourdough rings showcase the same passion and dedication to craft that you'd find behind brewing a beer at any brewery. A snack that celebrates small crafters and is also tasty? We'll take five bags, please!
Pairs Well With: Anchorage Brewing Co. Keep It IPA. A salty snack expertly cuts through the lingering bitterness from this super juicy IPA packed with Simcoe and Galaxy. We actually wrote a whole guide on how to pair an IPA with food. You can find Keep It on the Tavour app right now.
Buy Now: $10/3 bags Buy Anchorage Keep It: $6.99/can
Beer Nuts
What makes your neighborhood bar a favorite watering hole? For us it's a mixture of the beer selection, the people, and that bowl of free peanuts! While we can't visit our local spot at the moment we're doing the next best thing: Setting out a dish of these incredibly addictive Beer Nuts on our counter. A little sweet, a little salty, and a lot of delicious these Beer Nuts will disappear from your hand as quickly as the bowl gets refilled.
Pairs Well With: Fremont 2018 B-Bomb Winter Ale. This may seem like a surprising pairing, but for a salty/sweet snack like Beer Nuts this full-bodied, barrel-aged stout made in 12-year-old American Oak Bourbon barrels stands up to all those ying/yang flavors. You can find Fremont 2018 B-Bomb on the Tavour app for a limited-time right now!
Buy Now: $20 Buy Fremont 2018 B-Bomb: $29.99/22oz bottle
Frito-Lay Fun Times Mix Variety Pack
We're going old school here, tapping into our inner kid. The perfect after school snack is currently one of our favorite beer snacks. Thankfully, Frito-Lays combines all their classics – Doritos Nacho Cheese, Cheetos Crunchy, Lays Sour Cream & Onion, Cheetos Puffs, Rold Gold Tiny Twists, Sun Chips Harvest Cheddar, and Doritos Cool Ranch into one variety pack of snacking gold. Stock up your pantry and you'll never run out of orange-finger-licking-goodness for your next virtual happy hour.
Pairs Well With: Urban Chestnut Schnickelfritz Hefeweizen. With cheesey-packed snacks like Cheetos, Sun Chips, and Doritos a citrusy wheat beer will quench your thirst. You can find Schnickelfritz on the Tavour app for a limited-time right now!
Buy Now: $14/40 pack Buy Schnickelfritz: $8 for 2 16oz Cans
Popchips Potato Chips Variety Pack
The problem with chips? You can never eat just one. For a slightly healthier take on the potato chip, Popchips are popped and never deep-fried. Crispy and craveable in flavors like Salt, BBQ, Sour Cream & Onion, and Salt and Vinegar, Popchips are a better-for-you chip that is still insanely delicious. Go ahead enjoy a bag or two without half the grease or guilt.
Pairs Well With: Main & Mill 400 Yard Walk Sour Ale. This smoothie-style Sour Ale features 100 lbs of black raspberries and black currants per barrel. Plus, the additional sprinkle of lime zest and lactose make this fruity, sweet treat a perfect complement to salty pop of Popchips. You can find 400 Yard Walk on the Tavour app for a limited-time right now!
Buy Now: $24/24 pack Buy Main & Mill: $6.99/can
Pretzel Crisps
These are pretzels reinvented. Not that there's anything wrong with the original pretzel, but just like drinking a hazy IPA or Rosé beer, it's always fun to try a new version of an old classic. All the flavor and crunch, but a touch lighter and crispier, Pretzel Crisps we've found are ideal for dipping. They have a wider surface area making them ideal for dunking into salsa, beer cheese (we made our own version) dip, or even hummus.
Pairs Well With: Transient Artisan Ales Wayward Belgian Pale Ale. The funk and yeasty tang of this Brett-fermented ale complements the salt and crisp of a Pretzel Crisp. You can find 400 Yard Walk on the Tavour app for a limited-time right now!
Buy Now: $14/24 pack Buy Wayward: $5.99/500ml bottle
Duke's Shorty Smoked Sausages and Cheese Crisps
For two snacks in one, we love Duke's Shorty Smoked Sausages and Cheese Crisps. These mini 1oz packs include a salty, smoky sausage paired with a crispy disc of cheese. Each the perfect complement to beer on its own, together make for party time in our mouth.
Pairs Well With: Reuben's Brews Hazealicious. This is one of our new favorite IPA's from the Seattle-based brewery. The soft bitterness and perfect balance of Citra, Strata, and Mosaic hops stand up to the pillowy malt body and pair well with the smoky and sharpness from Duke's sausage and cheese.
Buy Now: $22/12 pack Buy Hazelicious: $14/8-pack
The Wild Alaskan Company
Fish and chips, fish tacos, and ceviche are three of the top dishes to pair with your favorite IPA. To make these dishes at home, try a box of wild-caught, sustainably-harvested fish from Wild Alaskan Company. This subscription service takes the guesswork out of buying wild seafood by sourcing high-quality, sustainable Alaskan seafood and delivering it right to your door. Individually wrapped portions make it easy for you to cook up the next best snack to pair with your favorite IPA.
Pairs Well With: Lord Hobo Life Session IPA. Cut through the fattiness and richness of salmon with a lower ABV session IPA like Life Session. At only 4.5% you can have one or two cans with your homemade dinner.
Buy Now: Save $15 of your first order with code 15OFF Buy Life Session: $9.99/4-pack
Steaks and Game Premium Grilling Sausages
It doesn't get much better than pairing sausage and beer together. To grill up your own meaty menagerie Steaks and Game is a go-to. You can order anything from smoked venison and duck to pork andouille and wild boar. Go crazy, but make sure to check out our complete guide on pairing beer and meat before making your first selection.
Pairs Well With: Port City Porter. The robustness of this malty porter can hold up to the complex, bold flavors of a piece of steak.
Buy Now Buy Port City Porter: $11.99/6-pack
Unless otherwise noted, all of the products featured on Hop Culture are independently chosen by our editorial team. However, Hop Culture may earn a commission from purchases made through affiliate links on the site.
Liked this article? Sign up for our newsletter to get the best craft beer writing on the web delivered straight to your inbox.