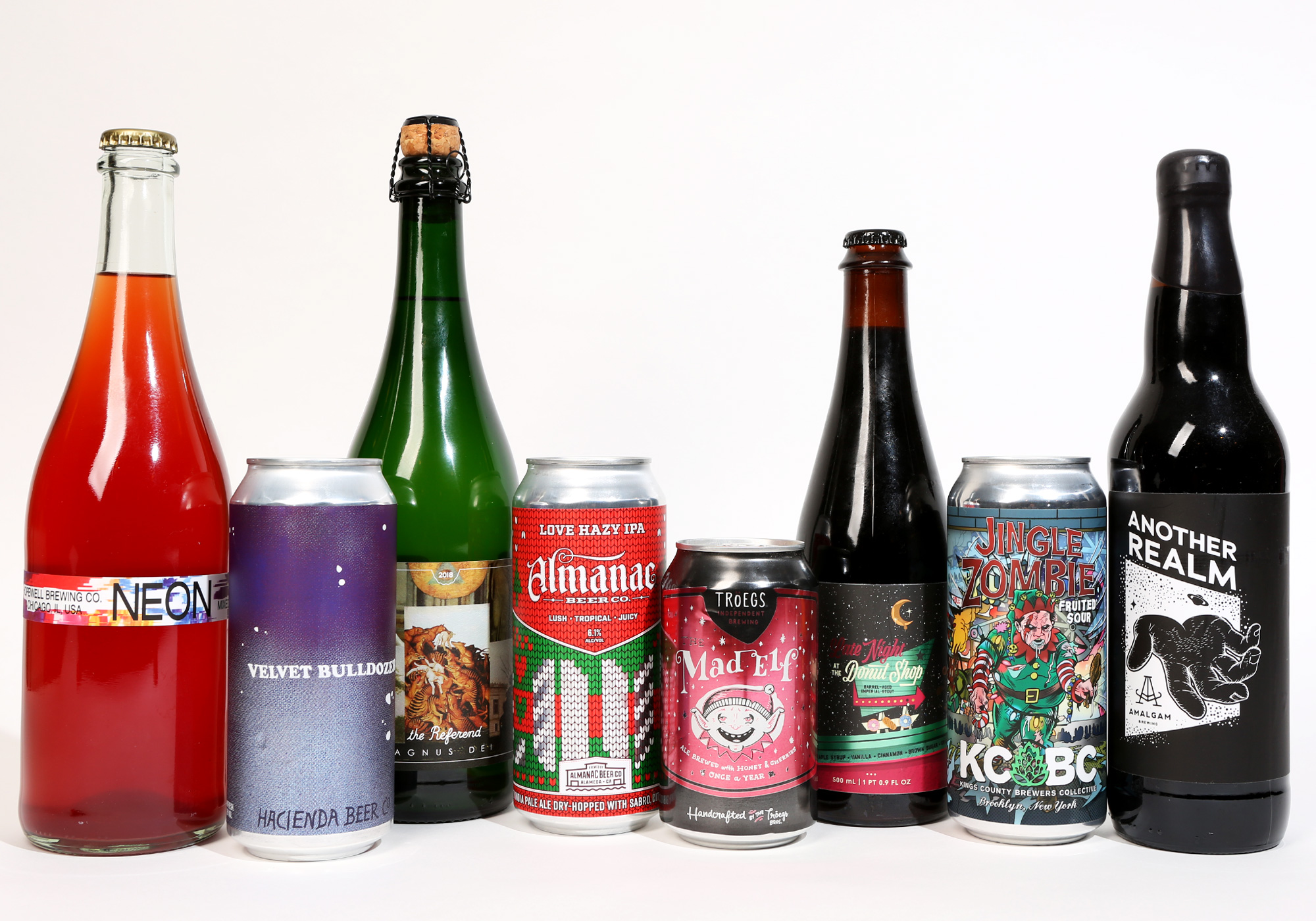 Photography by John A. Paradiso
2020 is finally coming to close. Can you believe it? And with this year throwing all kinds of curveballs, we figured a little bit of regularity was in order. So, we're back once again to present our seasonal picks for the best beers to drink during the winter of 2020.
Our preferences for the winter tend to lean dark and deep. That means burly barrel-aged stouts and richly tart farmhouse ales. Every now and then we'll sneak in a bright and tropical hazy IPA or kettle sour. But, in the colder months, we think dark beer is the way to go.
As always, this list includes a mix of local brewery releases as well as some more widely accessible beverages. Plus, we dipped into the Hop Culture cellar for a couple winter-friendly picks. Our guide to the best winter beers should merely serve as a blueprint. If you can't find a specific beer we include, ask your local brewery if they have something similar.
The beers are presented below in alphabetical order by brewery.
Our Favorite Beers For Winter 2020
LOVE Hazy IPA
Almanac Beer Co. — Alameda, CA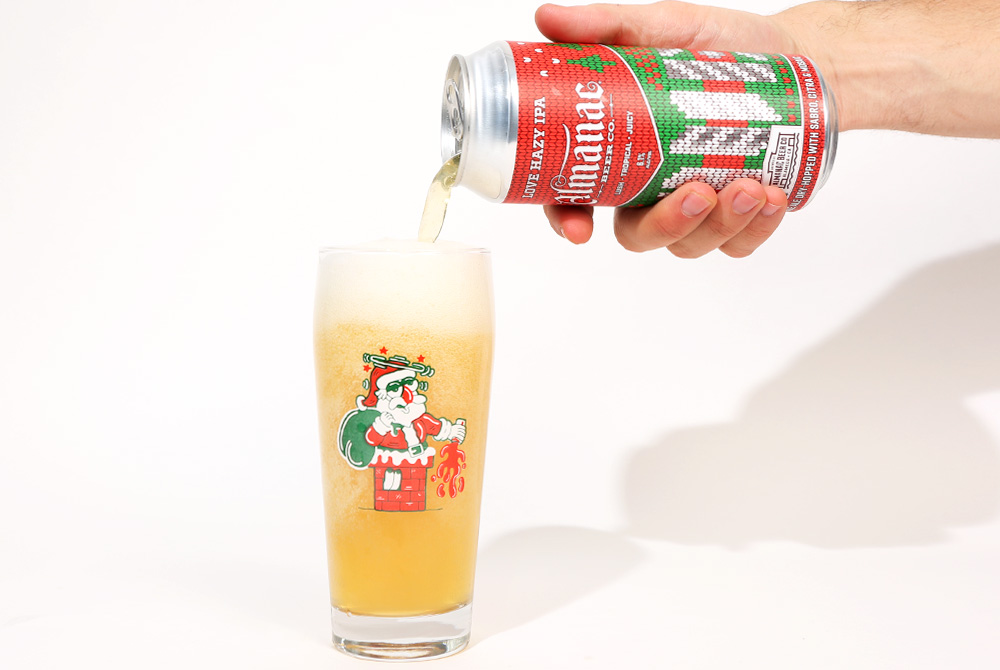 New England IPA — Almanac Beer Co.'s regularly produced hazy IPA got an ugly Christmas sweater makeover! LOVE Hazy IPA is double dry-hopped with Mosaic, Citra, and Sabro and features Pilsner malt and rolled oats. The result is a pillowy soft and approachable New England IPA.
The explosively juicy flavors, not to mention the charming holiday spirit, are sure to win over even the most hesitant hoppy beer drinker.
Another Realm
Amalgam Brewing — Denver, CO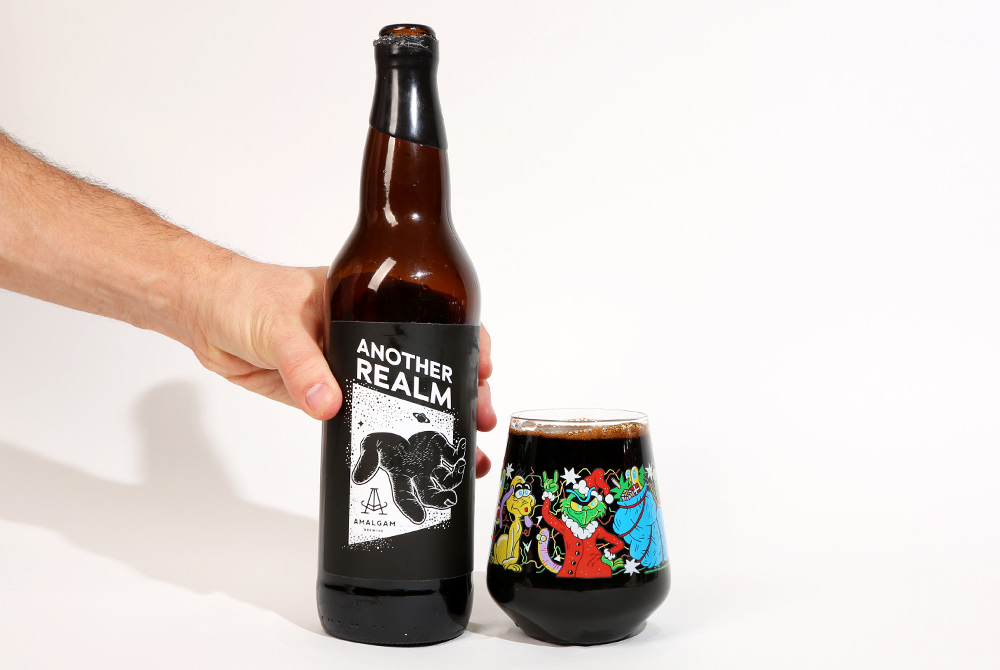 Barrel-Aged Imperial Stout — Amalgam knocked it out of the park with this stunningly good imperial stout. Aged in Blaum Bros. and Old Fitzgerald barrels, Another Realm features prominent and complex barrel characteristics. It's thick and fudgy with some velvety vanilla notes owing to the barrel-aging.
Another Realm is a perfect example of what Amalgam does best. A well-crafted base beer becomes magical after some time in oak barrels. This is an ideal beer for the holidays. It's boozy warmth and toasty goodness will keep you cozy on a cold winter's night.
Hex
Archetype Brewing Co. — Asheville, NC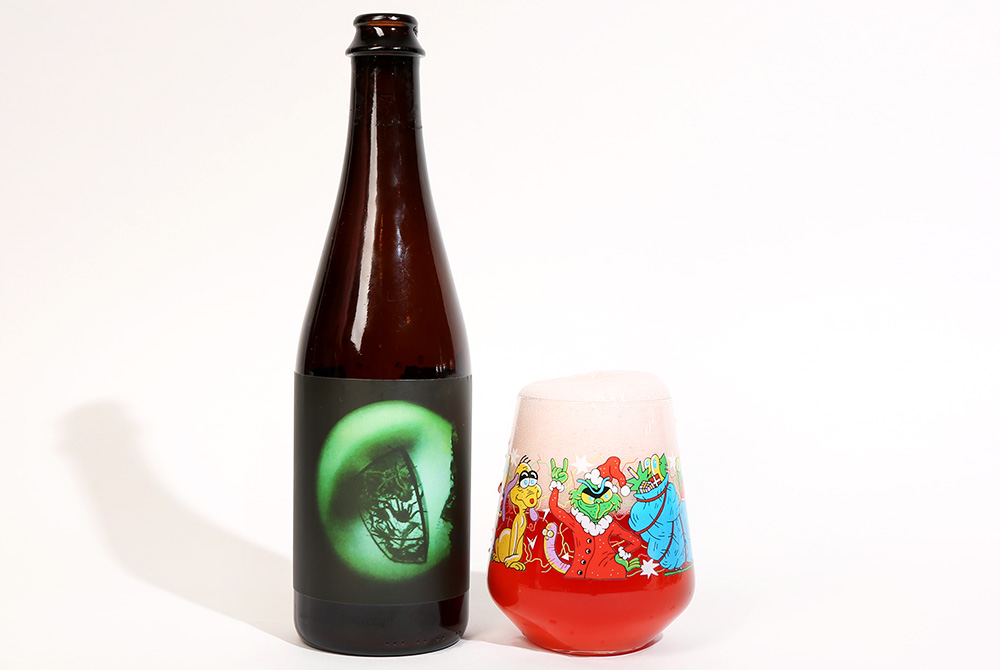 Barrel-Aged Farmhouse Ale — Hex was released for Archetype's 2020 Bottle Club. So, while this unique barrel-aged farmhouse may difficult to find, I encourage you to search it out. A 10-month French oak-aging process imparted depth and maturity to this mixed-culture ale.
Plus, that bright red color is absolutely stunning. Opening this bottle will make for a pleasant, celebratory winter evening.
That Shiz Slaps
Aslin Beer Co. — Herndon, VA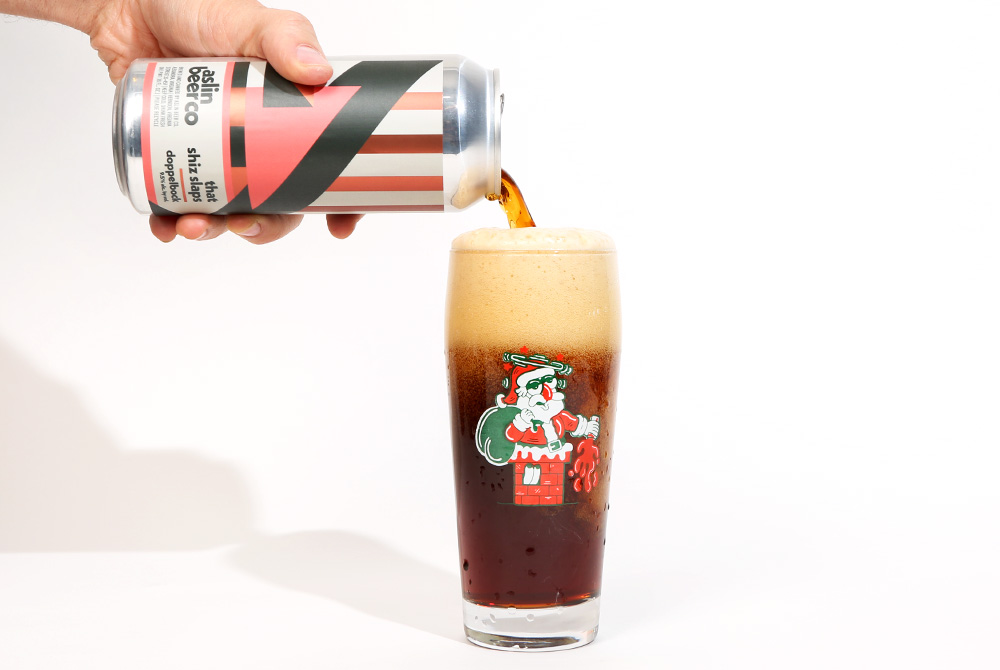 Doppelbock — While Aslin may have initially earned acclaim for hype-worthy hazies, we're always charmed by their more "boring" offerings. And, in reality, there's nothing boring about this beer.
That Shiz Slaps is a hearty, dark doppelbock with lovely dark fruit flavors and a smooth drinkability. Replace Santa's milk and cookies with a can of this beer and you'll immediately end up of the nice list.
Saison Is Dead
Birds Fly South Ale Project — Greenville, SC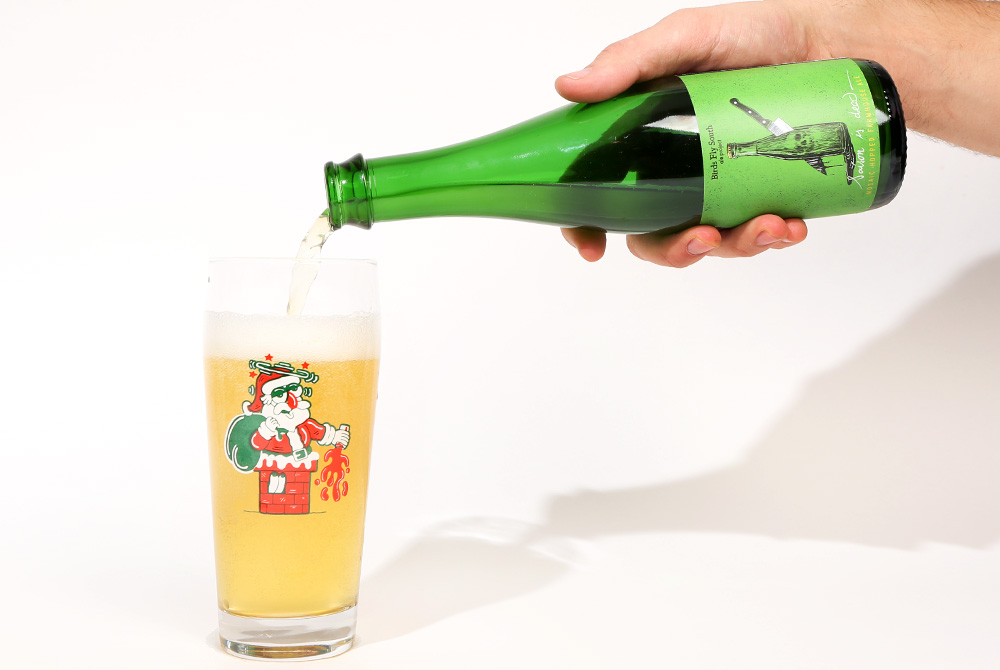 Saison — You can always trust Birds Fly South to be a part of that green bottle life. Greenville's Birds Fly South Ale Project produces some of our favorite funky and dry farmhouse ales.
Saison Is Dead is a single-hopped saison featuring Mosaic hops. The result is an effervescent, dry as bones, refreshing saison that'll liven up any meal. Pop this open on New Year's or just enjoy beside a roaring fire. Saison is dead. Long live saison.
Tower of Babel
The Eighth State Brewing Co. + Calusa Brewing — Greenville, SC + Sarasota, FL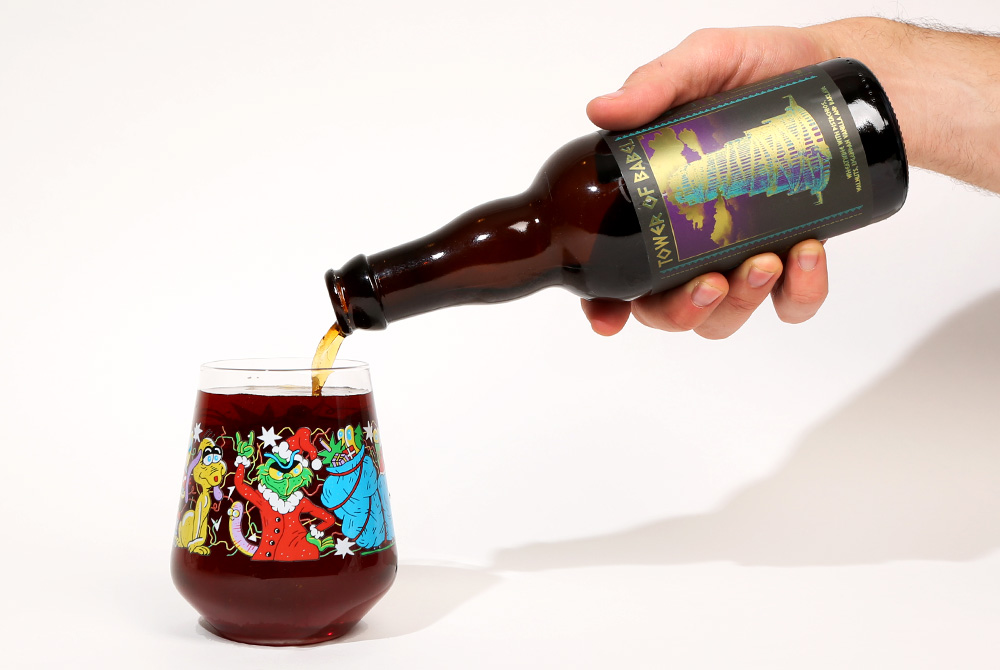 Wheat Wine — What a treat! Back to back Greenville, SC breweries.
Speaking of treat, just smelling this beer gave me a cavity. The Eighth State and Calusa collaborated on this decadent baklava-inspired wheat wine. The beer pours with absolutely no carbonation and you can immediately smell the sugary sweetness of the roasted Pistachios, Ugandan vanilla, lactose, and actual Baklavas.
It's intensely sweet but so spot-on for a baklava beer. Share this 14% with a few friends over the holidays, otherwise you might be feeling it the next day. Sweet tooths, rejoice!
Adam's Apples
Four Points Brewing — Charleroi, PA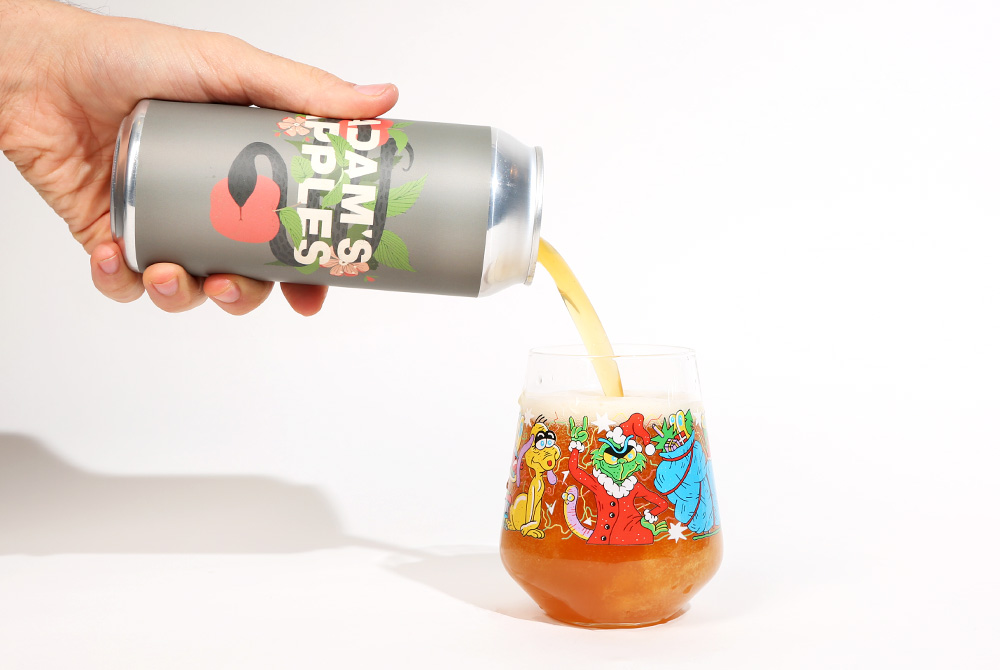 Fruited Sour — It doesn't get much better than baked apples and cinnamon in the colder months. Or hot apple cider. Or a warm apple pie with some cinnamon and vanilla ice cream. Basically, warm apples and sugar equal a delightful winter dessert.
Four Points understands that perfectly and whipped up Adam's Apples a kettle sour brewed with 150 gallons of fresh Trax Farms apple cider and fresh ground cinnamon. The result is a balance of sweet and sour with great spicy warmth. It's a genuinely cozy beer that'll be perfect for cider and beer lovers alike.
Exit Simulation
Good Word Brewing & Public House + Crooked Run Brewing — Duluth, GA + Sterling, VA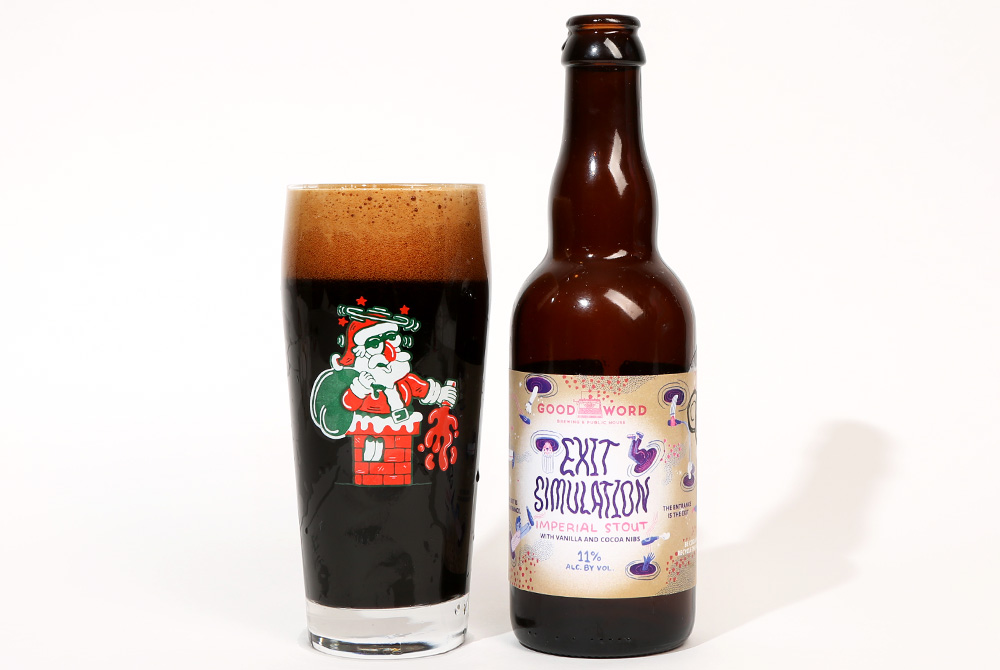 Imperial Stout — On paper, this is a relatively simple stout. But, the end result is something really delightful.
Good Word collaborated with Crooked Run on this imperial stout brewed with vanilla and cocoa nibs. No wild adjuncts, no barrel-aging, no glitz and glamour. But, this anniversary beer from Good Word feels special. It's a smooth ride from start to finish with little pops of sweet fudge and whispers of caramel gooeyness.
Put on your favorite Christmas movie and sip some Exit Simulation.
Velvet Bulldozer
Hacienda Beer Co. — Baileys Harbor, WI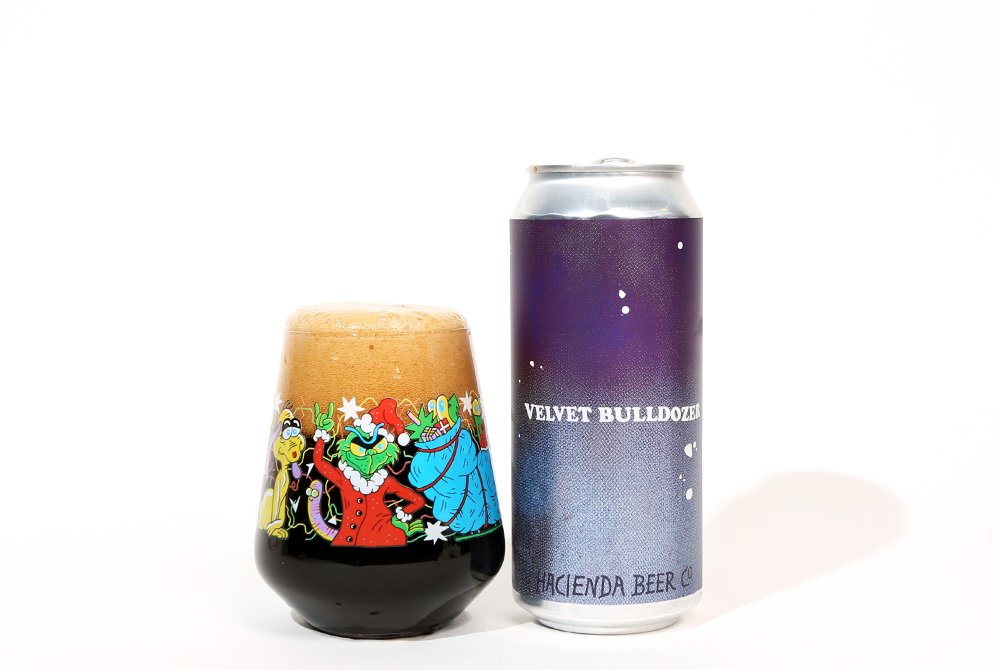 Imperial Rye Stout — If you could put luxury in a can, it'd be this beer. Silky smooth and delicately soft, Velvet Bulldozer glides over your tastebuds with ease.
This imperial rye stout from Hacienda Beer Co. features lactose sugar, vanilla beans, cacao, and espresso. Those ingredients blend in a balanced finished product letting each note shine. One moment you're tasting straight vanilla sweetness. Then you get a light punch of morning espresso. Boom, a pop of dark chocolate. It's heavenly.
Neon: Triple Berry
Hopewell Brewing Co. — Chicago, IL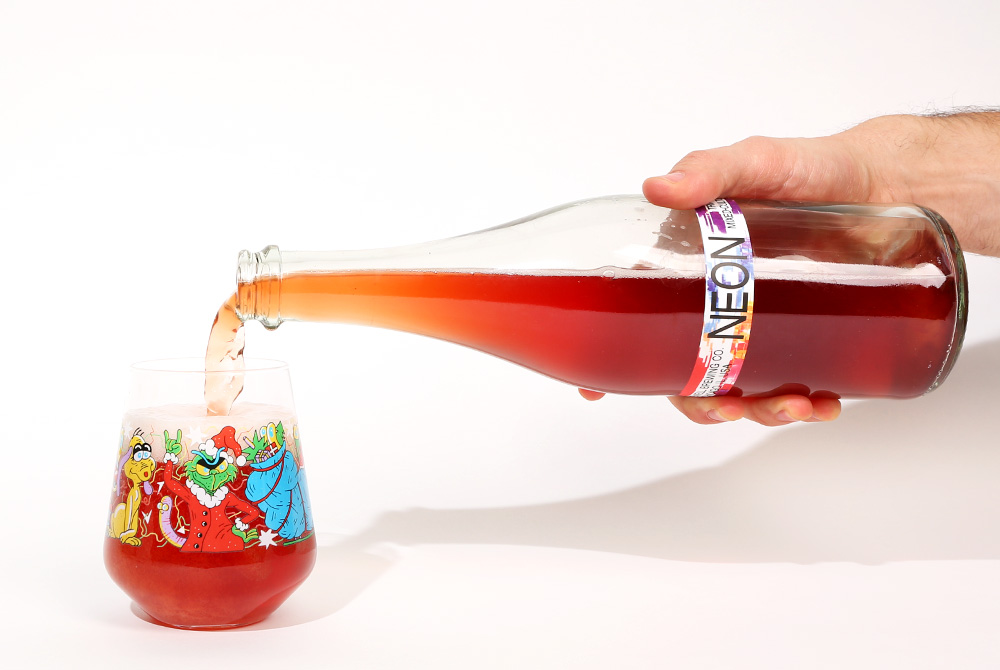 Mixed-Culture Sour Ale — Did you just pour me a glass of juice? Yea, it's Hopewell.
That's how the conversation goes. This lush juicy juice is courtesy of Hopewell Brewing Co. The Chicago brewery's Neon series sees a mixed-culture sour ale get the fresh fruit treatment. This time it's the trifecta of raspberry, blueberry, and strawberry.
This batch is shockingly bright red and tastes like freshly squeezed juice. It's such a playful, delightful beer. And it absolutely deserves a place on the table this holiday season.
Jingle Zombies
KCBC — Brooklyn, NY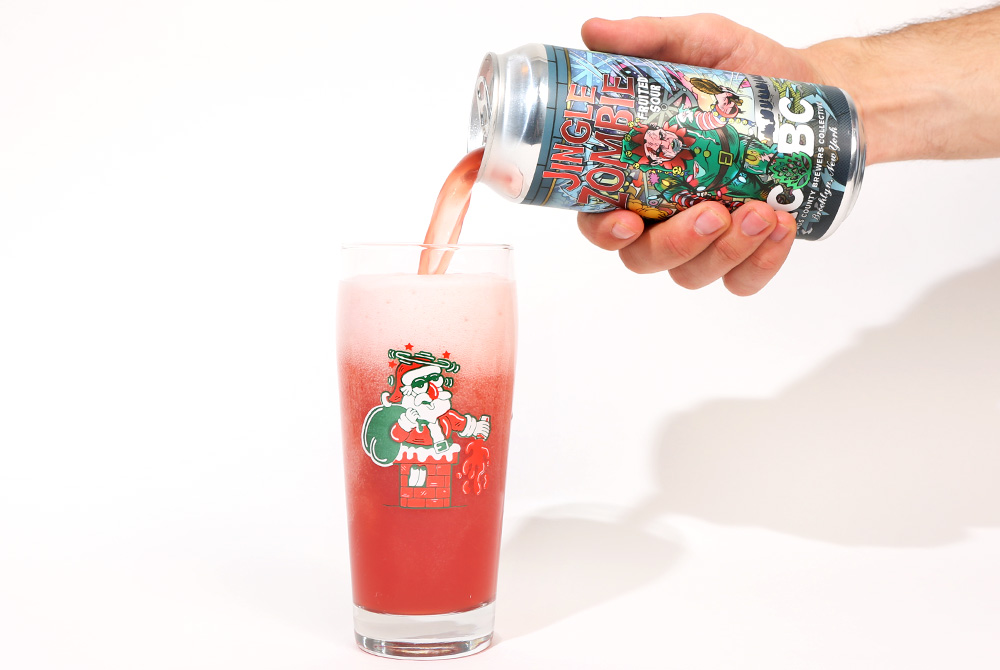 Fruited Sour Ale — Everyone knows the best Christmas movies have a little bit of terror. You'll become Santa Clause if you're there when he dies? A human man is raised by elves in the North Pole? Kevin McCallister? Terrifying. And don't forget one of the best holiday movies of all time, Nightmare Before Christmas.
KCBC took that to heart with Jingle Zombies, a blood-red Christmas kettle sour. Brewed with cranberries and tangerine, this beer is acidic, fruit-forward, and scary good. Enjoy with your favorite Christmas movie, if you dare!
Nocturnal Landscape
Pure Project Brewing + Moksa Brewing Co. — San Diego, CA + Rocklin, CA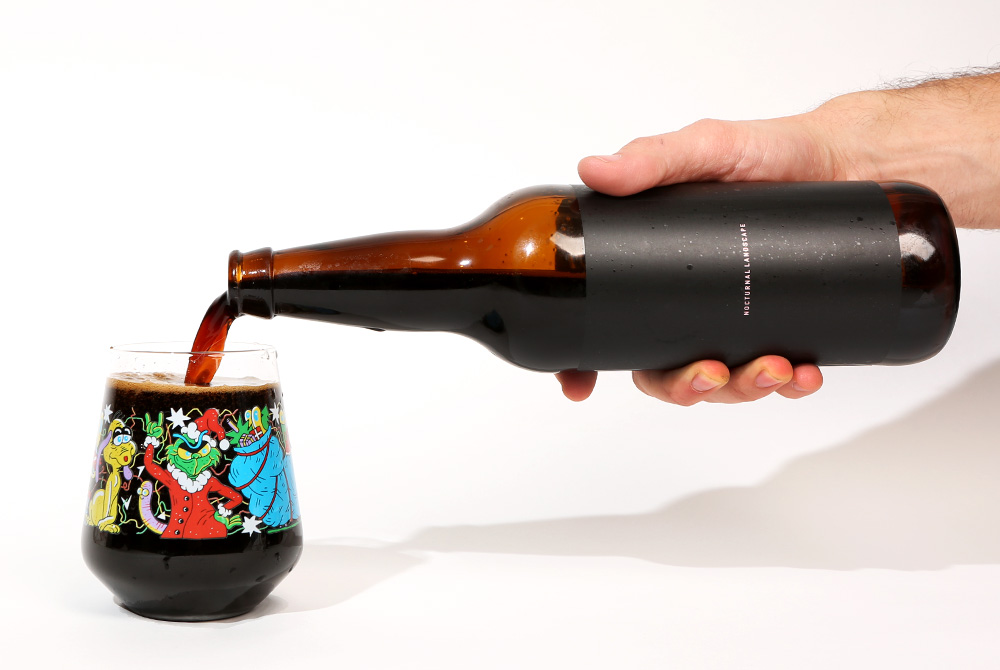 Imperial Stout — This was a fascinating beer. Nocturnal Landscape is a collaboration between Pure Project and Moksa, two of California's best craft breweries. The beer is an imperial stout brewed with roasted peanuts and cacao.
The result is a beer that's a touch salty and savory, with strong peanut and chocolate flavors. Less Reese's cup and more peanut brittle or chocolate-covered peanuts. If you're thinking of a boozy, sweet pastry stout, this ain't it. But, if you're vibing with some roasted peanuts by a roaring fire, this is right up your alley.
Agnus Dei (2018 Harvest)
The Referend Bier Blendery — Pennington, NJ
Spontaneously-fermented Wheat Ale — If you're struggling to find something appropriately "special" for a holiday dinner, reach for a bottle of The Referend. I try my best to not be too precious about The Referend's beers. But it's hard when they taste so agonizingly good.
Agnus Dei is a special rendition of The Referend's tried and true Berliner Messe. The 2018 harvest edition featured Vidal Blanc grape juice and saw the beer aged in Pineau des Charentes puncheons for a year and a half. As a result, Agnus Dei is zippy and electrically acidic with some obvious wine notes and then green apple tartness. Swap out a bottle of prosecco for Agnus Dei.
Whatever's Cool With Me
Small Change Brewing Co. — Somerville, MA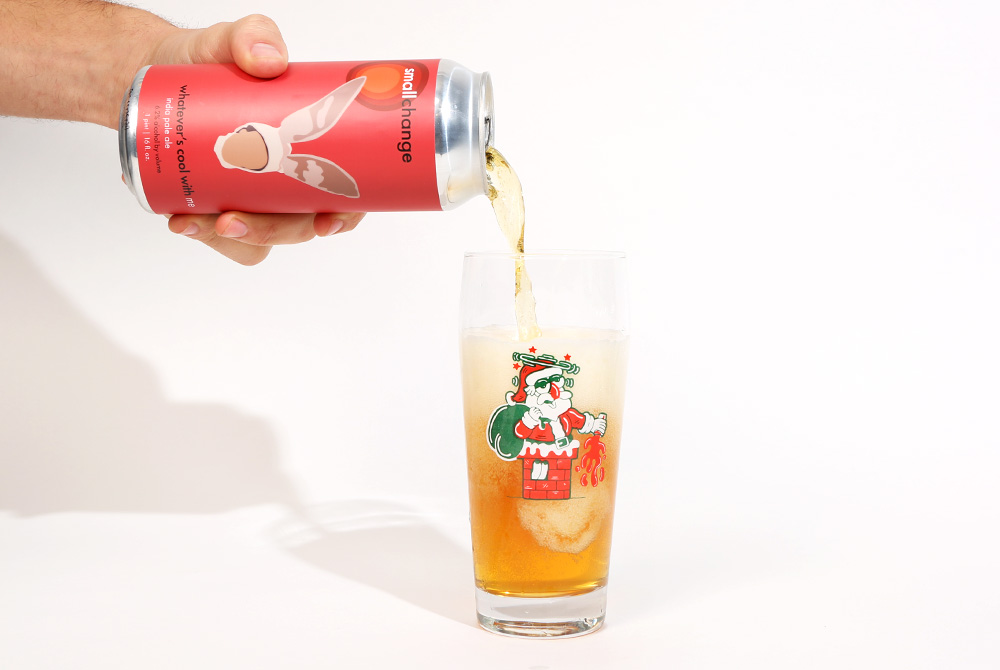 IPA — We wouldn't be surprised if you haven't heard of Small Change. They're a completely new brewery to us. But we were taken by their charming labels and simple, yet effective offerings.
Whatever's Cool With Me gave us serious Ralphie in a bunny suit vibes. So, it's inclusion in this list was a foregone conclusion. But the beer is absolutely appropriate for the season. Piney evergreen West Coast bitterness meets East Coast citrus brightness in this IPA. It's a refreshing option all winter long.
Barrel-Aged Maple Brig
Springdale Beer Co. — Framingham, MA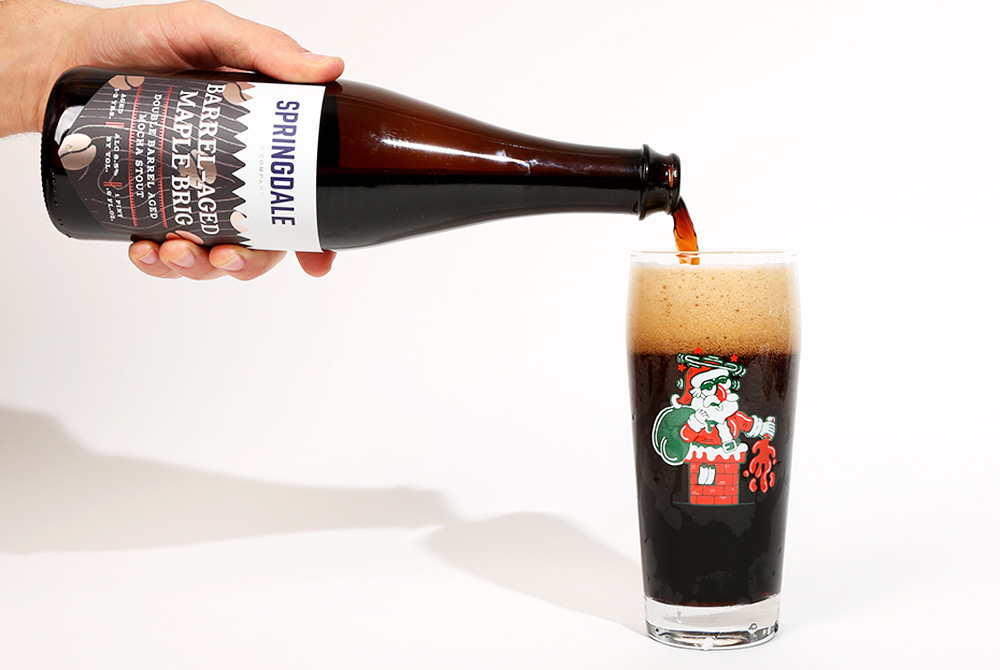 Barrel-Aged Coffee Stout — This was a personal favorite from this list. Springdale Beer Co., the ale-focused side project from Jack's Abby, brewed the base beer as a mocha stout. Then, a third goes into barrels with maple syrup and two-thirds rest in bourbon barrels. The blended result is pure mocha goodness.
Open this bottle on a cold winter afternoon with the fire blazing and a hearty snack tray within reach. I'd recommend a nice fatty cheese and maybe a bowl of almonds. Pure cozy warmth.
Cranberry Bog
Tin Barn Brewing — Chester, NY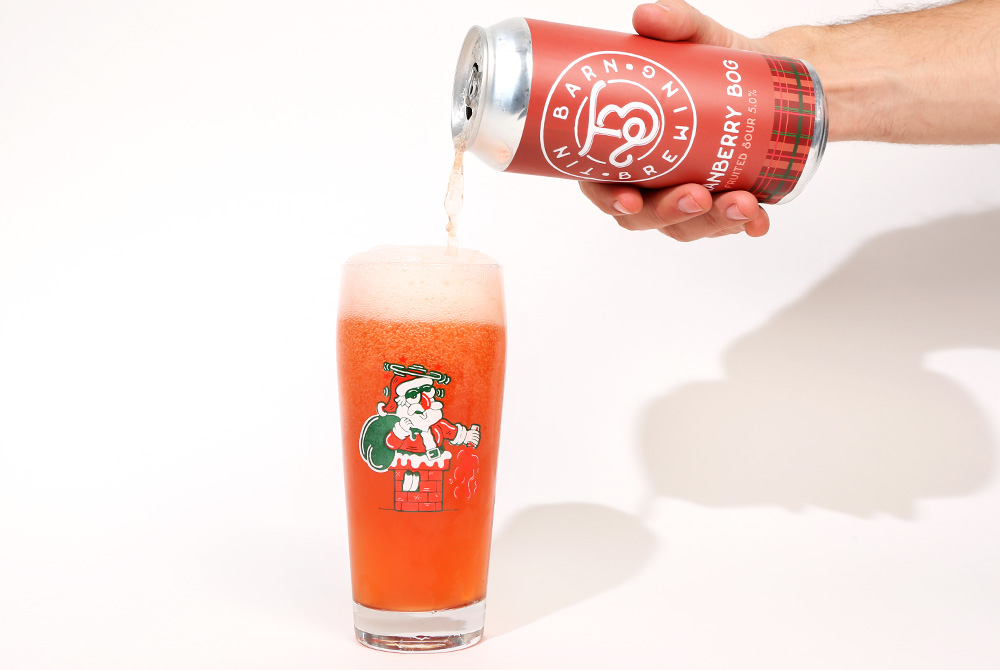 Fruited Sour — This ber was originally produced as a Thanksgiving beer, but we think it's got legs through the holiday season. Jammy and punchy, Cranberry Bog is easily the best cranberry beer I've had.
The acidity is right on point with just enough berry sweetness cutting through. Bring out the Christmas ham and crack open a few cans of Cranberry Bog.
There Goes The Neighborhood
Torch & Crown Brewing Co. — New York, NY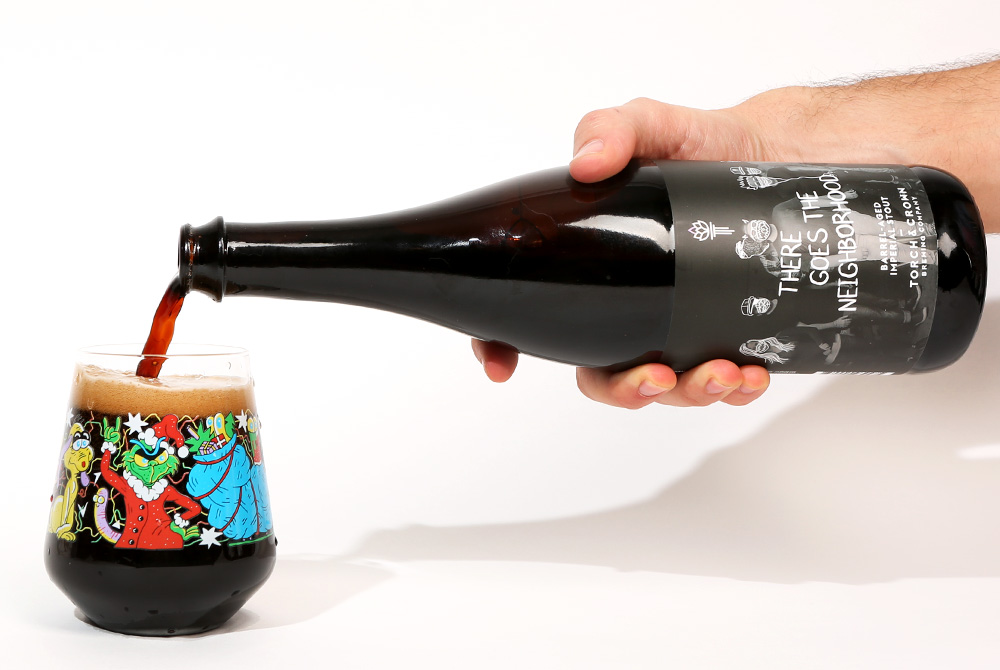 Imperial Stout — Torch & Crown came out swinging with this one. The newly-opened Manhattan brewery earned a spot on our list of the best new breweries of 2020. And this beer is proof they deserve it.
Torch & Crown was two years in the making. So was this beer. There Goes The Neighborhood is an imperial stout that rested in bourbon and rye barrels from Buffalo Trace and Woodford Reserve. It's a powerful offering from a brewery seeking to make a name for itself in the city that never sleeps. I highly recommend seeking out this statement beer from Torch & Crown and putting it all back yourself on a cold, dark night. Or, you know share with friends on a cheery evening. Whatever floats your boat.
Mad Elf
Troegs Independent Brewing — Hershey, PA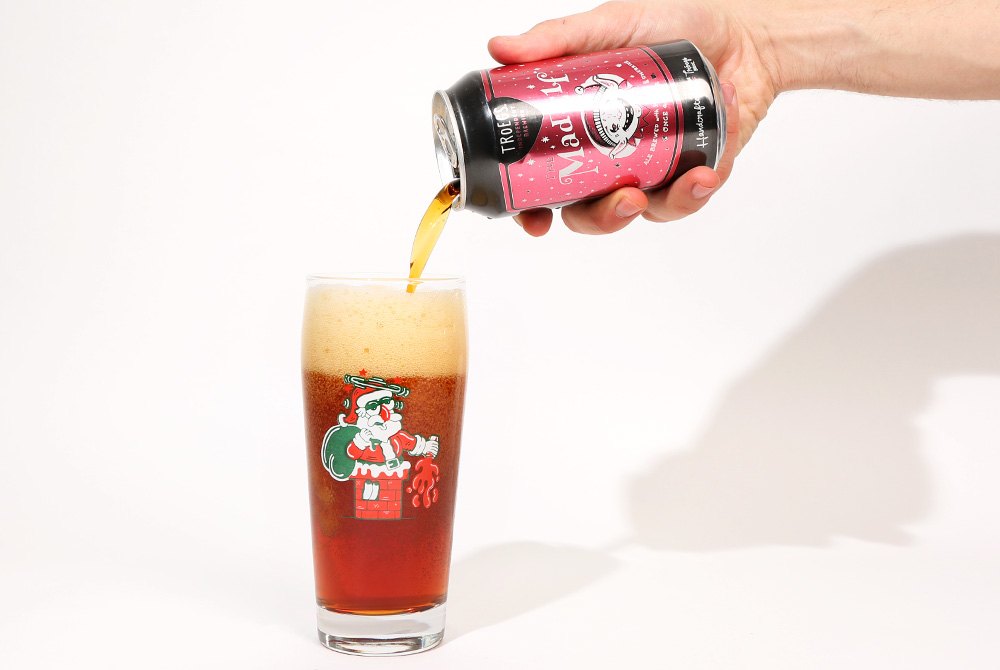 Belgian Strong Ale — Basic beer, much? No!
There's a reason Mad Elf is a tried and true holiday staple. This warming 11% Belgian ale is brewed with honey, cherries, and Belgian yeast offering a glass full of Christmas cheer and baking spices.
So crack open a bottle or can of this enduring seasonal beer. It's the most wonderful time of year.
Schwarzbier
Waypost Brewing Co. — Fennville, MI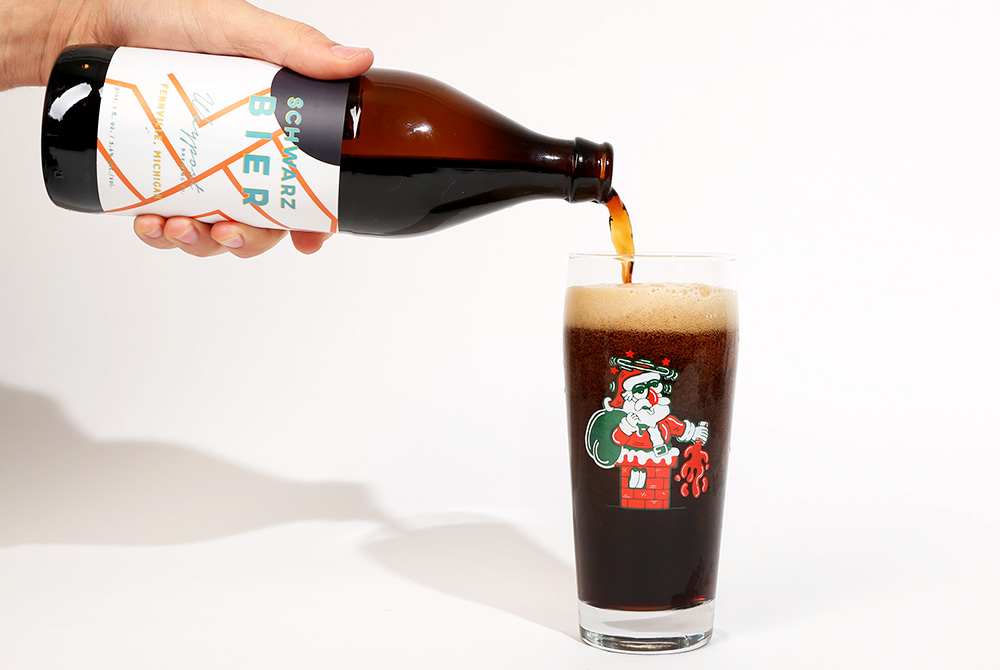 Schwarzbier — Dark beers don't need to be oppressively heavy or sickly sweet. Waypost knows this well as evidenced by Schwarzbier. The aptly named dark lager is an ode to Bavaria.
Brewed with heavily roasted malts, Schwarzbier is midnight black but restrained in flavor. In fact, the light and subtle coffee and chocolate loaf notes made this beer exceedingly drinkable and refreshing. Unlike one of the above-listed pastry stouts, we could easily put back a few bottles of this beer on a wintry night.
Late Night At the Donut Shop
WeldWerks Brewing Co. — Greeley, CO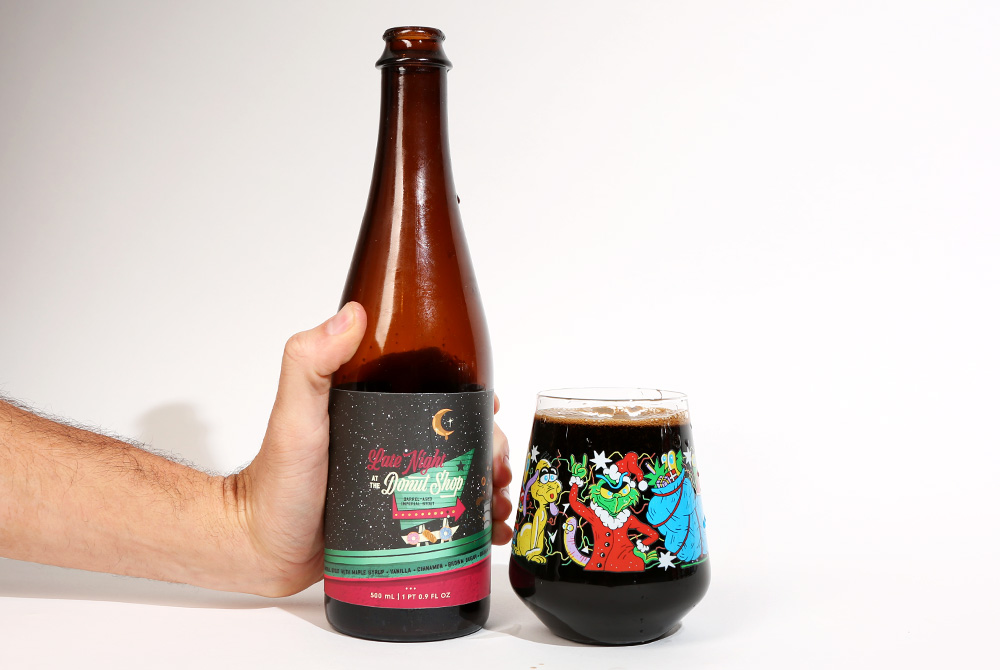 Pastry Stout — And while sometimes we like gentle, balanced offerings, we also sometimes crave the most decadent thing imaginable. Enter: Late Night At the Donut Shop. An ode to insanity. And donuts. This beer is the result of brewers going off the deep end with creativity. And we love it.
This imperial stout rested 21 months in freshly emptied 7 to 12-year-old bourbon barrels before conditioning on maple syrup, vanilla beans, cinnamon sticks, brown sugar, graham cracker, and walnuts. The result is a beer that tastes like a liquified maple-cinnamon walnut donut. It's an insanely sweet confection but we don't care because it tastes so wildly delicious. And, if you're unable to get your hands on this delightful offering, be on the lookout for more stouts from the wizards at WeldWerks this winter season including S'more Than a Friendship and An Allowable Sense of Precaution. Or ask Santa! He probably knows those WeldWerks guys.
Liked this article? Sign up for our newsletter to get the best craft beer writing on the web delivered straight to your inbox.