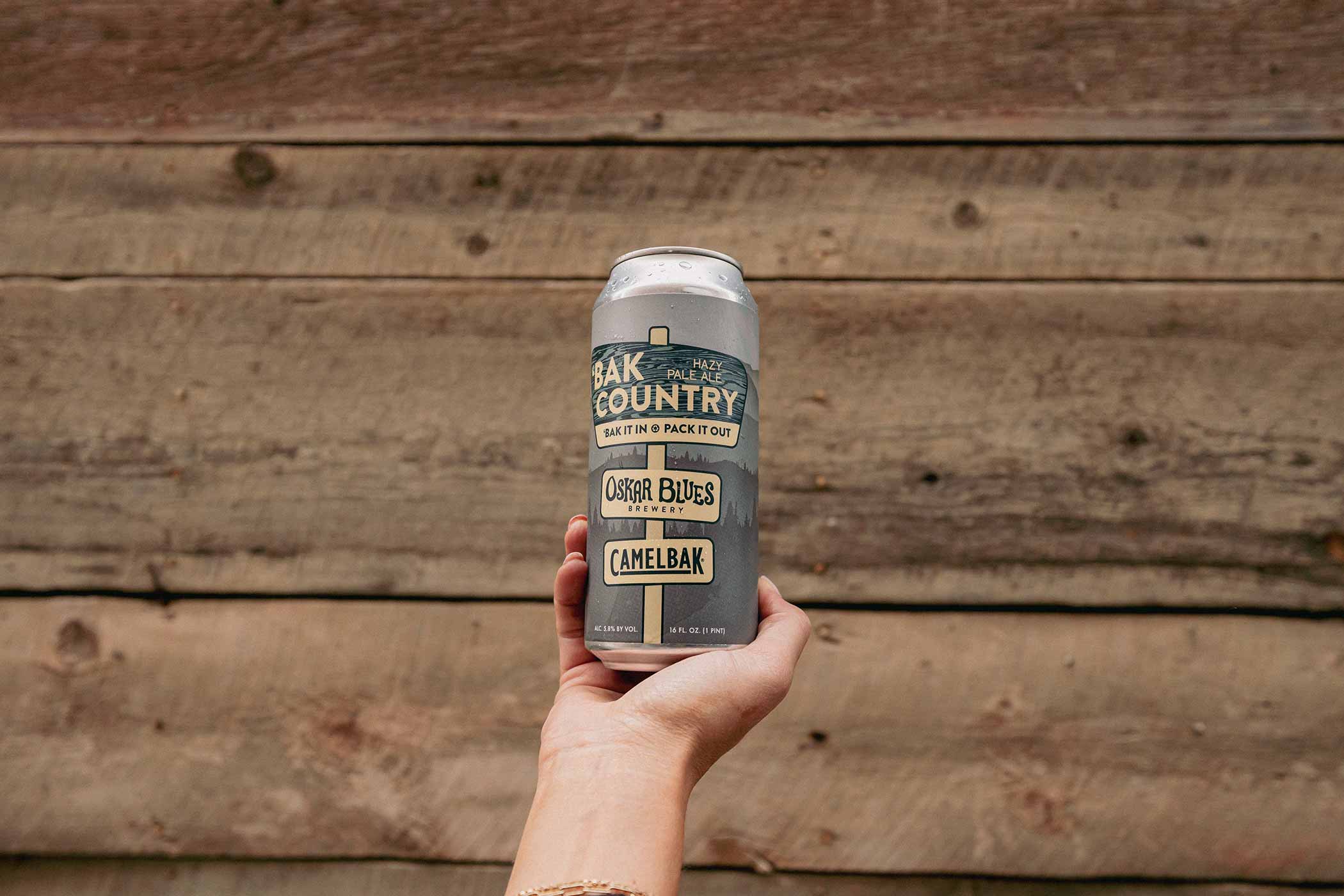 Photography courtesy of Oskar Blues Brewery
Editor's Note:
This is a paid, sponsored post presented by our friends at the CamelBak.
Built on the backs of mountain bikers, CamelBak and Oskar Blues have teamed up for a one-of-a-kind collab. Both companies share similar origin stories and have now come together to brew one beer.
But not just any beer.
A hazy pale ale built for adventurers, Bak Country is for those who love the outdoors. Those who want to bring a beer with them on a bike ride on the trail. Or on a hike up the mountain. Or on a trek to the beach. Basically, wherever you can imagine.
Which makes sense because this beer celebrates the launch of CamelBak's newest innovation: the ChillBak.
The first ever backpack cooler with built-in hydration, the ChillBak holds up to twenty-four 12oz cans (plus fifteen pounds of ice) that will stay cold for up to seventy-two hours…
…but also has a separate reservoir for up to six liters of water.
Making it the perfect all-in-one adventure tool.
Take the ChillBak hiking in Deschutes National Forest, camping in Yosemite National Park, canoeing in the Boundary Waters, or even just into your own backyard.
It's a revolutionary new cooler from a company who has been pioneering hands-free hydration for over thirty years.
And now, CamelBak is encouraging you to pack beer (along with water) for your next trip.
Such as this exclusive limited-edition Oskar Blues collab.
Why Partner with Oskar Blues to Brew a Collaboration Beer?
In 1989, CamelBak founder and avid bicyclist Michael Eidson competed in the "Hotter 'N Hell 100" bicycle race in Texas. During the competition he rigged up an IV bag filled with water, jammed it in a tube sock, and connected it to a hose that he threw over his back to take with him on his ride. The MacGyvered hydration pack became the first rudimentary CamelBak. For the next thirty-three years CamelBak became the go-to source for backpack innovation and hands-free hydration.
One just has to look at the new ChillBak to see how CamelBak continues to be at the vanguard. With a backpack equipped to hold beer and that hallmark water pouch, brewing a special beer to celebrate made sense.
But where to find a partner? A pioneering company like CamelBak wanted to find someone equally revolutionary in beer.
Twenty years ago, Oskar Blues Brewery Founder Dale Katechis (who's first job in Boulder, CO, was making high-tech custom backpacks, interestingly enough) bucked convention by releasing the original craft beer in a can—Dale's Pale Ale.
Why did he want to put beer into a can? Because Katechis, an avid bicycle enthusiast himself, wanted to take beer on bike rides.
Who knew that would lead craft beer into a new frontier? Canning this eponymous pale ale to take into the wild quickly set Oskar Blues apart as a boundary-pushing brewery.
"Both of our stories started on the backs of mountain bikers, so it made perfect sense to partner with trailblazers such as Oskar Blues," says Jessa Sargent, manager, social media & brand partnerships at CamelBak. "Because of their heritage, shared vision, innovation, expertise as a brand, and deep roots in the outdoors…there is so much synergy."
One could say this partnership was fated.
"These are two trailblazing brands both born on the back of mountain bikers," says Evan Butteris, creative producer and project manager at Oskar Blues. "CamelBak is really keyed in on weekend warriors, people who take their leisure seriously, and at Oskar Blues we take having fun very seriously. If we're going to do something, we do it big, and a backpack full of beer is a great way to do that."
Celebrating the ChillBak with a New Collab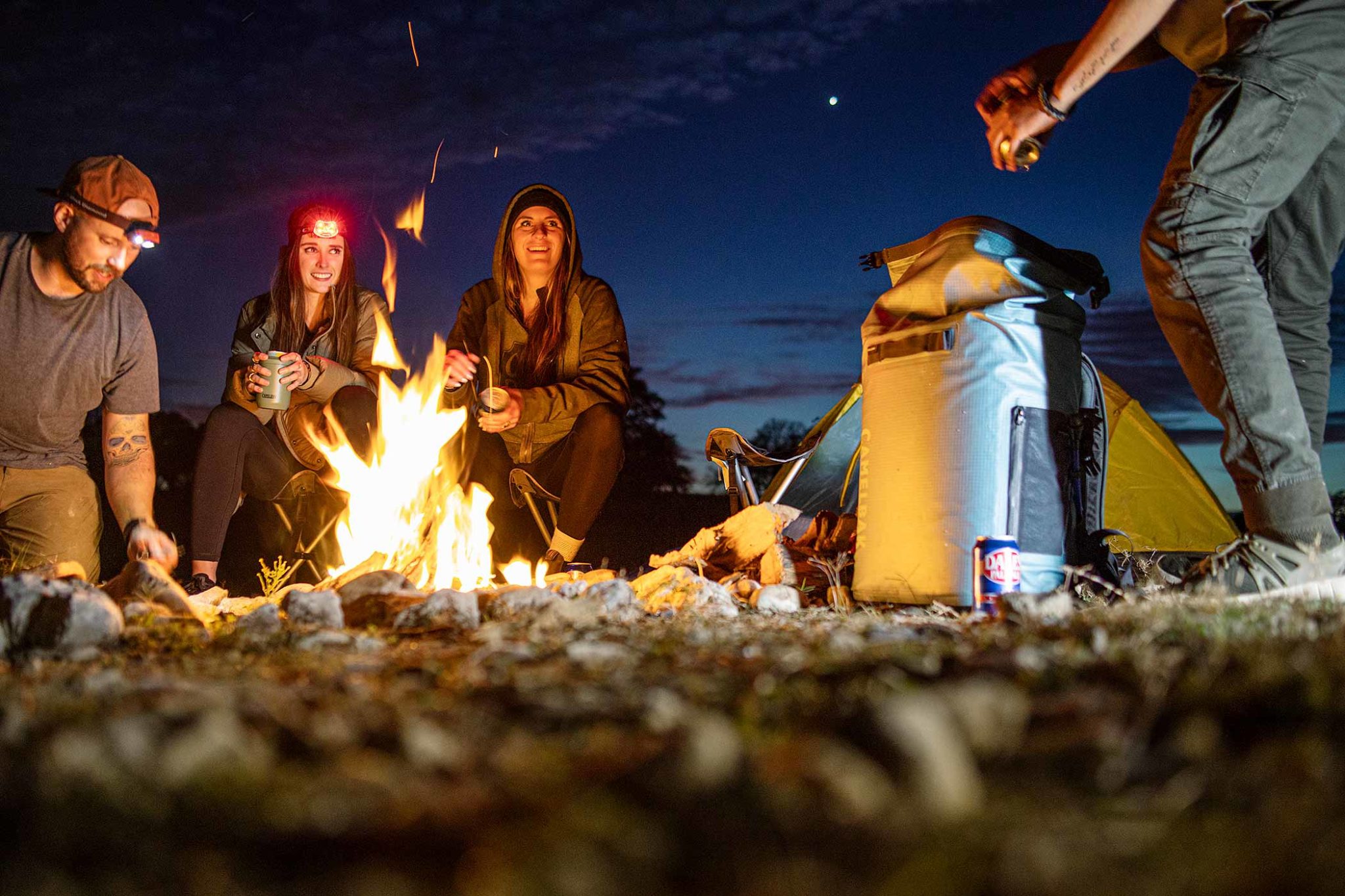 Seems fitting to kickoff the release of CamelBak's first backpack cooler (that can hold up to 24 cans of your favorite beverage) by launching a limited-edition beer.
"We wanted to make this fun and engaging for the community," says Sargent. "What are you going to be putting in your cooler? Beers, seltzer, water, right? Not only are you bringing a pack out there to enjoy a weekend adventure, but we want to bring something along to be part of the whole journey. What are you celebrating with after your mountain bike ride or epic hike or just a leisure day on the beach?"
Hopefully, a beer like Bak Country.
Specifically engineered to be the perfect post-hike, post-bike-ride, post-any-adventure beer, Bak Country hits all the right notes.
And honestly, just like the pairing of these two brands makes so much sense, the creation of the beer came together pretty easily.
The Building Blocks of Bak Country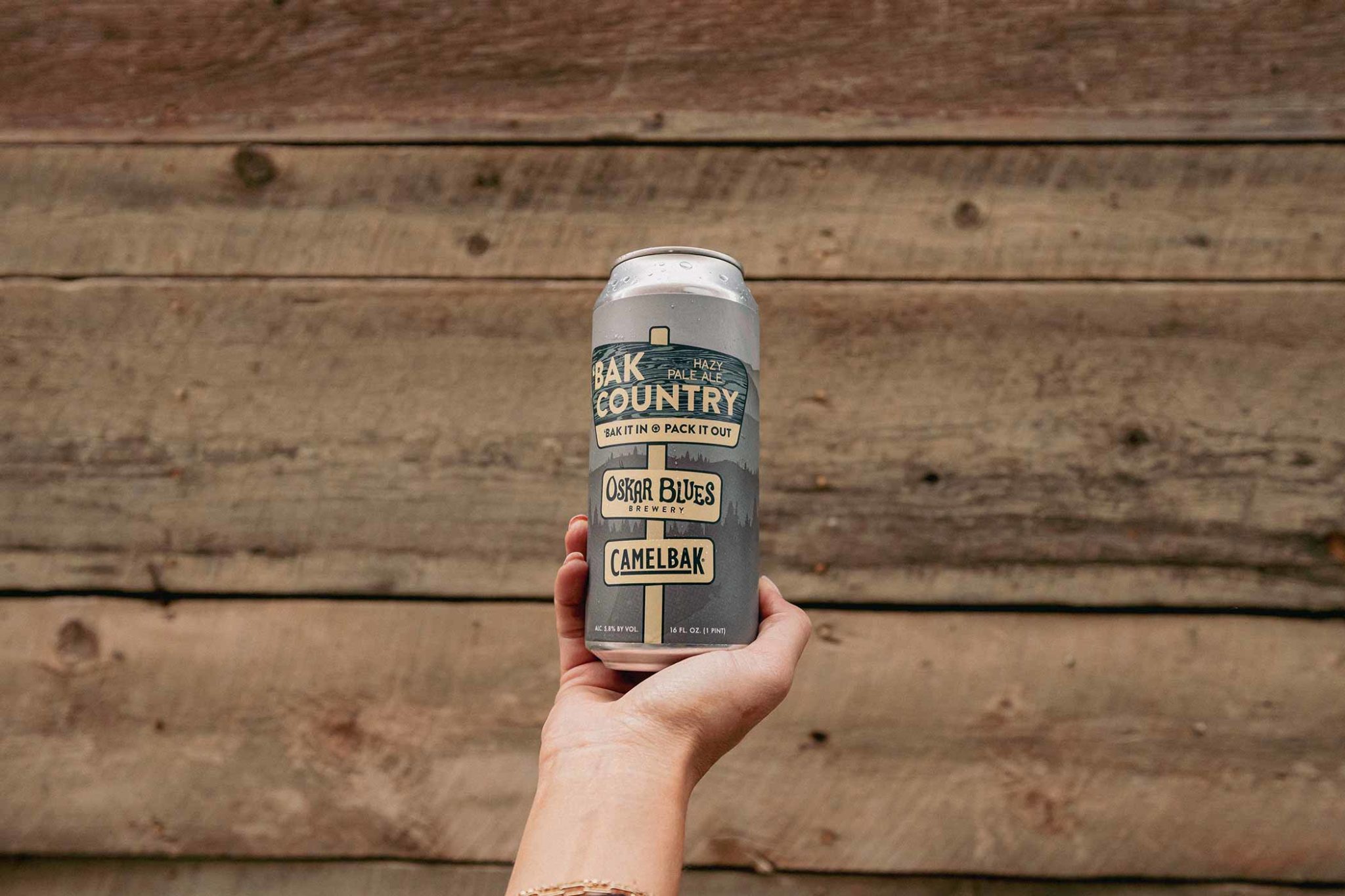 Crafting Bak Country started with a conversation with Juice Drapeau, head brewer at Oskar Blues Pilot Brewery in Lyons, CO.
"I like to talk to people about what vision they have for the beer," says Drapeau. "What are you looking for in terms of alcohol, color, flavor profile, and time of year?"
In this case, a summer release meant both teams wanted something light-bodied, good for the warmer months, citrus and tropical forward, and most importantly, geared towards people who want to be active outdoors.
With hazy pale ales on the rise, this seemed like the perfect style.
Accordingly, Drapeau built out a recipe with a super light malt bill. Basically, just 2-Row as the base malt and about two percent of Crystal Malt 20 Lovibond to achieve a nice golden orange hue and keep the beer thirst quenching.
But at the end of the day, this beer comes back to the hops.
On the hot side, Drapeau threw in Calypso and Mosaic as building blocks for that tropical backbone.
But the dry hop is where things get really interesting.
"I'd been dying to do this dry hop combination," says Drapeau. "The dry hop is really what I'm excited about and what drives the flavor profile of this beer."
Equal parts Mandarina Bavaria, a German hop, and Idaho 7 impart lots of citrus, sweet fruit, and tropical hop notes. Plus Drapeau added Citra LUPOMAX and a hop called Grungeist. "This hop is very intriguing," says Drapeau. "It has some nice passion fruit and tropical character, but also stone fruit and red berry; it packs a punch."
All together these hops from across the world add a whole other layer of complexity and depth to Bak Country.
Pretty fitting that a beer made for adventures all over incorporates hops from all over the world.
And that it brought two adventurous companies together, literally.
Good Friends Making Great Beer
All told Bak Country has been a project in the works for about ten months.
Sargent first pitched the idea to Oskar Blues in October 2021. And since then it's been pedal to the medal. From working on the beer itself to writing the story behind the beer to shooting this special video with the Oskar Blues team). The team even joined Oskar Blues for the canning day in Colorado.
Sargent and Colin Belisle, associate brand manager at CamelBak, along with Butteris and others from the Oskar Blues marketing team had the opportunity to all get together to help Drapeau can the first run of Bak Country at Oskar Blues Pilot Brewery in Lyons, CO.
"It was cool to be boots on the ground with them and see and feel the passion they have for brewing," says Sargent. "It's a true labor of love."
Spending so much time together has helped drive the connection between CamelBak and Oskar Blues pretty deep.
"This launch and collab is cool, but it's even better when you work with really great people," says Sargent. "We've been working so long on this whole partnership, but it has been so seamless; we're friends canning and cheersing with beers and celebrating."
Tasting Through Bak Country
The first thing you'll notice about Bak Country is the incredible head retention, important for immediately imparting the complex aromas of this hazy pale ale.
"At Oskar Blues, we're trying to build these cool, hazy, super lacy, frothy-head-retention IPAs without the use of wheat," says Drapeau. "It gives a pale ale the perception that it has a lot more to hold onto even though it finishes crisp and clean at the end. A lot goes into the mouthfeel of building these beers."
It can be hard to balance a nice malt sweetness with a soft pillowy mouthfeel But that's exactly what Bak Country accomplishes.
"What I like about this beer is it has a huge mouthfeel as far as perceived malt sweetness, but it disappears without leaving any astringency or bitterness," says Drapeau. "The goal is to be juicy, smooth, silky, and very citrus and tropical driven."
On that front, Bak Country bursts with a ton of lemon, tangerine, a bit of mango and pineapple, and some underlying melon or cantaloupe characteristics.
Above all, this is a beer built from the ground up for people built for the outdoors.
Just like CamelBak and Oskar Blues.
Why Bak Country Is Perfect for the Outdoors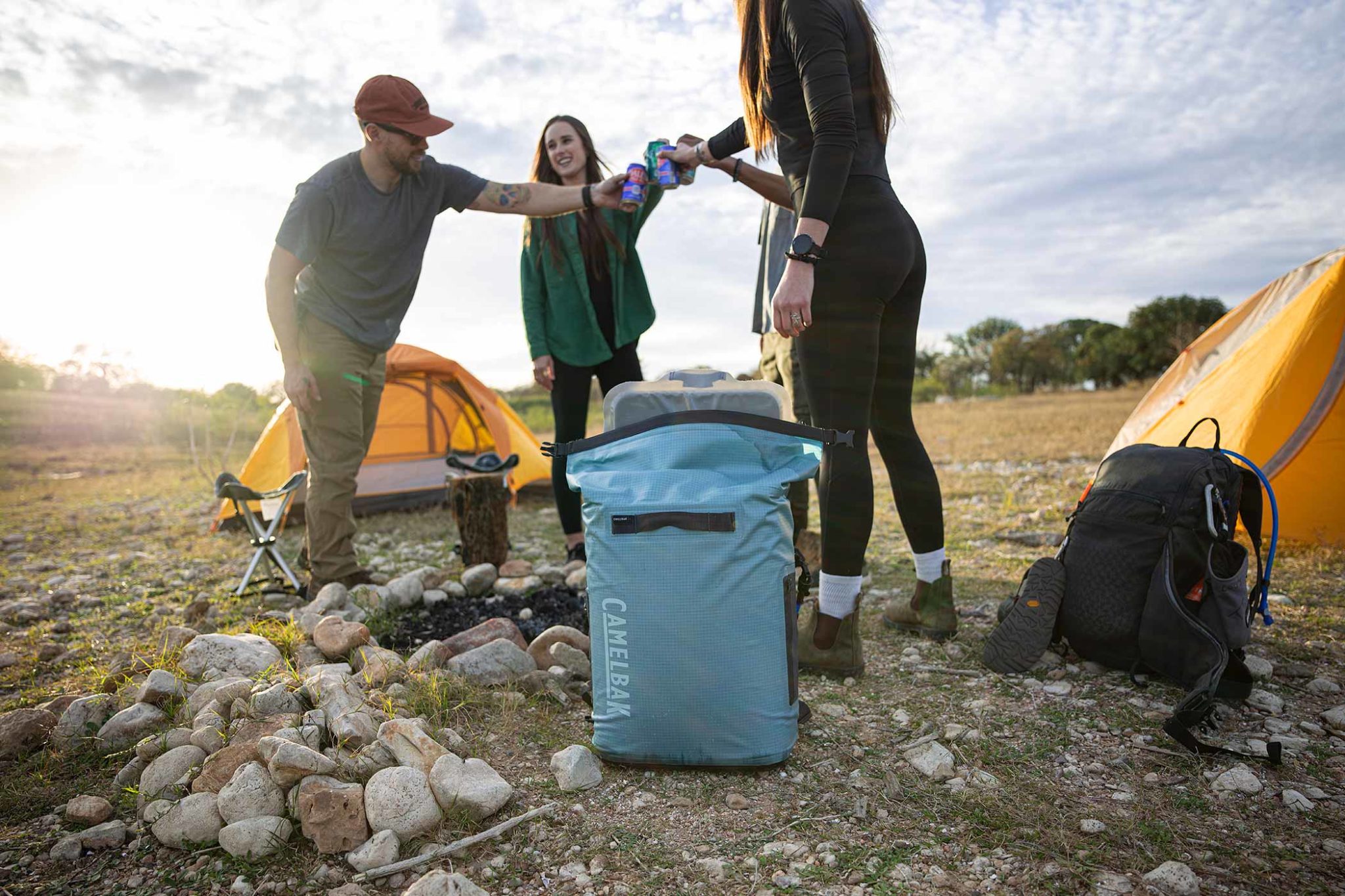 Just think about all the wheres and whys you would use a ChillBak. "To go into the backcountry and the wilderness, you'll be exerting yourself, so you'll want to have something crisp, refreshing, yet flavorful," says Butteris. "[Bak Country] is the exact beer I'd want to have in the middle of a bike ride or hike or at the top of a peak."
This light, 5.8% ABV hazy pale ale is approachable, yet robust and surprisingly flavorful for such a light-bodied beer.
Overall, Bak Country is a beer of celebration.
Yes, the beer celebrates the launch of CamelBak's new ChillBak.
But most importantly, this beer represents respecting the outdoors and the adventures yet to come. As well as friends coming together to, as Sargent said, "Cheers and celebrate with beers."
Where Can I Find Bak Country?
In the backcountry!
But seriously, CamelBak and Oskar Blues' Bak Country was released exclusively on draft and in cans at the Oskar Blues taproom in Longmont, CO, on July 16th and at will be making an appearance at Oskar Blues taproom in Brevard, NC, on July 23rd.
Cans of Bak Country will only be available while supplies lasts