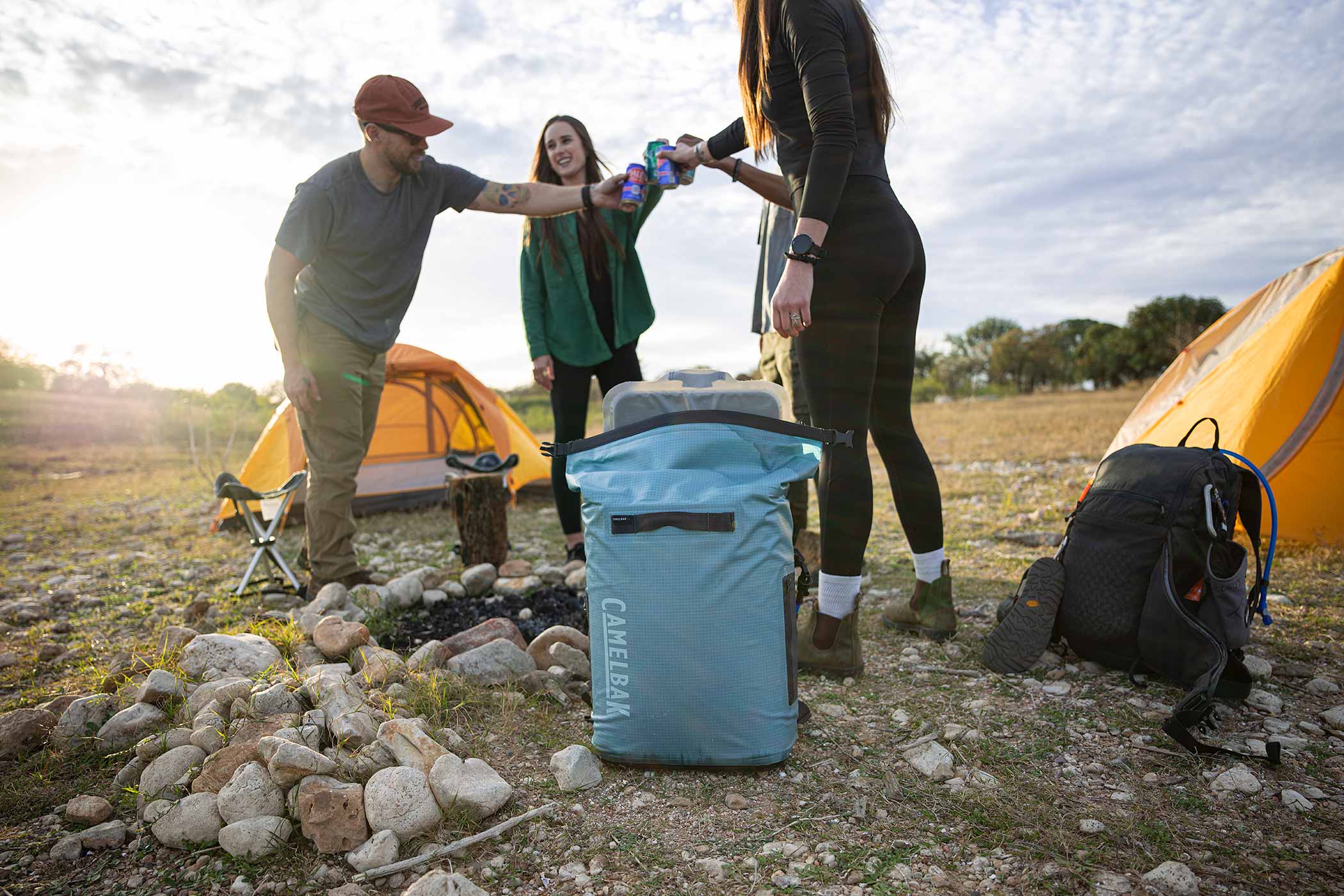 Photography courtesy of CamelBak
Editor's Note:
This is a paid, sponsored post presented by our friends at the CamelBak.
In 2013, I set off on a magical adventure with my wife. Our destination? Electric Forest in Rothbury, MI. For those who don't know, this is an incredible music festival that among many other things involves three days camping out in the forests of Western Michigan while listening to top-notch bands, dancing in the trees, and drinking plenty of beer. While packing for this trip the number one item on our camping checklist included a M.U.L.E. CamelBak. We bought this handy little backpack with hands-free hydration just for the festival.
And hands down (get it?), we can confidently say it has been one of the best purchases we've ever made. Seriously, since then we've gone on to take this backpack to the mountains of Denver, CO, for a Zedd's Dead concert at Red Rocks, to Europe for a two-week backpack trip to Amsterdam, Berlin, and Copenhagen. Heck, we even just take it out on the trail in Tilden Regional Park in Berkeley, CA, when we take our puppy out for hikes on the weekend.
In fact, I'm looking at this pack right now as I write this piece, literally hanging on our coat rack by the door. Ready for us to grab and go, whether we're just getting groceries at the local supermarket or traveling all the way to Washington, D.C., for a beer festival.
Bottom line, we've dubbed this CamelBak a family heirloom. It's lasted us for almost ten years already and will probably survive for decades to come. Quite simply it's one of our prized possessions because it's durable, time-tested, and well, cool.
So when we learned that CamelBak had recently designed and constructed a new backpack cooler with its telltale water pouch, we knew we had to learn more.
And try one out ourselves.
What Is CamelBak?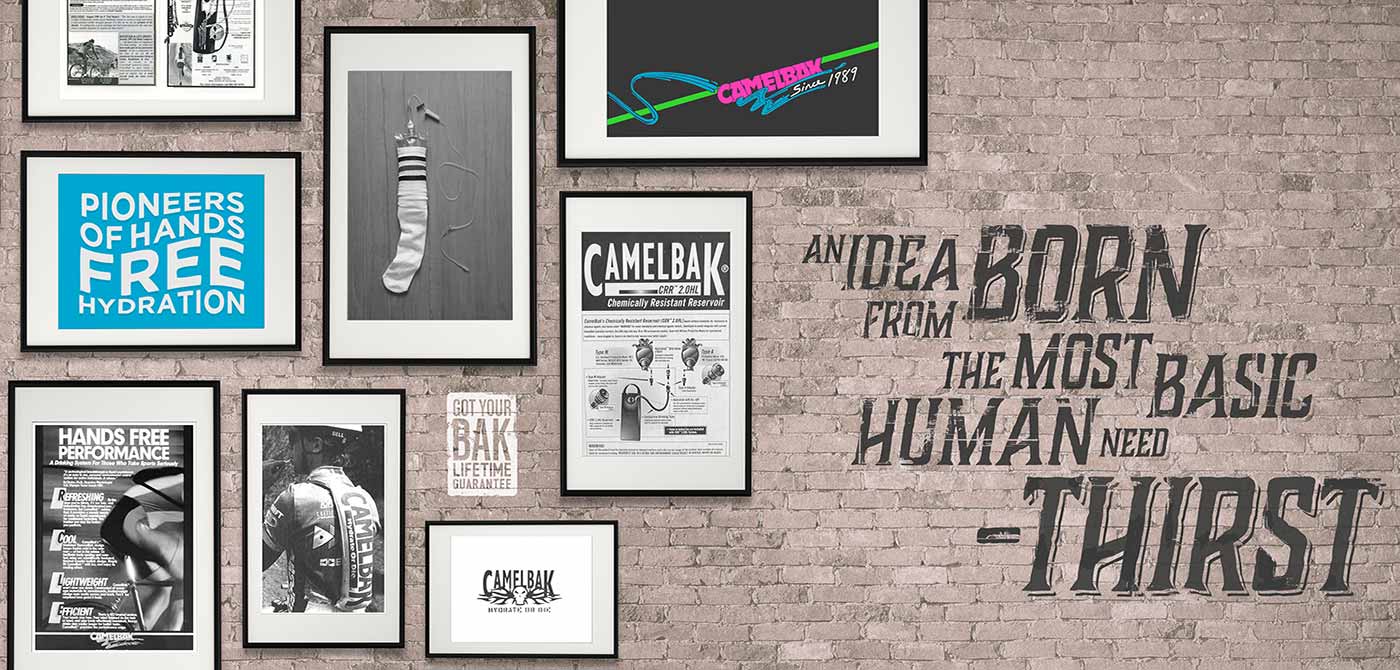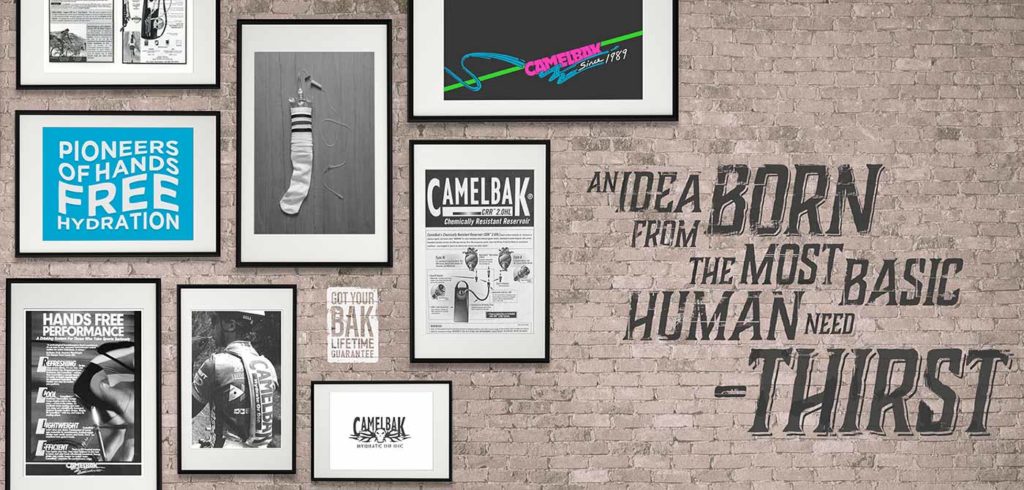 First off, in case you haven't been outside of your home in over two years (oh wait), CamelBak has become synonymous with hydration and innovation. It's a company built on a quest to quench thirst. And on the back of adventurers.
Literally.
In 1989, CamelBak founder and avid bicycle enthusiast Michael Eidson competed in the "Hotter 'N Hell 100" bicycle race in Texas. The competition took athletes through a 100-mile road course over four days in the stifling summer heat of Wichita Falls, TX.
As you can imagine, staying hydrated became crucial. But the race only provided a few pit stops along the way. And those water stations meant a racer would need to take time off to stop and drink or refill their water bottles.
So Eidson came up with his own innovative solution using his experience as an emergency medical technician.
He took an IV bag, filled it with water, placed it into a tube sock, jammed a hose in it, and threw the MacGyvered hydration pack on his back.
Voila…
The first rudimentary CamelBak was born.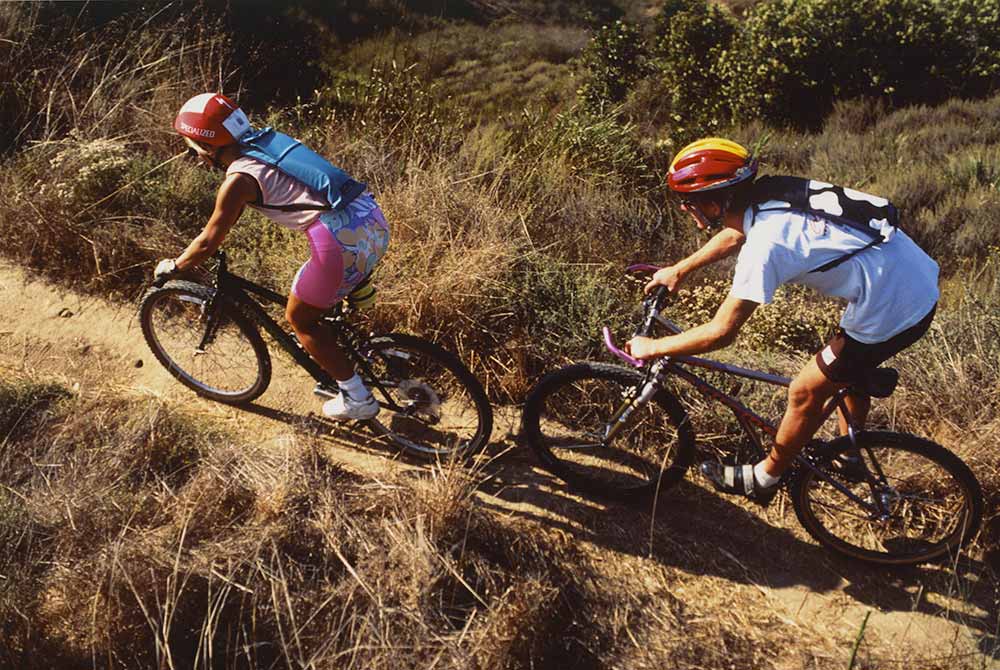 For the next thirty-three years, CamelBak became the go-to source for hands-free hydration whether you're canoeing down a river, hanging out on the beach, or even just attending a three-day music festival in the forests of Michigan.
"CamelBak is all about bringing hands-free hydration where you need it," says Tony Vontz, director of product management, soft goods at CamelBak. "Being that invisible hand that supports awesome fun outdoors whether biking, hiking, trail running, and now with the ChillBak more chilling."
Now these leaders have taken things a step further, crafting the first-ever backpack cooler with built-in hydration called the ChillBak.
Why Did CamelBak Make the ChillBak?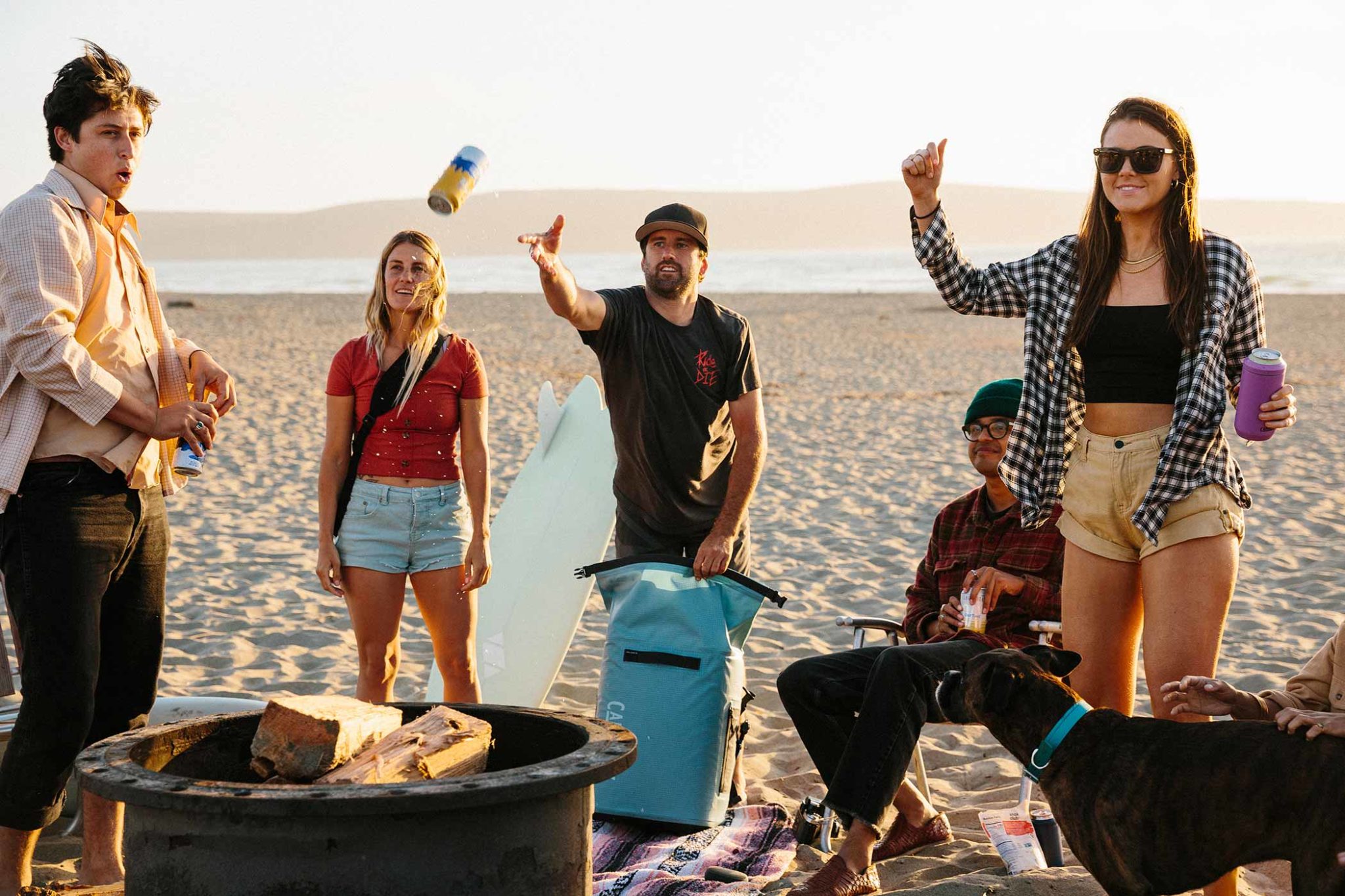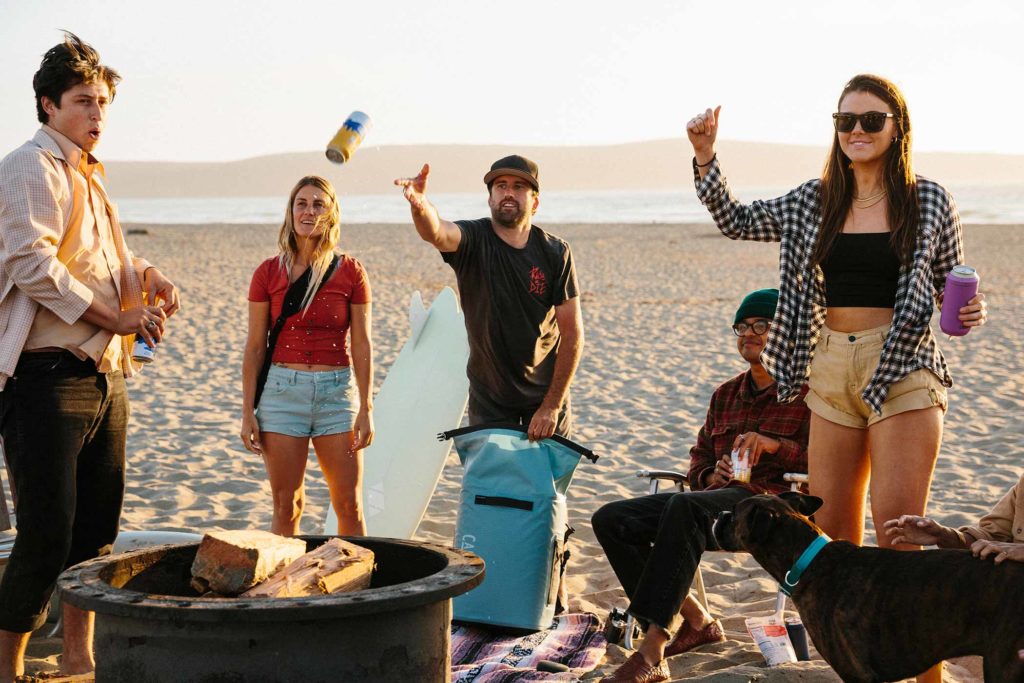 Just like Eidson saw a need for something new in the market back in 1989, the current CamelBak team noticed a space to put their own individual touches on an emerging trend.
Backpack coolers have become hot, especially in the beer industry. The idea is simple: Provide craft beer drinkers with a comfortable, durable way to take their favorite beers into the wild, whether that's the forests of Oregon or the urban jungles of New York.
But CamelBak has put an entirely fresh spin on the cooler category. One that completely suits their style and brand.
"We felt we had something to add to the cooler space, world, and story," says Vontz. "When you go to the beach or any activity, most people bring a ton of water with them. What if we could remove the water and have space for the fun stuff like beer?"
So CamelBak set out to create this all-in-one adventure tool. A backpack cooler that includes not only space for up to twenty-four cans of your favorite beverage (plus fifteen pounds of ice) that will stay cold for up to seventy-two hours…
…but also a separate reservoir for up to six liters of water.
"It's that après experience that got the ChillBak going," says Vontz, who recently took a trip to Bend, OR, with his family to put the ChillBak into action. "I saw that in real life people were out riding in the Deschutes National Forest all day, but then ended up down by the river drinking beers; that's where the ChillBak will live."
With the ChillBak, CamelBak has seamlessly integrated its trademark technology into a pack proven to be dependable for all your adventures.
ChillBak Rigorously Tested…And Tested Again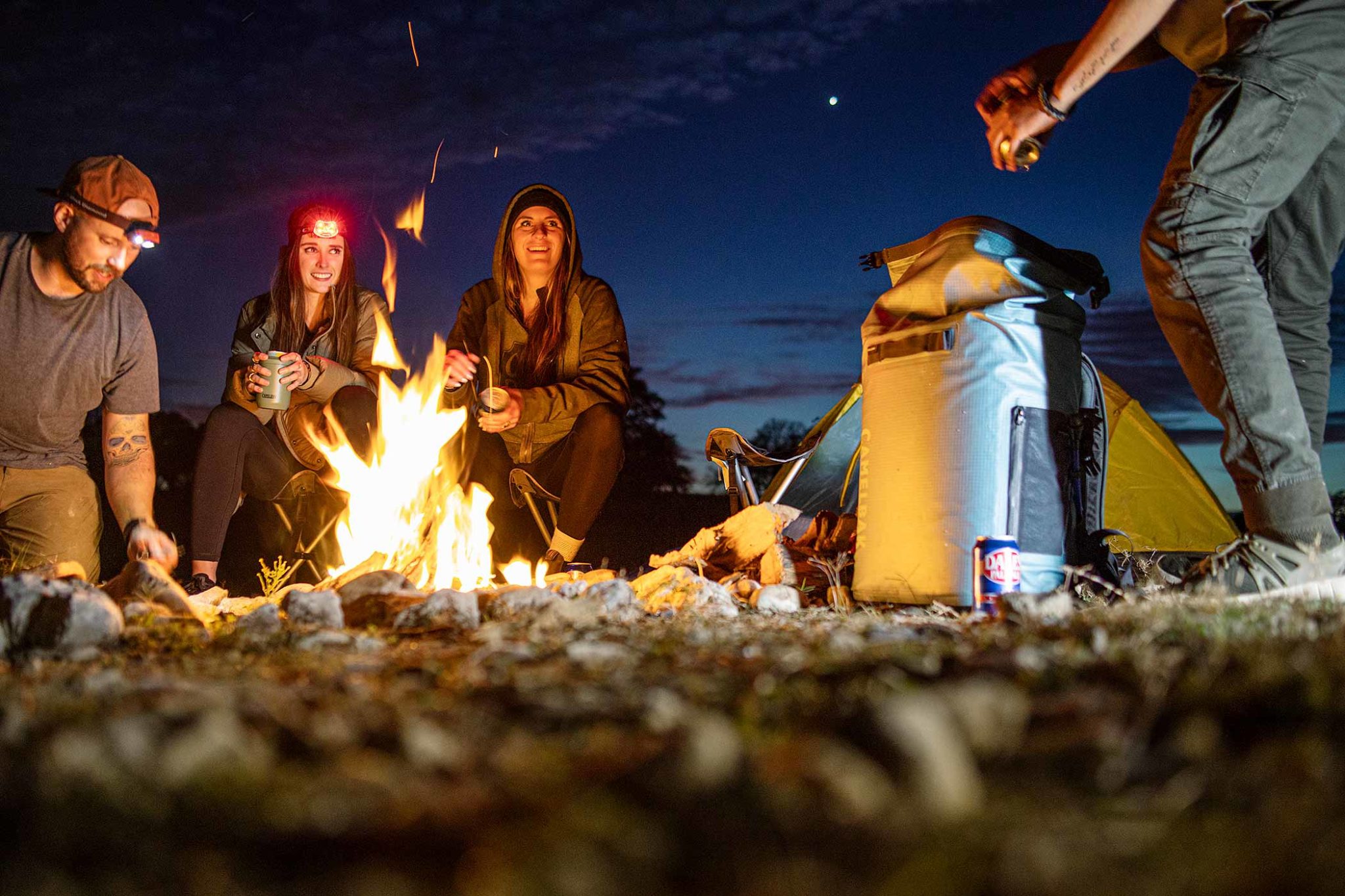 A cooler of this caliber didn't just come together overnight. CamelBak took their time to get The ChillBak right.
The original idea actually came up a while ago. But only after two years of thorough design concepting along with lab and user testing did CamelBak finally release the ChillBak to the public mid-last year.
"[The ChillBak] has been pretty rigorously designed, vetted, tested, and thought about for a very long time," says Vontz. "We arrived at something very dialed in and considered in design and use case."
For instance, CamelBak tested the ChillBak repeatedly in an actual heat chamber in their lab at their offices in Petaluma, CA.
The goal?
"Insulation was a big key," says Colin Belisle, associate brand manager at CamelBak. "At the bare minimum, the [ChillBak] lasts a full weekend in a car camping…we claim seventy-two hours with ice." Meaning CamelBak assures that your cans of beer will stay cold for up to three days even while out in the wild.
It's just one of the features that makes this elevated backpack cooler one of the best now out on the market.
The Four Best Features of CamelBak's New ChillBak
Trying to narrow down our favorite features of the ChillBak is kind of like trying to cycle the "Hotter 'N Hell 100" race without water—nearly impossible.
Luckily, we'll do our best.
Hands-Free Hydration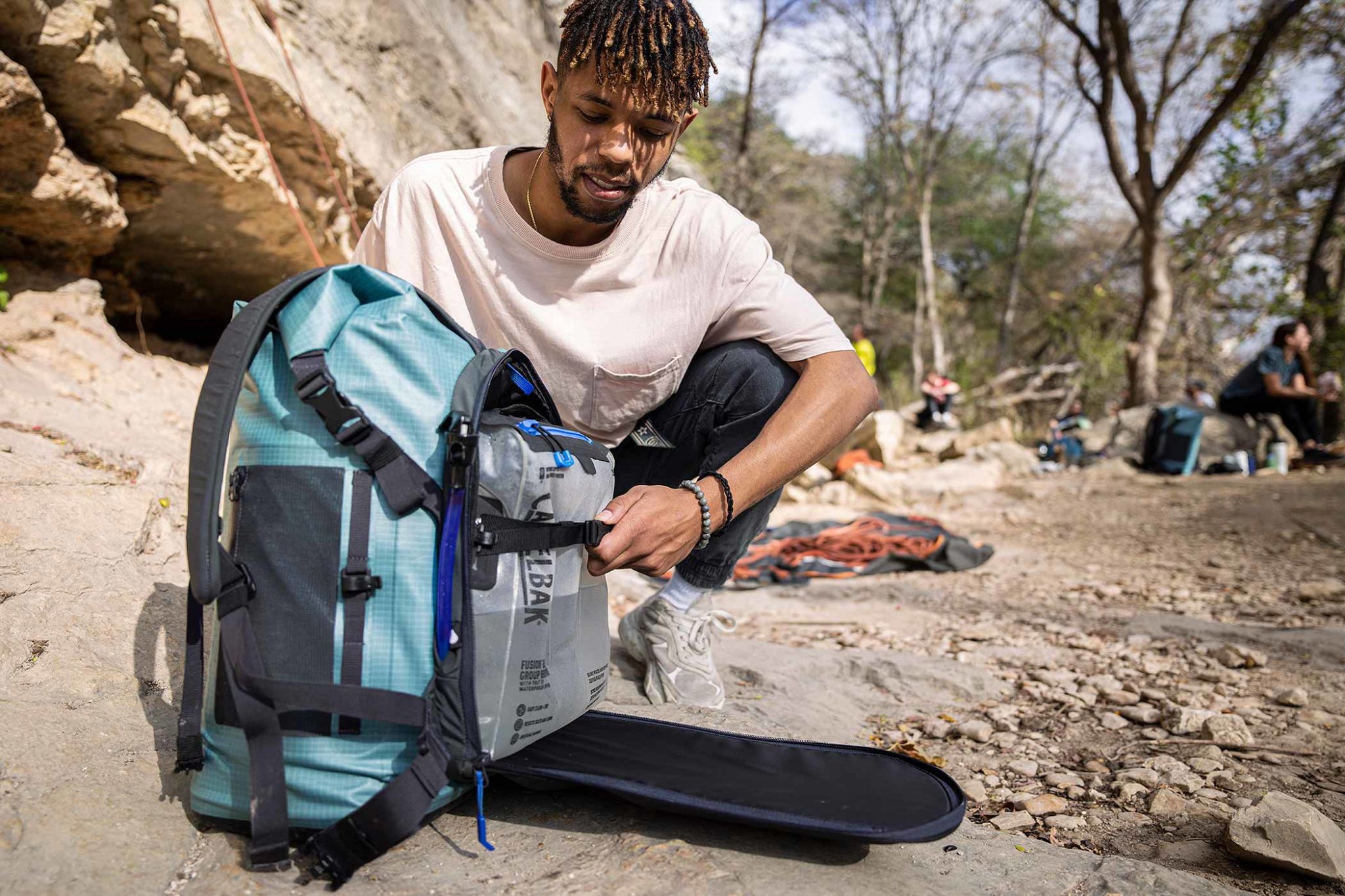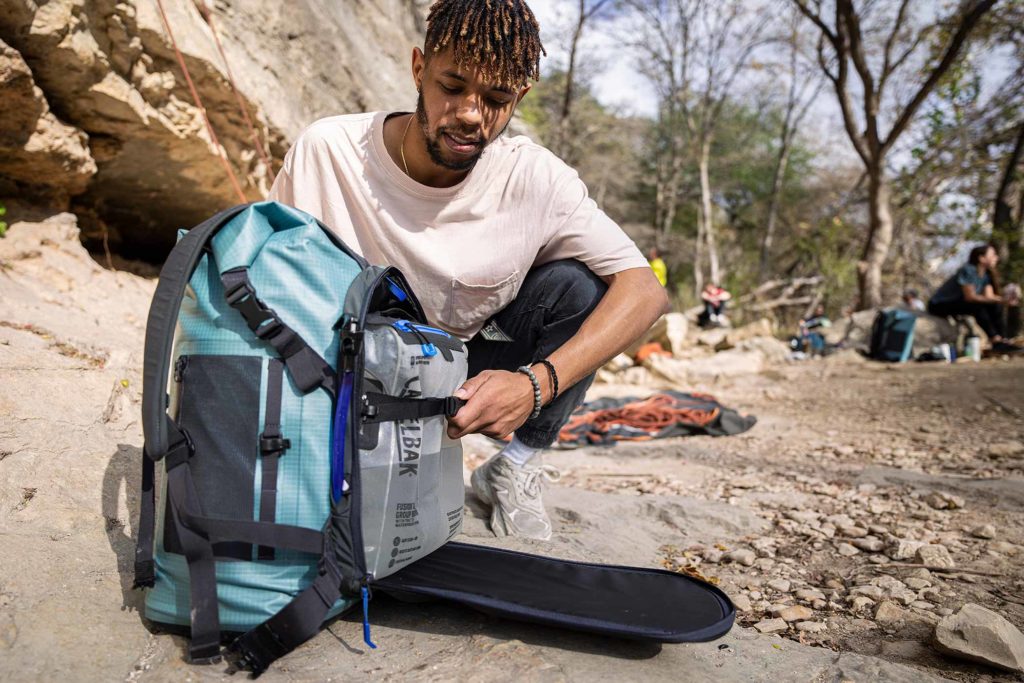 Right off the bat, one of the most unique features of the ChillBak is its hallmark hands-free hydration.
Quite simply: No other backpack cooler on the market offers a way for you to store and drink water right from your back.
The reservoir folds out of the backpack and then zips back up in a separate compartment on the back. You can pull as much or as little water as you want from the spigot. Incredibly, the pouch holds up to six liters of water. Enough for an entire group, whether you're camping in the woods, picnicking in the park, or hiking up a mountain together. "It's no joke," says Vontz. "You're not going to go thirsty with this thing."
CamelBak built the reservoir with water in mind, but as this editor can personally attest to, sometimes folks might use the pack for other beverages (but that's a story for another time).
Plenty of Room for Cold Beverages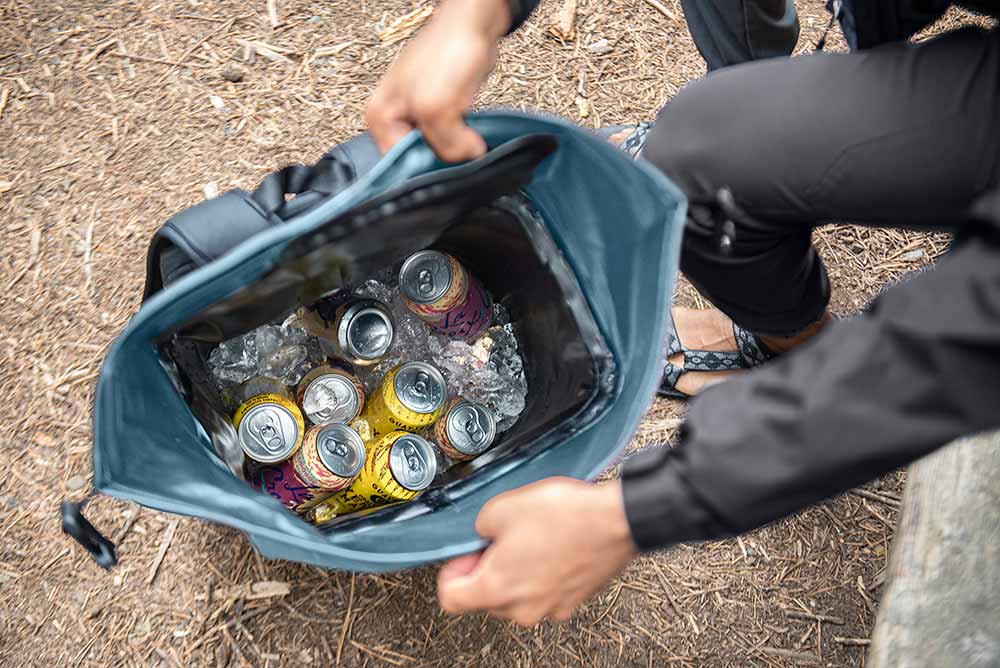 Speaking of beer and cold beverages, lest we forget this is actually a backpack cooler, the ChillBak holds up to twenty-four 12oz cans, including fifteen pounds of ice. Best of all, CamelBak ensures your beer or other beverages will stay cold inside the ChillBak for seventy-two hours.
Super Tough and Durable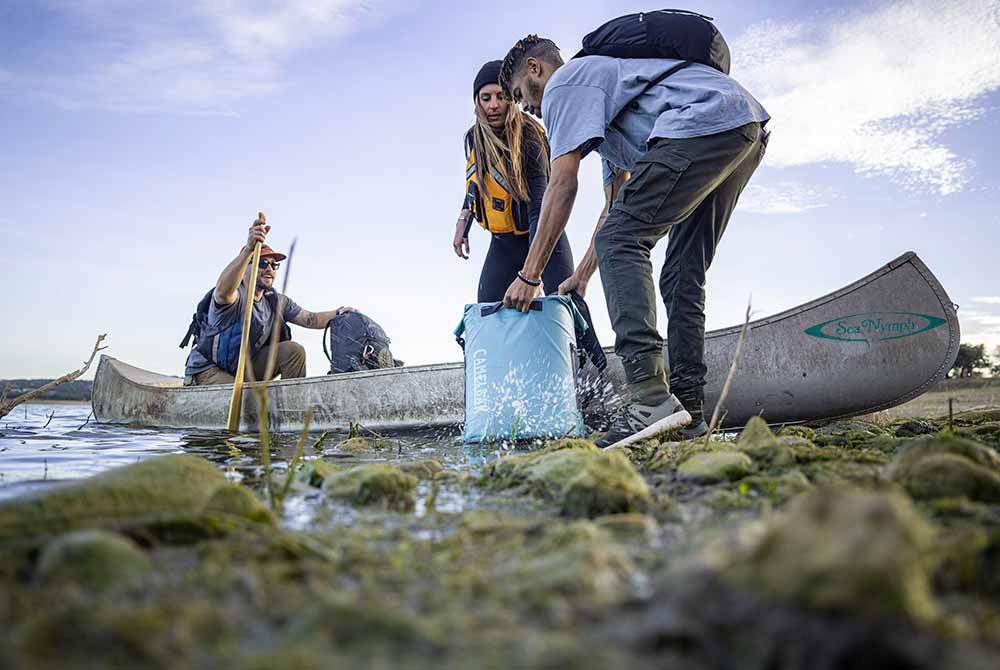 While the reservoir and cooler are the main differentiating factors, a few others fly under the radar.
According to Vontz, CamelBak put an EVA molded boot on the bottom, essentially a super durable material that supports the cooler so it'll sit upright when placed on the ground. "It's padded enough to keep everything safe without jostling around," says Vontz. "The way [the ChillBak] slides in and out of the car and tetrisis in and around other gear is awesome."
On Vontz's recent trip to Oregon, he says, "We put a couple of bottles of wine, a lot of beer, and a little bit of ice [in the ChillBak] while driving up so it would be ready when we got there and everything felt secure and packed in with nothing collapsing on top of it."
Following CamelBak's mantra of durability and sturdiness, the ChillBak incorporates ripstop construction that, according to Vontz, is "as burly as it gets." He laughs, "This thing is completely bomb proof."
But seriously, the top-notch architecture ensures that you can take the CamelBak into the toughest environments knowing it will survive.
Fun Features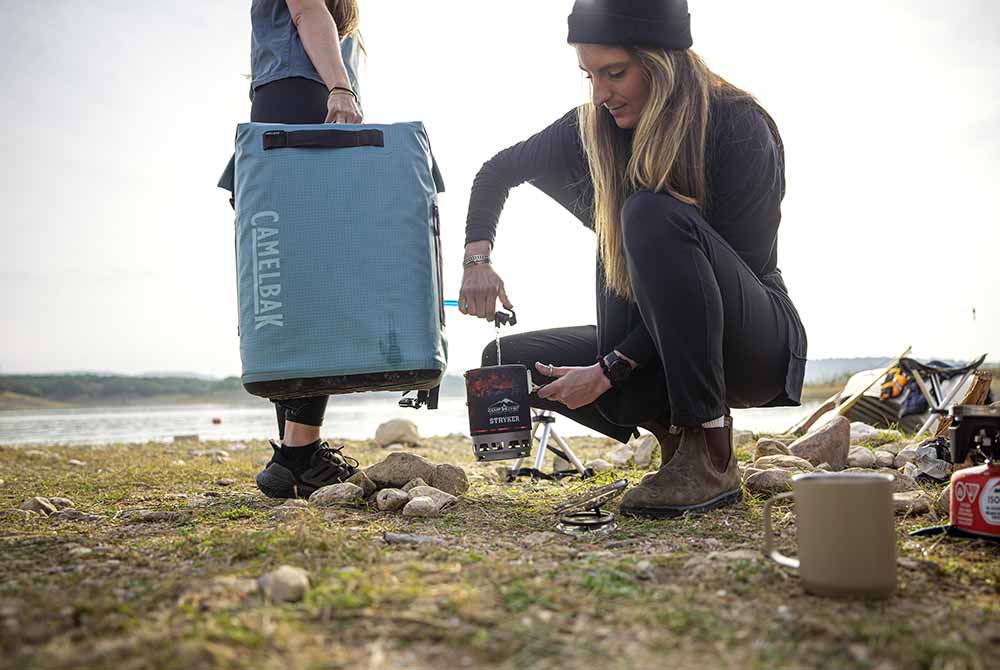 Some other fun features include a couple stretch mesh pockets on the side to shove all the stuff you want to keep dry. For instance, Vontz uses those areas to store his churchkey, wine screw, bottle stoppers, or phone.
And the rolltop closure ensures that everything stays cold while a trapdoor that sits on top is perfect for creating a separate space to store items you want to keep dry. For instance, a throw or blanket.
All in all, "the ChillBak has CamelBak DNA for sure," says Vontz.
This is an incredibly well-constructed backpack cooler with trademark CamelBak touches.
And just like Eidson's idea was only the beginning for CamelBak, the ChillBak is just the start for this avant-garde company in coolers.
What is the Future of the ChillBak?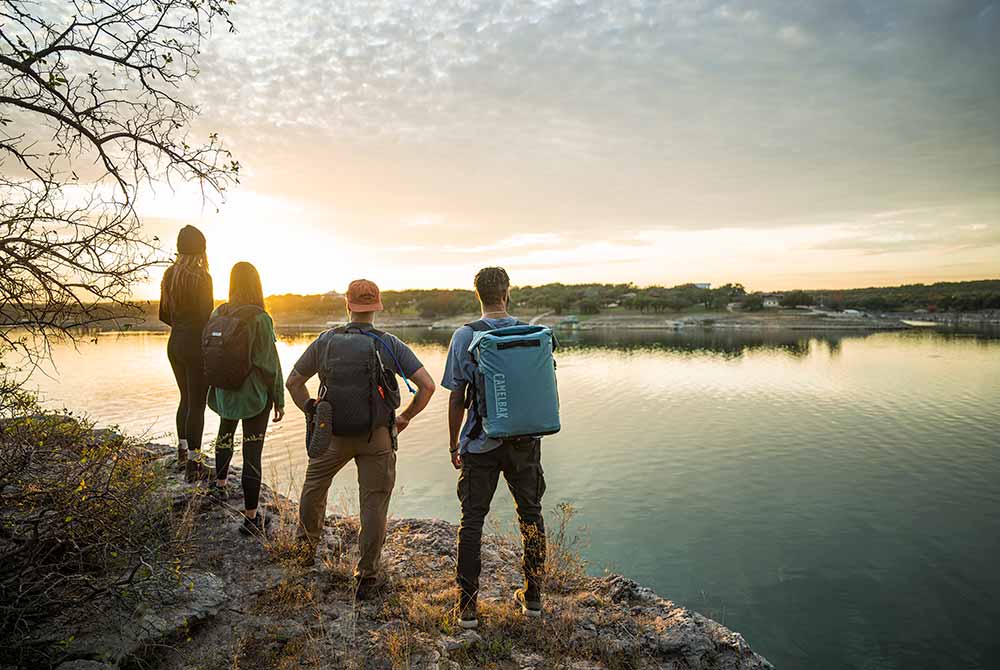 According to Vontz, the ChillBak is just the first move of a multi-year roadmap for building out an entire cooler family.
While at the time of publication Vontz and Belisle couldn't share too much more information, they did assure us that the ChillBak family will be growing. Especially since CamelBak is in this space to stay.
"Moving into the future you can't just be a cooler anymore," says Vontz. "It's not enough to be insulated and keep beer cold. What else can you bring to the party?"
CamelBak has committed to staying ahead of the curve, continuing to write its own narrative with coolers over the next few years.
With an acclaimed award-winning brand like CamelBak now making innovative, ingenious backpack coolers complete with hands-free hydration, we're definitely keeping our eyes peeled for what's to come.
In the meantime, we'll be taking our ChillBak on many of our numerous upcoming adventures.
Where Can I Get a CamelBak ChillBak of My Own?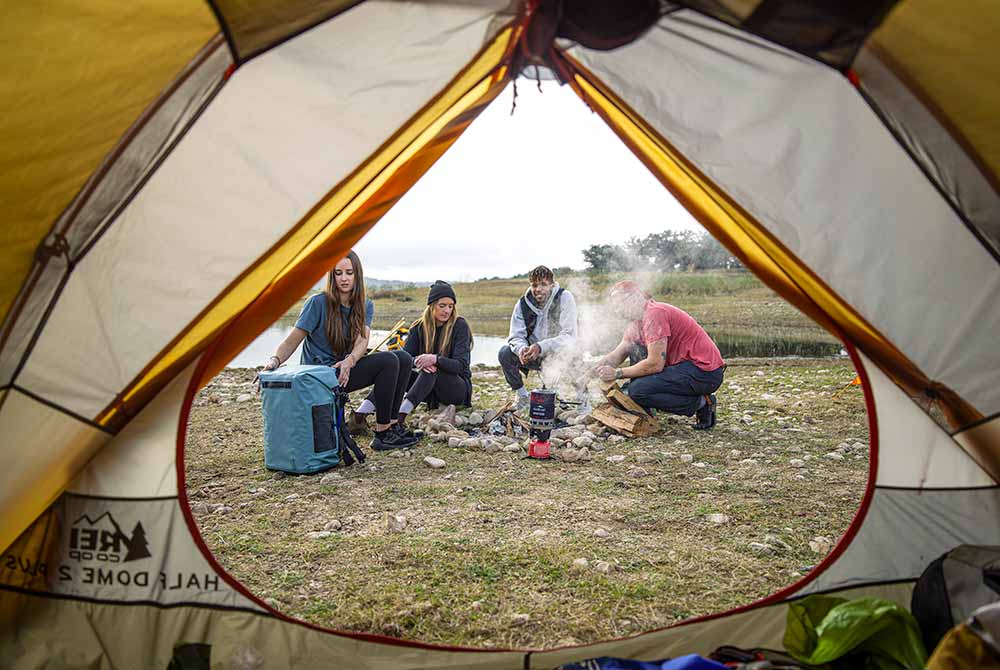 You can of course go straight to the source to find a ChillBak of your own. Check out the ChillBak product page to learn more.
Vontz and Belisle also recommend stopping by Backcountry.com or your local regional and independent bike and outdoor retailer.