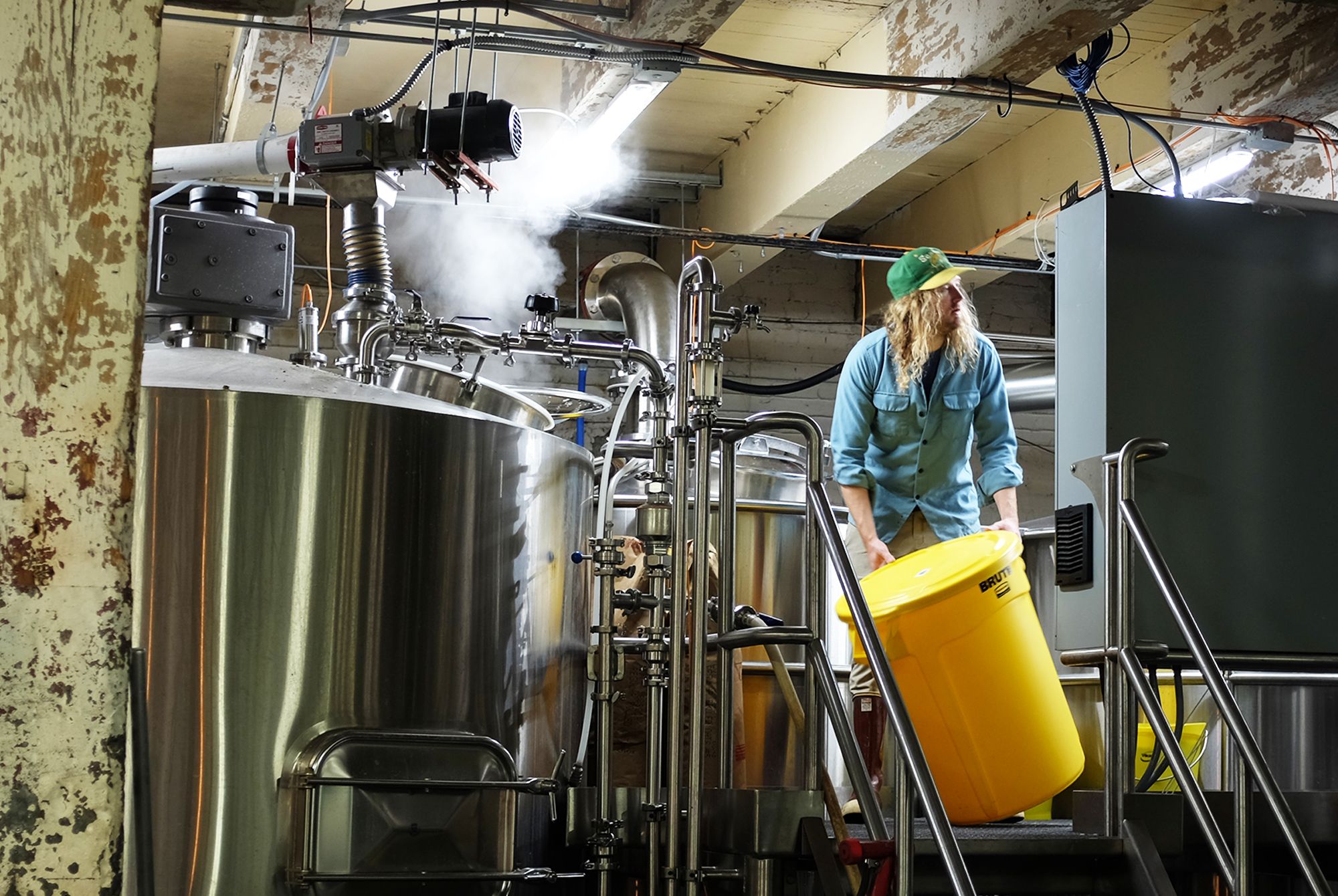 Editor's Note:
Want to enjoy some Cloudburst beer? Catch them at the Après-Ski Party in Brooklyn, NY on December 8. Tickets are available here.
A former production brewer at Allagash and Elysian, Steve Luke cut ties with Elysian after the brewery sold to Anheuser-Busch InBev in 2015. In early 2016, he launched Cloudburst Brewing, a Seattle-based brewery specializing in hazy IPAs.
Luke has a cheerful demeanor and terrific hair, and he's also honest, opinionated, and fiercely independent. In 2018, after winning a bronze medal in the American-Style Wheat Beer Category at the Great American Beer Festival, he got on stage with an undershirt that said, "FUCK AB-INBEV."
When 10 Barrel Brewing, which is owned by InBev, shot back with a tweet that said, "Hey @Cloudburst_Brew give us a call next time and we will coordinate outfits for our medal wins," Luke cheekily responded, "Great idea! Here's one for you!" with a mockup of a white shirt that says, in red letters, "FUCK SMALL INDEPENDENT CRAFT."
Today, Cloudburst beer has become some of the most sought after in the country, but the brewery is committed to staying small. Having worked as a production brewer for most of his career, Luke wants to ensure that he has a hand in every batch of beer produced by Cloudburst.
The brewery's proximity to the delicious foods and coffee of Pike's Place Market (try the Ellenos Greek Yogurt and a coffee from nearby Ghost Alley Espresso) makes it a must-visit for anyone in the area.
When Was Cloudburst Brewing Founded?
Steve Luke: We started making beer at the end of 2015, but our anniversary is January 2016. That's when we opened the tasting room.
Where Is Cloudburst Brewing Founder Steve Luke From?
Steve Luke: No. I'm from New England. Massachusetts and Connecticut, and then I went to college in Maine. I came out here in 2010 because my wife got a job. She was doing her residency out here. She's also from New England, and we met in Maine, and I hung around New England while she was in dental school.
When she applied to residency, we had the intention of moving west. This was from 2006 to 2010, and it was a totally different landscape in beer than it was now. I was brewing at Allagash and eventually took a head brewing job at a pub in Connecticut, and opened up a second pub, but they were evading their taxes and shit went down.
I ended up applying to UC Davis's brewing school in 2009. I went out there with my then-girlfriend, now wife, and she applied to residencies all over the West Coast. She matched in Seattle, and this is home now.
How Many People Work At Cloudburst Brewing?
Steve Luke: I do everything from production–there are just two of us on the production side–to managing everyone. There's really only four full time employees, including me. We all wear a lot of hats and do a lot of things. Noah Schellhammer in particular: he's the director of sales, but he's also doing delivery and everything in between. Inventory, invoicing, pricing, etc.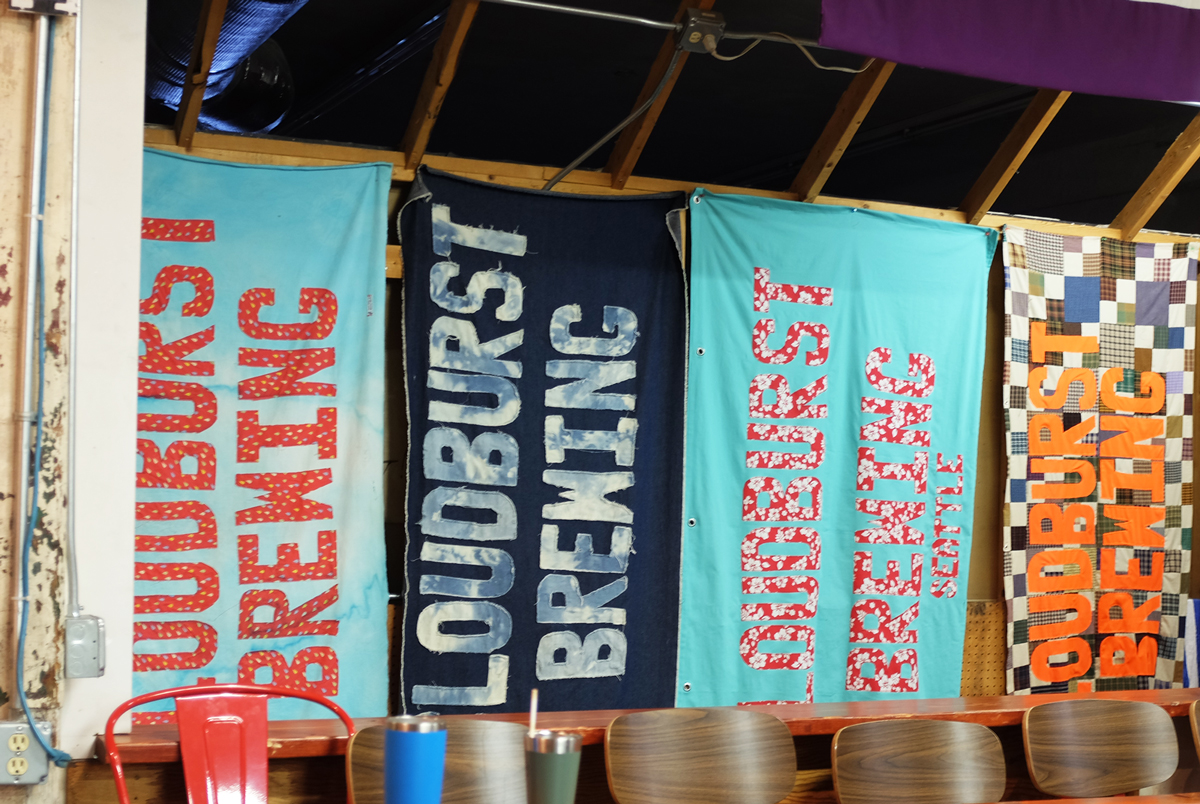 Does Cloudburst Brewing Want To Stay Small?
Steve Luke: Yeah. Right now, we've got four full time, four part-time, and we'll do about 2,000 barrels of beer this year. We'll cap our capacity at 2,500 barrels. That way, I can always make every batch of beer.
I mean, I'm a brewer. I opened a brewery to make beer. All the other shit I have to do is less fun than making cool beer. So every time I'm doing Quickbooks on Sundays, I'm thinking, "Man, this sucks," but at least I still get to make beer a couple days per week.
That's important to us, and if we can keep everyone happy, pay the bills, and keep the lights on, we're totally cool plateauing. We're not growth driven; we're more just driven by continuing to make new flavors and beers.
Steve Luke: I'd hate to manage fifteen people. There are days when we're like, it'd be cool to work with mixed-culture. We don't do it here because there's a ton of exposed wood around us, and I miss that creative outlet. It's still stressful.
We're in an incredibly lucky position. We have 50 or 60 wholesale accounts and 40 have been with us since Day One. Every week, they're buying a keg or two, and it's rinse/repeat. That allows us to relax a bit. We never say, "Oh shit, we just emptied this tank and have sixty kegs. I hope people buy it!" But there are always little things that stress you out.
I own 62 percent of the brewery and I sold the rest to raise capital to acquire a bank loan with their cash. There are a lot of little parts required to get this thing off the ground. And then to have zero savings account because you've only ever made $40,000 per year… those responsibilities are more stressful than other things.
Luckily, my investors are silent so they're just along for the ride. They're pumped to see a successful business. They'd probably be more pumped if we were like, grow, grow, grow. But at this point, I think they've figured out that no one is getting rich off this thing. It's the non-brewery things that are the most stressful.
Between that and having to always be on…I stay off Untappd now because the one weird review out of a hundred gets under your skin. Even if it's literally one out of 100. Or the one bad Google review because we're closed on Monday and they didn't check our schedule. That's a struggle with every small business owner. How do you disassociate from that when you're so ingrained in your own business?
As a small business owner, you're your business. It's hard. That's always a struggle. Beer wasn't always a public forum where you're getting constantly judged. Most people, when they're working, don't have someone saying, "Oof, two stars on that keyboard strike." It's weird. It's a very weird thing that has really changed over the last decade or so.
What Is The Cloudburst Brewing Ethos?
Steve Luke: Beer is all I know. I started in beer at 21. I'm 35 now. I've lived paycheck to paycheck for the first decade in this industry, and that made me not give a shit about money. I'm sure we're still horribly inefficient when it comes to money.
I don't look at the cost of any ingredients. Noah does. I don't want to be swayed by money and let that compromise what we're putting into the beer. I figure out what ingredients I want, and then he'll figure out how to price it. I can't even tell you what our base malt costs right now.
What Is The Cloudburst Brewing Aesthetic?
Steve Luke: I'd say our tasting room is "derelict chic." We're pretty DIY, kind of crusty, you can see that first and foremost we spent our money on what it'd take to make good beer, and then we were like, "Oh, now we need to build a bar."
There's a lot of old with new, and that's kind of our philosophy. Respecting the way things were while still trying to do new things.
I thought this building had soul and it felt good. It was a dusty shit hole and we ran out of money just putting in a new floor, because the floor was crumbling, and that was where our contingency budget went. But with all this new construction and people coming into the city, a lot of old buildings have just been knocked down. It was important to us to preserve the feel.
I love it when people say they stumbled in here and discovered it. Most of our facade is vacant and you're walking in through a garage door. Then it opens up. That feeling is something you can't manufacture.
Now people are like, "Oh, we've heard about you," but this place isn't usually what people expect when they walk in here. It's a lot shittier. But the beer makes up for it.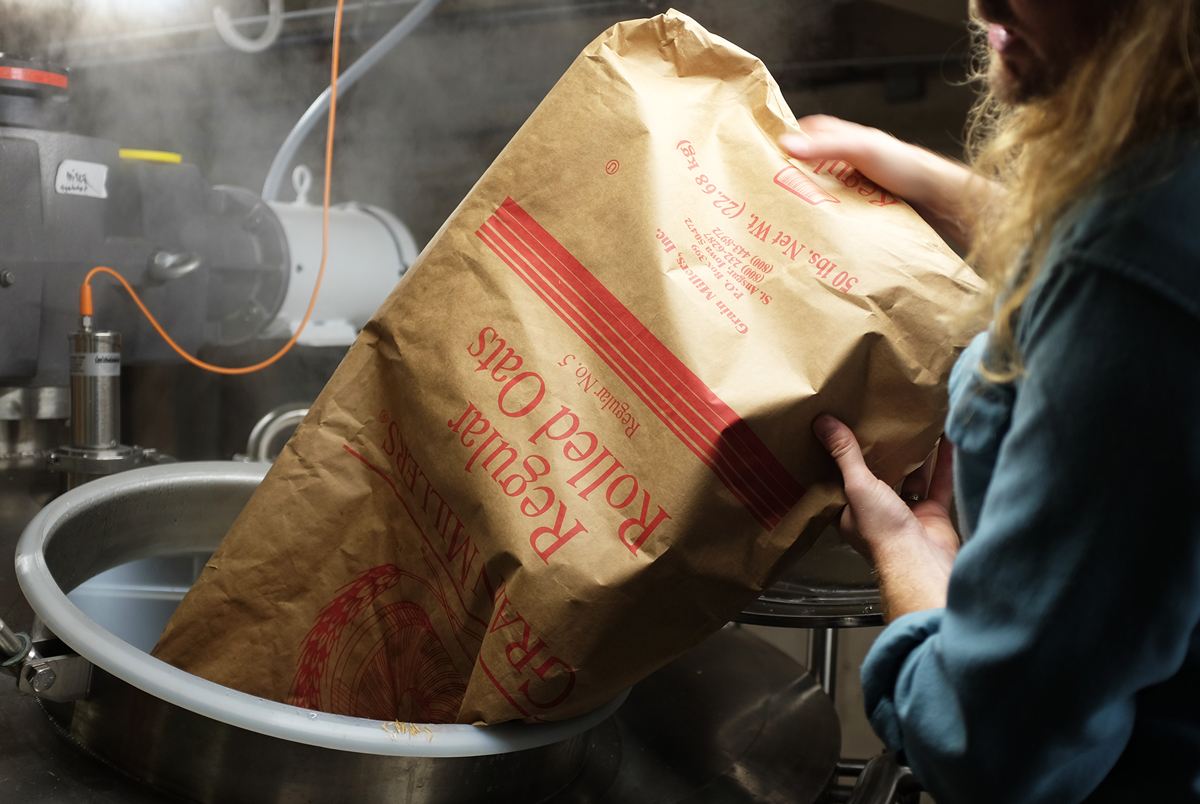 Which Breweries Inspire Cloudburst Brewing?
Steve Luke: I mean, Allagash is a company that I think has grown so gracefully. They had some rocky years before I got there but they've never stopped doing what they want to do. Even now, it's not like they're chasing growth. They're just expanding to fulfill demand and they're not trying to stretch or reach.
That's something I notice with a lot of breweries growing super big, super fast. How sustainable is that? It doesn't seem sustainable, and what Allagash has done while continuing to innovate…their flagship has stayed relevant for decades, and it's still winning awards every year. At the same time, they're continuing to push boundaries on wild and spontaneously fermented beers.
A lot of breweries that started up and had a similar model as us have also been inspiring, like Cellarmaker in San Francisco. There are so many breweries on the West Coast that have managed to carve out a small niche. They've been like, look, it's okay to make 2,000 barrels of beer work, and make fantastic beer, and not feel the need to grow, grow, grow. The more people that do it, the more people say, "Oh, that is a sustainable business plan." It's okay to not have to keep on pushing production to its fullest extent.
What Is Steve Luke's Favorite Part Of Seattle?
Steve Luke: It's a change of pace. New England is a fucking grind. It instilled an awesome work ethic, but when you come out here, there's more emphasis on a work-life balance.
That was a huge draw. They also had an emphasis on local and supporting local business, which I think a lot of people take for granted.
Now, most cities are like, "Support local," but 10 years ago that wasn't a mantra in Connecticut. You said that in Hartford and people said, "Wait, we have local breweries?" That was another draw. People out here really appreciate small craftsmanship, whether it was restaurants doing weird, creative things or companies making cool products.
What Is Steve Luke's Favorite Cloudburst Beer?
Steve Luke: I don't know. We kind of brew what we want to brew, so we're proud of everything.
That being said, we're always trying to improve everything we do. There's one beer we brew continuously, and that's our bastardized German pilsner. That was the second beer in the tanks and it's been in a tank ever since. We're always tweaking the hop bill and that's more of the beer we get to tinker with.
You know, when you're a production brewer, your skill is to make the most consistently awesome thing possible. At Allagash, we brewed Allagash White nine times out of ten, and that tenth time, when you got to make Triple, you're like, "Yes!"
There's something to be said for that, and I miss it, but I also like making something new.
What Does Steve Luke Think About Untappd?
Steve LukeL: I think it's cool that the beer drinker knows so much more than they used to. Five or six years ago, a lot less people could pick out hop varieties in beers. Now they can pick out a handful, and they know their favorites. That's pretty awesome, and it really comes from these tools that were created to make the reader think more about what they're drinking.
So yeah, it definitely goes both ways. It's not all doom and gloom. It's just one of those things that, overall, is for the better. You just have to take the bad with the good.
What Music Does Steve Luke Like?
Steve Luke: This morning, I was feeling Big Boi. But we listen to everything. Lots of shitty pop music, to local indie rock artists. I mean, this morning I was looking at Big Boi because I wanted to hear that "Kill Jill" song. It was good stirring the mash music. Not too intense, has a good beat. A little more of an uplifting, lighter beat as opposed to a darker rap song.
On Fridays, when I'm cleaning the drains, it's usually Taylor Swift or Carrie Underwood. Jesus Take the Wheel. It could be anything.
Liked this article? Sign up for our newsletter to get the best craft beer writing on the web delivered straight to your inbox.