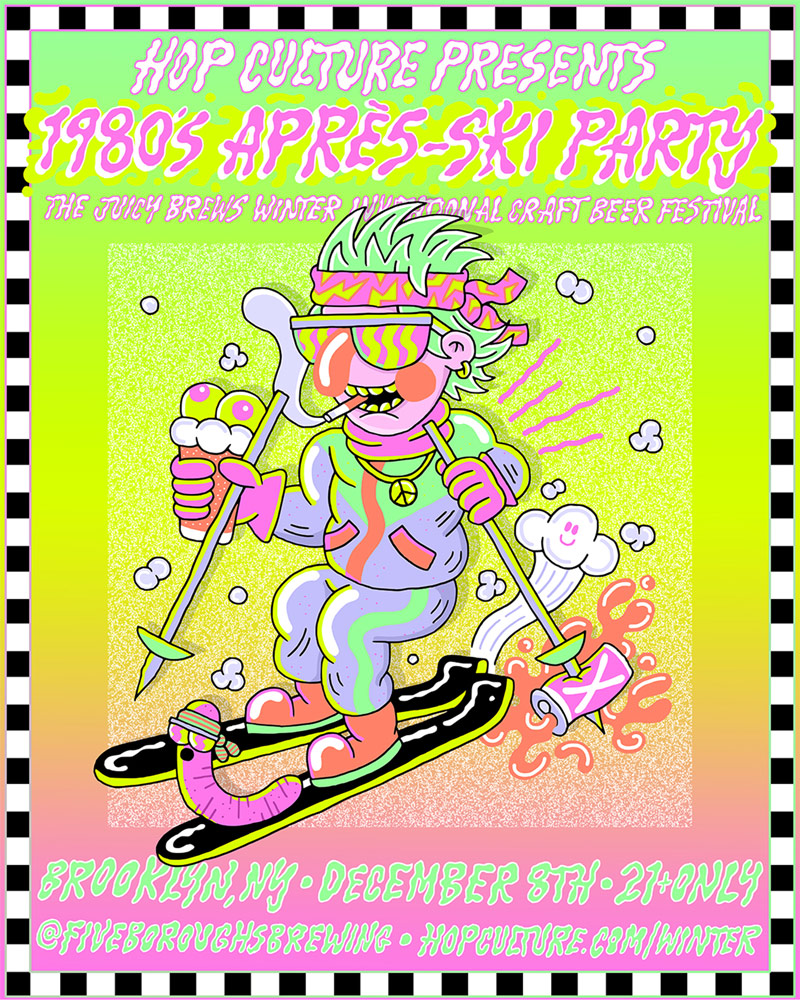 On Saturday, December 8th, we're hosting our 1980's Après-Ski Party, a craft beer festival featuring unlimited pours from some of the country's best breweries. It's our spiritual successor to last year's Juicy Brews Winter Invitational, but this time we've added neon ski jackets, big hair, and the manic, cocaine-drenched vibes of a 1980's après-ski party.
From 12 PM – 7 PM, we'll be taking over Five Boroughs Brewing for two sessions of amazing beer, tasty treats from local food trucks, and some absurd ski-themed merch designed by Sam Taylor. Session One kicks off at 12 PM and ends at 3 PM and Session Two runs from 4 PM to 7 PM.
We encourage everyone to come in their best 1980's ski attire. Hairspray, massive hand-held phones (a la Wall Street), and snow goggles are encouraged. You'll be able to spot the Hop Culture crew sporting matching Pit Viper shades.
Check out the list of attending breweries below and snag your tickets when they go live here at 12 PM EST on 10/10. The GA ticket is $69 and gets you entry to the festival, as well as a limited edition festival taster. The DD ticket is $20 and gets you entry to the fest, as well as the Hop Culture t-shirt of your choice.
Brewery List
Allagash Brewing Company
Burley Oak Brewing Company
Casey Brewing and Blending
Civil Society Brewing
Cloudburst Brewing
District 96
Equilibrium Brewing
Five Boroughs Brewing Co.
Hacienda Beer Co.
Hudson Valley Brewery
Humble Sea Brewing Co.
Ingenious Brewing Company
Kent Falls Brewing
Marz Community Brewing
Mikkeller Brewing NYC
Root + Branch Brewing
The Answer Brewpub
Threes Brewing
Triple Crossing Beer
Twin Elephant Brewing Company
Vitamin Sea Brewing
West Kill Brewing
Liked this article? Sign up for our newsletter to get the best craft beer writing on the web delivered straight to your inbox.