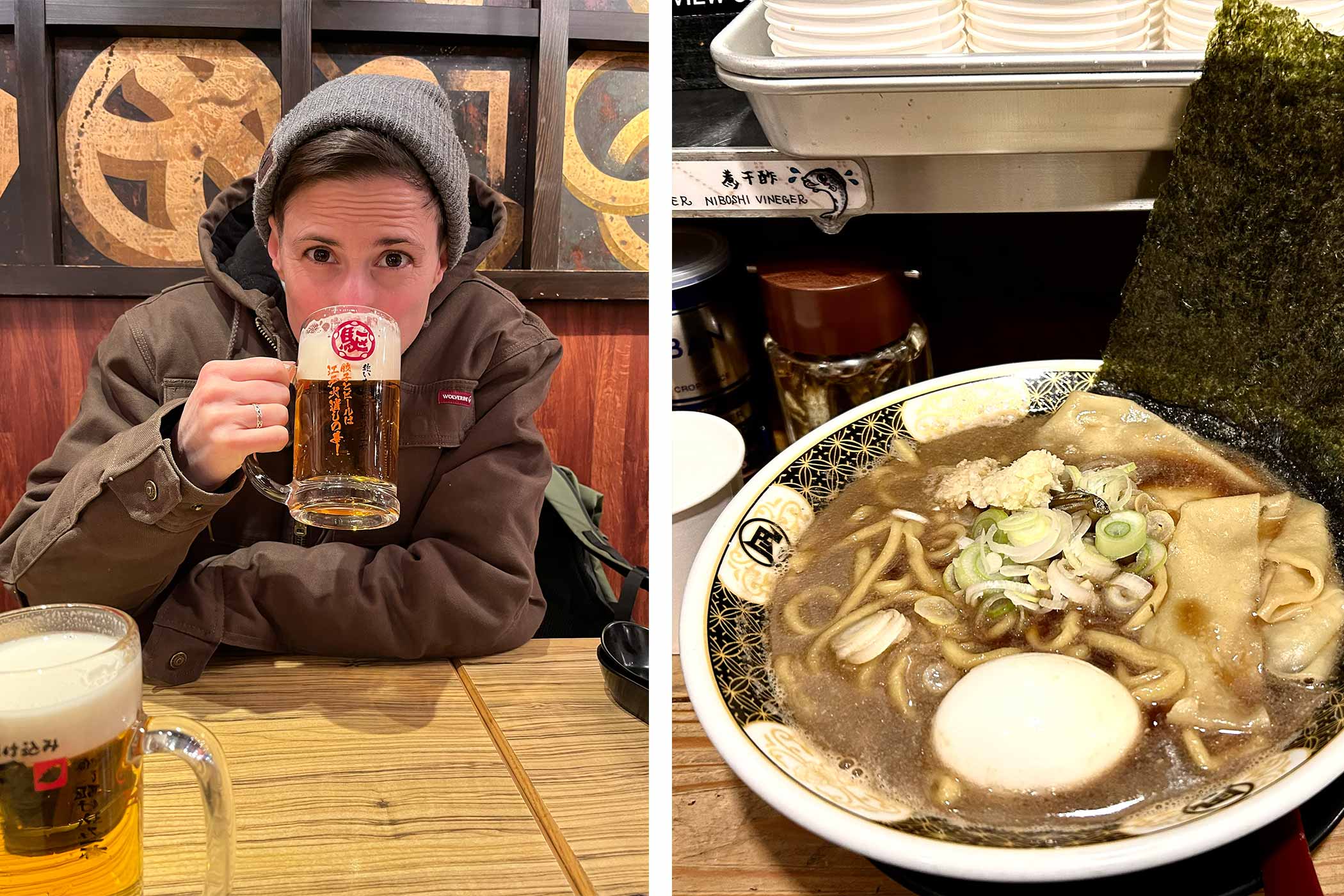 Photography courtesy of Stacey Lee-Weitz
When trying to answer the question of where to drink and eat in Tokyo, let's start here: Seventy-two hours is not enough time to spend in the capital of Japan.
In fact, the six days my wife and I traipsed around the city—slurping and sipping our way through bowls of ramen and frothy pints of Sapporo (yes, an expertly poured Sapporo is an experience) and local craft beer—wasn't nearly enough.
Just consider this: According to a 2020 Annual Report on Food Sanitation from the Health and Safety Division Bureau of Social Welfare and Public Health and Tokyo Metropolitan Government, Tokyo has almost 140,000 restaurants in the city limits. That's five times more eateries than New York, which recorded just over 28,000 establishments last year, according to IBISWorld. 🤯
If you spend only a few seconds walking around the packed city blocks, it isn't hard to see. Every second store hawks something—ramen, soba, plates of rice, gyoza, sushi, fried chicken, taiyaki, baked buns, and so, so, so, much more that I can't even begin to completely cover. And to boot, the restaurants go sky high. In Tokyo, you'll find endless blocks of neon signs stacked one on top of the other, enticing you to find restaurants above the street and below.
No, six days certainly wasn't enough time. So condensing it for you into 72 hours was a tall task indeed. But we've done our best!
"How long do you think it would take you to eat at every single restaurant in Tokyo?" I asked my wife as we weaved our way through a thick tangle of commuters in a subway station.
"I have no idea," she replied. "A long time." I did some quick calculations in my head: If you ate at even four restaurants a day…it would take you 35,000 days to enjoy all Tokyo has to offer.
Now craft beer on the other hand. Well, you could probably cover some of the best spots in a few days or less.
"It's growing," Two Fingers Australian Co-Founder Stefan Lovell told me as we sat in the tiny ten-seat, nine-tap craft beer bar owned by himself and his wife Naoko Sumiya (together known as Stef and Nao). "I wouldn't say it's exploded like in the States or back home in Australia, but I think that's been a good thing. "
Because when you search for quality beer in Tokyo, what you're more likely to find are super tiny, super dedicated, super welcoming pubs (most hidden down alleyways or behind subway stations) showcasing beer from Japan and around the world.
These are places you need to seek out. But it's worth the adventure because when you do you know you've found a place that has battled through some pretty significant struggles in the craft beer industry in Japan.
A Quick Word on Craft Beer in Japan
Craft beer in Japan is a bit complicated. (And it's deserving of a story in its own right, which funnily enough will be coming your way next month. 😜 But for now we'll give you the jist.)
And a bit new.
"Craft beer is still very young here," explains Hamilton Shields, managing partner of Mikkeller in Tokyo.
And because it's still growing, conditions aren't conducive to supporting these smaller places.
"Distribution-wise the way tap systems are in bars it's not easy to serve craft beer," says Shields. "In the U.S. you just take out the Budweiser keg, put in the craft beer keg and off you go."
In Japan though, the widely used Hoshizaki cold table fridges don't fit key kegs or other kinds. They'll work with twenty- or thirty-liter ones, according to Shields, but not ten- or fifteen-liter kegs, which is what most craft beer bars want.
Meaning that, in a lot of cases, "you need to be a specialty store," says Shields.
You also won't find a lot of straight-up breweries in Tokyo. (But there are some.)
That's mostly because homebrewing is still technically illegal in Japan. "You can buy the equipment…but you can't ferment things over 1% [ABV]," says Shields. "That key entryway into brewing and for people to get knowledgeable about beermaking casually is not really here."
Instead, you'll find miniscule bars like Two Fingers.
Small places engineered by truly passionate people, bringing you beer they love and want to drink, whether that's from a local Japanese craft brewery or from ones in Australia, Europe, the U.S., and beyond.
"It has been a nice, gentle, steady growth where we put in a lot more care," says Lovell.
These aren't establishments with over one hundred taps that are busy and loud. Instead, they are quiet pubs down side streets, often a bit off the beaten path, shoved into small storefronts, where walking inside is like walking into someone's home.
Inside you'll find the taps often manned just by the two people who started the bar, eager to talk to you about beer, share what they love, and unpretentiously create a comforting space to drink.
So is craft beer huge in Japan? No. It's actually small. And that's kind of the way they like it.
Our Favorite Spots to Drink and Eat in 72 Hours in Tokyo, Japan
Yes, my wife and I built our whole trip around eating and drinking, but that just means you get to read about the spots we enjoyed the most.
But take all these suggestions with a grain of salt. Like I said, we only had enough time for Tokyo to show us a sliver of her shimmering heart.
I guess we'll just need to go back again sometime soon.
Thursday: Parks, Pints, and Piles of Noodles
As much as New Yorkers or Los Angelites like to profess their love of coffee culture, Tokyo might have them beat.
Fighting words, I know. But Tokyo could be a cultural capital when it comes to third-wave coffee. You'll find sleek studios dedicated to beans dotted all across the city alongside older, well-established ones, steeped in smoke (you can still light up inside in Tokyo) and lore.
You may be in Tokyo to eat and drink beer, but don't sleep on the morning cup.
Little Nap Coffee Stand
5 Chome-65-4 Yoyogi, Shibuya City, Tokyo 151-0053 | 03-3466-0074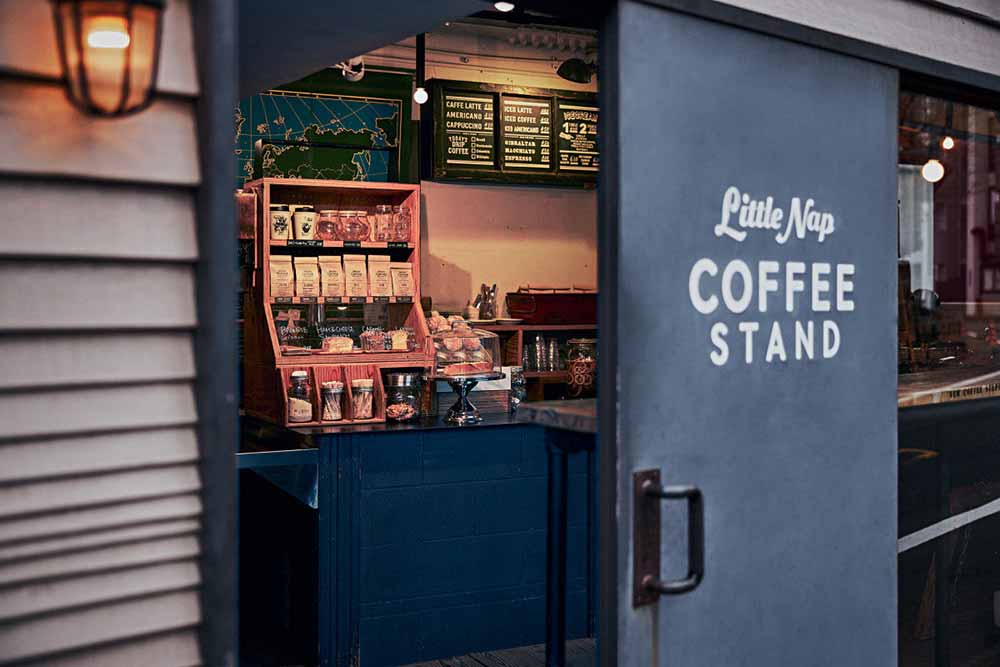 9:00 AM Take a stroll to strong coffee – Jet lag is real. And you need to do your best to fight through it, especially since you only have a few special hours in this incredible city. Get those legs working and walk off the ten-hour-plus plane ride (depending on where you came from).
Yoyogi Park is a beautiful expanse set right in the heart of Tokyo. You can certainly visit a pretty famous shrine here called Meiji Jingu or just take a stroll in the rolling pastures and wooded walkways. We can imagine this park would have been even more beautiful in the spring or fall . Since we visited in winter it was wonderfully barren…but still beautiful.
On the west side of the park you'll find an uber tiny cubby of a coffee shop called Little Nap Coffee Stand. The business also owns a bigger brick and mortar, but we recommend this one.
Inside you'll find an almost 1920s meets 2020s cafe where beat-up leather suitcases with stickers from your travels around the world would fit right in next to those 360° spinner-wheeled suitcases that my wife has been saying for the longest time I need to get. And after this trip, I have to say: She's one hundred percent right.
A tight menu of coffee—kohi in Japanese—includes Gibraltar, caffe latte, Americano, iced coffee, drip coffee, and a bit more.
Some baked goods like fig bread and lemon cake rest behind a glass case, but save your appetite. This is really just a place for coffee. We sat on a tiny bench waiting for our iced coffee and watched an impeccably dressed woman sip her mug while holding onto an also impeccably white-furred Frenchie.
Grab your cup to go and keep strolling.
365 Days
1 Chome-2-8 Tomigaya, Shibuya City, Tokyo 151-0063 | 03-6804-7357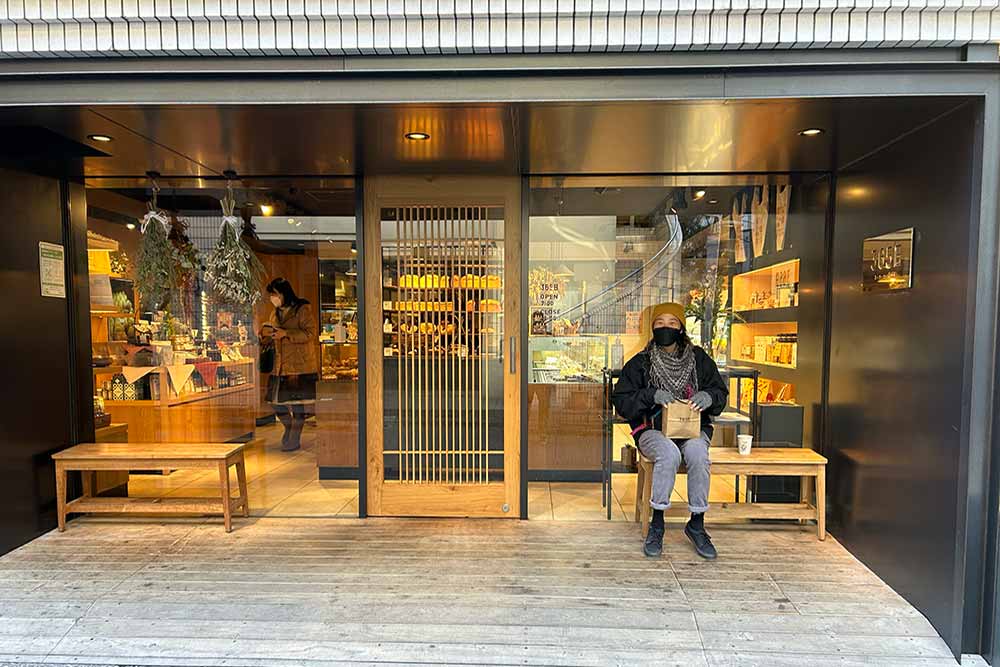 9:30 AM Japanese bakery with French flair – Continue ambling along the west side of Yoyogi Park until you veer off into a bunch of back alleyways to discover a jam-packed carby jewel. Sliding open the slatted wooden door leads you into a brightly lit European oasis with a Tokyo touch.
Don't be too blinded by the bejeweled pastries or you'll run smack dab into a veritable basket of bread. Carefully veer left to find the morning's pastries.
Stacey and I stumbled through coarse Japanese explaining that we didn't understand the language, asking if they spoke English. They did not. But that didn't stop them from excitedly conversing with us, eagerly loading up a tray with goodies.
Editor's Tip: Cash is king in Japan. While a lot of places do take cards nowadays, you should always have cash handy because a lot do not. And at many ramen shops you'll order by feeding money into a ticket machine, pressing what you want, and handing those tickets to the chef. When you do pay with cash, make sure that you place your bills or coins on a tray provided; it's considered rude to just hand the cash to your host.
And despite these two befuddled jet-lagged tourists stumbling into this shop on a beautiful morning and probably rudely pointing at things, we quickly discovered that the Japanese are consummate hosts, stumbling out of 365 Days to a chorus of arigatou gozaimasu (thank you very much in Japanese). It's an experience we would have time and again.
Not entirely sure what we got, we scooped up our treasure and plopped down on a bench right outside the door.
Unwrapping the brown parchment we found a flaky, buttery dough coated with melted cheese and mushrooms that Stacey raved about.
For me, a beautiful little knob of choux pastry lacquered with lemon cream and studded with a starry sky of white chocolate pearls. The lemon and slightly buttery choux pastry was the perfect foil to the almost too-rich white chocolate.
Satiated, we took off, trying to practice our Japanese and find a trash can while walking to our next place.
Editor's Tip: You'll find lots of recycling bins, but public trash cans are few and far between in Tokyo. Bring a little bag with you to collect your trash during the day.
Udon Shin
〒151-0053 Tokyo, Shibuya City, Yoyogi, 2 Chome−20−16 相馬ビル 1F | 03-6276-7816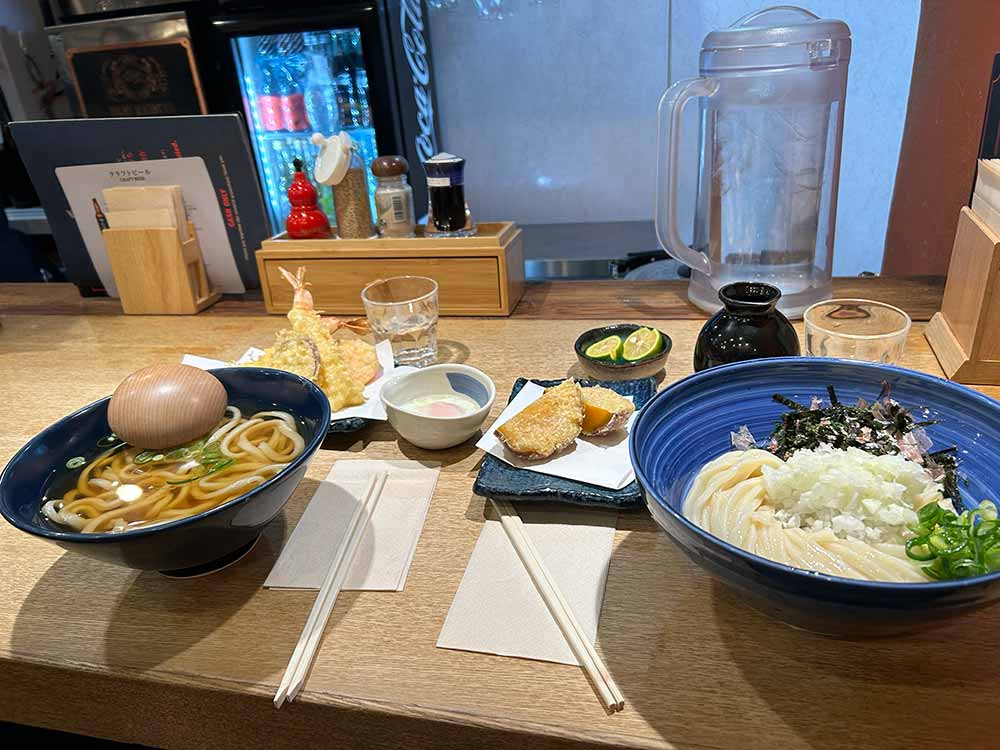 10:30 AM Line up for the most luscious udon – "I'm going to say that's the best udon I've ever had," my wife cheerily quipped to me as we walked away from Udon Shin. "Totally worth the two-hour wait!"
Yes, we waited a little over two hours to get into Udon Shin.
The maybe 300-sq-ft shotgun-style shop was smaller than the first apartment we had in New York. But the bowls of udon they serve up are BIG on flavor. And lines. The shop opens at 11am but you really need to get there earlier if you want to wait less.
After navigating a maze of sidestreets, we turned a corner to find a small line out front of Udon Shin. Our luck, we thought! Until we noticed the little ticket stand. Go up, press start, choose your language, record how many people are in your party, and the machine issues you a ticket. Scan the QR code and enter your email to get an alert when you can go stand in line and an estimated waiting time.
Seventy minutes, our ticket proclaimed. Garumph. But no problem. We found another park and let the sun try and wash the jet lag out of our limbs.
After about fifty minutes we checked the screen. A big bold seventy stubbornly stared back at us.
Something must be wrong, so we walked back and sat down on a stoop at the back of the line only to have the hostess politely tell us we needed to come back when we were pinged.
Every ten minutes we refreshed the screen, watching the wait time dwindle down. Until finally we saw those magic words: Please proceed to the line now.
We crammed in alongside others waiting to get inside. People aimlessly tried to join us before realizing they needed a ticket. But we were too busy ogling over the Japanese/English menu the hostess handed us, consuming gorgeous photos of slick udon and sides of tempura.
We hemmed and hawed, oohed and ahhed. When the lady came back outside, Stacey opted for a hot udon with assorted tempura and me a cold one with citrus, green onion, nori, bonito flakes and grated radish with a side of sweet potato tempura.
As we inched closer to the front, a man sauntered over, unsure how to order a ticket. After showing him the steps, his receipt punched out with a wait time of 182 minutes. He chuckled and said, "I guess I'll have to come back."
Each time a party left, a few more in the line would disappear with a whisper inside.
Finally, our turn came to slide back the wooden door.
Honestly, it was one of those clouds-parting-sun-shining-down moments.
We scurried over to the two open stools in the back corner, sitting down to a symphony of sounds: the clacking of bowls, the thwacking of tempura being fried, and the slurping of noodles.
Within minutes two plates of crispy tempura and steaming bowls of udon appeared before us.
Folded in a pile almost like a swirl of soft serve, the udon beckoned. My cold bowl had toothsome strands of noodles cut by citrus, briney nori, and grated radish, a palate cleanser of sorts.
And while certainly delicious, my bowl paled in comparison to Stacey's hot udon.
"I was worried," she said when the bowl came down. "It was just broth and noodles. But I was so wrong."
We discovered that first day and throughout the week that in Japan a restaurant may just do one thing, but they do it very, very, very well. Some might say they perfect it until what appears to be a simple bowl of udon and broth belies deep waves of umami, for example. It was simply divine.
The best udon I've ever had as Stacey would remark as we stepped once more into the sunshine, walking past the ever-present line, faces eager in anticipation. Others somber after realizing they still had 182 minutes to go until that first slurp of perfect udon.
Stroll Around Shinjuku Gyoen National Gardens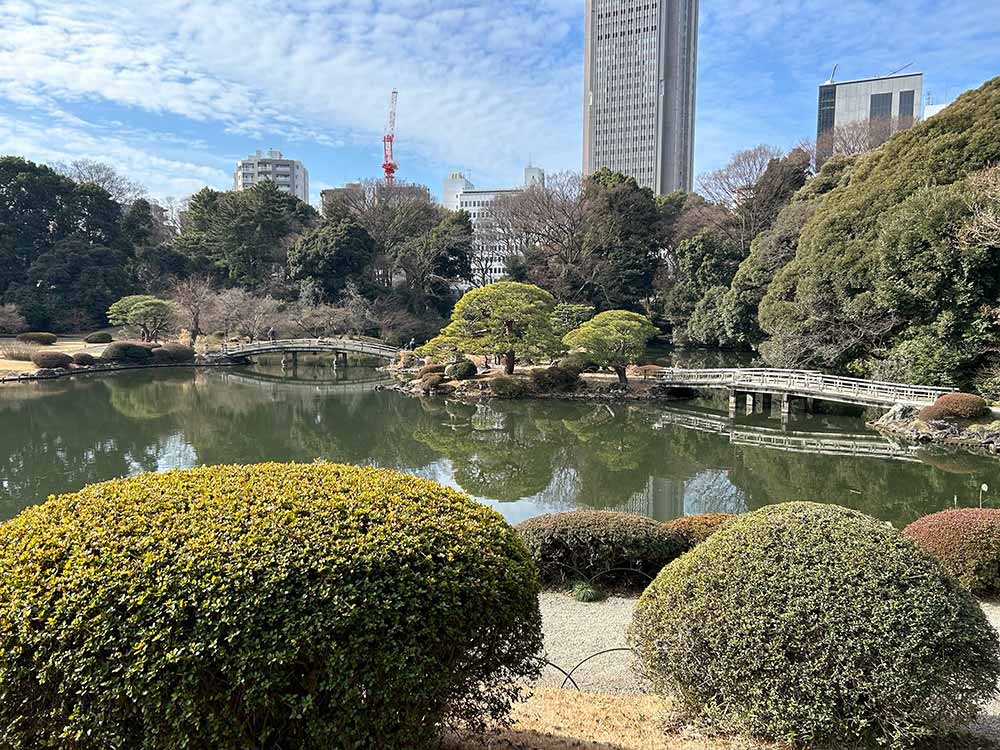 1:00 PM Another gorgeous garden in the city – Time to walk off all the udon. About a fifteen-minute walk away you'll find Shinjuku Gyoen National Gardens. You could spend the whole afternoon exploring here. Whether you're walking through the Japanese Garden, around Shimo-no-ike Pond, in the Cherry Tree Area (we were lucky enough to see a cherry blossom or two bloom early), or among the rose beds in the France Formal Garden, you could cover about 144 acres of lush beauty in the city.
I hate making comparisons, but if I had to, this would be like the Central Park of Tokyo.
Editor's Note: Shinjuku Gyoen National Garden is closed on Mondays.
Watering Hole
〒151-0051 Tokyo, Shibuya City, Sendagaya, 5 Chome−26−5 代々木シティホームズ 103 | 03-6380-6115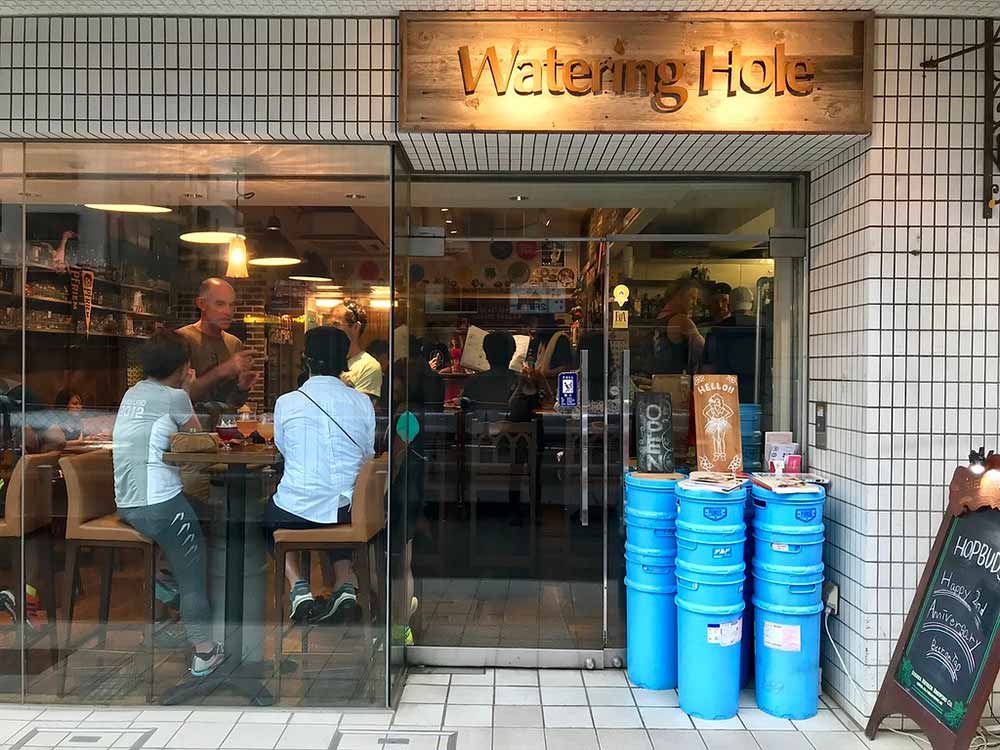 3:00 PM Refresh at a watering hole, literally – Most drinking establishments in Tokyo open later in the day. This isn't the place where you'll find taprooms unlocking the doors at noon. You can only venture into most of these watering holes later in the day. A lot of places will start the festivities at three, but five or later is pretty common too.
Watering Hole, a pub started by award-winning brewer Ichiri Fujiura, starts on the earlier side. And it's only a ten-minute walk from the park entrance to Shinjuku Gyoen National Garden.
This is actually a quieter part of Shinjuku, so going early probably means you'll get to sip in peace. This place actually has one of the bigger taplists with about twenty beers from Japanese and other worldly breweries flowing. Oh, and another perk of going to Watering Hole early: On a weekday from 3PM-6PM they'll set you up with beer flights.
Fujiura actually has a nano brewery set up at Watering Hole, so if he has anything of his own on tap make sure to try it.
Ramen Nagi
〒160-0021 Tokyo, Shinjuku City, Kabukicho, 1 Chome−1−10 2F | 03-3205-1925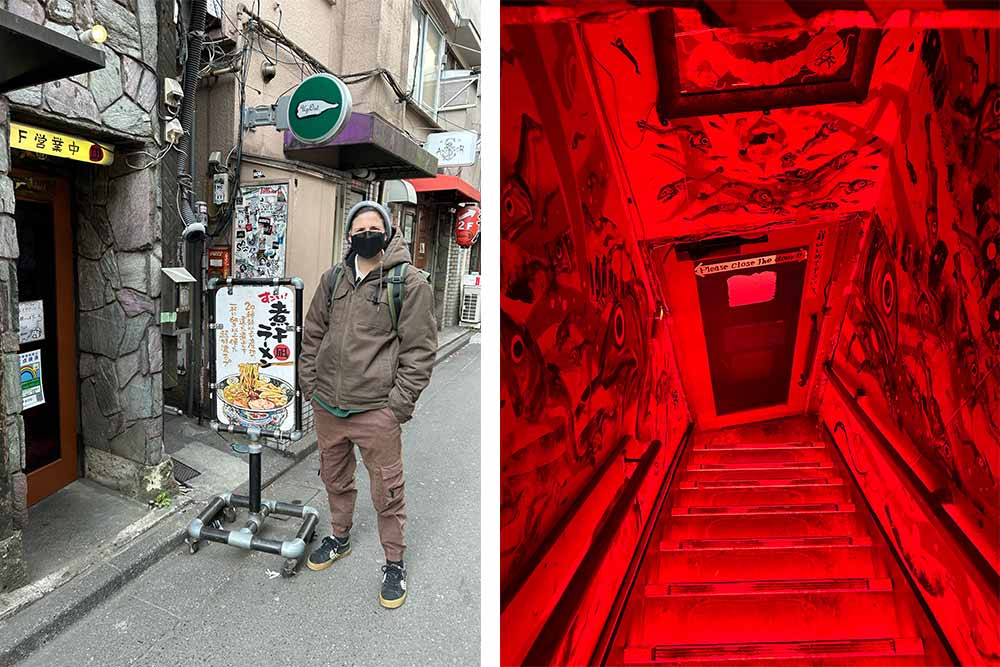 6:30 PM Ramen, ramen, ramen, ramen – Being an avid food consumer, I often turn to YouTube for recommendations, which is how I found Ramen Nagi. One of my favorite food vloggers, Strictly Dumpling, raved about this place in this video.
Editor's Note: Ramen Nagi is actually open 24/7 so you can technically grab a bowl at any time here, but we recommend going at 6:30PM or later because most of the bars in Golden Gai only open around 8PM. Buoyed by your bowl, you'll for sure want to pub hop after. Alternatively, you could drink first, then end your night here.
Hopefully, you're not too knackered yet because getting up to Ramen Nagi is like stumbling around a haunted house in the dark—dangerous.
Located in the Golden Gai section, once known for being more like the red-light district than home to a treacherously delicious ramen shop, Ramen Nagi is known for a type of ramen called Niboshi.
A broth amazingly made from twenty different types of dried fish anchors this bowl of ramen.
Ramen Nagi, ahoy! You'll need to be on the lookout for this tiny shop. There isn't really a sign, per se. Just a huge red paper lantern hanging out front beckoning you inside to a steep set of stairs. Here comes the danger. Navigate the claustrophobic corridor lit all in red and you'll emerge into a tiny attic kitchen. Salivating steams, stews, and vapors engulf you immediately.
The staff does speak limited English there, but here's all you need to know: Locate the ticket machine at the top of the stairs, poke at what you want—it's the ramen with a garlic egg, nori, and green onions—feed your cash in, get your tickets, hand them to the cook, plop down on a stool, and wait.
Editor's Tip: While other ticket machines in other ramen shops will take larger bills, at Ramen Nagi it's either coins or just 1,000 yen notes
Before long the folks behind the counter drop steaming bowls in front of you.
The broth, murky like swamp water, smells of salt and the sea.
Swirl the liquid and two different types of noodles bob to the surface—thin curls and flat wide swaths. Each exquisitely toothsome and chewy.
A gaggle of spring onion slithers through the thick broth while the egg, expertly jammy and jeweled, coruscates in the muddy waters.
Slurp, chew, slurp again, drink a cold Sapporo if you got one, grab one of the tissues from boxes conveniently stuck to the headboard above you, repeat, repeat, repeat. Until you forlornly look down into the slightly bitter remnants of your bowl and bitterly wish you had another.
Mind the stairs on the way down as you stumble back into the alleyway belly full, smiles and stomachs stretched.
Pub Hop Around Golden Gai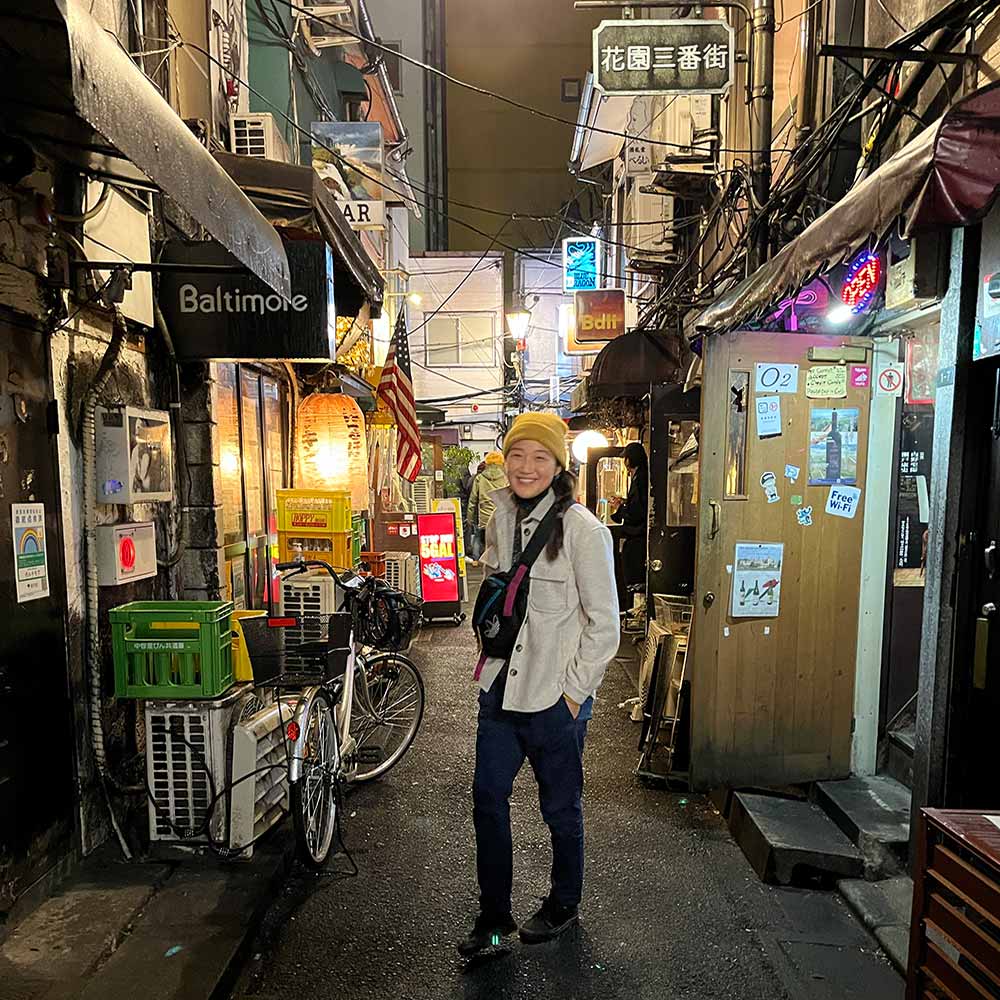 You could while away hours in Golden Gai, where four miniscule alleyways packed with pubs beckon you inside.
Well, not all of them.
Once the district comes alive, if the door is closed that probably means it's a place for locals; you'll get side glances or just ushered out if you are a tourist. If pubs throw their doors wide open, that's a good sign they'll serve you. Or if they have some English posted outside.
This is going to sound like something a third grader said, but Golden Gai is really freaking cool. I recommend just walking up and down the narrow streets, peeking inside the doors, seeing who's drinking, and if there is even space for you to sit down.
That's how Stacey and I ended up at Bar Outerlands.
Bar Outerlands
〒160-0021 Tokyo, Shinjuku City, Kabukicho, 1 Chome−1−6 2F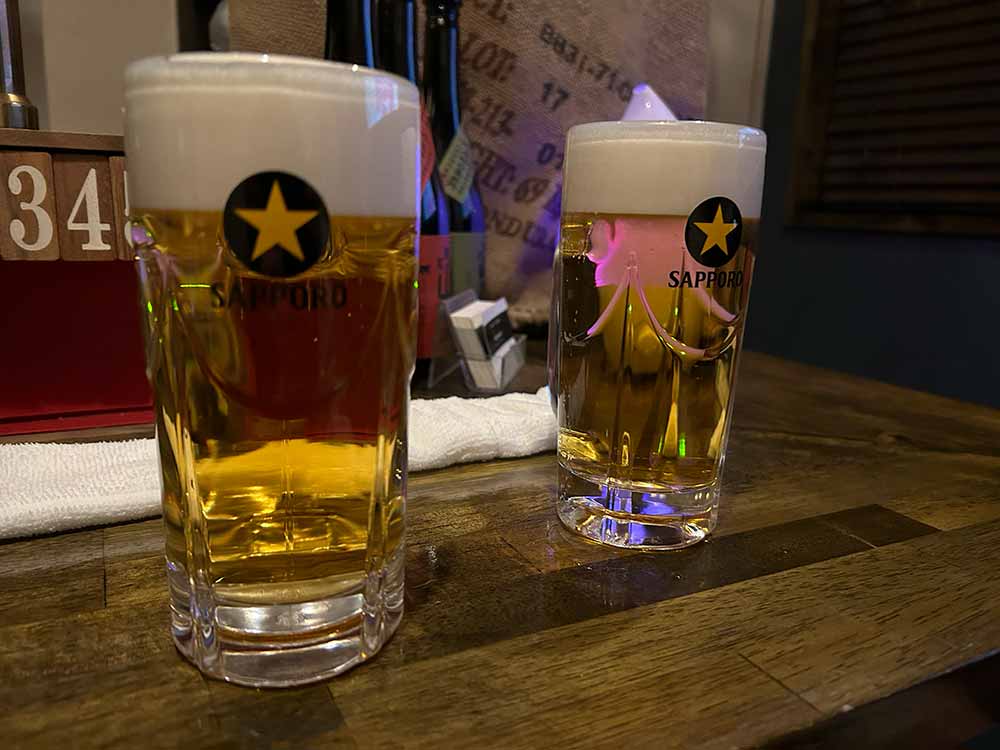 I'm going to run the risk of embarrassing myself here, but after seeking out all the open bars in Golden Gai, we landed on Bar Outerlands because there was a TV inside playing NFL highlights.
Turns out the bartender, Kazo, actually played American football all through junior high and at university. A big NFL fan, he told us that he gathers every Monday at a local NFL bar to watch games with other aficionados (the time change means that NFL games show up in Tokyo on Monday mornings!). As he told us, he gets off work at 5AM and rushes over to catch the games at 8AM. In fact, Kazo shared with us that Andy Reid's nephew actually lives in Japan and goes to this bar.
At least, that's what we thought we heard. We were conversing through a blend of broken English, quickly learned Japanese, and Google Translate.
Hearing the NFL had a following in Tokyo caught us off guard. But what really shook our boots were the Sapporos we ordered.
These were no Sapporos you crack out of a can.
A golden beer engine with two different spouts pours these pints on draught. Our bartender filled the glass about three-fourths of the way with beer from one tap first before switching to the second spigot, dispensing only foam.
Majestic, creamy, almost cappuccino-like foam.
I've personally never seen this before and am honestly still trying to figure out what I saw (Sapporo, hit me up with the deets).
But bottom line: so good.
Especially when you pair it with the little bar bites—sesame sticks and peanuts—set in front of you.
A common practice in Japan, almost every bar we drank at offered us a selection of snacks to nibble on while we drank.
And somehow, despite being stuffed to the gills (fish pun, anyone?) with Niboshi ramen, we couldn't stop sipping and dipping. An irresistible combination of clean, crisp, creamy lager and snappy, crispy, salty snacks.
Open Book
〒160-0021 Tokyo, Shinjuku City, Kabukicho, 1 Chome−1−6 5番街 ゴールデン街 | 080-4112-0273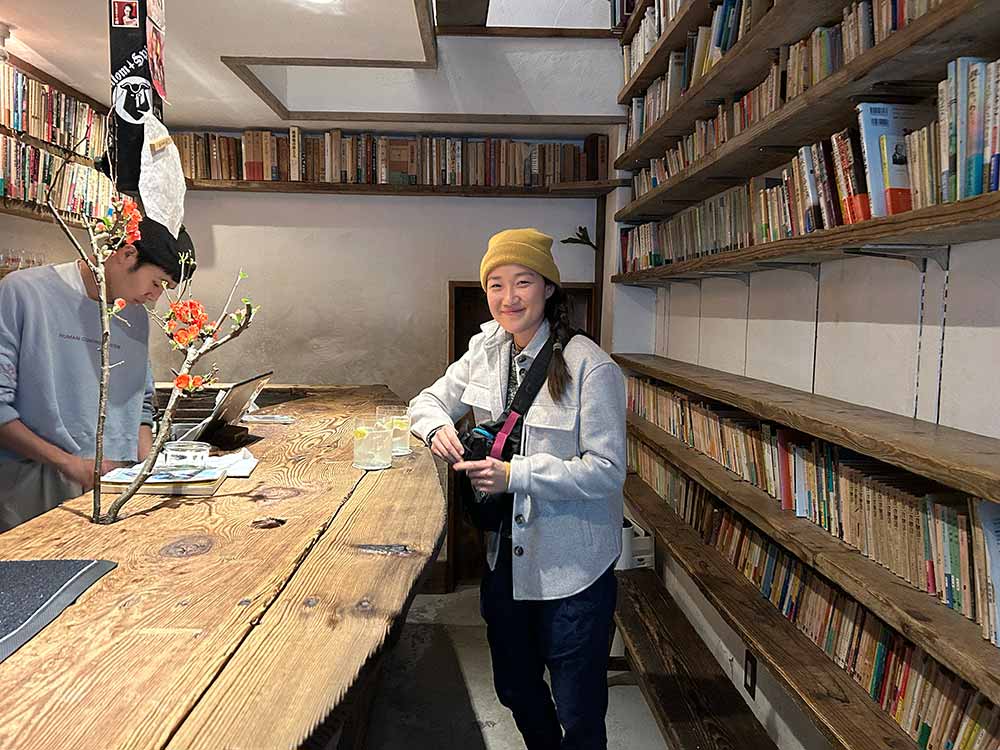 Own more night cap to cap your night. Let it be at Open Book. Normally you should abide by the closed-door policy, but Open Book is the one exception.
A short walk down from Bar Outerlands you'll just come across a cracked, pock-marked wooden door. Slide it open.
Walk into a bar as silent as a library. That's because it is.
Wooden shelves sky high are packed with Japanese literature that guests are encouraged to take down and read.
You won't find much English here in the books or behind the bar, but it doesn't matter. This bar does one thing really well—lemon sours.
A drink supposedly first popularized after WWII, lemon sours really started to soar only in the last five years or so when Coca Cola released a canned version.
Featuring sochu, bubbly water, a simple syrup, and lemon, of course, a lemon sour has it all. Something zippy, something zesty, something sweet, and something slightly boozy.
At Open Book they have their own iteration that comes in wide, clear glasses with huge cubes of ice.
It's an immaculate cocktail in an immaculate bar and an immaculate way to end your first night in Tokyo.
Friday: Ales and Sales
Window shop in the streets of Harajuku and find the best beer bars in the city hidden down little alleyways.
Berg
〒160-0022 Tokyo, Shinjuku City, 3 Chome−38−1 ルミネエスト B1 | 03-3226-1288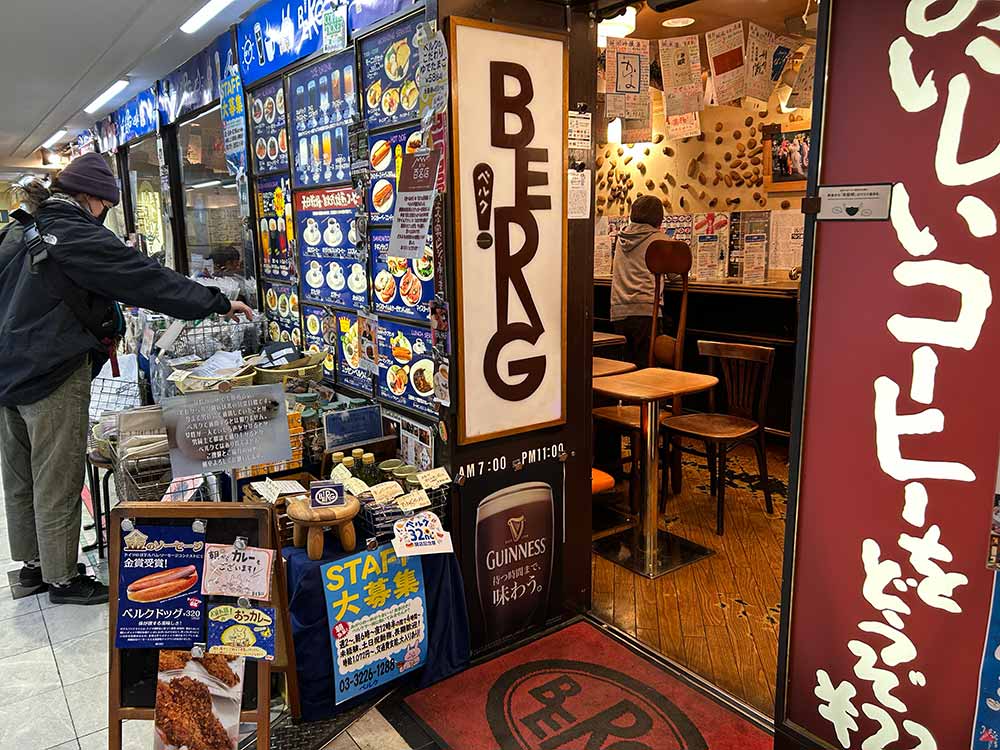 09:30 AM Old-school cafeteria and coffee – Remember how we said Tokyo has a bunch of incredibly cool coffee shops? Well they also have a few staid old-school ones. That isn't a knock. Not at all.
These places are esteemed for a reason.
Tucked into the incessantly bustling Shinjuku subway station, Berg is magically silent. Hidden away down a small side hall, Berg has a strict no-talking policy that you'll see displayed on signs everywhere.
Amble up to the counter to put in your order. You can just get a coffee, but go for one of the European-leaning, Tokyo-influenced breakfast portions. Cafeteria-style trays get plates of soft- or hard-boiled eggs (or a sliver of cheese), a scoop of potato salad, a crumble of corn kernels, and two slices of fluffy toasted shingles with a square of butter.
Teacups of coffee are set on the tray also. We should mention that you can also get a beer as early as 7AM when they open and we did see a few folks with pints.
Once you sit down, all you hear are spoons scraping plates, cups clinking on saucers, and the sizzle from behind the kitchen.
Look around and you'll find a life's worth of tokens with knick knacks stored in every corner. This is a bar that has lived, whose walls have gathered whispers, whose floors have been trodden threadbare.
So imagine our utter surprise when we found multiple framed pictures of Tokyo Trans Pride on the walls.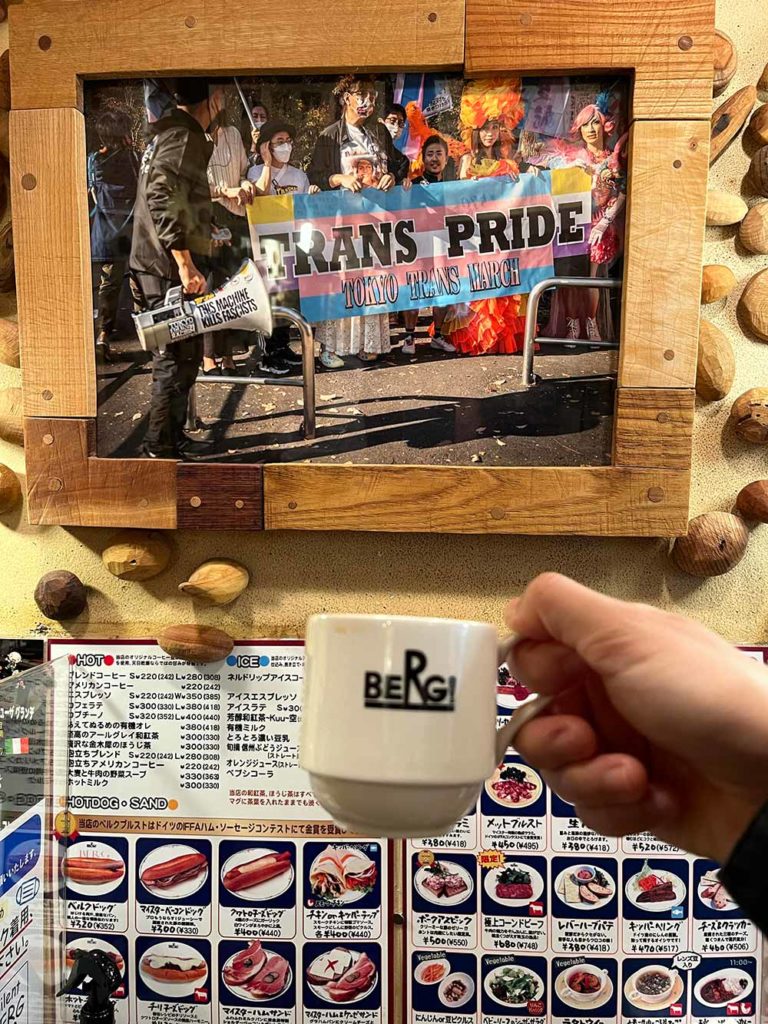 At this old-guard coffee shop of all places, equality seemed to truly mean something. Maybe it's the fact that at the end of the day when you come into Berg, escaping from the inescapable flow of life outside, we are all rendered silent, all equal, all just in search of a good cup of coffee or glass of beer, a decent meal, and a little peace.
Shopping in Harajuku
11:00 AM See the sales – A healthy hour walk will get you to Harajuku. Or hey, you're already in one of the busiest subway stations in Tokyo so you can just hop on the Yamanote line and take it fifteen minutes down to this shopping oasis.
Honestly, I wasn't sure what to expect in Harajuku. But my wife was stoked to comb through the maze of streetwear shops, sticker stores, and vintage thrift storefronts.
She came home with a couple rad Vans shirts and stickers now adorning her water bottle, so I'll assume our shopping excursion in Harajuku was a success.
Mikkeller Kiosk
1 Chome-17-1 Shibuya, Shibuya City, Tokyo 150-0002 | 03-3400-9612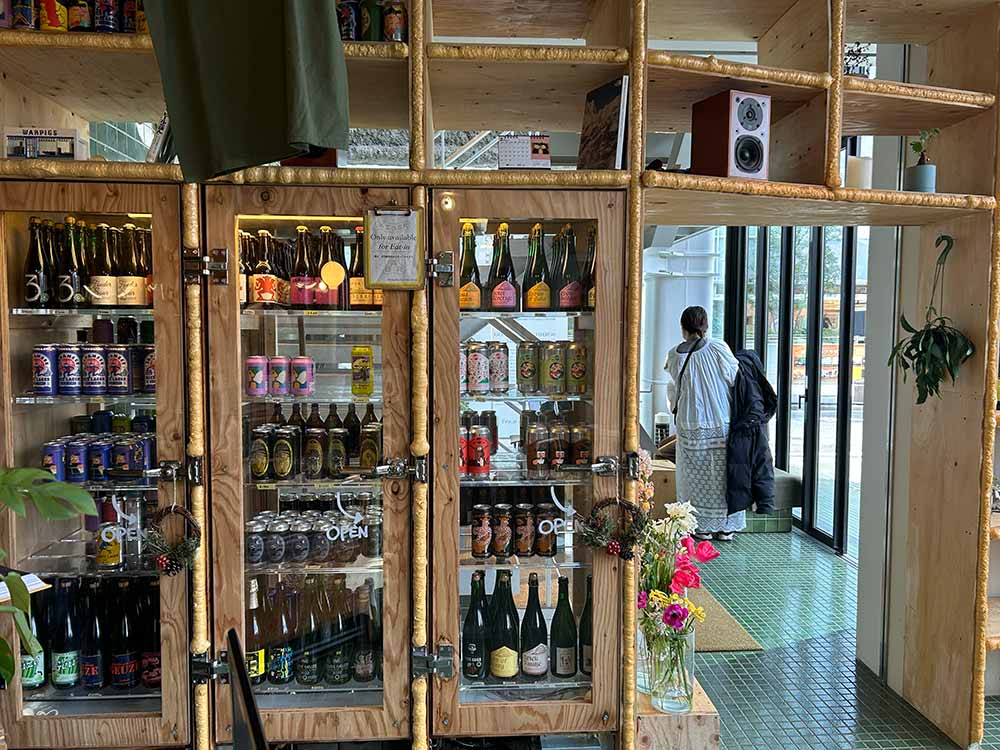 12:00 PM Take a beer break – If you need to rest the barking dogs Mikkeller Kiosk sits towards the southwest corner of Harajuku.
Mikkeller actually has three locations in Tokyo—the original taproom, Mikkeller Kanda, which opened in 2020 and offers smash burgers and beers, and the Kiosk. This corner spot attached to a hotel designed by Danisuko Motagi opened in April 2022.
Called Kiosk because the location will eventually serve beer to go from its beautifully fabricated fridge, the bar also has places to sit and enjoy fresh pulls from twenty taps along with coffee from a partner roaster called Onibus Coffee that shares the space.
"If you're not Japanese we hope you come in and feel like you're in Japan, but feel comfortable here," says Mikkeller Tokyo Manager and Partner Hamilton Shields. "And if you're Japanese we hope you come in and are like, 'Oh it's not Japan, but I feel comfortable here.' That's the vibe we try to make."
To that end, on the beer side you'll find a few American and global breweries, but there is a huge focus on Japanese brands.
"We're trying to be a very active part of the beer scene here," says Shields. "We're trying to get everyone together and make some connections. I've found that we can also do that amongst Japanese breweries as well… We can be that place to connect different parts of the beer world."
Such as Passific Brewing, a fairly new brewery that opened in October 2021 in Chigasaki in Kanagawa, Japan. The brewery has a pretty cult-like aesthetic—all the cans feature the brewery's logo, a volcano smiling and running with a surfboard in hand.
Those are the types of breweries you'll find at the Kiosk.
Fūunji
〒151-0053 Tokyo, Shibuya City, Yoyogi, 2 Chome, 14?3 北斗第一ビル1F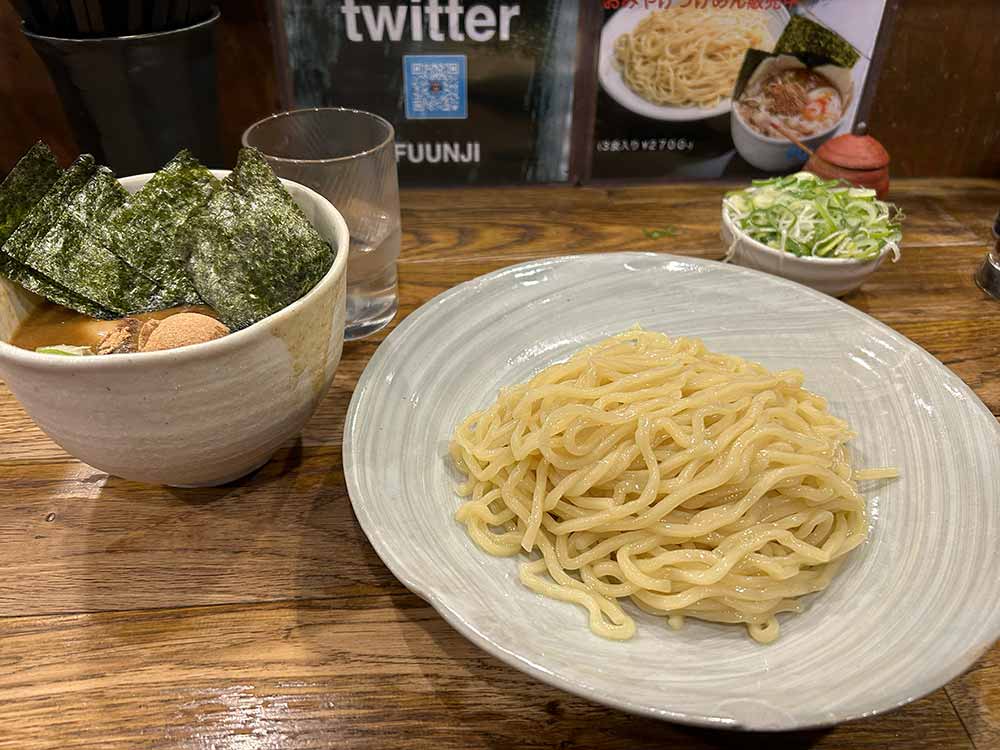 1:30 PM Sit, slurp, slurp some more – Zip back up to Shinjuku near Udon Shin for one of the best bowls of ramen you will have in your life.
You'll line up outside again, but the queue at Fūunji moves much faster.
We swaggered down a couple steps and not fifteen minutes later dipped into the underground counter spot.
Order at the ticket machine from four main options: ramen, special ramen (which comes with all the toppings), dipping noodles, and special dipping noodles (which comes with all toppings).
GET THE DIPPING NOODLES. And then add your own toppings (soy egg, nori, green onion).
The place is so tiny that you line up on a wall mere inches away from folks sitting at the counter and slurping away. One guy behind the bar will take your tickets and ask medium or large, meaning your noodle portion.
When a spot opens up, the cooks guide you to the vacancy. Within minutes, a plate of ice cold noodles plops down in front of you along with a bowl of the murkiest looking brown deliciousness.
Scoop up the twirls and plunk them into the broth. Icy cold chewiness meets warm, unctuous sauce, coating the curly noodles in every crevice.
Dunk, repeat, dunk, repeat until you forlornly realize the plate is empty and you should have ordered the large portion.
Get up and leave. You're not even out the door before the next person takes your seat.
Pigalle
2 Chome-15-8 Taishido, Setagaya City, Tokyo 154-0004 | 03-6805-2455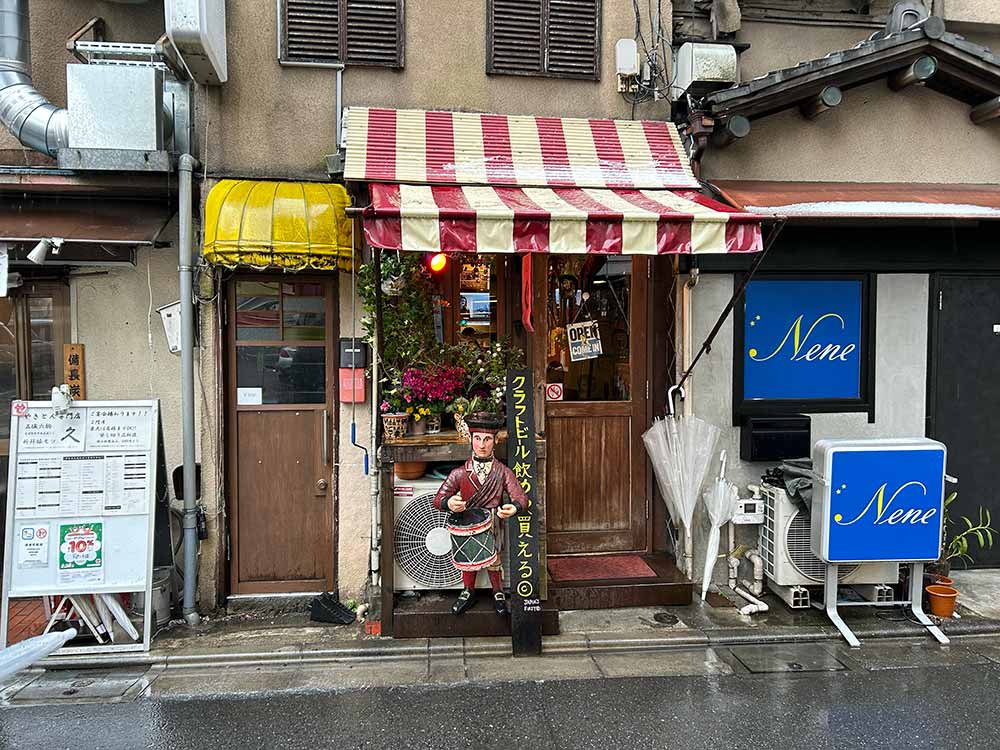 3:00 PM One of the best craft beer pubs – Widely regarded by most in the industry as one of the best craft beer bars in the entire city (Shields calls this one "absolutely essential"), Pigalle brims with whimsy and wit.
A distinctly Japanese bar, Pigalle offers about five seats, six taps, and over seventy bottled options.
What's so Japanese about the place?
First, there's the husband-wife owners, who liberally practice the concept of omotenashi, the "correct" way to treat a guest. When Stacey and I visited on a snowy and rainy Thursday, that meant coming outside to greet us, showing us where to stow our umbrella, and ushering us into the quirky, yet comforting space.
Then there's the ephemera on the walls—a strange mix of Japanese movie posters, portraits, flyers, and framed prints.
And of course, there's the beer. When we visited Hide and Chie had five beers on from around the world, including Morland Old Speckled Hen, an ESB from Greene King in Suffolk, England; Greenhouse Imperial Lager form Evil Twin Brewing in New York City; Brussels Calling Belgian IPA from Brasserie de la Senne in Belgium; Joy Juice IPA from AJB Co. in Nagano, Japan; and Smoke On the Wind saison from Yorocco Beer in Kamakura, Japan.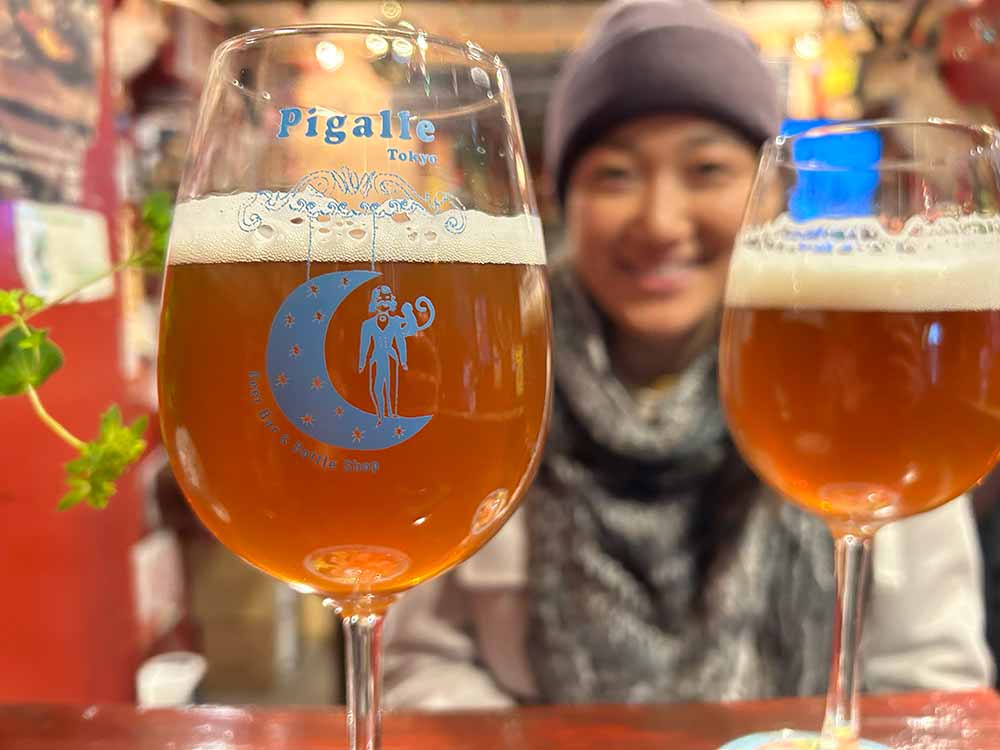 We ordered the Yorocco Smoke on the Wind saison, which had a light hint of smoke, finishing dry more like a cider with notes of banana, bubblegum, cranberry, and lemon.
Located in Sangenjaya, just southwest of Shibuya, the bar is a bit outside any major neighborhoods and you'll have to navigate down a small side street to find it. But don't let the bar's small size fool you. Pigalle's impeccable hospitality and curated draft list make for a friendly and intimate drinking experience you won't soon forget.
Tsutaya Books
〒150-0033 Tokyo, Shibuya City, Sarugakucho, 17−5 代官山T-SITE 1号館~3号館 1階~2階 | 03-3770-2525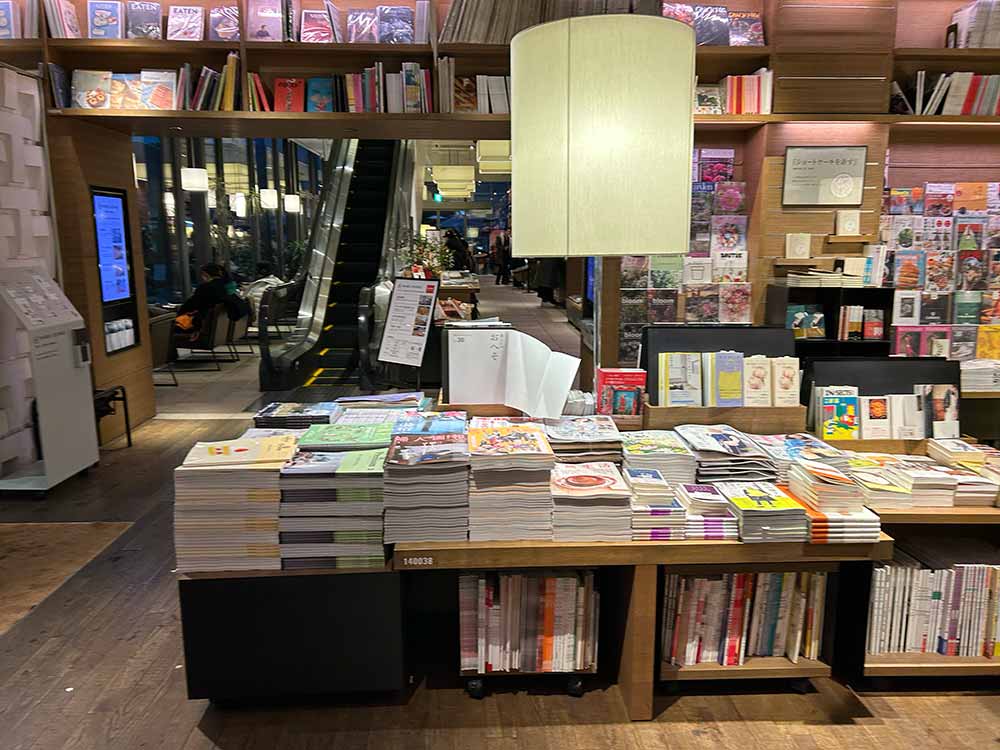 A twenty-minute subway ride or forty-minute walk will bring you to Daikanyama, a neighborhood considered similar to Brooklyn. Walking around I'm thinking they mean Williamsburg here; it's definitely a trendier, hipper area.
I'm a sucker for a bookstore; I have to stop into one in every city I visit.
Tsutaya Books is way more than a bookstore. It's actually a three-building, multi-level experience. You won't really find traditional books here.
There's a very small section of English fiction literature, but that's not why you go here.
Instead you'll find stacks and stacks of Japanese food magazines, for example. Or travel guides from around the world. There's an entire wall of pens. Seriously.
And a whole section just on design and architecture.
Just explore, find your corner, and settle in with a good book.
Okha the Best Days
Higashiyama, 2 Chome−4−8, Meguro-ku, Tōkyō-to 153-0043 | 03-5708-5873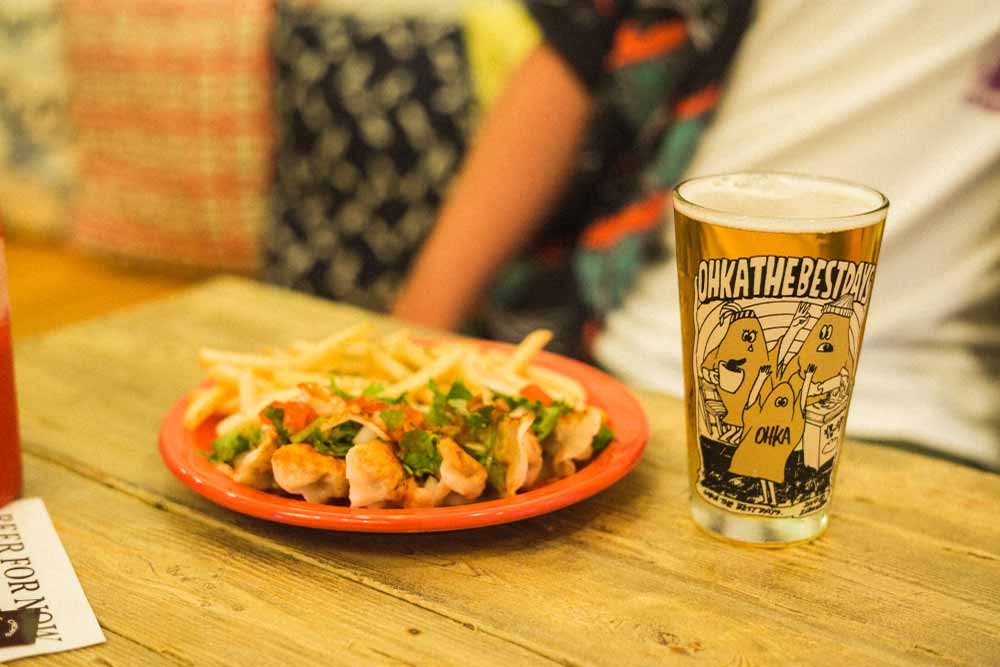 6:30 PM Beer + gyoza – Before the river got cleaned up, Naka-Meguro (commonly called "Nakame" by locals) was a place for the young and hip. Now, only a few remnants of the storied time survive in this upscale residential neighborhood. One of them is Ohka the Best Days, a craft beer bar that serves homemade gyoza.
"They're great and the gyoza is so good there," Shields told us.
Although we ventured out on a rainy night to grab some beer and gyoza, Ohka was curiously closed. So while we disappointingly didn't get a chance to actually sit down and drink in this pub, the good vibes that Shields gave us about Ohka should be enough for you to seek it out too.
Bar Martha
1 Chome-22-23 Ebisu, Shibuya City, Tokyo 150-0013 | 03-3441-5055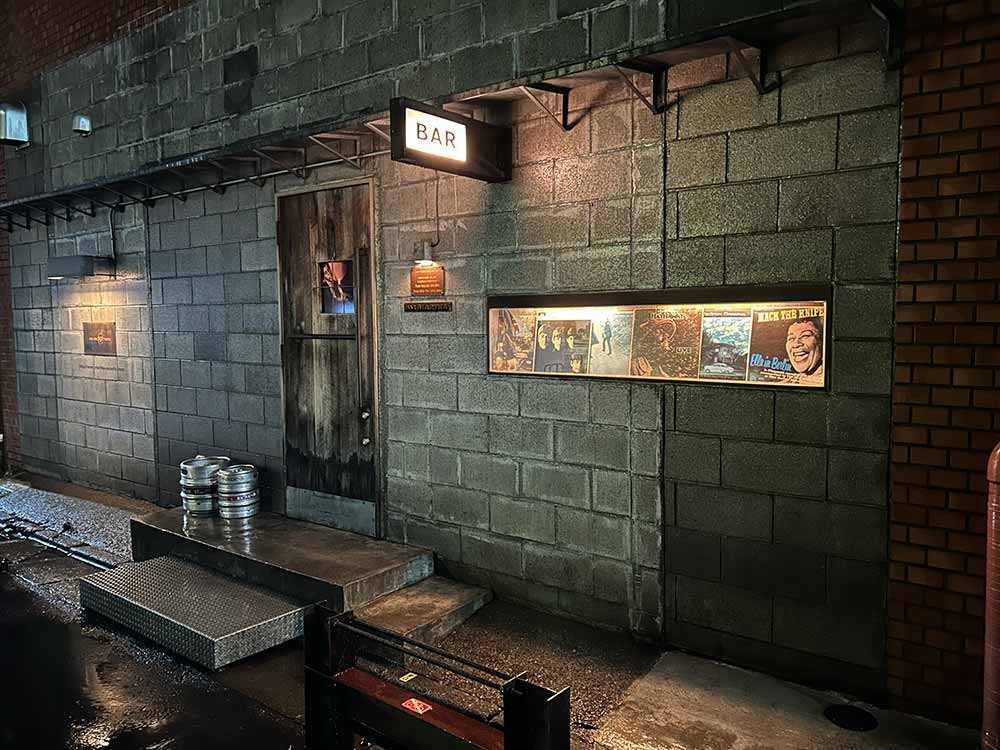 8:30 PM Hard to find, hard to forget – Bar Martha is quite possibly the best bar I've ever been to.
Considered a listening bar, Bar Martha captures a mystique in Tokyo that first popped up after World War II. These days listening bars have been replicated the world over, but you won't find a place like Bar Martha anywhere else.
They don't allow photos inside and usually frown upon talking. Although at 8:30PM on a Friday night there were definitely couples quietly conversing, adding to the din.
But by far and away, it was the music that permeated the entire place.
Once your eyes adjust they'll rove past two men chipping ice into perfect balls, behind warmly glowing Edison bulbs, and over the ombre of whiskey bottles stacked meticulously on shelves behind the bar to a corner of what we estimated to be 2,000 records.
Presiding over it all, a man dressed simply in jeans and a white T-shirt with thin-framed glasses pushed back into salt and pepper hair. That's Wataru Fukuyama, the casually cool owner switching out records like he's nonchalantly spinning plates in the air.
Fukuyama bends your ears, catering the tunes to the vibe of the crowd.
Those closest to him sit alone quietly sipping on two fingers of whisky, packs of cigarettes laid out in front of them like decks of cards, heads slightly cocked to the side and eyelids half drawn almost as if in a trance.
Just simply listening.
Farther away from the vestibule of vinyl, couples chatted.
You'll probably want to order some of the hard stuff here. A quick glance around and we saw everyone fingering tumblers of brown liquid or cocktails of some sort.
But much like everything else in this place, the beer is also meticulously poured.
You'll have two choices—Yebisu, a premium lager from Sapporo, and Guinness.
As the bartender poured my Irish dry stout, tilting the glass about halfway at 45 degrees from the branded nitro tap before setting it to cascade openly on the bar, a couple walked in.
He must have been a big shot because a clear bottle of shiny gold liquid magically appeared at his seat before their coats even came off. His big square-suited shoulders belied a hearty yet surprisingly high-pitched laugh as he gruffly greeted the staff.
Afterwards the bartender returned to tend my Guinness, finishing the pull straight down this time till it foamed over frothing like a bubble bath.
As soon as he set the glass down in front of me…the older man four seats over ordered one, then gentle Mr. Hulk next to me asked for one too.
It was perhaps the greatest moment of my beer-loving life. To see two macho men, who may have never even touched a Guinness in their lives, follow my lead.
Everything in Bar Martha had a place. Bottles were put back exactly where they'd been taken from. People walked with fluid practiced movements. The music expertly tailored to who was in the bar at a given time.
Even the bar snacks—sesame sticks and peanuts, corn puffs, chocolate crisps that looked like espresso beans, sweet banana chips, and wasabi peas—were perfect accompaniments.
Oh, and did I mention the beers were poured perfectly.
Like I said in the beginning, just the most incredible bar I've ever been to. One I never wanted to leave.
Saturday: Coffee, Confections, Craft Beer, Conveyor Belt Sushi, Convenience Stores
One more day to take in as much as you can in Tokyo.
A Few Words Coffee
7 Chome-24-4 Shinjuku, Shinjuku City, Tokyo 160-0012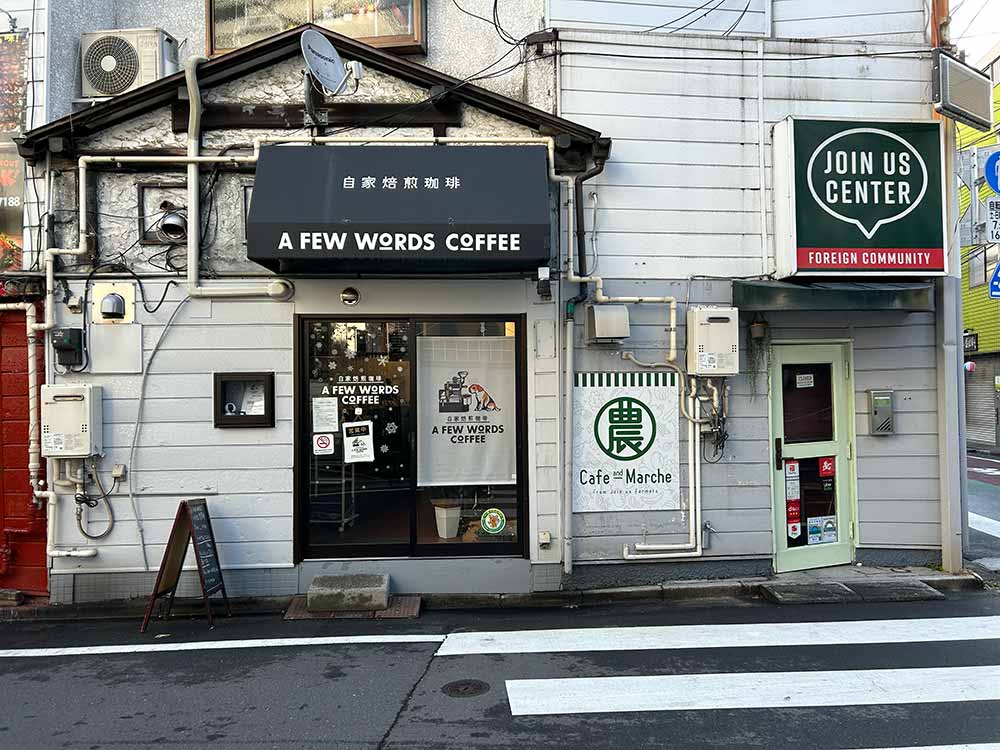 10:00 AM Coffee (in just a few words) – Slide the door open and walk inside this cubby-like coffee shop in a back alley of Shinjuku to find one of our best cups of coffee in the city. Not on any lists we looked up, I stumbled upon A Few Words Coffee while coming back from a run.
A Few Words stays true to its name. You have a few choices—hot or iced coffee. The hot comes in a pour over. Once you order in a few words you tell the barista what type of coffee you like—acidity, flavors, roast—and he'll choose a bean for you from jars sitting on the counter.
Whether you go for a darker, more chocolatey one from Africa or a nutty, cacao-focused one from Guatemala, you can't go wrong.
Once chosen, the barista asks you to sit down. In the next ten minutes you'll be treated to what I can only describe as a soothing symphony.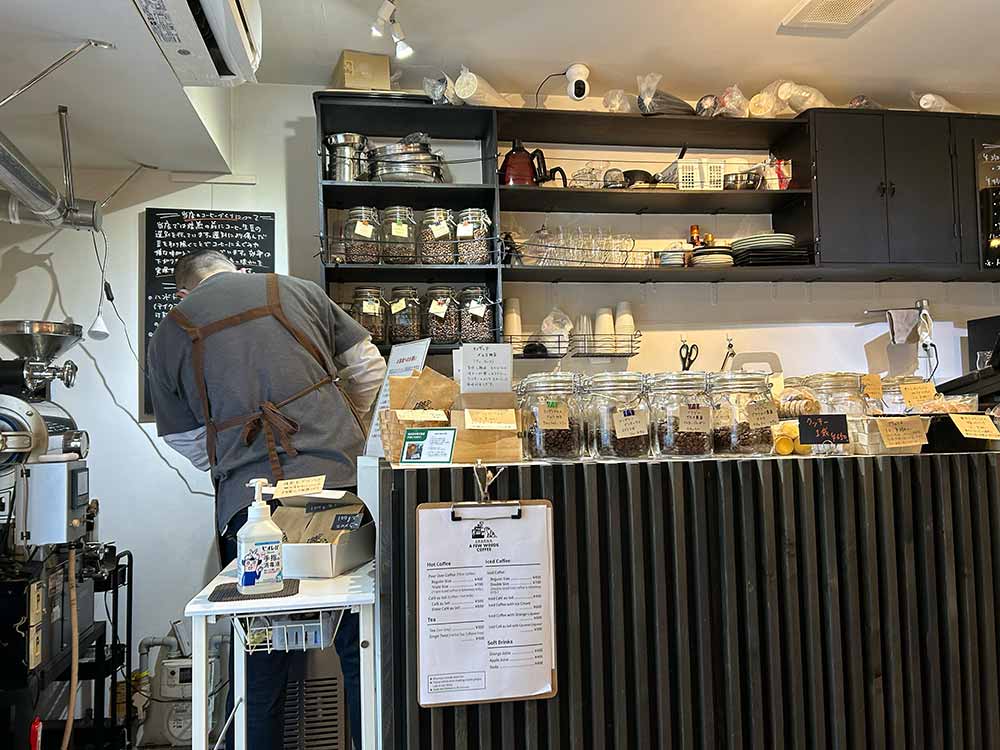 Act one: Beans crush and whir in the grinder.
Act two: Water boils, bubbles, steams, and hisses.
Act three: Your freshly ground beans gurgle, drip, and steep.
In the end, the tiny cup the barista handed me hid a wonderfully nutty, utterly smooth, and delicious brew.
Kandagawa Bakery
1 Chome-11-14 Takada, Toshima City, Tokyo 171-0033 | 070-6971-0731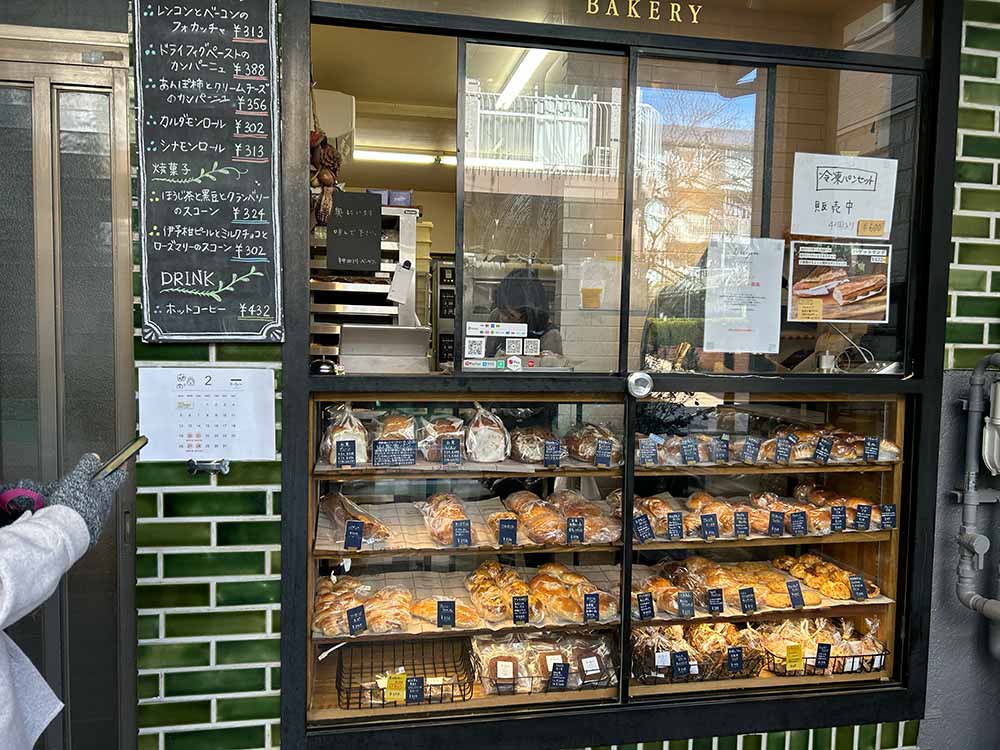 11:00 AM The best baked goods out of a window – My favorite bakery in Tokyo out of all we visited, Kandagawa Bakery is a bit out of the way. But definitely worth it.
Again, you'll need to navigate a maze of side streets to find this walk-up window. Actually, Stacey and I completely blew past it without even seeing it the first time around.
Walk up, explain in stilted Japanese that you don't understand the language, and the ladies behind the counter will gleefully mime that you can just point to what you want from the counter below.
Don't have to mime to me twice.
Everything we got here stunned me. A black-sesame-flecked dough with red bean paste was soft and lightly sweet. A pillowy hunk of bread jammed with a sweet cheese and tangy stewed apricot wowed. But for me the winner was a red bean bun gushing with red beans from a soft, buttery bun that seemed equal parts croissant, crackly kouign-amann, and milk bread. One of the best things I had all week.
Two Fingers
〒171-0014 Tokyo, Toshima City, Ikebukuro, 3 Chome−54−2 アーバンベルメゾン 101号室 | 03-6882-4300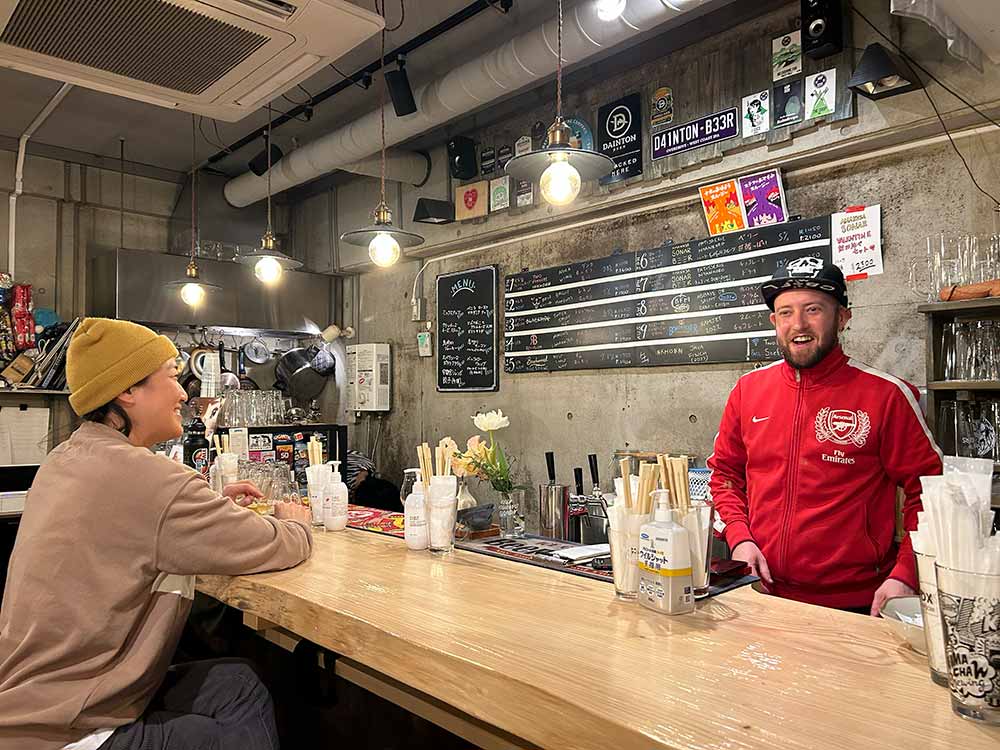 1:00 PM Giving the middle finger to macrobeer – Before starting this fifteen-seat pub in northwestern Ikebukuro, Australian Lovell and his Japanese partner Sumiya ran the beer geek Instagram account @sekainobeer.
The two actually first bumped into each other at Mikkeller Tokyo. Ten years ago there weren't that many Japanese craft beer bloggers and IG personalities, so the two started meeting up every Thursday to go drink craft beer.
And in 2019, they opened up Two Fingers together, where the couple's humble IG beginnings live on.
The name Two Fingers? It's an inside joke. "When we were doing Instagram we always tried to take good photos of beer and as I'm trying to take a photo [Nao] would photobomb it with her middle finger and I would do the same thing to her photos," laughs Lovell. "People would know, oh, that's Stefan's finger."
The double act now has plenty of pictures to post, as their nine taps at Two Fingers serve a variety of pale ales, saisons, porters, stouts, and sours from local breweries they know and trust.
"It's basically what we want to drink," Lovell told us when we visited.
Overall, Lovell told us that the philosophy at Two Fingers is to have fun. "It sounds stupid, but we like people who like beer, who enjoy drinking beer," he says. "I want it to be a fun experience. Whether you like the beer or don't like the beer, everyone's tastes are different, but as long as you're enjoying yourself."
Although the bar only opened in 2019, Two Fingers has thrived on the knowledge and passion that Lovell and Sumiya bring to their small project. This craft beer bar is an easy choice for any wandering traveler.
Himawari Sushi Shintoshin
1 Chome-15-3 Nishishinjuku, Shinjuku City, Tokyo 160-0023 | 03-3344-3576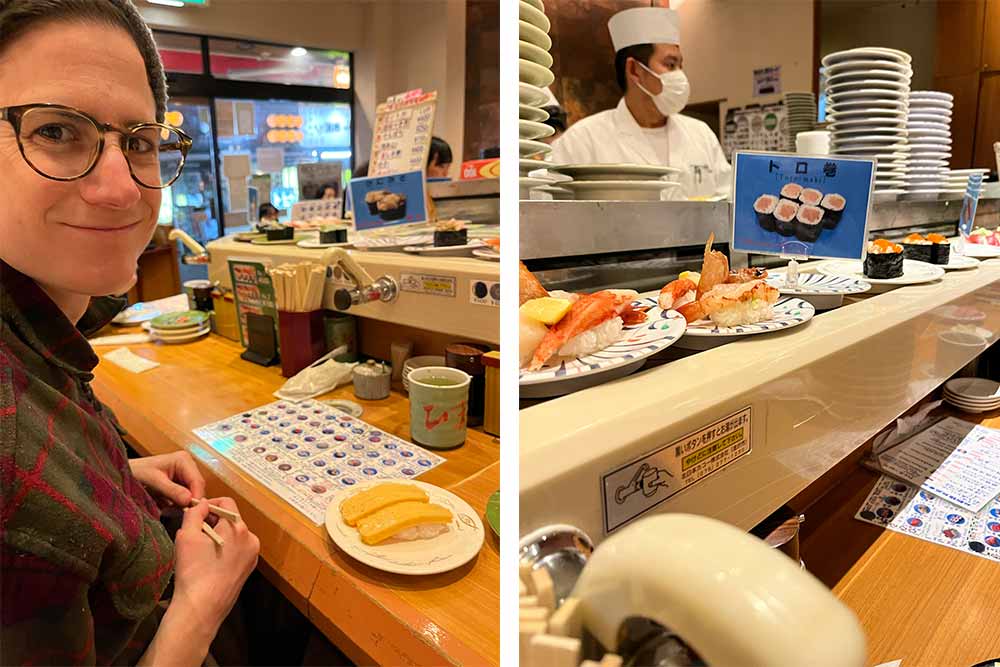 5:00 PM An endless stream of sushi – If you're looking for pricey, high-end sushi or omakase, that's not Himawari Sushi Shintoshin. Look, when Stacey and I travel we rarely go fancy. We love those places where you find only locals, those no-frills, homey spots that just serve great food.
Also since I'm a vegetarian that doesn't eat fish, that kind of limits our options a bit.
Himawari Sushi Shintoshin offers conveyor belt sushi. It's an experience. Walk into a chorus of carousel music where you'll be ushered to open seats. Pour yourself a steaming mug of hot water from the spigot and add a dabble of green tea.
A couple of sushi chefs behind the counter make everything fresh right in front of you, placing small plates with hunks of rice and fish onto the conveyor belt.
There are menus in English. But they're enormous. In the time it took us to try and match pictures to the plates, the goodies had already whizzed by.
Eventually we put down the menus, just watching for something that looked good.
As luck would have it, I saw the chef prepare plates of fresh tamago as soon as we sat down. I'm obsessed with those shingles of sweet egg omelet layered over quenelles of rice. It was one of the only vegetarian options I saw on the belt (although you can order a la carte if you signal the chef and there are more options on the menu), so I downed three plates.
When we saw a card for edamame putt-putt on by, we grabbed it unsure if that meant bowls would magically appear in front of us. It didn't. The cards just indicated what came next on the line; the chef used them to place new items in the belt. Whoops!
Eventually we figured everything out, nabbing a bowl of the green pods. "Why is edamame so good," we exclaimed to each other as we sucked out the creamy seeds. "They're just so creamy and buttery," said Stacey "And a little sweet; they're addictive."
Stacey grabbed some rolls of snow crab, crab paste, and shrimp. All good, but by far the prize selection was a plate of three tuna sashimi-—regular, medium fatty, and fatty
We'd seen the sign bounce by numerous times with nary a plate of fish behind it until just one wondrously appeared; we never saw any again.
Three hues of pink fish layered over rice with a knob of wasabi tucked underneath each. According to Goldilocks, the fatty was too rich, but the medium fatty just the right side of buttery—the best bite of the night.
Eventually, the carousel merry-go-round music turned into a mobile lullaby and with the green hand-painted mugs of tea, a belly's worth of sushi, and a full day of walking under our belts, our lids started to droop.
We thought we might wait for more to try to beat the tower-like stack of plates from the couple next to us, but we knew it was time to go. Flag down the server and she'll count up your stacked colored platters (you pay per plate—white 150 yen, yellow 200 yen, green 400 yen, and black 500 yen) and hand you a receipt.
Walk to the front to pay before leaving to a chorus of arigatou gozaimasu.
This place is in the touristy district, but we saw locals and visitors alike inside. Honestly, for about $20 U.S. dollars we had ten plates of sushi, a bowl of edamame, and two steaming mugs of tea.
Not omakase. But not bad at all.
7-11
Basically any block or corner in Tokyo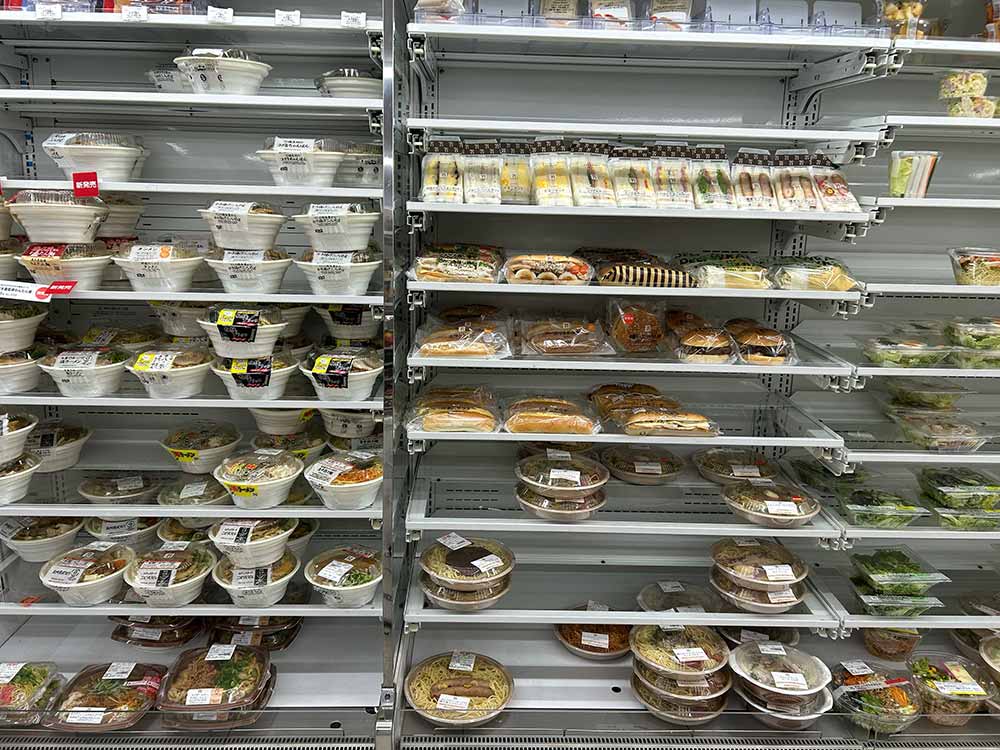 7:11 PM Stock up before you head out – I would be steering you completely wrong if I didn't at least mention 7-11 in this piece.
Yes, that 7-11.
But this isn't the land of sad, soggy ham and cheese sandwiches and limp, lifeless lettuce we have here in America.
In Tokyo, you'll find two or three 7-11s on almost every street. And the selection inside is insane.
As the automatic doors whoosh open, a beautiful neon bliss washes over you. A full wall of fluorescent-lighted refrigerated delicacies await. For instance, platters of premade noodle bowls and plates, colorful bento boxes, hot pots, fermented salads, crustless sandwiches, and confections galore.
The fact we tiptoed in the 7-11 right outside our Airbnb at least once a day proved this convenience store isn't a one-hit wonder in Tokyo.
That and the fact that Stacey smuggled a drawer's worth of miso mixes and noodle bowls back in her suitcase (you're not technically supposed to bring pre-packaged "hot meals" through security at Narita airport).
Just go. Just go. I probably can't convince you. Just go, get yummy things while you're in the city, and stock up on snacks to bring back.