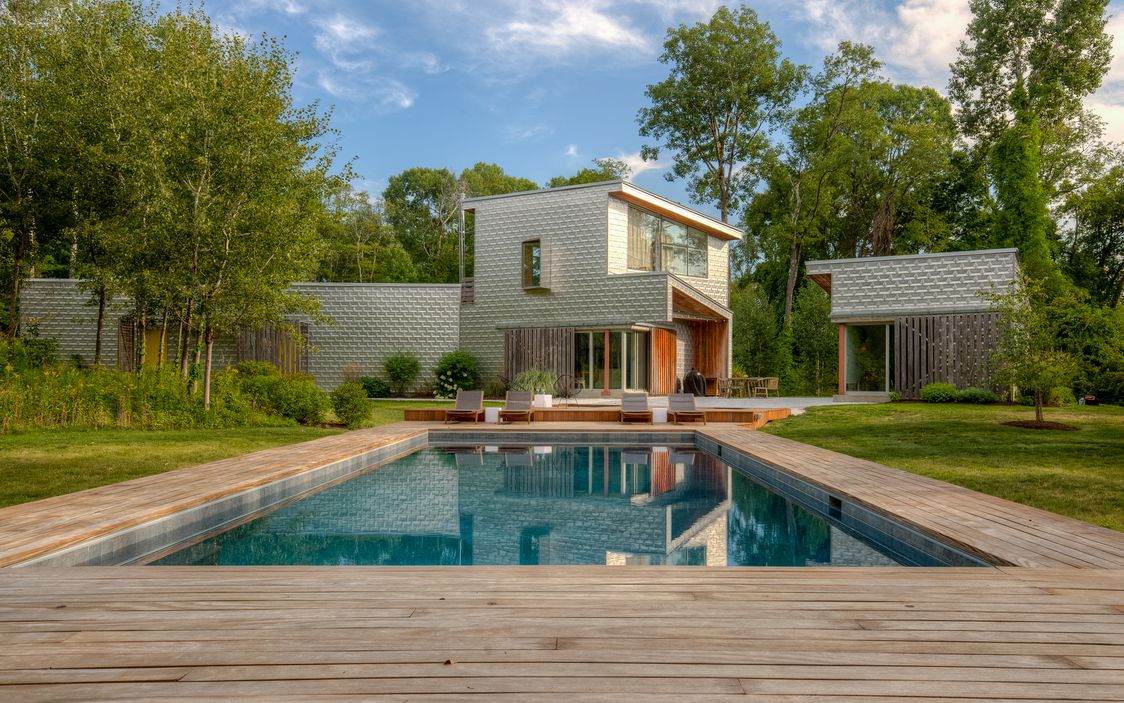 Photography by Houlihan Lawrence
Imagine you're me. You edit a small but successful digital craft beer publication and your email is constantly inundated with press releases from companies that want to share details about the latest television show-inspired beer or a "brand new" and "innovative" beer glass. Folks, there's nothing innovative about a pint glass. So I was pleasantly surprised to come across a press release revealing that "Brooklyn beer king" Jeppe Jarnit-Bjergsø, founder of Evil Twin Brewing, was selling his post-modern Danish farmhouse in the Hudson Valley. For $1.39 million.
The nearly six-acre property is located in Millerton, New York, and features a modern pool with jacuzzi and wooden deck, an indoor/outdoor shower, and a firepit. The house, designed by Grzywinski + Pons, has an angled roof and a wood and metal exterior. The interior sports three bedrooms and a master suite that has its own private balcony. The property also features a guest cottage and outdoor dining area.
Is this craft beer news? Not really. But it's certainly fun to imagine a House Hunters craft brewer spinoff. Sam Calagione sells his Italian villa. Jim Koch looks to offload his lakeside cabin. (Editor's Note: To our knowledge, Sam Calagione doesn't have an Italian villa, nor does Jim Koch have a lakeside cabin.)
If you want, you can buy Jeppe's house. But if you're strapped on cash, Jarnit-Bjergsø's first brick-and-mortar Evil Twin location is set to open in Ridgewood later this year. You can visit the Queens retail shop for cans to go, but the Evil Twin website suggests the taproom won't be ready until summer 2019.
Check out the property and learn more at the link below.
Liked this article? Sign up for our newsletter to get the best craft beer writing on the web delivered straight to your inbox.