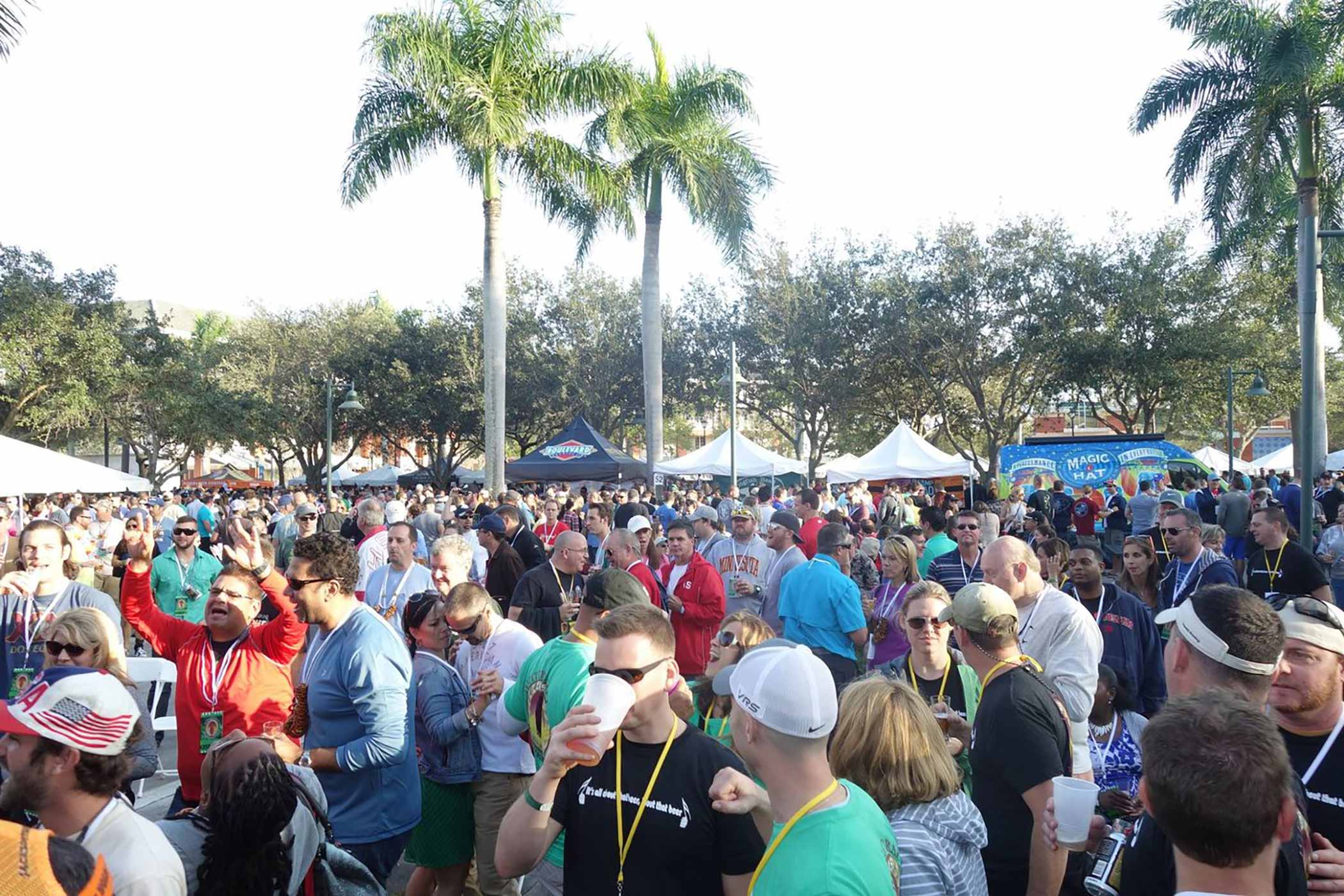 Photography courtesy of Jupiter Craft Brewers Festival
After ten years working in the beer industry and a lifetime of living as a beer enthusiast, it is hard for me to name a beerfest that is truly unique. It is even more difficult to think of a beer fest that leaves such a lasting impression, one I mark on my calendar and look forward to every year. It's even odder to find a fest casually called "my favorite" by so many patrons and brewers.
But every January, the Field of Beers / Jupiter Craft Brewers Festival truly excites the South Florida beer drinking (and beer making) community. (Which has become one of the hottest craft beer scenes in the country). A two day festival thrown by Fran Andrewlevich, co-owner and brewmaster of Tequesta Brewing Co., Twisted Trunk Brewing Co., and Steamhorse Brewing Co and one of the Godfathers of the South Florida beer scene, this beer fest is actually more like two festivals in one.
On Friday, Field of Beers sets up camp inside Roger Dean Baseball Stadium while on Saturday Jupiter Craft Brewers Festival lands outside the arena.
After nine years simply enjoying myself too much at this event, I finally caught up with Andrewlevich to uncover the inspiration for the multi-event weekend.
"About fifteen years ago I wanted to create an experience that elevated a food and beer pairing," he told me, noting that the beerfest on Saturday actually came first. "By that point I had done many beer dinners and pairings, but I wanted to create a unique experience that would put beer in the same light as wine at the time. It was also important to pick the right people, when it came to what breweries would be pouring, for the Friday night event that would also enhance the experience for our patrons."
Field of Dreams and Beers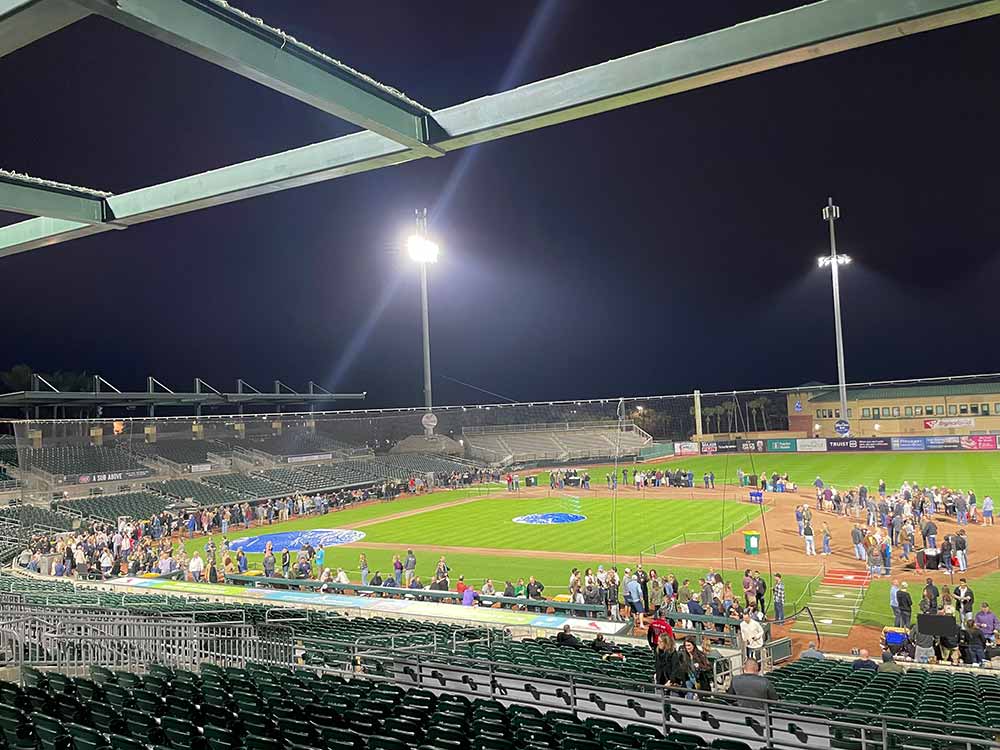 Each Friday before the larger beer fest on Saturday, Andrewlevich throws an event called Field of Beers. The unique experience lets fans pair one dish with one beer from just a select number of breweries. Each of whom vie for a chance to grab one of these coveted spots (there's even a waiting list!).
According to Phil Gillis, co-owner and brewer at Invasive Species, "Field of Beers is one of the most unique fests with the food pairing, intimacy, location, and camaraderie."
Brewers and owners show up big time, creating a special experience where you can talk to the people that actually made the beer you're drinking.
"It is important that we are here pouring," says Kelsey City Brewing Co. Head Brewer John Hampp. "Drinkers in this area have good beer knowledge and we want to create a better beer experience for them."
This isn't one of those nights where people chug beer. Instead they sip slowly through 3 oz pours out of their commemorative Glencairn Glass, trying to enjoy as much exceptional beer as possible.
And this isn't one of those fests where you wait in long lines to try a special beer before it kicks. With only a limited number of people allowed to attend, you have the chance to go back to some of the booths for seconds (or thirds) of your favorites.
Every year you can feel that this event highlights the artistry behind the beer and enhances the amazing food paired alongside.
Field of Beers is always a special night for the South Florida beer community with tickets selling out almost immediately after going on sale.
And in 2023, Field of Beers did not disappoint.
An unusually cold night for Florida (although not for Field of Beers—it is magically cold on this night every year with no apparent explanation), we spent a perfect evening walking around the baseball field and throughout the dugouts, eating, drinking, and catching up with industry friends.
Basically, doing what we love the most: talking to people about beer.
The Top Three Beers I Drank at Field of Beers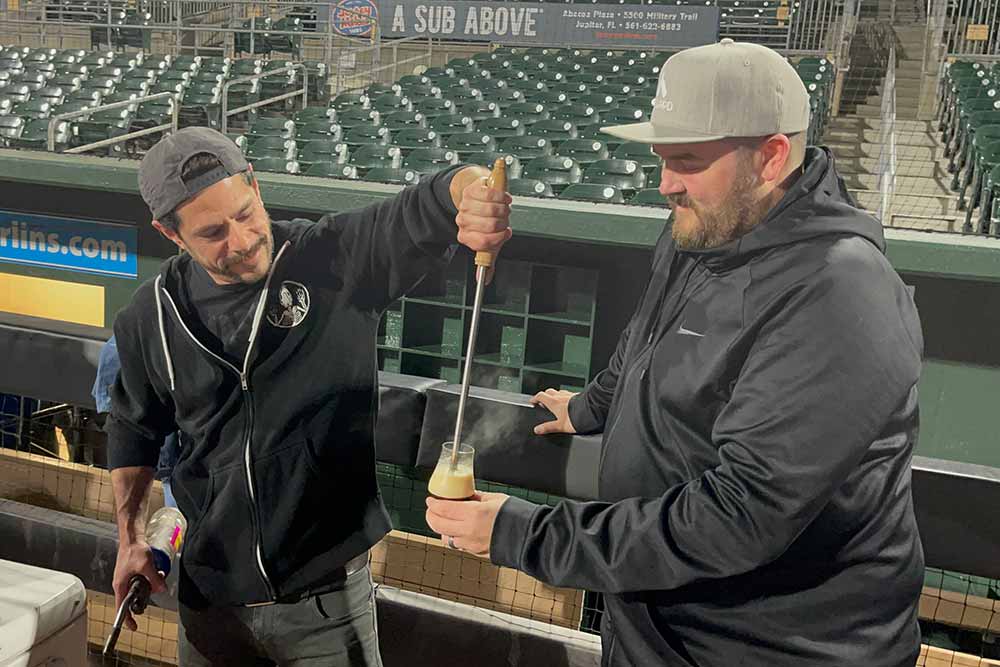 These were the top three beer and food pairings that stood out to me.
Bock – Invasive Species
Invasive Species brought the heat to their first time pouring at Field of Beers, literally! Phil Gillis and Josh Levitt decided to bring their delicious Bock, but put it over the edge by doing a Bierstacheln. This technique includes blow torching the end of a bierstachel (metal rod) and sticking the hot end into the beer.
The process enhanced an already rich and malty bock. Not only did it change the flavors of the beer, but it transformed the entire drinking experience. Taking a shot of warm beer with a heated frothy head is something everyone should experience. Invasive Species paired this shot of awesomeness with the Parched Pig's Country Ham and Corn Hushpuppies. Much like the freshly cooked beer, the Hushpuppies were fried on the spot and garnished with beer mustard and chives.
Snow in Milan – 3 Sons Brewing Co.
3 Sons brought a new style that I have not experienced before! Snow in Milan is a Northern Italian Pilsner, a new style that owner and brewer, Corey Artanis, first discovered on his last trip to Italy.
The beer definitely threw me off guard. When I hear Italian and pilsner I think of a light colored lager with a firm hop aroma and bitterness. Add Northern into the mix and it adds a deep complex malt flavor into the mix. "I had taken my family to Italy last march and traveled North close to the Austria border, traveling and drinking pilsners the whole way," says Artanis. "The pilsner that stood out the most was the one that had a more malt robust hearty character to it. So we tried to recreate it."
According to Artanis, "If brewers want to recreate it, take ten days in Italy with their family and enjoy themselves, or if you can't, go heavier on the Munich Malt, 15-20% of your malt bill."
This maltier pilsner paired well with the fresh crab cakes from RockStar Catering.
Grand Cru 2022 – Barrel of Monks
Every year Barrel of Monks lets one of their founders, Bill McFee, explore his passion by brewing a big, Belgian, non-trendy beer that he would be proud to have in his own cellar. This year's release of Grand Cru is an 8.5% ABV golden strong ale with light honey and caramel aromas up front and a finish reminiscent of Duval.
The beer came paired with Tiger's Tears, a Thai beef salad with Rincon Heat's OG Sauce.
Incredibly, or perhaps perfectly, the Grand Cru stood up to the spicy Thai beef without overpowering the salad.
The fine folks of South Florida have such a good time at this event that when Field of Beers ends, the night doesn't. The stadium empties out to main street Abacoa where patrons and brewery employees continue the party at Civil Society's tasting room or Das Beer Garden (a seventy-tap local hangout), and in some special cases, to the lobby of the local Marriott.
Because you know we all have to get ready for a huge beer festival the next day. 😉
Jupiter Craft Brewers Festival Is Out of This World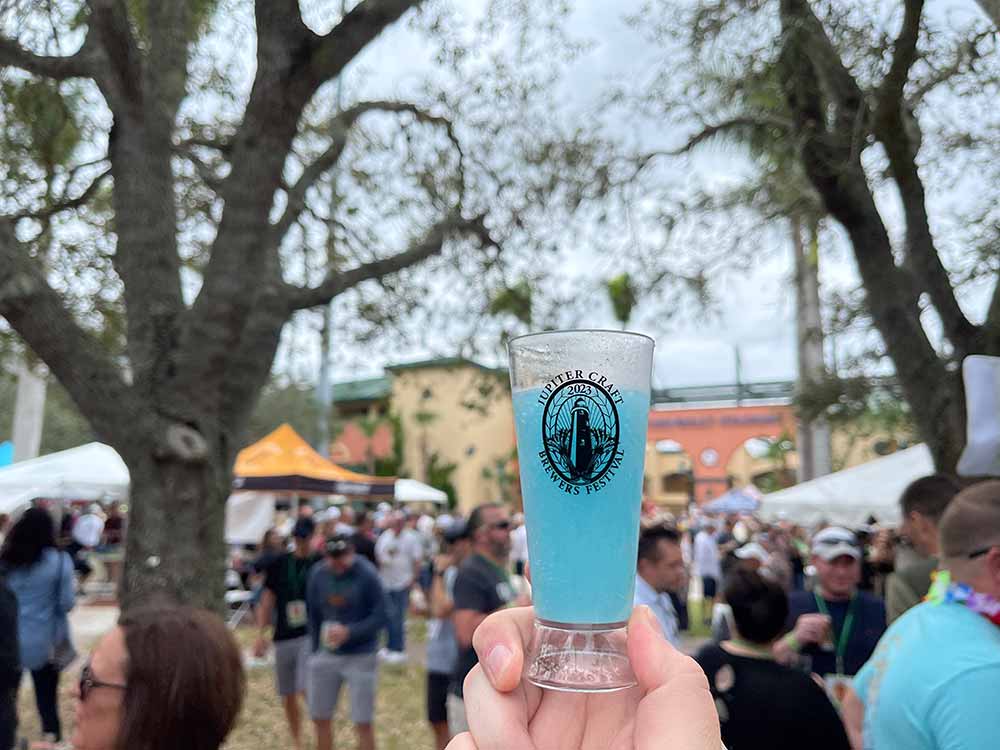 The weekend doesn't end on Friday with Jupiter Craft Brewers Festival taking place the next day.
Luckily, the festival starts at 1 PM so we have just enough time to recover from the post Field of Beers shenanigans (I found myself up until way past midnight drinking old Cantillon and big stouts with Bill from Barrel of Monks and others in the aforementioned Courtyard Marriott Lobby).
The mid-seventy degree overcast sky was perfect weather for a beer fest, and people came out in droves.
Although a setup similar to most beerfests, Jupiter Craft Brewers Festival still features the owners and brewers actually pouring their beer.
"This is the first beer fest we were invited to and has always been a favorite to be a part of," says Preben Olsen, founder of Aardwolf Brewing Company. "Whether it is pouring, or getting to be a drinker." Aardwolf has poured at Jupiter Craft Brewers Festival many times, but this year was the first time they participated in Field of Beers, bringing an amazing Rye DIPA fermented with Kviek yeast that paired with Pastrami Eggrolls.
However, for Saturday's fest, Aardwolf brought some real sour, seltzer, and barrel-aged bangers, including This Is The Way, a deep green pistachio coconut sour, Rum Barrel Aged White Russian, a rum barrel-aged milk stout with coffee and vanilla, and Jag Water, a blue raspberry hard seltzer. My pour of this vibrant alcoholic fizz inspired more looks and questions while walking around, than any other beer at the fest.
With good reason, Aardwolf's booth had a noticeable line from the start that lasted until they kicked.
But they weren't the only breweries killing it.
Along with local and national breweries, there were also ciders and meaderies. Brad Dohlhofer, founder of B Nektar Meadery out of Ferndale, MI, made his annual trip down to Florida for the fest. Their Blood Amulet, a hard cider with raspberry and cranberry, was a great way to break up the delicious onslaught of hazy IPAs, stouts, and sours.
And alcoholic beverages weren't the only attractions.
In addition to over 100 beers to sample, food trucks, a silent disco, live music, and a rowdy putt putt golf competition (to raise money and awareness for the Autism Project of Palm Beach County), kept me busy during the four hour fest.
Without a doubt, Andrewlevich throws a great party every year for brewers and patrons alike.
And this year was no different.
Personally, it was amazing to get back to this fest. Whether you're a patron, or a brewer, once you've gone to this weekend's festivities, you will casually be calling it simply "My Favorite."