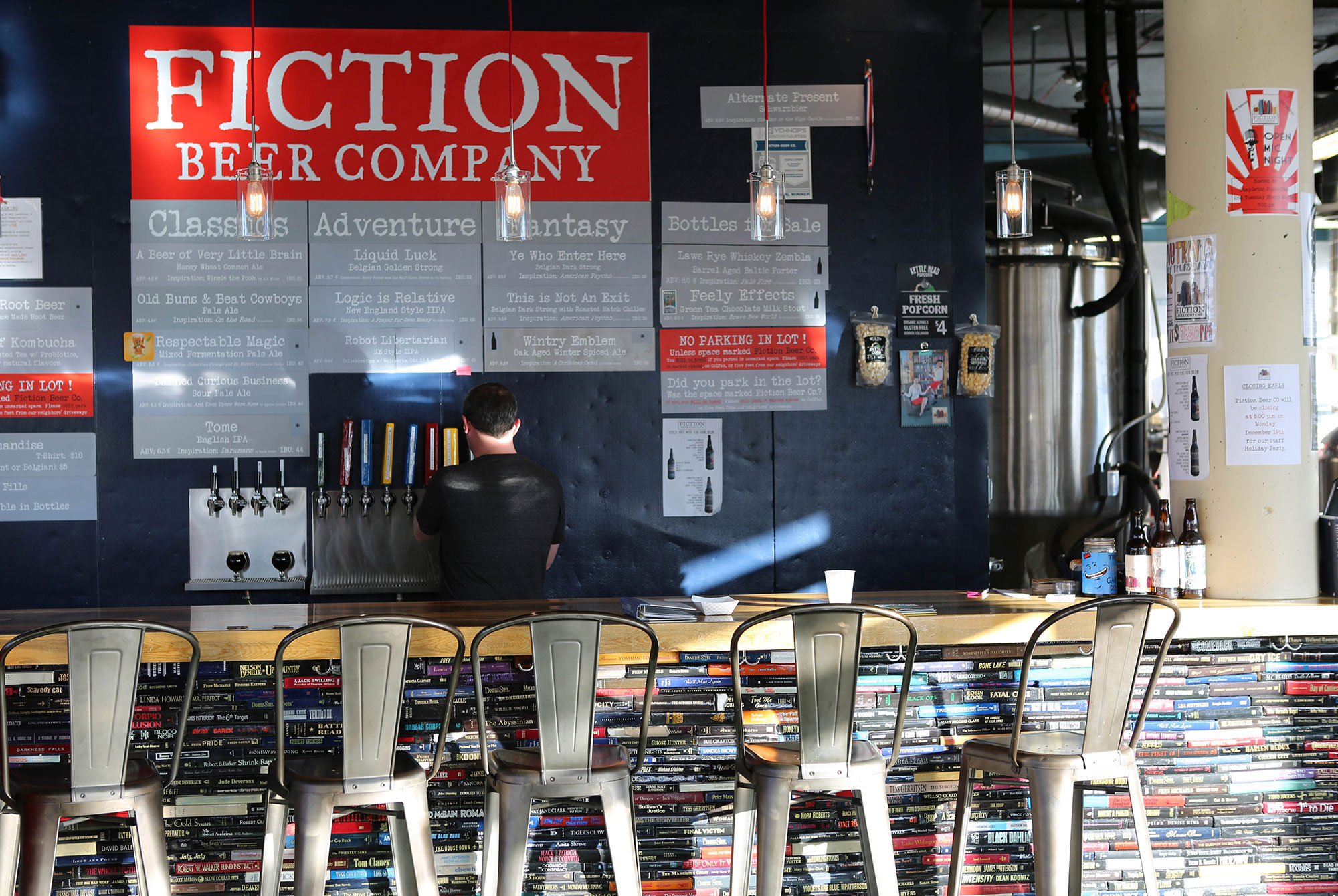 Assisted by Christa Kilpatrick. Photography by Kenny Gould
Once upon a time, in a city called Denver, there lived a couple named Christa and Ryan Kilpatrick. Christa, who loved books, had a degree in English from Colorado State University, and her husband had spent over a decade as an accountant helping people open restaurant concepts. They meshed their two interests—books and service—to create Fiction Beer Company, a neighborhood brewery with a literature-inspired tap list and a bar made out of hundreds of shellacked books. Add a sizable lending library and you've got a compelling story for every bookish beer nerd.
We asked Christa for her current top reads. Crack open a beer and dig into one of her five faves.
---
Life After Life
By: Kate Atkinson
I love historical fiction. This novel is beautifully crafted and poses an interesting concept for the reader: What are the alternate courses of destiny when your main character is repeatedly killed and brought back to life again? How might her life have been different? What could she have accomplished if just one little moment or event hadn't occurred?  The follow up novel to Life After Life is A God in Ruins, which is equally amazing.
---
The Name of the Wind
By: Patrick Rothfuss
This is the pick of my brewhouse and sales staff. Why? All three of them LOVE the The Kingkiller Chronicle [Rothfuss's trilogy]. As our brewer (Jameson) said, "Rothfuss builds and writes about his world with the same attention to detail and passion that we give to crafting our beer." 
---
The Dog Stars
By: Peter Heller
I have a strange obsession with dystopian fiction and this book has all of those page-turning, suspenseful moments that I love about this genre. Plus, as an extra bonus, it takes place in my home state of Colorado. I could actually visualize the scenery and picture what the landscapes would look like if a flu pandemic were to hit Colorado. My husband (and Fiction co-owner and co-founder) is also a pilot and it felt good to know that if something went down, we could fly away like Hig and survive. (I want to reach out to the author and try to get a beer and book collaboration going…)
---
Wool (part of the Silo series)
By: Hugh Howey
These books left me stunned. Howey created such an intense world that even a year after reading them I still think about the characters. And while reading them, I'd have physical reactions associated with anxiety. Just incredible storytelling. I'm at a loss of how, exactly, to explain further why I love these books—they're that good! 
---
When You Are Engulfed in Flames
By: David Sedaris
David Sedaris is one of my all-time favorite authors. When reading this book, I'll laugh out loud in public and I love when people look at me funny for doing so. That right there is the number one reason to read this book—other people's reaction to your reaction. Also, Sedaris' Holidays on Ice is a book that I reread every December, because nothing brings out the holiday spirit more than reading the essay "Dinah, the Christmas Whore."