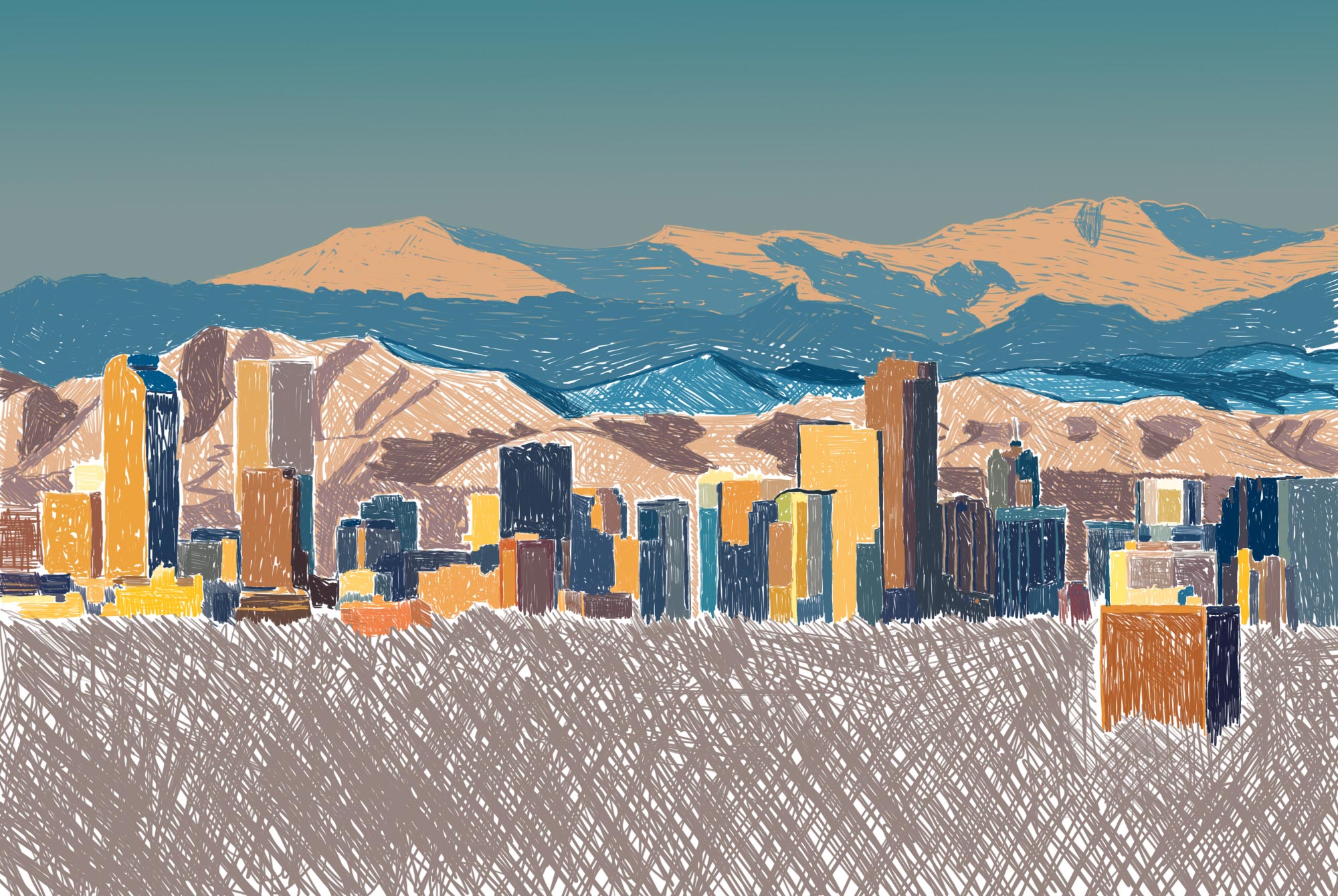 Photography by KG. Image by Courtney Burch
For the past 35 years, Denver has hosted the Great American Beer Festival, a 60,000-attendee, 780-brewery celebration of American beer. And if that wasn't enough of a calling card, consider this fact: visiting five breweries per day, you'd still need almost two weeks to see everything the city offers. That doesn't even take into account the robust scenes in Fort Collins and Boulder, an hour to the north and northwest, respectively. Denver is a beer lover's paradise—cliché, but how else to describe a city that puts out over 200 unique brews every week?
Day 1
Crooked Stave Taproom
12:00 PM — Built inside a former 1880s brick foundry, the Source is Denver's answer to Brooklyn — just stepping inside the beautifully designed space will make you consider buying a fixed gear bike. In addition to a bakery, meat market, coffee shop, and well-provisioned bottle shop, the Source is home to the taproom of Crooked Stave, an eclectic artisan brewery with a focus on Belgian sours.
Acorn at the Source
1:00 PM — If you stop at the Source to visit Crooked Stave, don't leave without checking out Acorn, a rustic New American restaurant that gets our vote for lunch. Never tried New American? Let chef Steven Redzikowski guide you. We'd make a recommendation but the menu changes seasonally.
Great Divide Barrel Bar
2:00 PM — Bigger doesn't always mean better, but Great Divide is one brewery that we love to watch grow. Their light-filled RiNo barrel bar opened right across the street from the Source in 2015. The city plans to turn the area behind the brewery into a park, meaning that you'll soon be able to hop off the bike trail for an IPA. Or, if you're feeling rowdy, try one of the barrel-aged stouts that made the brewery famous.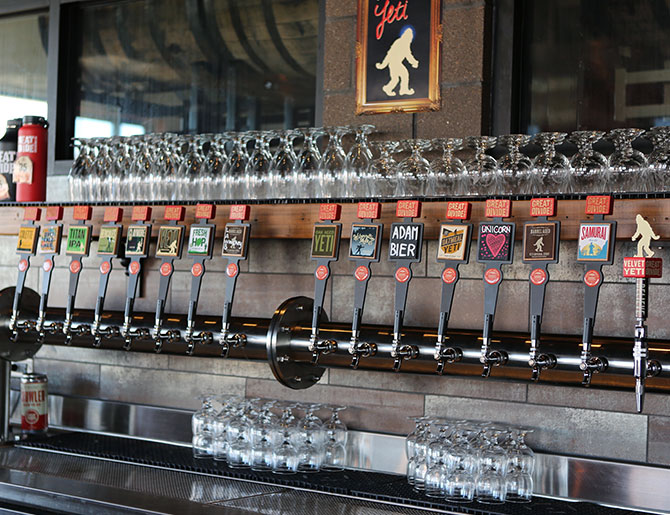 Tap handles at Great Divide's Barrel Bar.
Beryl's Beer Company
3:15 PM — Like your beers aged? Beryl's (sounds like barrels — get it?) serves them weird and wild. The week we visited, they offered porters aged in red wine barrels and brandy barrels, and a Dampfbier aged in wine barrels. Their un-aged selections also stand up against their bigger, older cousins. Right now, Beryl's currently doesn't distribute, so you need to visit their taproom to try some of the best barrel-aged beer in the country.
Too secret to write about, too good to keep secret.
Although we don't want to spoil every underground Denver brewery, we'd be remiss in writing a "best-of" list without including Baere Brewing and De Steeg Brewing. Consider them included.
Ratio Beerworks
4:45 PM — Located in Denver's hip River North (RiNo) neighborhood, Ratio is a neighborhood brewery with a fantastic 4,000-square-foot outdoor patio and one of the coolest light-up taplists in the business. Founded in 2015 by three musicians, Ratio pays homage to its roots: they name their beers after bands or song titles, and every so often they have concerts right on the brewery floor.
Our Mutual Friend Brewing
6:00 PM — Located just a block from Ratio, the four-year-old OMF doesn't break the mold but offers a wide variety of solid beers in an industrial space. Every Tuesday evening they offer "Keep The Glass," where $10 gets you a new glass and three 10-ounce pours.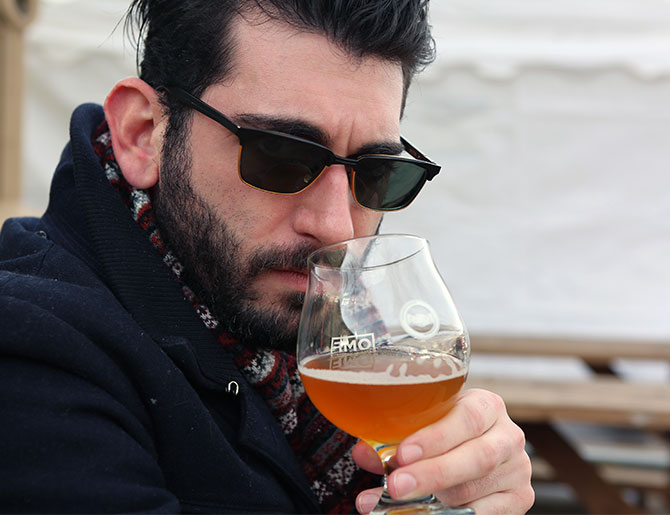 This Denverite drinking a beer at Our Mutual Friend is 100 percent not messing around.
Biju's Little Curry Shop
7:15 PM — If you've managed to make it this far without snacking at a local food truck—hell, even if you did hit a food truck—make your way to Biju's Little Curry Shop, one of the city's best spots for South Indian cuisine. The shop isn't huge (it is called the Little Curry Shop), but what it lacks in size it makes up for in personality and good, cheap food. After a day of heavy drinking, rebuild your strength with some spicy curry.
Mr. B's Wine & Spirits
8:30 PM — Assuming you're still sober enough to move, stumble into Mr. B's, one of the greatest bottle shops in Denver and perhaps the entire United States. The store maintains an astounding selection of hard-to-find craft brews (it's worth visiting just for their Italian craft beer selection) and the knowledgeable workers occasionally like to spice things up by mixing extremely rare beers in with more common items. Keep an open eye and grab what you can.
Day 2
Spangalang Brewery
12:00 PM — Founded by three former employees of Great Divide Brewing, Spangalang pays homage to the Five Points neighborhood in which it's located, once one of the country's great centers for jazz ("spangalang" refers to a classic cymbal ride pattern often used in jazz). The taproom is a fun, friendly place to be, and the brewery's eclectic tap list offers a wide variety of flavors and styles.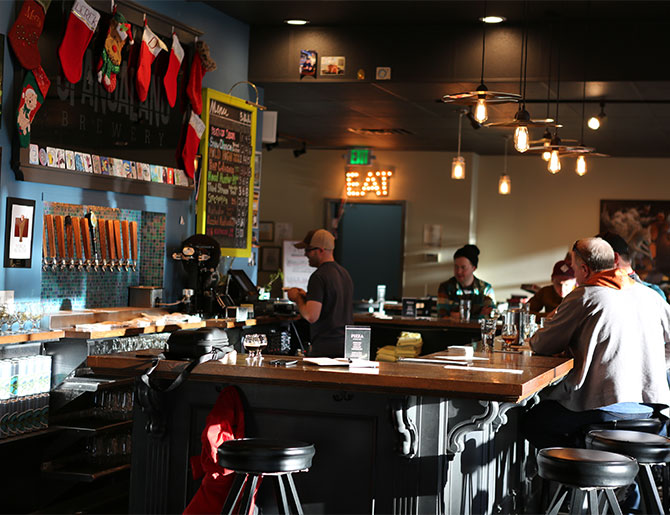 The taproom at Spangalang.
City O'City
1:15 PM — Just up the road from the Denver Art Museum, City O'City serves vegetarian food that'll please even the pickiest meat eater. They're known for breakfasts (try "the saison" or the huevos rancheros with green chili), but lunch and dinner are just as good. If you're feeling heavy from all that beer, visit Kindness Yoga upstairs—each class gets you 15 percent off a same-day entree.
TRVE Brewing Company
2:30 PM — "Burn my fist to the concrete / My fear is my strength / Power, rage unbound because / Been pounded by the streets…" Those are just some of the lyrics you might hear over the speakers at TRVE Brewing on Broadway, Denver's heavy metal-themed sour brewery. But lest you think heavy metal is all about anger and hate, spend a minute talking to brewery founder Nick Nunns, one of the nicest guys in the business. Not a fan of heavy metal? You might be a convert after you try TRVE.
Black Project Spontaneous & Wild Ales
3:45 PM — Hands down, the award for the best spontaneously fermented beer in Denver goes to Black Project, the brainchild of husband and wife team James and Sarah Howat. Originally called Former Future, the brewery made "clean" beer styles until their sour experimentation yielded two GABF medals, which inspired them to change their name and switch entirely to sours. Because they brew in small quantities, expect new varieties frequently, but try as many of their fruited sours as you can.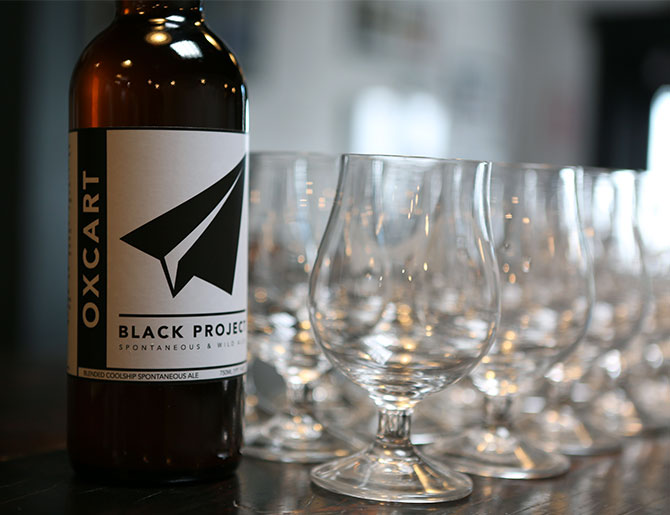 The bottle releases at Black Project command large followings.
Cerebral Brewing
5:00 PM — On the spectrum of art to science, Cerebral Brewing leans toward the scientific side: mad scientist Chris Washenberger, one of Cerebral's three co-founders, has a background in microbiology. The result is clean, consistent, and slightly off-kilter beers, like Thornless, a blackberry cobbler sour made with 330 pounds of blackberries, and Monochrome, a dry-hopped grisette.
Atomic Cowboy
6:15 PM — Biscuits. Pizza. Beer. This neighborhood bar just up the street from Cerebral hosts two restaurants: Fat Sully Pizza and the Denver Biscuit Company. From the former, you can get big New York-style slices; from the latter, fresh-baked buttermilk biscuit sandwiches. Expect a wait, but you can always pass the time with a few beers.
Fiction Beer Company
8:00PM — Continuing Denver's theme of niche breweries, Fiction Beer Company appeals to a decidedly literary crowd. They have a large lending library, and name their beers after references to classic and contemporary literature. Co-owner Christa Kilpatrick is saving her favorite book, To Kill a Mockingbird, for a very special beer, but you can still try beers named after Winnie the Pooh, On the Road, and the Harry Potter series.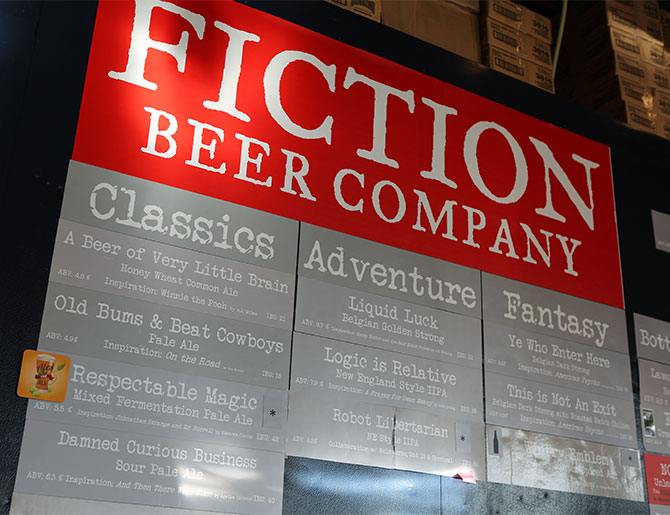 The tap list at Fiction Beer Company, which names their beers after books.