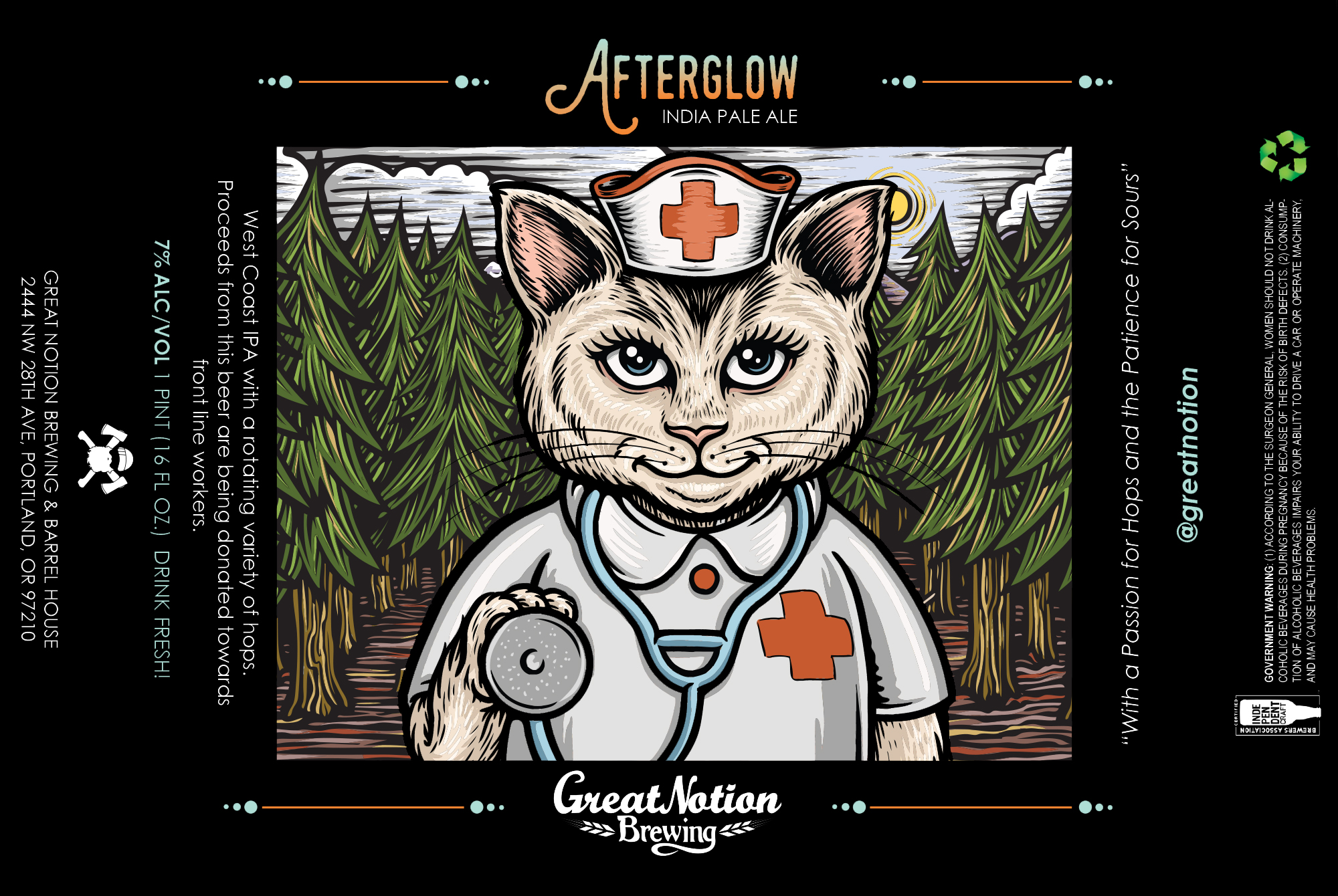 Editor's Note:
This story is part of our #brewwhatsright campaign, an effort to feature people, businesses, and communities actively helping others by doing what's right.
Hop Culture has been a fan of Portland, Oregon's Great Notion Brewing since they opened in 2016. The staff is friendly, the beer is fun, and the art is one-of-a-kind. Recently, the founders of Great Notion gave us another reason to love them when they announced plans to brew three beers in support of those affected by COVID-19.
"The first is a lager," said Paul Reiter, Great Notion co-founder and CEO. "Then we're brewing Other Half's All Together Collaboration and a special version of Afterglow, our West Coast IPA."
Beer #1: Laid Off Logger
Great Notion brewed Laid Off Logger — "'logger,' because we're in Oregon, but also because it's a lager," said Reiter — to support their staff.
"We had 50+ staff members we had to lay off," said Reiter. "Unemployment checks take a while to get going, and then you get them and they're not what you used to make anyway. We decided to move quickly, coming up with a new label and giving 100 percent of profits back to the staff."
Beer #2: All Together
While making Laid Off Logger, Other Half reached out to Great Notion. The Brooklyn-based brewery recently launched All Together. The project includes a global collaboration beer that any brewery was free to make as long as they used it to support service workers in their respective communities. Great Notion agreed to participate in the All Together project, adding a second beer to their charitable efforts.
"That will come out in about a week," said Reiter. "Those proceeds will go to our staff as well as other local service members in our community."
Beer #3: Afterglow
The Great Notion team chose the third beer after reading about front-line workers and doctors who didn't have enough supplies to keep themselves safe.
"We thought, We have a big brewery, why not give back again?" said Reiter, who plans on donating profits from Afterglow — Great Notion's West Coast IPA — to a medical hospital or charity. Although the beer itself isn't new for Great Notion, the brewery gave the label a medical twist by giving the product's mascot scrubs and a stethoscope.
In total, Reiter estimates the sum of Great Notion's donations will equal about $30,000. The brewery has closed two of their three locations due to the effects of Coronavirus. But, these beers will be available for pick-up at the brewery's production facility at 2444 NW 28th Avenue in Portland, Oregon.
"Soon we'll be rolling out delivery," said Reiter. "We also plan to introduce shipping, but that might take another month."
Liked this article? Sign up for our newsletter to get the best craft beer writing on the web delivered straight to your inbox.