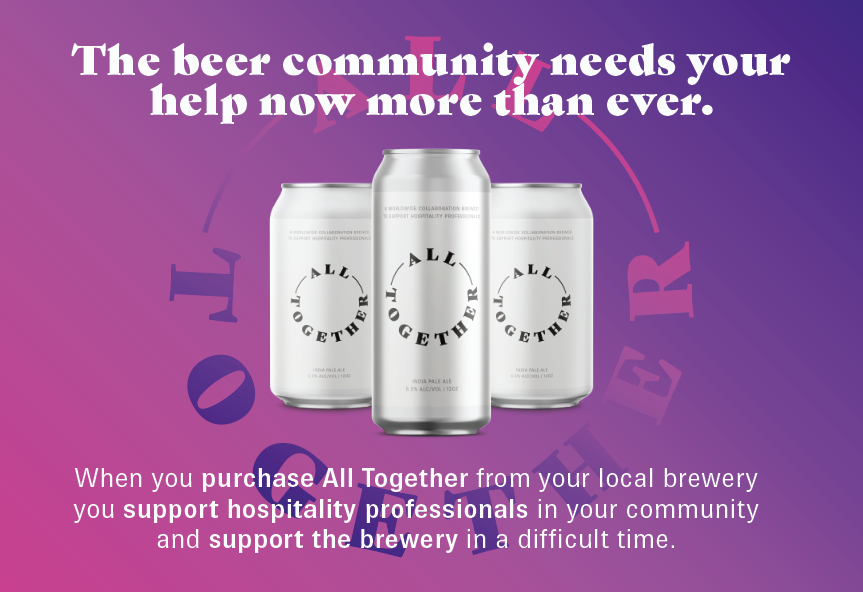 Image courtesy of Other Half Brewing // Stout Collective // CraftPeak
Editor's Note:
This story is part of our #brewwhatsright campaign, an effort to feature people, businesses, and communities actively helping others by doing what's right.
As brewery taprooms across the country looked to alter their business models, the team at Craftpeak — a web design studio catering to the craft beer industry — was overwhelmed. With fewer than 10 employees, Craftpeak was at capacity. Still, they were trying to offer creative solutions to their clients' problems.
"The worst part was it felt like there was nothing we could do," shares John Kelley, CEO and Co-Founder of Craftpeak. "There was limited bandwidth but we wanted to do something."
Enter Matt Tanaka, founder of Stout Collective. A frequent collaborator of Kelley's, the visual designer suggested an open-source beer that anyone could brew. Sort of a collab beer without borders. Like Sierra Nevada's Resilience IPA or Threes Brewing's People Power, participating breweries would donate a portion of the proceeds to a charitable cause. Moreover, it would give craft breweries a new form of business when they needed it most.
"The idea started from a multi-brewery virtual collab," explains Tanaka. Breweries would use the same recipe and release identical beers to their local markets. "We thought, How can we help breweries keep down costs and create something that's accessible worldwide?"
In order to provide a long-term solution, Kelley knew that breweries needed a more significant bump than tips and gift cards. But, he also knew they needed a brewery partner to spearhead the liquid side of things. But, Tanaka had been workshopping the idea with one of his brewery partners. The solution came to Kelley in the form of a text from Other Half Brewing's Andrew Burman: "John, call me back ASAP."
The resulting conversation yielded "All Together," a beer that would be brewed to support hospitality professionals. Other Half would handle the recipe. Stout Collective would manage the product's marketing and branding. Kelley had only one answer.
"We're fucking doing this."
The Beer – "All Together"
"We knew we needed to do something immediately," shares Sam Richardson, Co-Founder of Other Half. Richardson and Tanaka had similar ideas: an open-ended, unifying collaboration that would support breweries affected by COVID-19. And, as Richardson makes clear, a charitable component was crucial.
The first step was making the beer. Other Half designed two straightforward recipes, which are currently available for download to any participating breweries on the Other Half website). Based on their yeast and bittering hop schedule, breweries have the option to make a New England or West Coast IPA. Other Half opted for a grain bill of 2-row, flaked oats, and carapils. They also recommend using Columbus for bittering, Mosaic and Cascade in the whirlpool, and Citra, Mosaic, Cascade, and Simcoe for dry-hopping.
However, Richardson wants the recipe to fit any and all participating brewery. "We wanted to make a beer that everybody could make fairly easily," he says. That's why you're not seeing any lactose additions or sexy experiment hops. Other Half crafted a recipe with ingredients that most breweries have access to. Or ingredients that could keep the budget down. "Not everyone has the same equipment," Richardson continues. "The cool thing is there will be variability. People are making hazy IPAs, West Coasts, we've even seen an IPL. Not every beer will taste the same, which is great."
For anyone looking to brew "All Together" from the comfort of their own kitchen, a 5-gallon homebrew version of the recipe is also available.
The Artwork Of The All Together Project
Matt Tanaka at Stout Collective envisioned a fully remixable, yet uniform can design for the All Together Project. The front of every can features a simple text label with the name of the beer, the style, and the ABV. It also features the project's rallying cry: "A worldwide collaboration brewed to support hospitality professionals."
"I wanted a design structure that made it feel uniform and made it clear that everyone was part of the community," says Tanaka. As a brand manager and designer, Tanaka's job requires control and making sure that clients "stay on brand." But, with this communal project, he knew he needed to let breweries retool the project to fit their needs. "This is an exercise in letting go," Tanaka adds with a laugh.
In addition to the uniform "All Together" label on the front, Tanaka left room for breweries to inject their own personality.
"In the togetherness, we wanted to leave space for breweries to make it their own," says Tanaka.
Moreover, as breweries around the world join the project, Tanaka has worked with international designers to include country-specific label requirements.
The Breweries Participating In All Together
When Other Half first announced the All Together Project, several breweries within their network agreed to participate. Today, there are over 350 breweries signed on from around the world. This includes Brooklyn, New York, as well as Wellington, New Zealand. San Sebastian, Spain and Torrance, California. St Petersburg, Russia and Sandy Springs, Georgia. "All Together" has truly become a worldwide collaboration, with breweries pledging to support their local service industry relief funds.
"All Together" is still open to any and all breweries. However, Other Half has stipulated that "a portion of the proceeds go to supporting hospitality professionals in your community. The rest should go to keeping you in business to weather this storm."
Other Half kicked off the project by announcing they'd be donating proceeds to the Restaurant Workers' Community Foundation. When choosing a charitable partner for the collaboration, Richardson emphasized how important it is to offer support to the service industry. "Those are the people customers see last when they're getting beer," he says of hospitality staff. "But they were the first to get hit by this."
Many breweries have also chosen similar organizations to offer donations. Others will be giving the proceeds directly to their furloughed staff. Another popular option is a local guild, many of which are now fighting for increased industry aid.
The end result is that customers who buy the beer are supporting their local breweries as well as the industry at large.
Next Steps For The All Together Project
At the time of publication, several breweries are getting ready to release the first batch of "All Together." Although it feels as if the beer was just announced, it seems that many breweries nearly have a finished product.
"You put it out there to the craft beer community and they push aside their problems and come together," Kelley says.
Still, there is work to do. Kelley shared that Craftpeak plans to create a visual map of all participating breweries across the world. Plus, he hopes to help breweries set up preorder options for beers coming out of the project. On the design and marketing end, Tanaka's Stout Collective is offering complimentary branding strategy sessions to any brewery affected by COVID-19.
There is also a mailing list on the 'All Together' website. Those who sign up will receive email alerts when a local brewery releases the beer. Customers can expect to see "All Together" available from their local participating brewery in the next few weeks.
The Bottom Line
"Our goal was to be proactive," Richardson adds. "This our opportunity to show people that we care. The point is for everyone to realize how interconnected we are. And people responded immediately."
Craft beer needs a boost right now. Frankly, all industries do. And, while donations, gift cards, and merchandise purchases help, businesses need real, steady business. The All Together Project gives breweries a way to participate in a worldwide event and produce a product they can sell. It's certainly not a new idea and the concept is simple, but that's what the industry needs. The project not only unifies the industry, but offers consumers the opportunity to support their favorite breweries.
"We needed something positive to pull people together," shares Kelley. "It's not perfect but it could work."
Liked this article? Sign up for our newsletter to get the best craft beer writing on the web delivered straight to your inbox.