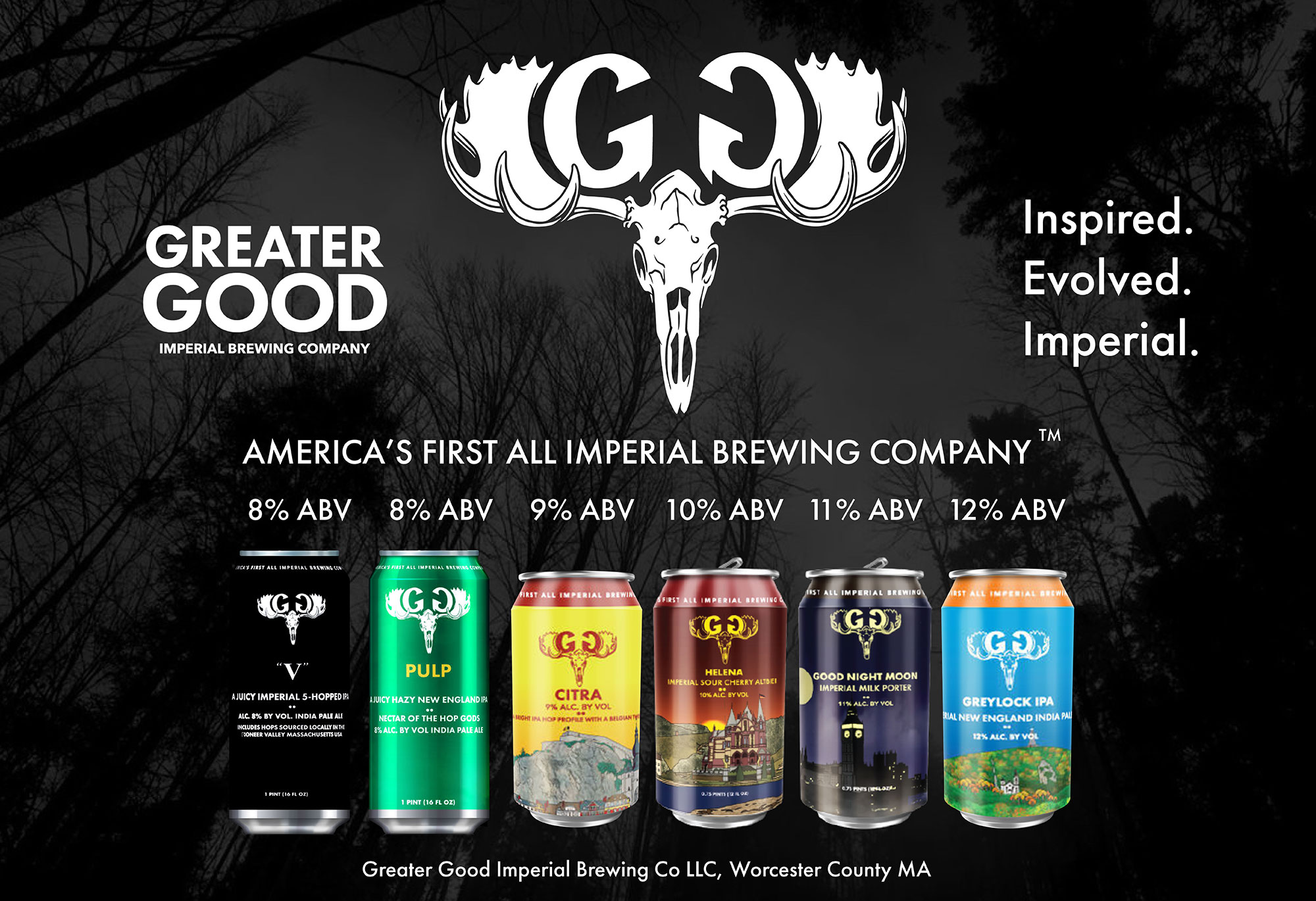 Imperial beers tend to scare people. With a higher alcohol by volume, the logic goes, comes a heavy, boozy taste. Get into the 8-10 percent ABV range and you're not so much sipping an IPA as you are willingly imbibing gasoline.
Greater Good Imperial Brewing Company is out to change all that, offering a full lineup of high-ABV beers that entice, rather than bludgeon, your palate. It's taken a couple years and advice from several brewers to master the balance. The resulting beers (which I've tried) don't drink like booze-bombs, but rather, as founder Paul Wengender says, highlight "recipes that have beautiful flavor and dial up the alcohol, but without that boozy burn."
Greater Good is opening a brewery and taproom in Worcester, MA, an industrial, blue-collar city 50 miles west of Boston. It's home to several breweries already — 3cross Brewing Company, Flying Dreams Brewing Co., and, most notably, Wormtown Brewery — and Wengender is hoping his presence there will only help the cluster grow stronger.
"Today's public loves diversity and choices; we're excited to be the first to bring a lineup like this to the world," says Wengender. "The growing community of craft beer enthusiasts are trending toward a greater appreciation for premium quality beverages."
Greater Good Imperial bills itself as the first all-imperial brewery in the United States, a benchmark Wengender places at beers with ABVs of 8 percent ABV or higher. He acknowledges that there might be a mental gap to bridge with some consumers, but he thinks the masses are ready — and not just beer drinkers.
"We joke with our partners and consumers that 8 is the new 5" in terms of ABV.
"I imagine a healthy crossover audience of wine enthusiasts or even mixed-drink lovers," he says. "We joke with our partners and consumers that 8 is the new 5" in terms of ABV.
Wengender has university training in microbial genetics, fermentation biology, and an MBA from Boston University. He's spent 23 years in life sciences and drug discovery, most of which involved running labs that contain bioreactors and fermenters. Despite years of homebrewing, he's tapped Shaun Radzuik as his head brewer, who brings 15 years of experience from notable Massachusetts breweries like Rapscallion Brewery and Paper City Brewing Company.
The flagship beers range from 9-12 percent ABV and include a milk porter, altbier, and Citra saison. They also now offer two New England-style IPAs — part of a series fittingly called "8 is the New 5 Series" — called "V" and "Pulp," which, says Wengender, is "our take on the 'juice-forward' hop character that I first experienced with Heady Topper from The Alchemist."
Greater Good hopes to begin distributing around Boston by July 1, with the taproom coming online by the beginning of 2018.