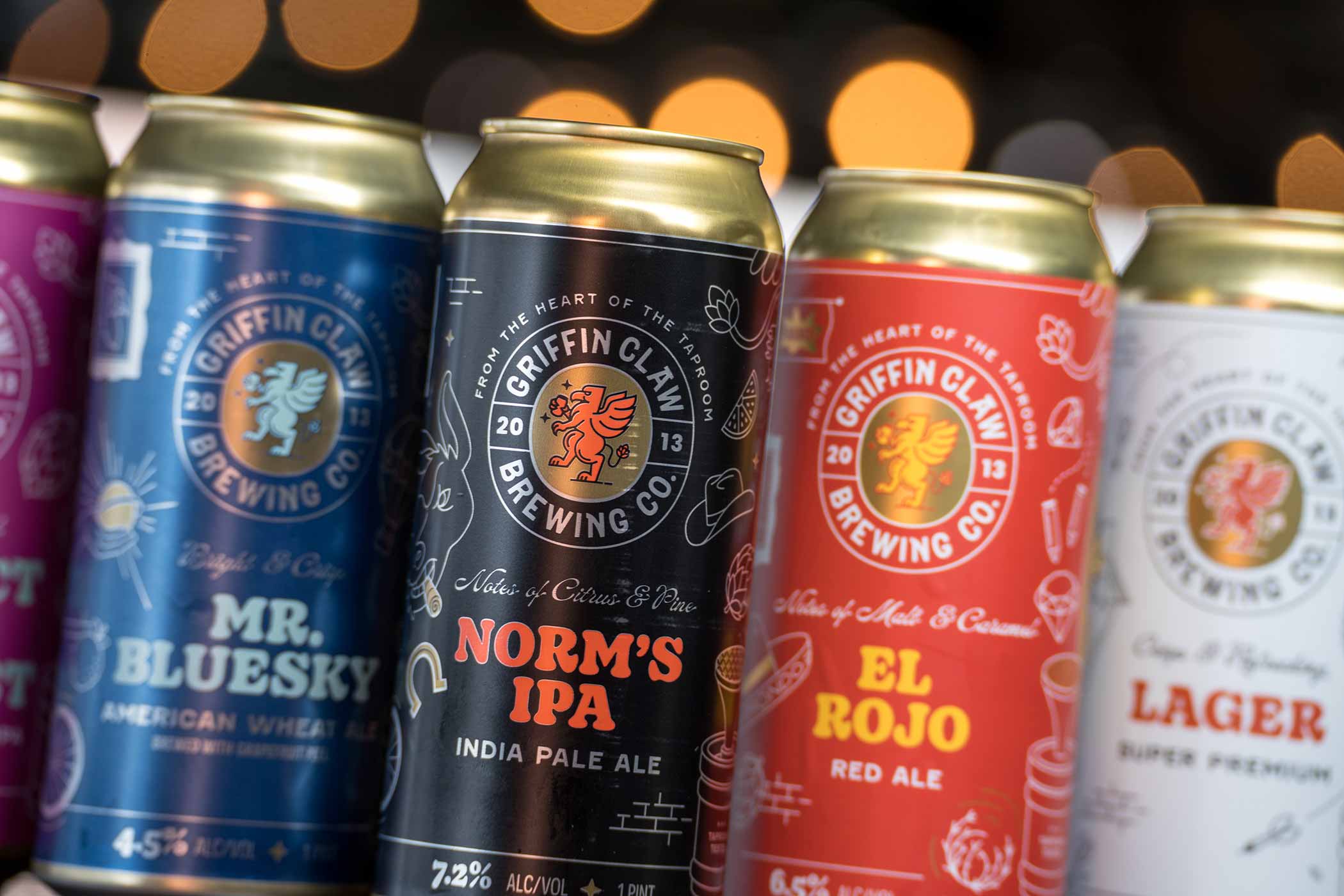 Photography courtesy of Griffin Claw Brewing Co.
At Griffin Claw Brewing Co. in the lower peninsula of Michigan, they use words like warm (but not motherly), charismatic (but not smooth), proud (but not snobby), comfortable (but not slobby), and hospitable (but not smothering).
Walk into one of Griffin Claw's two taprooms and you'll find a gold-winning World Beer Cup beer called Norm's Raggedy Ass IPA (named after founder Norm LePage) next to a humble best-selling El Rojo amber ale next to a lineup of housemade spirits.
These are crowd pleasers, not expensive, snobby, trying-too-hard beers.
These are wheat ales, IPAs, ambers, hazies, Mexican lagers, Czech lagers, pumpkin ales, stouts, and more perfected through experimentation and customer feedback in the ever-busy taprooms.
Because at Griffin Claw, their two taprooms are their heart and hearth, where all the good stuff happens.
And for the last ten years this brewery, distillery, and taproom destination has been making a name for itself throughout Michigan making a lot of really "good stuff."
But for Griffin Claw their story didn't begin necessarily with beer; it began with chops.
From Chophouse to Drafthouse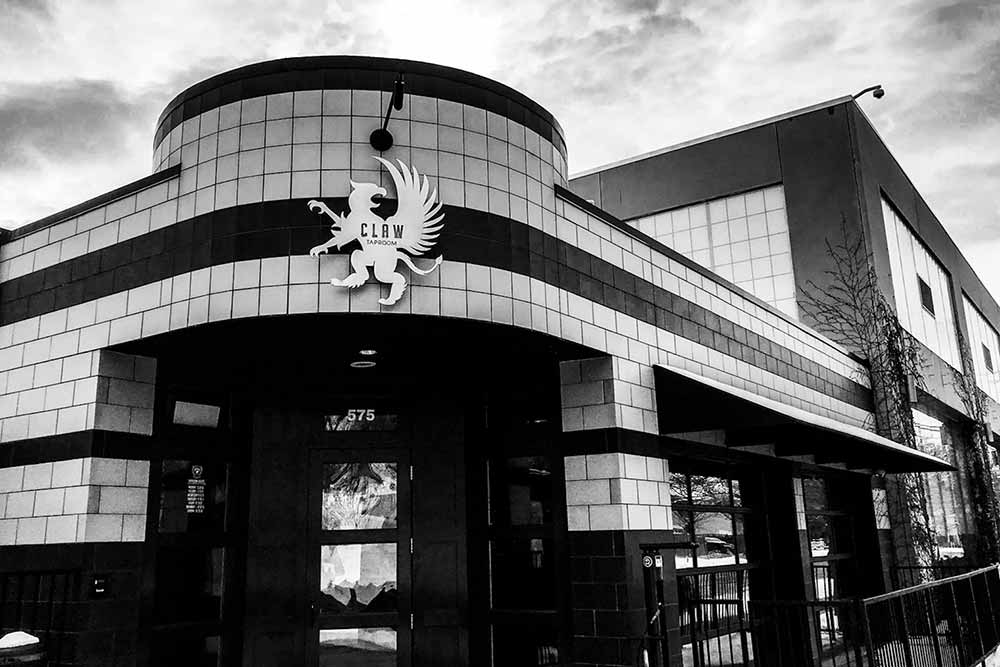 Griffin Claw has perhaps a different history than most breweries. Fashioned after the historic Denver ChopHouse, Griffin Claw began as a restaurant—Big Rock Chophouse. But since the original ChopHouse had a brewery inside it, Big Rock Chophouse got one too.
But beer wasn't the focus at first.
That all changed when their beers started winning awards at the World Beer Cup.
The problem?
As a restaurant with just a house brewery inside, Big Rock Chophouse couldn't distribute. Only allowed to serve beer in the restaurant, the brewpub had no way to satisfy the growing demand.
"We had a cult following at the location," says Scott LePage, managing partner at Griffin Claw whose dad Norm LePage started the original restaurant. "Everybody pulled up saying fill our kegs for us and we'll pay in cash, but my dad said absolutely not."
Thankfully, an empty piece of land next door provided that big break for Big Rock. The business expanded, opening up Griffin Claw as a fully operational brewery and distillery in Birmingham, MI, ten years ago.
Since then, as a brewery, distillery, and restaurant, Griffin Claw has steadily clawed its way to new heights.
And now it all starts with the beer.
The Beer Other Beers Would Drink If They Could Drink Beer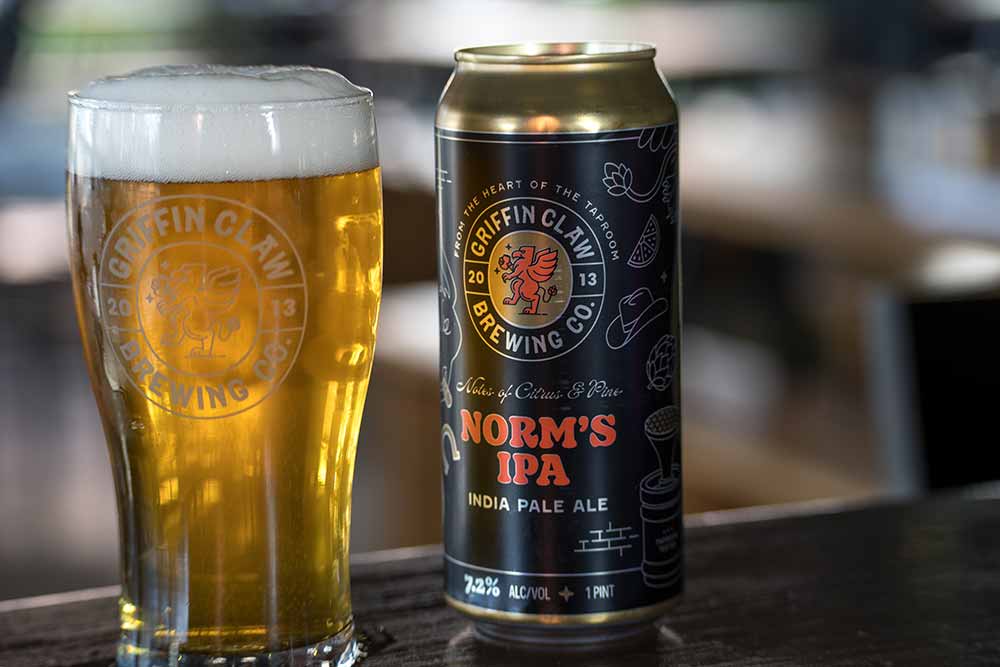 That's the philosophy behind the beers at Griffin Claw.
And it all starts with the anchors—Norm's Raggedy Ass IPA and Bonnie's Raggedy Ass Imperial IPA, which won gold and silver respectively at the World Beer Cup in 2010.
Named after the founders of Big Rock Chophouse (and Scott's mom and dad), Norm's Raggedy Ass IPA and Bonnie's Raggedy Ass Imperial IPA put the brewery on the map.
Norm's is a single IPA brewed with a who's who of classic Pacific Northwest hops including Centennial, Cascade, Columbus, and Simcoe. While Bonnie's ratchets things up a notch to a 9.5% ABV imperial IPA with Centennial, Columbus, Cascade, and Bravo.
Although those flagship IPAs gave Griffin Claw its credibility, the brewery has gone on to brew way more than just IPAs (or beers in general, but we'll get to that).
"We know what pays the bills," says Christopher Lasher, marketing director at Griffin Claw. "Norm's has always been our core brand, but we experiment all the time. That's the nature of craft beer; everyone wants to try something new."
And with twenty-six taps to play with at the original Birmingham location and another forty-one handles at the newer Rochester Hills taproom, Griffin Claw has plenty of room to experiment.
Like with Mr. Blue Sky, an American pale wheat ale brewed with grapefruit peel that LePage says always makes it into the top-five selling beers every week.
The brewery also offers fruited variations on Mr. Blue Sky that Lasher says are always popular—such as the current Mr. Blue Sky Pineapple.
Another top seller according to LePage and Lasher, El Rojo is an amber red ale that has been around since the beginning. It's not too often that we find successful amber ales, "but we see certain parts of the year in general that it peaks and we're like, 'Who is drinking all that Rojo!?'" says Lasher.
And the amber ale isn't the only surprise on Griffin Claw's tap list.
Come fall, Screamin' Pumpkin, an amber ale brewed with roasted pumpkin, cinnamon, nutmeg, allspice, and ginger, kills it.
"It's the most popular pumpkin beer in Michigan," says LePage. "In just that short window from September to Halloween it ends up being our number three SKU overall."
Add to that a pilsner and hazy that consistently rank in the brewery's top five and you begin to see that Griffin Claw doesn't limit itself to just one style.
Or just beer for that matter.
Doubling Down on a Distillery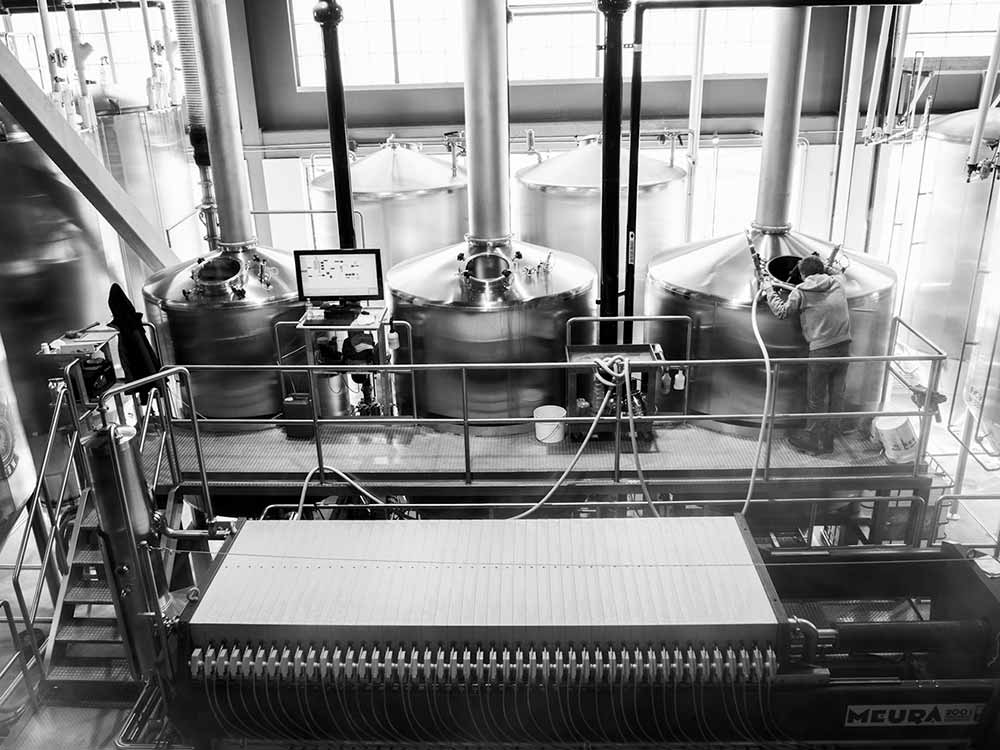 When Griffin Claw opened in 2013, they didn't just create a 50-bbl brewhouse, they built space for a distillery too.
"We wanted to make sure our customers had options because not everybody drinks beer," says LePage.
To build the distillery, Griffin Claw flew up experts from Kentucky to show them how to store bourbon and rye and brew it in the true fashion.
Which meant leveraging a Meura mash filter that not only improves brewing efficiencies, but also has an added benefit when it comes to spirits.
A unique Belgian piece of equipment to distill, the Meura mash filter allows Griffin Claw to run 100% rye.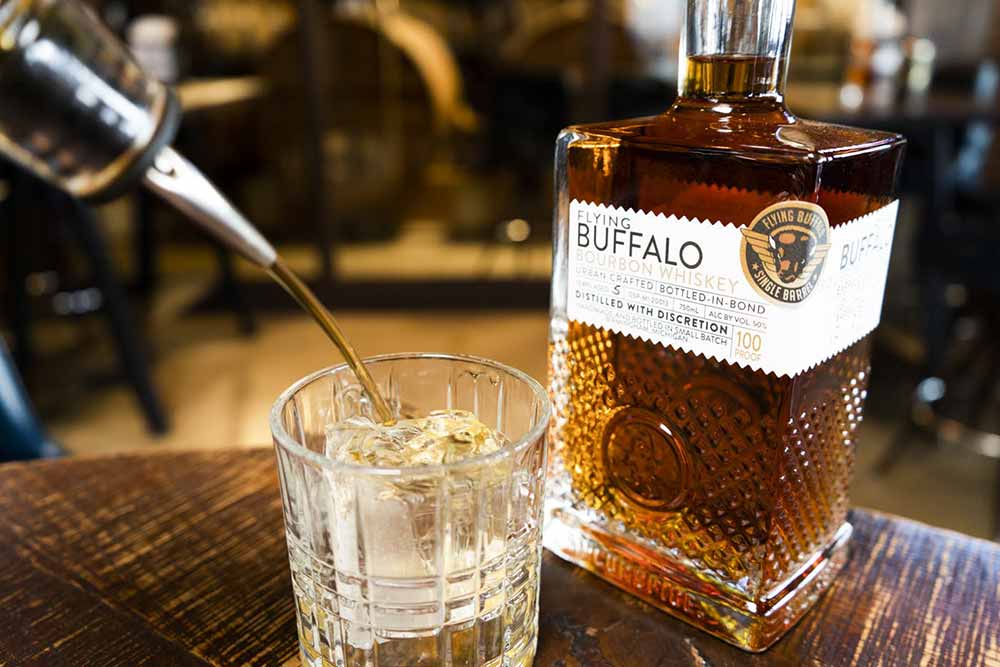 "Most ryes are not 100% rye, so ours is really special," says LePage.
As far as LePage and Lasher know, at the time they were the first craft brewery in America to own this piece of specialized equipment. Macrobreweries such as MillerCoors owned one too, but not smaller craft operations. Although more craft breweries nowadays do own one.
"I remember when ours was completed, because they custom made it for us, they didn't want to sell it to us at that point because they saw the market behind it," says LePage.
But the extra work paid dividends.
"Now it brings people to the brewery," says Lasher. "It's a showpiece."
LePage agrees, "And we get tons of breweries that want to see it."
Today, Griffin Claw distills spirits such as Claw Vodka, Potato Vodka, Flying Buffalo Bourbon, Rail District Rye Whiskey, Crooks Gin, Doc Rogers Rum, Boxcar Brandy, and Krupnik.
Their whiskey in particular is bottled-in-bond from single-barrel batches after five years and counting.
Recently, they've expanded to an entire line of ready-to-drink cocktails
Urban Craft Vodka + Seltzer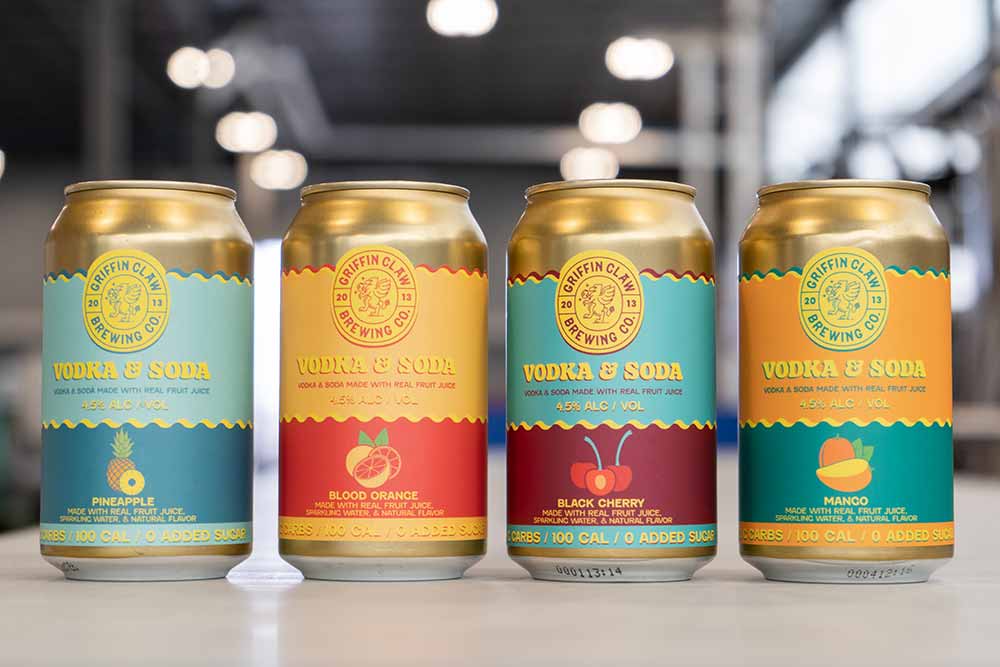 Working for over a year to perfect the recipe, Griffin Claw Vodka & Soda leverages the brewery's own distilled vodka to be a "craft version of the big boys," as LePage calls it.
Griffin Claw Distiller Andre Ellison "has been making some of the best vodka," says Lasher. Originally Griffin Claw's head brewer, Ellison earned the role two years ago but learned how to distill when the brewery first opened. "He was trained by those guys from Kentucky," says LePage. "He's done an incredible job."
With a solid foundation of expertly distilled vodka, Griffin Claw Vodka & Soda then gets a hit of real fruit juice.
Available in four flavors—Black Cherry, Blood Orange, Mango, and Pineapple—Griffin Claw Vodka & Soda comes out clean, crisp, and full of flavor.
And perhaps surprisingly, Black Cherry has been the best seller from day one. "Most black cherries are medicinal; it's a tough flavor," says LePage. "But our guys nailed Black Cherry."
Which Lasher attributes to using that real fruit juice, which also adds a cool rose color to the vodka seltzer. "It's showcasing the actual flavor of the fruit, so it's not medicinal, it's nice," says Lasher.
Behind Black Cherry, Blood Orange is Lasher's personal favorite. "Blood Orange is super, super crisp like a Topo Chico Grapefruit where it's really crisp, hits your tongue, and almost burns in a good way," he says.
All four flavors of Griffin Claw Vodka & Soda have been available since the summer of 2022, but newly rebranded gold cans in an eight-pack variety pack will be hitting shelves in late February.
Ten Years, One New Look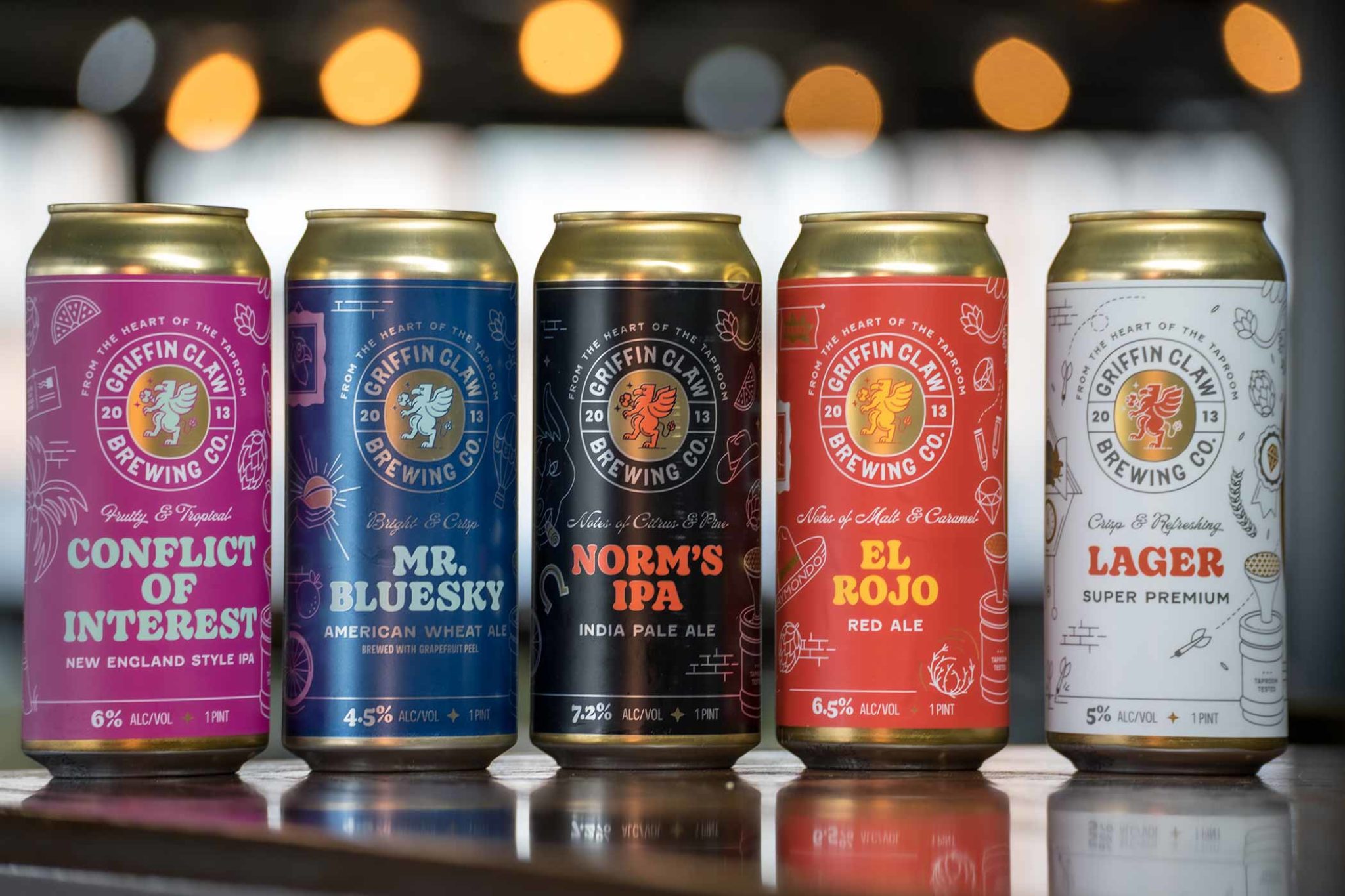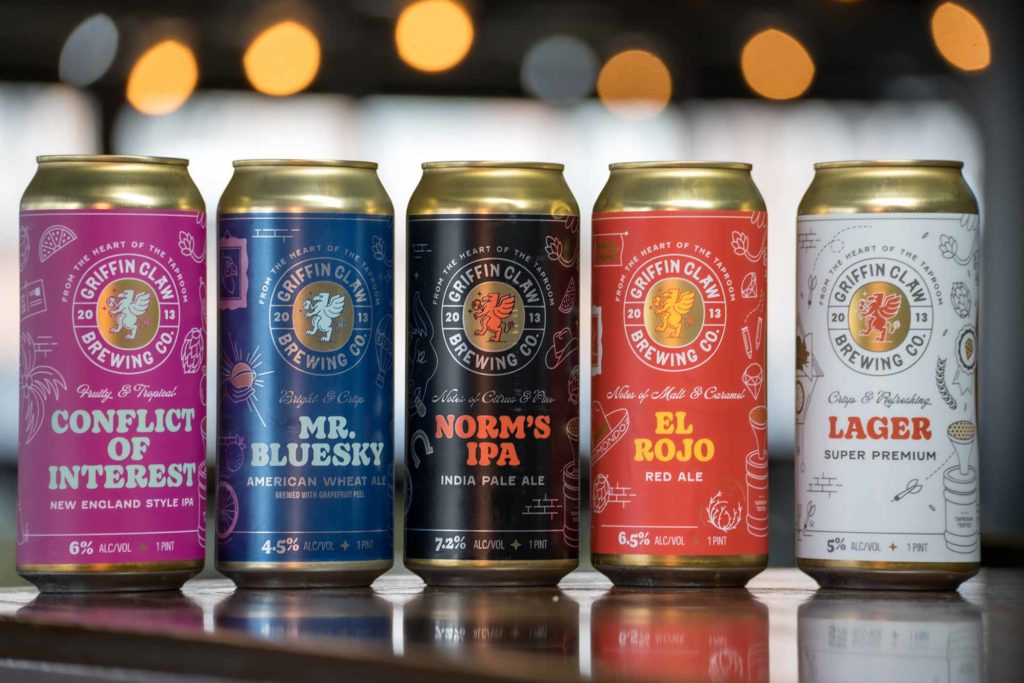 To go with their new ready-to-drink cocktails and ever-changing lineup of beers, Griffin Claw celebrated its ten-year anniversary with an entirely new look this year.
For the last decade Griffin Claw has made a name for itself in Michigan. "Our taprooms are crazy," says LepPage. "They're packed morning, noon, and night."
And in the summer months, the taprooms can easily reach 1,000+ covers on a Friday or Saturday. "We only seat 110, so we're turning it all day," says LePage.
Even during the past couple of years, Griffin Claw pushed through, introducing an online pickup system during the shutdowns caused by the global pandemic.
"When we turned on that system, I'll never forget it as long as I live," laughs LePage. "We had 300 orders come through, all wanting to pick up between 6-6:30PM. Our whole parking lot was full of people tailgating while waiting for carryouts!"
Today, Griffin Claw is back to business as usual, but to mark their historic birthday the brewery feels they're overdue for a refresh.
"When we first opened Griffin Claw the game was way different," says LePage. "You could come up with a beer, put some funny artwork on the can, and sell the shit out of it because everyone just wanted craft beer."
According to LePage, that approach led to a lot of sort of tongue-in-cheek designs created on the fly. "The brand lost consistency; it was all over the place," says LePage "It became difficult to identify us on the shelf with five different SKUs because they were all so different."
Ten years on and now more than ever it's important that a consumer can pick out a brewery it loves on the shelf.
"We wanted to make it so when you see us on the shelf it has the billboard effect," says LePage, sharing that he hopes with a new logo and can design people will understand the brand and the brewery itself right from picking up a can.
To that end, the new Griffin Claw logo got a slight refresh "to be a more fun and lively representation of our personality," says Lasher. Although it is still iconic to Griffin Claw.
Perhaps the biggest change is a switch to gold cans, a direct nod to the gold-medal winning Norm's Raggedy Ass IPA that jump-started Griffin Claw.
"After going through many design options and color combinations, we just fell in love with the way gold looked on our core brands and we felt a powerful draw to dress all of our products in gold," says Lasher. "Our beer has always been the 'gold standard' to us, as we have invested much time, resources, and personnel dedicated to super high quality in everything we do, so it seemed like a beautiful and cool-looking way to represent what we care about, which is quality always and our people, the best people."
All represent how Griffin Claw, named after the legendary creature with the body of a lion and the head and wings of an eagle, has roared to life over the last decade.
And hopefully will continue to soar for years to come.
The Future of Griffin Claw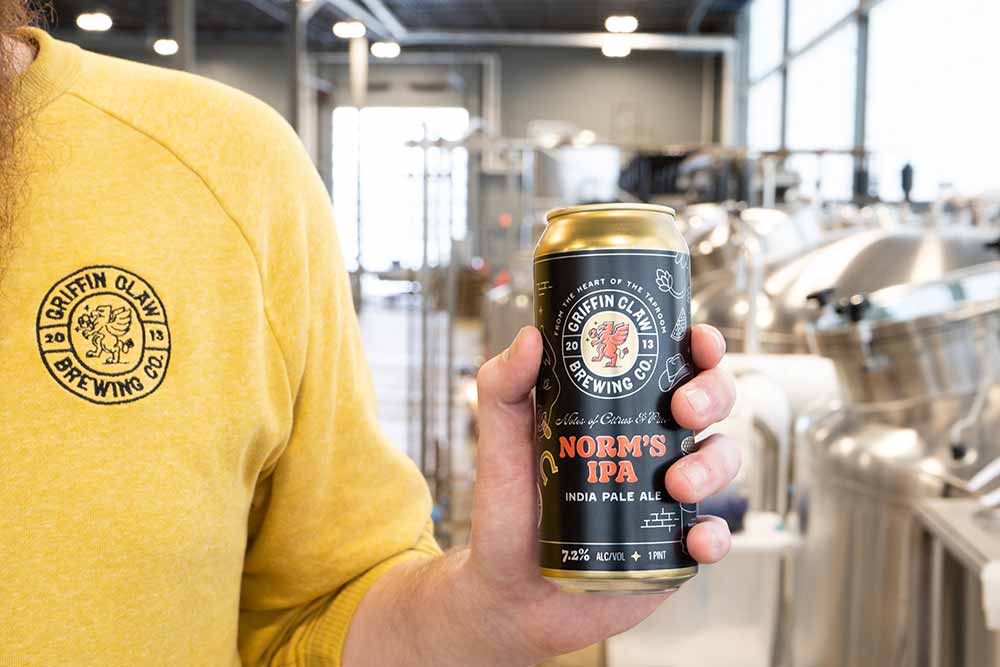 When looking at where the brewery can head next, LePage hopes Griffin Claw will continue to grow.
"My hopes would be that we double the size we are minimum and that we can translate what we do with our taprooms in Lower Michigan to Northern Michigan," says LePage.
The more that Griffin Claw can grow, the more beers and styles they can brew, the more spirits they can distill, and the more cocktails in a can they can create. And the more they can be a welcoming place to drink for neighborhoods across Michigan.
Or as Lasher puts it, "If we can get the volume then we can do everything we want and [welcome] all the people we want, that's what it's all about."