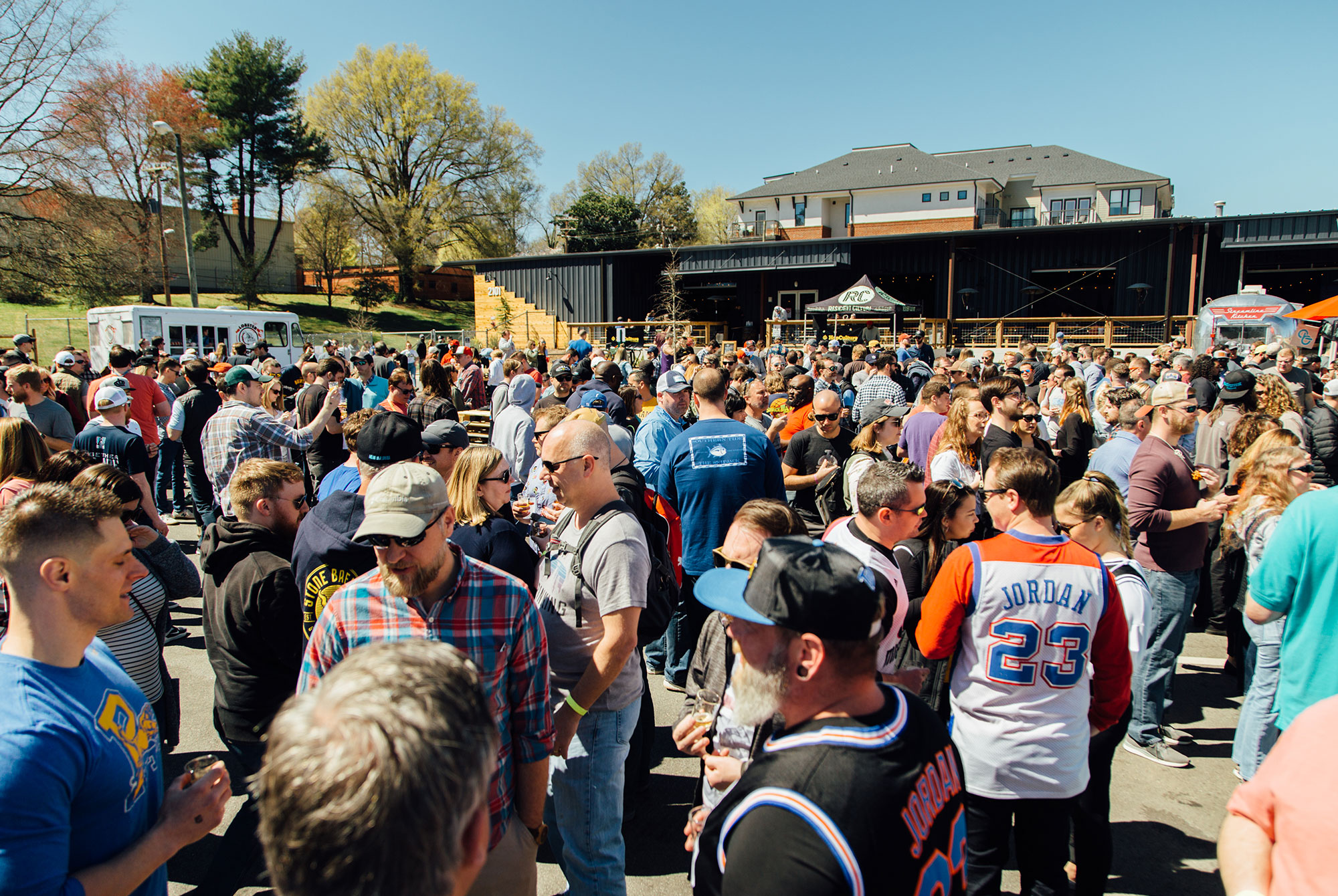 Editor's Note:
Tickets are available for Juicy Brews Balls to the Wall in Charlotte, NC. Find more info and tickets here.
Woo! I couldn't be more excited. Our basketball-themed craft beer event, Juicy Brews Balls To The Wall, was nominated as one of USA Today's best beer festivals in the country.
For those of you who don't know, we held the first iteration of Juicy Brews Balls To The Wall last year in Charlotte, North Carolina at Resident Culture Brewing. For several months, Resident Culture co-founder Phillip McLamb and I had been discussing the possibility of co-hosting a Charlotte-based festival. We picked the basketball theme after realizing we had a natural rivalry — I graduated from Duke University, and Phillip played basketball for UNC. The fun, excitement, and competitive energy of college basketball's greatest rivalry created an incredible backdrop for a beer festival.
So Juicy Brews Balls To The Wall was born. On a beautiful day last March, 600 drinkers showed up to Resident Culture in basketball jerseys to enjoy the music, sunshine, and unlimited pours. We had several local food trucks dishing up meals. Former Panthers Running Back Jonathan Stewart showed everyone how to dunk on our custom basketball hoop, designed by Resident Culture's in-house artist Maryssa Pickett.
Every year, we throw over a dozen festivals around the country, from Boston's Halloween-themed Spooky Brews to New York-based Beers With(out) Beards, the largest celebration of female brewers in the country. Although Juicy Brews Balls To The Wall wasn't our biggest festival it was definitely one of the most fun, and one of the events we were most excited to repeat in 2020.
Juicy Brews Balls to the Wall Returns
For those of you who attended last year, you understand why Juicy Brews Balls To The Wall was nominated as one of the USA Today's 10 Best Craft Beer Festivals in the Country. For those who haven't, you'll have another opportunity to see what makes Juicy Brews Balls To The Wall so special.
On 3/21/20, we'll be throwing the second iteration of Balls To The Wall in Charlotte — tickets are available here.
As a company, our mission is to create joy through craft beer, and we're honored to have our work recognized. If you have a moment, please consider voting for the festival here. Each person can vote once per day, every day, until the voting period ends on March 17th.
Thank you for your support and we hope to see you in Charlotte!
Best,
Kenny Gould
Founder, Hop Culture
Vote for Juicy Brews Balls to the Wall
Liked this article? Sign up for our newsletter to get the best craft beer writing on the web delivered straight to your inbox.