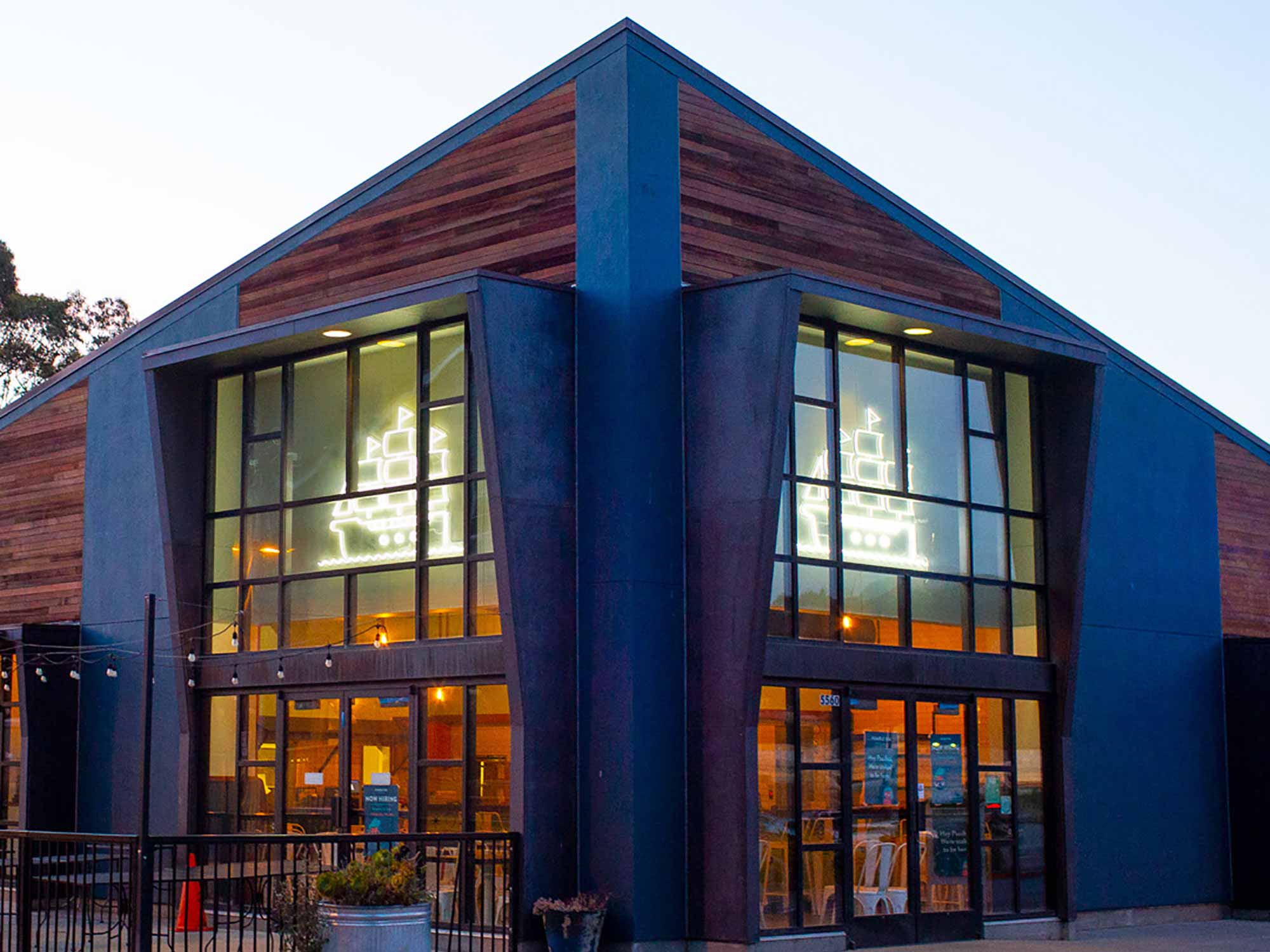 Photography courtesy of Humble Sea Brewing Co.
Back in 2019, the Hop Culture team traveled to Northern California to host its second annual Juicy Brews WestFest beer festival at Drake's Brewing Co. in Oakland, CA. And our first move after hopping off a six-hour plane ride from the East Coast? We rented a truck and drove an hour and a half south through the winding mountains to Santa Cruz, where we collaborated with Humble Sea Brewing Co.
Tucked into a tiny building mere blocks from the ocean, Humble Sea Brewing Co. pumps out fantastic versions of "Foggy" IPAs (hazy IPAs renamed for the infamous fog that often envelopes the Bay Area) and lagers. We love their beer so much that we named them one of our twelve best craft breweries of 2020.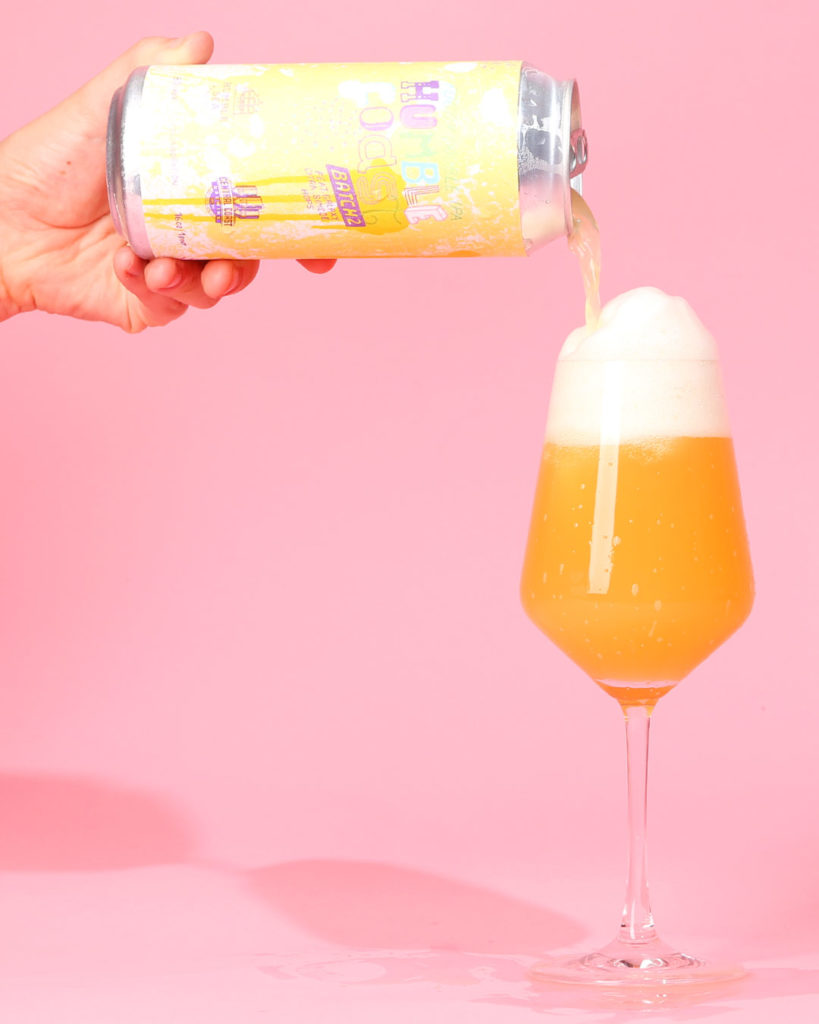 For the last six years, if you wanted one of Humble Sea's latest can releases, you had to do what we did: hop in the car and drive to Santa Cruz. But today, Humble Sea opens their newest location in Pacifica, California, sixty miles up Highway 1 from Santa Cruz and about a thirty to forty-five-minute drive from San Francisco and the East Bay. It's a strategic move for a brewery that has made a name for itself as a hidden gem on the California coast.
What Is Humble Sea Brewing Co.?
Started by three friends (Frank Scott Krueger, Taylor West, and Nick Pavlina), Humble Sea Brewing Co. embodies the California beer scene. They make damn good beer but with laid-back vibes and hella beach style, brah.
During our first visit a couple of years ago, the trio took us surfing before we scarfed pizza from the food truck outside, drank beers all night, and crashed in sleeping bags on the brewery floor. And fun fact: Our former managing editor John A. Paradiso has a tattoo on his left thigh designed by Krueger on a napkin that night; in addition to his role as co-founder, Krueger works as the brand's Creative Director.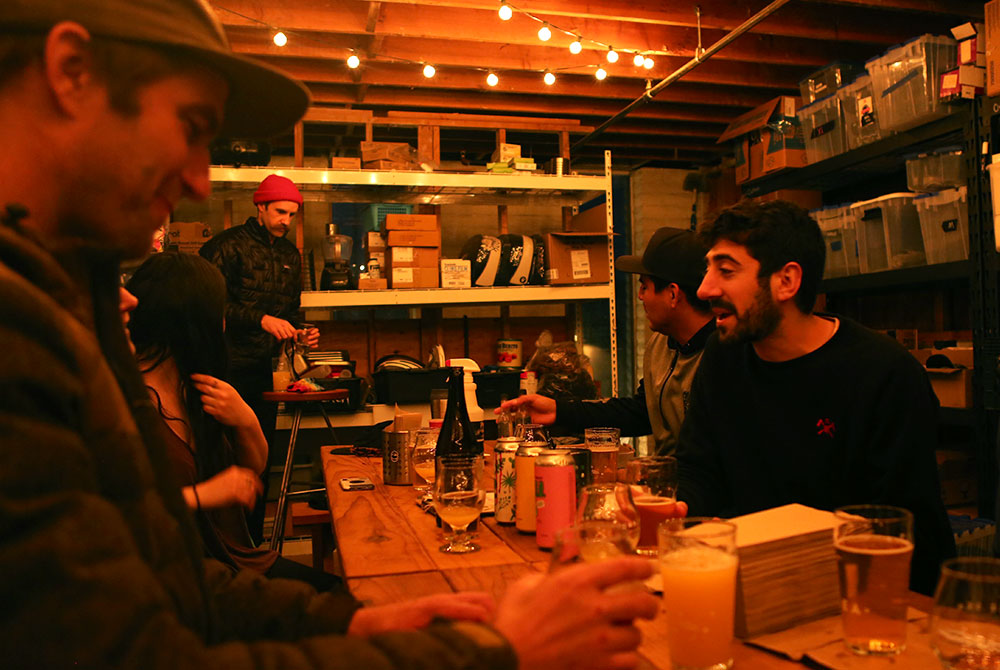 Although that was our first time visiting the Santa Cruz crew, we left feeling like we'd known them forever. That's just the kind of warm, welcoming place Krueger, West, and Pavlina have created. And the beer is darn good, too!
Humble Sea Grows From Humble Roots
When Krueger, West, and Pavlina opened their original location, they bootstrapped everything. But coming off a COVID year in a highly competitive market, they knew that wouldn't be possible if they wanted to expand.
To help run the new Pacifica location, Humble Sea hired a team of talented professionals including their new Director of Hospitality Joe White, who has 20+ years of experience in the hospitality industry, General Manager Ernesto Montalvo, who has 30+ years of seasoning in restaurants, and Kitchen Manager Wayne Kazanjian.
"Our team is kicking ass," says Krueger. "We're so impressed and blown away by how awesome and talented everyone is. The whole goal was to hire people that are smarter than us. And it's totally working."
Why Did Humble Sea Open in Pacifica?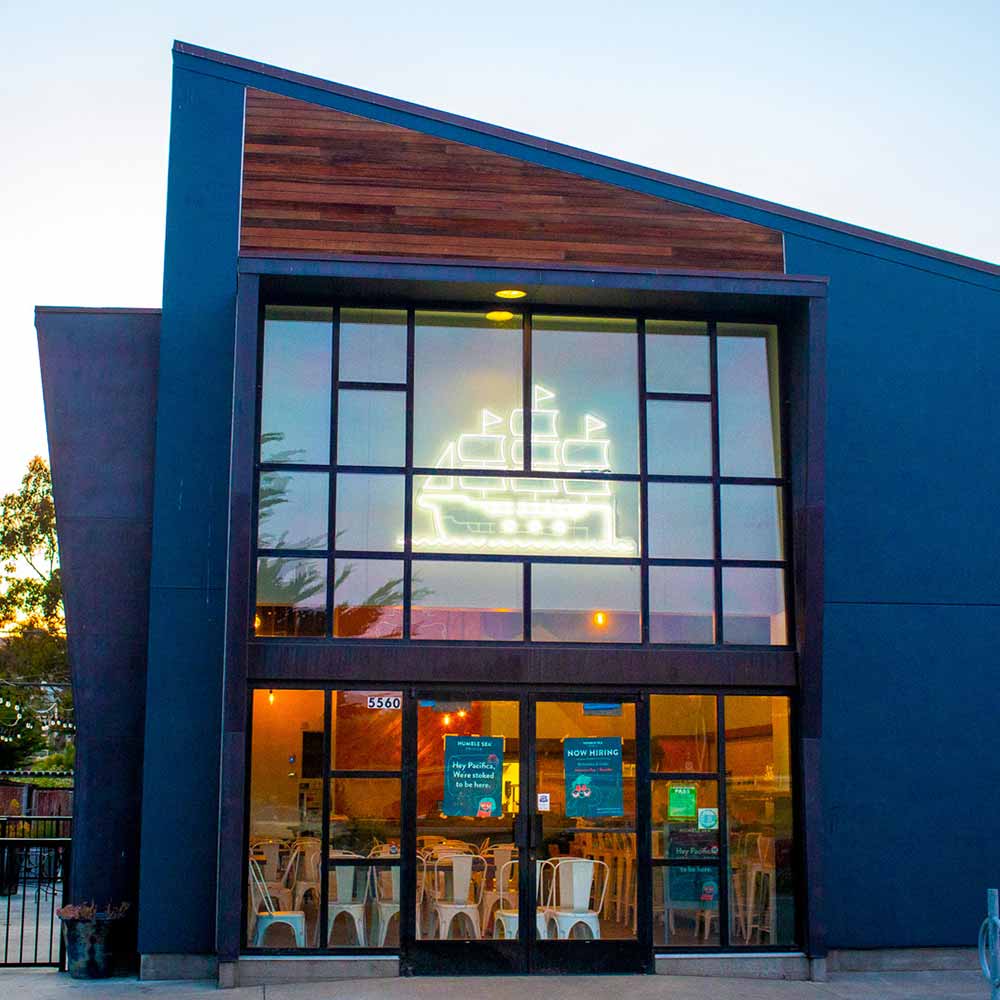 Nestled between the Linda Mar surf break and epic Devil's Slide mountain biking trails, the new Pacifica taproom room sits in the perfect location for surfers, hikers, bikers, and more.
"Pacifica is a perfect town for the Humble Sea brand," says Krueger. "What Santa Cruz is to Silicon Valley, Pacifica is to San Francisco, a day trip journey [from the city] that's pretty sleepy during the week, but often visited on the weekends."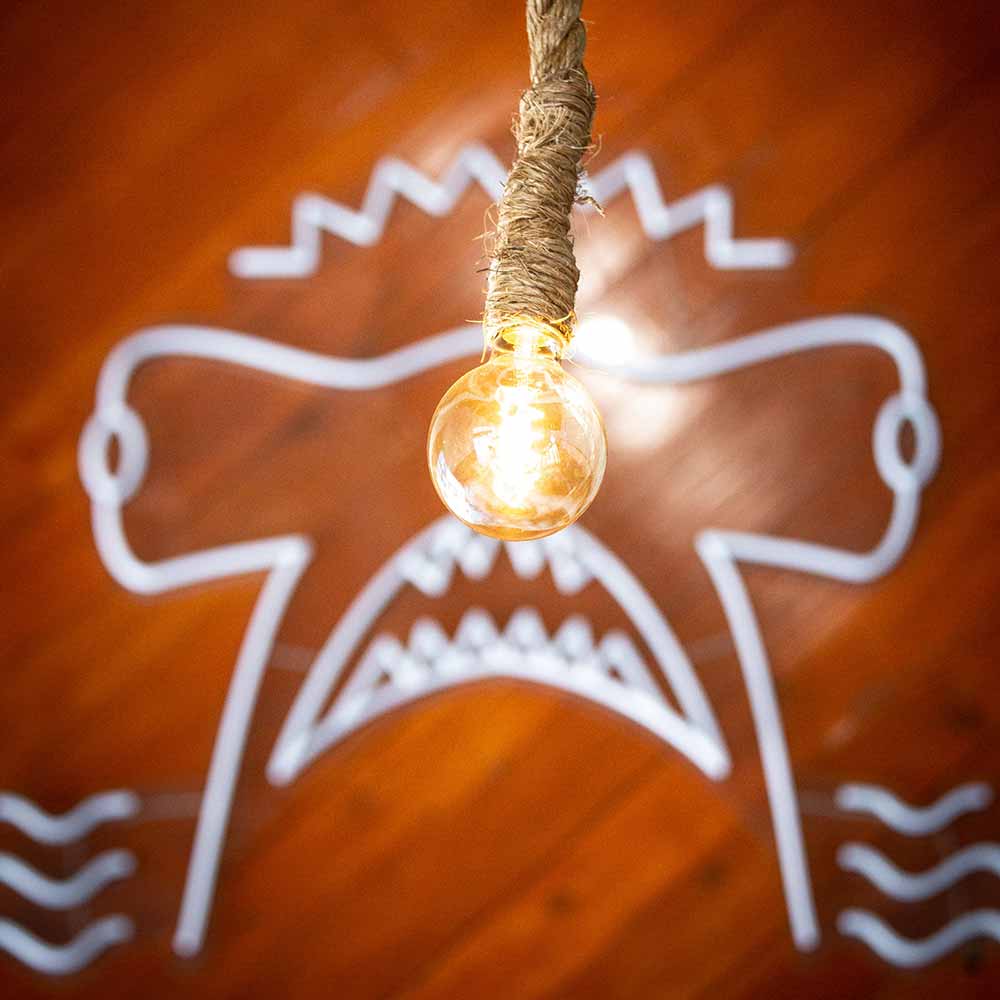 If the brand's original location is a 2-foot wave, then the new one in Pacifica is over 6-feet. Featuring branded seafoam green walls, whimsical artwork, 3,000 square feet of indoor space, and an additional 9,000 square feet of outdoor setting, the new space showcases the next iteration of the Humble Sea brand. The new taproom even has a second space dedicated to serving beer-to-go; "It's basically like Ye Ole Humble Sea beer shop," says Krueger.
For anyone worried that the fancy new digs might dull the laid-back Humble Sea vibe, fear not.
"There are surfers changing in the parking lot every day," says Krueger. And for the next four days, while the brewery opens, he'll be sleeping in his car beside them.
What Offerings Will Be Available at the New Brewery?
In addition to a whole new experience buying beer to take home, Humble Sea's Pacifica location will feature a huge selection of beers to drink on-site.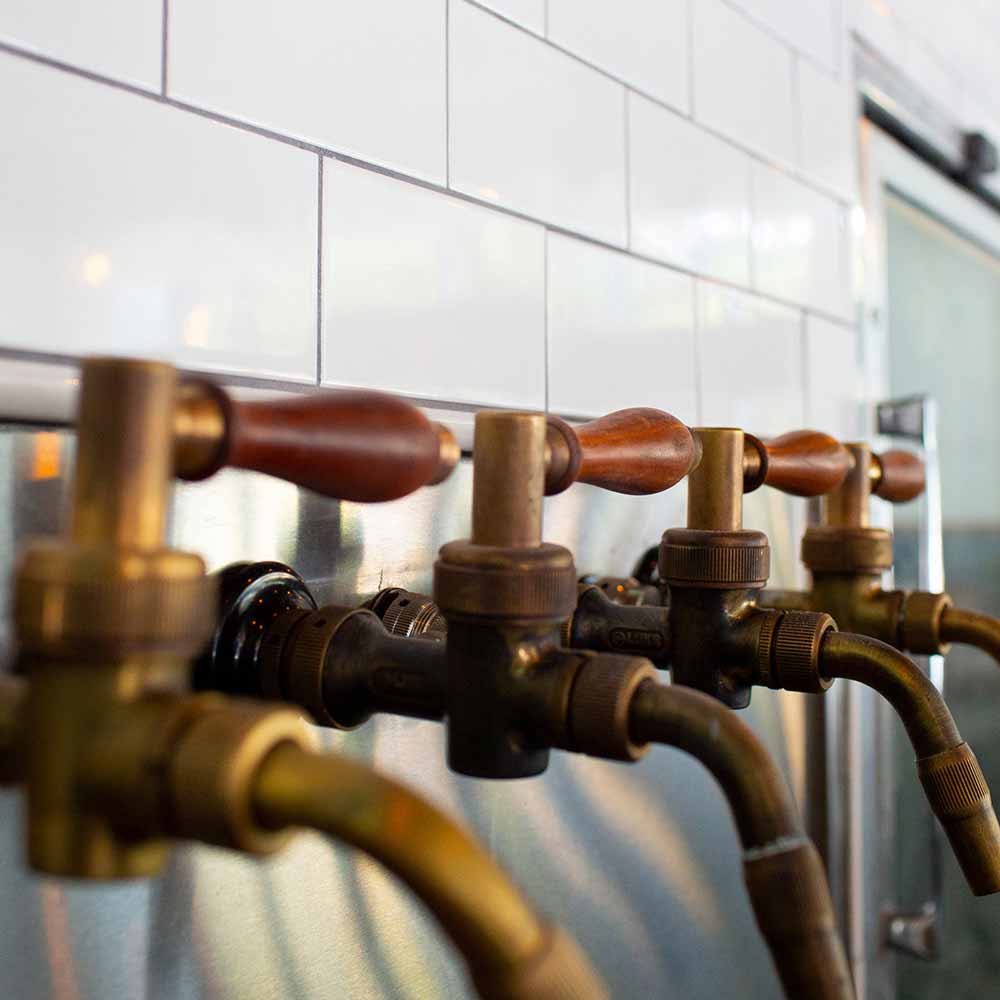 "Our plan is to have fifteen to twenty shiny new taps of new school Foggy IPAs, clear West Coast IPAs, crispy lagers, pastry stouts, saisons, and thickly fruited smoothie beers," says Pavlina, Director of Brewing Operations at Humble Sea.
Additionally, the Pacifica location will serve food including, "a full menu of comfort food favorites that will definitely require a 30-minute pause between imbibing and surfing," says Joe White, Humble Sea's new Director of Hospitality.
With that in mind, Humble Sea is currently looking to fill a variety of positions for the Pacifica taproom. All open positions can be found on their website here.
When Can I Visit Humble Sea Pacifica?
If you're interested in visiting Humble Sea Pacifica, the new taproom will be open Thursday through Sunday, from 12PM to 8PM PST. For updated hours and shenanigans, follow the brand on Instagram or visit their website.
Personally, we're hoping to return soon for another twenty-four hours of surfing, pizza, and lager. See you there?