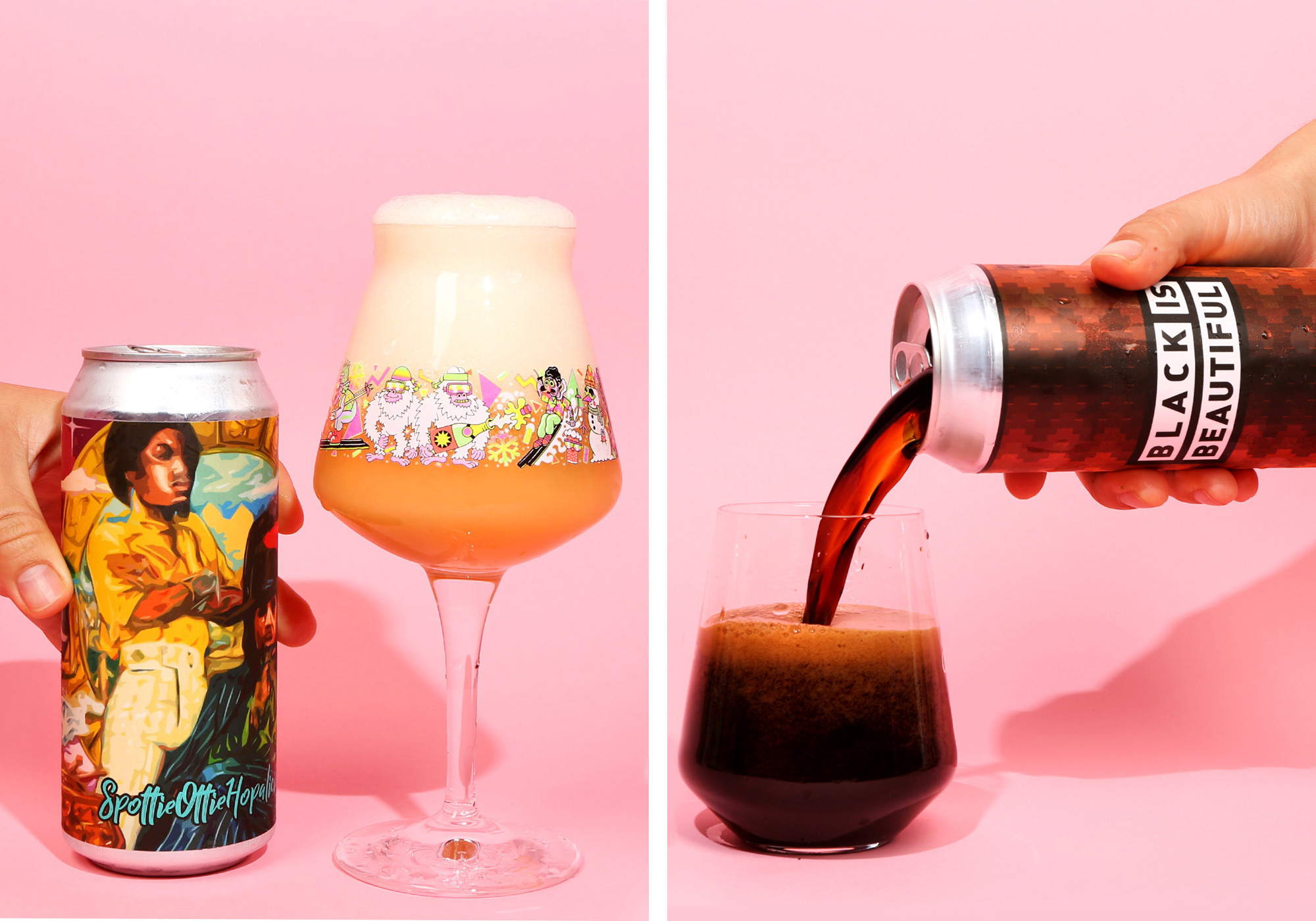 The piece I wait all year to write! The dozen best breweries of 2020. These are the breweries that, over the course of the year, have impressed the Hop Culture team in a myriad ways. Whether through the liquid, the visual identity, the service, the taproom experience, or — most likely — a combination of the above, the breweries listed here stood out as our favorites.
But especially in a contentious election year, we also looked at something else: the ability for a brewery to use their business as a platform to promote community and togetherness.
Of course, in any field of 8,000+ potential candidates, choosing only twelve to highlight is both a challenge and a responsibility. This list should be taken with a grain of salt. However, the reasoning should be considered thoughtfully. None of the decisions were made lightly and we make a point of carefully justifying our choices.
All of the breweries are listed below in no particular order, except for Weathered Souls Brewing Co. in San Antonio, Texas, which we proudly proclaim the best brewery of 2020.
The Best Craft Breweries In the Country: 2020
Weathered Souls Brewing Co.
San Antonio, Texas
When it comes to beer, Texas sticks to itself. Restrictive state laws make it financially unfeasible for outside breweries to send beer into the state. And few Texas breweries send beer outside the state's massive footprint.
That's why this year's Craft Brewers Conference was such a big deal. The annual meeting-of-the-brewers was supposed to shine a spotlight on San Antonio. Brewers would flock to the city from all over the world. Instead, COVID forced a cancellation. It left the city's craft breweries with months of preparation for an event that never happened.
Instead of wallowing in disappointment, San Antonio's Weathered Souls displayed an incredible resilience that easily earned them a spot on this list. Founded in November 2016 by Mike Holt, Marcus Baskerville, and Daryl Huffman, the brewery has become one of three "Texas Darlings," joining friends Turning Point Beer in Bedford and Ingenious Brewing Company in Humble as the state's best-known producers of New American styles. Those who love hops or fruited sours will find fun, well-crafted examples of the styles, from the West Coast IPA with Amarillo to the Mango Margarita Fruited Sour.
But Head Brewer Marcus Baskerville's Old World proclivities make their lagers the thing to try. And not only that, but they round out the menu, providing something for everyone. Hardwood Classic German Pilsner, #BIL English Barleywine, Dale Shine Mexican Style Lager. The special lagers at Weathered Souls make the brewery the spiritual successor to Austin-based mentor Jester King, perhaps the best-known brewery in Texas besides the ubiquitous Shiner.
And yet, resilience and tasty, well-crafted beers are only a part of the puzzle, and definitely not the most important part. In an election year, with the national and even global conversation focused on issues of equity, inclusion, and justice, Weathered Souls truly marked themselves as a brewery for EVERYONE by spearheading Black is Beautiful, a collaborative effort to raise awareness around the injustices faced by people of color. The initiative kickstarted a much-needed conversation within the craft beer industry and allowed a black-owned brewery to take a well-deserved spotlight.
So not only for their resilience and their beers, but for their courage, leadership, and vision, Hop Culture Magazine names Weathered Souls Brewing in San Antonio, Texas, the best craft brewery of 2020.
Oozlefinch Beers + Blending
Fort Monroe, Virginia
Not many breweries are based on a haunted Civil War army base off the coast of Virginia. And even fewer are run by a law enforcement hero, a gay man, a former shoe salesman, a female artist, and three women under the age of thirty. But the unlikely team behind Oozlefinch Brewing Company in Fort Monroe, Virginia, makes some of the most incredible sours we tried this year. And we tried a lot of sours.
Drawing on their location as well as founder Russ Tinsley's former naval service, the family and dog-friendly Oozlefinch Brewery is steeped in American history. When visiting the expansive property, expect to learn at least one new fact about the US Navy. And try one of the sours named by the owner's young son — Das Yummy or Silly Nilly, both fruited sour series.
The forward-thinking nature of their beers gets reflected in their programming; this year, owner Russ Tinsley approached Hop Culture to jointly host a digital craft beer festival. The endeavor represented a novel (and much needed) form of entertainment during an incredibly stressful time.
The beer, the historic location, and the visionary team make Oozlefinch a "road trip brewery," a hidden gem worth visiting before the secret of their quiet brilliance hits the masses.
Tripping Animals Brewing Co.
Doral, Florida
In Venezuela, when you're tripping, it means you're having a great time. And though the Tripping Animals art — featuring a different stoned animal on each can — might suggest otherwise, that's the spirit in which Daniel Chocron, Ignacio Montenegro, Iker Elorriaga, and Juan Manuel Torres founded their brewery in Doral, Florida, just outside Miami.
As Hop Culture Managing Editor John A. Paradiso wrote in a recent article on Tripping Animals, "On paper, Tripping Animals isn't so different from many of the other breweries pursuing in-vogue beer styles. Perhaps what best separates the Tripping Animals team is their sense of community. While most fans are quick to sing the praises of Tripping Animals' beer, they're just as likely to say how welcoming and kind Chocron, Torres, Montenegro, and Elorriaga are."
For good vibes, great art, and amazing beer, visit Doral — aka Miami's "Little Venezuela" — for an IPA or sour and to party it up with the fun-loving team at Tripping Animals. And while you're in town, don't miss our other Florida favorites. J. Wakefield (internal link to Wakefest piece), Unseen Creatures, Strange Beast, and Lincoln's Beard, among others.
Hoof Hearted Brewing Co.
Columbus, Ohio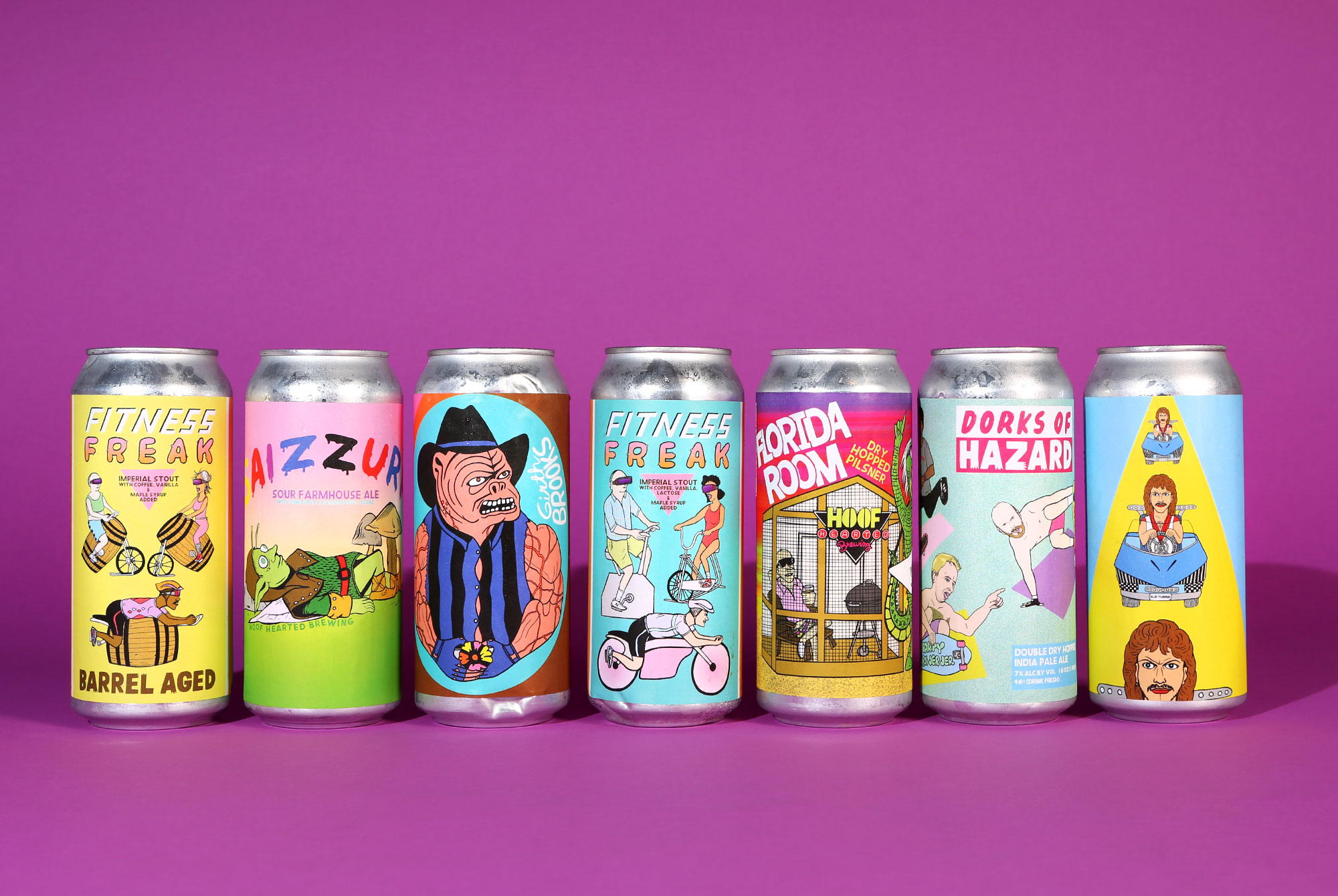 Is there a more fun brewery in the country than Hoof Hearted? Boasting its own pool, a second location with its own pond and nature trail, and a collection of yacht rock records the size of assistant brewer Blake Volk's mullet, the brewery screams "Good times for all" in Flavortown. Across the country, you'd be hard-pressed to find a goofier, sillier, more fun bunch of guys and gals who truly live their "More hops than brains" brand.
And yet, as we wrote in our review of their COVID-modified Dragonsaddle Day Festival, the brewery has the chops to back their irreverence. Their staff includes a sommelier, TWO former engineers, a world-renowned artist, experienced front-of-house staff, and more. Their humorously-named beers — combined with equally zany can art — and two incredible taprooms provide an oasis of welcoming energy in the already-friendly Midwest.
Great Notion Brewing Co.
Portland, Oregon
Portland, Oregon, took a hard hit from COVID-19. And yet, looking at Portland's Great Notion Brewing, you probably wouldn't have guessed it.
At a time when breweries across the country closed their checkbooks, Great Notion Brewing went the other way, donating proceeds from not one but THREE beers to support those affected by COVID-19. According to co-founder Paul Reiter, "Those three beers raised about $30,000 but we donated over $50,000 this year, with more to come later this month."
Additionally, the brewery launched a new app this year, complete with a robust fan reward program and an augmented reality feature that allows drinkers to sip a beer with their favorite Great Notion character. And they expanded their operations, announcing not one but two new locations in Seattle, Washington.
For their generous support of those in need — as well as the will and vision to succeed despite the circumstances — we call Great Notion one of the best breweries of 2020. Oh, and their beer is pretty great, too.
Two Roads Brewing Co.
Stratford, Connecticut
Who says you can't teach an old dog new tricks? Founded in 2012 (okay, old by craft beer standards), the granddaddy of the Connecticut brew scene recently made waves with the launch of the $15 million Area 2, a state-of-the-art sour facility that incorporates a koelschip, botanical garden, and wetlands restoration. Oh, and also by actually being the grandmommy of the Connecticut beer scene. Although the brewery was founded by men, day-to-day operations fall to Director of Sales Meghan Zachry, Senior Manager of Consumer Events Kristen Malski, Sensory Program Manager Jen Pesavento, Director of Quality Assurance Karen Stangl, Quality Lab Tech Ryan Galligan, Media and Communications Manager Erin Lynch, and Marketing Manager Alyssa Mantilia. And the forward-thinking female leadership knocks it out of the park, especially with regards to their STEM positions.
If you want the best blueberry lemon gose of your life, try the eponymous Blueberry Lemon Gose. And from there, try your way down the Year-Round, Seasonal, Limited, Collab, and Area 2 tap list. As you'll find — as we found — this brewery doesn't make a bad product.
Two Roads also gets credit for being one of the first major breweries to actually collaborate with a black-owned brewery to make Black is Beautiful. (Shoutout Lady Lager and Rhythm Brewing Co.) And for helping others through their contracting program. Although their full list of contract partners remains unlisted, Two Roads has publicly brewed for several high profile brands, from Evil Twin to Lawson's Finest Liquids.
Humble Sea Brewing Co.
Santa Cruz, California
If any brewery on this list is going to give Hoof Hearted a run for its money in the "most-fun-brewery-in-the-country" superlative, it's Humble Sea.
Located a short drive from the beach, Verve Coffee Roasters, and several high-quality dispensaries, the "surf's up" vibes come through the brewery's beer, art, and attitude. And yet, while the vibes at this beachy brewery are incredibly chill, the chops are anything but. Co-founders Nick Pavlina, Taylor West, and Frank Scott Krueger produce some of the country's best hops AND lagers, showing a mastery of both New and Old World styles.
Other Half Brewing Co.
Brooklyn, New York
In 2020, Other Half Brewing Co. went from a neighborhood hotspot to an East Coast powerhouse. That's not a dig on the brewery. The fact that Other Half has managed to grow in such a measured, sustainable way is remarkable. And they've maintained the excitement around their core offerings. That is true success.
Earlier this year, Other Half opened its Washington, D.C. location extending its reach further south in the Mid-Atlantic region. It makes a ton of sense and, anecdotally, D.C. residents are thrilled to have the OG juicy IPAs and even Other Half's less hyped, yet still delicious offerings. Lagers, anyone?
But, perhaps most importantly, Other Half launched All Together. When the first round of lockdowns began earlier this year (remember March?), Other Half put together the All Together project as a way to raise funds for food and hospitality workers. In fact, Baskerville and Weathered Souls followed a similar model of an open-sourced collaborative beer with Black Is Beautiful.
So hats off to Other Half for not only expanding their reach, but using that influence to be true leaders in the industry.
Green Bench Brewing Company + Webb's City Cellar
St. Petersburg, Florida
While I didn't visit many taprooms this year, I found myself drinking a lager at the Green Bench taproom this February. I stopped and thought, "This might be the best beer I've ever had." And then I went next door and tried the mead.
Simply put, Khris Johnson and his teams at Green Bench / Webb's City Cellar might be making some of the most sublime products in the country. From the lagers at Green Bench to the meads and ciders at Webb's City Cellar, there's something for everyone to enjoy. And that doesn't even get into the tap list at Webb's City Cellar, which features bottles from some of the most popular and renowned breweries in the world.
Johnson doubly cemented his organization's spot on this list with his support of Beer Kulture, a much-needed 501c3 that promotes equity, inclusivity, and justice within the craft beer industry. And his proximity to Bodega, one of the tastiest Cuban spots in the South.
The Eighth State Brewing Company
Greenville, South Carolina
How does a small, three-barrel brewery in Greenville, South Carolina make our best brewery of the year list? By quietly putting out some of the best stouts in the country.
The theme of this year's selections generally focuses on breweries that make incredible beer and support inclusivity, equity, and justice. But, sometimes a "best of the year" list just needs to include the best. And The Eighth State? They're doing it right.
If you can track them down, try Abiogenesis, a 16.6% (!) imperial stout with some of the year's coolest art. Or sample Abuelita, an Imperial Stout collab with Weathered Souls featuring (ready?) Ecuadorian Cocoa Nibs, Mexican Vanilla, Madagascar Vanilla, Fresh picked Chocolate Scorpion Peppers, Scotch Bonnet Peppers, Black Jalapeños, Red Jalapeños, Cayenne Peppers, Ancho Chili, Demerara, Hot Cocoa, Cassia Bark, Clove, Nutmeg, Marshmallow, and Milk Sugar.
And if you had any doubts about their intentions, note that proceeds from the release of Abuelita went to the Michael James Jackson Foundation for Brewing and Distilling.
Keep up the awesome work, The Eighth State!
Yeast of Eden
Carmel-by-the-Sea, California
Rounding out our picks for the best breweries of 2020 is Yeast of Eden. This small yet powerful side project from the team at Alvarado Street is producing some of the best mixed-fermentation beer in the country.
Of all the breweries on this list, every single beer we tried from them ended up in contention for our (soon to publish) best beer of 2020 article. That's an incredibly high success rate.
Still, we wanted to highlight Yeast of Eden because we're thrilled to see smaller, more "experimental" side projects take off. Side Project is the eponymous success story but as we enter a new year, we're hoping to see brewers get weirder and wilder. Literally! Following their passions and making use of native yeast, spontaneous fermentation, and elegant barrel-aging. Yeast of Eden is one of many examples (Wunderkammer, Primitive, and Wild Provisions to name a few) of a style of brewery we hope continues to grow.
Our Mutual Friend Brewing
Denver, Colorado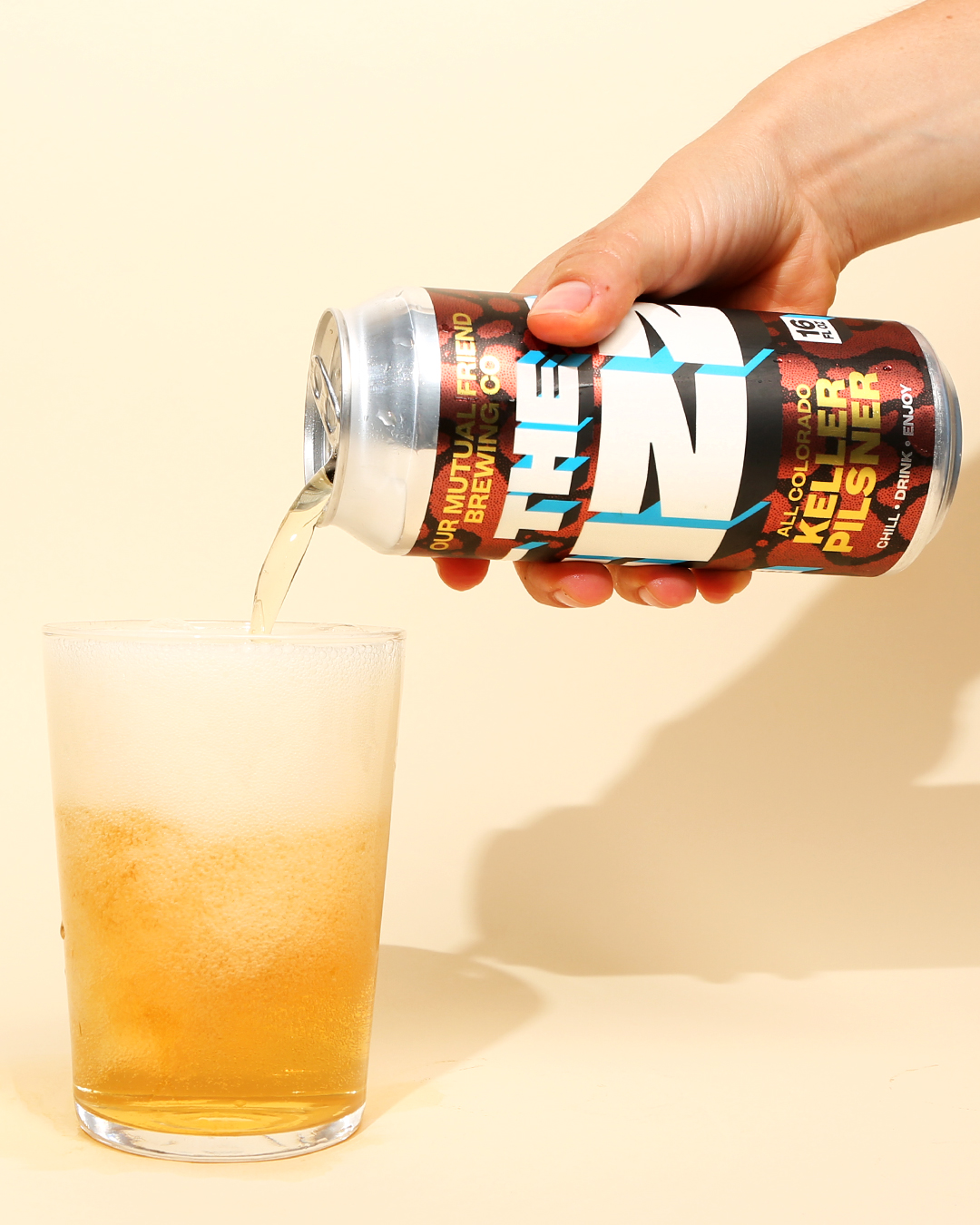 Denver, Colorado is jam-packed with some of the best craft breweries in the country. And even in that sea of fantastic sour beer and hype-worthy hazy offerings, Our Mutual Friend stands out.
The RiNo brewery produces a diverse lineup of tasty offerings. Unlike some of the other standout breweries in the Mile High City, OMF doesn't specialize in one style. Every single beer they produce is high-quality across each style. Looking for a light, refreshing, flavorful lager? Head to OMF. Need a piney West Coast? OMF probably has it. Want to try a vibrant, barrel-aged saison? Well, you know where to go.
But it isn't that skill across beer styles that makes Our Mutual Friend the first brewery we recommend to folks looking for spots in Denver. It's the palpable sense of community you feel walking through the doors of the OMF taproom. The brewery pays tribute to its name in stellar hospitality and through various charitable acts like their work with the Colorado Name Change Project. If you're ever in Denver, swing by Our Mutual Friend and say hey. There'll be a cold glass of beer waiting for you.
Liked this article? Sign up for our newsletter to get the best craft beer writing on the web delivered straight to your inbox.