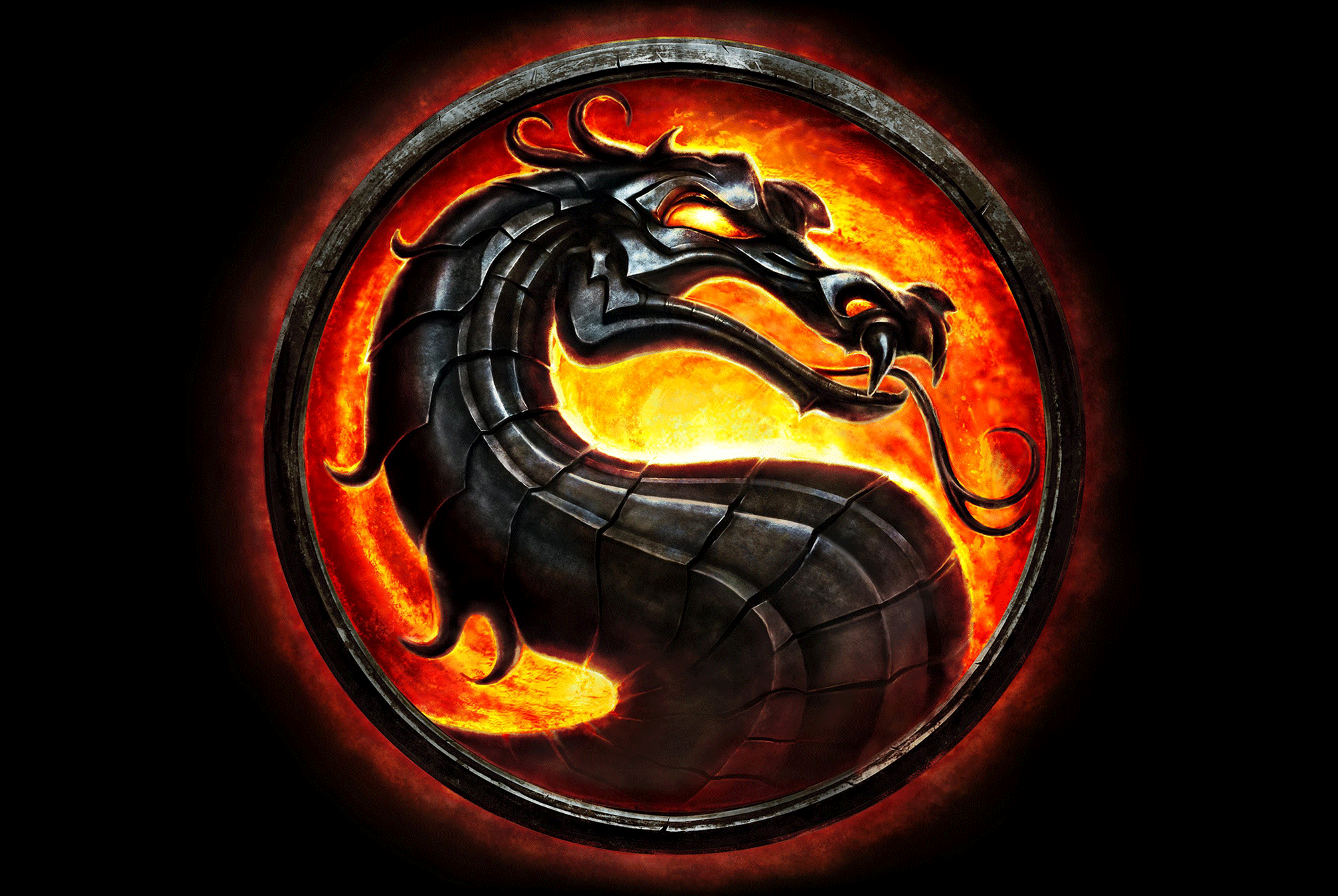 Choose your destiny. Flawless victory! When it debuted from Midway Games' Chicago studio in 1992, Mortal Kombat attracted as big of a cult following as Tree House or Trillium. The catchy theme song, interesting characters, and over-the-top violence made the game Electronic Gaming Monthly's "Most Controversial Game of 1993" and birthed the first age rating for a video game. Everyone had an opinion… and their favorite character. Just like craft beer, who you chose said a lot about your personality. Here's what the original ten Mortal Kombat characters would be if they were craft beer. Fight!
Goro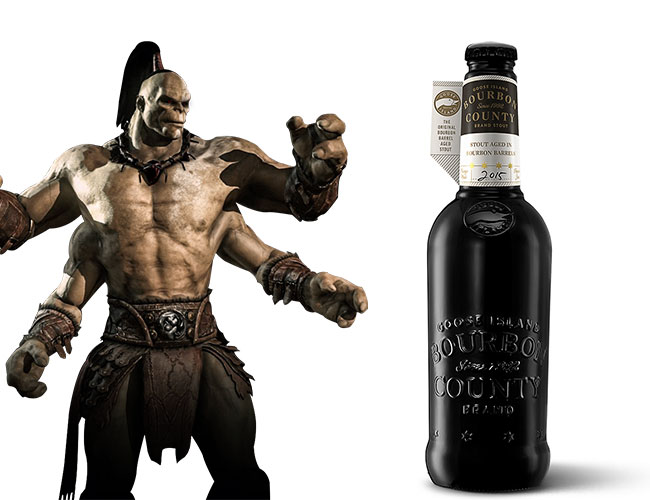 The most imposing physical force in the Mortal Kombat universe, the four-armed, half-human, half-dragon remained the undefeated tournament champion for almost 500 years. Any beer representing Goro must also be a force, as well as an undefeated champion. In the beer arena, that's Goose Island Bourbon County Brand Stout, a dark and strong near-14 percent ABV percent powerhouse.
Johnny Cage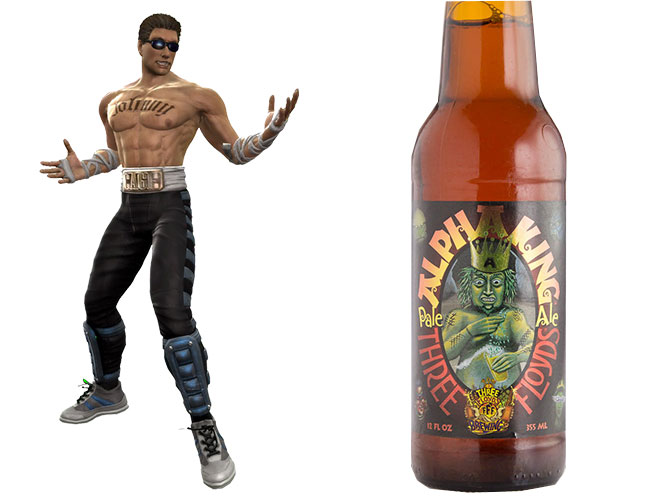 A struggling movie star looking to reinvigorate his career, the materialistic Cage entered the Mortal Kombat tournament to disprove his critics, who said that his complex stunts relied on camera work. But Cage quickly proved that he was more than a pretty face, eventually becoming one of Earth's greatest champions. Matching Cage's unabashed attitude and flair, 3 Floyd's Alpha King kicks some serious ass while still looking good. Fun fact: Cage's original outfit was modeled after Jean-Claude Van Damme's character in Bloodsport—check out the black pants and red sash.
Kano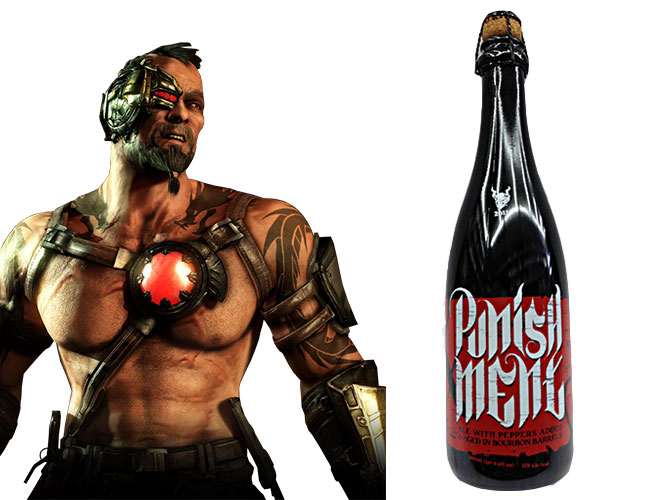 We hesitate to give any beer the title of Kano, because he's the biggest asshole in the series. Selfish, opportunistic, and incredibly talented, Kano leads an international crime cartel called the Black Dragon, and enters the tournament to rob host Shang Tsung's palace. So we'll say that no one brewery fully embodies Kano, but if we had to pick someone, it's going to be Stone. Motto? You're not worthy. Their chili beer Punishment definitely seems like Kano: hot, painful, and downright cruel.
Liu Kang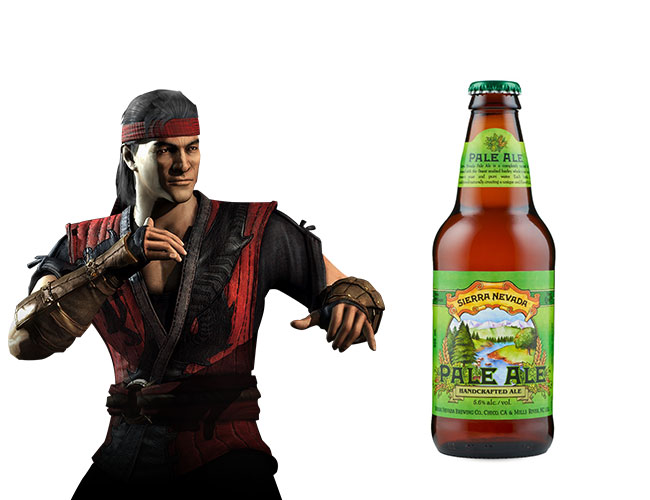 We're not talking about the Singaporean painter or the Chinese football coach, but the Shaolin Monk who entered the ring to save Earthrealm. The hero of the Mortal Kombat Universe and chief defender of our planet needs a fitting beverage from the world of craft beer: Sierra Nevada Pale Ale, which has been a stalwart in the American brewing scene since November of 1980. Pop the cap, smell that delicious grapefruit aroma, and now fly across the screen and deliver a crushing kick to your opponent's torso. 
Rayden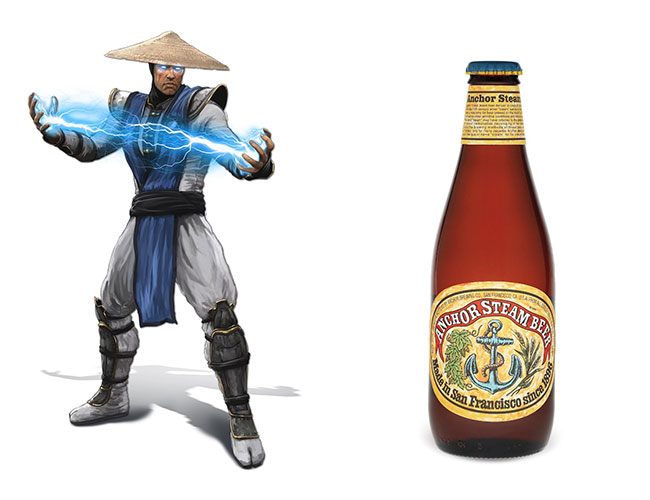 Awesome hat? Command of the elements? Protector of Earth? We always though Rayden was kind of annoying, but he's a favorite among a certain type of Mortal Kombat fan. When other gods remain silent, he steps in to defend truth and righteousness. A powerful protector of the weak, only one beer seems fitting of Rayden: Anchor Steam Beer, arguably the first craft beer in America and one that continues to stand against otherworldly forces.
Reptile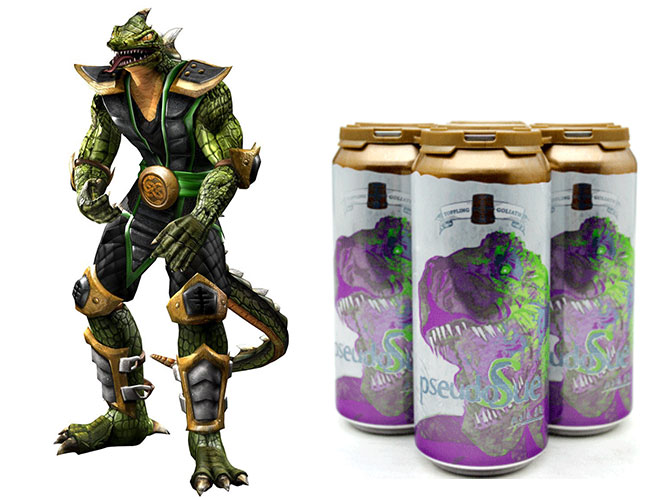 No one saw him coming. But he's lithe. And deadly. Like Toppling Goliath's Pseudo Sue.
Scorpion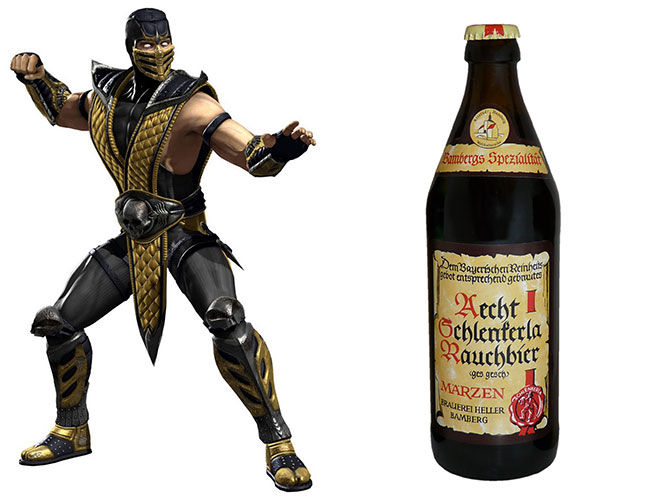 Get over here! Scorpion's signature catchphrase is generally accompanied by the barbed whips that he shoots from his palms, a la Spiderman. One of the game's most mysterious characters, Scorpion is a hellspawned ninja seeking revenge for the death of his clan and family. When thinking about which product might represent Scorpion, we went through a list of old, half-dead, and smoked beers—paying homage to Scorpion's KO, during which he removes his mask and breathes fire into an opponent's face—before settling on Aecht Schlenkerla Rauchbier Märzen from Germany's Brauerei Heller-Trum / Schlenkerla. 
Shang Tsung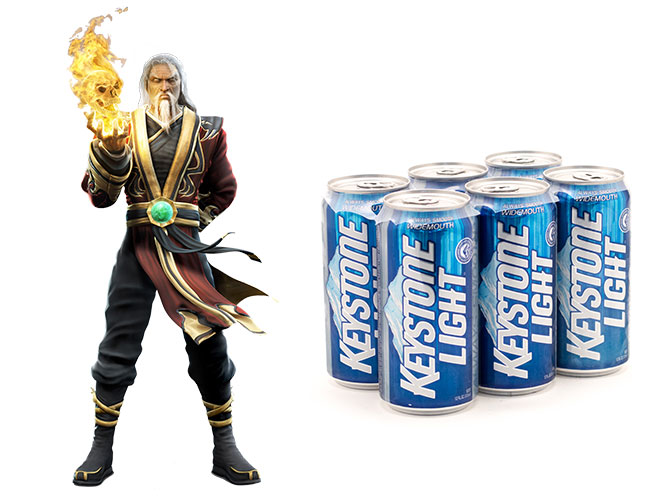 The mack daddy enemy of the series, Shang Tsung is an evil sorcerer and shapeshifter who maintains his power by absorbing the souls of those he defeats. Congrats, Keystone. You made the list.
Sonya Blade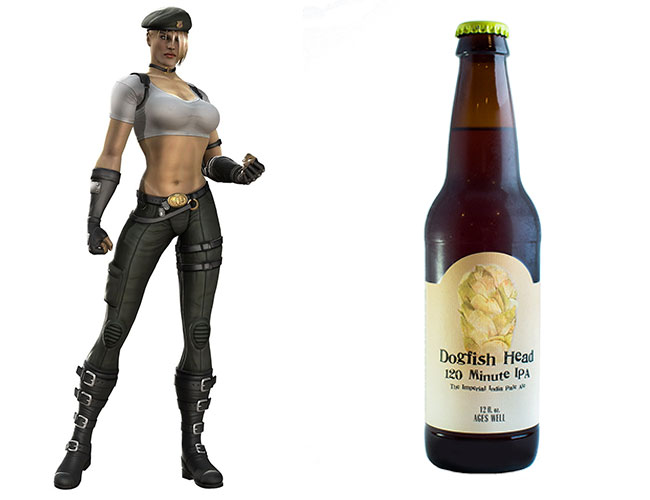 A member of Earthrealm's elite Outer World Investigation Agency, Sonya Blade entered the Mortal Kombat tournament to pursue Kano (see above), who murdered her former partner. Unabashed, headstrong, and badass, Blade reminds us of Dogfish Head—specifically the 120 Minute IPA, which packs a huge punch and makes no apologies. And might also strip the enamel off your teeth.
Sub-Zero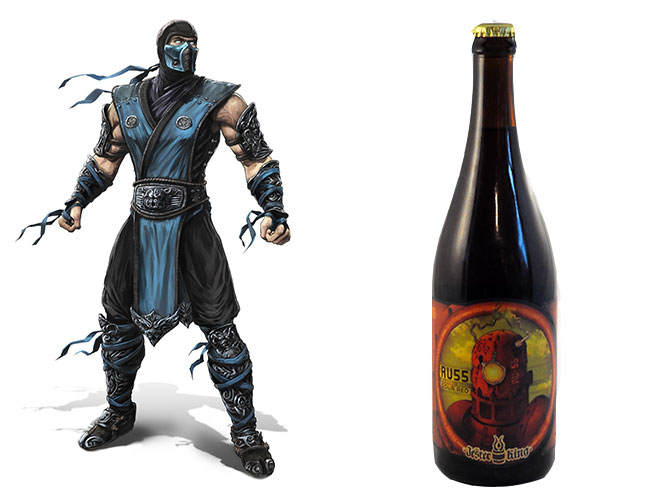 The arch-nemesis of Scorpion (see above), Sub-Zero is ordered by his clan to fight in the Mortal Kombat tournament so that he can kill Shang Tsung (also above) and steal his treasure. We're looking at a powerful young buck eager to scrap with the big boys and make a name for himself, which sounds a lot like Jester King's RU-55, a red ale aged in oak barrels with wild yeast.