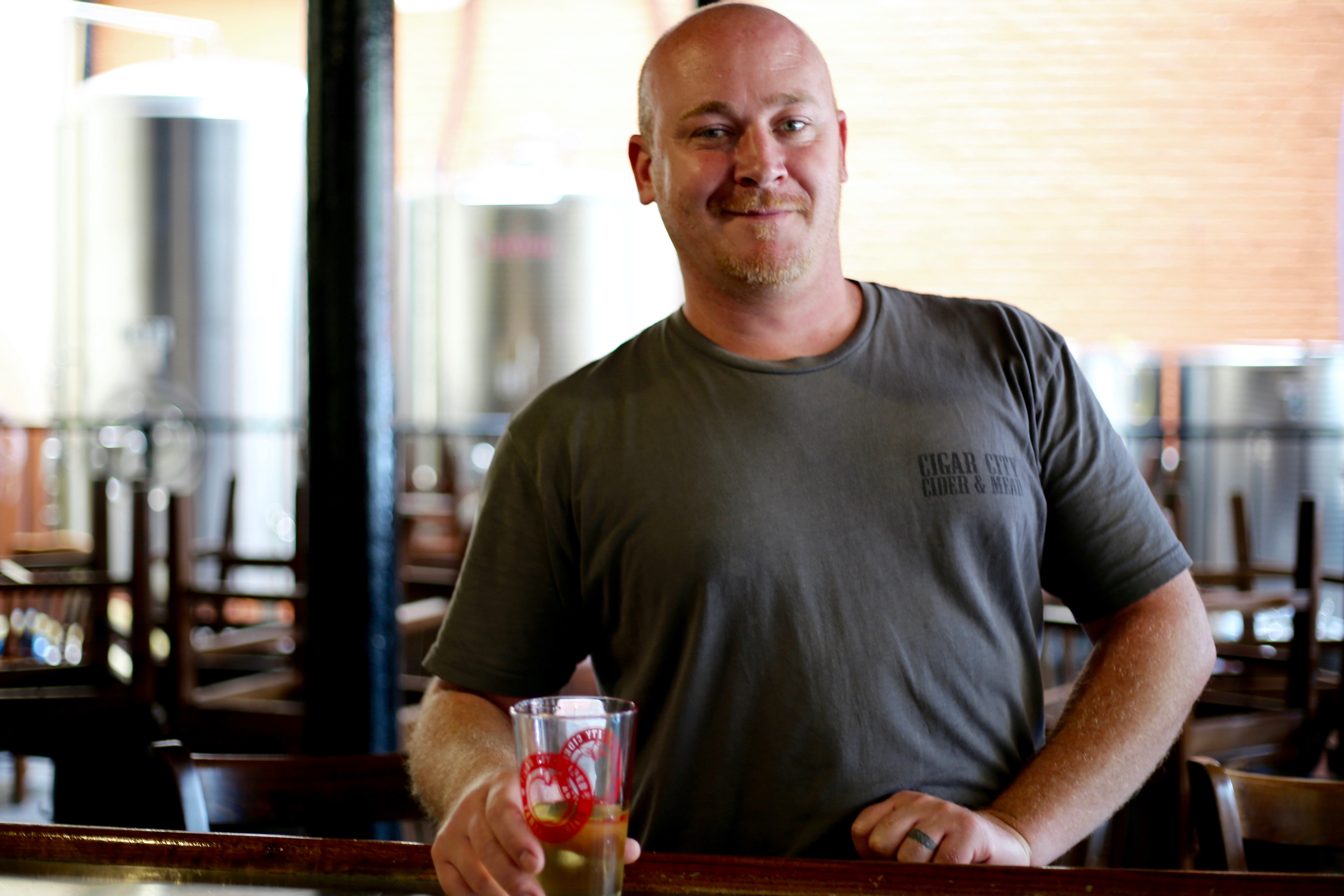 Things we learned:
A meadmaker is also called a "mazer."
In Florida, cider gets taxed by its alcohol percentage, which is why most Florida ciders are under 7 percent ABV.
The federal government won't allow brewers to use sappy woods in their drinks. Oak, cyprus, spruce, and cedar are all fine. Pine is not.
Carolina Reaper peppers are really, really spicy.
The best place to grab lunch in historic Ybor City is the Tampa Bay Brew Co. Try "The Bomb," a deep-fried hamburger wrapped in pizza dough. Ugh.
In March 2016, Oskar Blues Brewing Company announced that they'd purchased Cigar City Brewing Company, one of the largest craft breweries in Florida. According to Cigar City founder Joey Redner, the deal—which was valued at $60 million—was completed to help Cigar City overcome a capacity ceiling. But one thing that wasn't included in the deal was Cigar City Cider & Mead, helmed by winemaker Jared Gilbert. Since opening a physical location in Tampa's historic Ybor City neighborhood in 2014, Gilbert has been experimenting wildly, throwing everything from hot peppers to cactus into his brews and racking up over over 300 unique creations on Untappd. On a trip through Tampa, Hop Culture sat down with cider's mad scientist to discuss cider, cedar, and Carolina Reapers.
Kenny Gould: Okay, let's get this one out of the way first: a mazer is someone who brews mead?
Jared Gilbert: Yes.
KG: Great. How did you come to be interested in ciders and meads?
JG: When I was probably 15 or 16 years old, my dad used to homebrew in our basement in Colorado. One time, he tried his hand at a mead. Not sure what he did wrong… actually, I kinda liked it. It reminded me of a green olive champagne.
KG: Green olive?
JG: Green olive. That's what it tasted like. But I thought that was incredibly interesting. Back then he was making malt extract beers and the honey was what I found myself attracted to. When I moved to Florida in 2000 to get out of the snow, I bumped into a guy who said he was a winemaker and I said, "Bullshit. No one's making wine in Florida. There are no grapes down here." And he said, "No, I make fruit wines." I was in the medical field at the time but I hung out with him for a little bit on my days off, helping him bottle, and started learning more about the winemaking process. One day he gave me a call and said, "I have enough capital to open a winery and I need an assistant. Would you like to be my assistant?" The medical industry was stressful and so I was like, "Yeah. I'm all about it."
I was his assistant for about two years before I started reaching out and finding the craziest stuff I could possibly turn into alcohol. I was making elderberry wine, going out and finding wild black caps (also known as black raspberries), guava, strawberries, blueberries—anything I could get my hands on I was turning into wine. The head winemaker at the time decided that he was going to start another winery, so I took over as head winemaker and was there for seven and a half years.
KG: And how did you go from running that winery to running Cigar City Cider & Mead?
JG: The federal government has three different licenses: you have winemaking, beer making, or distilling. Cider making falls under the winemaking license, so Cigar City came to our facility and asked me to run the pilot project on their ciders. We whipped up a few batches and it was decent. With a little bit of tweaking, we started to come up with our core brands. There's our original hard cider and our best mass distribution cider which is our Homemade Apple Pie.
KG: I notice a lot of the ciders are 5.5 percent ABV. How do you hit that number every time? Is that not low for a cider or mead?
JG: For meads, that's pretty low. They just passed a law that says I can do ciders up to 7 percent and not get taxed differently, so I've started to do some in-house experimentation. But for right now, 5.5 percent ABV cider is exactly where we want to be. Before this point, over 7 percent and you go from a very small to a very high tax rate.
KG: So tell me about what we're drinking. You've elected to go with four four-ounce pours, which is technically still a pint.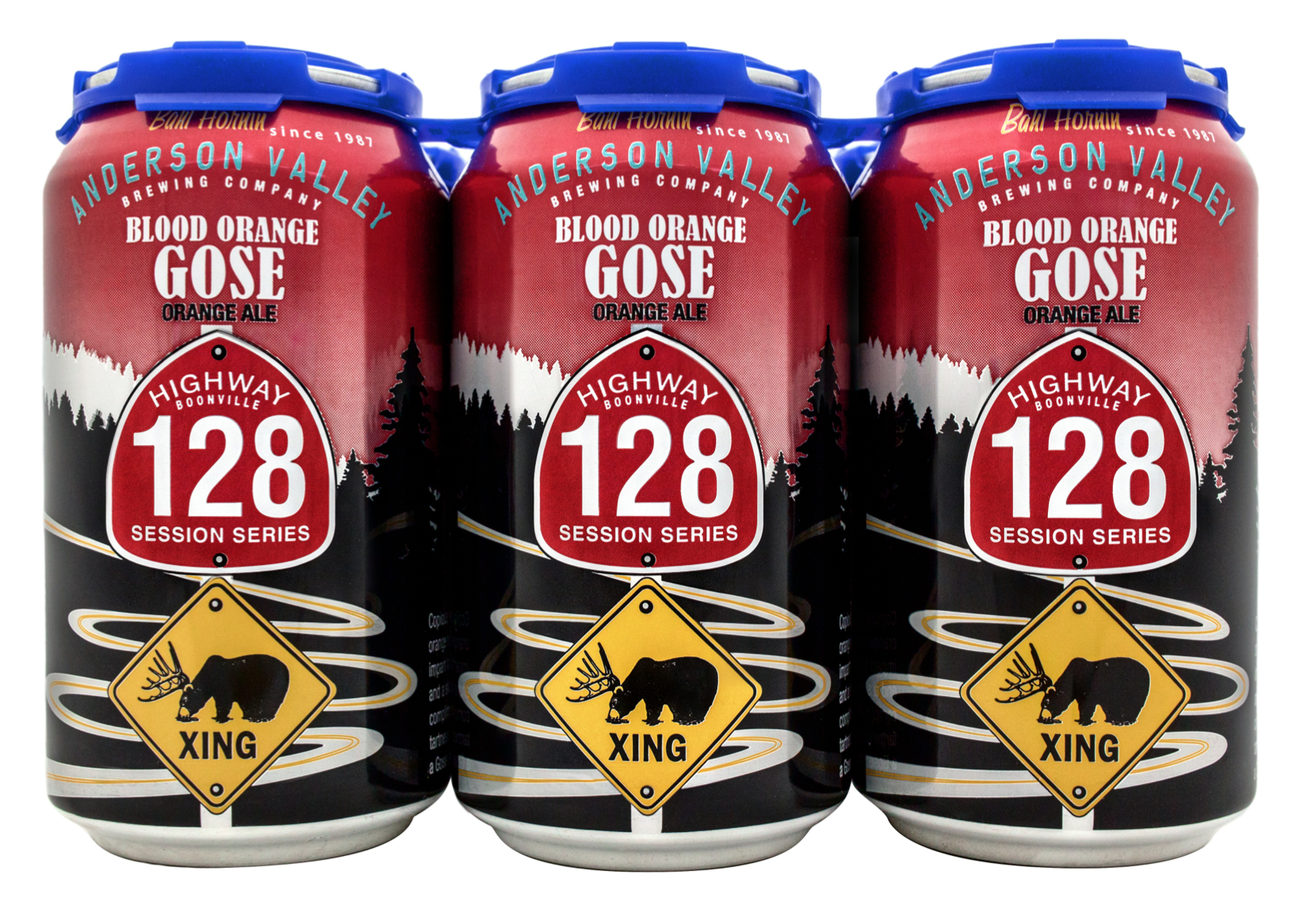 Anderson Valley Blood Orange Gose Pizza
A Recipe by Jared Gilbert
2 1/2 c flour
2 3/4 tsp baking powder 
1 tsp salt
1 tbsp oil
6 to 8 oz hard cider or gose
3/4 c of alfredo sauce
2 c mozzarella cheese
Mix dry ingredients. Add cider or gose and oil. Stir until it forms a ball. The dough will be soft, not sticky. Let dough rest for 30 minutes.
Knead on a floured surface for 3 to 4 minutes.
Stretch dough and add sauce and toppings.
Bake at 400°F for 15 to 25 minutes.
JG: The first one is a hard cider dry-hopped with Belma hops. They're very tropical, slightly floral. It's a fairly new hop varietal and this is my first experiment with it. Personally, my favorite hop to use is Cashmere; it imparts a slightly citrus flavor, and something a little bit more floral than the Belma. It also has a bit of a resiny flavor to it.
KG: And this second one is the Homemade Apple Pie?
JG: That's it. That's our bestseller. That's apple pie in a glass. A little bit on the sweeter side, but apple pie is supposed to be sweet.
KG: And what's this third one here?
JG: Uh, that one—I can't even pronounce it.
KG: Who named that?
JG: I named that.
KG: Why?
JG: That was actually for a project I was doing where I had to pair a cider with a piece of art. I hope you like spicy, because that one is spicy. Two and a half million Scoville units. If I can find an ingredient that the feds will allow me to put in a drink, I'll do it.
KG: Have you ever tried to use an ingredient that the feds would not allow you to use?
JG: So far they haven't said no, which is surprising. Actually, I take that back. I have tried to use a couple of different types of wood, and you can't use any wood that produces a lot of sap. Oak is fine; cyprus, spruce. Pine is not. Cedar wood is okay. They didn't give me a specific reason, but my guess would be that you can't use sappy woods because people can be allergic to them. So I did get shot down on that.
Want to Try Mead?
Here's Our Pick
Buy a bottle of B. Nektar The Mutant Killer Zombie Manhattan Project Thingy online.
KG: Well let's try this spicy cider. It's so deceivingly pretty. And it smells so un-spicy.
JG: Cheers.
KG: [coughs] Whoa. Okay. That gets up in there. That's quite a pepper.
JG
: That was my first experiment using Carolina Reapers. It'll probably be my last.
KG: It's good. It's… good. That's just quite a pepper.
JG: I love spicy stuff, so I do a lot of stuff with ghost peppers, scotch bonnets, and habaneros. One of my favorite ciders to drink is a spicy cider.
KG: Okay. [gasps] And this last one is mead?
JG: That's called Stranger Bedfellows. Goldberry honey, plums, and black currant. I did a dry-hopped version of that and won best mead in the state at the Best Florida Beer Competition. That's a very unique honey, very floral but it works well with the acidic, tannic flavor of the black currant.
KG: So it sounds like you're an ingredient guy. How do you pick your ingredients?
JG: Usually by trying to find different things to cook. I'm a big chef. I have three kids and I want to make sure they have well-versed palates. So I come up with interesting combinations. For instance, I like to cook a lot of Hispanic food, and I recently made a salsa with peaches, mangos, cilantro, and lime. The flavor was great, so that was the inspiration behind my Peach Cilantro Cider. I started getting into goses recently, especially over the last two years, and I use either gose or berliner to make my thin crust pizzas. No yeast except for whatever is in the beer. The last place we were staying, I started making a couple pizzas and all my neighbors started coming out of the woodwork. Anderson Valley Blood Orange Gose was probably one of the best pizzas I've made.
KG: Any plans to do a little kitchen here?
JG: No. It'd be kind of cool, but it's more hoops to jump through. And we'd have more people in here. By nature, I'm a quiet, almost hermit-like kind of person. I love being stuck in my cave and making stuff taste good. Maybe I'm just antisocial. Not really a hermit.
KG: If someone wanted to get lunch around here, where would he or she go?
JG: You want a beer with that lunch?
KG: Sure.
JG: Then you go to Tampa Bay Brew Co. There's two things that I truly recommend: the almond-crusted brie and a hamburger called The Bomb. It's a normal hamburger wrapped in pizza dough and fried. It's absolutely amazing. I usually eat about half to three-quarters, which is usually all I can do, but it's delicious. And it pairs well with their Reef Donkey APA.
KG: Thank you for your time.