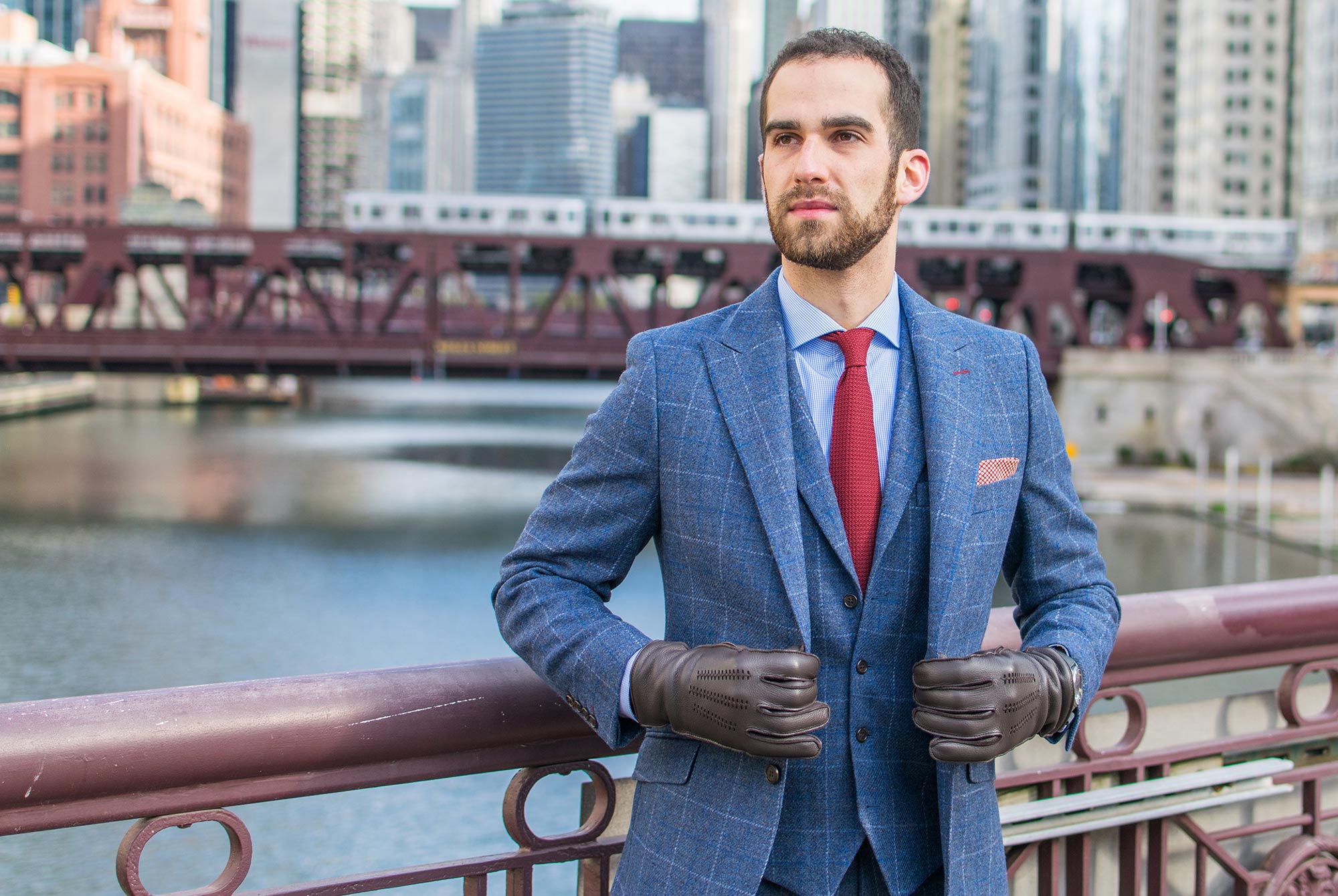 Photography by @DapperProfessional
Things we learned:
Miami of Ohio has an excellent entrepreneurship program.
Everything for which you get made fun of in high school will be cool 10 years later.
When you graduate from college and move into banking/consulting, you need a whole new wardrobe.
As an entrepreneur, it's okay to pivot from your original ideas.
The Certified Treasury Professional Book is not a fun read.
What do you get when a childhood friend becomes famous for promoting menswear on Instagram? Sleek style tips, and lot of them. When I last saw Ben, he was drinking juice at a 10th grade birthday party; now he's a successful consultant who also runs @DapperProfessional, a 100,000-follower Instagram account that he uses to showcase his impeccable style. I recently reconnected with Ben to find out where he's been since our elementary school soccer games.
Kenny Gould: So what have you been doing for the last 15 years that led you to become Insta-famous?
@DapperProfessional: That's a good question. Uh, let's see. In high school, I started a t-shirt company. Which was cool. It was with one of my best friends and we designed logos for intramural sports team apparel.
KG: You've always been entrepreneurial?
DP: We both grew up in entrepreneurial families which probably helped. You know what it's like being with someone who's on calls when they're driving you to hockey tournaments at 6 a.m?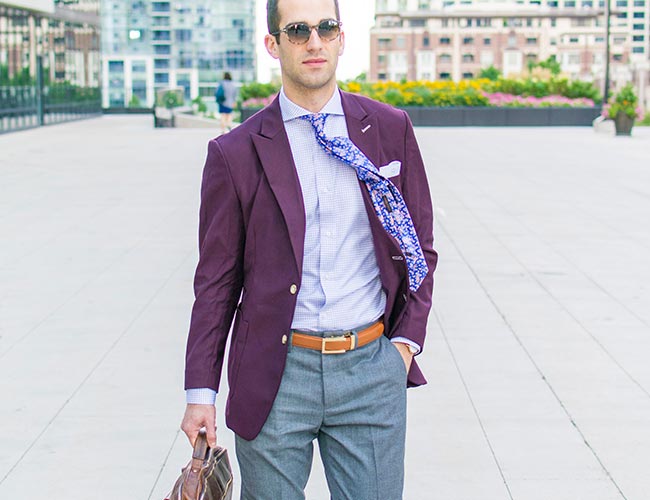 KG: Par for course.
DP: Then I went to Miami of Ohio and one of the main reasons was the entrepreneurship program that they had there, which was top 15 in the country. The girls were good looking, the campus was nice, and they had a good hockey team. I couldn't go wrong.
KG: And where did clothes come in?
DP: I've always had a passion for clothes. In high school, my friends constantly made fun of me for wearing chinos. This was before people knew what chinos were. I owned more polos and button downs than the average person. And Miami was a preppy school, so it all worked out.
In school, my major was marketing and my minor was entrepreneurship. I was heavily involved in the business school and I was president of the business fraternity. I was also in a social fraternity — got to keep the street cred high.
Looking back on it, my clothes in college were way too baggy. But that was the style. I owned a lot of Brooks Brothers, a lot of J. Crew, and a lot of Ralph Lauren.
Like what you see?
Catch more @DapperProfessional.
To learn more about Ben and his impeccable style, give him a follow on Instagram.
KG: Any fun drinking stories?
DP: I'll skip all the fun drinking stories.
KG: Give us one!
DP: None of those are appropriate.
KG: So how did you go from Miami to consulting? And when did you start the Instagram account?
DP: I can trace my current career path back to a decision I made my sophomore year. Instead of taking an internship at an ad agency, I took one in corporate banking. At the time, it was a tough decision. It was sophomore year, first internship opportunity. I'd watch episodes of Mad Men and think "Whoa, advertising is cool," but I realized that the financial route was a better long term decision.
After graduation, I moved back to Pittsburgh and started working in corporate finance. For a lot of finance people, that first job out of college is when you go through an entire wardrobe change; you can't wear badly fitting chinos to work. You can't wear the button downs you've been wearing out for four years of college. You need black and brown dress shoes and belts. You need v-neck undershirts. You probably want a decent watch.
KG: So you started researching.
DP: I started reading a lot of blog posts. I was going through the process of buying suits and dress pants — figuring out the rules. What's appropriate? What's not? Things like that. I got deep into style forums. Can you wear X with Y? Does this pattern match that pattern? What's the best suit color to buy? What's the difference between collars? Do you want a wide tie or skinny tie?
I spent $2,000 or $3,000 on clothes when I started working, and then I lost weight and learned more about fashion. At the same time, I went for a career advancement opportunity and moved to central Pennsylvania, which is even more conservative than Pittsburgh. So I had to buy different looks. Then I started thinking, what if I started a website dedicated to helping young professionals get the right clothes? Fit, quality, and price, broken down with every style of clothing you'd need to buy. I decided: I'm going to re-learn photography and editing and I'm going to create this website.
Then I started thinking, what if I started a website dedicated to helping young professionals get the right clothes? Fit, quality, and price, broken down with every style of clothing you'd need to buy.
KG: It begins.
DP:
It took three or four months to get the content and the website built, but at the same time I started thinking, for a website to be successful, you have to post content all the time. So I reached out to people to get them to write content. At the same time, I started posting to the Instagram so I could interact with people. And I noticed that my personal pictures were doing better than other photos I was posting. The goal for me was to be an aggregator for men's fashion; I never expected to have much of a personal presence on the platform. But let's go back to the basics of entrepreneurship — you have to continue to pivot. You have to be agile enough to capture what's successful in a moment. So when Instagram started to pick up, I overhauled my website and shelved the original idea.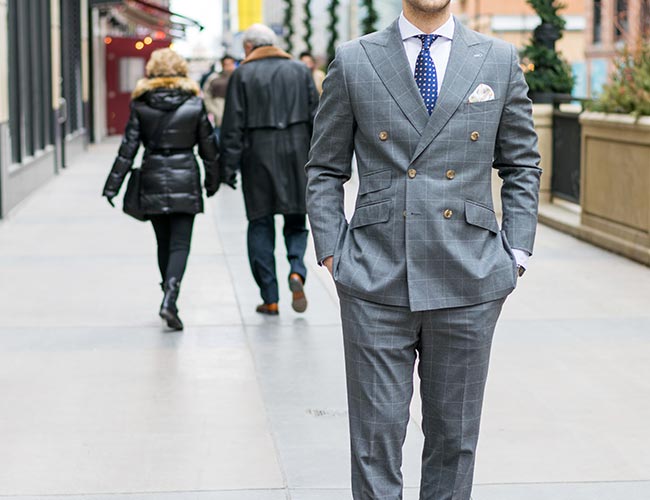 KG: Do you have a favorite piece of clothing that you own?
DP: I have a couple suits from two brands that are top notch: Oliver Wicks and Senszio. The Oliver Wicks is what I've been rocking most of the winter; it's a blue tweed plaid suit that's just badass. The Senszio is a double-breasted gray, light plaid suit. Both of them are two good staples in the wardrobe.
KG: Do you have a favorite beer?
DP: I'm living in Chicago now, and my go-to summertime Chicago beer is Goose Island 312.
It doesn't matter the brand, it doesn't matter how much you spend. Just get something that fits you right.
KG: What's one thing everyone should know about personal style?
DP: Fit. It doesn't matter the brand, it doesn't matter how much you spend. Just get something that fits you right. In layman's terms, "Not too baggy, not too tight."
KG: What's the best book you've read in the last year.
DP: The Certified Treasury Professional Book.
KG: You don't have time to read, do you?
DP: No. I work ten hour days, I travel every week, and I do IG at nights and on weekends. I also try and have a social life, spend some time with my family, friends, and my girlfriend. And as I'm talking to you, I'm ironing my shirt for tomorrow.