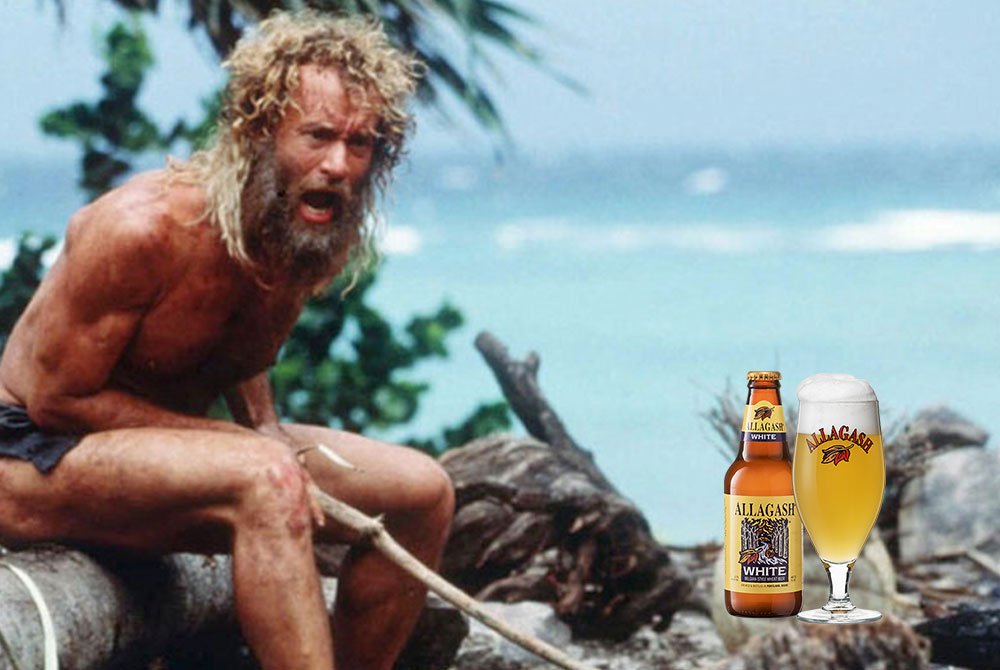 Editor's Note:
Join us at Juicy Brews Island Getaway on June 29th in Portland, ME! You can get your tickets here.
"Gilligan's Island" is known to have one of the most preposterous premises in television history. Yet it's exactly the sitcom's oddly endearing absurdity, steered by the comic farce involving seven dissimilar castaways and their repeated unsuccessful efforts to escape an utterly implausible plight, that has enabled it to thrive in its afterlife, with reruns shown continuously since its first run ended in 1967.
On a recent afternoon, I found myself marooned. But it wasn't on an uncharted desert island like the crew and passengers of the S.S. Minnow after a typhoon tossed the tiny ship, as we're graciously informed by a catchy theme song. No, this was on my sofa, where I had been spit up and left stranded after a shipwreck caused by the angry sea of syndication.
Translation: I spent most of the day laying around, mindlessly watching "Gilligan's Island."
Fortunately, I would not be half-crazed with thirst on this tropical island, my comfy couch covered in cat hair. I was swimming shoulder-deep in suds, specifically accompanied by enough hazy IPAs to fill a blowfish the size of a giant yacht, or at least a dozen volleyballs named Wilson.
This, my friends, was a sip-wreck.
And so my three-hour tour soon became a several-hour pour. But as I consumed episode after episode, I began to ponder: What beer would I most want to be stranded with on a desert island? Coincidentally, we're just a few weeks from our next event, Juicy Brews Island Getaway, where 20 excellent brewers will gather on June 29 at Mast Landing Brewing Company in Portland, Maine, to serve their juiciest beers—wearing Hawaiian shirts and sunglasses, of course. By the way, how is it that Mary-Ann and Ginger went on a three-hour boating trip but still had enough clothes to never repeat an outfit in three seasons and several movies?

Since the start of Hop Culture, we've been fortunate to build strong, lasting personal and professional friendships (we're planning to do even more of that in the exciting next phase of the company). Last year, we brewed a beer in collaboration with Mast Landing and, seeking a taste of the tropics, took inspiration from rum punch and created a sour ale brewed with pineapples, oranges, cherries, and lactose. When we came up with the idea for Island Getaway, we wanted to continue the Caribbean theme, so we're encouraging guests and brewers to attend in their finest tropical attire, while we'll take care of decking out the space with various island-evoking ephemera.
Tickets to the single-session event include unlimited four-pours from all 20 breweries and a complimentary tasting glass, and food will be available for purchase from our friends at The Highroller Lobster Co. and Noble Barbecue. We'll also be selling some tropical-themed merch, designed by the illustrator Yeye Weller.
But let's get back to the real question here: What beer would I most want to be stranded with on a desert island? Well, we decided to pose just that to the brewers serving at Island Getaway. Sea below for the responses!
Oude Geuze, Drie Fonteinen
Bissell Brothers Brewing Company
Peter Bissell, Co-Founder
"Drie Fonteinen Oude Geuze. This is one of my favorite beers of any style, it's just the perfect sensation for my particular beer-drinking DNA. I'd have to find a way to keep it ice cold—I like it frosty, a bit colder than it's often served—but I'd rock this on a spit of land in the South Pacific for sure."
Columbus IPA, Columbus Brewing Company
Southern Grist Brewing Company
Jared Welch, Founder and Head Brewer
"Columbus Brewing Company's Columbus IPA. I grew up in Ohio, so while this beer has a bit of nostalgia for me, I still think it's such an amazing everyday drinker. I'm fairly certain this was the first heavily hopped IPA that I ever tried that was more hop flavor-forward than bitter; I'm talking LOOONG before hazy IPAs were a thing. This is one of the very few beers that I can sit down and rip through a six-pack without even thinking or trying."
Little Wolf, Zero Gravity
Shacksbury Cider
David Dolginow, Co-Founder
"Zero Gravity's Little Wolf pale ale because it's so refreshing and flavorful, and it's the right ABV for me to be my best self on a desert island. Also it's in 12-ounce cans so I'll be able to drink through it before it warms up, in case I don't have a koozie. Also it's available at our local co-op, so I could reliably swing by and grab it on my way outta town. Also it's my wife's fave beer and hopefully she'd be there too. So, yeah, Little Wolf FTW!"
Westvleteren 12, Brouwerij De Sint-Sixtusabdij van Westvleteren
Pretentious Beer Co.
Matthew Cummings, Owner and Founder
"My desert-island beer would be Westvleteren 12. Why the hell would you want to bring such a big, dark beer to a freaking island, you ask? First, it is surprisingly drinkable for such a big beer. Second, it will probably taste great with some tropical fruit. Third, if I'm stuck on an island I will probably want to get proper drunk and not have to drink 38 Coronas to get there (truth, that is exactly how many Coronas I need to get drunk, though I have never gotten past a six-pack so believe what you will). Fourth, and most importantly, if I'm stranded on an island, my sole solace would be knowing that I can drink as much Westvletern 12 as I damn well please, while everyone else has to trade for it!"
Don Gato, New Park
New Park Brewing
John Doyle, Co-Founder
"For me right now it would be our Don Gato. It reminds me of summer and tacos. I've been crushing a lot of it lately."
Little Brett, Allagash
Trillium Brewing Company
JC Tetreault, Owner and Brewmaster
"Allagash's Little Brett would make an incredible marooned-on-an-island beer as it effortlessly dances between quenching drinkability but incredible depth from the Mosaic hops and their punchy house Brett character."
Daisy Cutter, Half Acre
Dancing Gnome Brewery
Andrew Witchey, Founder
"Half Acre's Daisy Cutter is a near perfect example of an American pale ale that quite literally checks all boxes. Pronounced and balanced bitterness, a dry and refreshing finish, and perhaps most importantly, an explosion of flavor that's palatable for everyone. This one is for sure a desert-island beer."
Bam Bière, Jolly Pumpkin
Foreign Objects Beer Company
Steve D'Eva, Owner and Director of Creative Operations
"For me, it's fresh Bam Bière, without question. Because owner Ron Jeffries and the Jolly Pumpkin team truly and boldly innovated an entire epoch of a new style of beer in America. I was so floored after tasting their beer Luciernaga in my early days that the only way for me to wrap my head around it was to learn how to brew and start pursuing that complexity in earnest. Tasting Bam though was a true revelation: that American saison was something completely self-evident and not simply a weak, ineffectual attempt at Belgian beer."
Crispy Boy, Garrison City
Garrison City Beerworks
Nicole Gray, Co-Owner and Head Brewer
"Can I pick two? Am I in this for survival or lounging on a beach? If it's survival and am most likely talking to an inanimate object for company, I would drink Crispy Boy, our pilsner. Low ABV and refreshing, I can still build shelter and catch dinner. If lounging in the sun, it would have to be Synapse, our Mosaic pale ale. Coming in low at 4.8 percent ABV with huge notes of crushed orange and dank pine, it's perfect for the sunshine."
Andechser Vollbier Hell, Klosterbrauerei Andechs
Austin Street Brewery
Will Fisher and Jake Austin, Founders
"If we were stuck on an island together, quantity of beer seems like the lead qualifier, but our choice must also be timeless (sans a successful rescue effort). Our selection: Andech's Andechser Vollbier Hell. The 500-milliliter bottle might not be the most convenient package for languishing on the beach, but the empties would be great for the occasional message back home. On the bright side, an endless supply of a supremely crushable and perfectly conducted helles that replaces our misfortune with thoughts of German fields of barley and noble hops makes lost at sea sound pretty damn good.
Fruitful Kettle Sour, Orono
Orono Brewing
Asa Marsh-Sachs, Owner and Brewer
"If I were stuck on a deserted island I'd definitely go for our Fruitful Kettle Sour. Not only is it a blast to throw over 1,000 pounds of fruit into a batch, but the finished product is super worth it. Fruitful is refreshing, tart, fruity, and I'm always ready for another one. The raspberry and peach additions complement each other nicely, and it's been a favorite of the brew crew ever since we tapped the first keg."
Little Brett, Allagash
Goodfire Brewing Company
David Redding, Founder
"Little Brett by Allagash satisfies both the emotional and pragmatic needs that represent an ideal 'desert-island beer.' 'Lil' B,' as it's called, is incredibly refreshing, and evolves from cool, light-grain crispness all the way to ripened pineapple as it warms. It's balanced, and with its low ABV of 4.8 percent, you won't be at significant risk of volume depletion in the hot sun of a tropical atoll. It has clean and precise fruit notes to pair well with crustacean, whitefish, greens, and all the foraged goods of island life. Like most of the best things on this earth, it's made from 100 percent wild yeast. Therefore, just thinking outside the box, perhaps bottle cultures can be used to propagate fermentation experiments: levain, fermented fruit, pickles, beer, hot sauce, etc. Theoretically, time is not a constraint if you're stranded on an island, and I hear Brett Michaels loves to party! (That's the name of the brewery's house Brettanomyces strain.) Leave it to founder Rob Tod and brewmaster Jason Perkins to pull those unique aromas and monoterpene profiles from Mosaic hops into this beautifully complex yet smashingly refreshing ale. They have been refining delicious for a while now. Let's all congratulate Rob for bringing the James Beard Foundation award for outstanding wine, spirits, or beer producer, home to Maine!"
Mas Verde, River Roost
River Roost Brewery
Mark Babson, Owner and Brewer
"Of our beers, my choice would be Mas Verde. It's balanced, juicy, citrusy, and a little piney. Something a little tart and funky like a Jolly Pumpkin Oro De Calabaza or Bam Bière sounds like it would hit the spot too!"
Contee, Definitive
Definitive Brewing Company
Michael Rankin, Founder and CEO
"It would most definitely be Contee, our Kolsch-style ale. Named after the lake in central Maine that all our investors are affiliated with, Cobbosseecontee, this beer has already spent several days on the lake with me. Contee is brewed with German hops and both German and Maine malts. At 4.6 percent, Contee is defined by its supreme easy drinking quality and would make for a perfect island-getaway companion."
White, Allagash
Vitamin Sea Brewing
Dino Funari, Founder
"Allagash White. Having the name Sea in our name pretty much makes us a self-proclaimed authority on all ocean-related subjects. Take for instance desert islands. Hey, we've all seen 'Cast Away.' Imagine how much cooler Chuck Noland's (Tom Hanks) story would've been if a case of Allagash White had washed up in one of those FedEx packages. This is a beer that you can enjoy in the dead of winter (just what are those spices, anyway?) or at the peak of summer weather. Not only is it one of the most deliciously consistent beers that you will ever try. But it also would pair so well with pretty much anything he would find. Coconuts? Pairs well. Soft-sell crab? Pairs well. Although we would suggest cooking those first–they look drippy-oozy nasty raw!"
Smooth Beats Miami
Magnify Brewing Company
Eric Ruta, Owner
"A coconut milkshake IPA or imperial IPA. These beers remind me of Hawaiian shirts and sunburn, the two things guaranteed on any island getaway. Finback and J. Wakefield collaborated on a coconut IPA called Smooth Beats Miami, and we made a coconut-vanilla milkshake IPA a little while ago called Grand Illusion. I'll take a four pack of either, please."
Le Petit Prince, Jester King
Brix City Brewing
Travis Lancaster, Head Brewer
"Jester King's Le Petit Prince. First of all because it's absurdly refreshing, and secondly because it captures the spirit of farmhouse ale like no other American beer I've ever had."
Girardan Gueuze 1882, Brouwerij Girardin
Mast Landing Brewing Company
Simon Burhoe, Head Brewer
"It has to be Girardan Gueuze 1882. This beer has amazing depth and complexity, yet it's so easy to drink a 750 by myself. It's fantastic served cold. It's fantastic served at room temperature or warmer. Girardan also ages beautifully, so if I'm stuck on the island for a while, I don't need to worry about the beer going bad."
Lost IPA, Burley Oak
Burley Oak Brewing Company
Bryan Brushmiller, Founder and Brewmaster
"Our Lost IPA. Lost is an IPA whose simplicity allows me to drink it all day. Plus the tropical fruity notes from the hops always make me feel like I'm on vacation. And if I'm going to be lost, I might as well drink Lost."
Rum Barrel-Aged Honey Pot, Barreled Souls
Barreled Souls Brewing Co.
Matthew Mills, Co-Owner and Manager
"The obvious response would be a pilsner, light lager, or fruited gose style of beer. Something light and thirst quenching to enjoy on the beach. If I were to go that way I'd choose something like Southern Grist's Boil the Ocean. But, if you know me, you know I'm going barleywine. Whether it's 10 degrees in January in Maine or 95 in Miami that's my answer. So I'd pick Rum Barrel Aged Honey Pot from us. A big wheat wine aged in rum barrels which I think brings just enough of that tropical feel."
Liked this article? Sign up for our newsletter to get the best craft beer writing on the web delivered straight to your inbox.