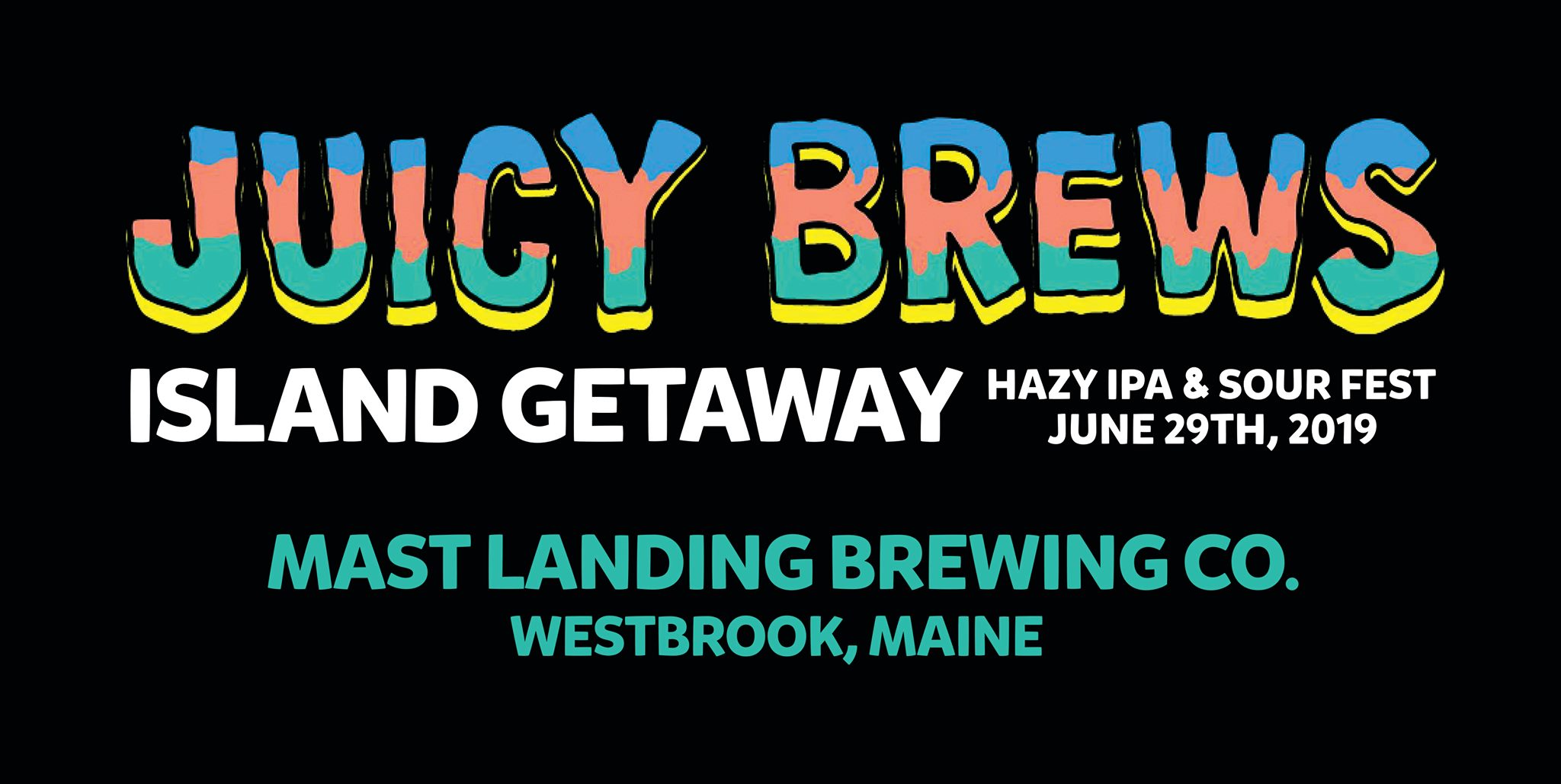 Editor's Note:
Tickets go on sale on Wednesday, April 17 at 12 PM EST for Hop Culture and Mast Landing Present: Juicy Brews Island Getaway Beer Fest. Get tickets here.
We're constantly in conversation with our readers. I speak to them at events, on social media, on the phone. Time and time again, they ask us to bring a festival to the northeast.
Portland, Maine, is a no brainer. For its size, I can't think of another city with such a dense concentration of rad breweries, delicious food, and natural beauty. This was partly why our Operations and Logistics Manager, Olivia Hurley, picked Portland as her favorite beer city of 2018. When our friends at Mast Landing offered their space, we jumped at the opportunity.
Last year, when we made a collab beer with Mast Landing, we took inspiration from the rum punch, crafting a sour ale with notes of pineapple, orange, and cherry. The beer sold out quickly, as did the collab glass, which featured a cartoon beer punching the skull out the back of a man's head. When we come to Portland in June, we'll continue the Caribbean theme (as well as the one of people getting their minds blown by flavor) by encouraging guests and brewers to attend in their finest tropical attire.
What's better than a lobster roll and a craft beer on a summer day? Not much.
For now, we'll announce the brewery shortlist, as well as the date, time, and location — June 29th, from 12:00 PM to 4:00 PM at Mast Landing Brewing, 920 Main Street, Westbrook, Maine. Here's who we've got coming so far:
Austin Street Brewery
Barreled Souls
Bissell Brothers
Brix City Brewing
Burley Oak Brewing Company
Dancing Gnome Beer
Definitive Brewing Company
Foreign Objects Beer Company
Garrison City Beerworks
Goodfire Brewing
Magnify Brewing Company
Mast Landing Brewing Company
New Park Brewing
Orono Brewing Company
Pretentious Beer Co.
River Roost Brewery
Shacksbury Cider
Southern Grist Brewing Company
Trillium Brewing Company
Vitamin Sea Brewing
Tickets go on sale on Wednesday, April 17 at 12 PM EST. All General Admission tickets include a complimentary tasting glass and unlimited 4 oz. pours from all breweries. Food will be available for purchase from our friends at The Highroller Lobster Co. and Noble Barbecue. We'll also have some tropical merch designed by Yeye Weller.
To stay up to date, subscribe to our newsletter and follow us on Instagram. Also be sure to bookmark the ticket page, because this'll be a fun one.
Yours truly,
Kenny Gould, Founder, Hop Culture
Liked this article? Sign up for our newsletter to get the best craft beer writing on the web delivered straight to your inbox.