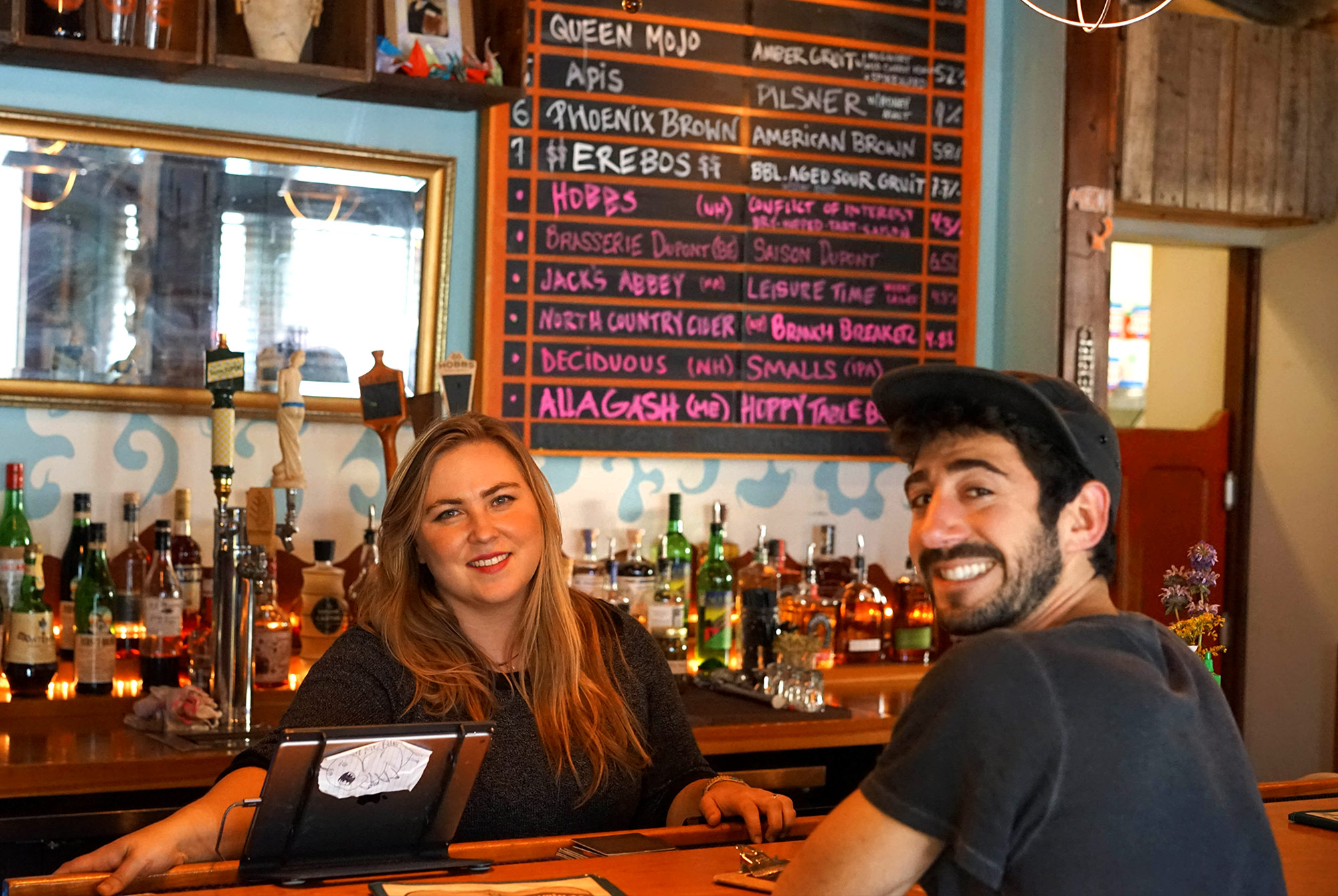 Photography by Wayne Gould
I first heard about Portsmouth's Earth Eagle Brewings from one of my graduate school professors, a kick-ass musician and writer who used to hang out with Earth Eagle co-founder George "Butch" Heilshorn when they both lived in New Hampshire. I heard the name again when Tyler "Titu" Sildve, a brewer at Oxbow, called Earth Eagle one of his favorites during an interview. Then I met Butch at the 2017 Extreme Beer Festival in Boston, where he blew my mind with a beer aged on pig's heads.
Obviously, I needed to visit the brewery.
My opportunity came during a drive from Portland, Maine, down to Boston for a cousin's wedding. Portsmouth, New Hampshire, makes a perfect midpoint, so I convinced my traveling companions (AKA, my parents) to make the stop.
I'll admit to a bit of consternation — I enjoy making people happy, and my parents aren't big beer drinkers. And Earth Eagle specializes in gruit, a near-extinct style made with wild herbs that was popular a thousand years ago, before hops became commonplace.
How would my mom react to Rhus Juice, a hop-less Belgian blonde with sweet gale and sumac horns? And would my dad like Queen Mojo, an amber Gruit made with Meadow Sweet, Coltsfoot, and Wild Carrot flowers?
I needn't have worried. Although it was Butch's day-off, he talked to us about his beers, and my parents loved them. Each offering burst with flavor, and I've never seen such vibrant hues. The average person wouldn't have recognized them as beer, but they were, just the same. I was so excited about Earth Eagle's beer that I asked Butch if he made any hazy beers, in hopes of getting him to one of our future Juicy Brews festivals.
"Naw," Butch said. "We're mostly a 'fuck trends' kinda operation over here. We certainly have had our share of hazy beers, both hopped and otherwise, but we're usually creating for taste rather than looks."
Which only made me want them more.
Earth Eagle Brewing is a rare find, one of those singular operations with a sense of purpose so strong that it overrides almost everything else, including good sense. In 2017, why brew a style that nearly went extinct? Why hire a forager to visit farms, meadows, and seacoasts for local, seasonal ingredients?
I'm thrilled these questions don't have answers.
Stay strong, stay true, stay fresh, stay fly,
Kenny Gould
Editor in Chief
What We're Reading
"The shattering conclusion to the post-apocalyptic and highly acclaimed New York Times bestselling trilogy that began with The Fifth Season, winner of the Hugo Award for Best Novel in 2016, and The Obelisk Gate, winner of the Hugo Award for Best Novel in 2017."
— "The Stone Sky," by N.K. Jemisin