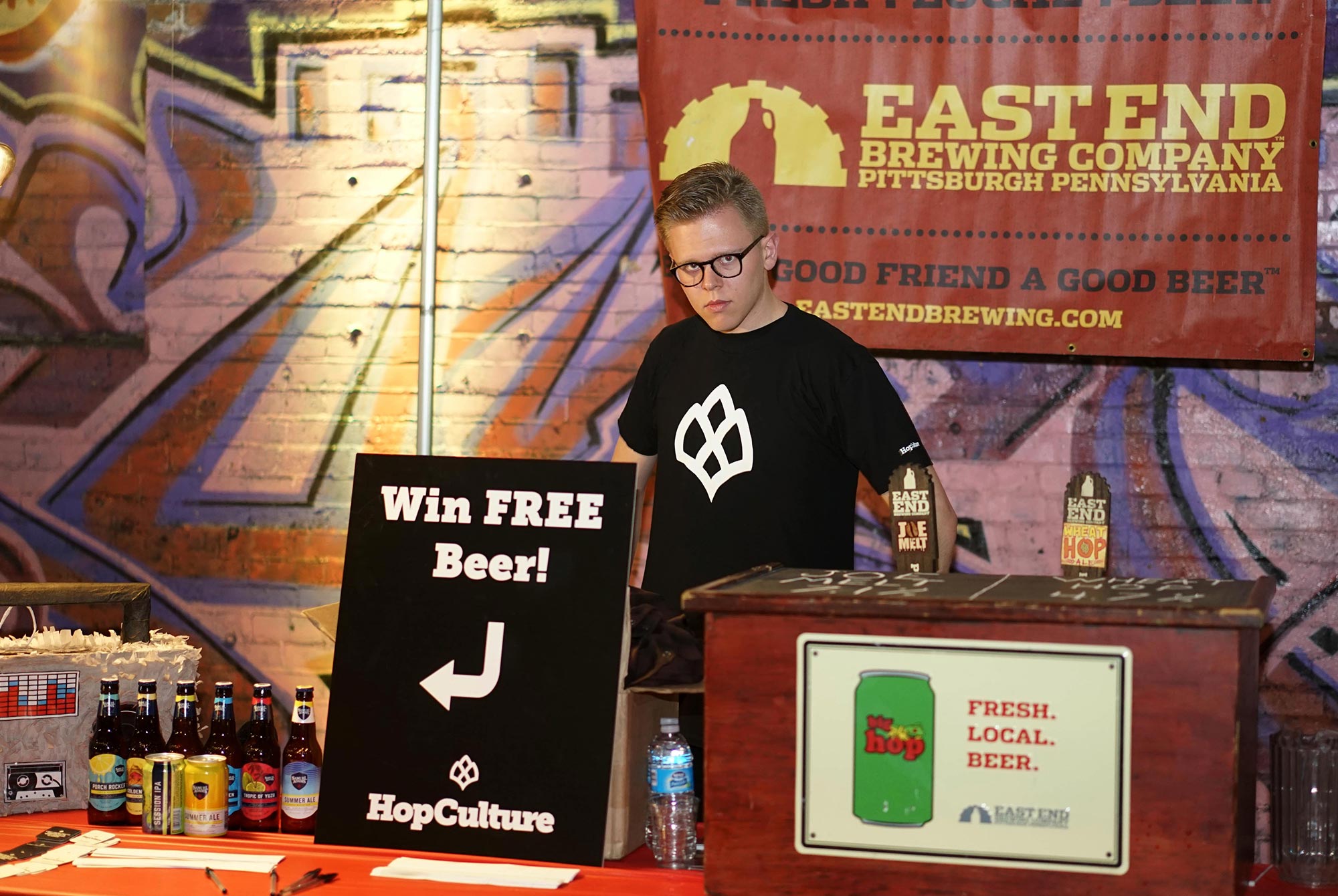 Hop Culture editorial assistant Evan Malachosky bringing the heat.
Photography by KG
As the Editor in Chief of a craft beer magazine, I get to attend a lot of beer festivals. Call it a perk of the job. This weekend, Hop Culture got the opportunity to share a table with Pittsburgh's OG East End Brewery at the awesome Beers of the Burgh Festival. Watching a festival done right made me reflect on all the not-so-successful fests I've attended over the years. At this point, I feel like I have a solid handle on what makes a successful event. The best part? It's really not that hard.
1. Beer
The no-brainer. You can't have a beer festival without beer. And you can't have a good beer festival without good beer. But perhaps that's not quite right — even if the beer isn't phenomenal, I'll consider attending a festival if the beer is interesting. Only Scandinavian styles? Wort inoculated with yeast from the brewer's beard? If I'm paying $40+ dollars for a ticket, I want to taste something that I can't get at my local grocery store. I don't need to pay anyone to round up a bunch of common beer for me; the build-your-own-six-pack feature at virtually every bottle shop in America suffices quite nicely. So in order to catch my attention, a festival needs interesting beer.
2. Location
Location, location. I'll travel to a destination (via Uber or DD, of course). But give me something to look at. While waiting in line for Beer Advocate's Extreme Beerfest at the Seaport World Trade in Boston, I got a nice view of the Boston harbor. The Beers of the Burgh Festival in Pittsburgh takes place at Carrie Furnace, an old blast furnace turned events space. Tell me where you'd rather be — a 168-acre derelict blast furnace or a nondescript gymnasium?
3. Organization
You ever work a beer festival? Do you know what happens when people don't have ice? Dump buckets? Rinse pitchers? I won't go all metaphorical on you — I'll just say that a lack of organization is noticeable and it sucks. It stresses everyone pouring, which in turn makes the festival less enjoyable. Cross your t's, dot your i's, and make sure that every last detail is taken into account before you start selling tickets.
4. Knowledge
At a certain event in Manhattan that currently ranks as my least favorite festival, I asked one of the women manning the taps a question about the beer she was pouring. She didn't know. Neither did her friend. "We're just volunteers," she said. "Not affiliated with the brewery. If we pour for this session, we get a free ticket to the next one."
This seems silly. If I just wanted to get drunk, I'd sit at home with a bottle of whiskey and watch YouTube videos of climate change deniers. Again, I don't need the charade of paying $40 a ticket if I'm not going to learn anything. My best festival experiences have been the ones where I get to engage with the people who created the product, or at least know something about it. Even, "This one has coffee in it," is better than, "I don't know sorry I'm way more drunk than youuuuuu."
5. Food
The underrated lifeblood of every festival. You might not start by selling 100 grilled cheeses, but in the last 30 minutes, get ready to sling bread and cheddar faster than Voodoo kicks ManBearPig. Because as long as people are drinking, they're going to want something to eat. It doesn't even matter what, per say, as long as you have enough vendors to service demand. Though I will say, Gaucho Parilla's whole pig roast at the Beers of the Burgh Festival really took things to another level.
If you're throwing a festival, start with an interesting concept, find a cool space, get organized, engage some knowledgeable players, and bring in some tasty food. You nail that, you're going to have a successful event. Everything else is icing on the cake.
Stay strong, stay true, stay fresh, stay fly,
Kenny Gould
Editor in Chief
What We're Reading
"The painful verdict is all but indisputable: The golden era of Pixar is over. It was a 15-year run of unmatched commercial and creative excellence, beginning with Toy Story in 1995 and culminating with the extraordinary trifecta of WALL-E in 2008, Up in 2009, and Toy Story 3 (yes, a sequel, but a great one) in 2010. Since then, other animation studios have made consistently better films.
The stop-motion magicians at Laika have supplied such gems as Coraline and Kubo and the Two Strings. And, in a stunning reversal, Walt Disney Animation Studios — adrift at the time of its 2006 acquisition of the then-untouchable Pixar — has rebounded with such successes as Tangled, Wreck-It Ralph, Frozen, and Big Hero 6. One need only look at this year's Oscars: Two Disney movies, Zootopia and Moana, were nominated for Best Animated Feature, and Zootopia won. Pixar's Finding Dory was shut out altogether." — Christopher Orr, "How Pixar Lost Its Way"