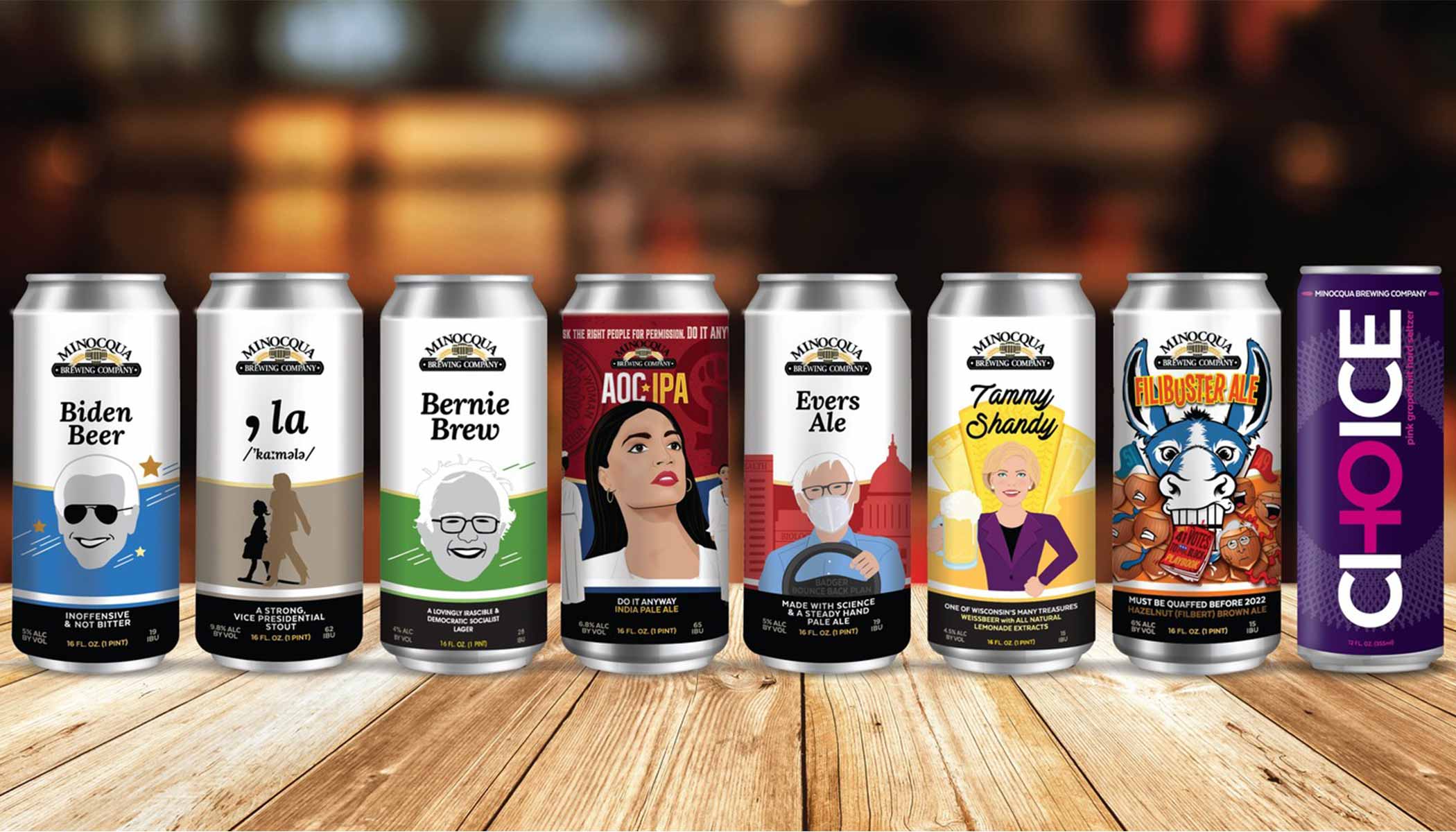 Photography courtesy of Kirk Bangstad | Minocqua Brewing Company
Kirk Bangstad owns a brewery; he also owns a Super PAC. How many brewery owners can make that statement? Founder of Minocqua Brewing Company in Minocqua, WI, Bangstad wants change – social change, political change, and an end to what he calls "The Trump world we're living in, where the lines of what is okay have been blurred and there's a lot of ugliness going around."
And in the two years Bangstad has been politicized, he has learned to fight the Right with the same tools they employ. Hence, the Super PAC, which Bangstad started in January 2021 after being forced to close his brewpub. "I call it dark money for good," says Bangstad, who to date has raised nearly half a million dollars to support local progressive causes.
It has been a rollercoaster journey into politics for Bangstad. He has run for the Wisconsin State Assembly, sued the entire Wisconsin school board, used his Super PAC to sue two Wisconsin congressmen and a state senator, and found himself sued by local paper the Lakewood Times.
He has attracted equal amounts of ire and admiration from right and leftwing activists respectively around the U.S. and beyond, been featured in national media, and had to call the FBI after receiving a hate-speech-filled death threat.
But along the way he has also learned he has a secret weapon. Something he had been perfecting long before politics.
Bangstad has the power of beer behind him.
In fact, it's the business of beer, rebuilding, growing, and eventually closing Minocqua Brewing (and switching to contract brew), that sparked Bangstad's transition from apolitical brewpub owner to a bastion of Northern Wisconsin's social conscience.
Why Does a Brewery Owner Start a Super PAC?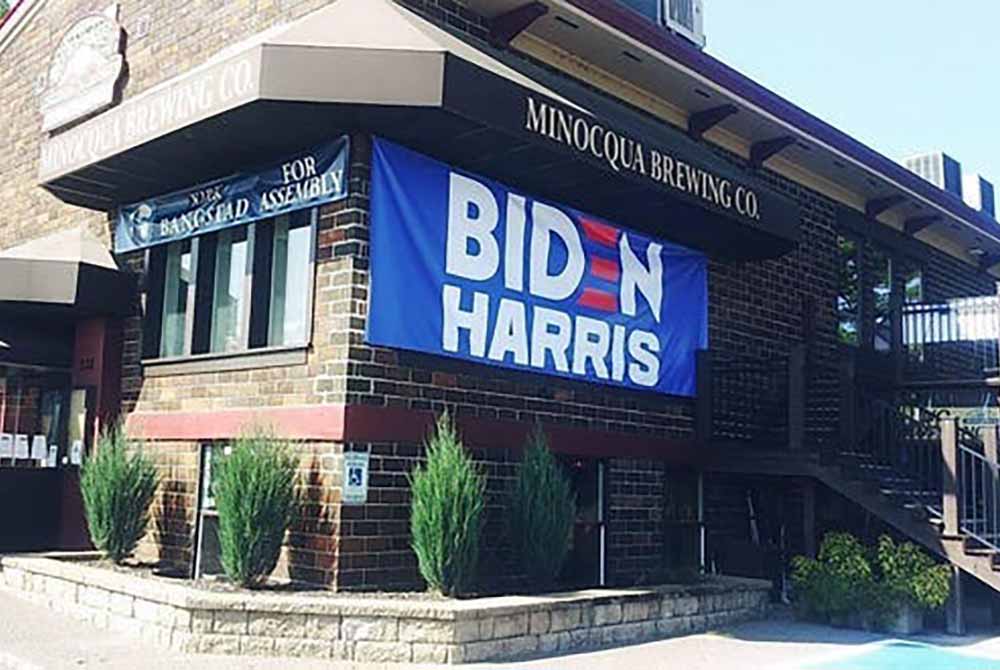 It all started with a global pandemic.
A key swing state that voted Trump in by just 23,000 votes in 2016, Wisconsin flipped to help secure a Biden victory with a margin of less than 1% in 2020. Highly polarized, Wisconsin represents a microcosm of America's ongoing culture wars. For example during the global pandemic, in this Midwestern state the Republican state supreme court successfully sued to overturn Democrat Governor Tony Evers' mask mandate, stay-home order, and capacity restrictions, despite having one of the highest rates of COVID-19 infection in the country at the time.
In Minocqua, Bangstad closed indoor seating and enforced a mask mandate at the brewery. One of the only restaurant owners to do so, Bangstad's actions made him unpopular among Oneida County's sixty percent Republican demographic, and further diminished his COVID-depleted sales.
Nonetheless, Bangstad pushed on, toughing it out with his neighbors and holding his business together by a thread. But when Mitch McConnell refused to put the $1.8 trillion stimulus package agreed between the Democrats and Donald Trump on the Senate floor, Bangstad considered that the final straw.
"McConnell played ball with Wisconsin hospitality and I had to lay off my staff because the money didn't come through – I was so mad at the Republicans" says Bangstad, who had to close his brewery and revert to contract brewing to keep his business alive. "I had to do something, so I hung a custom made Biden-Harris sign on the largest building in Minocqua – which just happened to be my brewpub."
Bangstad's campaign against bad government, COVID misinformation, right-wing aggression, and Trumpian violence had begun.
From Closing a Brewery to Brewing #progressivebeer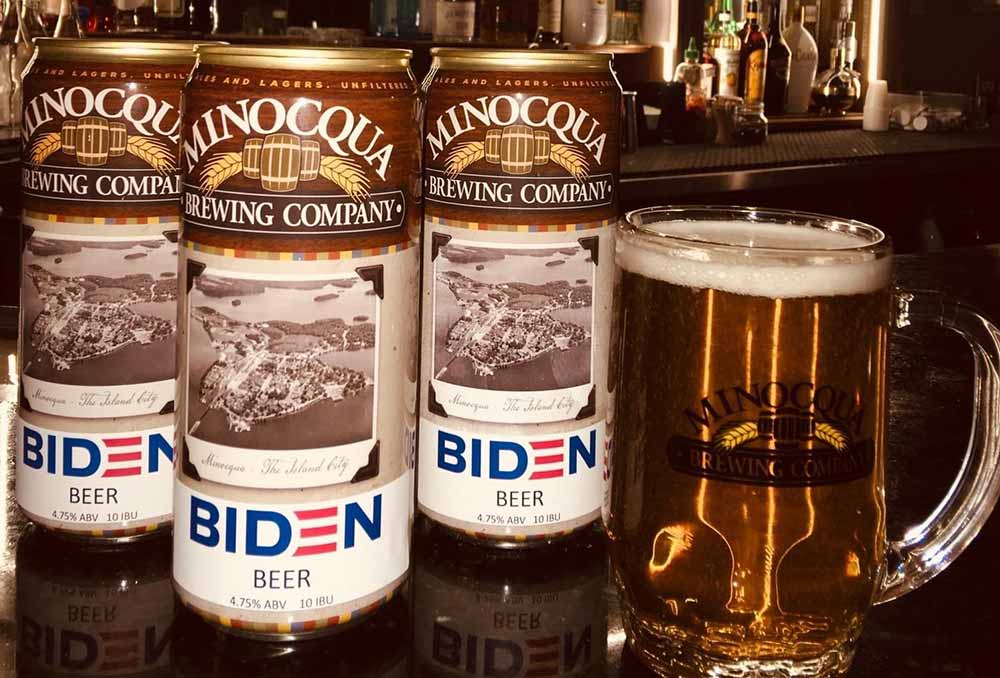 Losing his brewpub could have pushed Bangstad out of the beer industry, but his newly politicized identity coupled with a keen sense of humor breathed new life into the Minocqua Brewing Company.
Instead of throwing in the towel, Bangstad turned to contract brewing.
And when Bangstad needed to quickly sell his brewpub's remaining stock after closing the business, he cut and pasted a Biden logo onto the can with the slogan Biden Beer – Inoffensive and Not Bitter, adding the caveat 'best consumed with temperature way down, not going to overstay its welcome in your fridge!'
"I put it out on Facebook and people went nuts!" says Bangstad, with customers traveling up to four hours across state lines to buy it. Bangstad's #progressivebeer series was born. Hop Cultures was so impressed with it they named it one of "The 10 Beers We're Thankful for This Thanksgiving."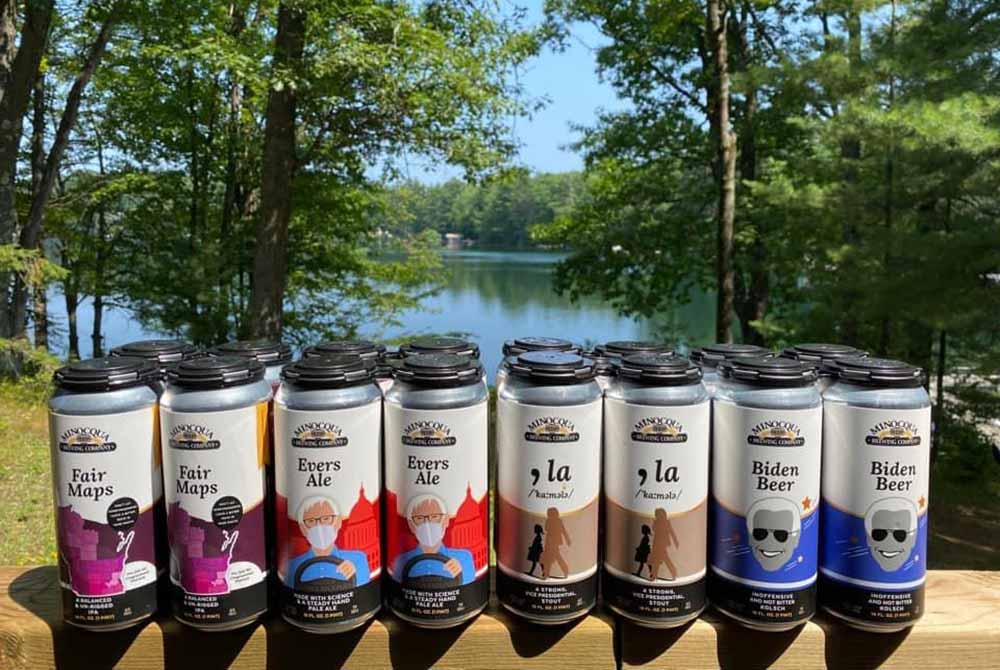 The #progressivebeer line now features beers dedicated to local and national political figures including Bernie Sanders, Alexandria Ocasio-Cortez (AOC), Kamala Harris, and local politicians Tony Evers and Tammy Baldwin. Each beer has its own pithy dedication. Plus, Bangstad has even created an accompanying range of merch.
Additionally, Bangstad's Choice Hard Seltzer has taken on new significance in the face of the current reproductive rights crisis. Bangstad donates five percent of profits to Planned Parenthood, and has launched a merch line to generate additional support.
Bangstad has been able to leverage the power of beer to simultaneously keep his brewery alive and push forward his own social agenda.
At present, he's trying to raise enough money to buy a new brewery. But the journey has been difficult.
Taking a Political Stand Leads to Business Roadblocks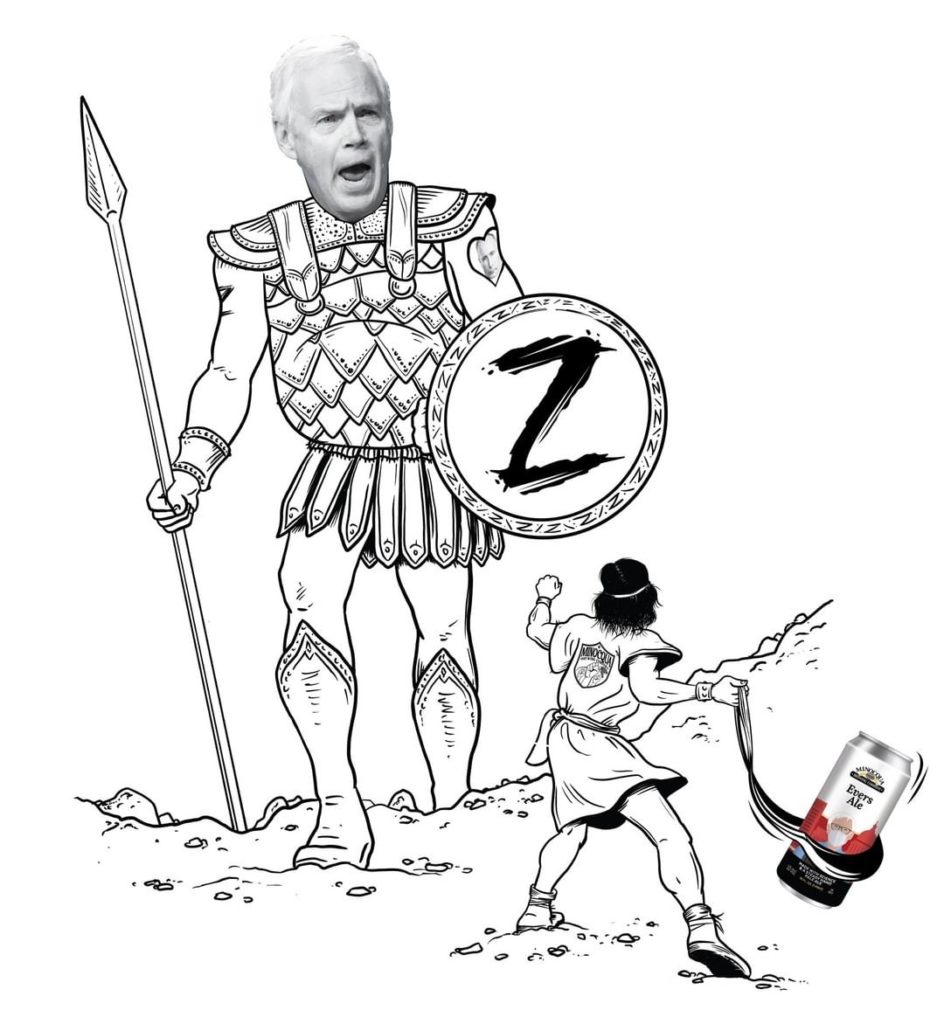 Savvy branding and progressive politics aren't enough on their own to keep a brewery in business, especially one where local hostility means that access to a wider distribution market is essential for survival.
Bangstad has had to get creative to keep the brewery going and to keep funding the Super PAC. Using the purchasing power garnered through his 43,000-strong email newsletter list and 58,000 Facebook followers, Bangstad has successfully secured distribution across Wisconsin and into Illinois, Minnesota, and Washington DC.
"I went on Facebook and asked people if they are in Minneapolis and Duluth and like the cause and the beer to tell us where to sell it," he says. Bangstad encourages fans to request his #progressivebeer from their local stores and will happily turn up at a recommended outlet armed with his Facebook page open to show the store manager the swathe of requests for his beer. Plus, once the beer is on the shelves, he will mobilize his supporters to ensure the beer sells out. After employing this strategy at stores including Top Ten Liquors, Minnesota distribution was a shoe-in. These efforts have enabled Bangstad to buy a new taproom in downtown Minocqua which will open on Memorial Day weekend.
Bangstad sees strong links between the political issues he campaigns about and America's restrictive alcohol distribution laws. "Distribution is a very tiny world and very Republican," he says, "It's very hard for someone on the other side of the political spectrum to sell their beer." By effectively employing guerilla marketing tactics to push back against these restrictions, Bangstad is pressing for a fairer, more representative and egalitarian system in the same way that he is doing in local politics.
How Far Can One Brewery Owner Push the System?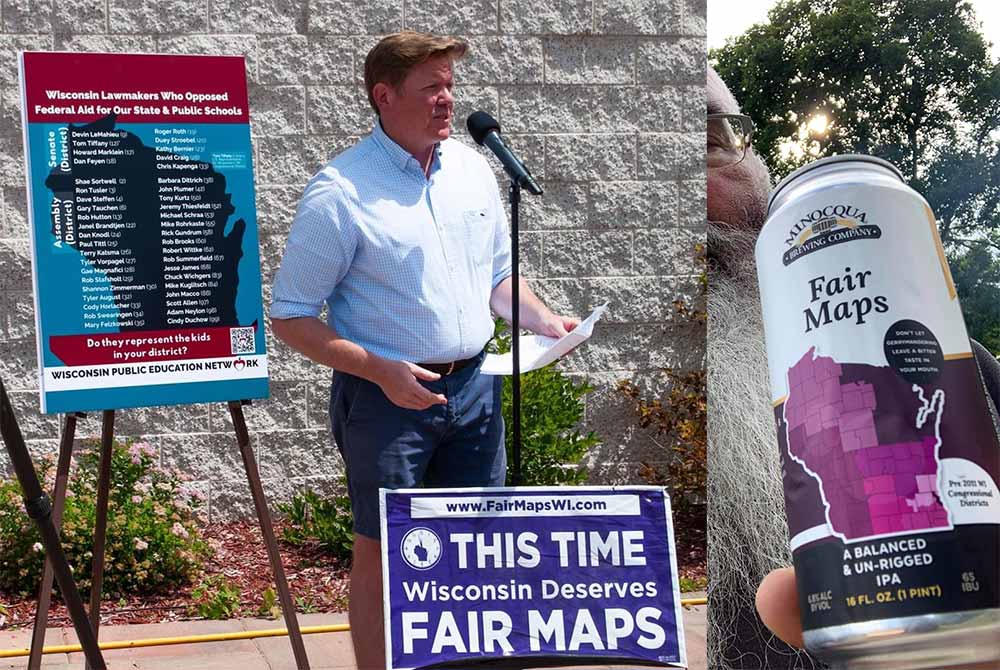 Bangstad's most recent efforts to hold Wisconsin politicians legally and morally accountable include a lawsuit against Congressmen Tom Tiffany and Scott Fitzgerald and Senator Ron Johnson.
After following the cases of North Carolina congressman Madison Cawthorn and Georgia representative Marjorie Taylor Greene, Bangstad launched a suit against the three Wisconsinites based on Section 3 of the 14th Amendment, prohibiting the holding of federal office by anyone involved in aiding and abetting an insurrection.
Using his Super PAC money to fund the suit, Bangstad has now served all three after a Where's Wally-esque situation where they effectively hid from Bangstad's attorneys – all fully documented on Minocqua Brewing's social media.
"Normal people care about this," says Bangstad, "The average contribution to the PAC is just $50. This is a true grassroots movement made up of people on fixed incomes and social security living in towns of 5,000 people who think everyone has forsaken them, even the Democrats."
Bangstad believes that he's been so successful in raising donations because of his willingness to step up and speak out, and because as a brewery owner he is outside the deeply distrusted political sphere. "People don't trust politicians but will trust brewers – especially in Wisconsin, the original brewing state," he explains. "People will listen to me as brewers have no vested interest in politics – and everyone loves the guy who brews their beer!"
Channeling this trust and respect into real and meaningful change through the Super PAC is Bangstad's ultimate goal. "How amazing it will be if we can remove a U.S. Senator," he laughs, "Imagine a brewery being able to do that!"