Photography courtesy of WeldWerks
WeldWerks Brewing Co. started in Neil Fisher's garage with a small, informal group of homebrewers. That's where he met his partner and co-founder, Colin Jones. They ended up making a pact that if Fisher entered one of his beers into a prestigious competition and won, he'd have to open a brewery.
After winning a medal for his bourbon barrel-aged imperial stout at Big Beers, Jones held him to his promise. They secured funding and opened in February of 2015. Their first year was humble but during their first anniversary WeldWerks released not only their award-winning barrel-aged stout Medianoche, but a beer that would skyrocket them to the front of the Colorado beer scene: Juicy Bits.
Now, the brewery is hot off of their campaign to brew a hundred different beers in 2018 (WeldWerks totaled 138 different beers last year) and is ready to fine-tune their continued success.
I sat down with Neil after the team finished a fresh canning run to dig into what shaped WeldWerks and where it's going.
The interview has been edited and condensed for clarity.
Austin Grippin: I have to bring this question up. How does your love of college basketball play into your love of brewing?
Neil Fisher: I think I learned last year when we did the March Madness series, not everyone in Colorado is as excited about college basketball as I am. Not everyone at WeldWerks is excited, there's only a couple of us. It's been fun to throw stuff here and there–the Net Cutter was one of my favorites. Even a little bit of our history of the group that helped launch with Colin. We would all take off the Thursday or Friday, I would take both. Then we would brew all day and watch the games.
Some of those days are some of my favorite memories in Colorado with friends. Just twelve hours of, in my opinion, the best sports experience I can think of and we would brew to fill a barrel on those days. So that plays into it. I don't know if we'll do another March Madness series this year. I loved it, but I don't know if people got as excited as I did. There's still a group of us that gets together to watch every year.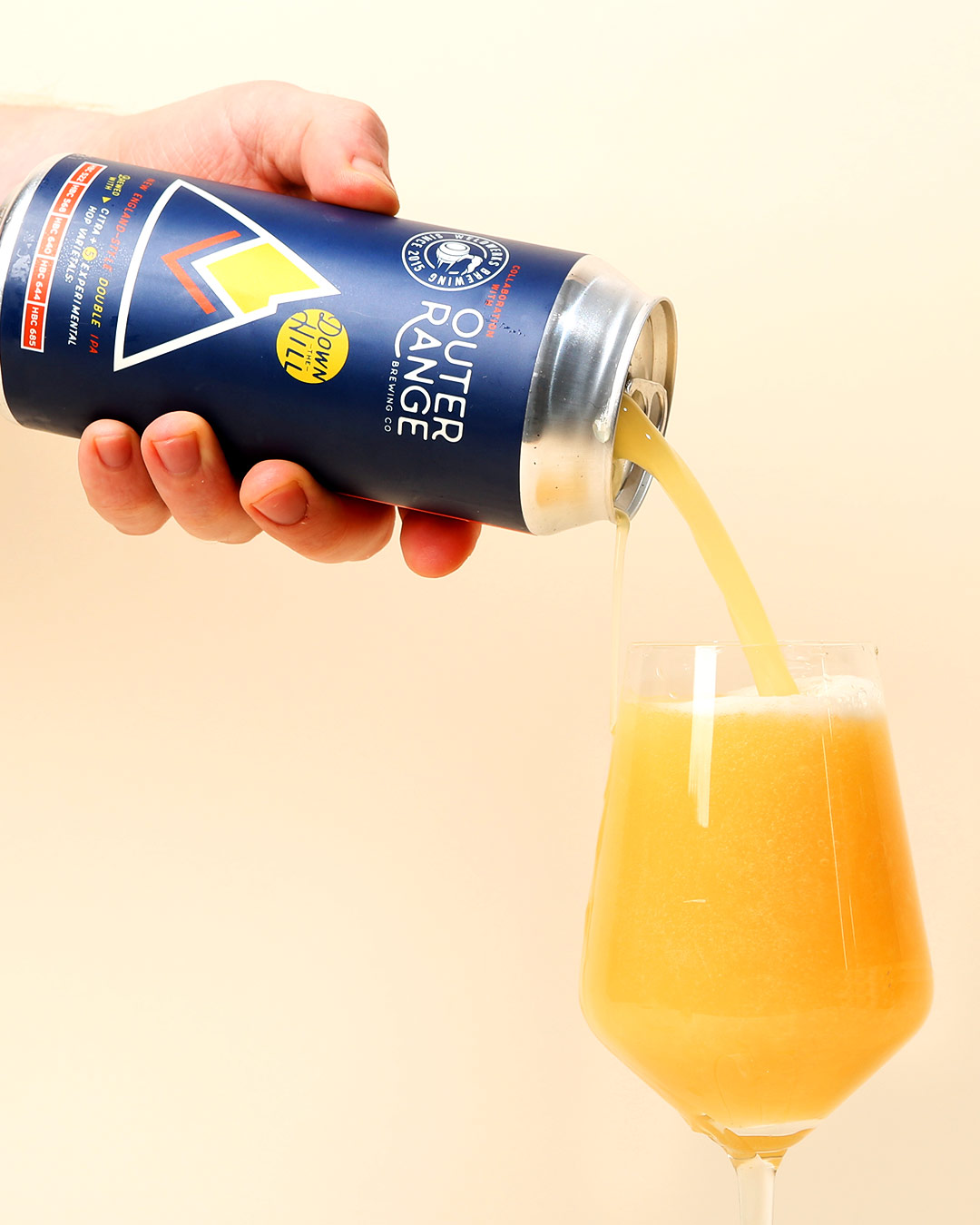 AG: Colorado is such a dense market for hoppy beer, how has WeldWerks stayed ahead of the curve as one of the most well-regarded breweries making juicy IPAs?
NF: There are so many good producers in this state, but maybe what we did–not necessarily different than others but more intentional–is that we went after a specific parameter for what we wanted to introduce from our perspective and our point of view on the style.
That's been true from the very beginning launching with juicy bits. We had a very clear idea: "Here's what we love about the style and here's what we don't necessarily love about some of the most popular examples and we want to make it our own." We don't want to copy or clone anyone else's beers. Obviously, we're inspired by Tree House and Trillium initially and everyone is doing them so well now. Those two, in particular, informed a lot of what we knew about the style, but we wanted to bring our own perspective.
It brought a bigger demographic to us. We didn't compromise on the hop character, but it's definitely not as bitter as some even in the style. As a result, we had a lot of people coming in, "I want Juicy Bits." "Oh, sorry we're out of that but we have another New England IPA." "No. I hate IPAs, I just want Juicy Bits." So parts of that demographic didn't understand it as an IPA.
What makes an IPA so unique is hops. What showcases hops more than anything else is this New England style. Bright, drinkable, balanced, creamy, and hugely flavorful IPA. That's how we started [with Juicy Bits] and then we stayed with that premise as we innovated and designed other beers.
Juicy Bits is essentially the same but we're making small tweaks over time. Lots of people are looking for efficiency gains and we're not necessarily looking at that. It's always a question of "does this make it a little better? Okay, it's going to cost us a little more to add a bigger hop addition here." We're always looking at Juicy Bits in particular and seeing if we could make it a little bit better than it currently is. Obviously, we could always use more hops in it but then we run into…
AG: More hops doesn't always equal better.
NF: No. Obviously, the freshness makes it great. We've always gone after striving for better and not just "this is done, this is great." That's what I think a lot of people have noticed even with one-offs we release. The one they're trying now is great but the next one is even better.
AG: And you're not looking to release a beer that doesn't meet the vision you had with the quality improvement you've gathered over time.
NF: Ideally the beers we brew at the end of the year in 2018 were better than the beers at the beginning of the year. That's pretty true for almost everything we did. We just kept getting better in every process, even with one-offs. That's the counter to one-offs that they don't have the consistency to improve and I would challenge a lot of brewers to ask why is that the case. Are you just not looking at it analytically from every batch? Even if you brew a new beer, you have enough data from previous beers that are similar.
AG: They should be able to predict what will happen with those variables.
NF: Yes. You have enough control over those variables, even if you change a few or a lot of them. You know what happens when you change these.
AG: Exactly, you don't just change a variable when you don't know what it does.
NF: No, and you don't just change all of them either. We also have the benefit of over 138 beers to reference data points we want at this point.
The other thing that I think sets us apart from breweries our size is the hop selection. It's been a big, big advantage the last two years.
AG: It was just last year that you and your team went for hop selection?
NF: Yeah, the 2017 harvest was our first year. 2018 was the first year we got to use our selected hops. It was a big improvement for us, not that you can't get good hops without going to selection.
AG: But you get to decide the profile you build your beers around depending on the lot of hops.
NF: Absolutely, not all Citra hop lots are the same. There's so much variation from lot to lot of a single varietal that they end up being almost a different variation that are expressed so uniquely. So it's amazing to go to Yakima or have brewer's cuts shipped to us, and as a team to be able to pinpoint some great lots and find what fits us best.
AG: What keeps you pushing WeldWerks forward to survive in a dense market for craft brewers as a whole?
NF: Not scrutinizing to be critical but scrutinizing to be sure we're sharp as an edge. Everything we do, we have to be better and better and better. Complacency, I think, is what kills a lot of our other brewery friends. You get tired and burned out. I understand [that]. I think we've done a really good job of bringing in more and more talented people. If Colin and I were the smartest and most talented people at WeldWerks we'd be in a lot of trouble.
Not to say we're not smart and capable people, but I think the best business owners, managers, and leaders of any business, not just brewing, can surround themselves with the best people they know and become better. We've hired an amazing group of staff across our entire team. People that are much more capable than Colin and I to do what we are doing now.
All of this was foreign to most of us to start and now we're kind of shoring that group up with this outside talent and experience to do, I think, pretty remarkable things in the industry. Stuff that a lot of people would say is either too difficult to pull off or not feasible. Our team is always saying we can pull off the impossible.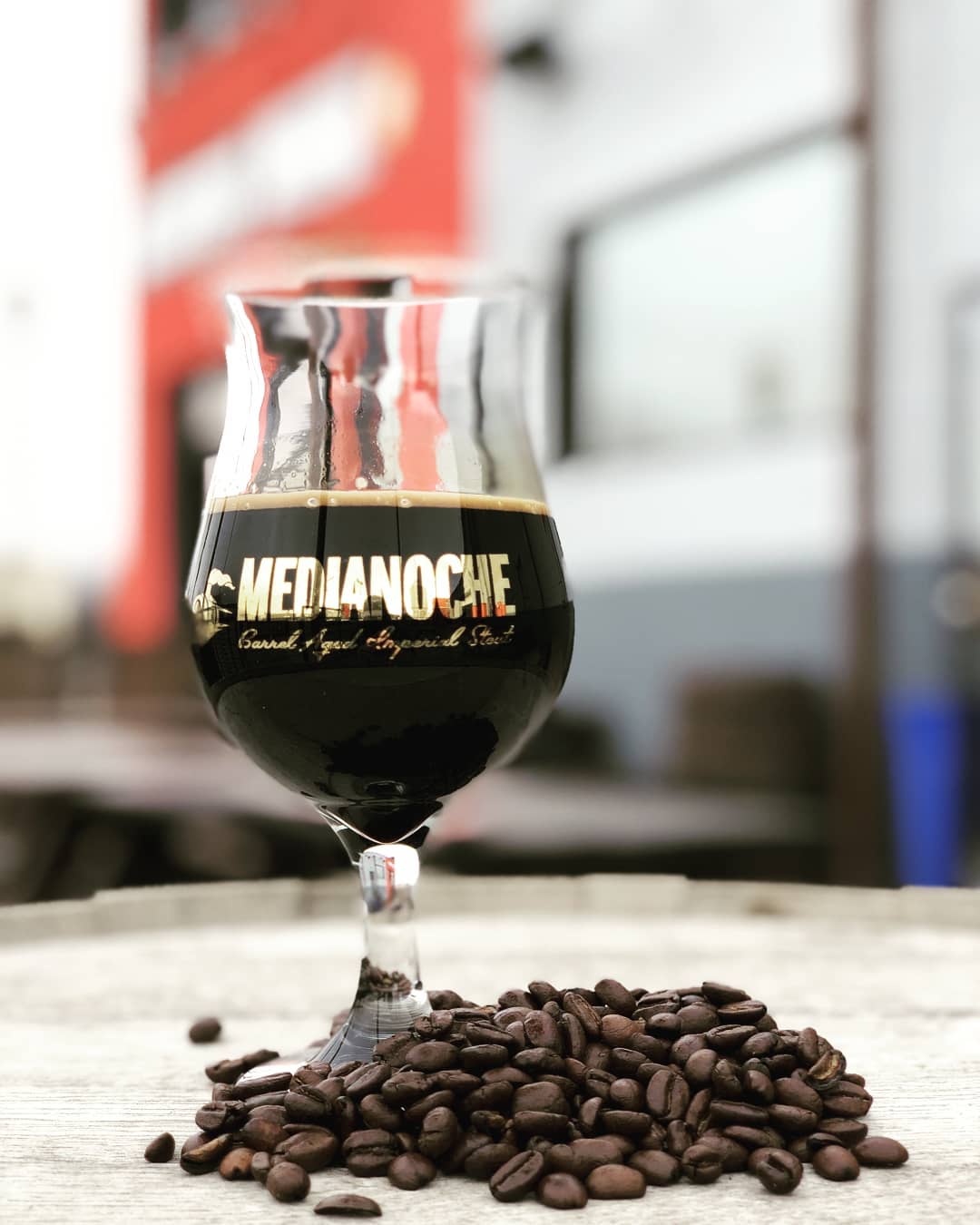 AG: WeldWerks has released one mixed fermented beer, Peach Climacteric, what's in store for the future of your sour and wild program?
NF: Climacteric was a good and bad thing for us. It was good because we proved to ourselves we could execute in a pretty difficult style without a whole lot of background in it. Obviously, I had a bit of homebrew experience but not commercially. It was also bad for that same reason. It tantalized us; we didn't have the infrastructure or space for it. We have limited production time. Everything is a limited resource. At one point it was money, then space, and now it's time.
So when you only have so much production time, you can only dedicate so many resources. Especially with Medianoche being such a big one we're trying so hard to grow with it, tying up the kettle for 36 hours to boil.
We have more space now and some tentative plans to bring back the sour program. We still have sour beer; all our barrels in the taproom are sour barrels. There are foeder projects we've aged and are conditioning. So there's stuff we'll release. But are we going to produce more [sour] beer? Probably, but not as a full-time project.
AG: More of a passion project than a focus of production.
NF: Part of me loves dropping the mic on Peach Climacteric as a one and done.
AG: You did win a World Beer Cup medal with it!
NF: It was well received and executed for a brewery that doesn't focus [on the style]. And on top of that, there are so many good breweries in Colorado producing mostly [sour beer]. Between Black Project, Casey, Crooked Stave, and Wiley Roots; there are so many people making [sour beer]. We don't just want to throw our name in just to see how it goes. We want to have an intentional approach.
I think we will be filling our foeders again. Jeff from Jester King will be out during CBC to brew with us. Why would we not brew a sour beer with them? If we're only doing a few a year, it's a good opportunity.
AG: How could you not?
NF: Absolutely. We're still very protective of our clean barrel program. Obviously because of our history with some [infection] issues and fortunately it was on the adjunct side, not the barrel side. Still, having that history and track record….
AG: It's not worth the risk of a main focus.
NF:
I think when you look at BA stouts in particular and across the country, we've created a product that stands out on its own and stands amongst the best. Not to say we couldn't do it, but it's a much steeper curve to get to be at the top of mixed-culture wood-aged beer. Part of me says, "Let's focus on what we do well and uniquely and invest in that." Mixed culture beer was my initial passion along with clean beer, really focusing on barrel aging.
AG: I mean, a barrel is literally the logo for WeldWerks.
NF: It's what I love and such a big part of who we are, so it almost feels like we're missing half of ourselves. Just for our own sake, we'll continue to do things every once in a while.
AG: WeldWerks has won many awards for not only beer but for your impact on the community in Greeley. How exactly does that play into the WeldWerks ethos?
NF: Since we'd opened, we've invested in change, growth, giving back, and being a part of this community in Greeley. It's a cool vessel we get to do it in with beer. It's a cool way to engage with people outside of Greeley through what we make, but our heart is here in Greeley. We've had more opportunities to make that a bigger focus of what we do. Anyone that knew us or our staff knew it was a big part of what excites us. We just haven't had a platform to talk about it or be as engaged with giving and bringing people to Greeley.
That's what gets a lot of us excited, myself included. This prospect of how we can be a part of the next chapter of Greeley. We're not oblivious to what people think of Greeley outside of it. A lot of that is unfounded, but we also know some of it part of the change and growth that is happening.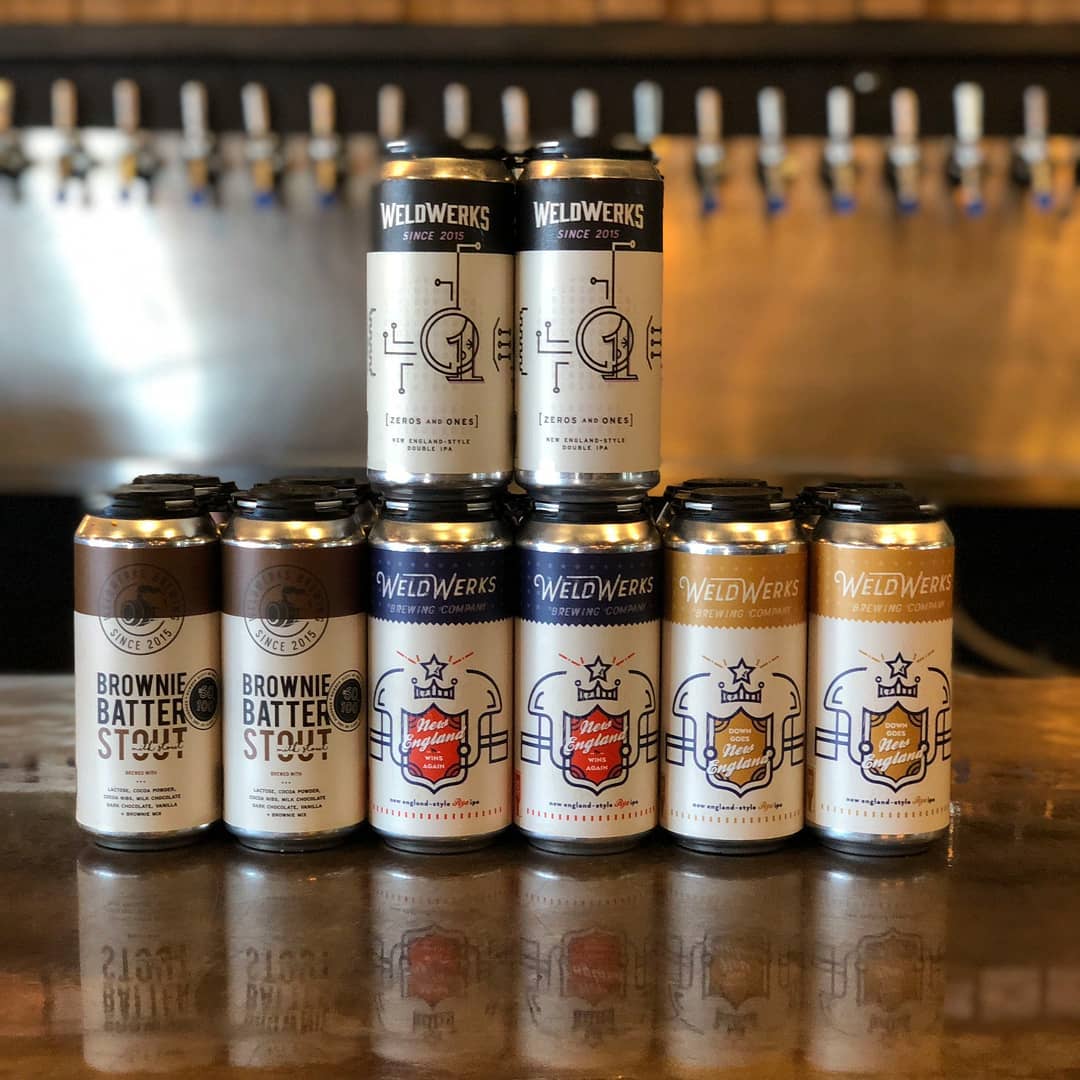 Downtown, in particular, is just night and day different than when we opened. It's going to be almost more unrecognizable in the next five years because of how much development is coming. We finally caught that wave of momentum that's been building for so many years and now we're on the other side of that. Not that we were a huge part. We were a part but we weren't the one business driving it all. We get lumped into it, and it's like we have brought people into Greeley but there are so many businesses doing that. We came in at a really good time and we're very excited to be a part of that next chapter of what people talk about.
The other part of that is the responsibility to make sure we're engaged in giving and support our community in any way we can. Charitable and philanthropic initiatives are huge for us. That's really what was driving the [WeldWerks] Invitational idea. One was to get people to Greeley and drive a little tourism, but mainly to raise money for local nonprofits.
AG: And for that, you started your own nonprofit.
NF: We did! Yeah in the midst of all that we realized, well we're doing this all for charity, we're not taking any of the proceeds from the tickets. So it'd be easier for that to be transparent by showing none of the money comes to us and it goes to a foundation were one hundred percent of the money goes out. So there's no tricky accounting going on.
AG: There are always questions about motives behind charitable donations.
NF: And you can just be [completely] transparent and show here's a 501-C3 nonprofit foundation we launched to handle all the giving from this event and maybe future events. The WeldWerks Community Foundation will announce that we get to award $40,000 to local nonprofits. We've already selected them, we had a grant application at the end of the year, and we've selected six to seven nonprofits to receive that.
AG: That's absolutely insane from one festival.
NF: Getting to sit around a table to decide where we would award the money was surreal. We were hoping to raise $10,000. It was a great response; so many people came to Greeley who have never been, a lot of cool brewers from all across the country. If that were our only measure of success it would have been a landslide. But couple that with the $40,000 we raised to invest in Greeley nonprofits, I can't think of a better measure of our achievements so far. The prospect of doing that again is awesome.
AG: What's in the future for WeldWerks?
NF: 2019 is going to be a fun year. We're in the midst of our biggest expansion yet. We have almost 4,000 sq. ft. of new cellar capacity and production space, plus expansion for our canning line. Concrete is being poured [the rest of the week]. So we're in the very midst of all of that.
AG: I came in at a great time for you to sit down.
NF: Exactly. We're commissioning a brand new boiler, glycol upgrades. The expansion is taking up a lot of our energy now. Shoring up with some new hires and expansions to our team, people moving into different roles.
A lot of it is this "Fine Tuned Beer" [slogan], taking that a little more literally in the sense that we're turning all the dials here and there to make sure everything we do is improving–whether it's in the beer or service, the way we sell it or market it, the way we engage customers, present ourselves to the marketplace, our we engage our peers, collabs and all that. How can we fine-tune our process? We're taking that very very literally this year and that's our theme for the year. 2018 was innovation and the one hundred new beers campaign. 2019 is continued innovation but fine tuning it.
Liked this article? Sign up for our newsletter to get the best craft beer writing on the web delivered straight to your inbox.