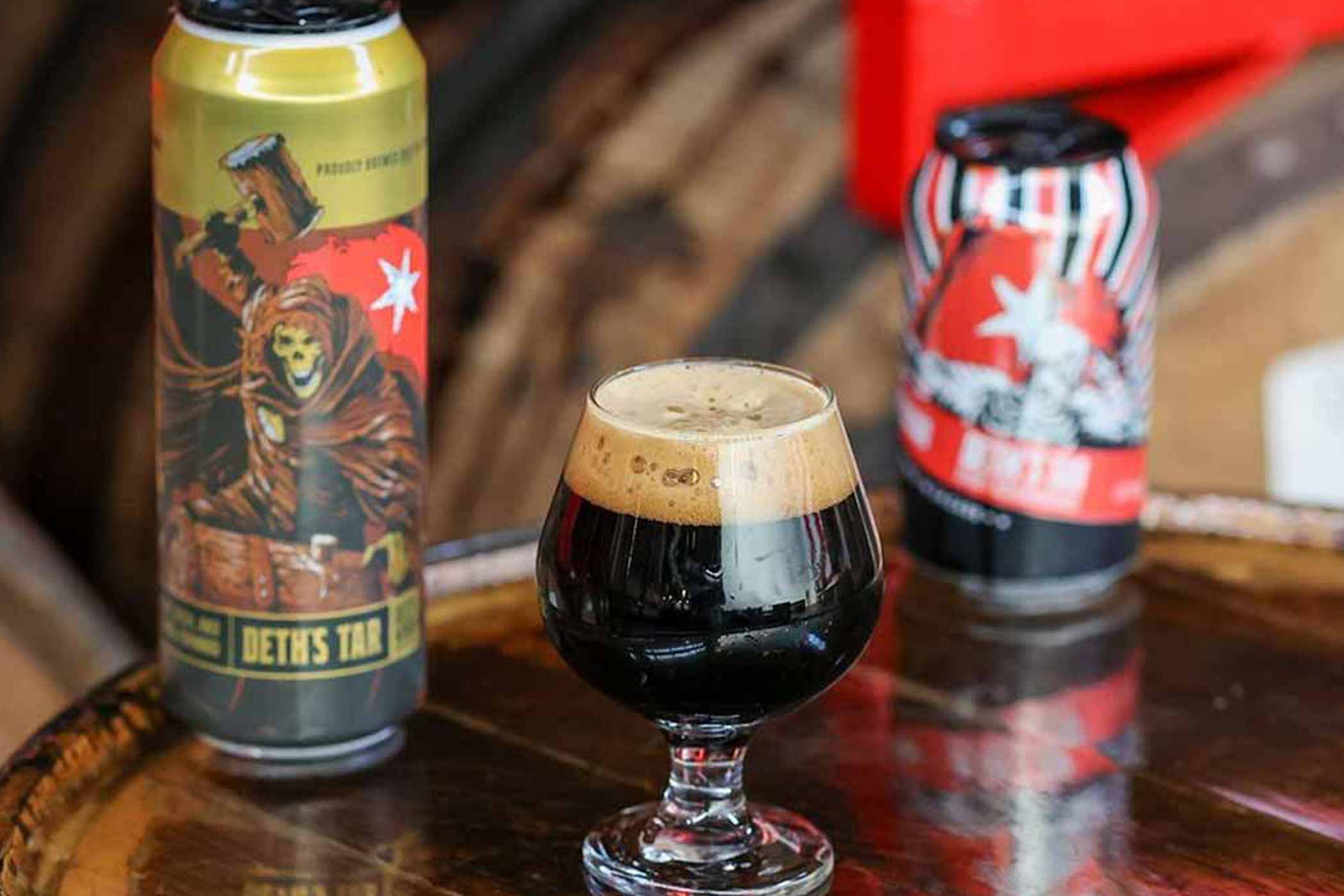 Photography courtesy of Revolution Brewing Company
As the weather turns (a good name for a new soap opera?), our palettes shift. Colder temperatures send us scrambling around our closet, pulling out dusty sweaters and mothballed winter jackets. And when it comes to fall and winter we tend to turn to maltier, heartier beer styles. Those like porters and stouts.
When it comes to the latter, our tastes have trended toward more of a Nor'easter than a light flurry. In other words, over the last decade, we've seen folks go ga-ga for boozy barrel-aged and wacky pastry-inspired versions. But that doesn't mean the original, lighter-bodied stouts of yore should be pushed to the back of your mind like…well, that winter sweater in your closet.
Oatmeal stouts, in particular, are a perhaps lesser-known variety that we think no one should ignore.
Why?
Because oatmeal stouts take everything you love about a stout—rich, dark, chocolatey—and add an incredibly luxurious, velvety mouthfeel.
Courtesy of some magical alchemy, aka oats, oatmeal stouts capture an intriguing interplay of taste and texture in a way few other styles nail.
What Is an Oatmeal Stout?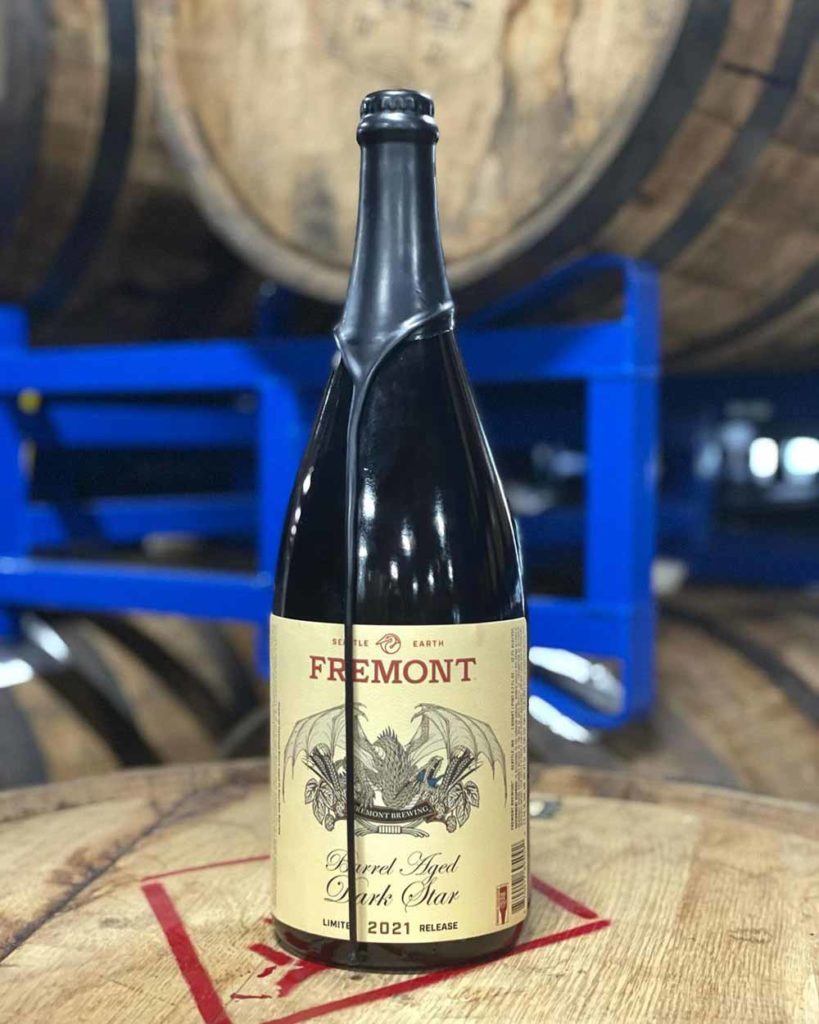 Like a step back in time, oatmeal stouts harken back to a more classic version of a stout. One from our friends across the pond.
A traditional, true-to-style English oatmeal stout is usually lower in ABV and lower in IBUs. Especially when compared to what we've come to know as stouts in America today.
But it's the addition of oats that truly set these beers apart.
In fact, historically oatmeal stouts were often marketed as being good for your health thanks to the heaps of oats going into them.
Today, English brewery Samuel Smiths' iconic version has inspired American brewers to put their own spin on the style.
For instance, Fremont Brewer and Owner Matt Lincecum, who first drank Sammy Smiths Oatmeal Stout as a homebrewer, striving to brew his own, fresher version. When Lincecum's brother had his first baby, he brewed a commemorative oatmeal stout for his family. That beer would go on to become Dark Star, one of the brewery's award-winning oatmeal stouts.
"I love the idea of oatmeal in beer," says Lincecum. "It fascinated me at the time and seemed unconventional."
Since then, Fremont has garnered quite a reputation for their oatmeal stouts with standouts like Dark Star, Bourbon Barrel Aged Dark Star (BBADS), and The Rusty Nail racking up all kinds of awards from competitions and publications like the Great American Beer Festival, World Beer Championships, Ratebeer, Craft Beer & Brewing Magazine, and Untappd.
Based on his experience, Lincecum gets right to the point when asked to describe an oatmeal stout in his own words. He simply says, "It's a stout with oatmeal in it."
All Hail the Oats: A Stout…With Oatmeal in It.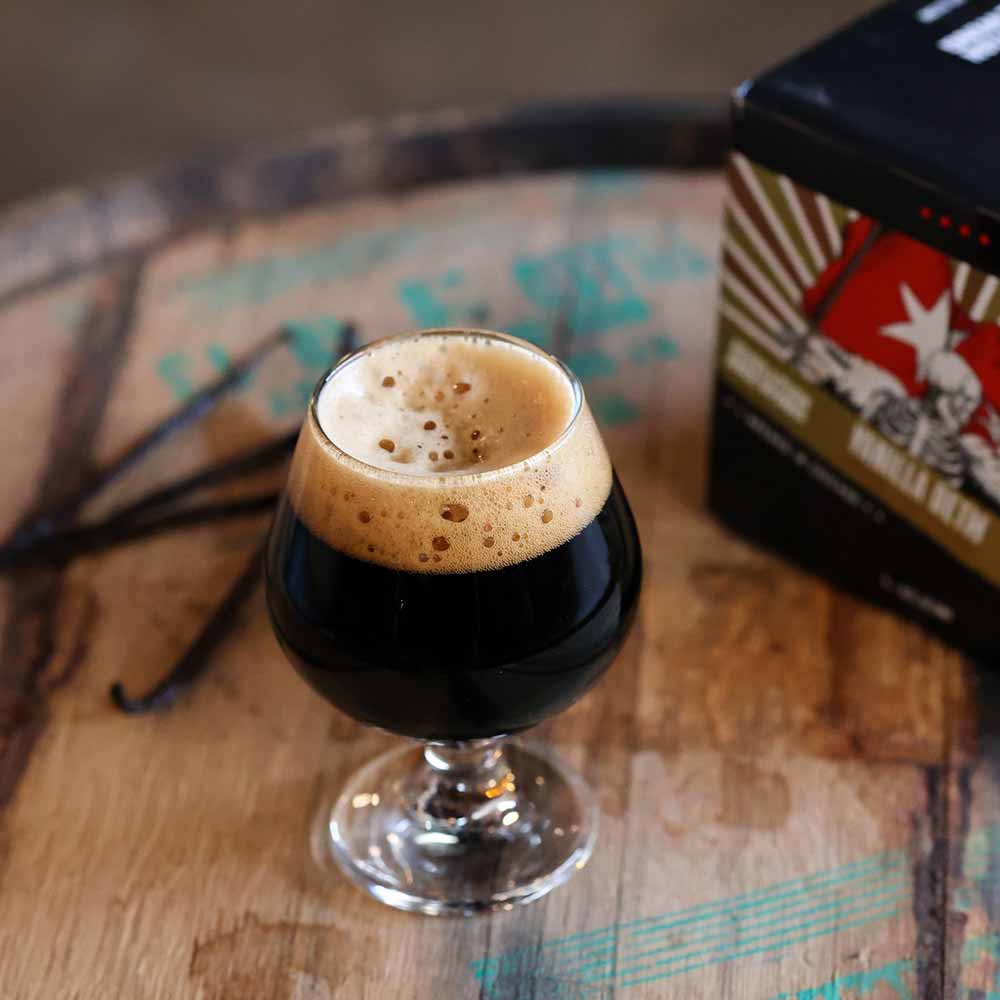 Unsurprisingly, it's all in the name here. Pouring out a beautiful dark garnet to black color, oatmeal stouts are roasty, malty ales that deliver a lighter body and overall sweeter character courtesy of typically an English roasted barley along with oats (surprise, surprise).
It's a certain portion of oats in the grist that truly define this style.
This can vary brewer to brewer, but generally between five percent to ten percent seems like a good marker.
For instance, in Revolution Brewing Company's now-famous Deth's Tar, head brewer Jim Cibak adds five percent oat malt and seven percent flaked oats.
But some can take this makeup up even higher. The Eighth State Brewing Founder Cameron Owen says oats in the mash can sometimes reach up to fifteen to twenty-five percent.
Regardless, it's this particular part of the malt bill that gives oatmeal stouts that roll-out-the-velvet-red-carpet mouthfeel.
Smooth, Luxurious, Velvety, Pillowy Mouthfeel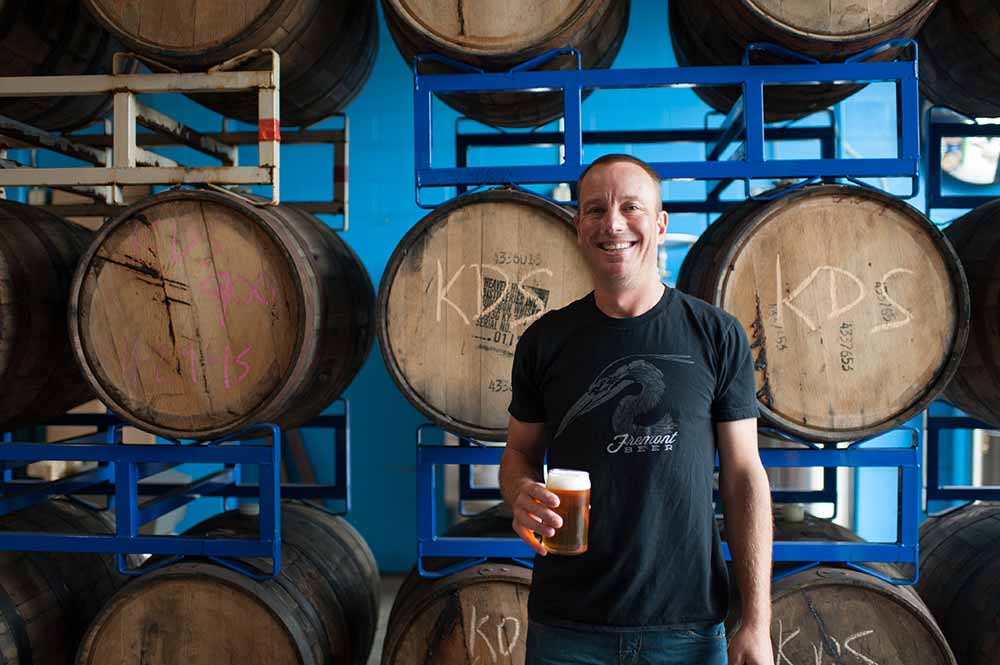 Oatmeal stouts are all about texture. "An oatmeal stout is a stout with a great body…has all the rounded edges finely sanded down," says Lincecum. "What I'm looking for specifically with oats is the mouthfeel, a little sweetness as a contribution from the grain, and that's it."
Traditionally, brewers used flaked or rolled oats to create this archetypal texture and flavor.
But what is it exactly about oats that translate to a velvetyness on your tongue? Or as Owen describes it, "a pillowiness that is really fun."
Cibak, who loves talking about oatmeal stouts, excitedly explains that "flaked oats are high in beta glucans and it's these beta glucans that give the beer a very silky texture."
So while oats get all the credit, technically, we have beta glucans to thank for creating that slick sensation in your mouth.
And today, brewers have a handful of both traditional and contemporary oat products at their fingertips.
A Field of Oat Dreams
For some, sticking with classic rolled oats is the best way to go. Fremont uses a rolled oat for most of its oatmeal stouts. "It's very similar to the oat you may have had this morning for breakfast," says Lincecum.
With this version, the heat from rolling gelatinizes the starches in the oats, allowing enzymes from the mash to break down starches into fermentable sugars, helping the beer on its way to being smoother, lighter, and drier.
But flaked and rolled oats aren't the only way to get this grain into the mash.
For instance, Cibak mentions experimenting with Simpsons Golden Naked Oats, a toasted oat that gives "a really nice flavor and silky, velvety texture as well," says Cibak. "As brewers these days, we have a lot more options when it comes to the oat game."
But oats are only one part of the equation. To back up the oats in the malt bill, brewers typically leverage a pale ale malt alongside a roasted barley and a darker malt such as black barley or chocolate malt.
The roasted barley gives the beer a nice roasty, aromatic flavor while a dark malt "complements the roasted barley, so roasted notes in the beer are not one dimensional," says Cibak, who includes pale ale malt; a combination of oat malt, rolled oats, and flaked oats; and Thomas Fawcett Black Malt, along with just a small amount of Thomas Fawcett Dark Crystal Malt II in Deth's Tar.
"We're trying to achieve complex, roasty notes in this beer, but also a nice velvety, silky texture," says Cibak.
Similarly, Lincecum mentions leveraging flaked oats, Carafa, and chocolate malt in the brewery's award-winning BBADS.
But whatever oat goods a brewer uses, there are some considerations needed on the brewing side.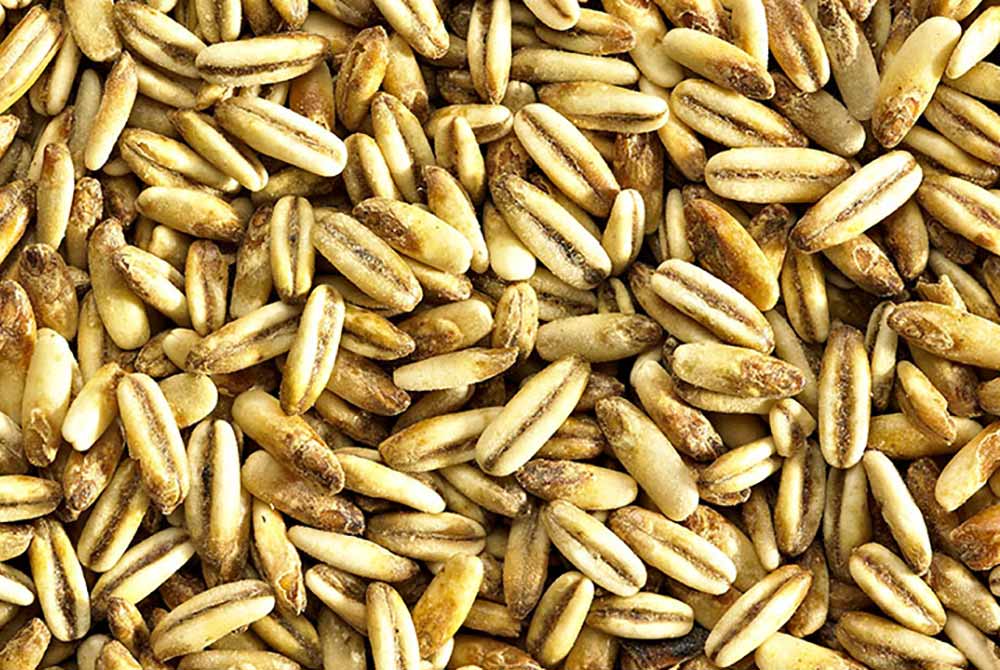 A Sticky Situation
What comes to mind when you think of oatmeal? Probably a thick, porridge-like consistency right?
Now imagine, instead of that goopy glop in your cereal bowl, it's in a mash tun.
The beta glucans in oats that give these stouts such a fine texture actually make for quite a clunky mess in the mash.
"You pay for it in the mash and run off," says Cibak. "When you lauter wort to the brew kettle that can be challenging because the beta glucans make the grain bed sticky and gummy."
Ultimately, a brewer could end up losing a significant portion of the wort.
"Specifically, when you're using flaked oats, you can have stuck mashes and you might not transfer as well as you'd like," says Owen. "It typically ends up being a longer day and your efficiency losses with oats..is significantly different.
To combat this sticky situation, brewers often use rice hulls, which, according to Cibak, helps give the grain structure and offset negative effects in running wort out of the lauter tun.
Owen agrees, joking that, "if you use high percentages of flaked adjuncts, especially on a larger scale…you put a bunch of rice hulls in it and pray for the best."
Lincecum says it's more about patience. "When you have a thicker mash…you just have to run a slow process," he says. "Just like anything in life, it takes time, [you have to] go slow."
An Ode to Oats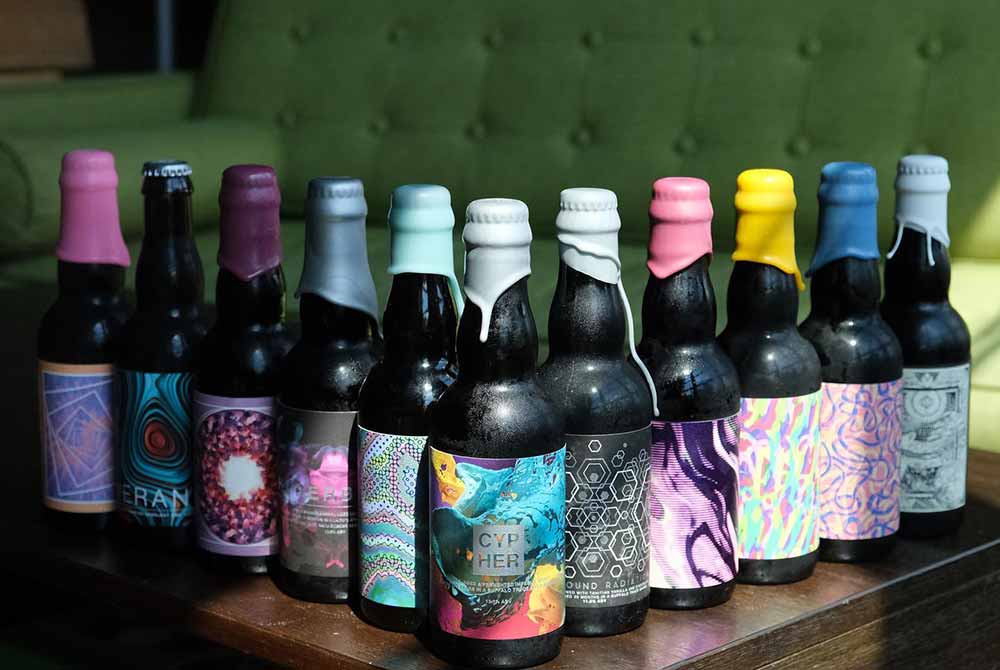 Brewing an oatmeal stout takes a bit of patience, but also bravado and gusto. And not just because they can be technically difficult.
Just putting a lush, milky stout on tap has its own consumer challenges.
"I guarantee if we put an oatmeal stout on draft it would sell differently," says Owen, noting that in America folks tend to gravitate towards big, boozy, adjunct stouts.
Just take a look at some of the oatmeal stouts Eighth State has brewed. For instance, Stress Dream, although technically an oatmeal stout, also features caramel, cacao nibs, multiple types of vanilla beans, marshmallows, and strawberries. Currently, Stress Dream is one of the top five highest-rated oatmeal stouts of all time on the Untappd app.
"When you told me we had one of the highest-rated oatmeal stouts I was like, 'Oh yeah, that is an oatmeal stout!" laughs Owen. The brewery actually accidentally made this neapolitan-sundae-inspired stout an oatmeal one when they ran out of wheat, turning to oats to make up the rest of the grist.
"That's where having breweries like Revolution, Side Project, and Half Acre doing oated stouts and changing the perspective on what it is will ultimately get people to do a deep dive into them," says Owen. "Hopefully they'll say, 'Hey, I had an expression of oatmeal stout from Eighth State but now I want to know a more traditional version of it…and understand the roots of the beer."
Tasting an Oatmeal Stout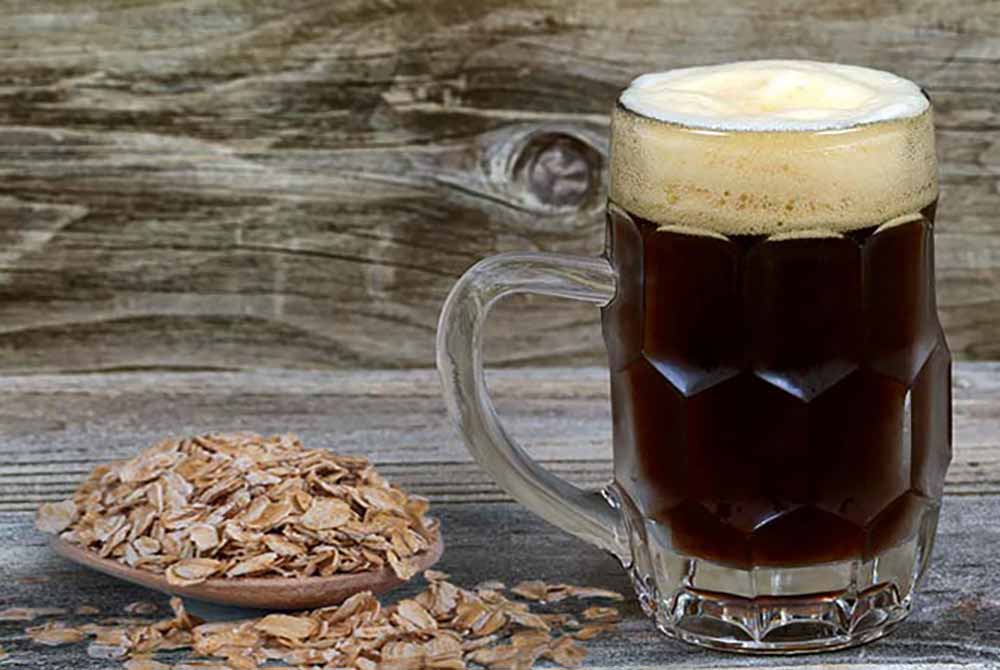 In general, what you see is what you get with an oatmeal stout.
Appearing a medium brown to black in the glass immediately sends signals to our brain that this beer will be deep, rich, and probably a tad sweet.
And it is.
On the nose, oatmeal stouts give a wonderful waft of light roasted coffee and dark rye toast thanks to that roasted barley.
This carries through on the sip where you can expect a complex cake-like layer of chocolate sweetness followed by a nutty roastiness and finishing with a coffee creaminess.
Overall, these malty beers fill your mouth with an almost ethereal texture, a kind of pillowy slickness that pleasantly coats your palette.
Intrigued, you'll probably want to go back for one sip and then another.
"Always meant to not be too cocky about what your palette says, so go in, have another sip, maybe two more to be sure," laughs Lincecum.
With that advice in mind, here are seven of our favorite oatmeal stouts to take at least two sips of right now.
Our 7 Favorite Oatmeal Stouts to Try Right Now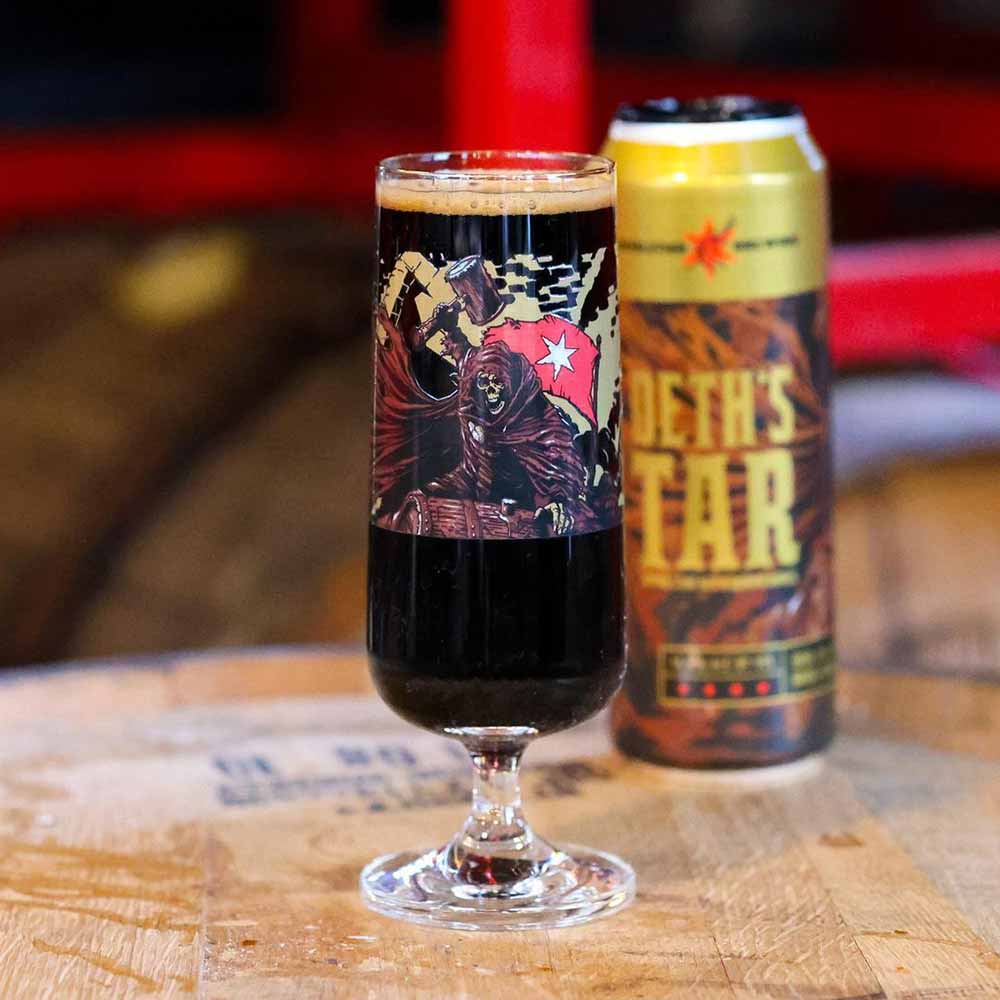 Deth's Tar – Revolution Brewing Company
Chicago, IL
Cibak developed this standard-setting oatmeal stout to actually build out Revolution's barrel-aging program.
Accordingly, this barrel-aged or imperial oatmeal stout does pick up additional character from napping in barrels for a minimum of eight months, but up to two or three years.
The first thing you'll notice when pouring out Deth's Tar is a striking dark hue from the roasted barley and black malt. "There is very little astringency from the dark malt, just a jet black color with a tan head that's nice and creamy from the oat malt," says Cibak.
When you go to smell the beer, Cibak says you'll "pick up those deep notes of roast and the barrel character, vanilla, caramel, almost toasted marshmallow."
Carrying through to the sip, Deth's Tar hits these complex roasted, almost coffee-like notes. All combine for a beer that's wise beyond its years. "We're trying to create a very smooth, velvety texture with a beer clocking in the 14-14.5% ABV range but that drinks like it's 10-11.5% ABV beer," says Cibak. "You'll know strong beer, no question there, but wanted a smooth pleasant drinking experience."
For one of the most iconic variations of an American oatmeal stout, Revolution's Deth's Tar is a must try.
Stress Dream – The Eighth State Brewing Company x Fidens Brewing Co.
Greenville, SC x Colonie, NY
If Revolution's Deth's Tar is one of the more classic American versions of an American oatmeal stout, Stress Dream represents the vanguard.
"Imagine you're a child, you're at an ice cream shop and they're like what do you want?" says Owen. "I want vanilla ice cream, strawberry ice cream, and then chocolate ice cream with sprinkles on it, a caramel drizzle, a chocolate drizzle, and maybe some cherries. Picture yourself in that moment as a child sitting outside on a hot summer day and being in that moment."
That's Stress Dream.
Yes, it's an oatmeal stout at its core, but it's so much more. It's a memory. Built on the idea of a Neapolitan sundae, Stress Dream includes caramel, cacao nibs, multiple types of vanilla beans, marshmallow, and strawberries. "It's everything you would want in a little waffle cone sundae," says Owen.
The silky mouthfeel from the oats perfectly complements that experience of dipping your spoon into a luxurious ice cream sundae.
"Having this smooth ride with pops of chocolate, caramel, strawberry and building a profile throughout you drinking it rather than just one dimensional is really important to us," says Owen.
Bourbon Barrel Aged Dark Star – Fremont Brewing
Seattle, WA
For an award-winning version of an oatmeal stout, you cannot go wrong with any of Fremont's iterations. In fact, we included two different beers in our list here for that very reason.
But if he had to pick just one, Lincecum waxes poetic on Bourbon Barrel Aged Dark Star (BBADS). "To me it's just one of those beers we've done over all these years that I can go back to over and over and over again and it still tastes good," says Lincecum. "It's withstood the test of time."
For this beer, Fremont actually specially brews a higher-ABV version of its original Dark Star. He then ages it in American white oak bourbon barrels for a minimum of twelve months. But sometimes up to twenty-four to thirty-six months.
What you get from that time in the barrels is a beer fully rounded and mellowed out.
"The oats provide that smoothness to the experience that I'd describe as a sphere [where] all the little hard edges, all the little things that catch skin, have been rubbed off and are really nice," says Lincecum. " It's something very comforting to enjoy and satisfying that I haven't gotten bored of."
Thanks to the flaked oats, Carafa, and chocolate malt, expect a bit of roast, a bit of chocolate, and a bit of sweetness. The American white oak barrels impart tannic qualities along with a "beautiful caramel, kind of coconut from the bourbon and vanilla from the oak," says Lincecum.
All combine for one incredible drinking experience that's all too easy to drink until you realize its 14% ABV.
The Rusty Nail – Fremont Brewing
Seattle, WA
"What Fremont does really well is revolutionizing oatmeal stout," says Devin Hennen, marketing and events manager at Fremont. "What Matt has done is start flirting with the process of adjuncts and really transforming that base [oatmeal stout]."
That's one hundred percent on display with another award winner from Fremont Brewing, Rusty Nail. This beer starts out as First Nail, an oatmeal stout with brewer's licorice and smoked barley aged on cinnamon bark.
After napping in twelve-year-old bourbon barrels for fifteen months, this beer emerges as The Rusty Nail.
Hammering your tongue an assertive booziness smoothed out by that oatmeal stout base, The Rusty Nail intrigues and surprises.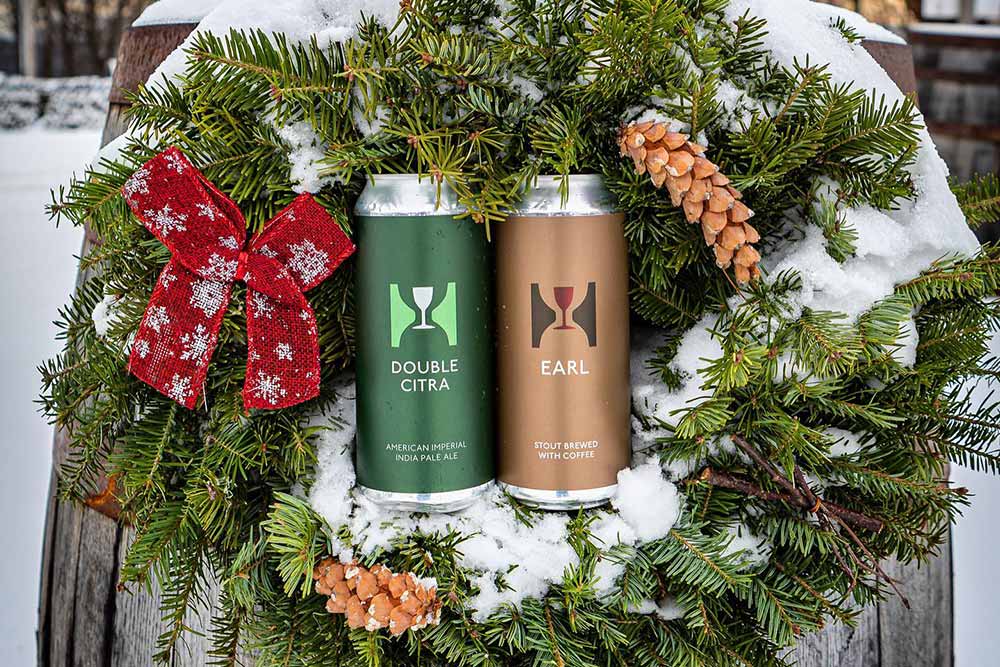 Earl – Hill Farmstead Brewery
Greensboro, VT
Named after Shaun Hill's grandfather's brother, Earl is an homage beer. Featuring American malted barley, flaked oats, English roasted malts, American hops, and even Guatemalan coffee, Earl really resonates as an American interpretation of an English classic.
"A silhouette of coffee and malt—an embodiment of complexity and drinkability, this is the ale that I dream to have shared with Earl," writes Hill Farmstead in the beer's Untappd description.
We think that pretty much says it all.
Prairie Noir – Prairie Artisan Ales
Krebs, OK
A brewery known for stout bombs, literally, Prairie Artisan Ales nails its own version of an imperial/double oatmeal stout.
Aged in whiskey barrels, Prairie adds a heaping helping of oats to give the beer that characteristic silky mouthfeel.
From the base, you'll register toasted coffee and dark chocolate. Additional time in the barrels imparts whiskey, caramel, and a touch of vanilla and tannins.
This is a big beer (13.7%ABV), from a big stout-loving brewery, that shouldn't be missed.
Chocolosa – More Brewing Company x Maplewood Brewing Company
Huntley, IL x Chicago, IL
A collab between two powerhouse Illinois breweries, Chocolosa says it all in the name.
Big, bold chocolate notes compliment a big, bold imperial oatmeal stout base. Fermented on cocoa husks and cocoa nibs, More Brewing and Maplewood Brewing top this luxurious adult chocolate milk with vanilla.
Need we say…more?