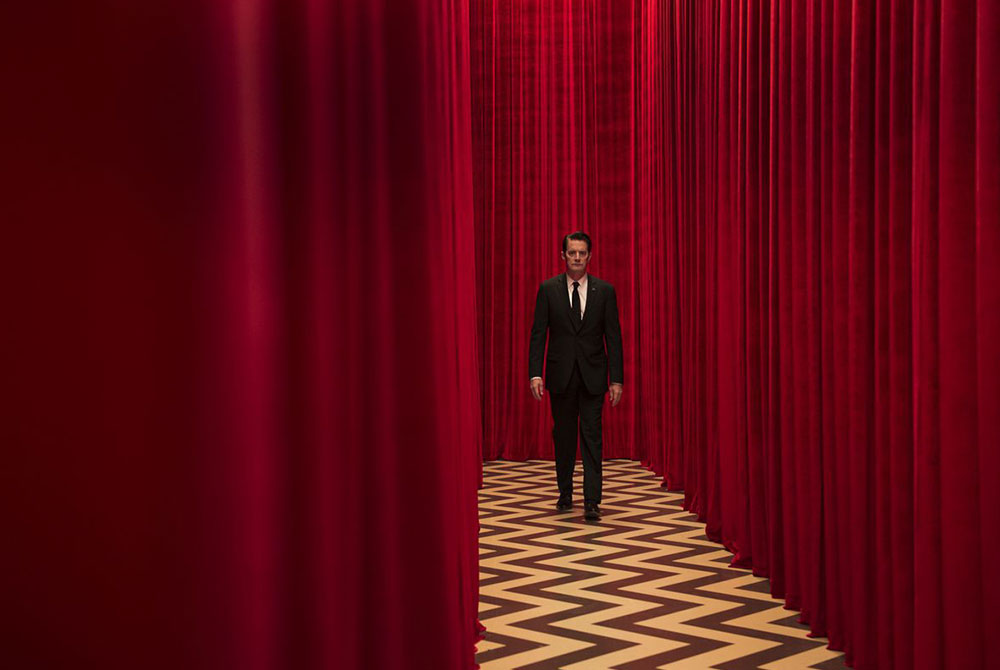 Photography by Suzanne Tenner / Showtim
Twin Peaks, the cult classic of cult classics, returned on Sunday to Showtime. It's been 25 years, making this a revival of epic proportions. If you haven't seen Twin Peaks, stop reading now and watch it. If you have, scurry to the ice box and get a beer — you're going to want one. Join me as we stroll through the extensive list of TP characters and learn a little about what their choice beers (or not-beers) would be.
Fire, walk with me.
[SPOILERS AHEAD]
Coop
Beer: Hot Box Coffee Porter
Because: He'll take anything that tastes like "damn fine" coffee.
Leo
Beer: Miller High Life
Because: It was previously Kirkland Light, Costco's budget beer available by the 48-pack, but then it went the way of Leo and got discontinued.
Audrey
Beer: Anderson Valley Briney Melon Gose
Because: This beer is briny and bold. It's a unique flavor — much like Audrey.
Harry
Beer: Bud Heavy
Because: "Normally if a stranger walked into my station talking this kind of crap, he'd be looking for his teeth two blocks up on Queer Street." I think that about sums up Sheriff Harry.
Lucy
Beer: Jolly Pumpkin Bam Biere
Because: Lucy is a complex woman. Whether she's explaining the complicated relationships of hit TV series 'Invitation to Love' or exploring the intricacies of Tibetan culture, she's likely doing it with a Bam Biere. It's drinkability and easy, harmonious taste take the edge off of Lucy's otherwise byzantine day.
Andy
Beer: Not Your Father's Root Beer
Because: I don't think Andy would realize it was alcoholic until it was too late.
Evil Spirit/Bob
Beer: AB InBev
Because: You turn around for two minutes, next thing you know your father's possessed.
The Horne Brothers
Beer: Founders Backwoods Bastards
Because: Seeing as they're Scotch drinkers, I think a wee-heavy would suit them both. And the name fits too.
James
Beer: Kane Brewing Company Vengeful Heart
Because: James is probably straight edge but if he wasn't he'd definitely crack a Vengeful Heart (because he's emo AF).
Ed and Norma
Beers: While Ed gets a standard Michelob Ultra, Norma definitely pops a few ice cubes into her white wine and calls it a day.
Nadine
Beers: Other Half All Green Everything
Because: Strong lady, strong beer.
Bobby
Beers: Delirium Tremens
Because: He's the kind of guy who asks you which beer will "fuck him up" the fastest.
Shelly
Beers:
Lindemans Framboise
Because:
Shelly needs something low-ABV so that when Leo comes home her gun-hand stays steady.
Log Lady
Beers: Night Shift Morph
Because: It's a no-brainer why this is Log Lady's pick: The owls! You never know what you're gonna get with the log lady, and it's the same with Morph due to rotating hops.
Leland
Beers: Grimm Sugarmaker
Because: Leland needs a beer with a hefty ABV. He drinks to forget, seeing as he was possessed by a demon who made him kill his only daughter.
Dr. Jacoby
Beers: Sweetwater Hop Hash IPA
Because: He definitely self medicates and he DEFINITELY hides pot in his coconut.
Josie
Beers: Brewmeister Snake Venom
Because: Because Josie is a sneak AND a snake and I think this 67.5 percent beer is what ultimately killed her in that oh-so-dramatic sequence.
Donna
Beers: Spiked Seltzer
Because: If Donna lived in our world she'd be vegan, gluten free, all-organic, and loud about it.
Laura Palmer
Beers: Blood Beer (Michelada)
Because: A light beer topped with tomato juice, she drinks this only because the word 'blood' is in the name and she's mentally unhinged.