Photography by Edward Garrity
As someone who spends an embarrassing amount of time and money on craft beer, I make it a point to maintain that there's a time and a place for everything. Poolside in the summer sun? A heavy, hazy IPA is too much. I need something lighter. Maybe a pilsner or gose (if I'm feeling frisky). But now in my rotation is a hard seltzer named SpikedSeltzer, which my girlfriend slipped me two summers ago. After watching my mother and my brother — who farms pigs and drinks whiskey — crack one, I've come to believe it's the perfect beach drink. And just this week the company announced that they'll be stocked on shelves nationwide.
Served up in four flavors — Indian River Grapefruit, West Indies Lime, Cape Cod Cranberry, and Valencia Orange — SpikedSeltzer is 6 percent ABV "beer" that tastes like flavored sparkling water. And it was the first of its kind. Before 2013, when Nick Shields and Dave Holmes began homebrewing a the drink in Shields's garage, the closest relatives to SpikedSeltzer were over sugared and relatively terribly hard lemonades and assorted cocktails-in-a-can. This surprised me, considering the combination of lime, seltzer, vodka, and a little cocktail straw has been a barroom staple since humans started distilling sugars into spirits.
When seltzer water started taking off, Shields, who is a fifth-generation brewer (his great-great-grandfather, Rudolph Haffenreffer, founded Boston's Haffenreffer Brewery in 1870) that has spent the last 15 years in product development, and was looking for a new venture. With seltzer outgrowing soda in sales, he considered riding the wave with an alcoholic version. But he figured it had been already been done. "I said, 'Oh why didn't I think of this.' Then I started Googling hard seltzers," said Nick Shields. "There wasn't anything like it. No hard seltzer." There were a few close approximations — Zima, for example, is a big one people confuse for Shields's product. But Zima was sweet.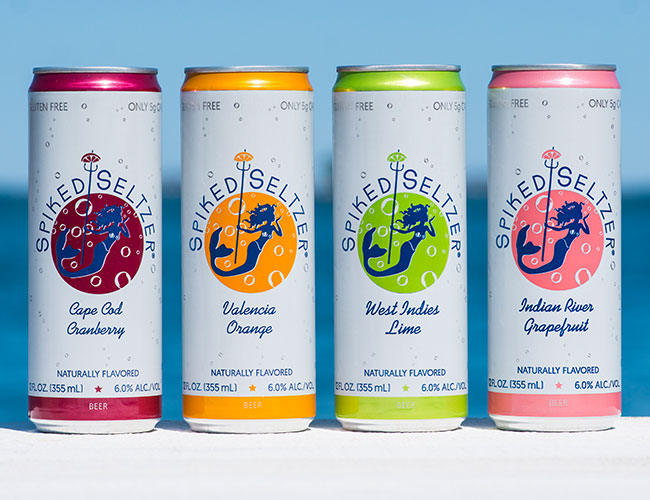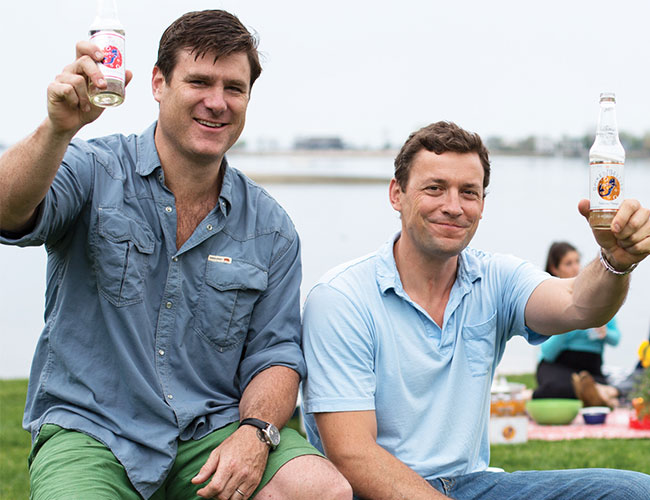 "People say, oh I don't like sweet things. They immediately think its sweet," said Holmes. "It's a pretty daunting educational task." In the beginning the creators gave out samples to explain something simple: it's flavored seltzer water that'll let you catch a buzz. You're probably already drinking something similar; seltzer water has become the drink of the last five years. And they timed it perfectly: a few years before LaCroix started it's assault on the shelf space of Whole Foods, Shields and Holmes began making 5-gal batches of what has now grown into a huge industry. Boston Beer Co. entered the market in 2016 with MillerCoors entered earlier this year. Each of them following SpikedSeltzer's lead.
The calories are low, the taste is refreshing, and the alcohol is there. Check, check, check.
SpikedSeltzer is brewed using dextrosugar and malted rice as fermentables (with the addition of rice, SpikedSeltzer is technically a beer). Shield began experimenting with lager yeast to emulate the crispness of beers like Michelob Ultra, but eventually moved to champagne yeast because it's "not quite as picky" and the flavor profile is already suited to pairing with fruity tastes (think mimosas). The champagne yeast turns all of the sugar into alcohol, and 5 grams of sugar is added back in at the end to balance the flavor a bit. The calories are low, the taste is refreshing, and the alcohol is there. Check, check, check.
After about 80 batches, tweaking one variable at a time, SpikedSeltzer made it's first appearance at a food and drink event in October of 2013. There was immediate buzz and the product expanded to the northeast, where Cape Code, it's epicenter of sales and inspiration for the mermaid packaging, resides. The company has been recently acquired by AB InBev, which might gain a negative attention in the craft beer sector, but for the hard seltzer industry it means that the mermaid-clad cans will now hold down a spot under beach umbrellas across both coasts.
Drink it straight up (like me), over ice, or in a mixed drink. Cheers to summer.